This year for our 'Girls Night Out' Dirty Santa gift exchange, I added to my little bag of weirdness, a small jar of 'Wood Butter' that I'd made. The recipient looked at it puzzled and I attempted to explain. But now, I have a better idea,…a blog post. Why not. I'd posted this on my Aunt's site some time ago, and what better way to demonstrate it's use,…
Wood Butter…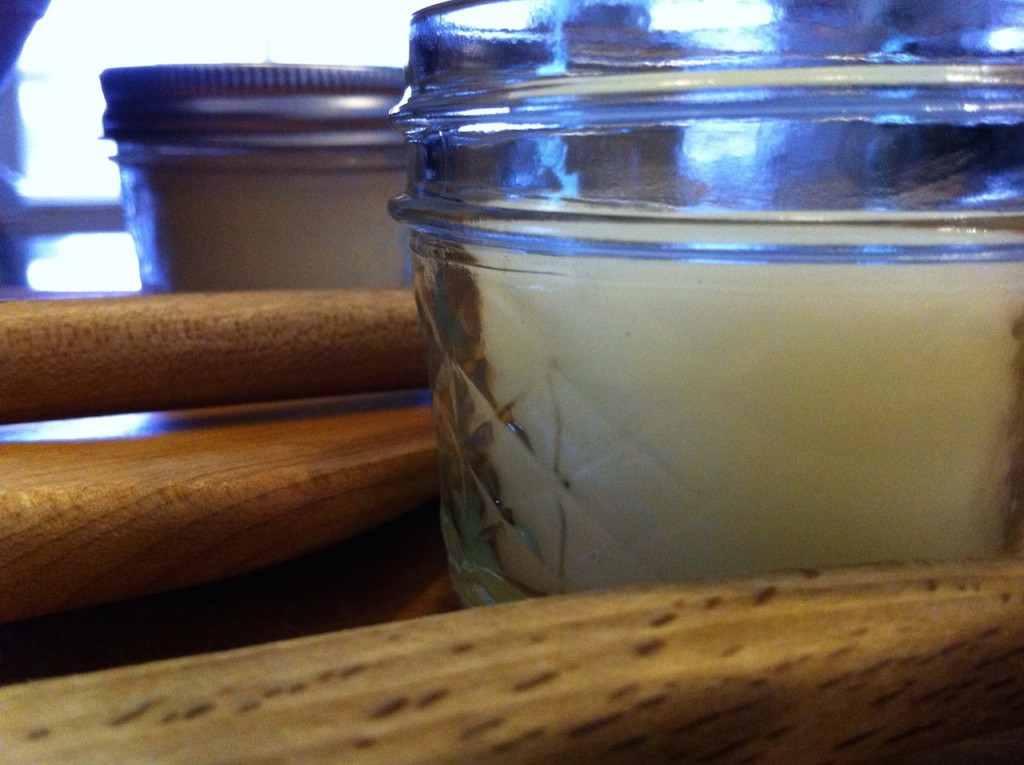 It's after-Christmas, and since the weather is still frightfully warm, it's almost like Spring. Unfortunately for me that means spring cleaning – ugh. It's a dirty job, but someone's gotta do it. One thing I do, in the Spring and Fall, to maintain the kitchen is to moisturize my wood utensils – of which I have many. I love using wood boards and I have a drawer full of spoons and spatulas of all shapes and sizes! Some are kinda pricey, and some are antiques. So, I try to care for them consummately. Years ago, I used a product made in England that looked like a clear shoe polish and it smelled of orange oil. It was nice, and lasted forever. When we moved it went missing. It was old anyway. I never did find a replacement and I simply used mineral oil for a long time. One day I spotted a Pin (of which there are many it seems) about wood butter – Oh, yes, I remember that ! Wait – I can make this myself? I could hear my favorite Littledeer tools squealing with delight from their resting places. "Please Mom – we've worked hard all year – we're soooo dry!" Not to mention the guilt of looking at my Grandfathers old wood bowl looking pale being stocked with onions these days instead of the butter that used to be 'kneaded' in it. Poor old things.
I looked around the house and discovered that I had just enough mineral oil and some lemon oil too. I even had some leftover beeswax beads from another project. These beeswax beads are refined and can be found with the herbs, etc. at the health food store. But, you could use the tan colored block of wax too. And yes, they all smell bad. Why did I think that beeswax would smells like, well…honey? It doesn't. It's remarkably petroleum smelling. Weird. That's where the orange or lemon oil comes in. It's edible, strong and smells great. So, here's how I did it…
Wood Butter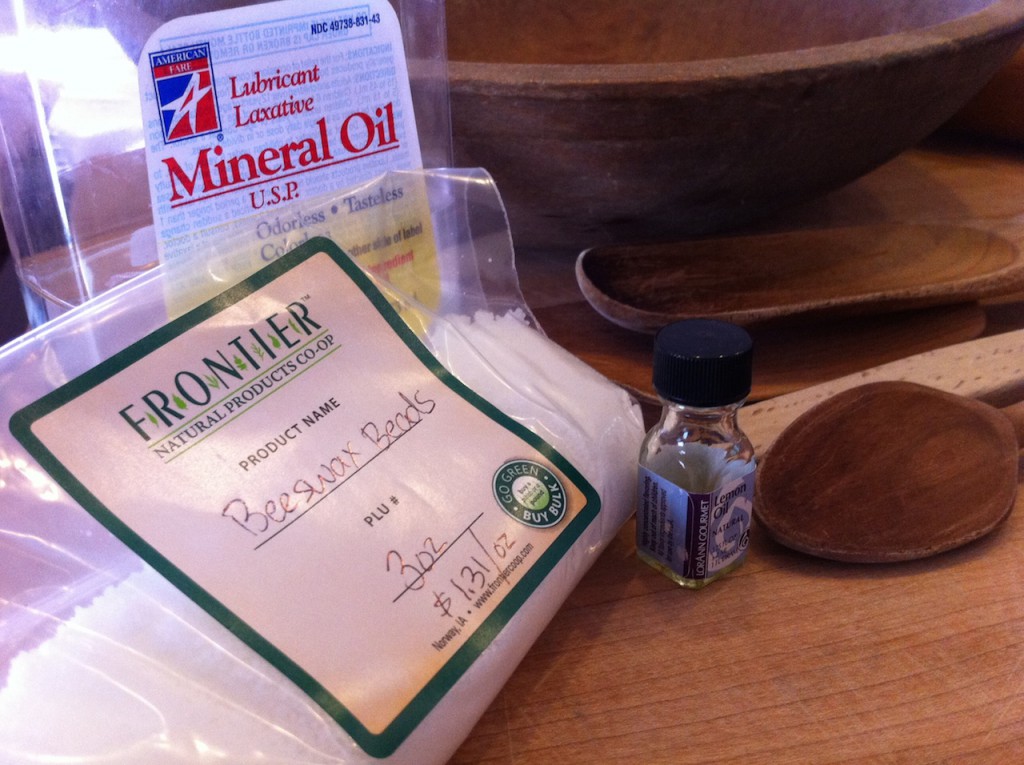 you'll need…
4oz Mineral Oil (1/2cup)
1oz Beeswax (about 3-1/2 Tbl of beads)
3 or 4 drops Lemon or Orange Oil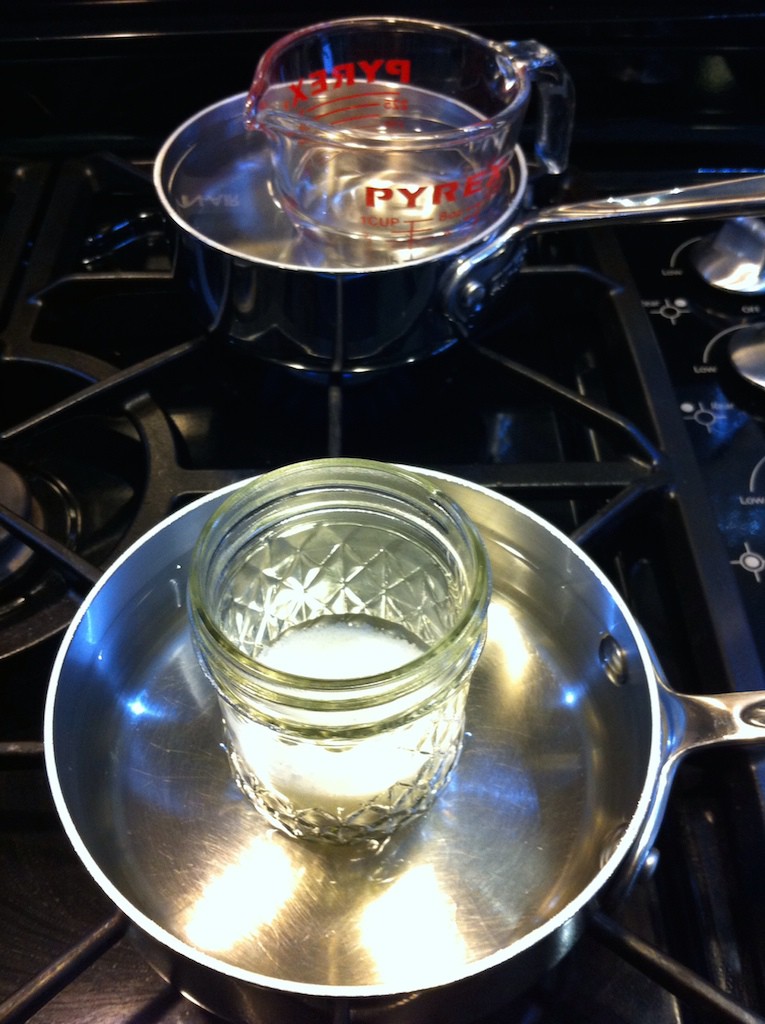 Step 2
Using the double boiler method, warm the mineral oil and beeswax separately.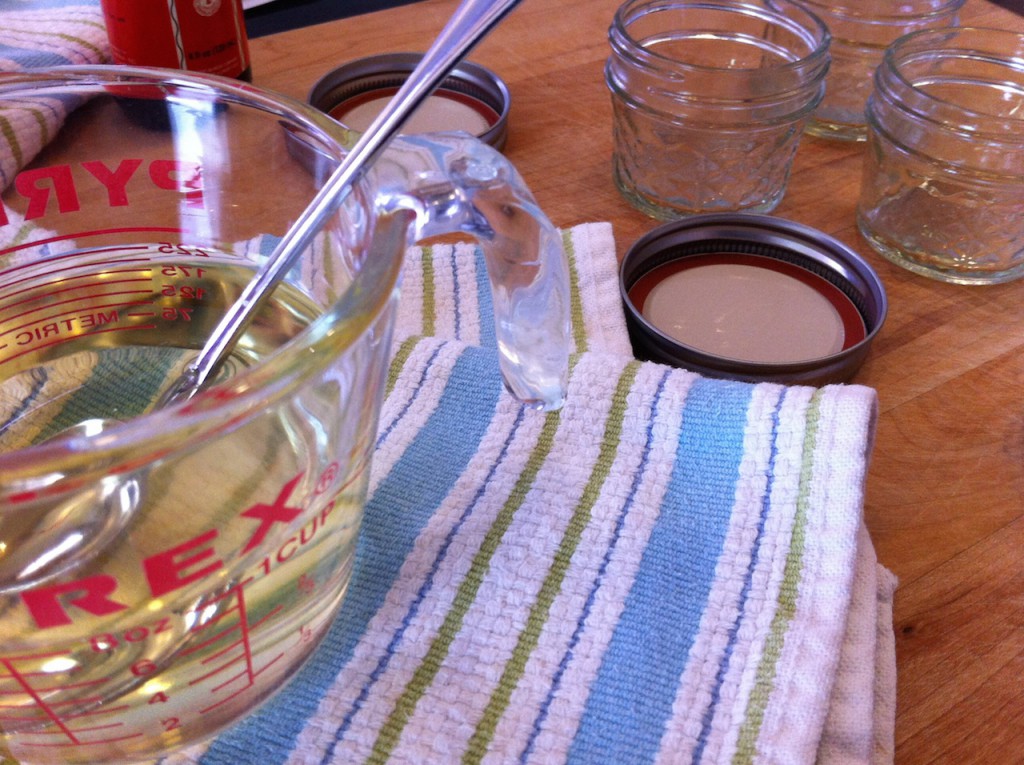 Step 3
Combine them and stir. Add in the citrus oils.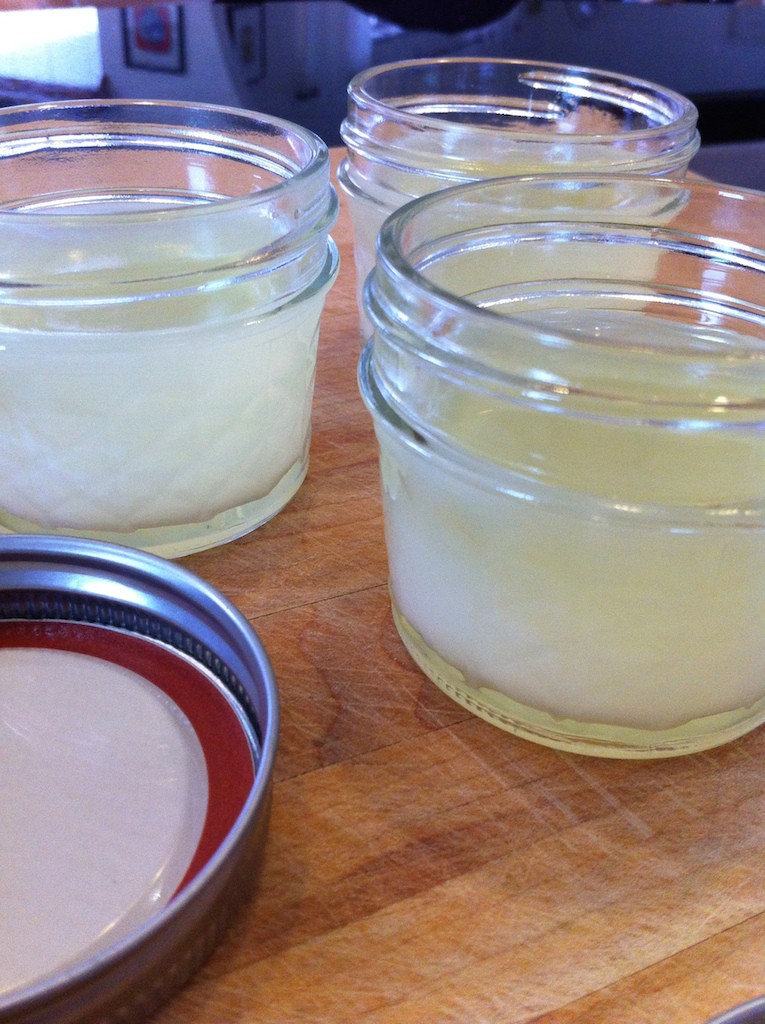 Step 4
Pour into jars and let cool. It doesn't look like much – a little goes a long way!
Clean up :
DO NOT just pour the excess down the drain – wipe it out with a paper towel and then soak in hot water with some Dawn to break up that wax.
Beeswax + Plumbing = Bad Things!!!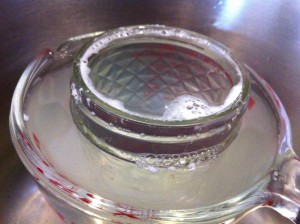 Now go and rub down all of your wood tools with it –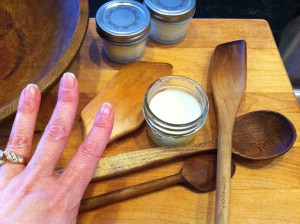 Oh, and look at those hands! Seems that skin loves it too !!!
But that smell? Yes, it still had a tinge of Vasoline smell (beeswax does). Here's the crazy bit. The next day, after the wax/oil had really soaked in….the tools no longer smelled like beeswax. Just wood tools – weird.
Look how happy they are – my tools are ready for another year of work.
Before…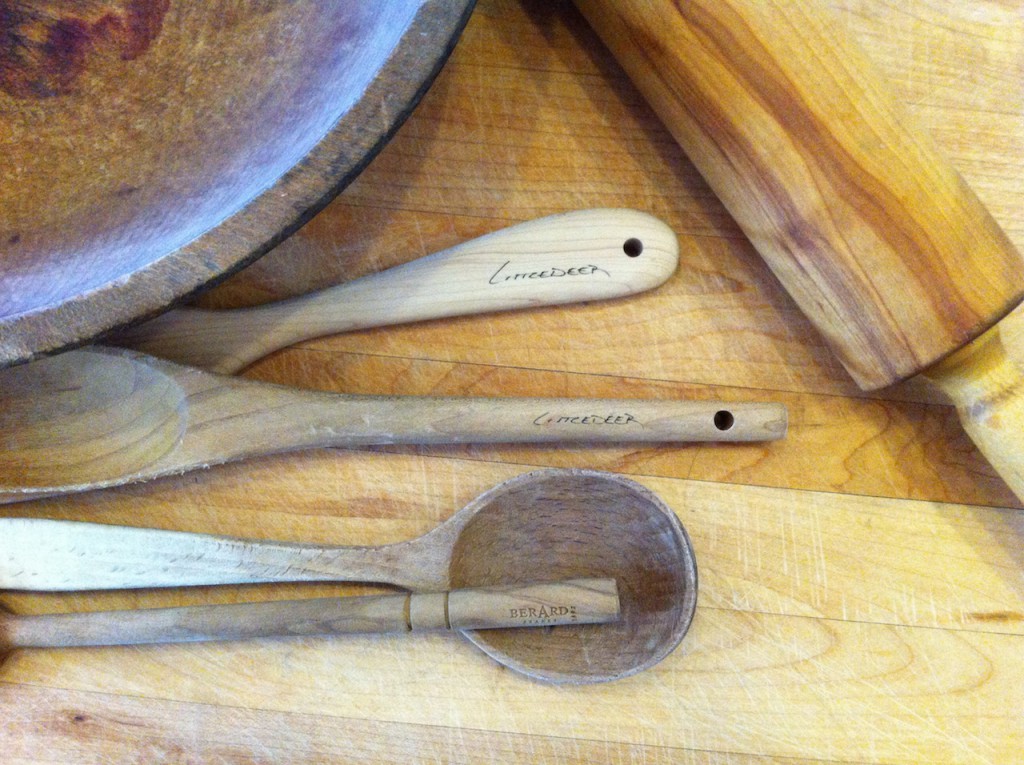 …and After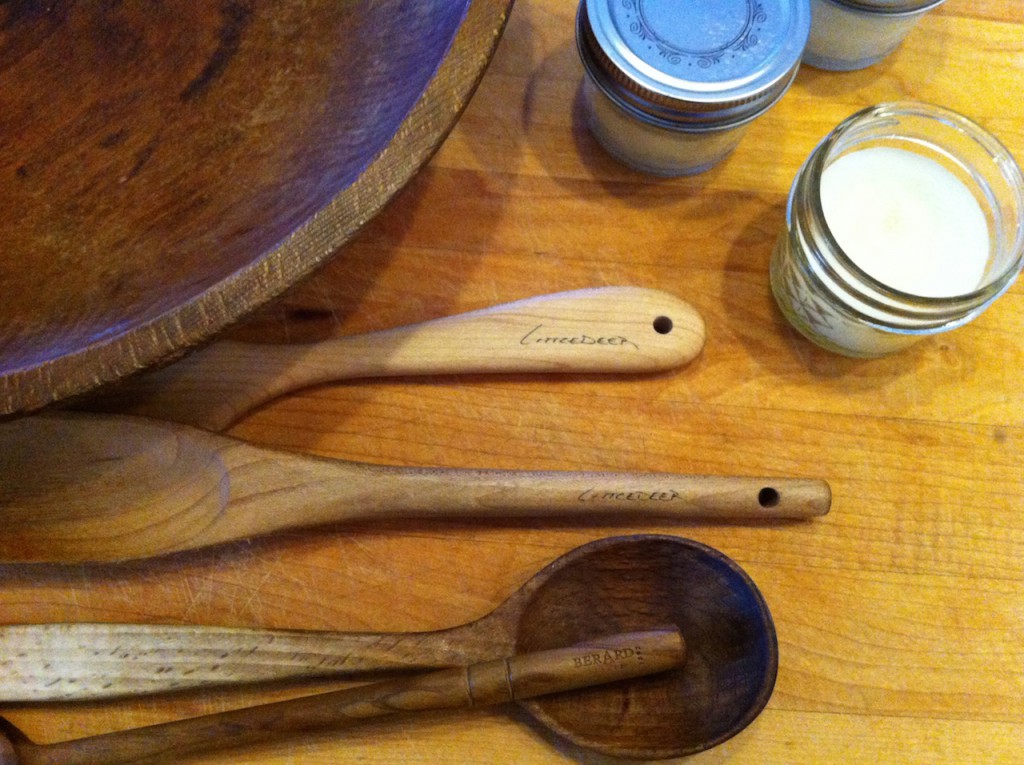 Maybe I'll treat my tools to a semi-annual rub down. (my husband would be jealous!)