About a week ago, my girlfriend posed that question to her band of sistahs on a Facebook post. There were lots of parmesan variations and baked and even grilled varieties. I made my contribution but alas, she's not a fan of veggies in general so that makes things tricky.
The other day I got my latest Food & Wine Magazine touting 'The Best of Summer', and yet again there was an obscure recipe tucked away in a corner article, that caught my eye. In the Quick & Easy section there was, 'Eggplant & Pepper Relish',…what? Ok, neither of those words should go together – ever. And neither denote anything 'quick & easy'. It's got like 6 ingredients and says it takes 12 minutes,…r e a l l y .
I'd just returned from my Saturday morning trip to the local farmers market and I just happened to have picked up an eggplant. As well as a couple of huge red peppers, which I intended to jar. Along with the biggest cabbage I'd seen this side of Alaska! … It was $4 bucks! I couldn't just leave it there. Anyway, The Lovely Ms.M was over for a visit. She's actually my son's girlfriend, but he's kind enough to share her with me. I like to show her little cooking tips and tricks and we have fun playing in the kitchen while he's off in video game land or something. She and I set to roasting and later munching. So, here it is – this turned out so good I had to share it. Of course it isn't exactly as published. First off, I can't leave anything alone, and I just didn't have any parsley,…but I did have cilantro.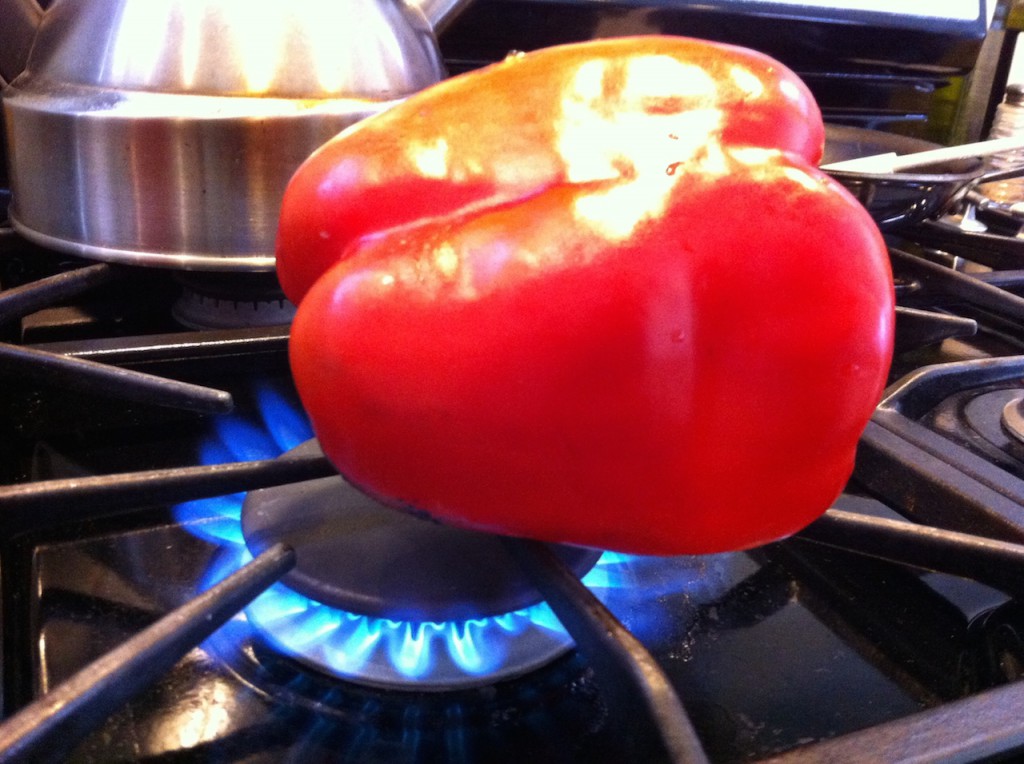 Step 1:
Get that eggplant and a couple of red peppers roast-toasty. Use 4 regular sized red peppers. Mine were monsters, so I went with only 2. If you have a grill that's fine – I just use the burners. Burn-baby-burn !!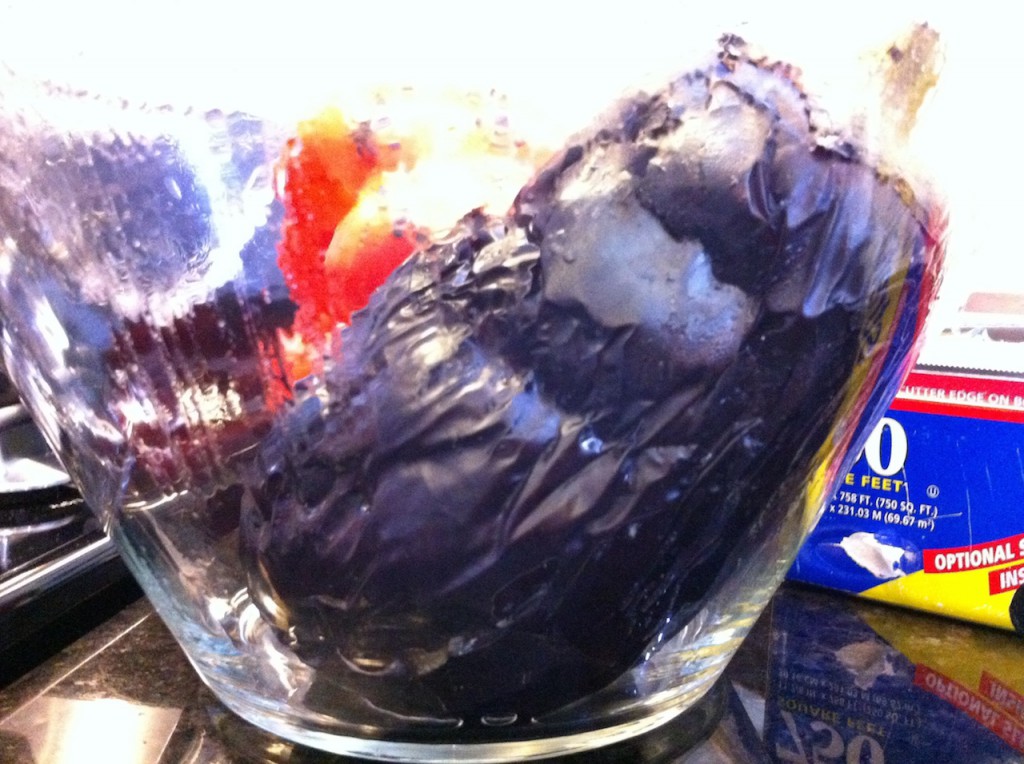 Step 2:
As the veggies get roasted, set them in a big glass bowl and cover with plastic wrap for them to steam. That loosens the skin and it just peels right off, leaving a slightly cooked roasted flavor. Yum !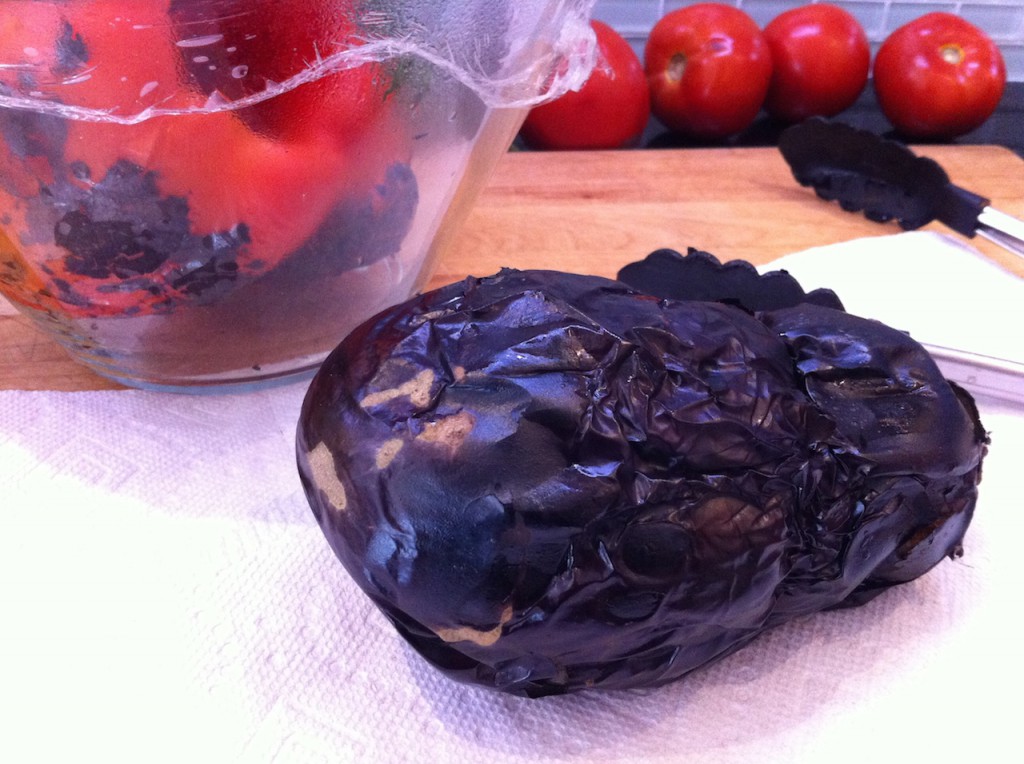 Step 3:
Peel off the skin, cut it up into big chunks and put into the food processor. For the peppers, just rub them with the paper towel and most of the char will come off. Don't peel all of it off, that char is flavah !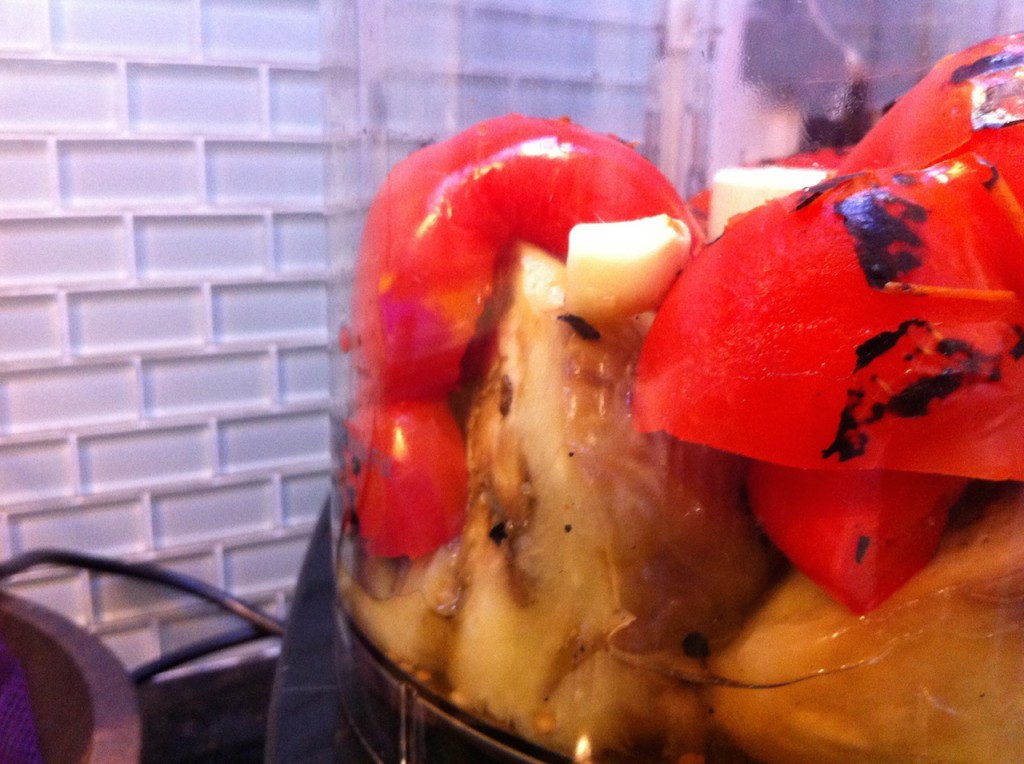 Step 4:
Mushy veggies only need a few pulses to become 'relish'. Make sure you add in a clove of garlic, about 1/4 cup of olive oil, 3 Tbl Lemon Juice (about a half lemon squeezed- you'll need the other half for a martini later), about 3 Tbl Fresh Parsley (I used cilantro) and some salt and pepper.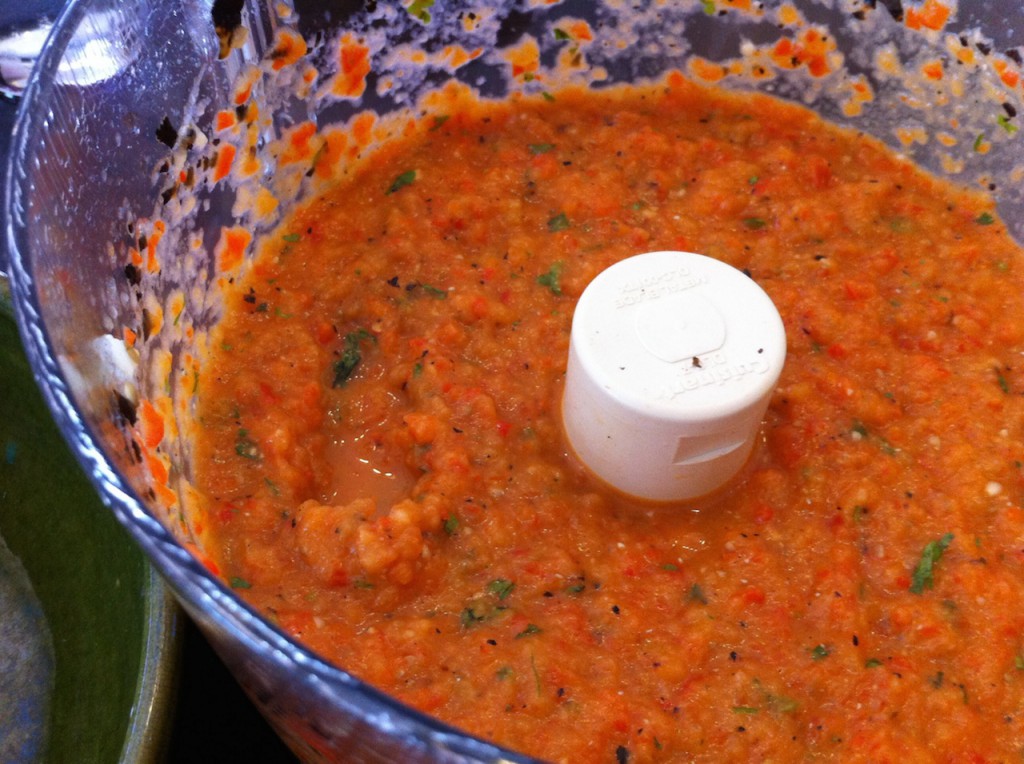 Step 5:
Give it a taste. If you're feeling frisky (like me) add in about a 1/4 tsp of sriracha. It gives it a nondescript heat. Not to mention, it makes the veggie fest man-food-certified.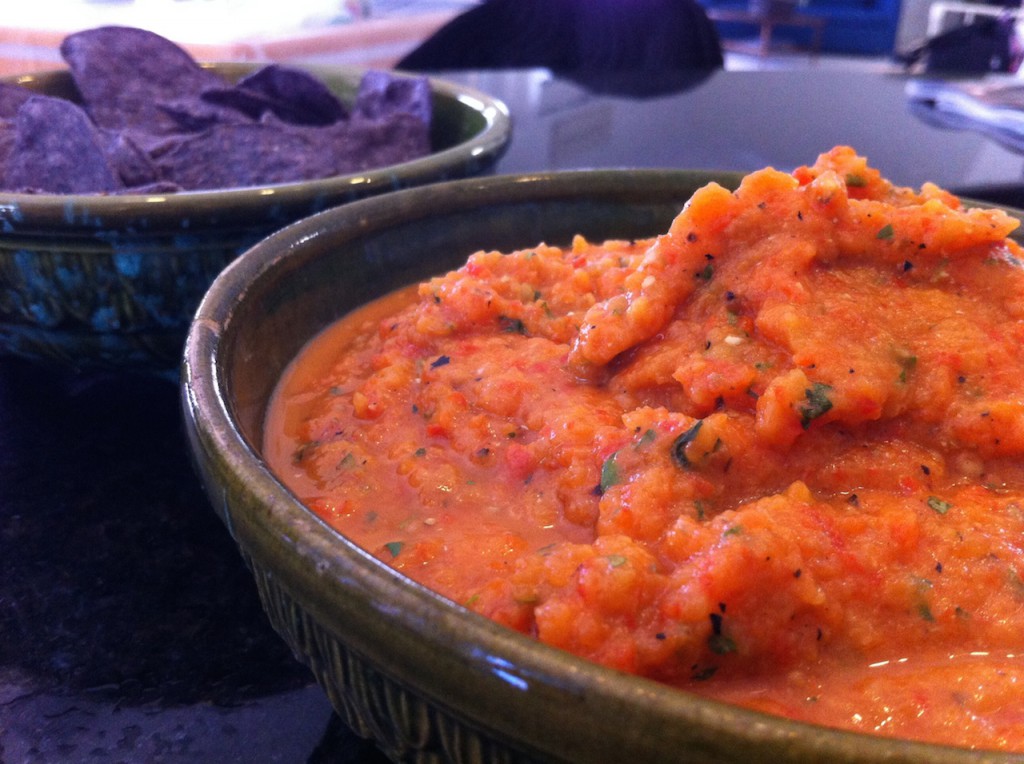 Finale:
Get some tortilla or pita chips and munch. We have some 'LateJuly' Summertime Blues Blue Corn Tortilla Chips – sooooo good!! Just enough salt to kick it up.
Next stop for this is to be warmed and served over pasta with sausage !! Yum – more man-food! (those boys are gonna be healthy, or else!)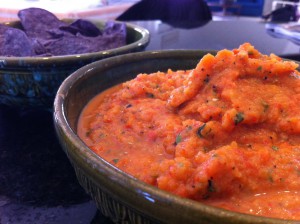 Eggplant Relish ?
2014-08-25 10:24:18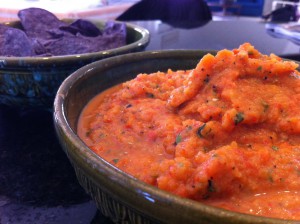 12 minutes to happiness
Ingredients
1 Eggplant, medium, roasted and quartered
4 Red Peppers, (or from a jar of roasted peppers)
1 Garlic Clove
1/4 Cup Olive Oil
3 Tbl Fresh Lemon Juice
3 Tbl Parsley (or cilantro)
Salt & Pepper to taste
*1/4 tsp Sriracha sauce
Instructions
Roast the eggplant and peppers (if fresh) over an open flame. Put them into a large bowl covered with plastic wrap to steam.
Remove the eggplant skin, rub the peppers to remove some skin and char.
Chop the veggies large and add to food processor, along with the rest of the ingredients.
Pulse until well minced - careful, don't liquify it !
Notes
The magazine serves this along side grilled steak. Ok, but I like it with chips. This will also make an awesome pasta topping ! Heat it up add some sausage on the side and top with a little parmesan cheese. - oooo baby ! Eggplant - who knew?
Adapted from Food & Wine Jessica Koslow
Adapted from Food & Wine Jessica Koslow
BadZoot https://badzoot.com/