We've been thinking about our North Dakota relatives lately as we all await another member of the family! (hurry up – I'm so impatient !) I made a cookie last week that I had first developed after their wedding a couple of years ago. What!!? Did I say 'a couple of years…' where does the time go. Well, anyway, here's a replay from that initial post from my Aunt's blog ktgreendesign.com. Enjoy.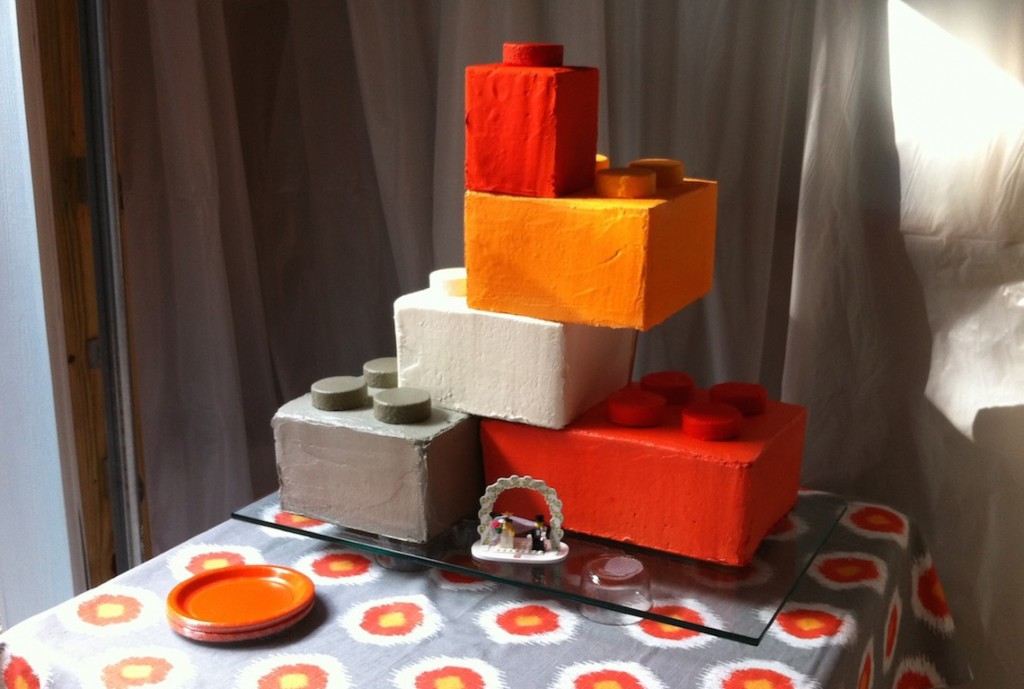 So, Al-La-Paloosa is over and my favorite, and very healthy and very thin Auntie has brought me Wedding Cake leftovers. OMG – it's like Night of the Living Dead Diet. It sit's in it's box and moans and growls and calls to me! It's cut up in pieces, bleeding it's orange buttercream trimmings…Nooooooo! OK, well maybe just a piece of the white cake…. AGH! Then it leaps from the container, completely unprovoked I might add, and lands on my face!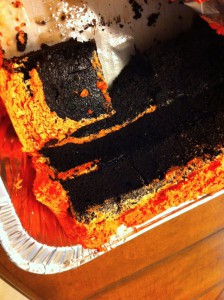 UmmmNummNuuuuum! I can't take it. I got so many compliments on my new slightly smaller waistline that I'm even more empowered to go further…then there's that damned cake. Back! Back to the freezer I say! OK, where was I? Oh yea, my diet…that ginormous cake had three flavors, one of which was a dark chocolate with fudge filling. Complete chocolate overload – and I'm Jonsing bad! I need a fix…where's my mixer? Let's go.
Chocolate Wedding Cake Zombie Apocalypse Cookie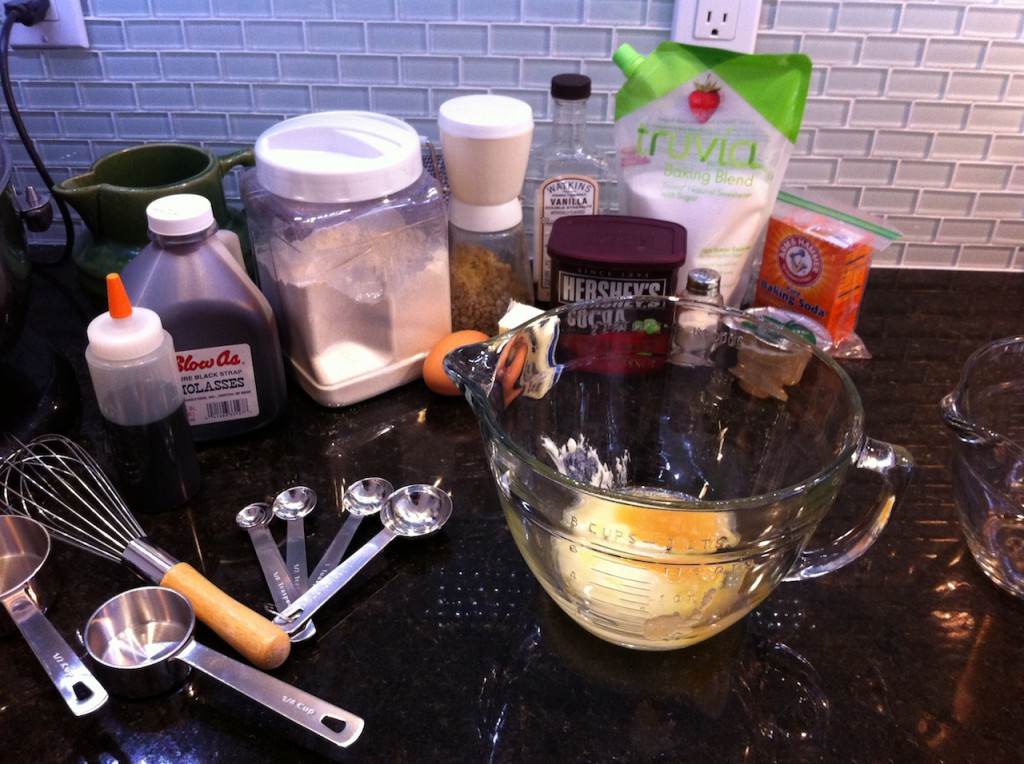 Step 1:
Gather the cast of characters, and light that fire (350 please)
1/2 Cup Truvia Baking Blend
1/2 Tbl Molasses
2 Tbl Butter, melted
1 Egg white
2 Tbl Applesauce
1 tsp Vanilla
1/2 Cup Whole Wheat Pastry Flour
1/2 Cup Dark Cocoa Powder
1/4 tsp Baking Soda
1/8 tsp Salt
1 tsp finely chopped walnuts
1/4 tsp Instant Espresso *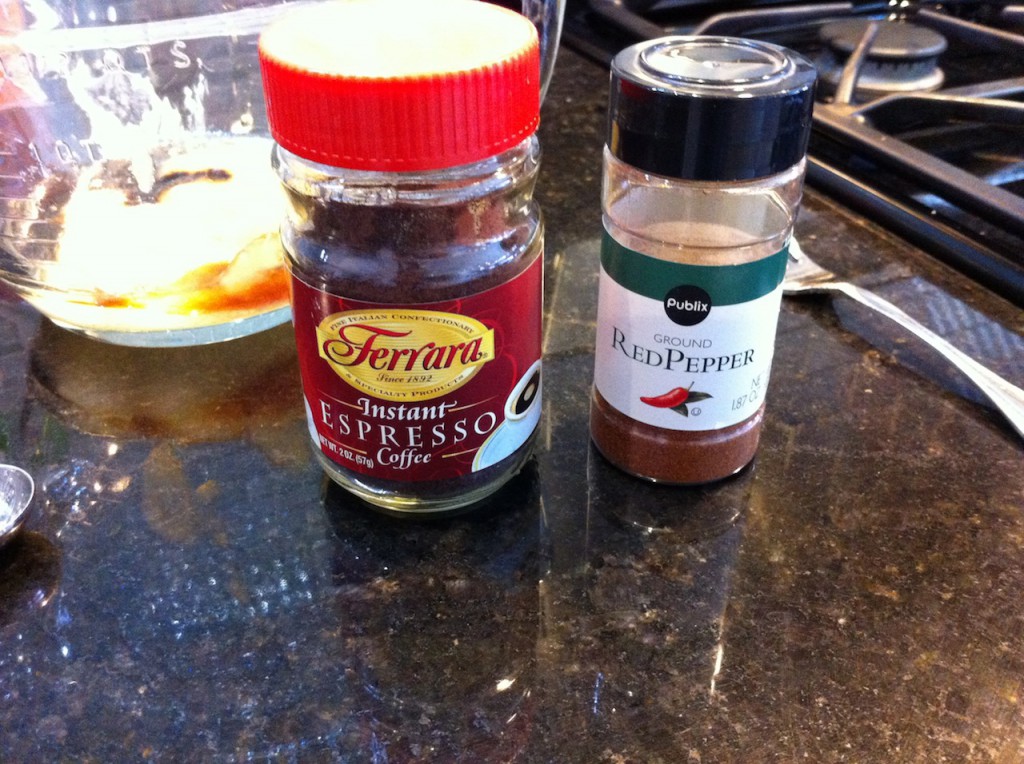 Step 2:
You know the drill, mix the wet and then mix the dry and add the dry into the wet…but here's the *optional flavor enhancer.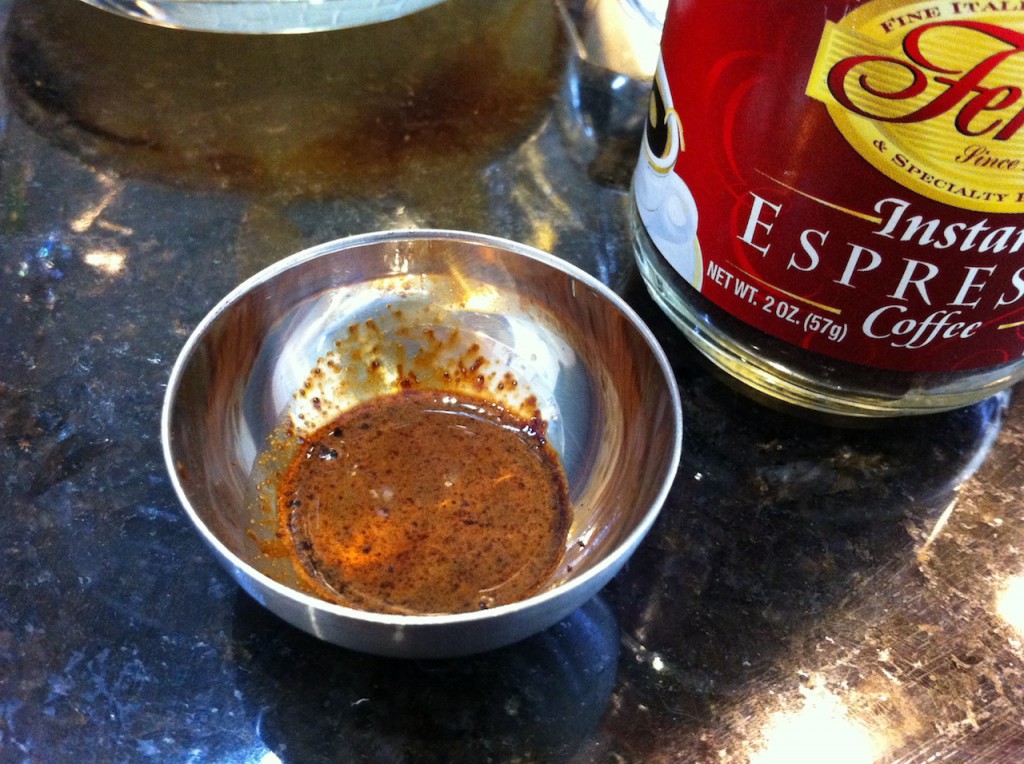 I chose the espresso powder this time. Take the powder in a tiny pinch bowl or shot glass – I know you have one or two! – and add a couple drops of warm water to dissolve. Or you can bring the heat with a pinch of cayenne pepper! Oh yes it plays very well with chocolate! Careful, a little goes a long ways. (but not both together – we're enhancing the flavor, not masking it)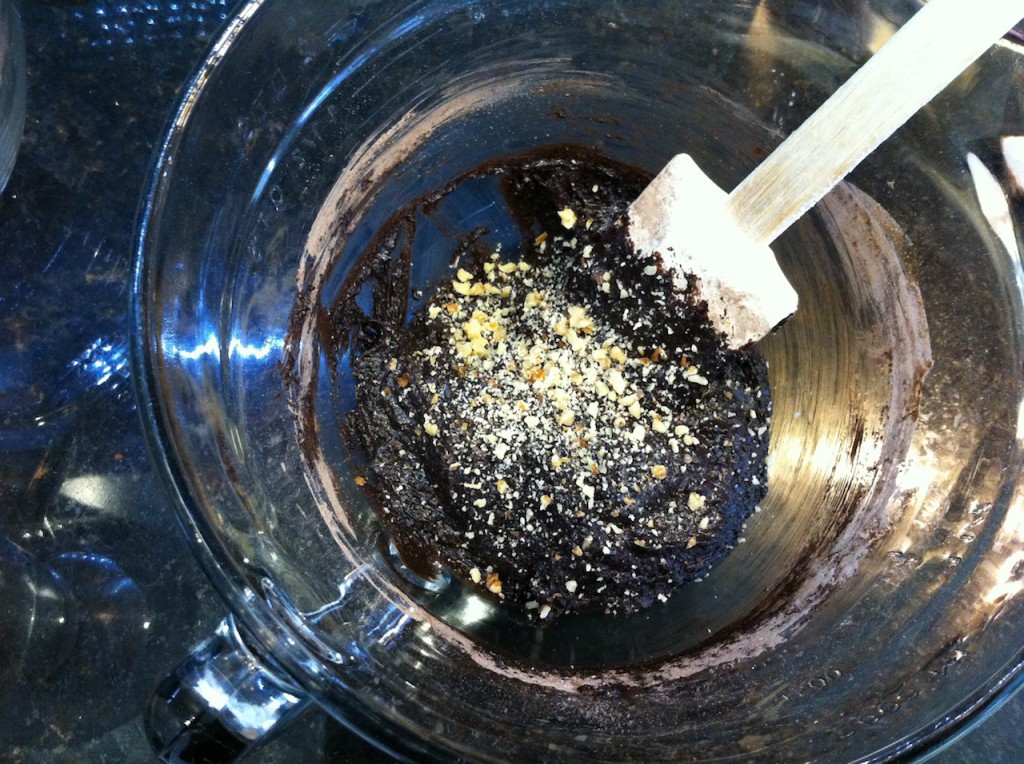 Step 4:
A little dusting of walnuts. If you're going the hot pepper route, use toasted pecans.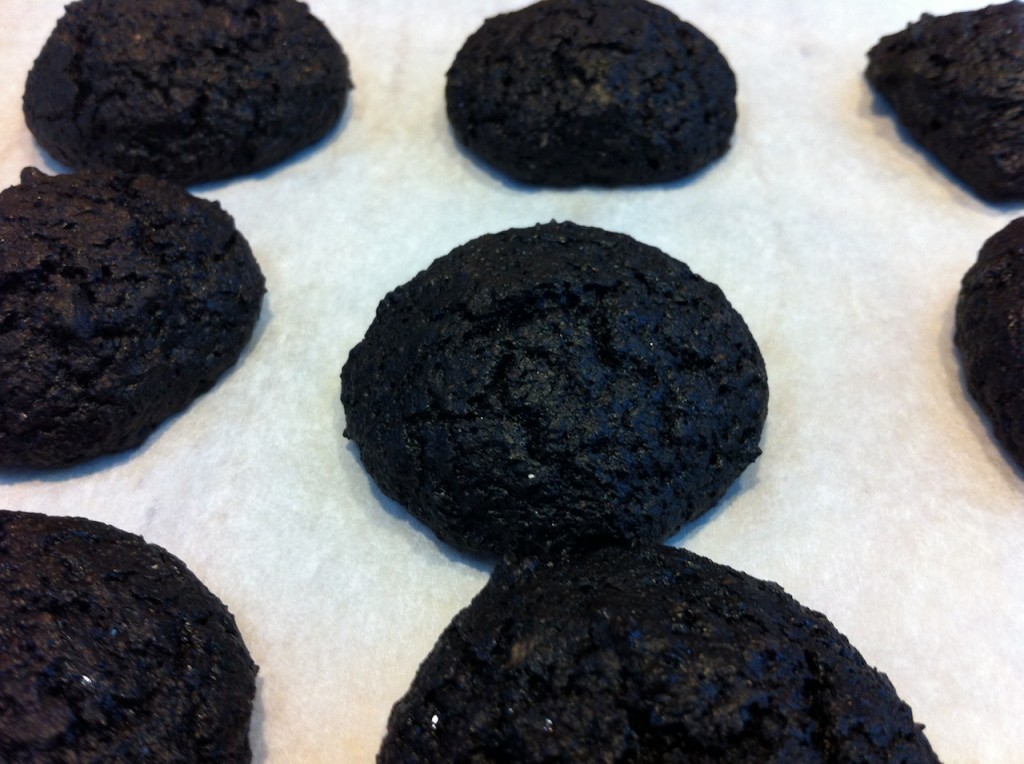 Step 5:
You did heat the oven to 350, right. OK, use that small cookie scoop and get them in the oven for about 10 min. There they are…smells like a wounded diet. NOT !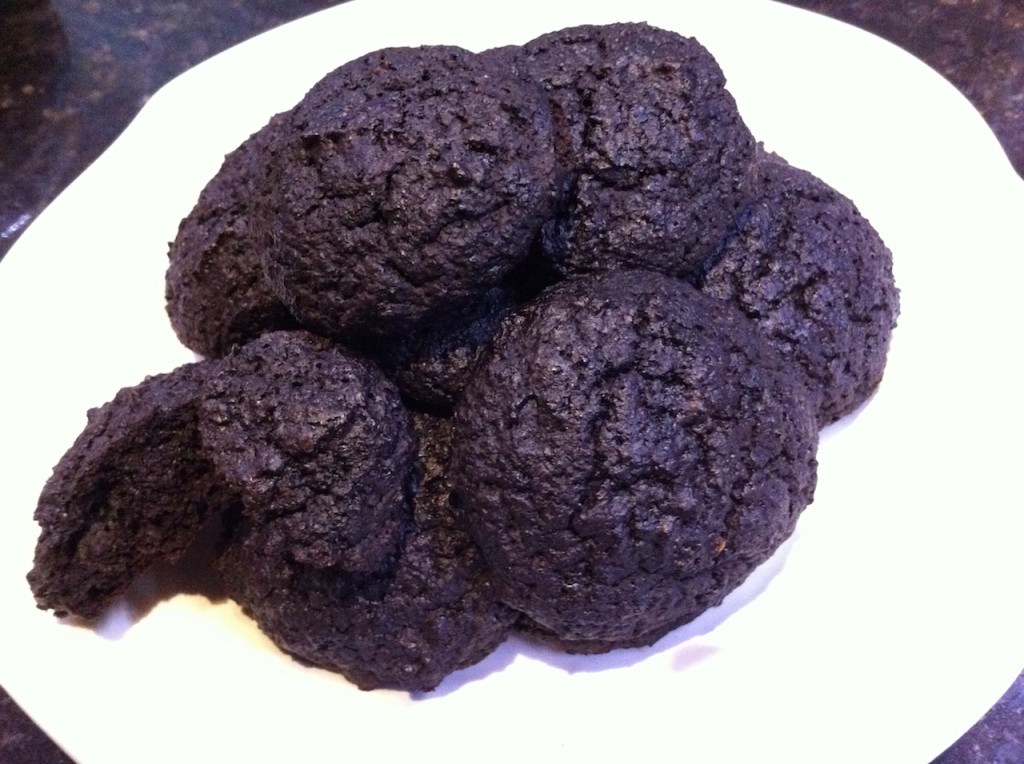 Step 6:
Check that out! These are moist and soooo satisfying. A bit more calories than my other healthy numbers at 72 cal, but I'm competing against fudge filled cake! Unfortunately, mounded on a plate they resemble Godzilla's head! Hmm, let's fix that…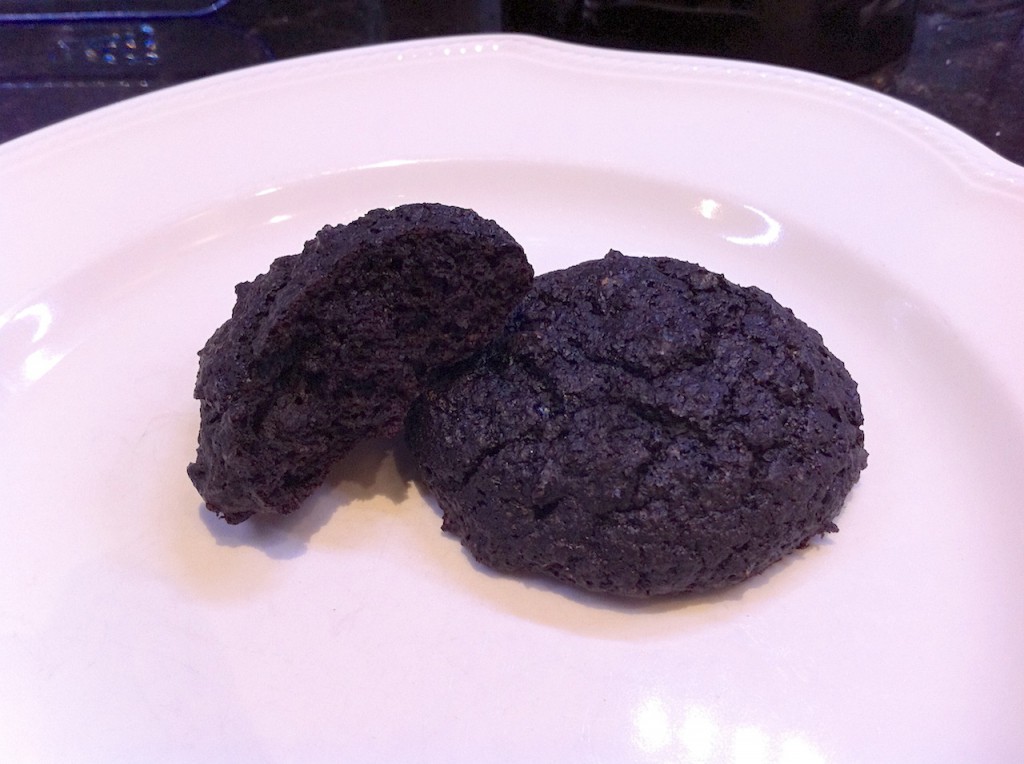 Step 7:
That's better. Like a soft Oreo…NO, I will not make icing for them!…but I may put one with a tiny bowl of vanilla frozen yogurt. Take That Wedding Cake Zombie!!! (doesn't taste a thing like brains – please don't ask me how I know that)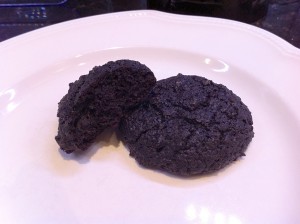 Zombie Apocalypse Chocolate Cookies
2014-08-07 15:16:36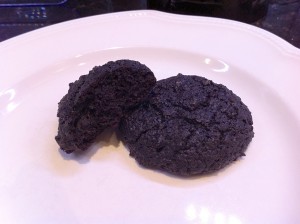 They're not too scary to eat.
Ingredients
1/2 Cup Truvia Baking Blend
1/2 Tbl Molasses
2 Tbl Butter, melted
1 Egg White
2 Tbl Applesauce
1 tsp Vanilla
1/2 Cup Whole Wheat Pastry Flour
1/2 Cup Dark Cocoa Powder
1/4 tsp Baking Soda
1/8 tsp Salt
1 tsp finely chopped walnuts
1/4 tsp Instant Espresso *
Instructions
Preheat the oven to 350 deg.
Mix the wet. The mix the dry, add the dry to the wet and combine.
Drop by teaspoon and bake for about 9 min., or until they look set.
Notes
These are like a soft Oreo cookie, only healthy ! No, I will NOT icing them. But I will eat them with some vanilla frozen yogurt...yuuuum !
BadZoot https://badzoot.com/