My son asked me one day about the little paper poppy in the truck windshield that I had trouble tossing. Faded and torn it was purchased, as I always do, from the veterans who give them for a small donation. I tried, in vain, to explain where how story of the poppy came from. This is truly an old story that should never be forgotten. The British, who lost so many, in that war-to-end-all-wars (we all wish that was true), have done it in stunning style and grace. NBC News brings us a quick report on this Veterans tribute. It reminds us why we all wear 'poppies for a young man'.
London's Poppies http://www.nbcnews.com/nightly-news/tower-london-poppies-honor-lives-they-would-have-led-n245621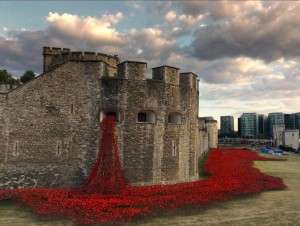 Remember those who served in all of the past conflicts and who gave all in service for the greater good.