Some time ago I posted about a tiny tea room in Brooksville called The Tilted Teacup. Well, they've moved – so you know I had to go back.
Lucky for me my young friend Mia had recently had a birthday and that was a really good excuse. Besides, school has half-days this week. Let's go!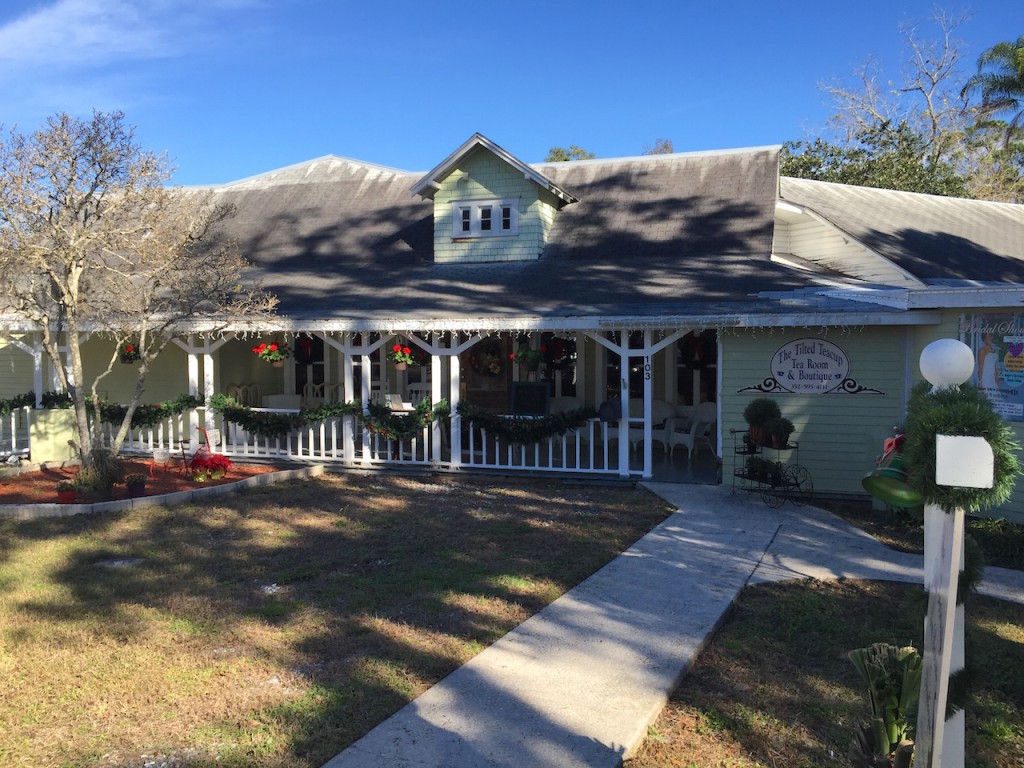 This building should look very familiar to the locals. That's because it used to be the Rodgers Christmas House. Yes, it seems that the folks who bought the Saxon house next door purchased this one as well. I'm so glad!
After an entire summer of clean up and remodeling, it's ready for customers once again.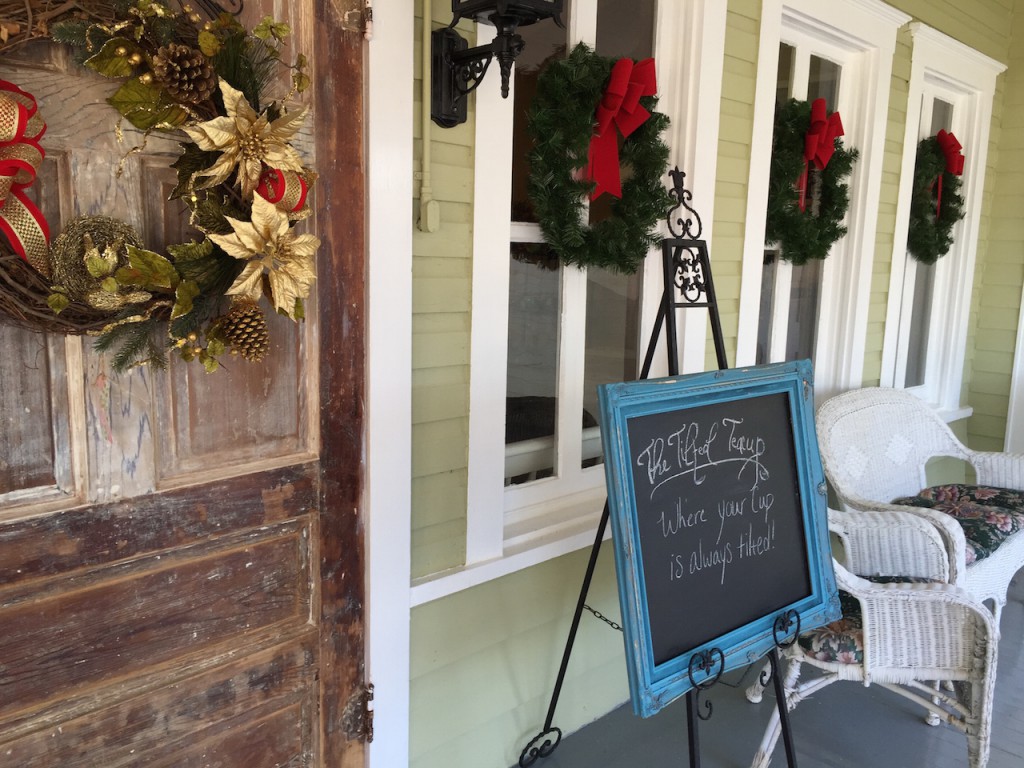 The welcoming porch is still just as inviting. Service is in antique cups and pots.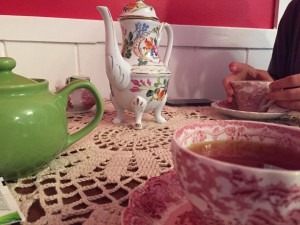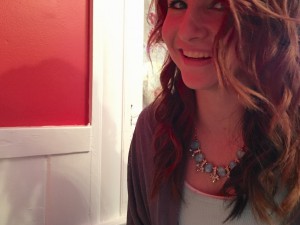 We ordered 'Afternoon Tea for Two'. Two kinds of delicious tea, and a small tower of treats.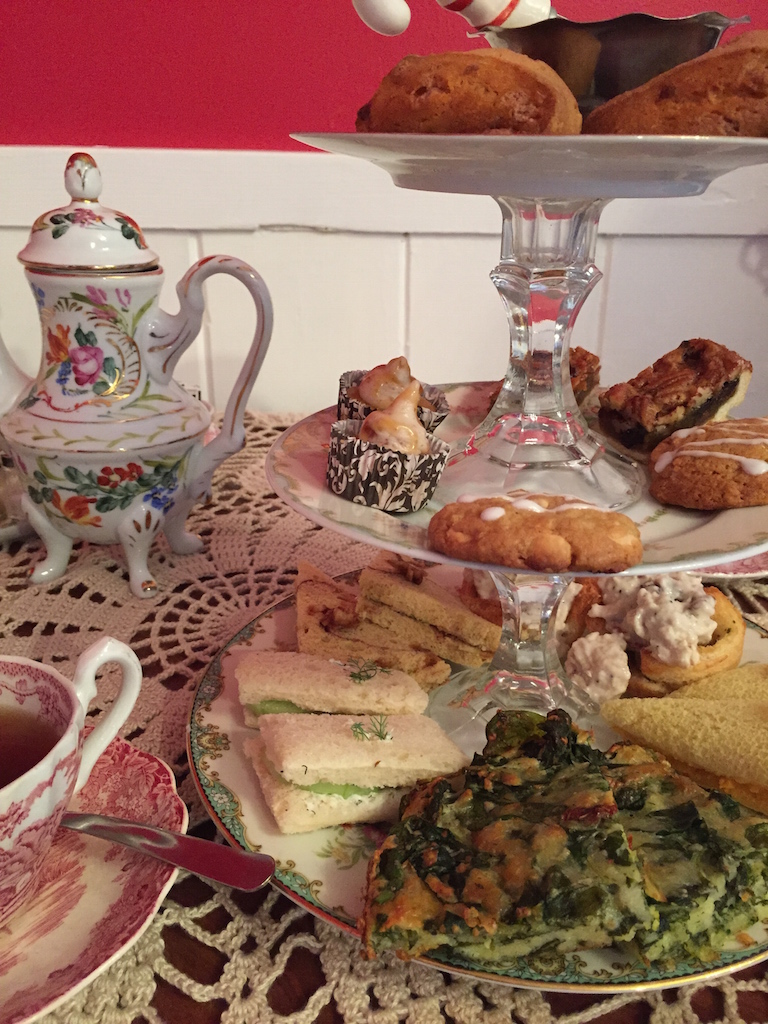 This tired tower came with warm quiche, cool cucumber and pimento-cheese sandwiches – a must in the South! (and delicious I might add)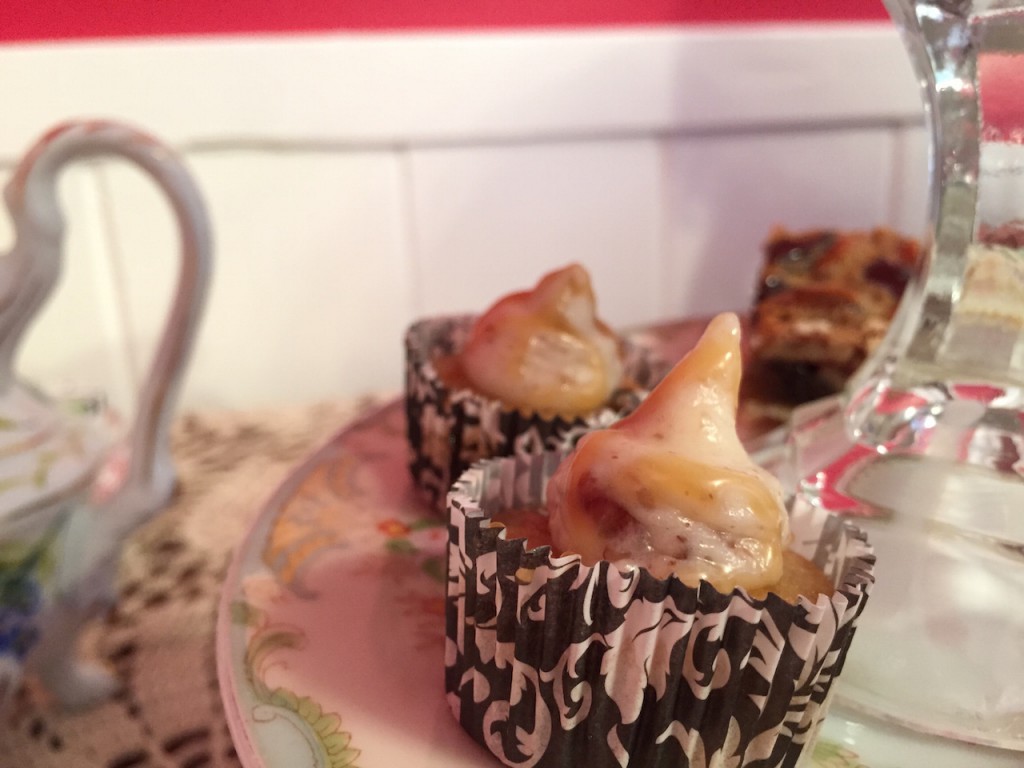 This little bon-bon was their version of a Hummingbird cake, in miniature. I may have to try this for my next get together. And the tea? Perfect. It really was. It had steeped and was served at a drinkable but hot temperature. We ordered a Chocolate Tea, which I wouldn't think would be as refreshing as it was. The other pot, Mia chose a Pomegranate Vanilla flavored tea. This was just as delicious and went well with the tea style niblets we consumed.
We sipped our tea and looked around. The ambiance was so sweet. Like a cozy sweater that smells of cinnamon, and Chanel. You wish you could take it with you.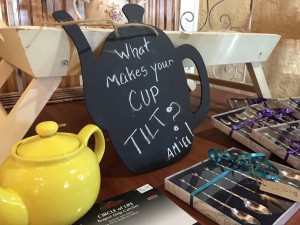 There are things to take with you. We pursued the gift rooms and took some pics.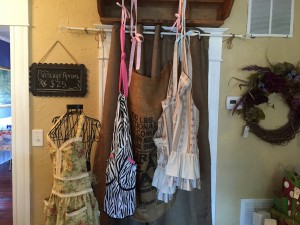 There are handmade items, like these aprons. Fashionable scarves, and various teas and associated paraphernalia. You just can't have too many tea cups!
Prices aren't bad. Really. There are worse ways to spend $20 a piece (and that's with my tip). The service may need some work, but these ladies serving us were young – and we've all been there. The cheerful smiles and attentiveness more than made up for any missing spoons.
Even the restrooms are lovely.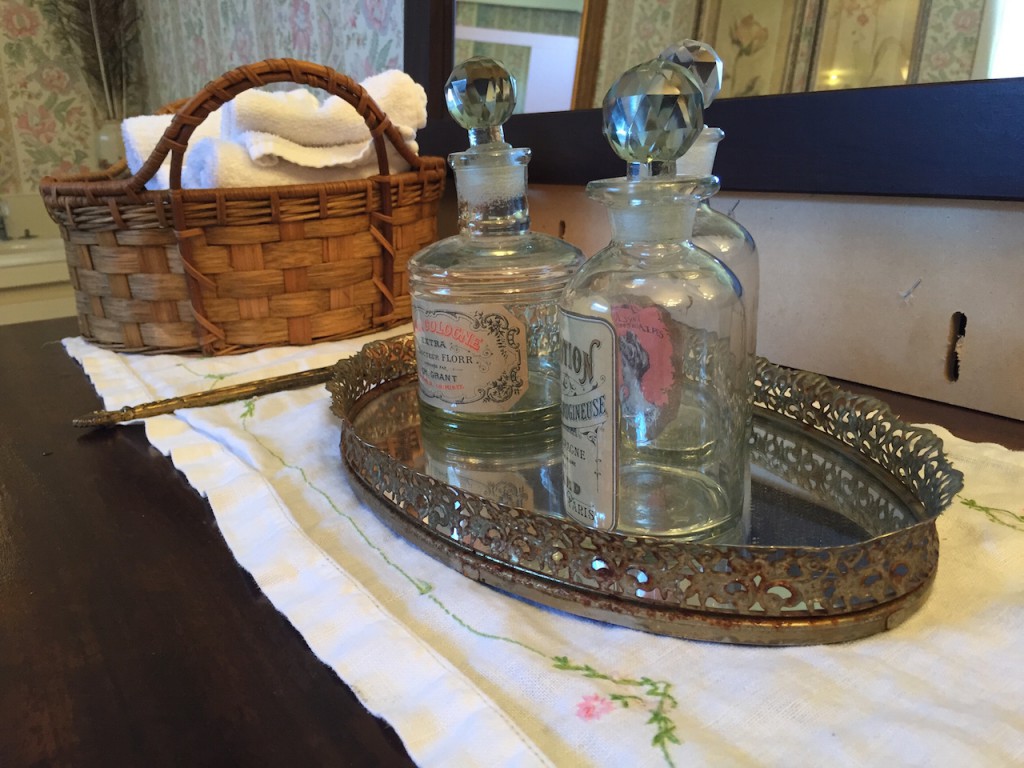 There are many rooms to choose from. The new paint it bright and cheerful, but not too distracting. Even though I enjoyed the cherry red room we ate in, there's a blue room that's to die for! (it was full and I held back pics to respect the guests)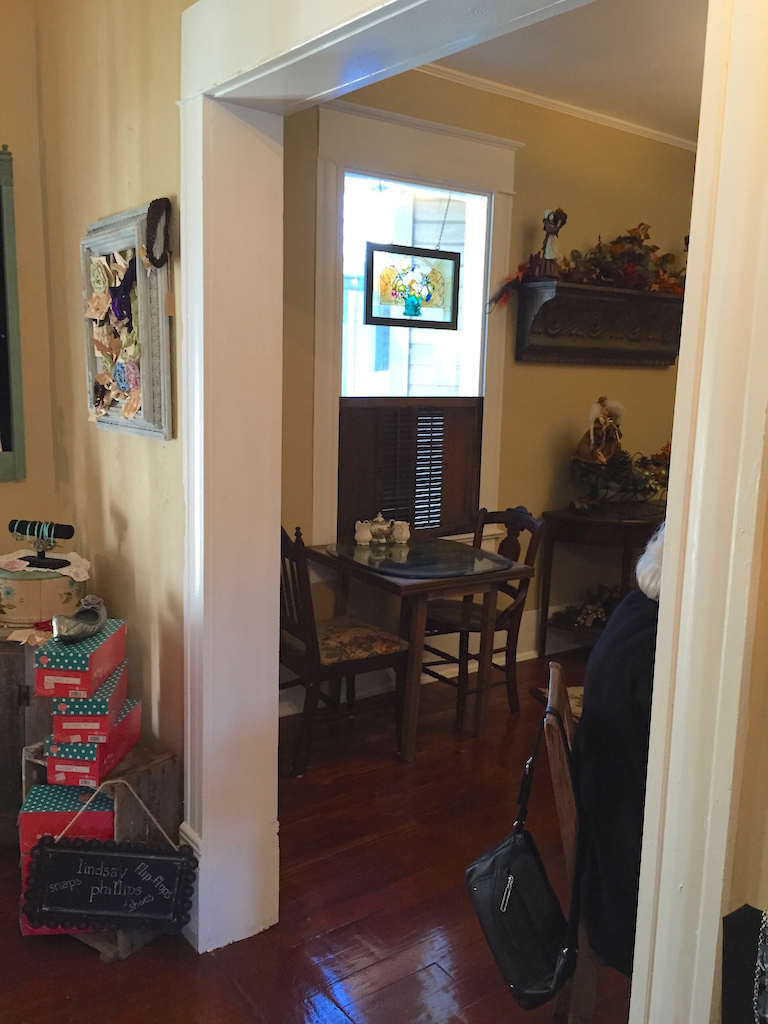 If you're having a shower, rent the room for special gatherings.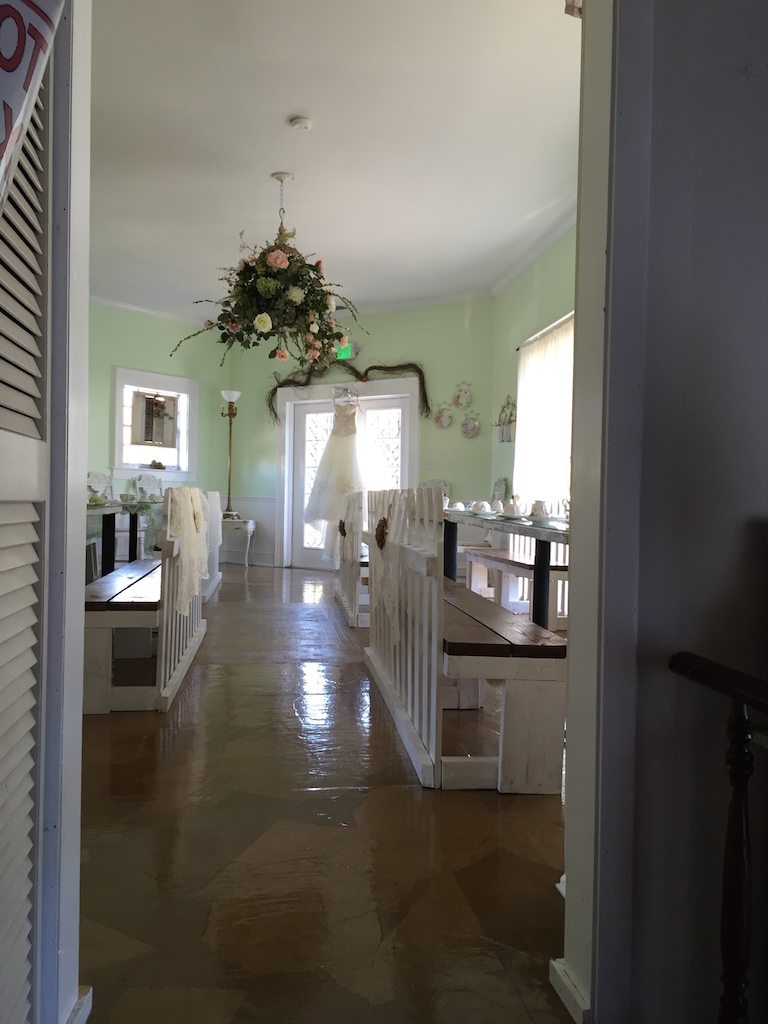 I'm so happy to see the old Christmas house being re-used. And used it is ! The place was full on a Wednesday – I love that!! Call for a reservation, or just pop in.
I'm so happy for John and Aimee's success so far and hope they continue for many years to come – I'll be back.