I'm sure there's an 'Ugliest Bathroom' competition coming up and boy have I got an entry! Problem is,…I couldn't wait…so I started to give it a facelift. Mind you I have NO budget for this project. (hmmm, that's a reoccurring theme here) Seeing as the next stop for everything in this bathroom is the dumpster, I figured I could experiment a bit.
This bath is 20 year old 'builder grade' stuff and it's literally coming apart at the seams. One day the glass globe on the light fixture stared flaking paint (and I thought it was colored glass – duh) and it needed replaced. I thought that I'd paint the fixture while I was at it. Seeing as everything metal, that I'm too cheap to replace, gets a coat of Rustoleum. This was a perfect victim. A little rough surface spray paint in a nickel/steel and we're good to go. It's not an attractive fixture, but not horrible either, and beside this is the pool bath. The poor pool bath gets beat up and abused all summer and then forgotten…it sometimes even gets forgotten in the summer too. When we moved in I put up a funky shower curtain in the window and a couple of matching rugs. Along with a dozen 'pool towels', that was it. I didn't even take down the clips on the wall where the previous owners had the rattan butterflies hung …. Yes, I said rattan butterflies…did I mention they were painted peach. (OMG!) So I asked my husband to take down the light. Then he handed it to me and didn't have to say a word, just looked at the creamy paint under it and the peachy ring it left and knew this was just the beginning. He also knew I hadn't the capital for a gut-job, only a facelift, which I've become pretty good at. Come and see what I did with less than $40.00. That's an approximate, because I really only bought a $12 curtain, and 3 bags of glass marbles at the dollar store, and a $15 magnetic curtain rod for the door, and 2-light globe replacement at $3 each. Everything else was stock and leftovers…this is why you never throw stuff away!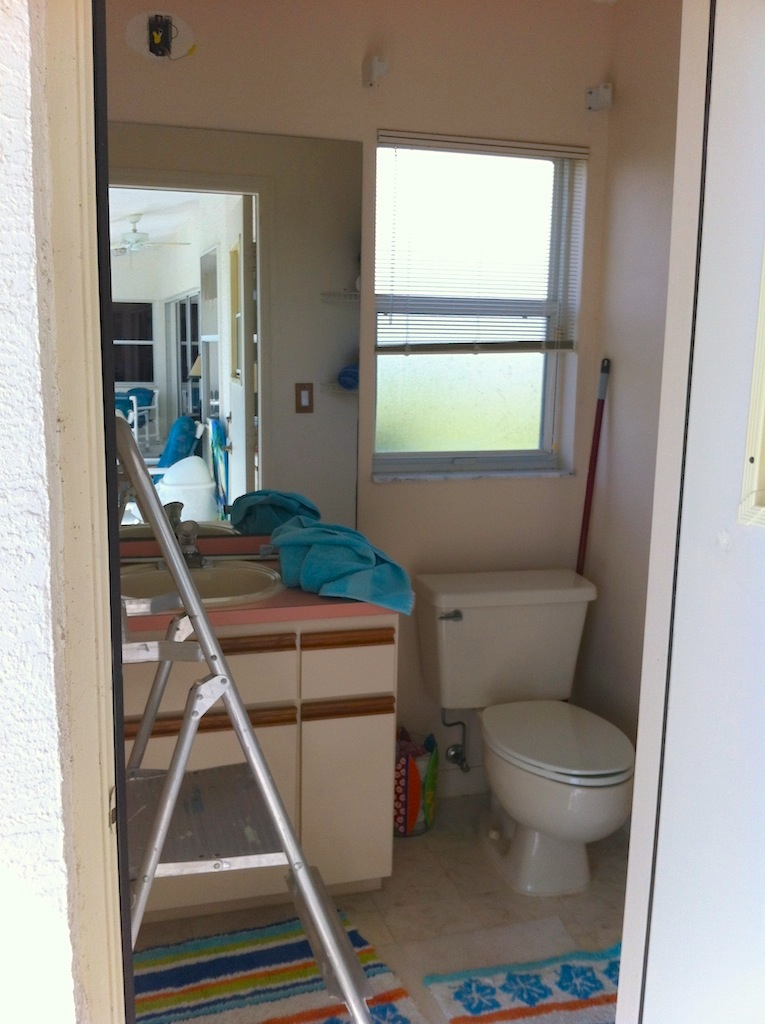 Here's my Butt-Ugly Bath… yes, that peach formica (that's flaking off on the underside) and oak wood pulls. At least I can stain those. The floor is old linoleum and the toilet is original…and almond (cause that goes so well with peach) This is where you have to be careful of the 'haircut scenario'…once you start it just goes from one thing to the next. Take out the floor, ok then the vanity has to go,… and the toilet…and so on. So, I started with just a paint job – which oddly turned out to be just like the creamy off-white the builder had originally put in. It's a really small room, so I had more than enough leftover paint in my 'paint-locker' to do the job. Then there's the major eyesore – that vanity.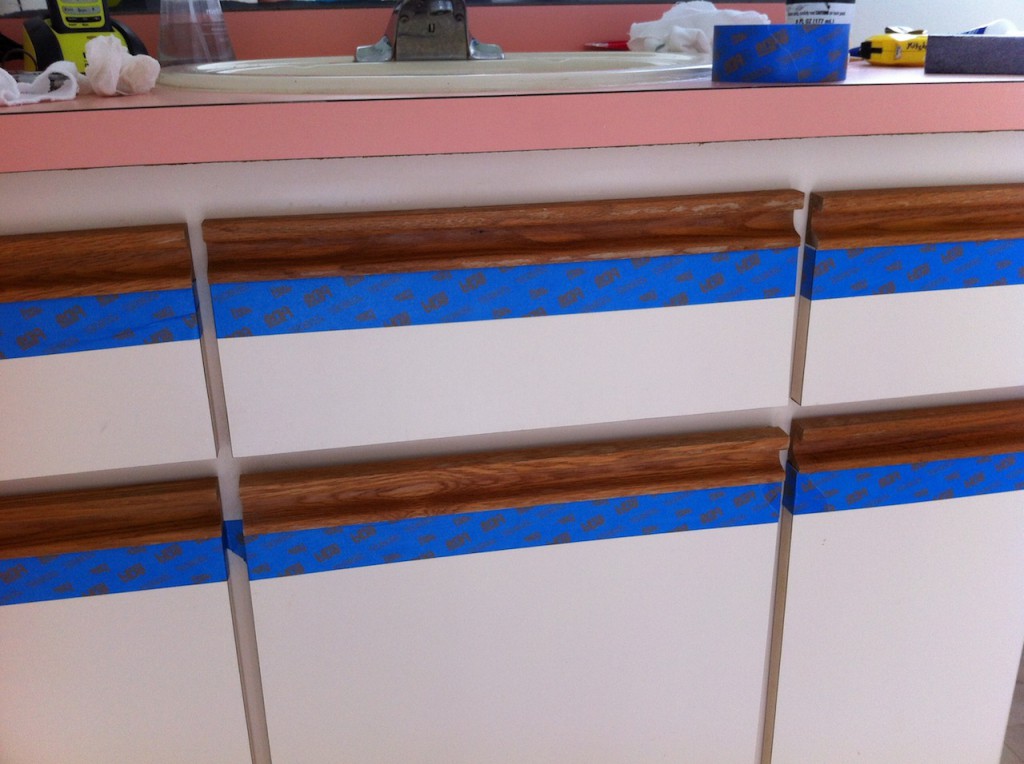 Step 1: Let's get the handles taped off and cleaned for a staining. I used the same Minwax Express Finish I used on the 'Floating Frame' project and a couple of others.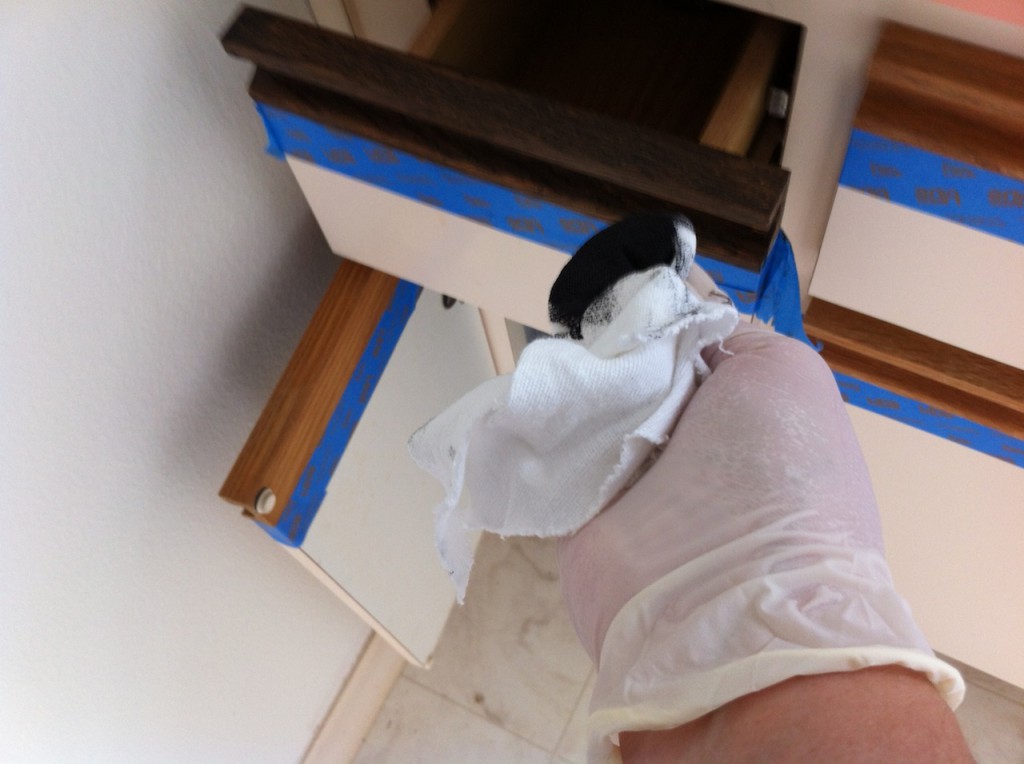 Step 2: Just wipe it on and let it dry. – That's it. Doesn't get any easier.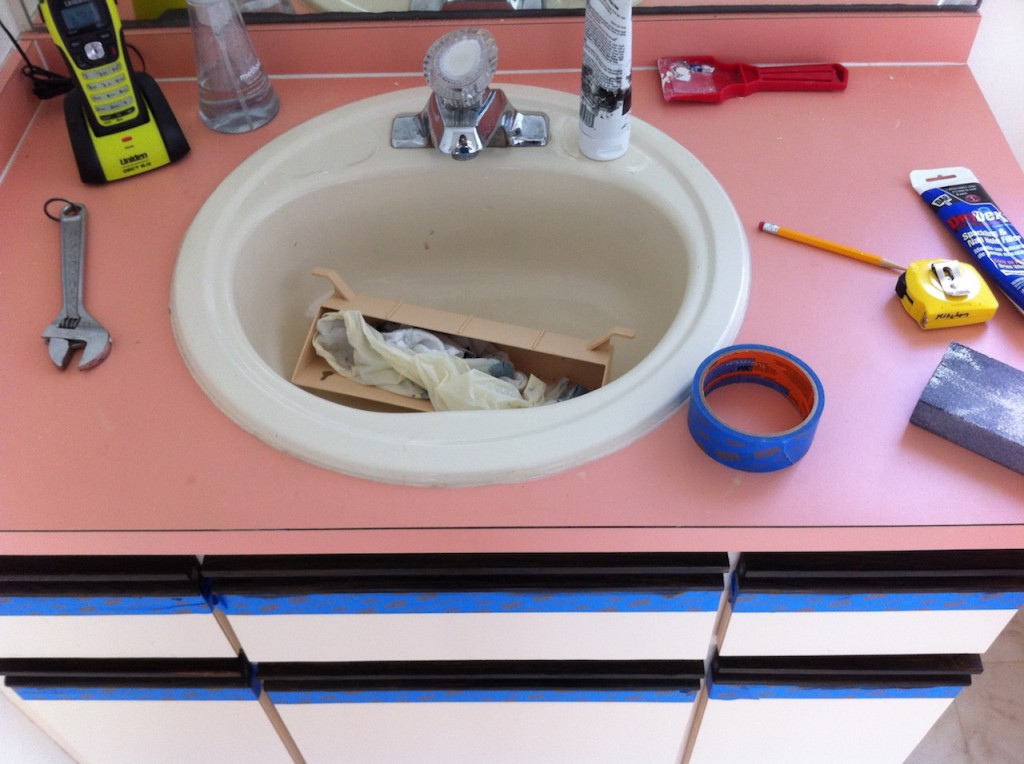 Step 3: Tape off the sink…OMG that color I can't believe I've looked at it for so long!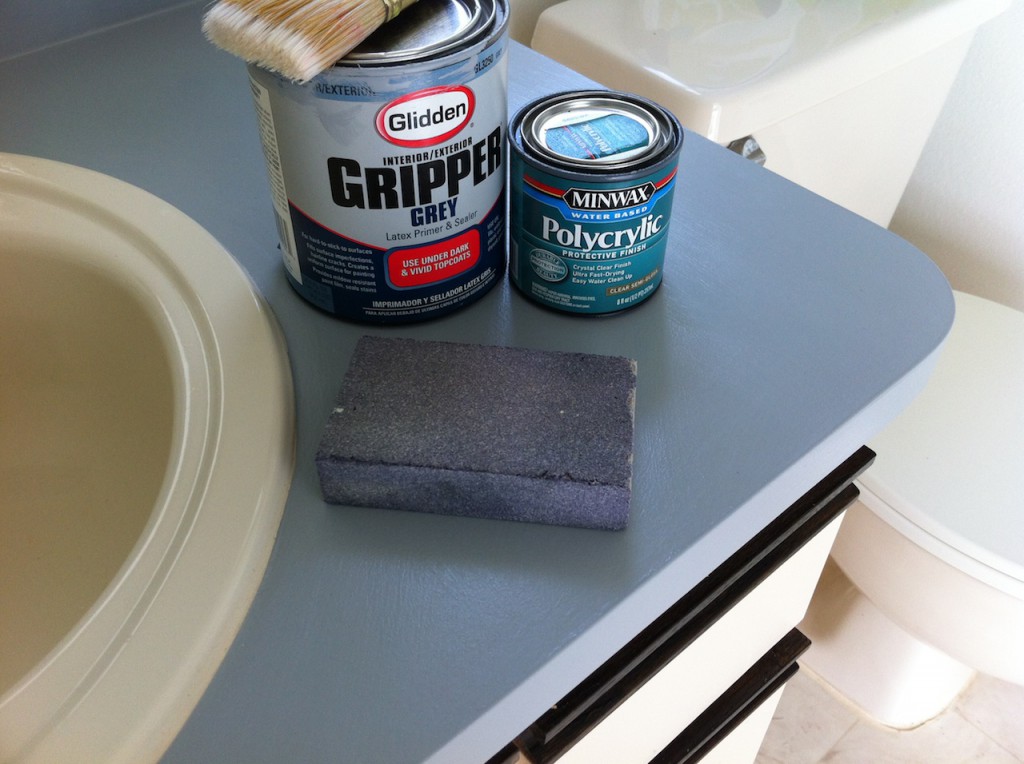 Step 4: Well, this is what I used for step 4. It's pretty self explanatory. I used the sanding sponge to scuff the surface and give it a 'tooth' for the paint to adhere to. Then I coated it with The Gripper. After that was done I had every intention of covering it with another color…except that I just really liked that weird grey. I know – crazy. So after I thought about it, the next day I coated it with my favorite Polycrylic top coat. If I was a patient woman…which I'm not, I would've taken the time to be creative with the brush strokes as you can see them slightly in the glare. But never mind that, I was ecstatic that I could actually cover Formica!! And, yes, the kids were happy to test it for me with the filling of water balloons and leaving wet suits and sunglasses strewn about…it still looks great.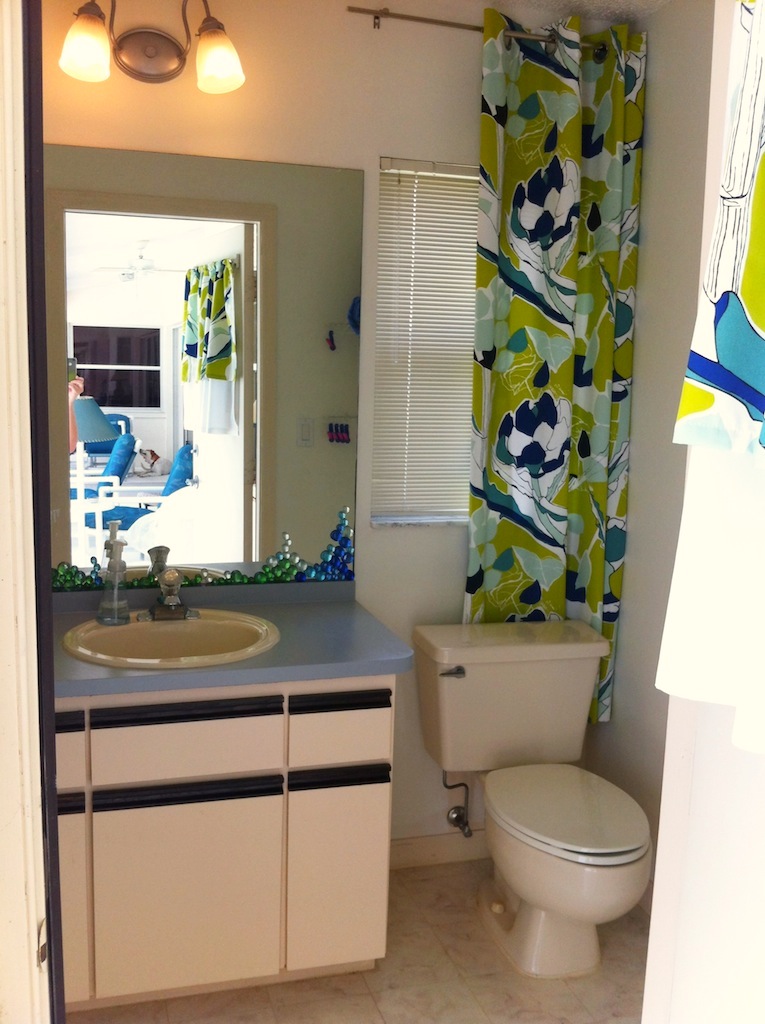 Step 5: Ooo,.. There is no Step 5. I guess that would be the curtain. I picked up a set of these at Ikea for $25, and only used one panel . As with all their drapes, they were super long. That's great, because the extra I cut off was used to cover the window on the door. It's a steel door with a plastic trimmed window insert. Speaking of that window. If you have one, I'm sure your plastic moulding turned yellow years ago. I just happen to have some of that Universal Rustoleum in Antique White. A little coat made it look like new! On the other wall, I replaced the 3″wide balloon valance rod (yes, it originally held a peach chintz number straight from 1986) with a leftover rod insert and center brackets from another window project. See, I keep everything.
Check in tomorrow when I deal with that awful old peeling mirror.