Some time ago I posted on my Aunt's website (ktgreendesign.com), a cookie that has all of the ingredients that help fend off cancer. It was from one of my favorite food sites, King Arthur Flour, and it was called the 'Take-10 Super Cookie'.
As of late, I've been only posting the most important things going on in my world from moment to moment. The other day I took a breather and made my Mom these little gems, with some revisions that might make it a 'Take 11 or 12 Cookie'… you can decide.
These days, it isn't much of a secret, that my Mom's been battling a nasty illness. She needs to keep her strength up and these cookies are dense and moist, and packed with a one-two-punch of goodies to help with the fight. So, Take a long look at that spice cabinet – and let's go !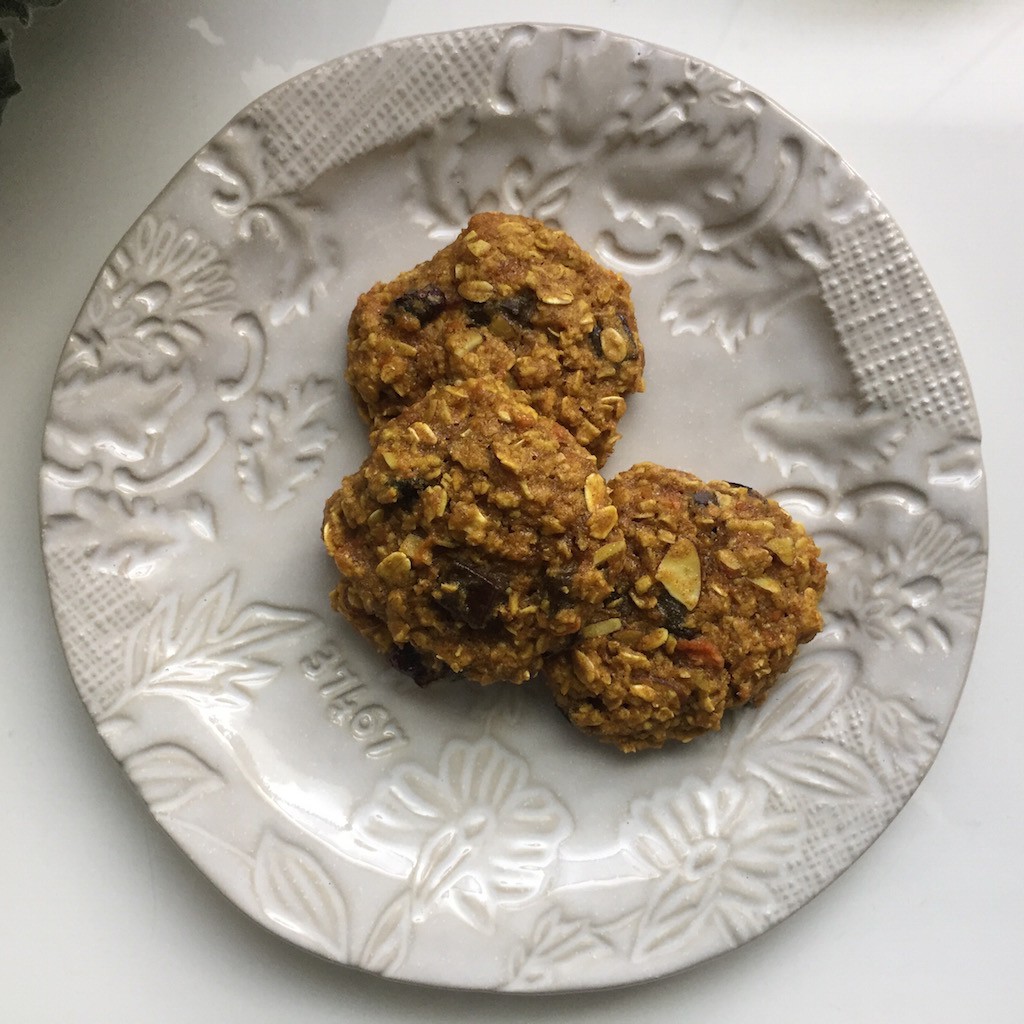 Take -10 Super Cookie : 2.0
Gather the goods….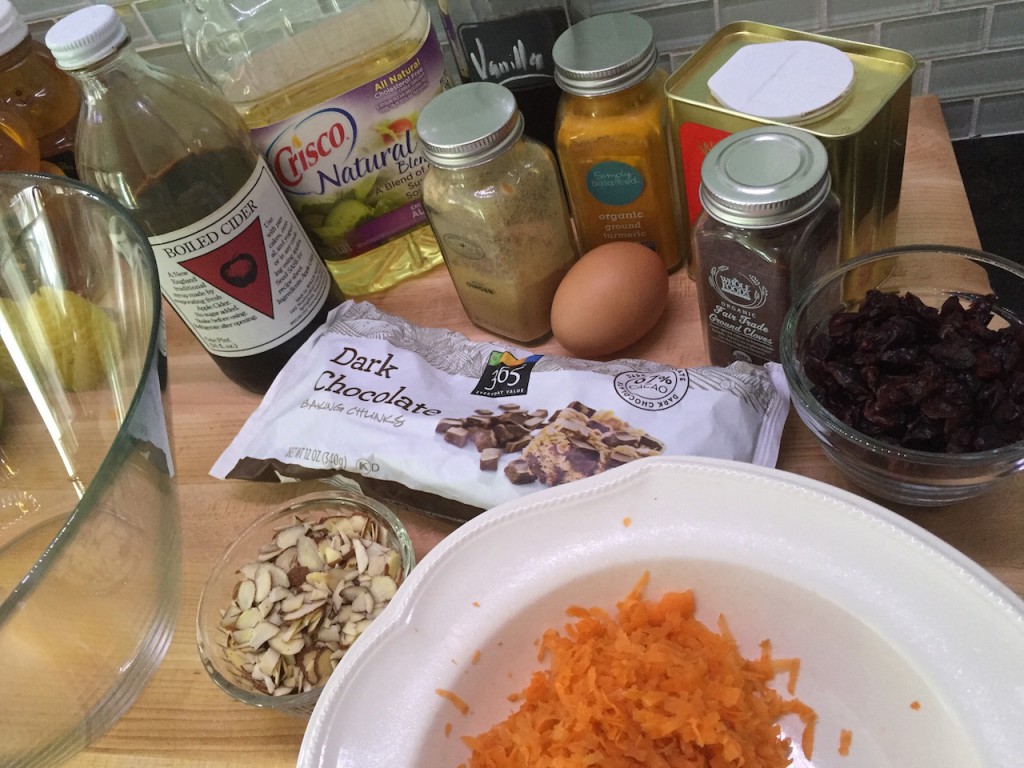 I have to believe that, if you don't have carrots, a shredded Granny Smith apple would be great as well. I've marked the ingredients with cancer fighting properties with the asterisk *.
1/3 cup Canola Oil*
1/2 Cup Brown Sugar (or use 1 Cup Brown Sugar, if honey isn't allowed on your diet)
1/3 Cup Honey (local please)
1/2 tsp Baking Powder
1/4 tsp Baking Soda
1 1/2 tsp Ground Cinnamon*
1 tsp Ground Ginger*
1/4 tsp Ground Cloves*
1/2 tsp Ground Turmeric*
3/4 tsp Salt
2 tsp Vanilla
1 Large Egg
2 Tbl. Boiled Cider (or corn syrup)
1 Cup Shredded fresh Carrots*
1/2 Cup Dried Cranberries*
1/2 Cup Dark Chocolate Chips or chunks* (or semi-sweets will substitute well)
1/2 Cup Blanched Slivered Almonds*, toasted (or sliced – whatever you've got!)
1 Cup White Whole Wheat Organic Flour* (King Arthur if you please)
1 1/2 Cups Quick Cook Rolled Oats*
Preheat the oven to 350deg., and line some pans with parchment.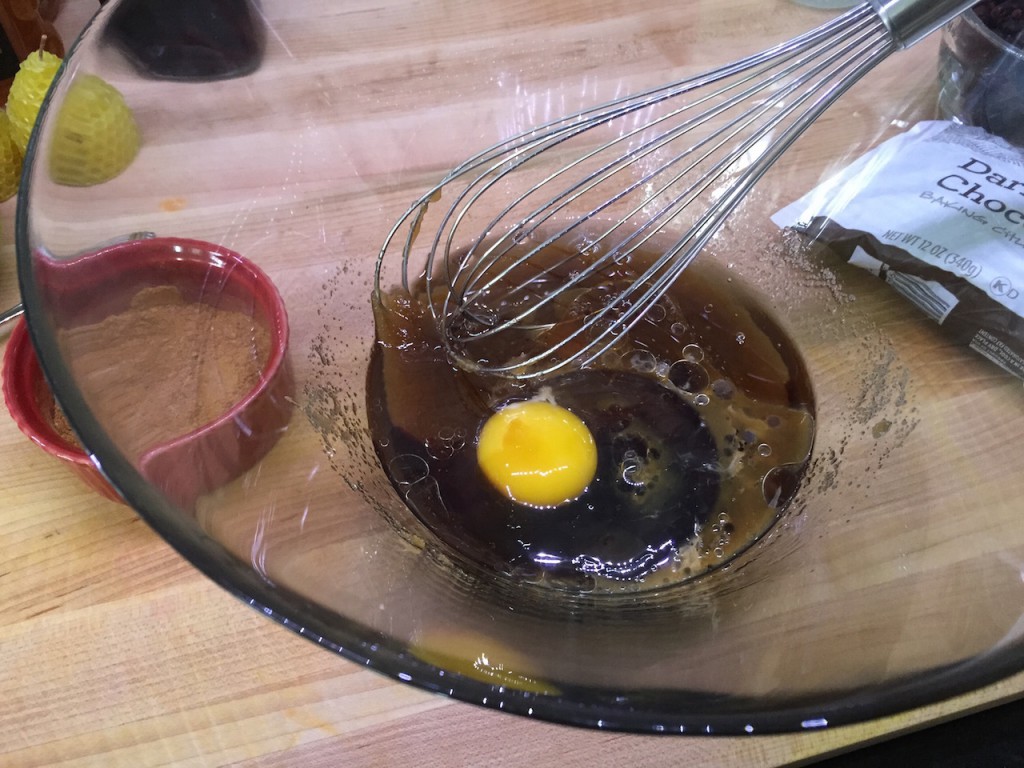 Get a large bowl and combine the oil, sugar, honey, vanilla and egg.
Mmmmh, honey !!!! Just the other day I discovered that there's a honey purveyor from my own neighborhood! Wow – how's that for local !!!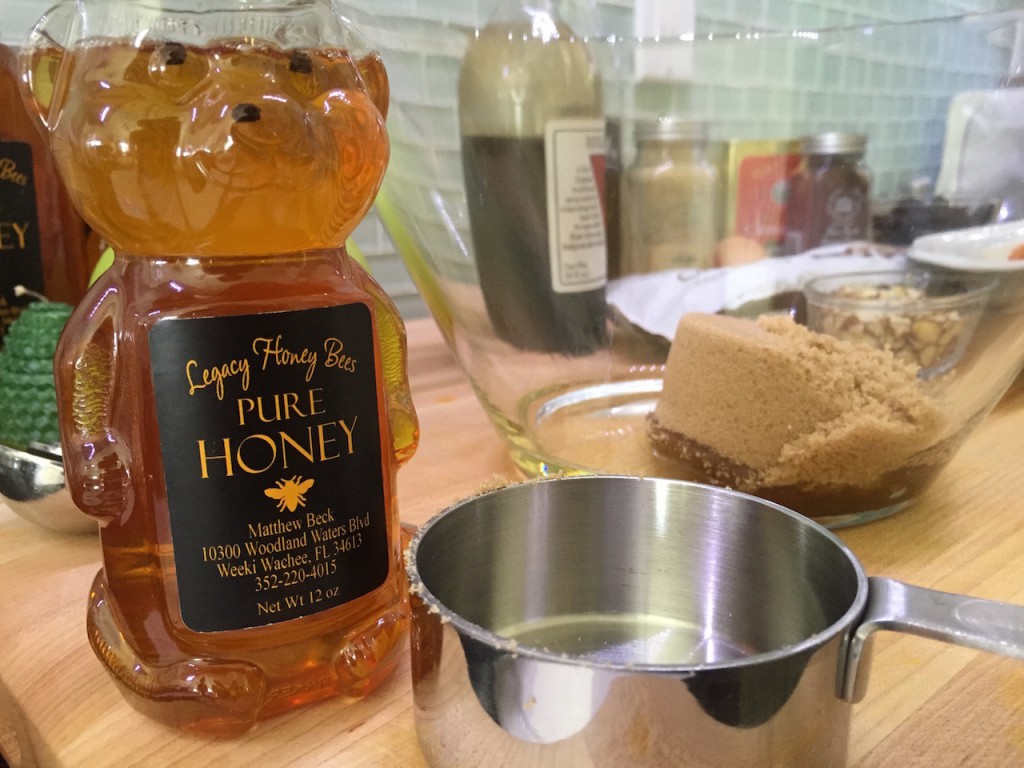 Need some – give him a call Matthew Beck Legacy Honey Bees 352-220-4015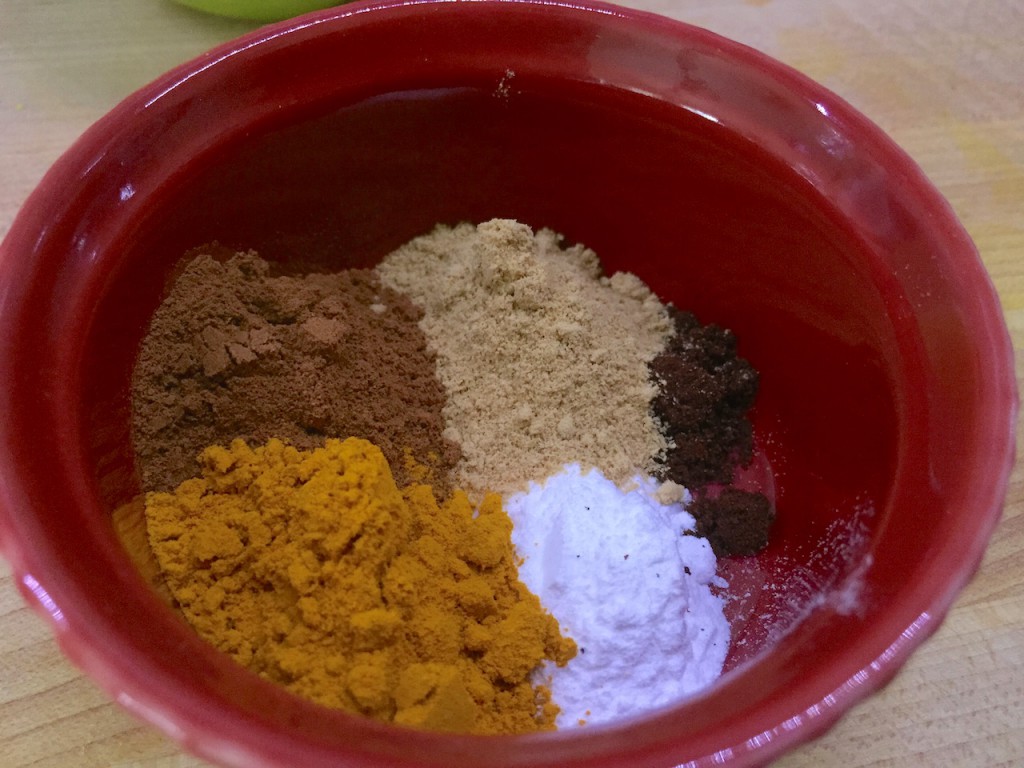 Combine the spices, salt, soda, and baking powder in a tiny bowl then add to the wet. You don't have to do this, but I like to really break up any spice clumps that may exist.
Now add in the corn syrup or boiled cider – Oohhhh, this is one of my 'secret ingredients'. I keep this for everything apple – from pies to appletinis!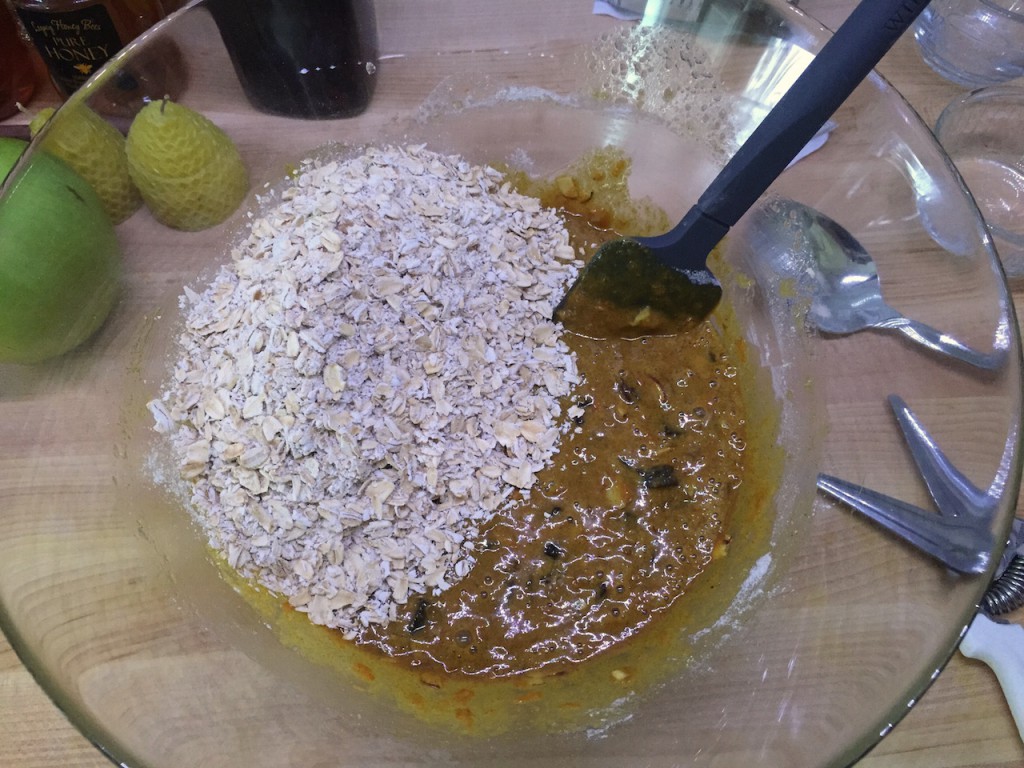 Now the carrots, nuts, cranberries and chocolate chips or chunks. Then the flour. Lastly, the oats. Combine it all…..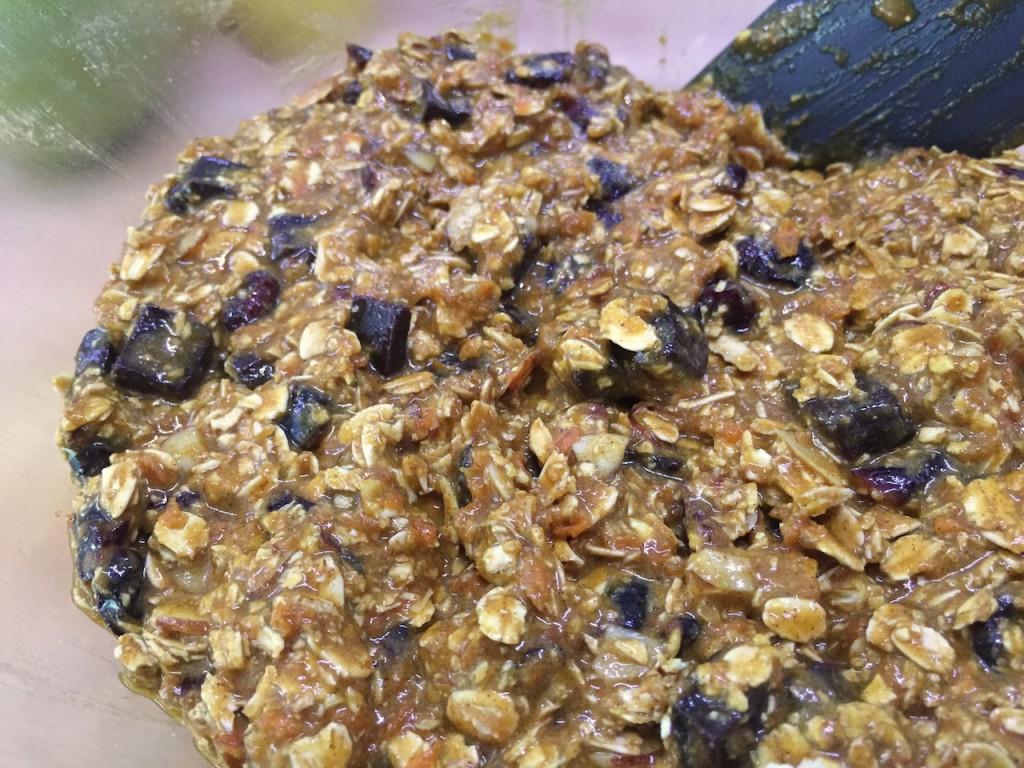 then get your scoop out.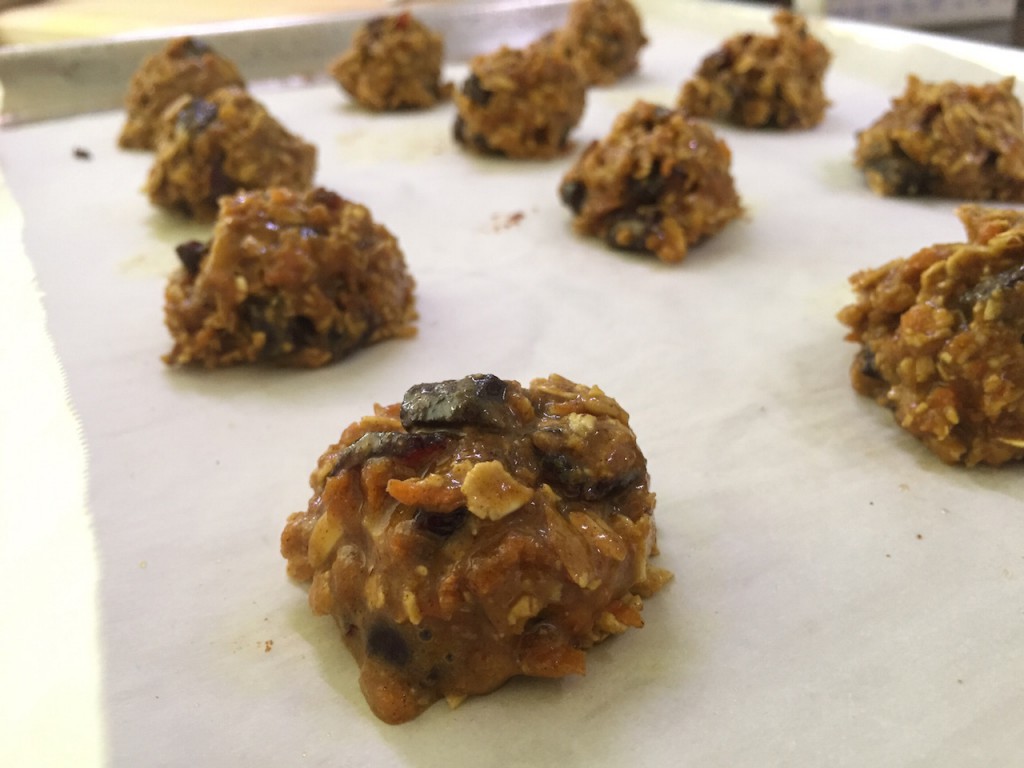 Dish them out with a regular cookie scoop and they'll give you this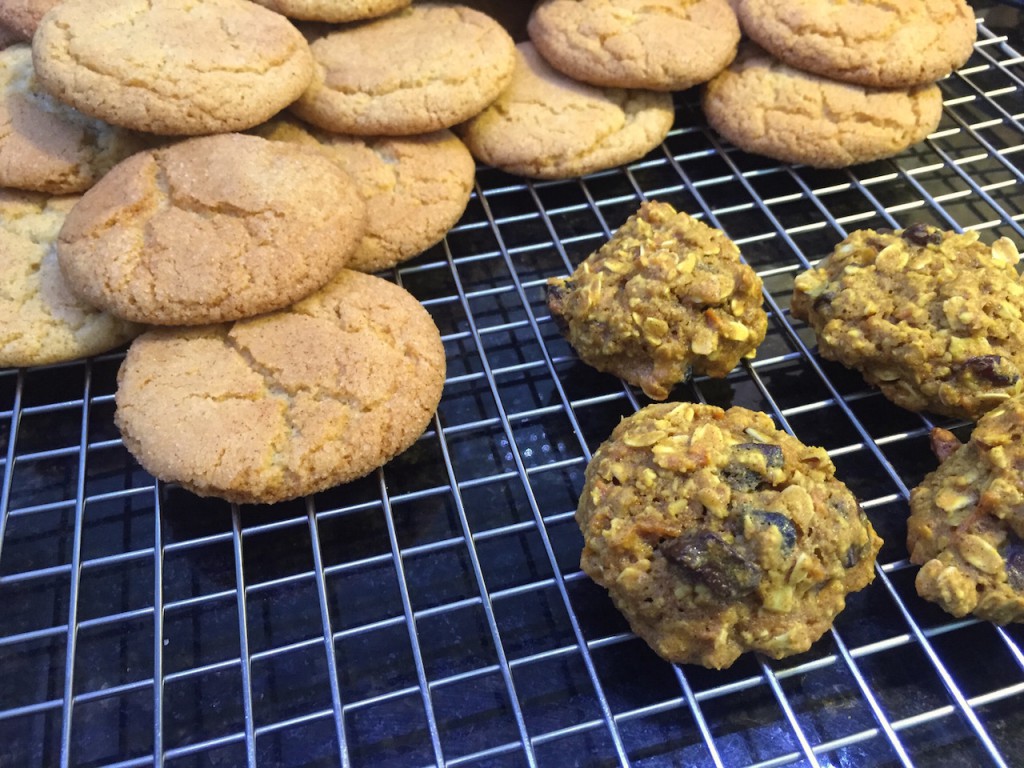 No, not what I wanted. The boys might mistake them for dog treats. I can make some picture perfect cookies, y'all ! (yes, those ARE my Snickerdoodles!)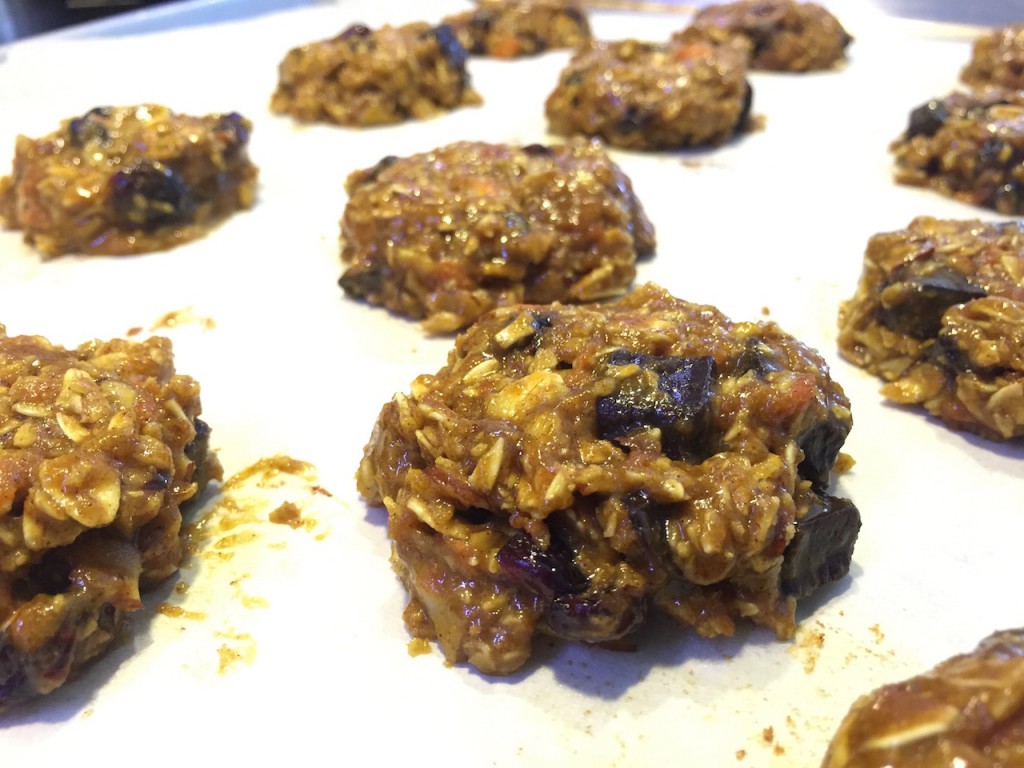 Just use a bigger scoop, wet your fingers and give them a little shaping assistance. They'll be blog-worthy!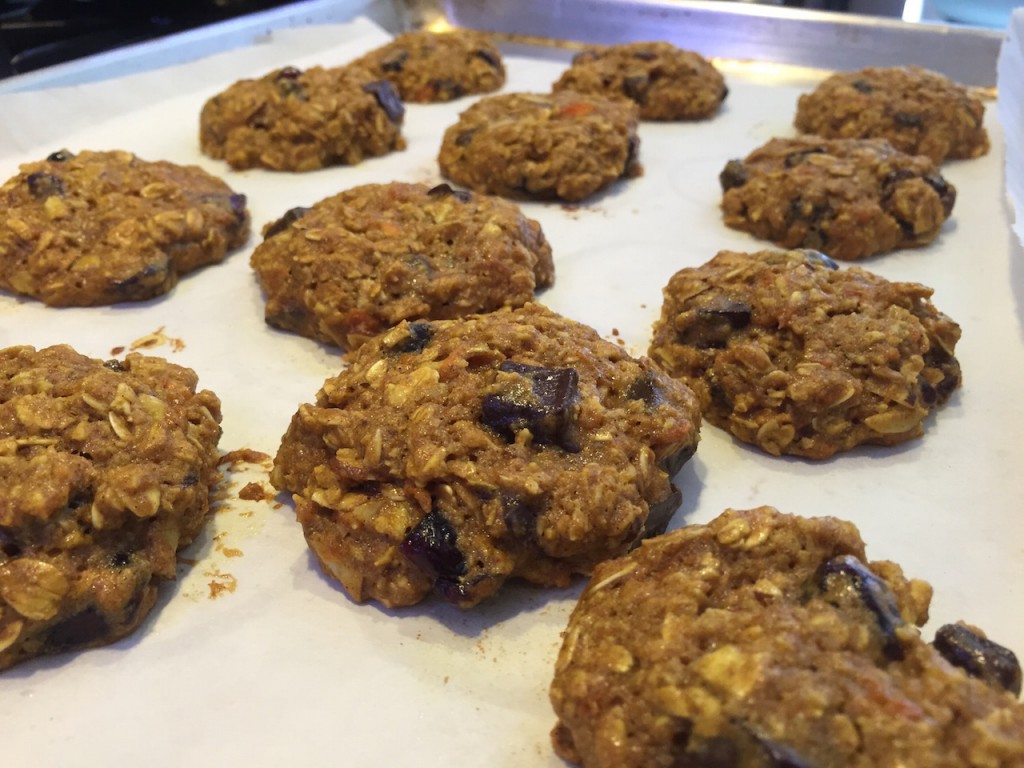 See, perfect !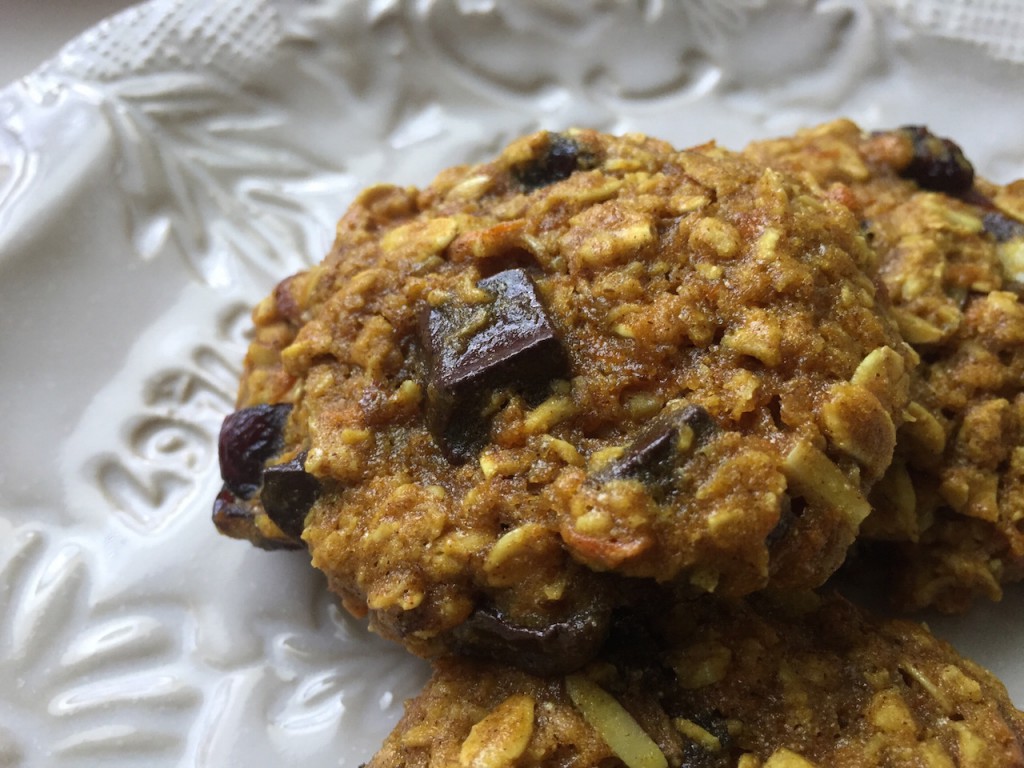 I will say, the turmeric made them kinda yellow, not surprising. And I know you're supposed to combine turmeric with pepper for effect, but it's a cookie – I just couldn't do it. You might change the meaning of 'Take-10′ on these cookies as you might want to take 10 of them to work for snackin' ! Enjoy.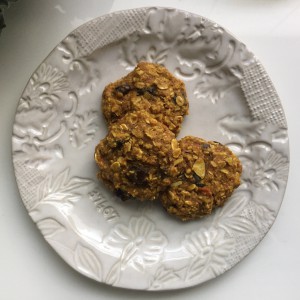 Take 10 Super Cookie 2.0
2015-04-29 10:42:07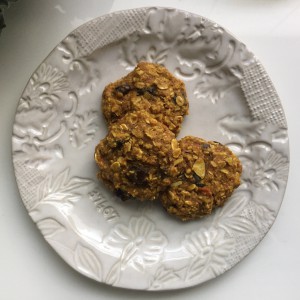 Giving cancer a one-two punch!
Ingredients
*1/3 cup (2 3/8 ounces) canola oil
1/2 cup brown sugar - or just use 1 cup brown sugar if you're not allowed honey
1/3 cup raw honey (local please)
1/2 teaspoon baking powder
1/4 teaspoon baking soda
*1 1/2 teaspoons ground cinnamon
*1 teaspoon ground ginger
*1/4 teaspoon ground cloves
*1/2 teaspoon ground turmeric
3/4 teaspoon salt
2 teaspoons vanilla extract
1 large egg
2 tablespoons (1 1/2 ounces) boiled cider (for great flavor; substitute maple syrup or dark corn syrup, if desired)
*1 cup (3 1/2 ounces) shredded fresh carrots
*1/2 cup (2 ounces) dried cranberries, packed
*1/2 cup (3 ounces) semisweet or bittersweet chocolate chips
*1/2 cup (2 ounces) blanched slivered almonds, toasted in a 350°F oven till golden, 9 to 12 minutes
*1 cup (4 1/4 ounces) King Arthur White Whole Wheat Flour, organic preferred
*1 1/2 cups (4 3/4 ounces) quick rolled oats
Instructions
Preheat oven to 350 degrees, line cookie sheets with parchment.
Combine the spices, salt, soda and powder in a small bowl (you don't have to, but I do). In a large bowl combine sugar, honey, oil, vanilla and egg and whisk smooth. Add in the spices. Then the boiled cider or corn syrup. Stir in the cranberries, carrots, chocolate, and nuts. Then the flour, combine until smooth. Add the oats last.
Using a larger than tablespoon scoop, add to pans. Dip your fingers in water to dampen, then flatten and shape each cookie. (this keeps them from looking like dog treats!)
Bake for about 11 min, until they look set. Remove and let them cool on the pan a minute then transfer to a rack.
Notes
These are a weighty cookie ! A cup of coffee and it's breakfast in your hand. Enjoy.
Adapted from King Arthur Flour
BadZoot https://badzoot.com/