I'm cheap – I might have mentioned that. If I can get free power, I'm all over that! During our exterior renovation, I decided to replace the exterior lighting fixtures to help change up the look. We painted and did other things, but that's another post… later…I've been busy!! OK, Some of the lights got, yet another, coat of Rustoleum and I then frosted the inside of the glass panels to make them match the lovely lights I found on Overstock.com.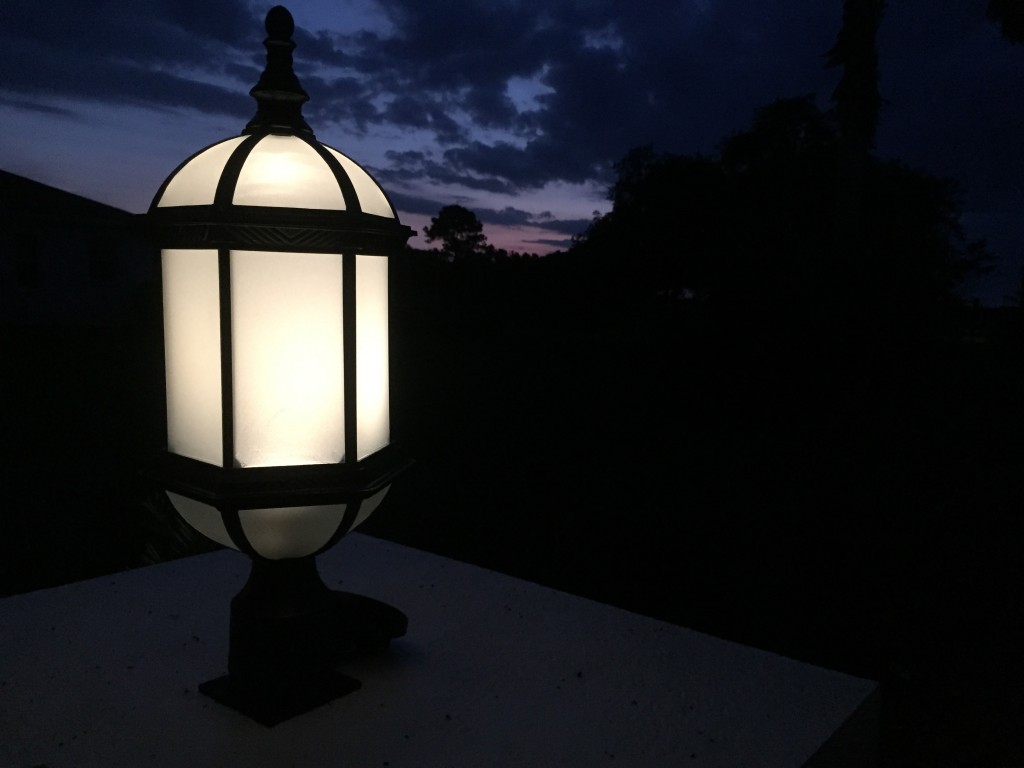 I looked on the internet for others that'd converted post lights to solar and found a bunch of wing nuts stuffing solar string lights into fixture… "Ta-Daaaaa! Solar lights!" Um, no. I mean a real solar powered LED set up…I can do this….well maybe with a little help from my friend. No, not the cat – he's the supervisor. (This was the most fun we'd had on a project in forever!)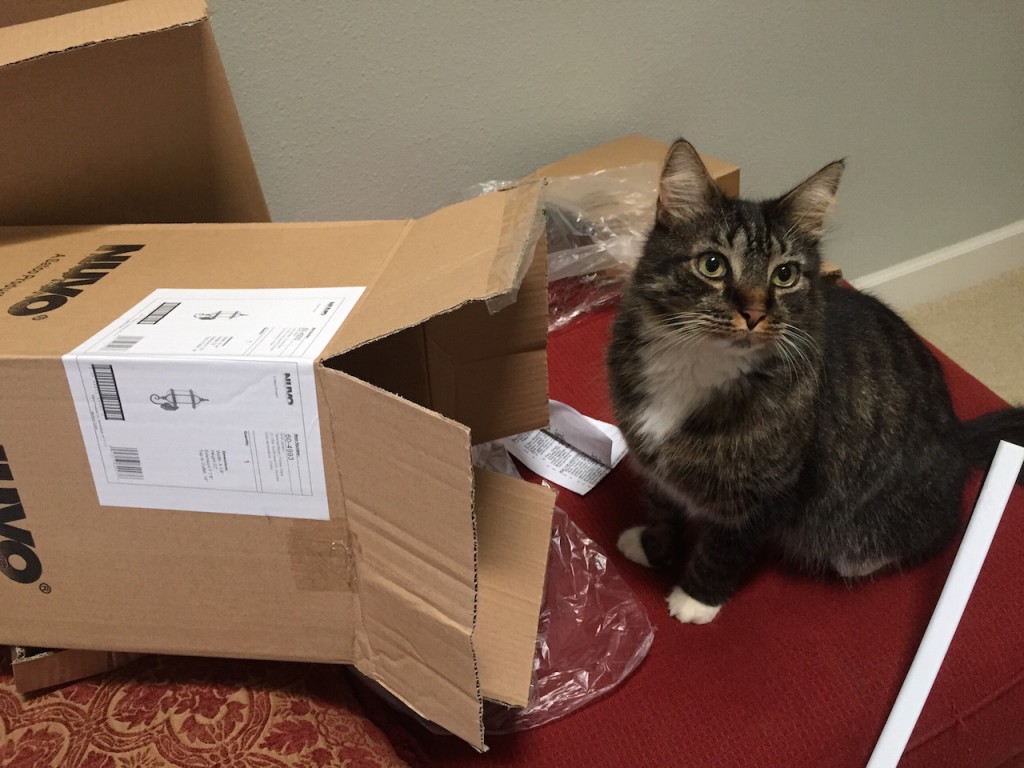 These lights are interesting looking and have frosted glass, also 'energy star compliant' with their included fluorescent bulbs. Problem is, they have that weird GU24 prong post and I want to use LED bulbs that are even less to run. That's fixed easy enough with an adapter from Amazon.com for maybe $1.00 a piece, depending on how many you need. Well, that's what I did with the others in the set, but those were hard-wired. I need self-sustaining post lights.
Now, check out those fixtures and make sure you have all the goods to make this happen.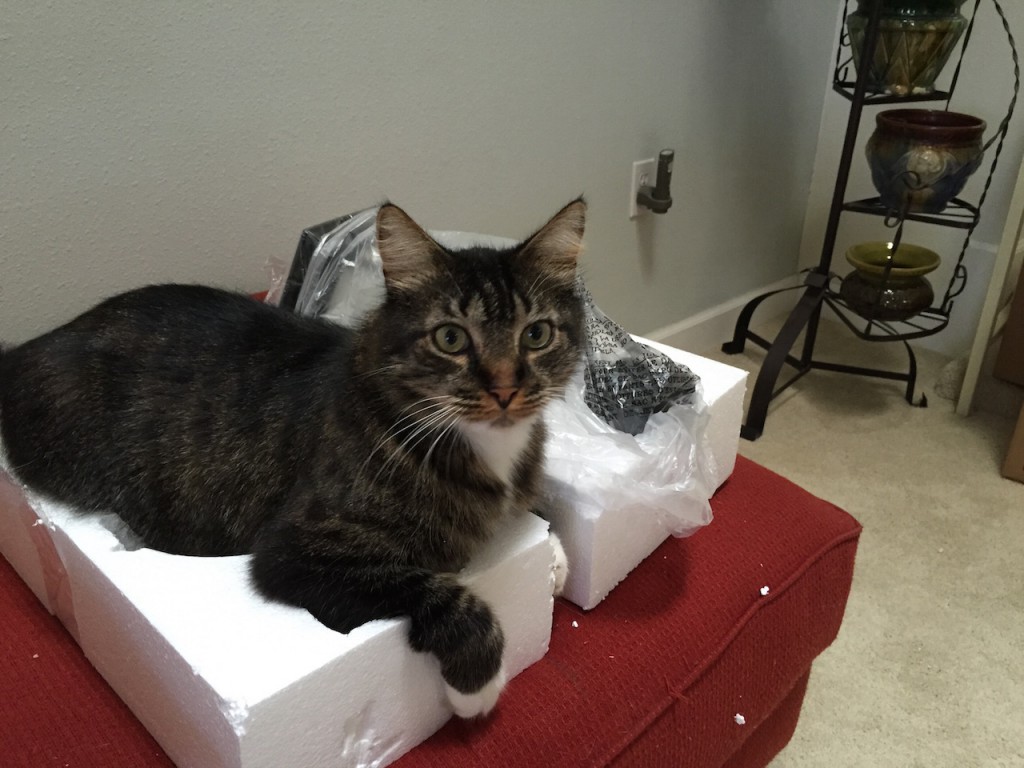 You'll need : Post Lights, a universal post mount (if needed), a super cheap solar light, electric connectors, a spare LED reflector….cat is optional. Let's go !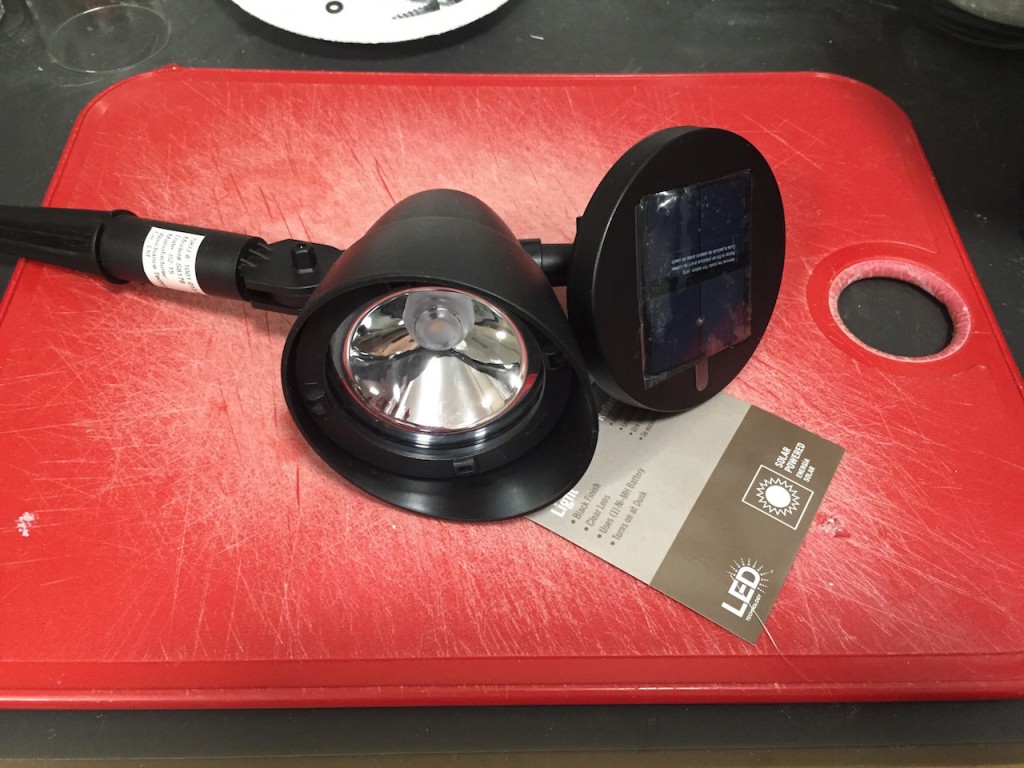 Step 1: Go and get the cheapest LED stake light you can find – this little number we picked up at Home Depot. Not even kidding – $5.88 !! Now – pay attention… tear it apart. Anything 'Made in China' is made up of numerous connected parts and pieces so unscrew everything and disassemble whatever you can. Now, you may not be able to find this exact light so I won't bother with those steps – your light will be different.
Next, yank the guts out of the new light fixture. It's basically just a lamp, so there'll be a threaded rod and the socket with wires, etc. Don't toss that stuff though.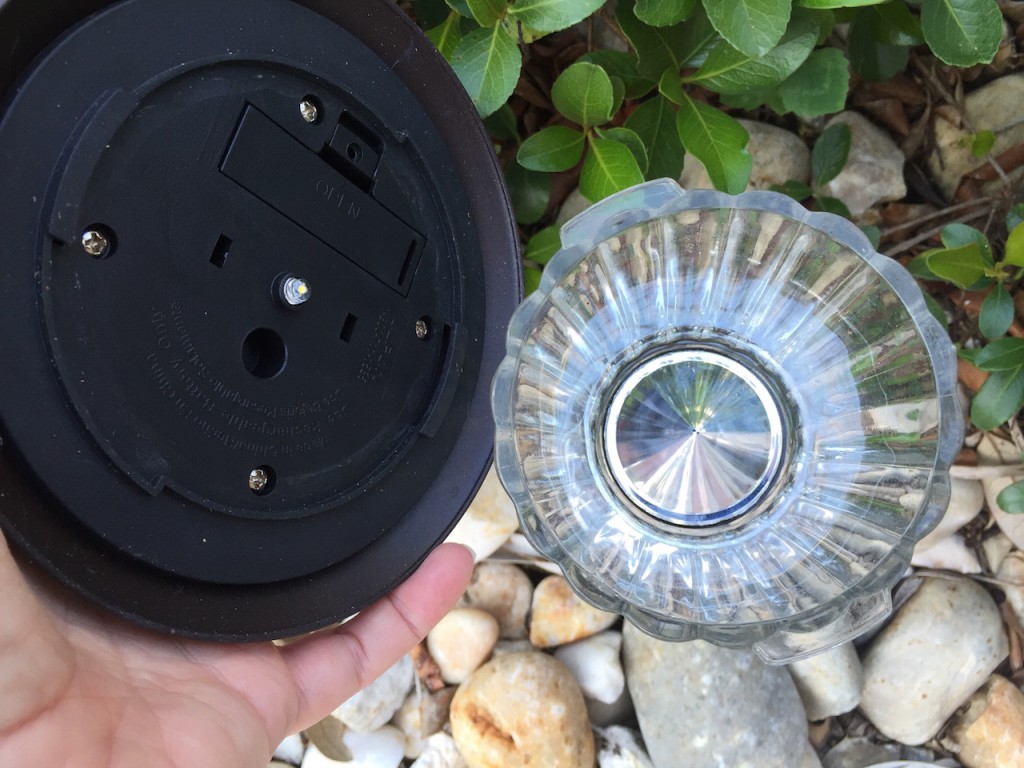 Step 1a: Now find a reflector. Many of us have those solar landscape lights…the magic of these is the use of the reflector in the bottom of the glass/plastic base. This is what you'll need. I'll show you why later. When they break I do actually keep some of the parts to patch the rest. (Did I mention I was cheap,…and a pack-rat?)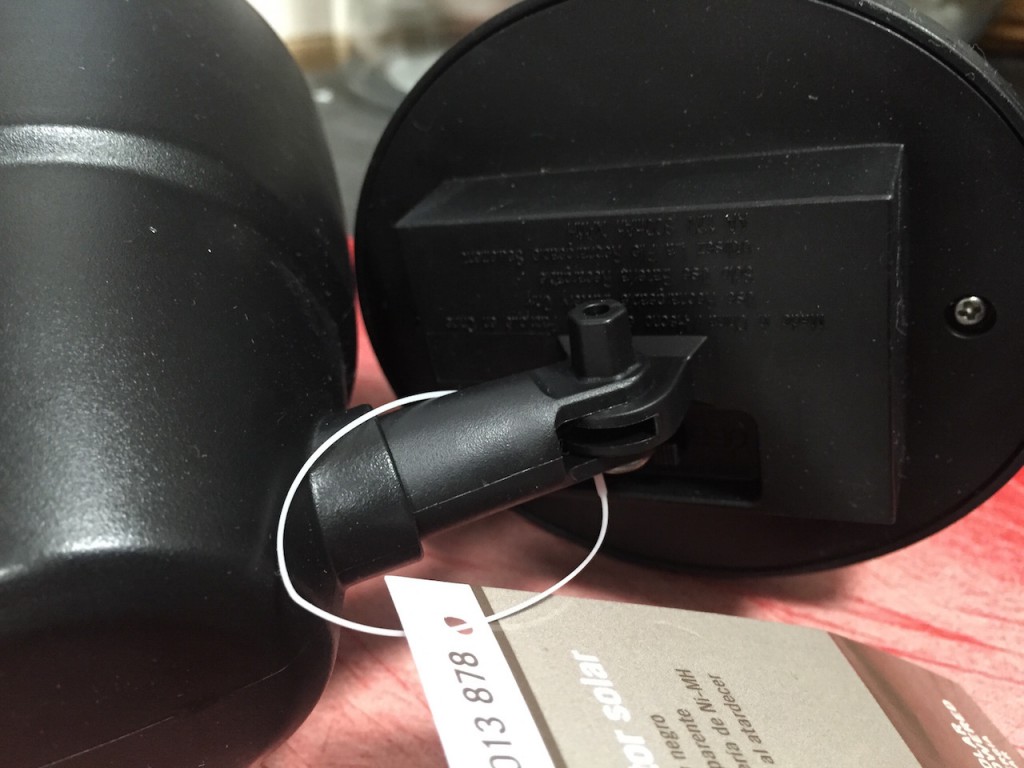 Step 2: Get the post mount ready. Now, you might not need this. We did because we put ours on a column and not an actual post. Drill a hole in the side of it to fit the solar panel mount from the stake light. These are generally cast aluminum so drilling is relatively easy. If you overdo it, that's what caulk and Gorilla Glue is for.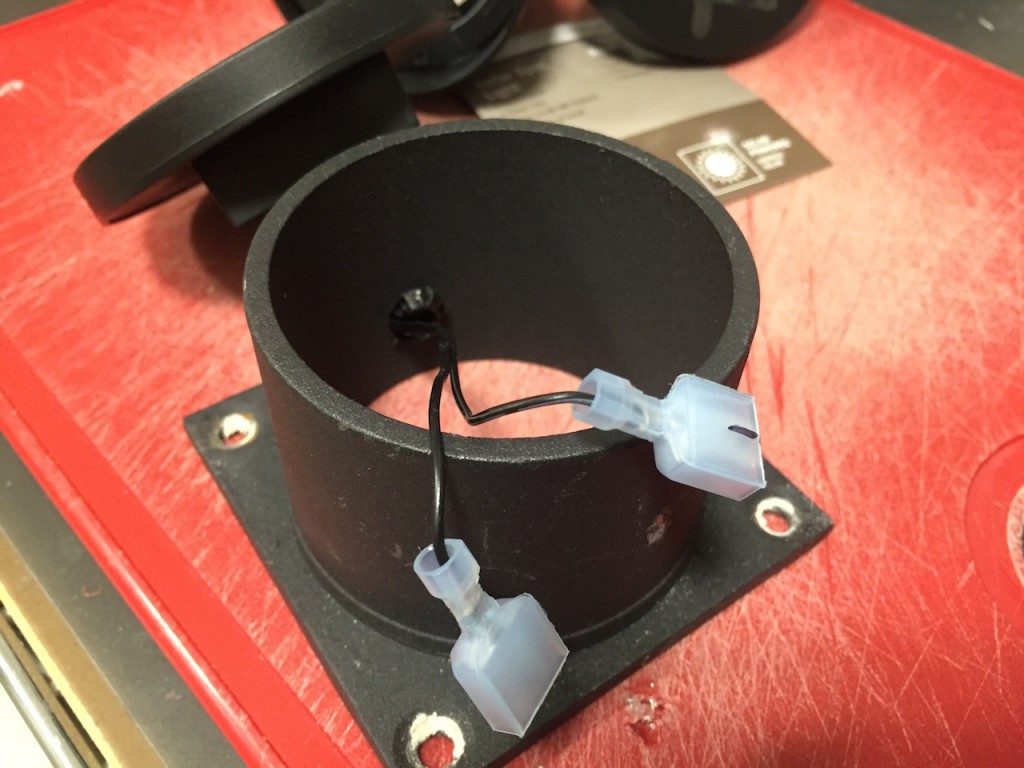 Your wires from the stake light may, or may NOT be long enough. We used the extra wire with the original lamp assembly and connected it. The whole solar panel assembly came out of the stake light and we pushed it into the hole we'd drilled.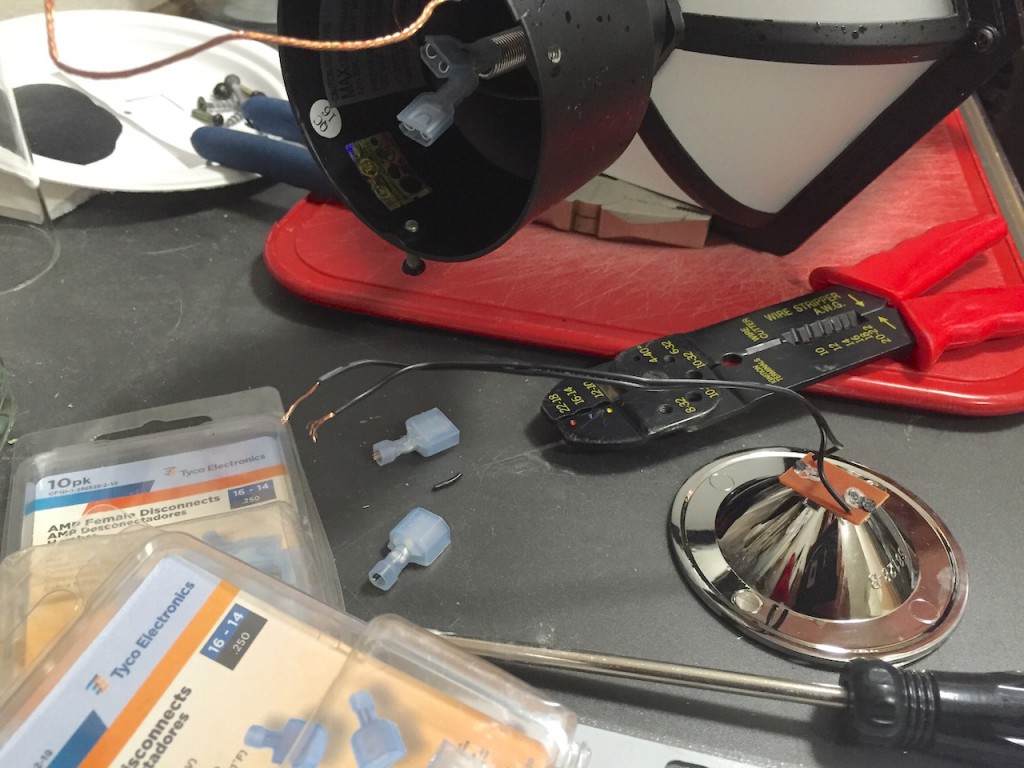 These wires are really easy to connect. – strip the ends and get some cheapie connectors. Or you can solder them. Or use these little connectors that are for phone wires. These LED's use such tiny wire.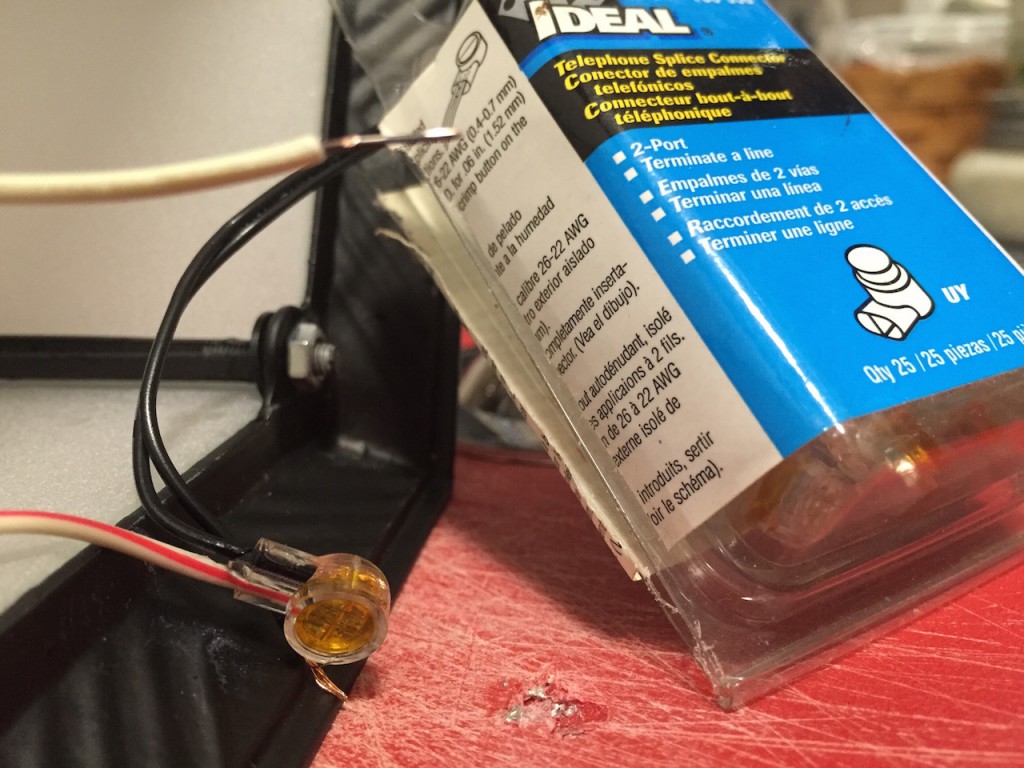 Step 3: Before you get all excited about installing this puppy, examine your light. We discovered that these were sold as weather proof, but there were places that would hold water. This is Florida – that is NOT a good thing. Don't fear the caulk. Use the blue tape to keep it clean. Don't fill every seam, it will need some venting, somewhere. Use clear window caulk and go to work.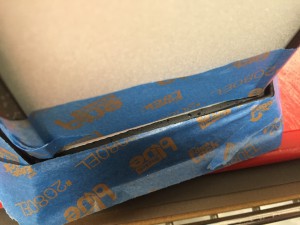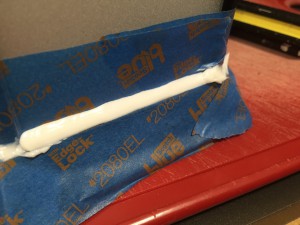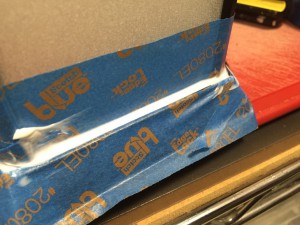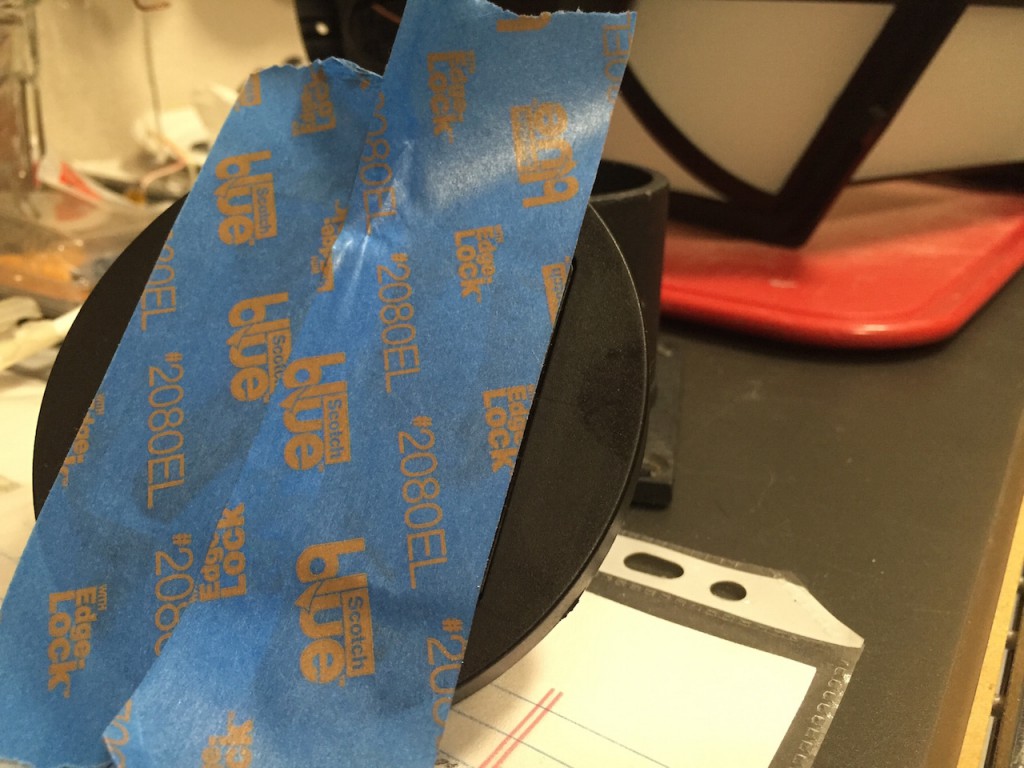 Step 4: Ok, so it's not really Step 4, but I got ahead of myself. This is to tell you of our ridiculous stupid-ness! Note to self: when testing a light, be sure that the dawn-to-dusk sensor is COVERED!! We spent, and I can't believe I'm admitting this, 45 min. fighting with an 'electrical gremlin' that we couldn't find. We'd test the connections and it would work and then not work – ugh,….lots of swearing. Turn the switch off and on. Maybe the wire's old? Those connectors are a little big? But we're not one's to give up now, and we kept going,… and going…. Why did it work on one and not the other? "This defies logic!" Jon said, along with some well placed expletives. Then from out of the blue, he'd flipped the whole bottom unit over and it worked – what?! I gasped like someone had hit me in the face and said "Oh my Gaaawd,…. the light sensor's covered!!!!" We laughed ourselves nearly sick over it. I told him I'd never admit that in print, and he said, "Oh yes, you should – we won't be the only ones to do this!" So, cover the solar panel with some blue tape and your tests will be much more productive.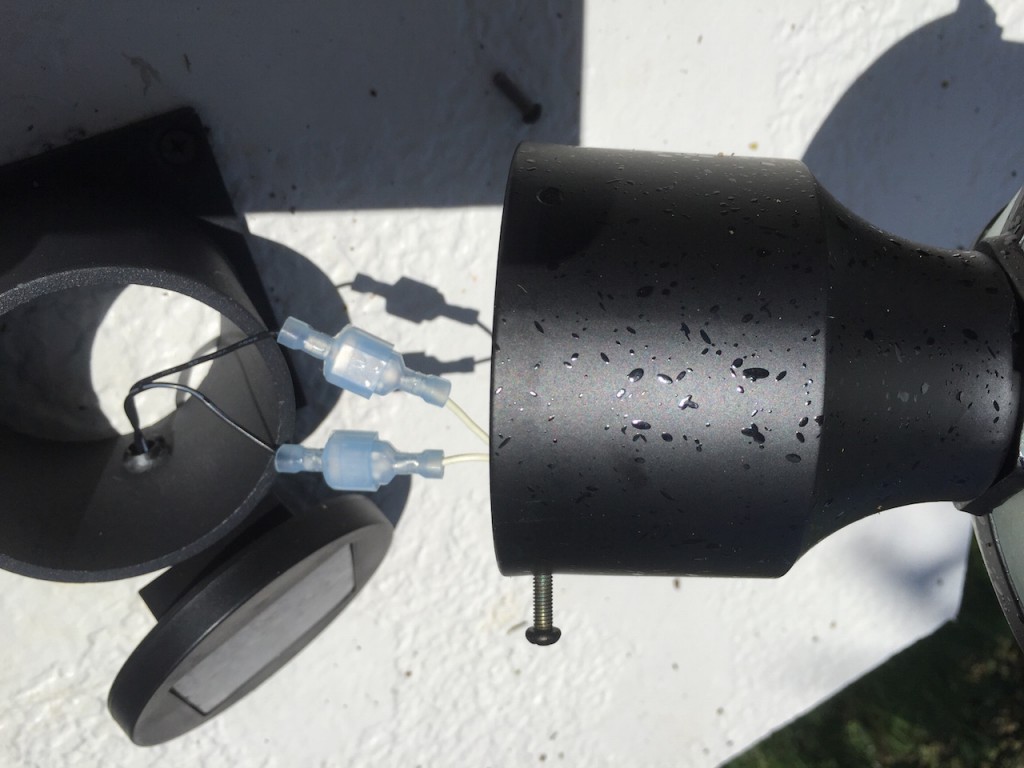 Step 5: Install the light. Screw the mount to your post and hook up the connections.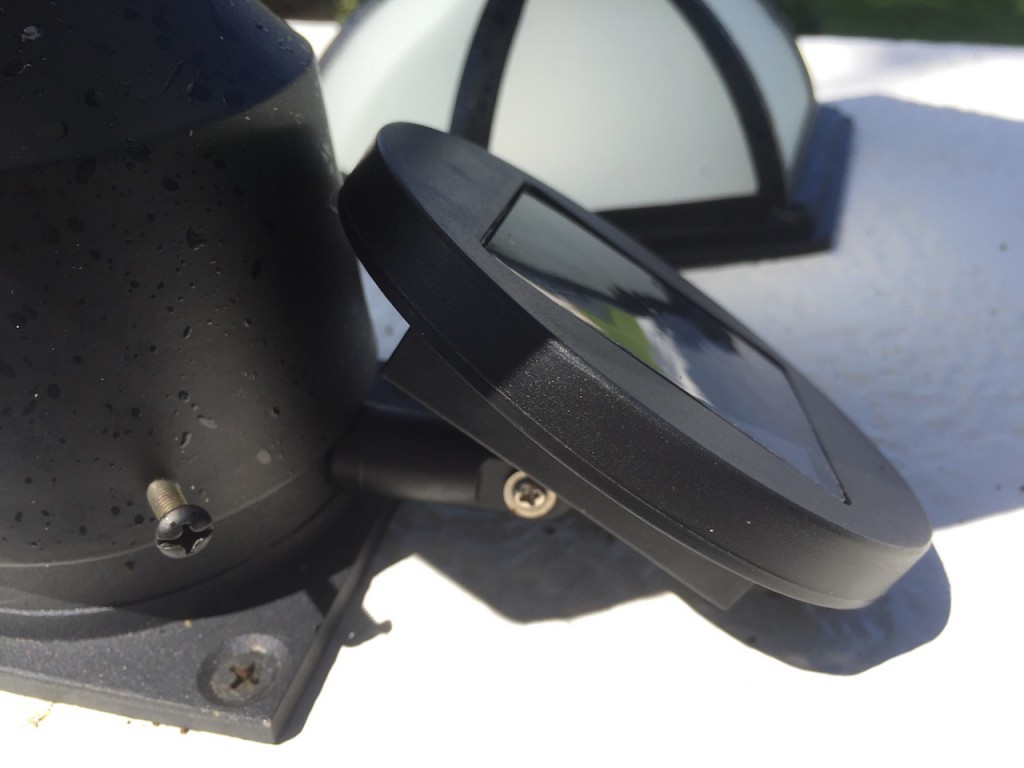 Step 6: Position the solar panel to get optimum light. These stake lights have a great swivel and small panel.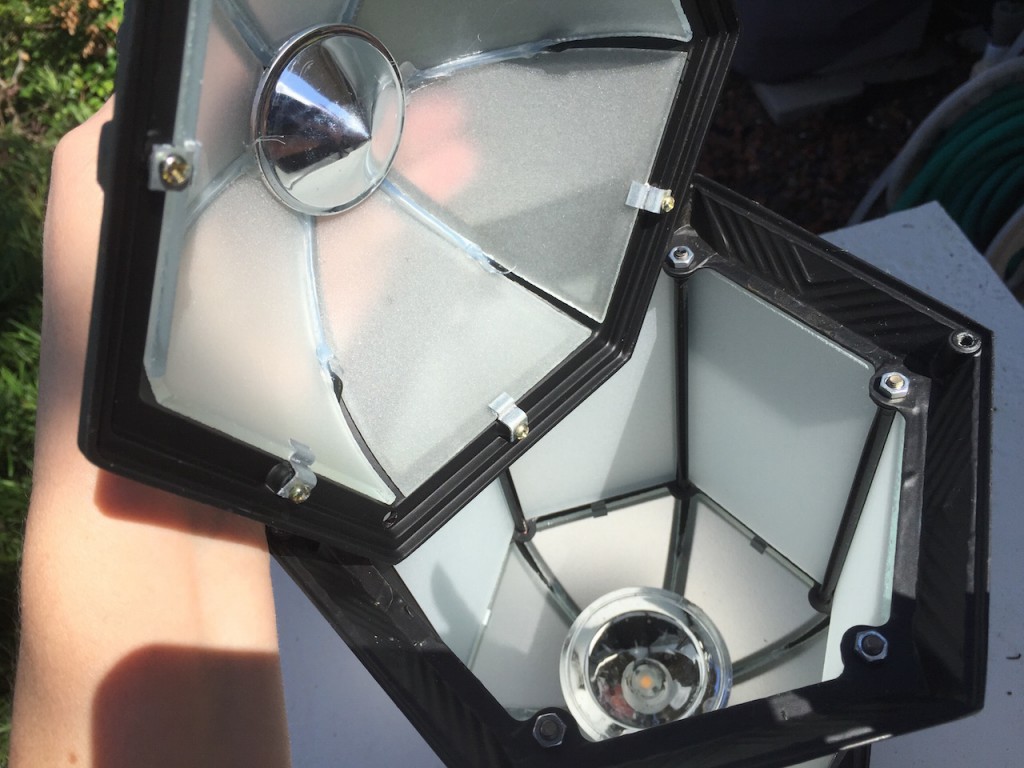 Step 7: See the magic of the reflectors? LED's tend to be directional like a laser. Reflectors scatter the beam.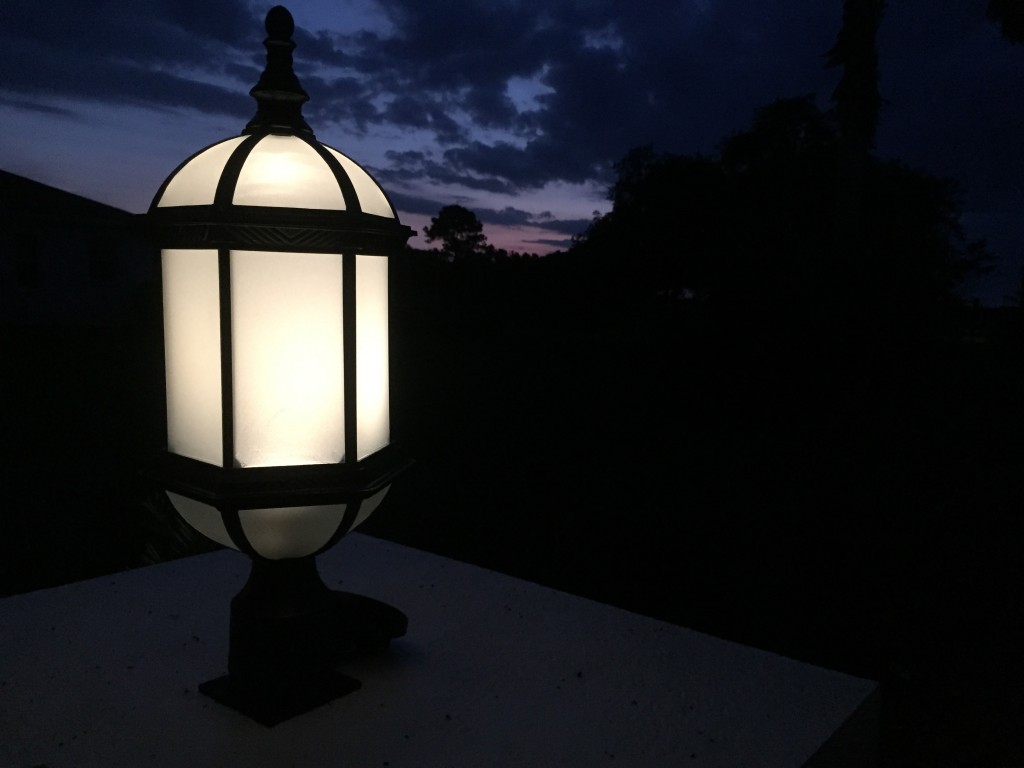 That's it – DONE. No outdoor wiring needed. No electrician's bill and the rewiring of this fixture was so easy anyone could do it.
I estimate this project at maybe $70 each,…as the light cost $59.00, the LED stake light only $5.88,…and some connectors that we already had on hand. I'm not going to count all the ones we wasted chasing that electrical gremlin! Free power form the Florida sun !
…now, what else can I solarize !?