I have a young friend who's learning to cook. I thought I'd post one of my easiest man-friendly dishes, so she can maybe help out and cook something for her Dad. You know the kind, Meat + Potatoes = Thank You. Be patient, there are many un-necessarily documented steps.
Not everyone rolls out of bed knowing this stuff – I've been at it for m a n y years.
OK, Sheppards Pie…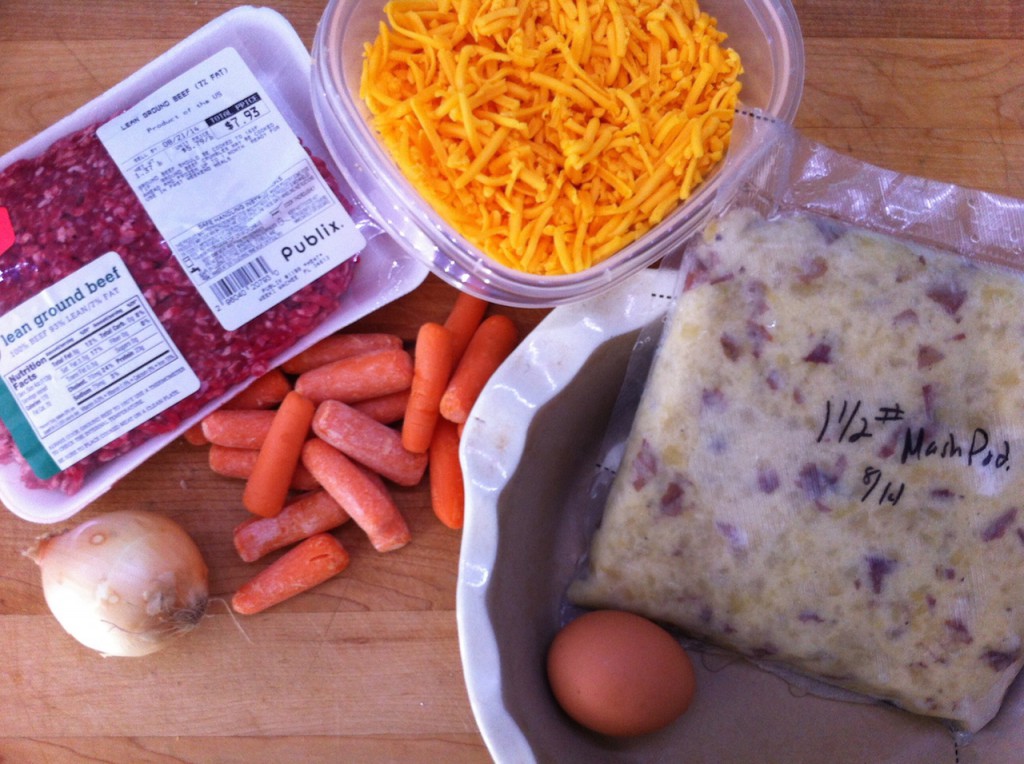 Step 1:
Preheat the oven to 350deg (known as a 'moderate oven'). Get a Pyrex or Pampered Chef pie plate or reasonable facsimile. And…
1-1/4 Ground Beef (I like lean or sirloin, because I'm not draining this and I hate paying for extra fat anyway)*
1 Medium Onion, chopped
1 Cup Carrots (more or less), chopped
1 Cup Shredded Cheese
1-1/2 pound of Mashed Potatoes (about 3 cups)
1 Egg
Salt & Pepper to taste (and maybe some others)
1/4 cup Flour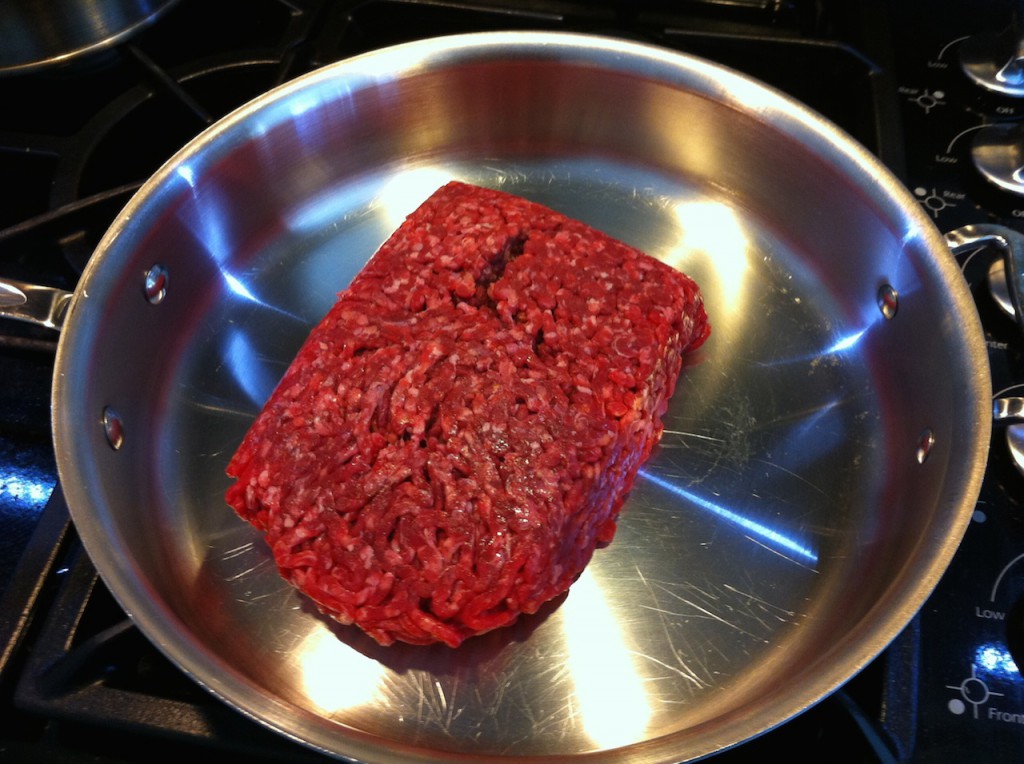 Step 2:
In a large fry pan, brown up the ground beef.
* Can you use ground turkey? Yes, of course, but… fry it hard (to when it sticks to the pan) and use a bit of beef broth (1 cup) to deglaze (pour it in and scrape the browned bits up, the brown bits make the turkey have a more 'beefy' flavor) Then sprinkle in a dash of Montreal Steak Seasoning…you'll never know it's turkey!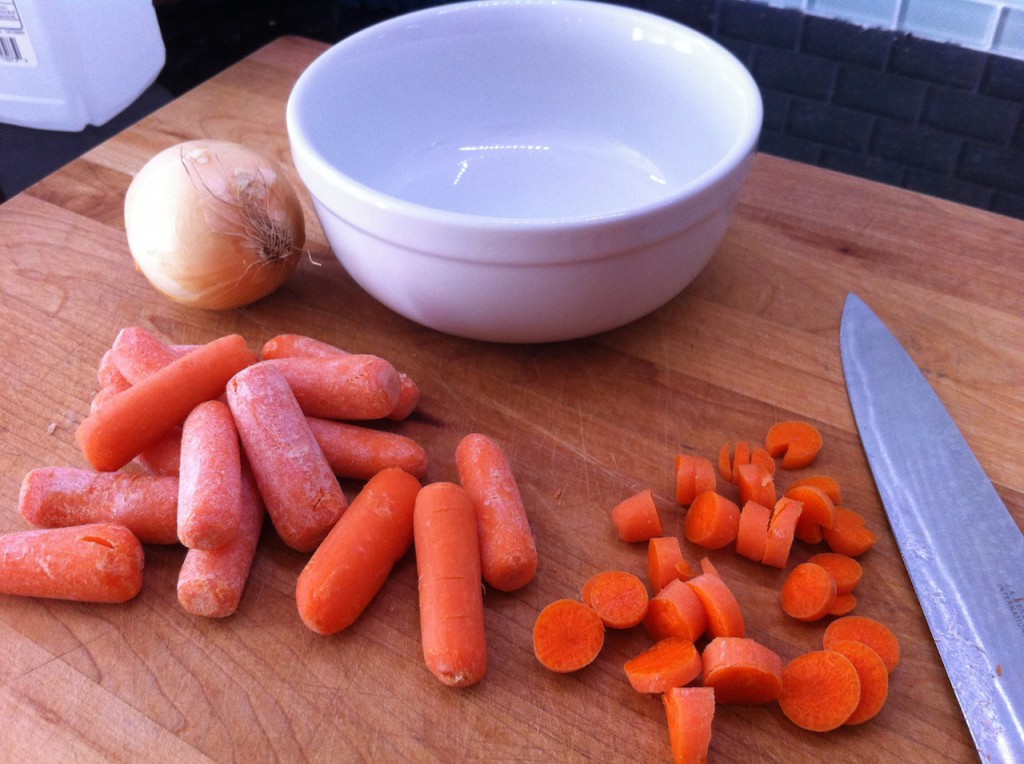 Step 3:
Meanwhile, go and chop those veggies. Feel free to improvise, if you like celery, fine add it. Maybe garlic, ok. But the original is pretty simple.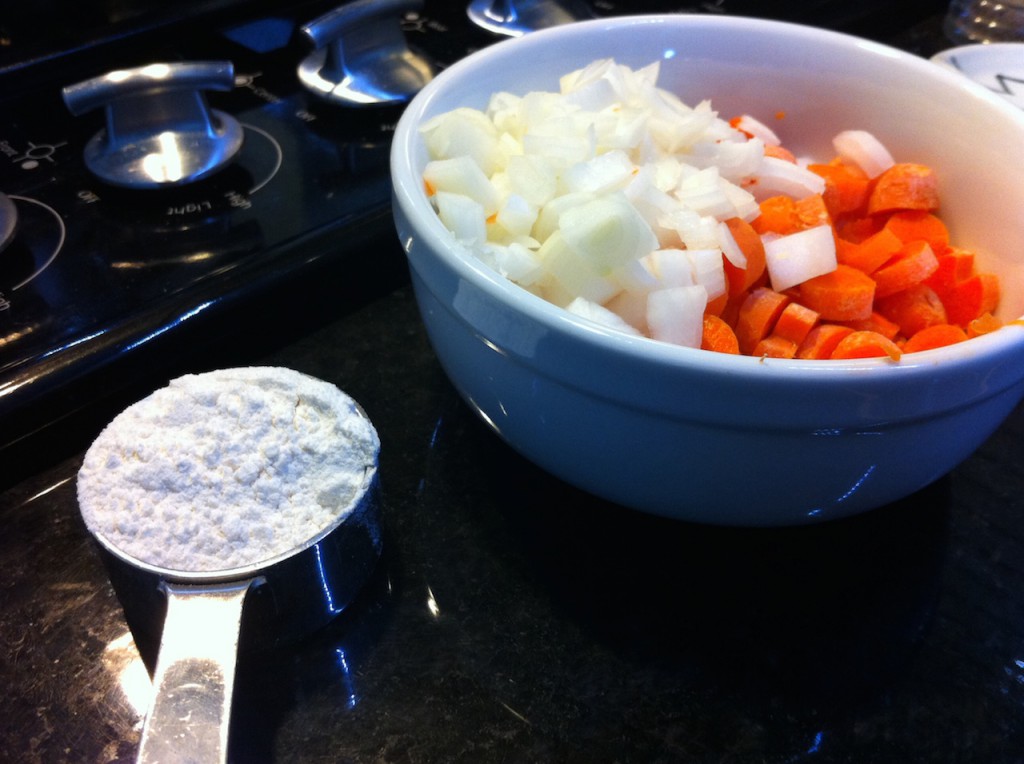 Step 4:
Get the veggies over to the stove on standby and get the flour out.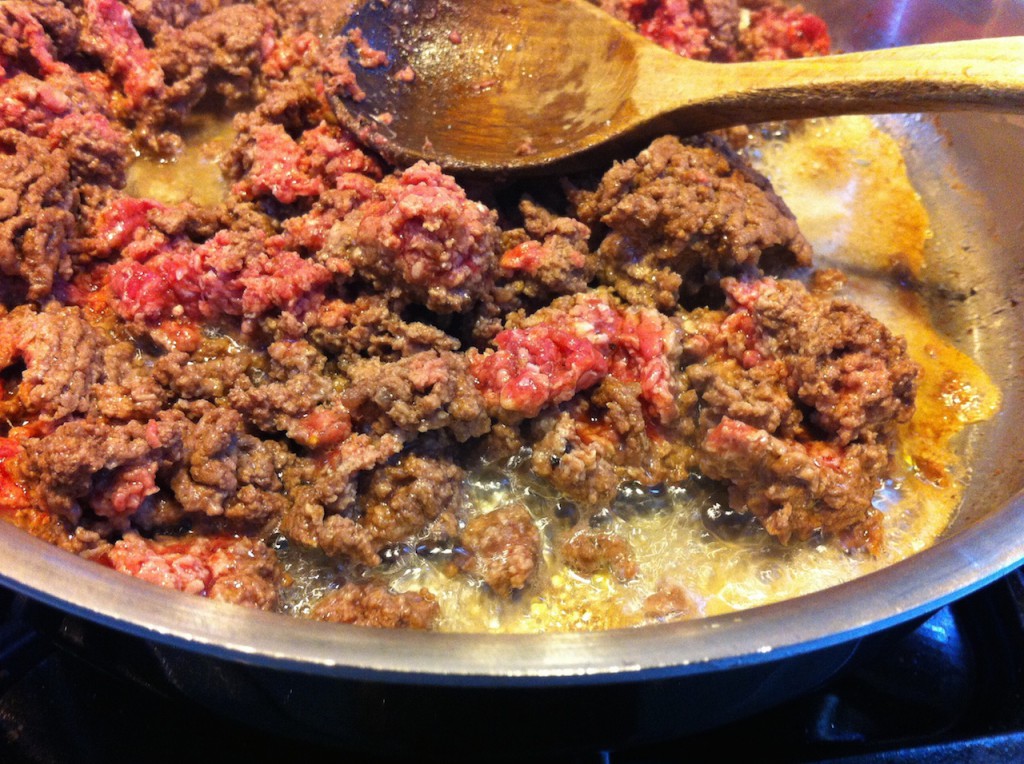 Step 5:
Check on that meat. It's mostly cooked. Move it all over to one side of the pan. If it's a smaller pan, then put it in a bowl or plate and set aside while you cook the veggies.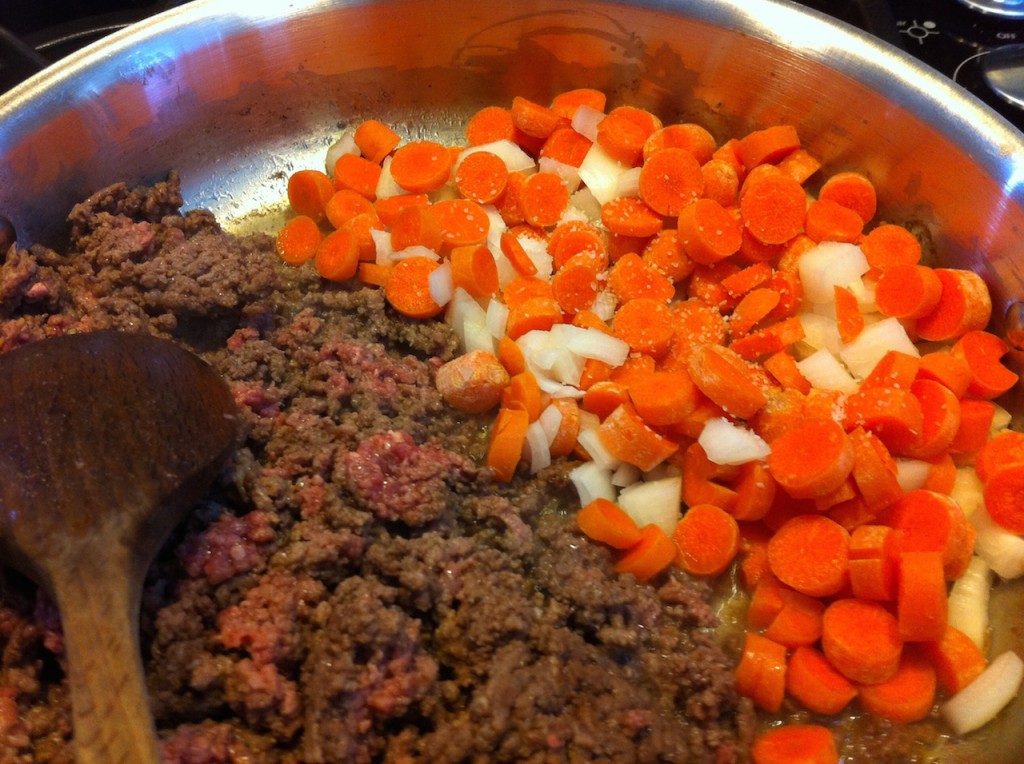 Step 6:
Dump in the veggies and salt them a bit to bring out their moisture. I move the pan over a bit on the burner to put the heat on the veggie side. Give them a 'sweat' (a sauté until they're a little cooked). While they're doing their thing…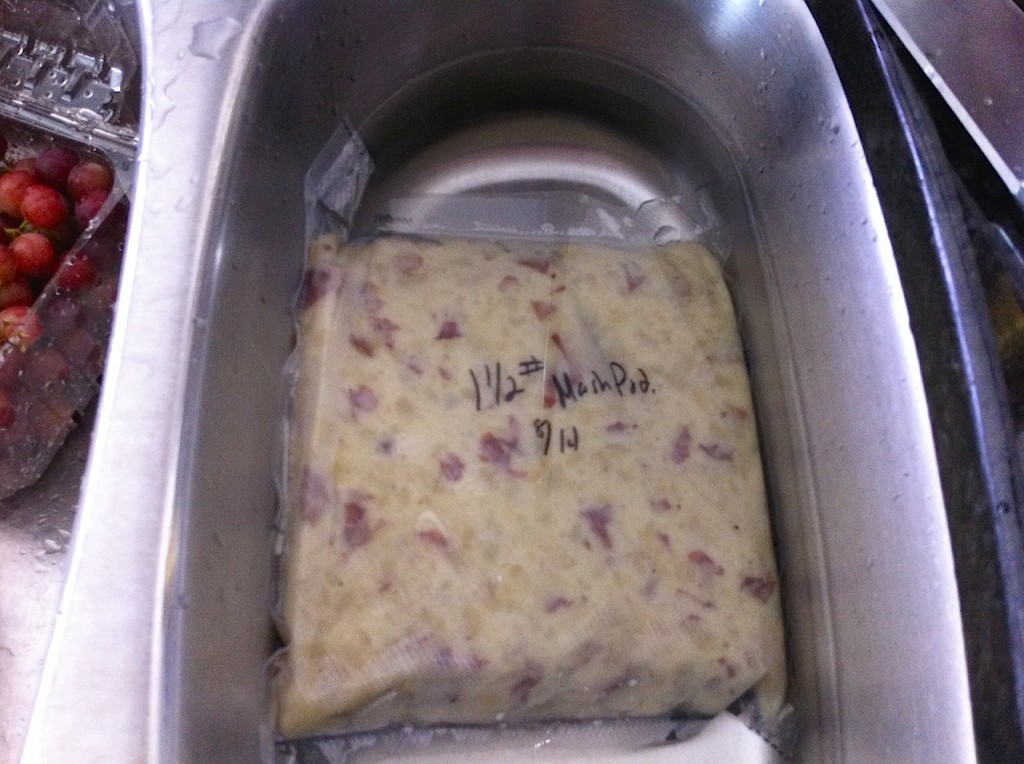 Step 7:
Get those mashers out. I make my own by the 10# bag and freeze them,…but that's another blog post. Ore-Ida's from the frozen section work just fine too.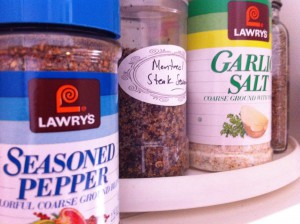 Also, consider some seasonings. A little garlic salt is always helpful, this cast of characters always helps a beef dish.
Step 8:
Get back to that pan. Mix up the beef and cooked vigils. Hopefully, there's still plenty of juices left in the pan. If not add in about a 1/4 cup of water. Sprinkle on the flour and mix in. The flour plus the meat juices will make a gravy. Give it a taste and add some flavor if needed.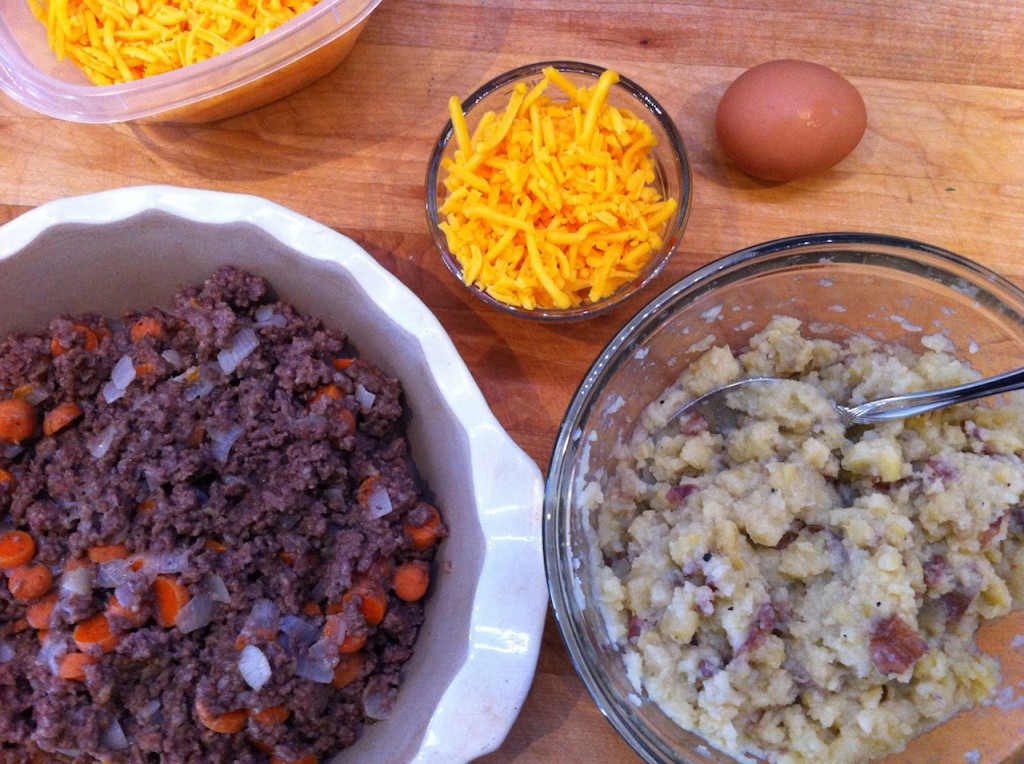 Step 9:
OK, get the meat mixture into the dish. Now take the mashed potatoes and add in the egg. Give it a stir (the egg will give the potatoes some body and hold them together). Sprinkle in 1/2 of the cheese.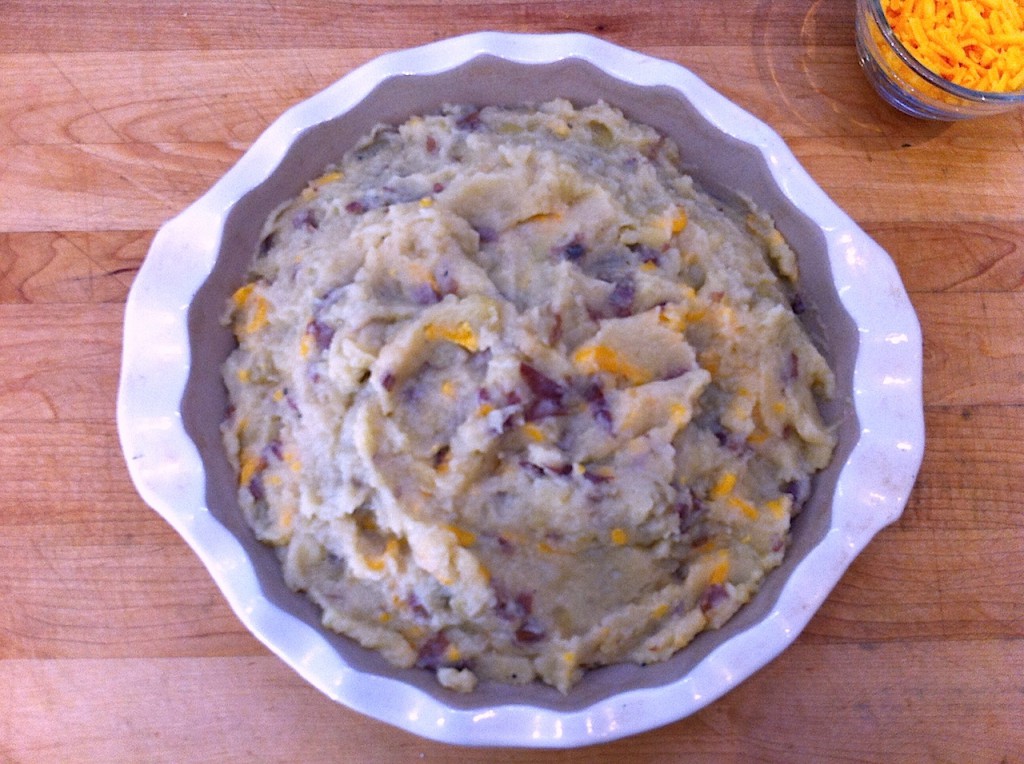 Step 10:
Top the meat mixture with the mashers and let it mound up in the middle. Make sure you cover the edges with the potatoes or the filling might bubble up and out.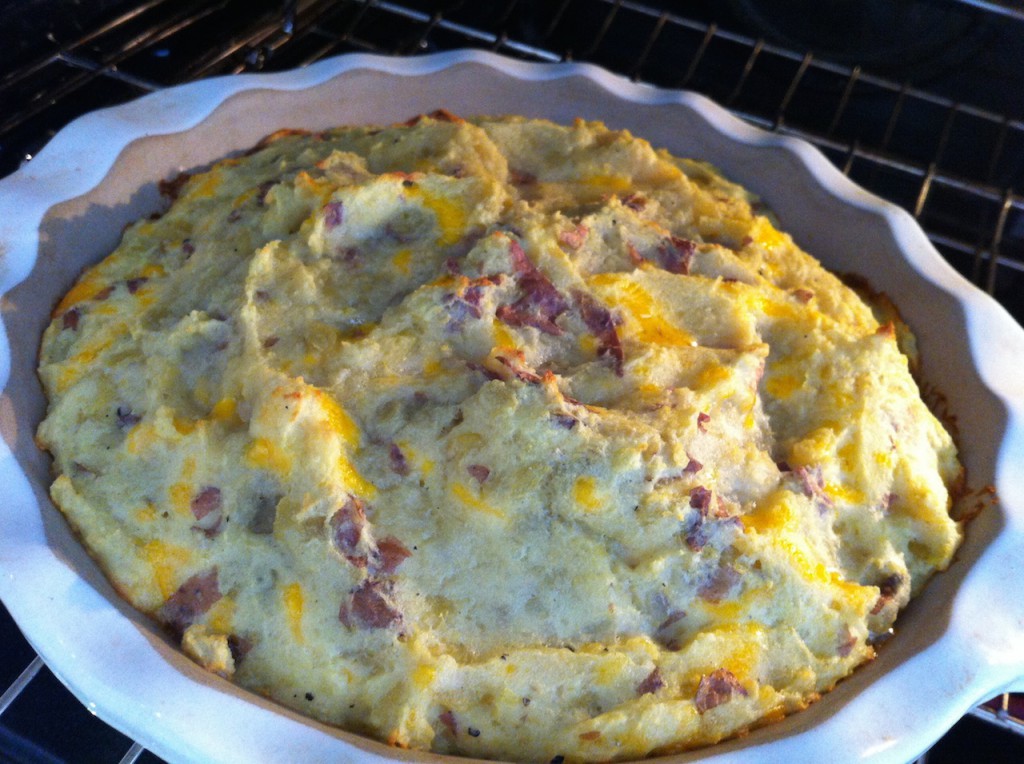 Step 11:
Get that puppy in the hotbox and time it for about 40 minutes. It'll be golden brown on the edges, and smell so good.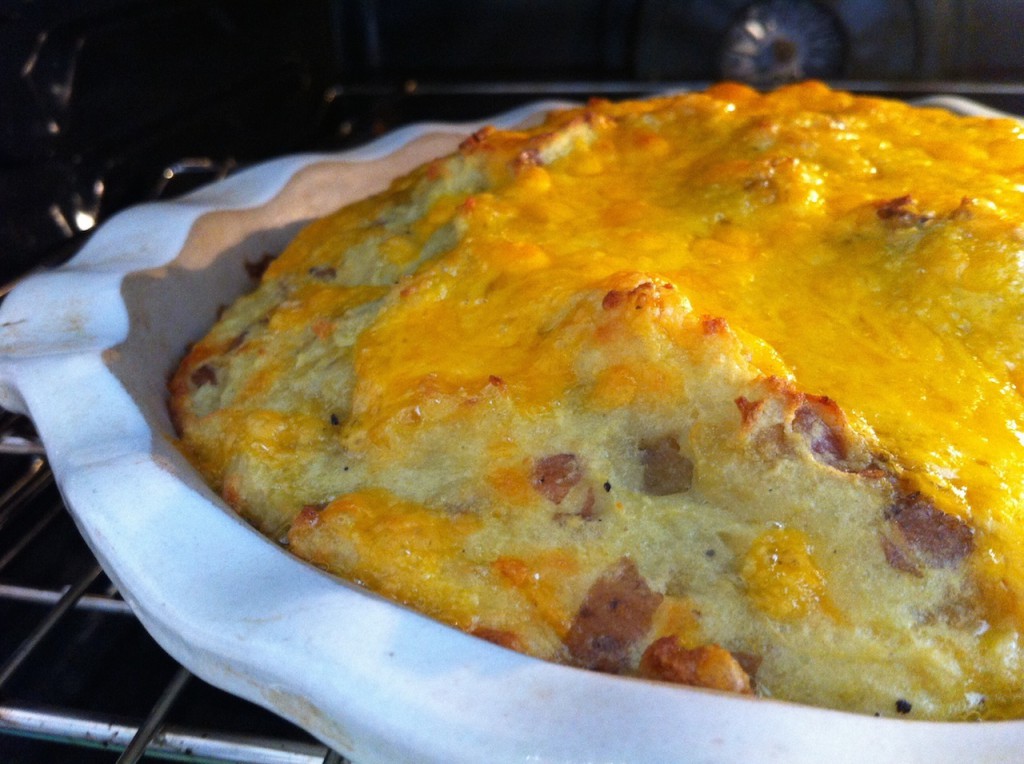 Step 12:
Go and get that other 1/2 cup of cheese and sprinkle on the hot pie. Put it back in the oven to melt. Or as I do, use the broiler to make it all brown and yummy ! This is something you have to actually watch – it will burst into flames under the broiler if you walk away (seriously – be careful). The Broiler is an often overlooked kitchen tool. Learning to use it is a good skill to add to your own 'tool-box'.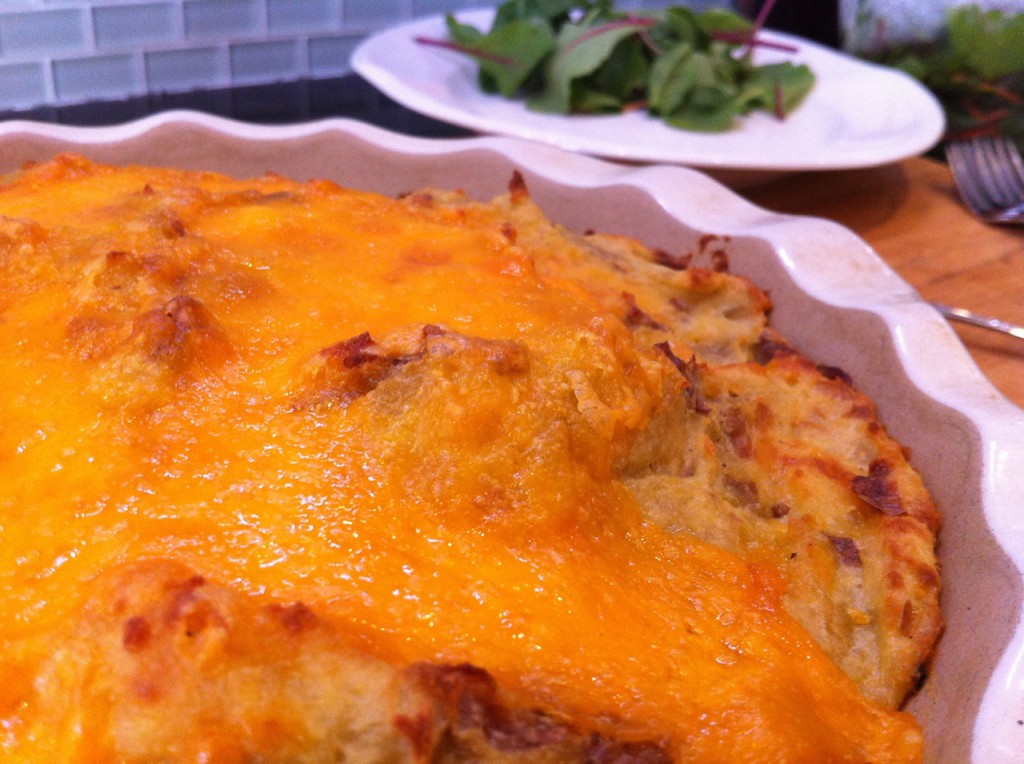 See how delicious the cheese looks after it's 'caramelized'.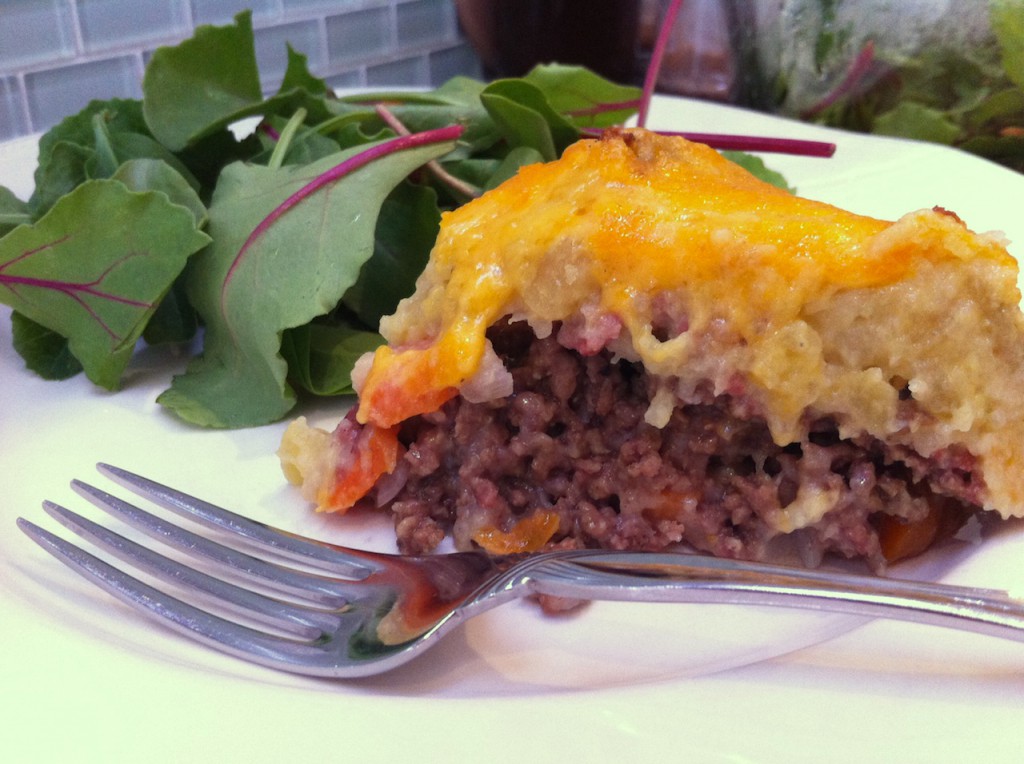 Finale:
That's it – add a salad and it's a really healthy meal. Easy peasy and all the food groups ! Except the chocolate group…that's later.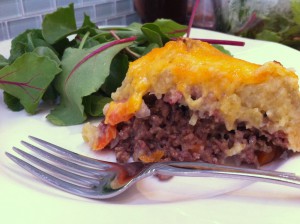 Sheppards Pie
2014-09-15 10:34:56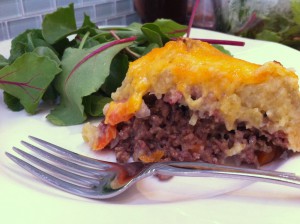 Serves 4
One of the old stand by's - still so good.
Ingredients
1-1/4 Ground Beef (sirloin)
1 Medium Onion, chopped
1 Cup Carrots (more or less), chopped
1 Cup Shredded Cheese
1-1/2 pound of Mashed Potatoes (about 3 cups)
1 Egg
Salt & Pepper to taste (and maybe some others)
1/4 cup Flour
Instructions
Preheat the oven 350 degrees.
Brown the meat, move to the side. Sweat the veggies.
Sprinkle on the flour and mix in to make a gravy with meat juices.
Separately mix the mashed potatoes, egg, and 1/2 cup of cheese together.
Add meat to a pie dish, and top with potato mixture.
Bake for 40 min.
Top with cheese and bake an additional 5 min or so - or use the broiler.
Notes
Put a salad on the side, maybe some rolls, and it's a winner every time ! Comfort food classic. Made with sirloin and less cheese than most, it's pretty healthy too. Yes, you can use ground turkey, but that changes a few things (check the blog).
BadZoot https://badzoot.com/