More than a few years back, my Mom moved into a place that came 'furnished'…for a very small retiree. Ok, so it wasn't the biggest place. But she hated the tiny sofa. Poor thing. I looked at it and said I'd be back to collect it. I'm glad I did.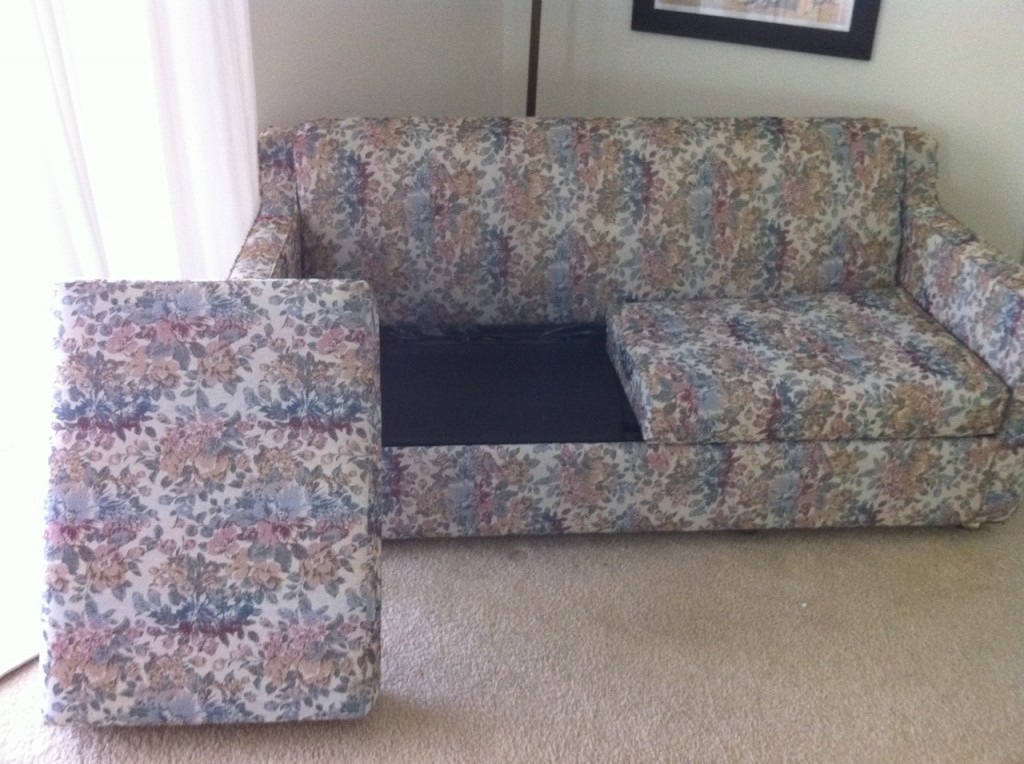 Talk about an ugly duckling ! That fabric was horrific! But the shape, now that I can work with.
Oh, no it gets better – it's a sleeper ! The mattress still had the plastic on it – never been opened. The sofa itself had no real wear on it. Other than the edge where Mom's cat thought it'd make a nice scratching post. I took pity on it because I'd seen something very similar at Crate & Barrel not long before.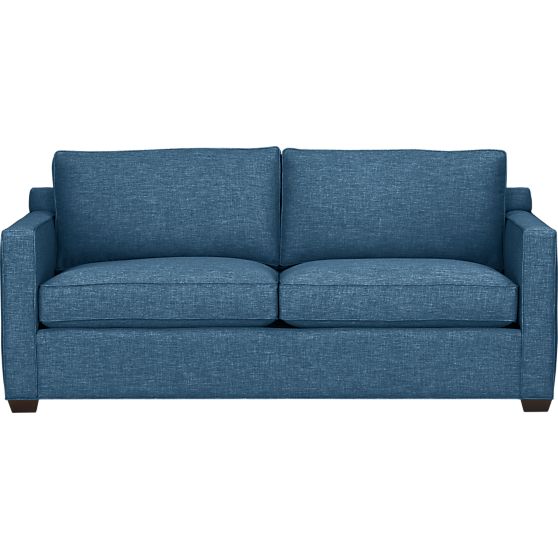 I likened this sofa to an old house with 'good bones'. Crate & Barrel furniture certainly has good bones and this one might just need a facelift to compete. I thought about it a while and calculated the fabric needed and called my old friend at Hernando Upholstery. Sam said to "Bring it by , Baby." (makes me smile – everyone's 'baby') I got a really good deal on some perfect denim from Jo-Ann's,…of course I used the coupon! Silly.
Sam did a really good job. I didn't even know there were buttons on the back cushions with that old, wild fabric – he even made little arm covers. Gotta love it.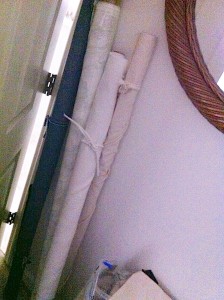 There's plenty of leftovers for pillows and other projects – can there ever be too much denim?
So, a couple of hundred dollars later and I have the perfect petite sofa for the corner of the rec room. A spray of 3M Scotchgard, and we're good to go.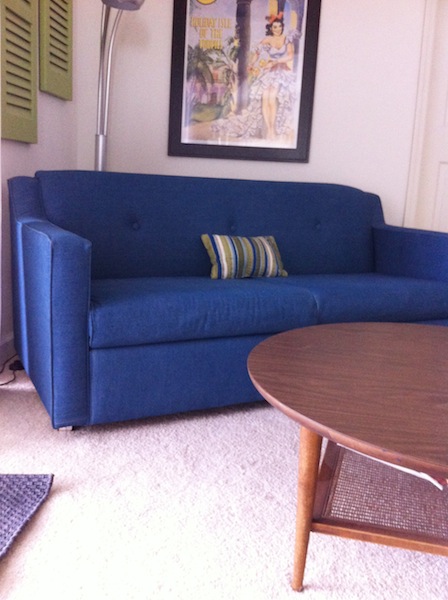 The boys used it for sleep-overs and they'd wheel it around for more comfy seating to play video games. In front, is a Lane coffee table from my Grandmother, that's older than me. Real style is timeless.
Remember that next time you're at the Salvation Army and see that chair with the bright orange flowered pattern,…you know the kind that makes you nauseous … it may just be an ugly duckling.