Once again my magazines have gotten me into trouble – well, maybe not trouble…, in one of my old Food & Wine issues (Jan'14), I stumbled over an interesting ingredient. I can't resist a recipe labeled 'Creamed Spinach transformed by Magic Salt'. OK, you got me – magic salt !?
This is something that, after a bit of research, I discovered has been done in Canada for years. Salted herbs, aka Le Herbes Salees, are the 'evil twin' to the coveted Montreal Steak Seasoning. I know you remember when that dried delight landed on the grocery store shelves in the lower 48! I know I was in awe, and used it on every piece of meat I could…even a pork chop wasn't safe. Now, this is different. I did say evil twin,…meaning this is salty and fresh instead of peppery and dried. After reading about it's use, I had to make some. As I did, my mind wandered to all the different ways I could use it. This is an ingredient, not a condiment. Be careful. Now, search your mental Cloud for those old high school French lessons and follow along: permet de cuisine ! (Let's cook)
Le Herbes Salees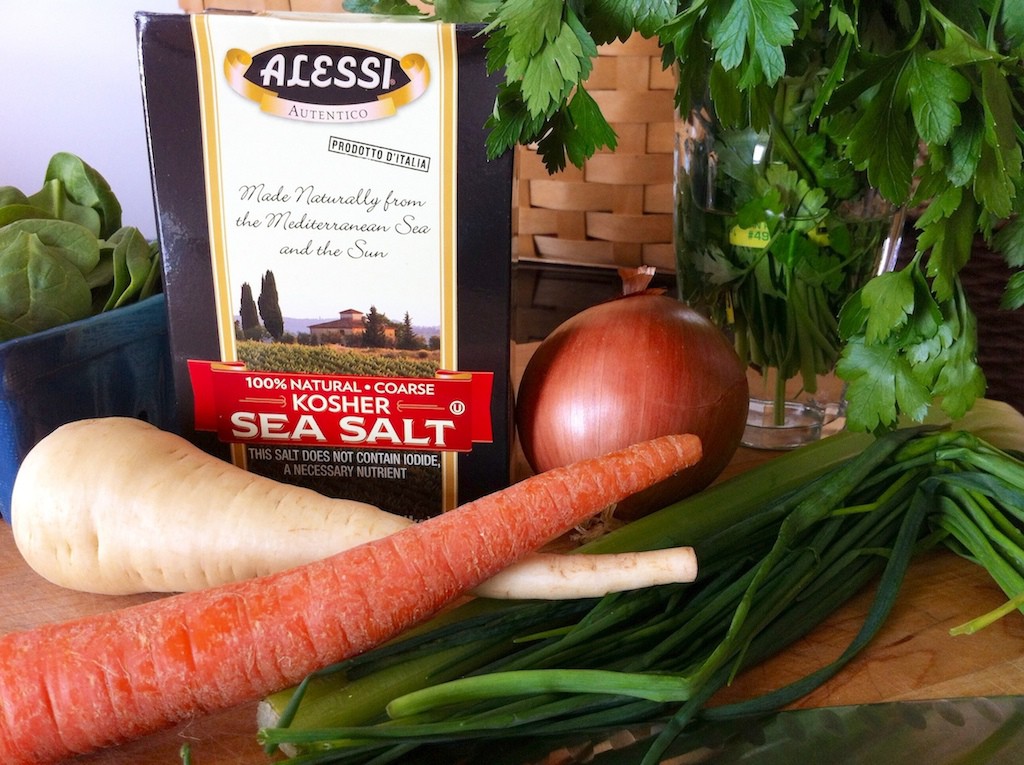 Step 1: Gather together
1 Medium Carrot, coarse chop
1 rib of Celery, coarse chop
1 Medium Parsnip, coarse chop (parsnip?? Imagine a turnip crossed with a super sweet carrot..yumm)
1/2 Medium Onion, coarse chop
1 Cup Fresh Parsley, coarse chop, packed (mine equalled one whole bunch crammed in the cup)
1 Cup Fresh Chives, snipped (again, one package equalled a cup)
1 Cup Fresh Spinach, packed *
1/3 Cup Sea Salt, coarse (sea salt is super salty – next time I may use a touch less)
*the recipe said specifically NOT to use baby spinach. After reading some of the other variations of recipes (of which there are many!) they include things like fresh savory – we don't even have dried Savory here!, and Chervil, once again – go fish! So, when I thought about it, the dark curly spinach that's somewhat tough and strong tasting would be great. I imagine that's why they used it, not as a veggie, but more of a large herb. Alas, another item we don't have here. I decided to use a smaller handful of baby spinach I had on hand. I keep in mind that it will have more water and less taste – next time I'll be sure to have the real thing on hand.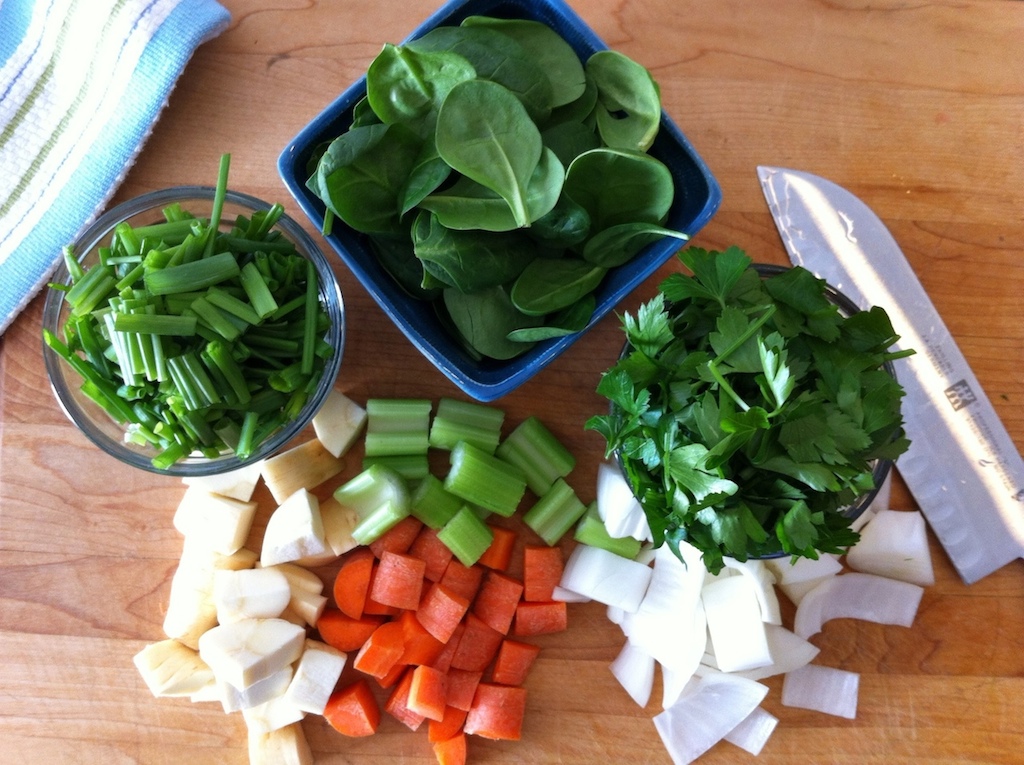 Step 2:
Chop those veggies and herbs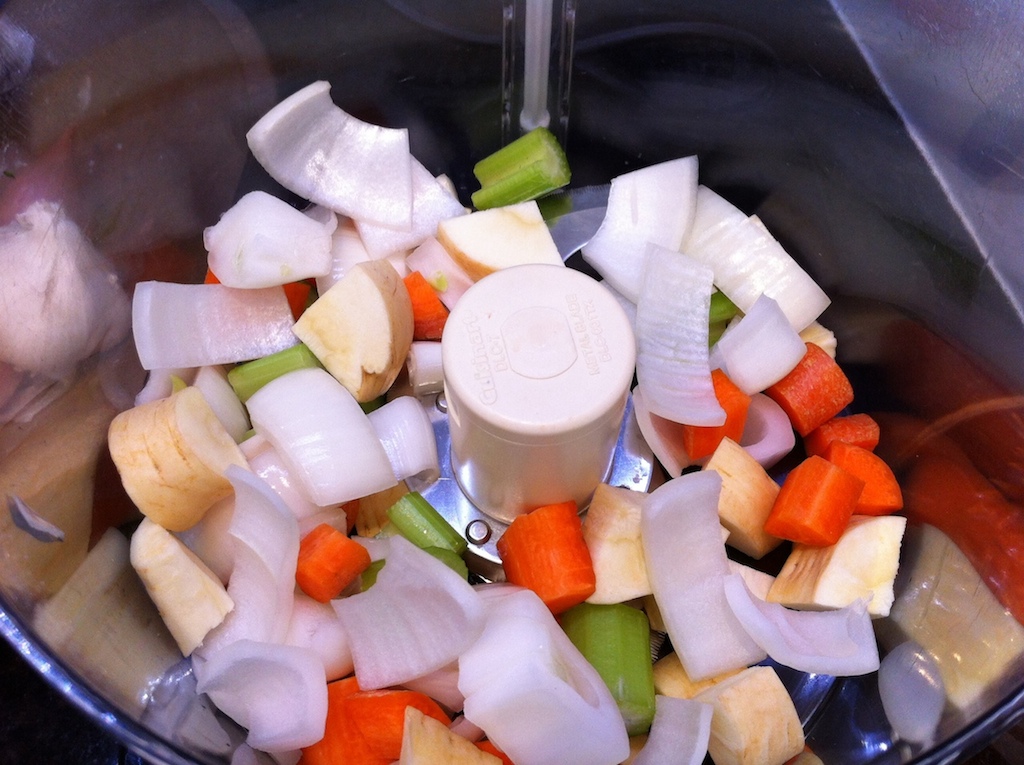 Step 3:
Load the carrot, celery, parsnip and onion into the food processor and give them a whirl.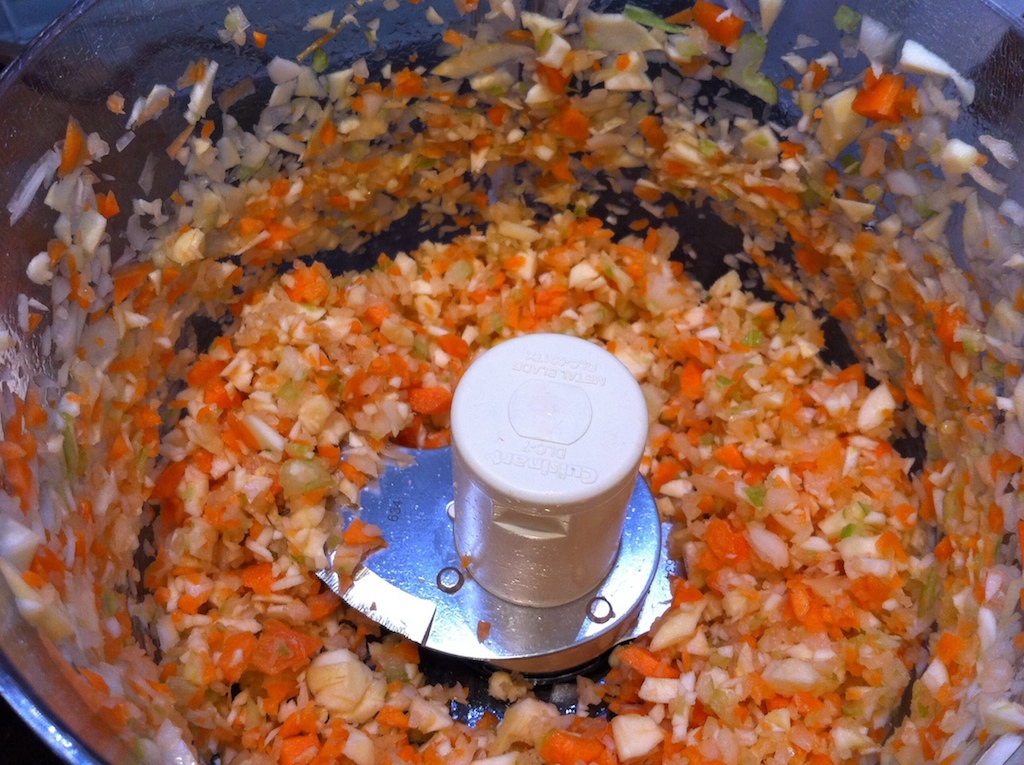 Step 3 a:
They should look like this – a fine chop. Careful, don't liquify it!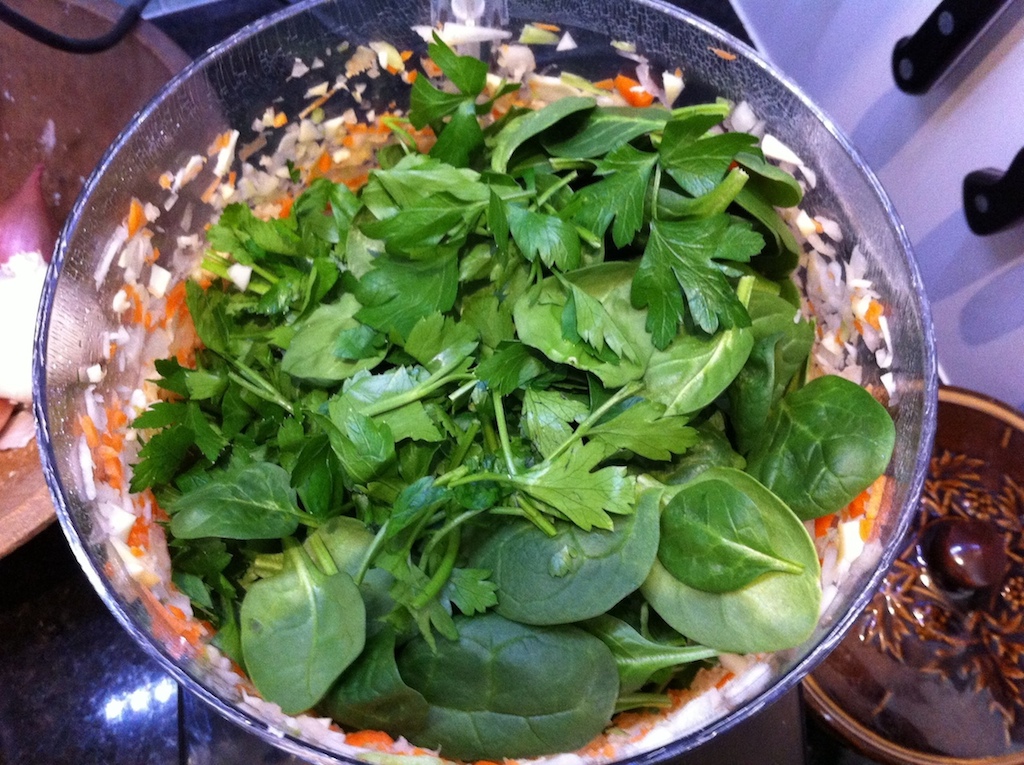 Step 4:
Now the other soft herbs – and pulse.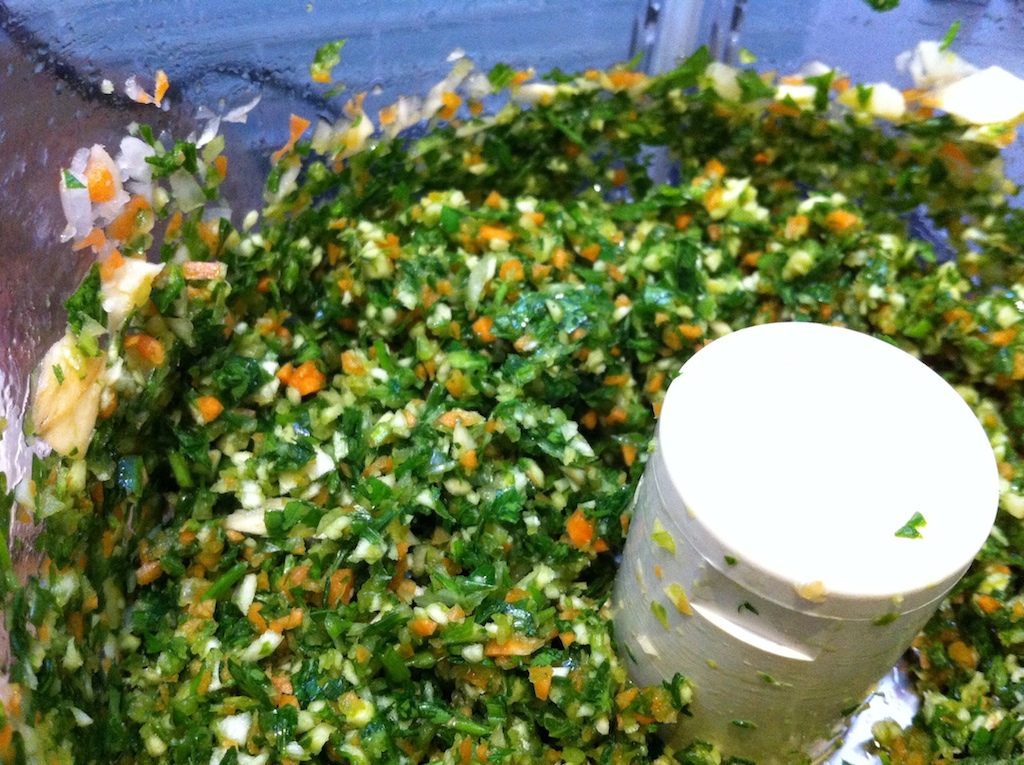 Step 4a:
Looks a bit like pesto. Everybody's a fairly uniform size too. Just imagine how long this would take by hand – ugh! But, Mmmm, that smell !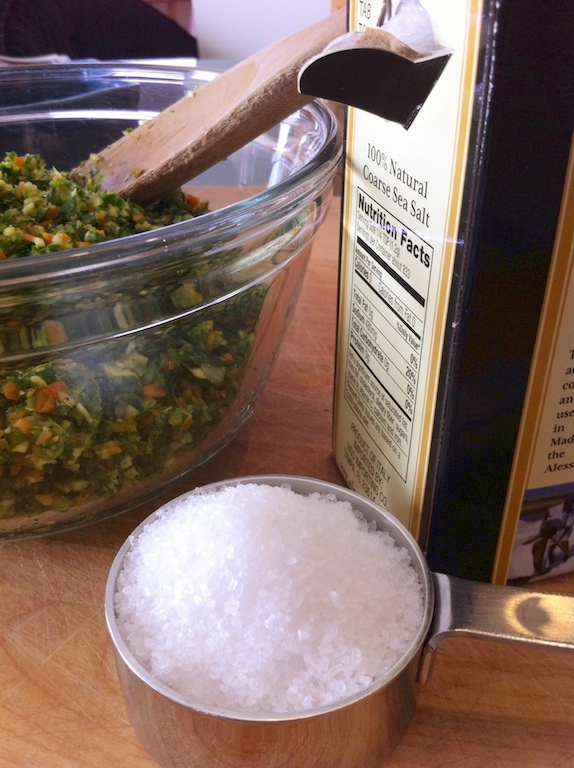 Step 5:
Unload the mix into a bowl. Now add in the sea salt and stir.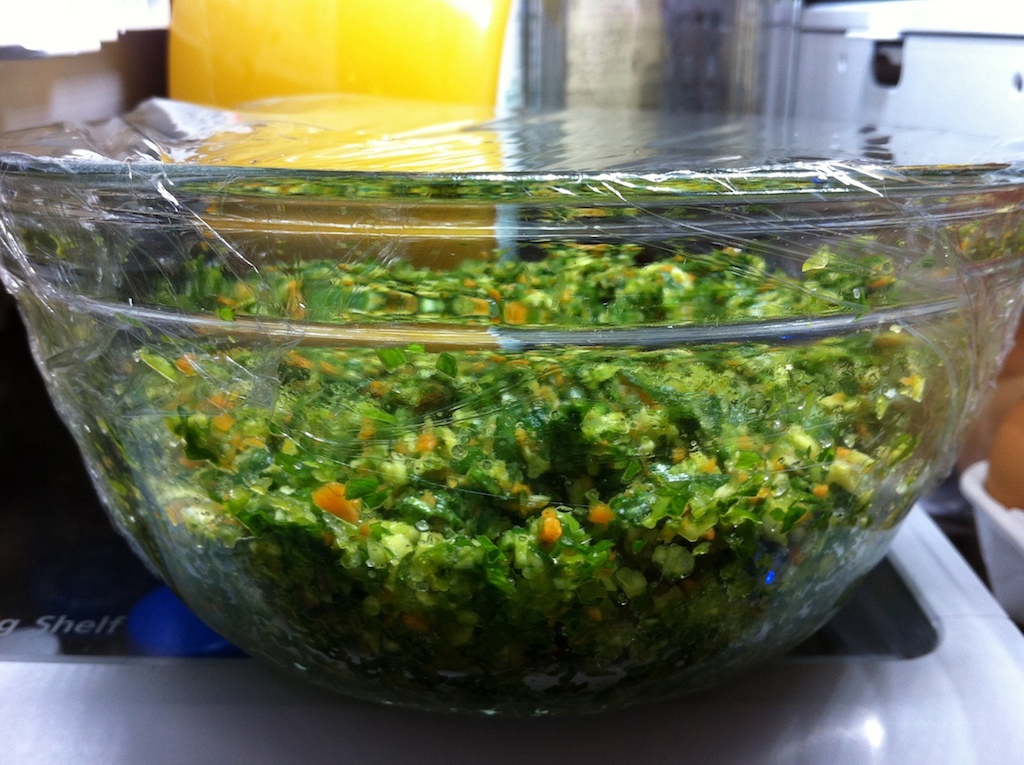 Step 6:
Cover and get in the chill chest at least overnight.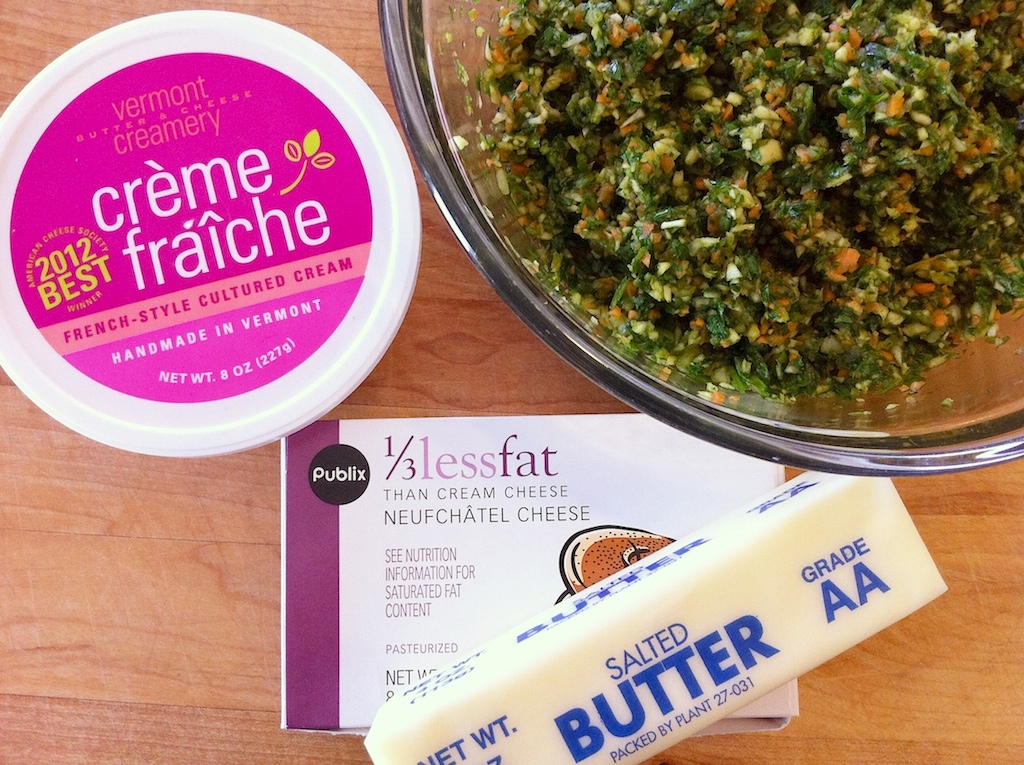 Thats it !
…and the next day… Since I don't have a Creamed Spinach dish that I'm adding this to, I used my imagination. I did say ingredient – NOT condiment. This is NOT pesto or some French Canadian salsa. Use it a teaspoon or less at a time to whatever dish needs it. Do not add this to anything that has salt in it already…like salted butter, or cream cheese. Now Crème Friache' , s'il vows plaît ! Like butter meets cream cheese and there's no salt (yes, a ton of fat). O M G !!
OK, alone this is pretty healthy as it has no fat – so get a can, or box, of strained tomatoes and add some in – now you have a fat free dip to go with nearly anything! I of course know that it's begging to be a steak marinade, like chimichurri, or under the skin of the next chicken I roast. Got fish – oh yes. Lay out a fillet on a foil, top with a spoon full, make a pouch and pop it in the oven. Escalloped potatoes will never be the same.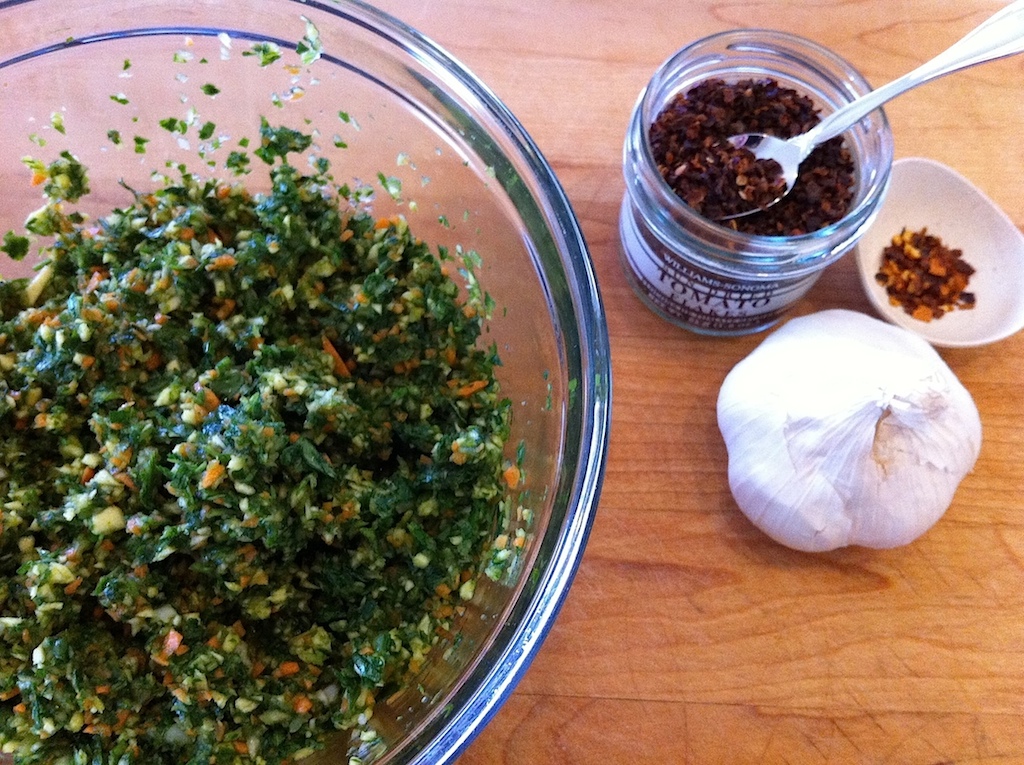 Step 8 (a):
Maybe you like this idea, but can't get over how similar it is to that lovely mix of fresh & dry italian herbs served at restaurants with olive oil and bread. OK, a pinch of pressed garlic, sun-dried tomato flakes, and dried red pepper flakes and we're off to Italy. Again – very salty. Feel free to add this to a bunch of fresh basil – presto pesto!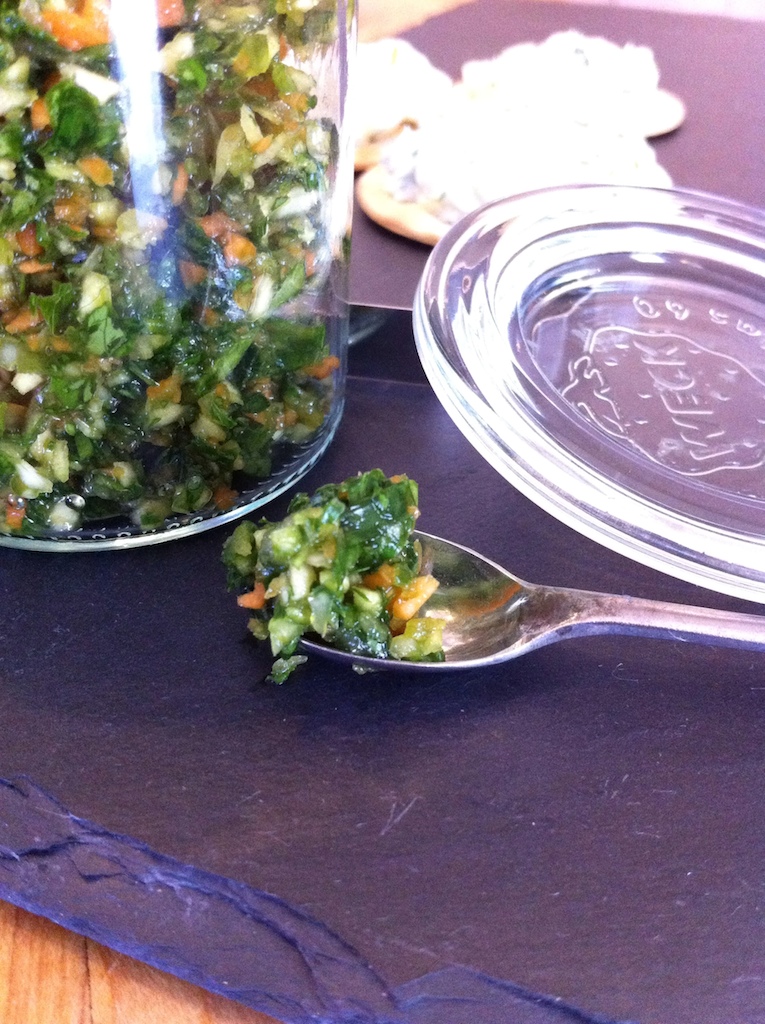 The Canadians have as many variations of this as stars in the sky – I like the sweet parsnip addition. People list it being used in all sorts of soups (great idea), veggie casseroles, mashed potatoes and sauces. So, make this up, put it in a jar and park it in the fridge. This should keep for at least a month, maybe more*. Next time you give a dish a taste and think 'it needs a little something???.. " before you pop in a bouillon cube or reach for the salt shaker, give this a try.
*NOTE: I originally posted this on my Aunt's site in January'14, it's now June and I'm still using it ! Yes, it keeps that long in the fridge. Think about it, salt is the original preservative, and then the cold stretches the benefits out even further. What a bargain!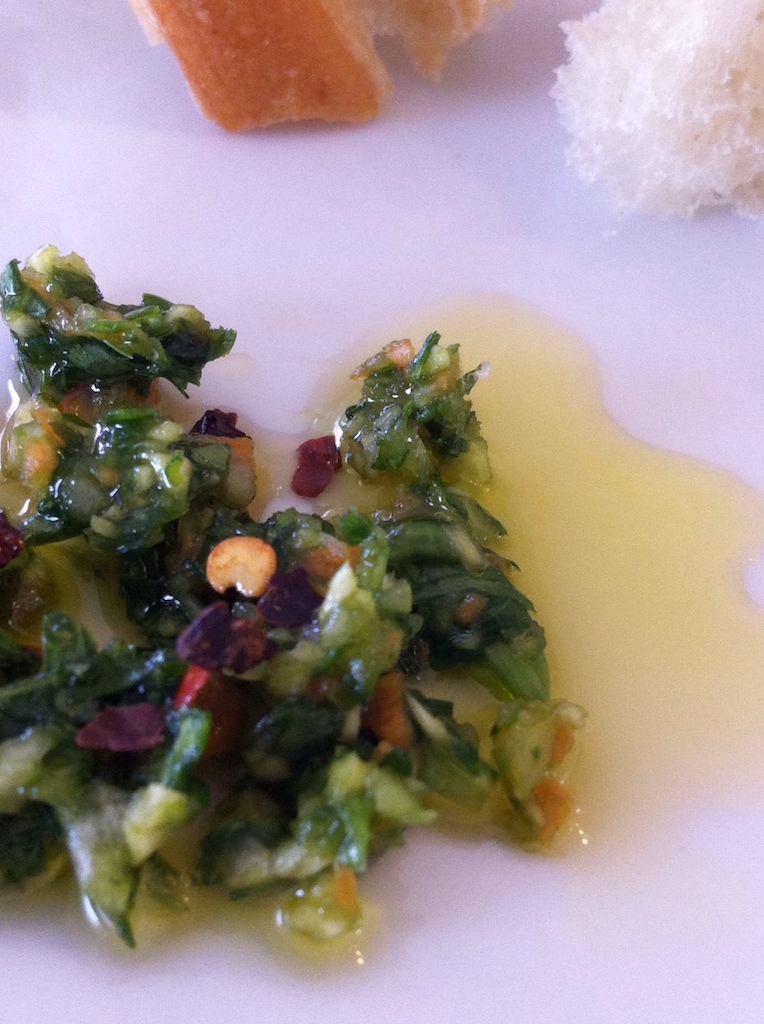 Finale 2:
The Italian version – oops, I spilled some olive oil on it – guess I have to eat it!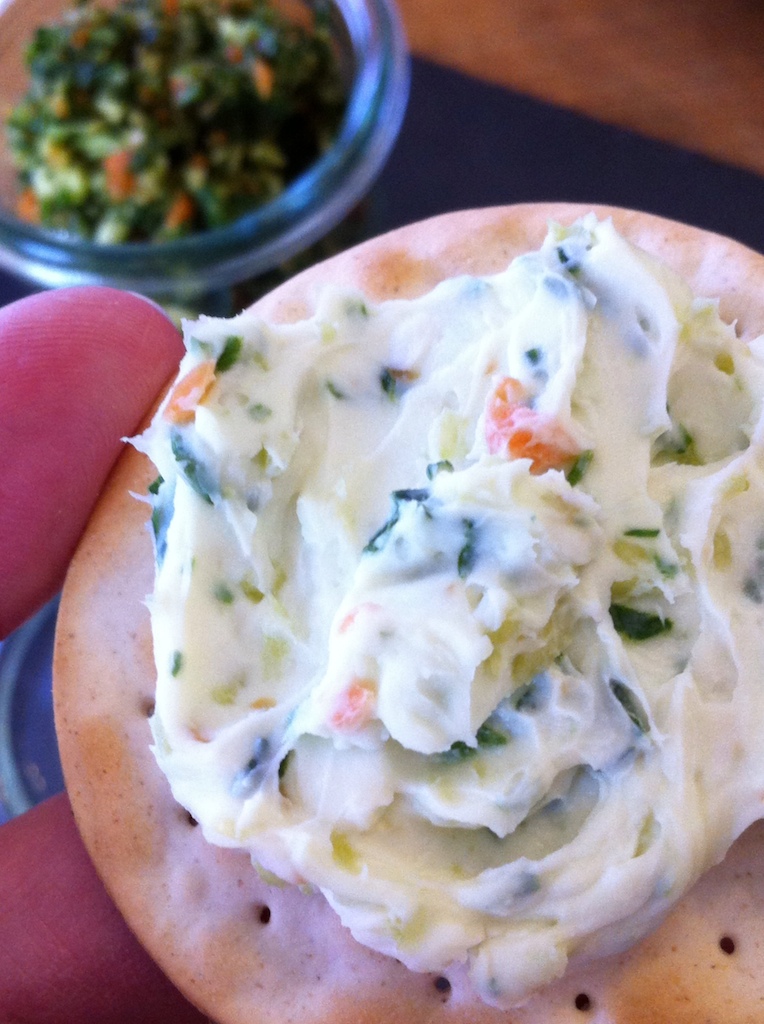 Finale 3:
Those fancy herb cheese spreads are in such trouble – crème fraiche and a bit of this swirled in put on a no-salt water cracker. I can almost tolerate the fat content for this little gem …and since I made it – I need to eat it.
How I suffer to bring you these things. Vous êtes les bienvenus. (Your welcome.)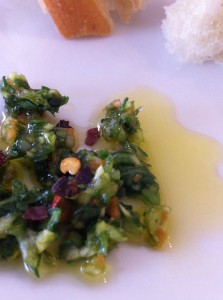 Salted Herbs
2014-06-19 15:20:56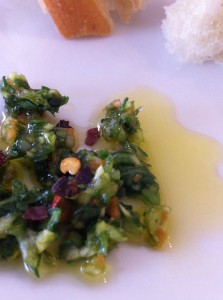 You'll use this 'magic salt' on everything!
Ingredients
1 Medium Carrot, coarse chop
1 rib of Celery, coarse chop
1 Medium Parsnip, coarse chop
1/2 Medium Onion, coarse chop
1 Cup Fresh Parsley, coarse chop, packed
1 Cup Fresh Chives, snipped
1 Cup Fresh Spinach, packed (I used baby spinach even though curly is preferred)
1/3 Cup Sea Salt, coarse (super salty - maybe less)
Instructions
Get the root veggies into food processor and mince. Add in the leafy greens and mince. Transfer to a bowl and add in the salt.
Let sit in fridge overnight. Jar and store.
Notes
This stuff keeps almost as long as a Twinkie!
Remember, this is an ingredient NOT a condiment - super salty - add to taste.
Feel free to make different variations. The sky's the limit - Enjoy
Adapted from Food & Wine, Feb 2014
BadZoot https://badzoot.com/