Today is the first day of Fall. No, you wouldn't know it here – 90deg and raining. I recognize it by the weather reports handed out by my husband proclaiming how cold it is in ND, and that there's "…snow out West,….". Here's, it's still hot and probably will be past Halloween.
That means a couple of things. One of which is that the Farmers Market is still filled with summer veggies,…and The Walking Dead will have yet another season starting up*.
I confess to being a sucker for odd veggies – golden beets, giant lemons, and these 'roly-poly zucchini's'. A little bit bigger than a baseball, they were just so cute, I had to have them! But what do you do with them? It seems that many people slice them like eggplants and fry them. No, frying, thank you. Next is stuffing. Oh, yes I can do that! I love stuffed peppers, and these would work sort of the same way. Better yet, I had some leftover rice dish from a day or two ago that was awesome (http://badzoot.com/tunisian-spinach-rice-recipe-riz-djerben-pbs-food/). You could use whatever you have, leftover fried rice from Chinese take-out, a rice pilaf from a couple of days ago, maybe a stuffing tidbit you could add some more diced and sautéed veggies to to make it go further. Mac n' Cheese, ramen noodles,….Any way you do it, they're fun and a cutesy single–serving veggie goodness bomb!
Roly Poly Zucchini's (aka – Stuffed Zombie Heads*)
Step 1:
Get those little zukes out and wash 'em up. Preheat that oven to 350deg.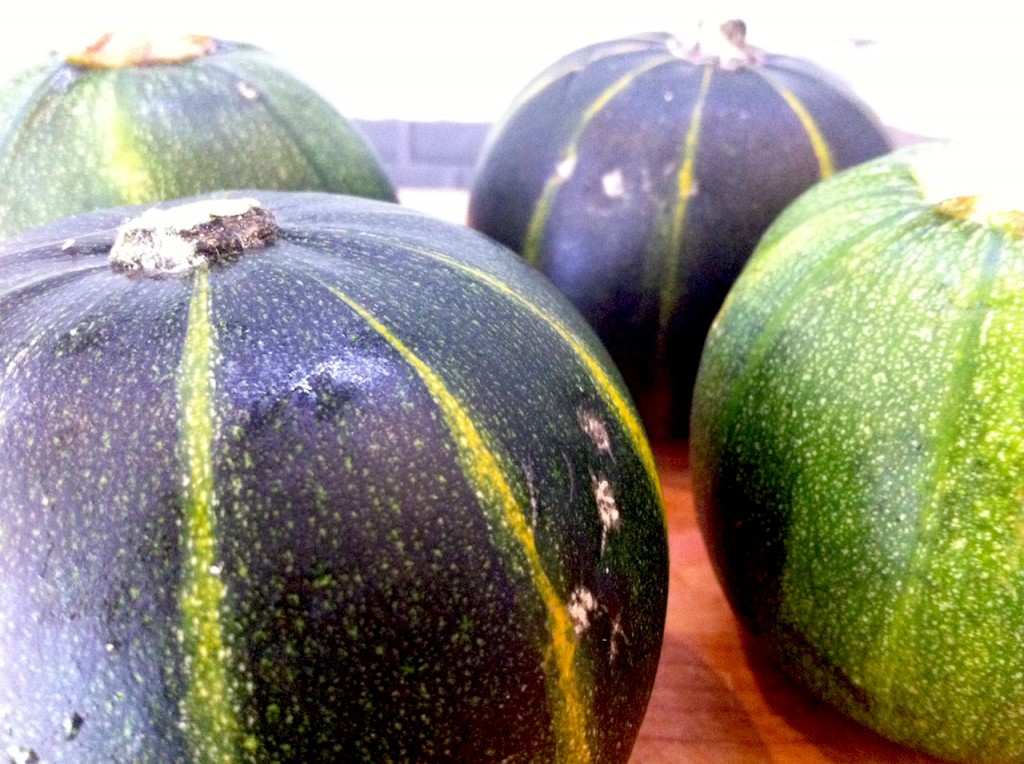 Step 2:
Decide what you're going to fill them with. Get an 8"x 8" dish and put a little olive oil in the bottom. Find your mellon baller (or a round spoon) and a paring knife.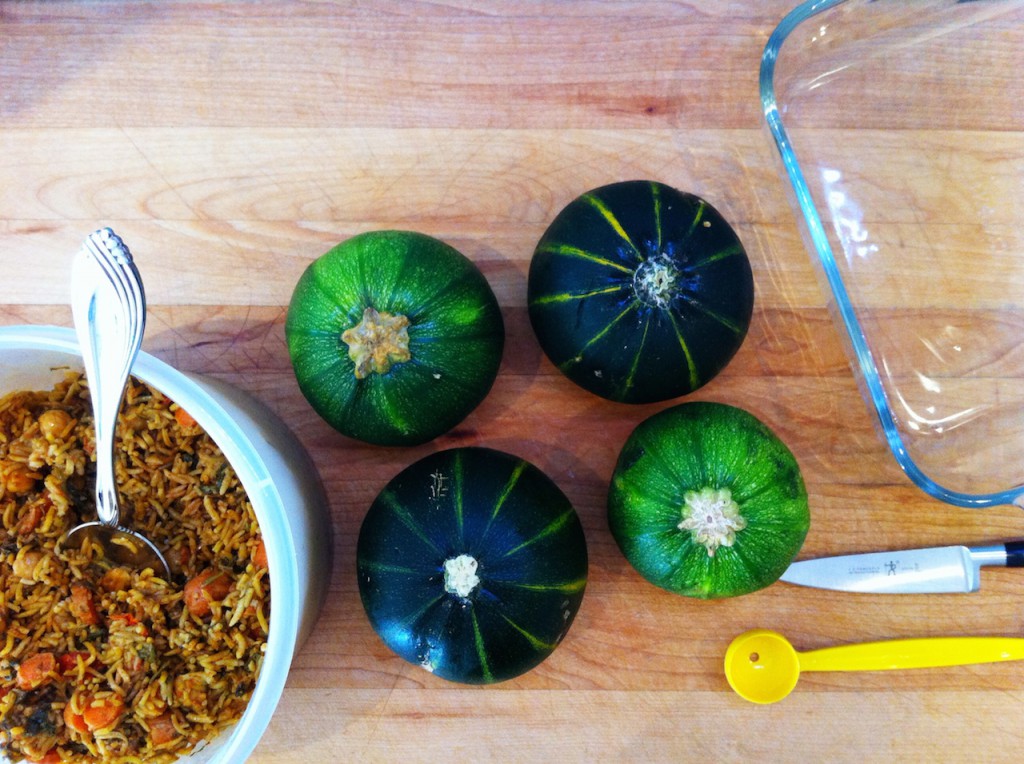 Step 3:
Cut off the tops as if you were carving a pumpkin – they are cousins you know. Using the melon baller, scoop out the seedy innards ,…eewwwww! But leave the flesh – it's yummy.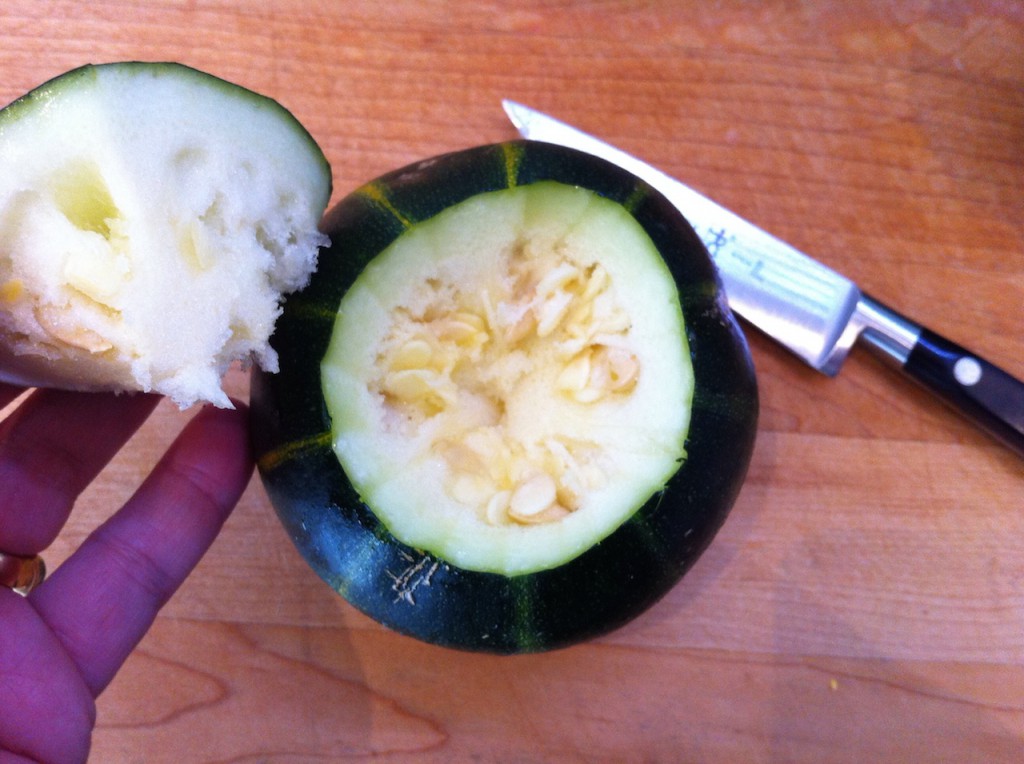 *This is about the part where my son, who's been binge watching The Walking Dead, comes in and says "Hey, they look like little zombie heads…" – "…braaaaains….crrr..crrrr!" So we all had a good laugh and, yup, it looked like a shrunken zombie head when I was done – LOL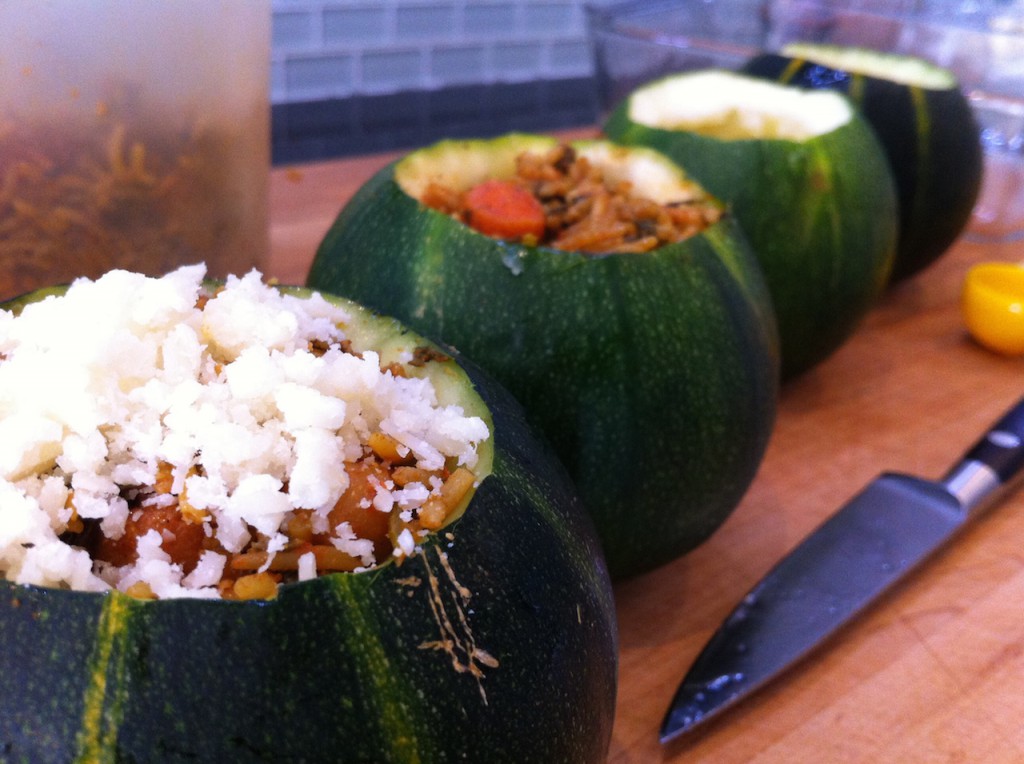 Step 4:
Fill them with you delicious mix and top off with a little parm cheese, just to be showy! If you aren't feeling all vegetarian, those Chicken Meatballs from Murrays are a perfect fit too. Find them in the fresh Organic chicken section – perfect if you're feeling both healthy and lazy (no, that's not an odd combo here). Pre-made and delicious for the lazy me, lower fat, GMO free Chicken for Ms.WannaBeHealthy.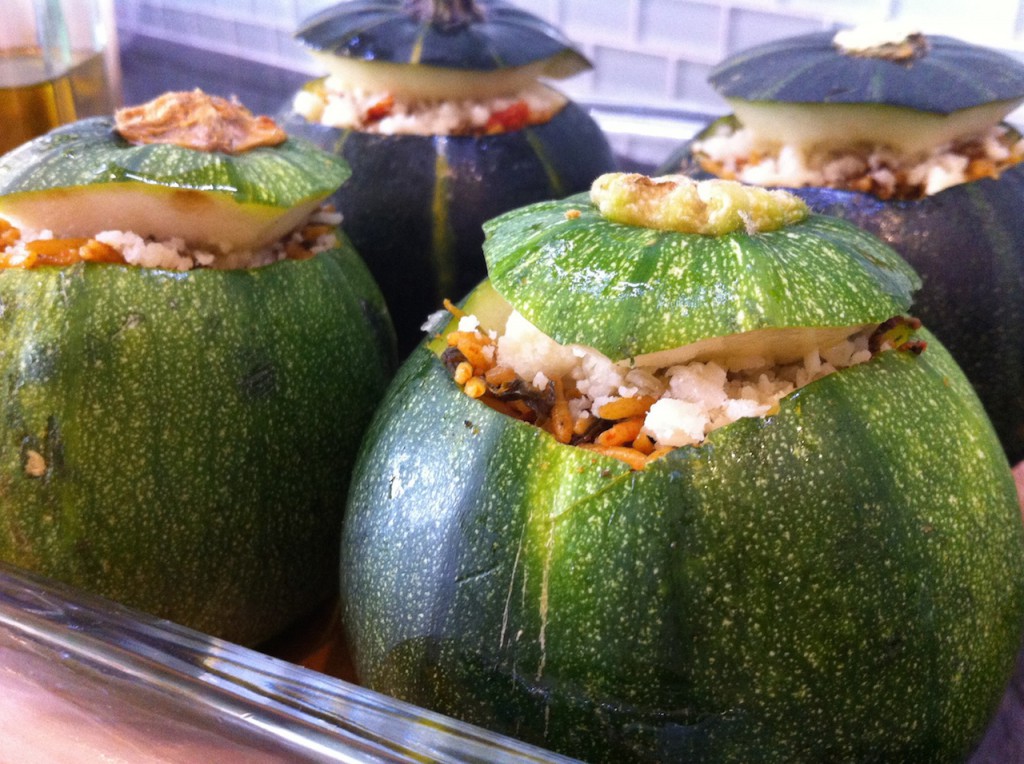 Step 5:
Set them in the baking dish. You can put their lids back on (cause they're cute), but put a bit of oil on them to keep the cheese from sticking.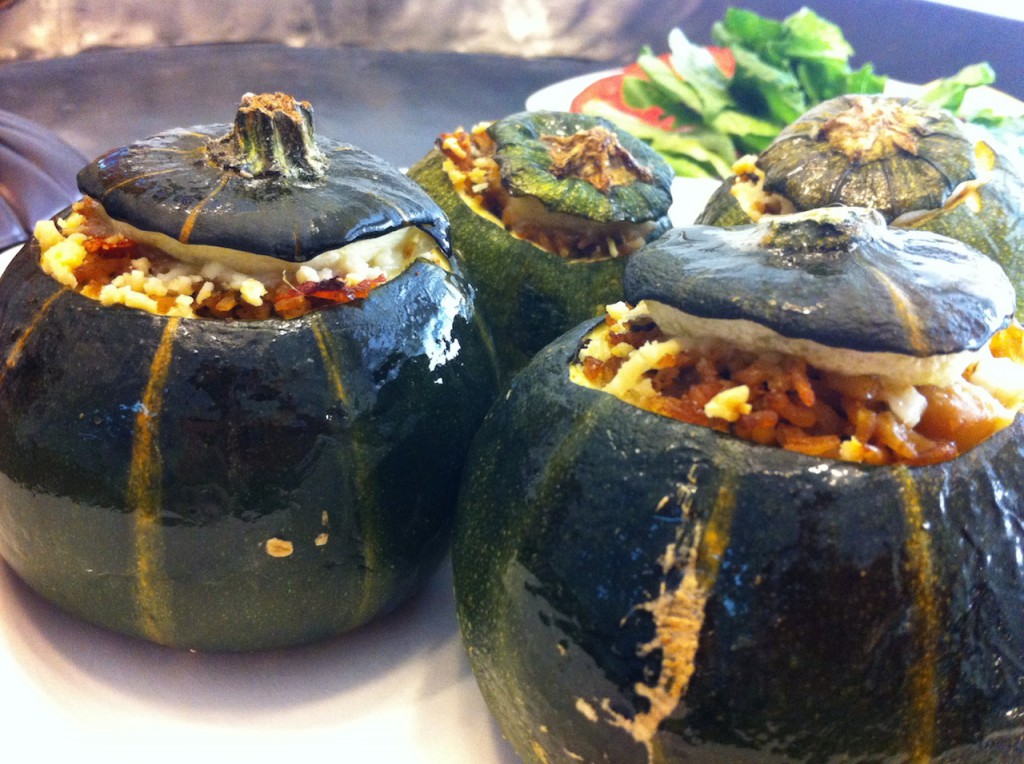 Step 6:
Get those bad boys into the hot box for about 30 –45 min., depending on what you filled them with. These zukes have a slightly tougher skin so they stand up to being filled, but not like a hard squash so you can eat the whole thing.
Finale:
Everybody got a 'serving' (zombie head! – LOL) and it made a vegetarian side dish for some summer burgers that was fun for all. Even my meatarians were impressed !
Of course then they 'junkified' them by thinking their veggie-ness counteracted the side effects of a cheeseburger and Fritos combo !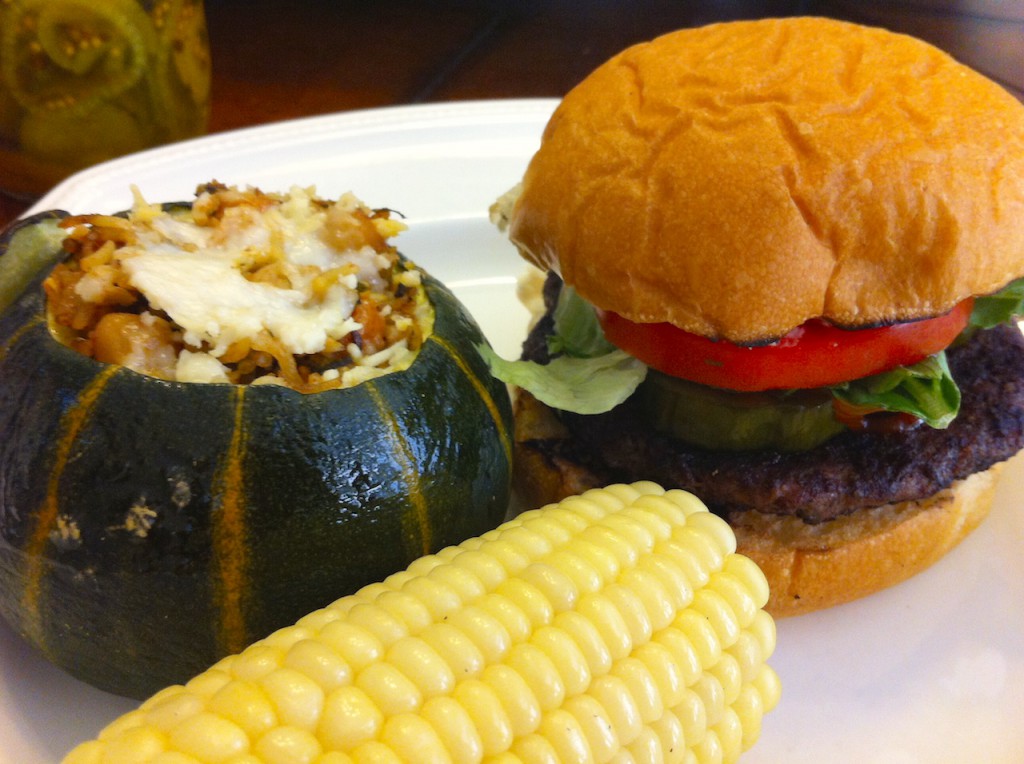 Mine was much healthier with some corn and a regular hamburger – no cheese and tons of veggies !
So, don't be afraid to stuff your squash with stuff – all kinds of stuff and all kinds of squashes. I think I'll try this with those little acorn squashes or tiny pumpkins. Yum – maybe Fall really is right around the corner!