For years I've been buying canned chiles because I use them in nearly everything TexMex that I cook. Having a spouse from AZ means I use a ton of them. Those tiny cans aren't cheap. I mean, they've doubled in price over the years and the stores now don't blink at $1.69 for one. Yes, I've shopped price (and just like the chopped olives) I bought them at WalMart, but then they changed and became oddly flavorless. That meant it was wasted money…and yet another thing to mark off the can-only-buy-at-Wallys list. I now go there maybe once every 6-8 months. I think you can tell, I'm not really a fan.
But I'm still a fan of those little green devils – what's a girl to do?! I did what I always do, I DIY it. I jar my own roasted red peppers too, in much the same way…but that's another post. Now get yourself to the farmers market and get some peppers. But what kind of peppers? That's where I ran into a problem too. See, those cans are filled with 'Anahiem Peppers', but we don't get those here. What we do have plenty of are Poblanos. They're inexpensive, larger sized making them easier to handle, and have a great green pepper taste. A bit like a jalapeño only minus the kick. Speaking of jalapeños, we'll need one of those to help them out with their lack of a bite.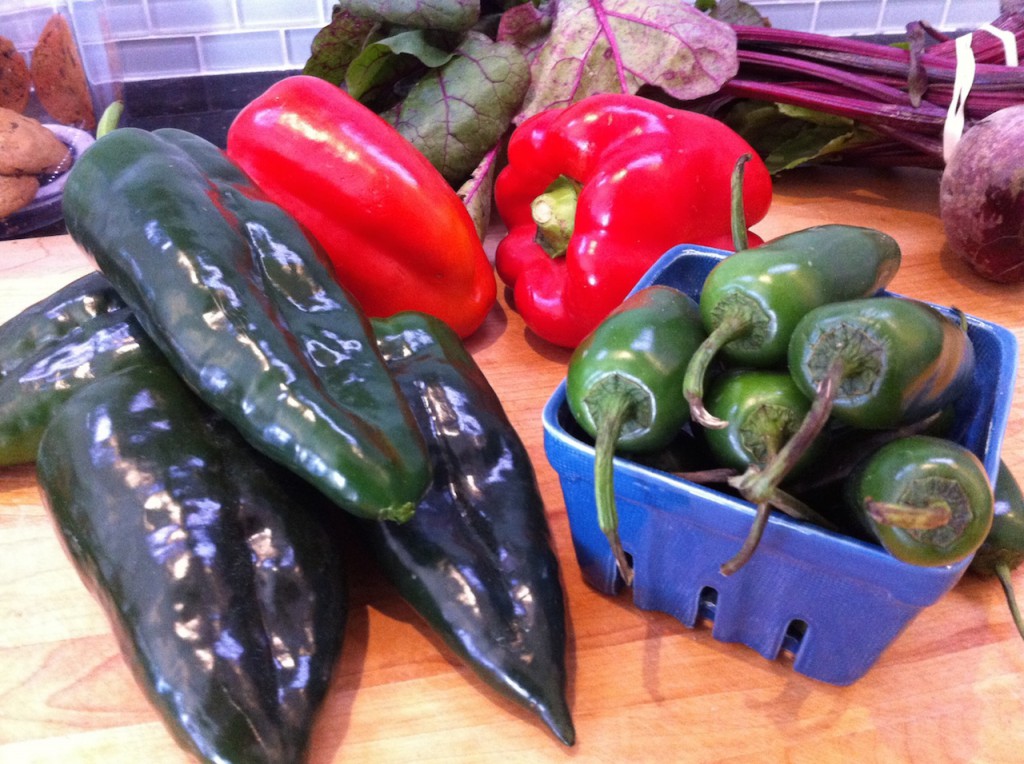 Step 1: First gather the goods! 4 Poblanos and 2 Jalapeños will do nicely.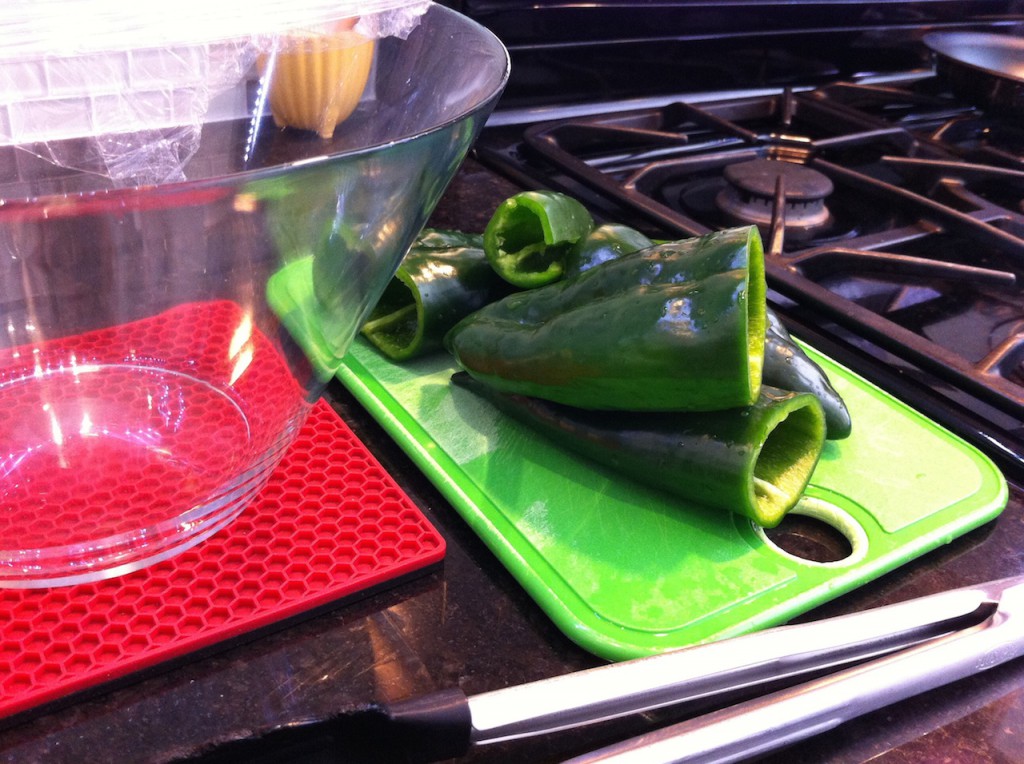 Step 2: Wash up and core your victims. Set them aside to dry.
There are several ways to roast peppers. Most rub them with olive oil and roast them in the oven, but then you need to jar them in oil – no thank you. Some char them on the grill outside. Either way, a pepper is a pepper, whether the huge red ones or the little jalapeños. Roasting means they all need a good blistering and the removal of some skin. I just happen to have a gas range and I'm not afraid to use it – Flame on !!
Hold it, you need some other stuff first…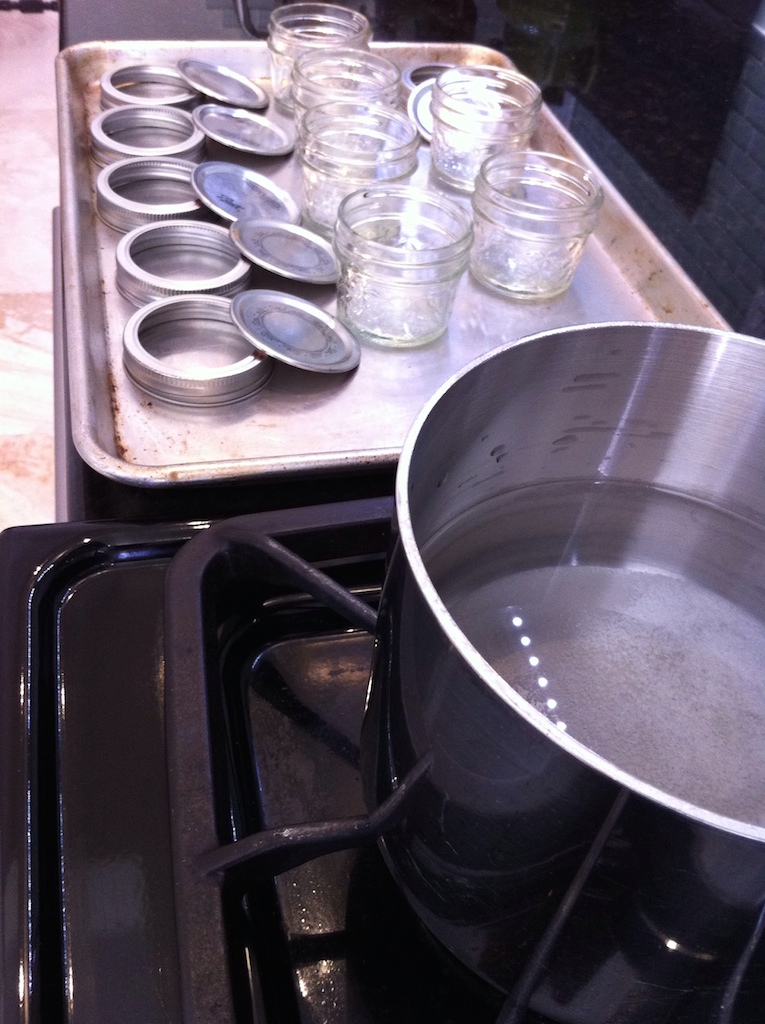 In a pan, place 4 cups of water about 3/4 Tablespoon of both salt and sugar. Bring this combo to a simmering boil. Now, get the oven on a preheat to 250deg and sterilize your jars. OK, now start to roast those peppers.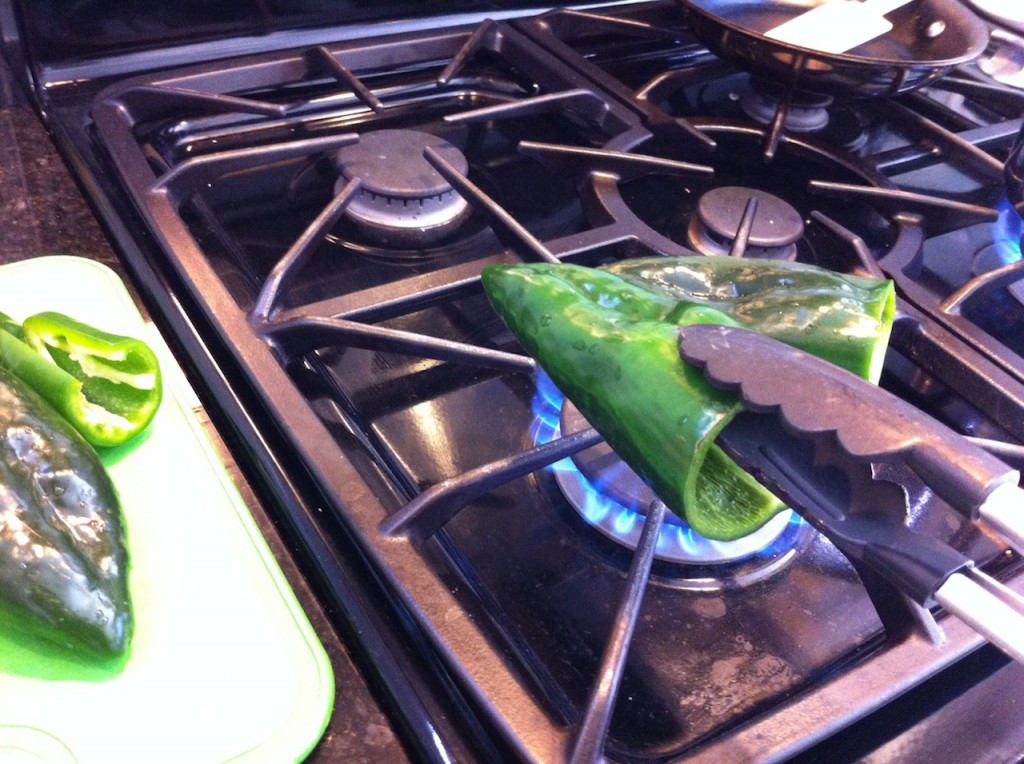 Step 3: If you're the official marshmallow roaster in your family, then you're sure to be the head pepper blisterer too. Light the fire and turn. Yes, they'll sizzle and pop. Don't be scared!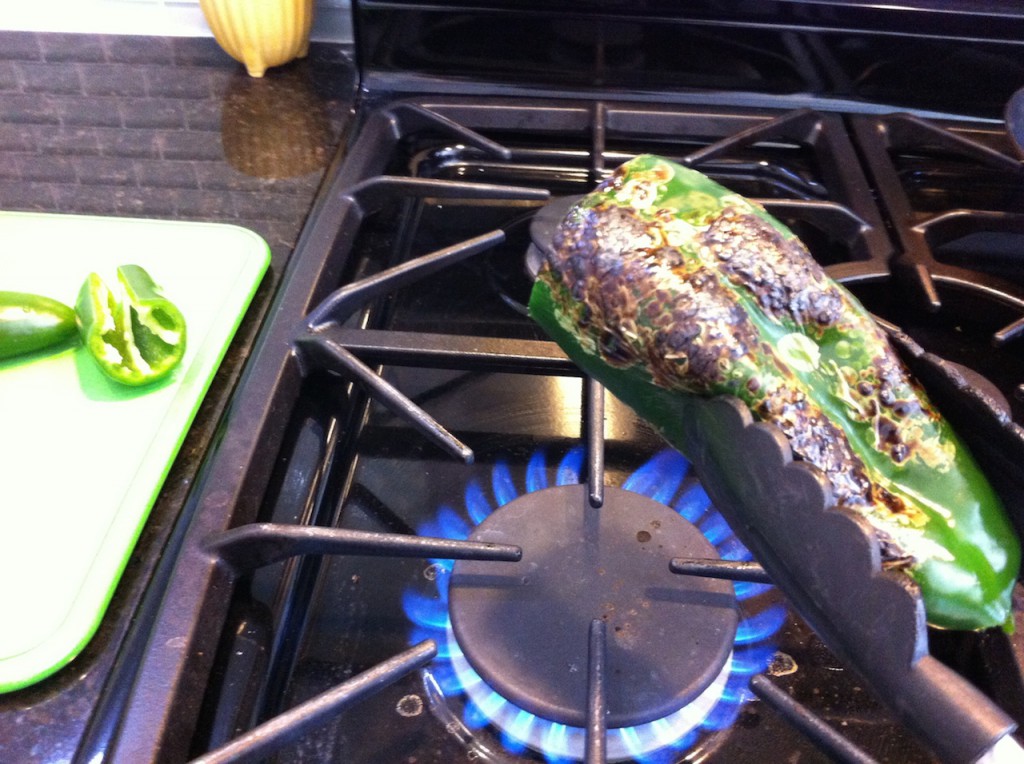 Step 3a: Ahh, see, nice black spots of char. Oh, you don't like burnt marshmallows? Well, whatever – crank that flame and burn, baby, burn!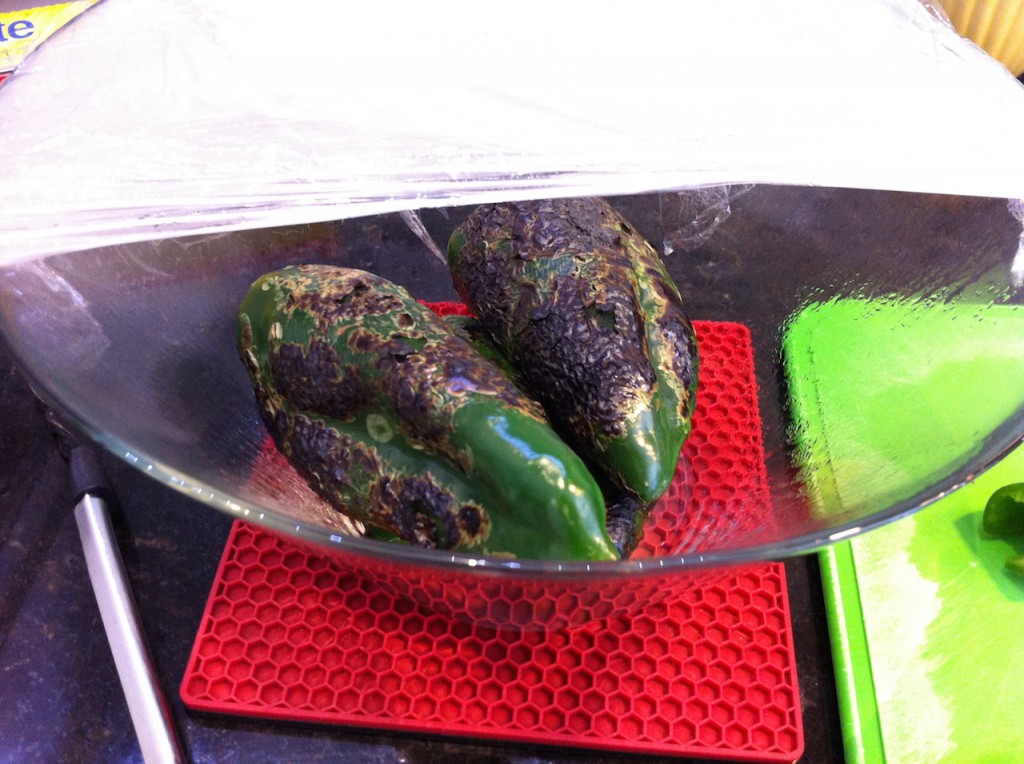 Step 4: Once you're done, get them into a bowl and cover with plastic wrap. Careful, they'll burn right thru where they touch it if they're flaming toasty. Which is why I don't really recommend the plastic bag method, unless they're already starting to cool. Either way, the steam will help peel away the unpleasant bits of charred skin.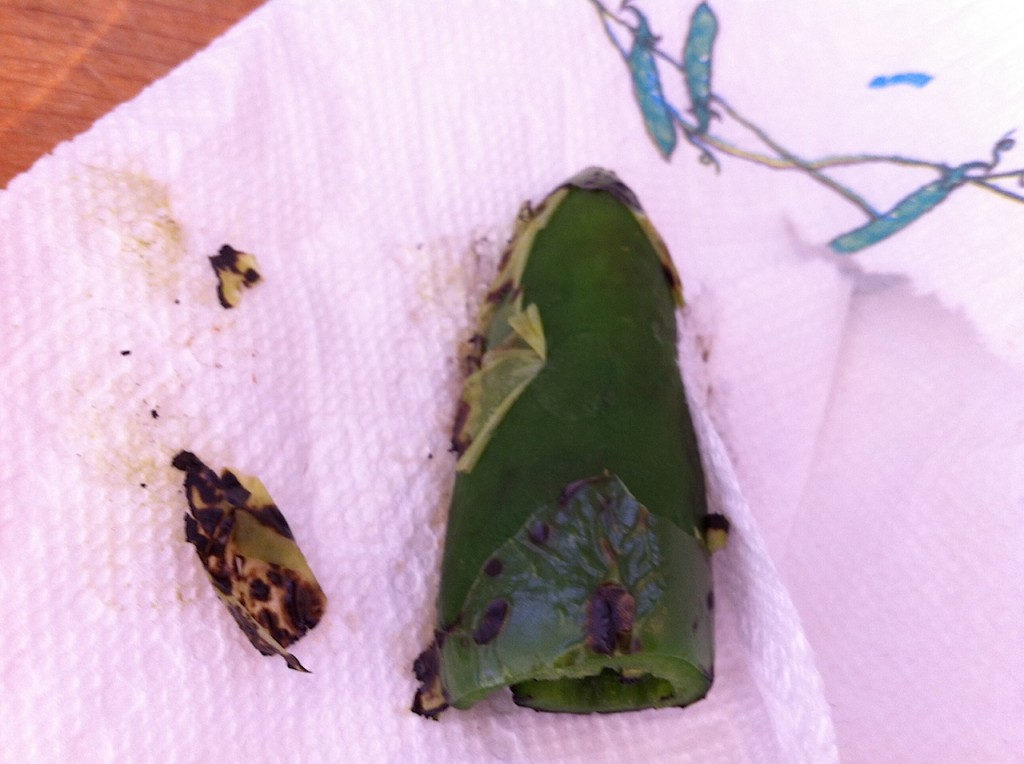 Step 5: Get them out and rub with a paper towel to remove some of the skin. Not all of it, that black stuff is flavah! Chop them up as you like. Keep the jalapeños separate.
Later, just before jarring, I added, into the water mixture, about a 1/2 tsp of Citric Acid (or in my case I had Fruit Fresh from my canning expeditions).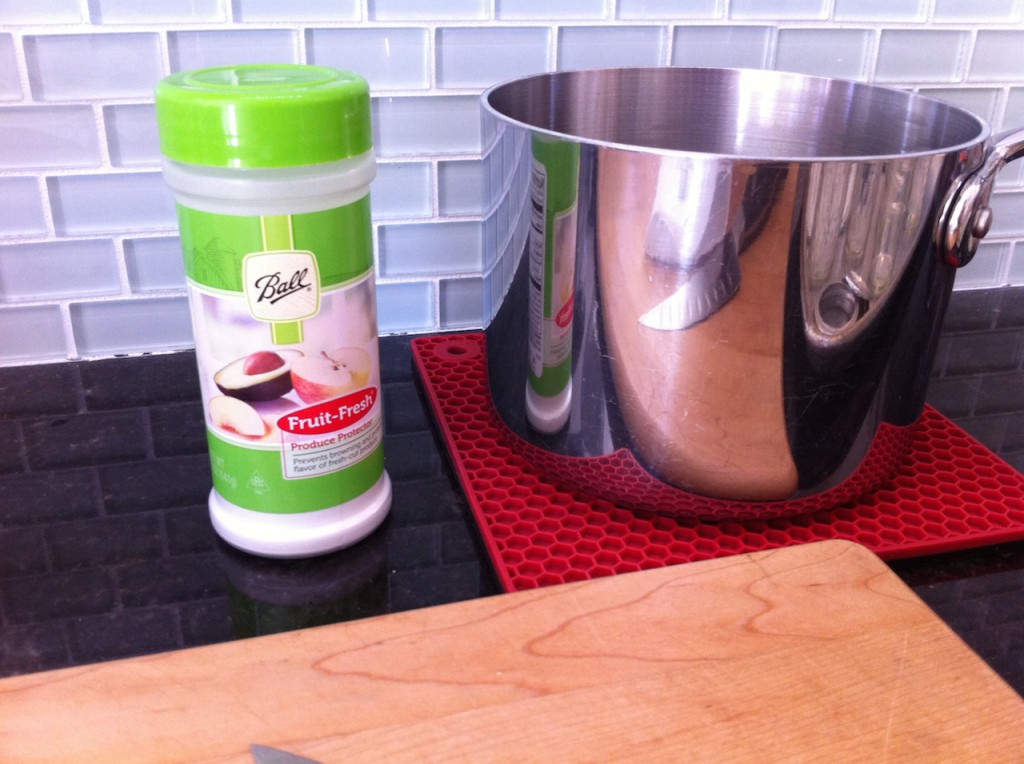 Step 6: OK, now we jar. Add the Poblano pepper pieces to each jar evenly and then add the jalapeños, a few pieces to each jar until they all in. Slowly add the water mixture. I do this 1/2 cup at a time.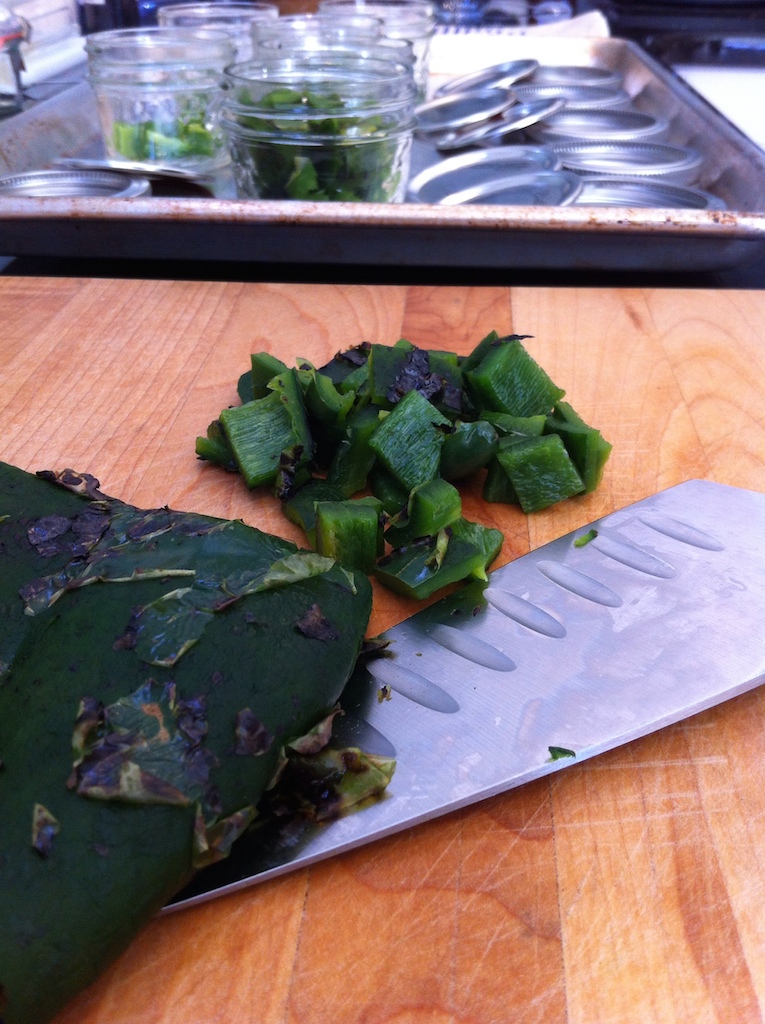 Step 7: Give them a little shake to release some of the air bubbles and continue to fill with the water mixture. Only fill it to the jar's 'shoulder', under the threads.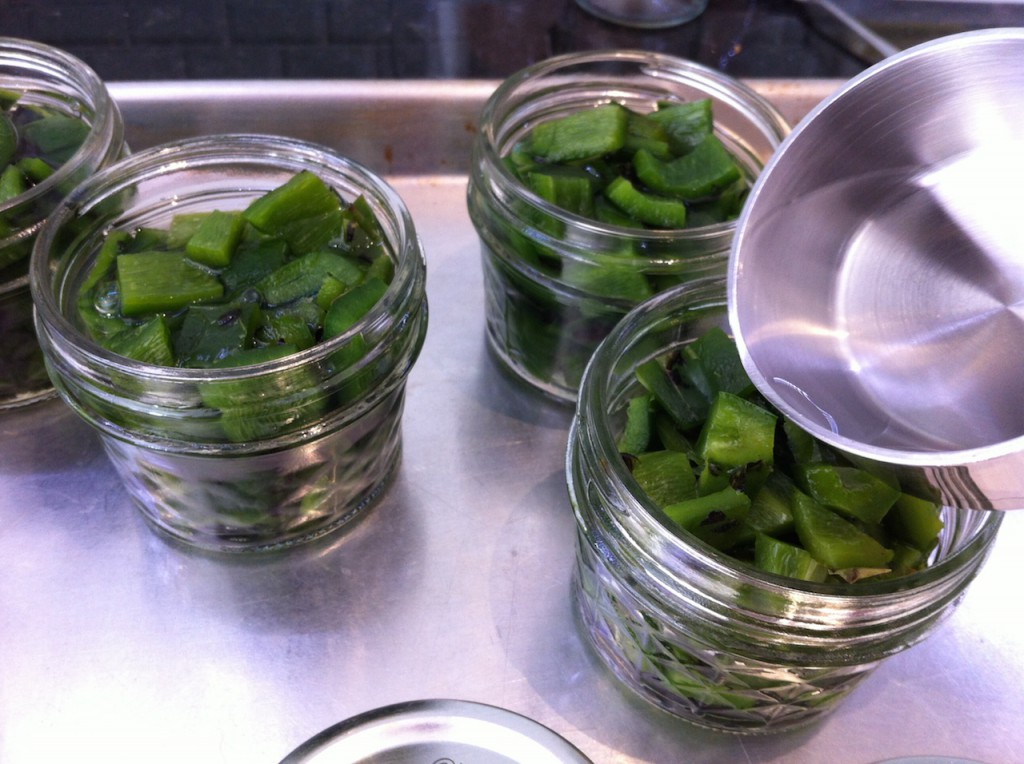 Step 8: Now lid and 'process' in the oven for 30 min. Those lids will pop – you'll see.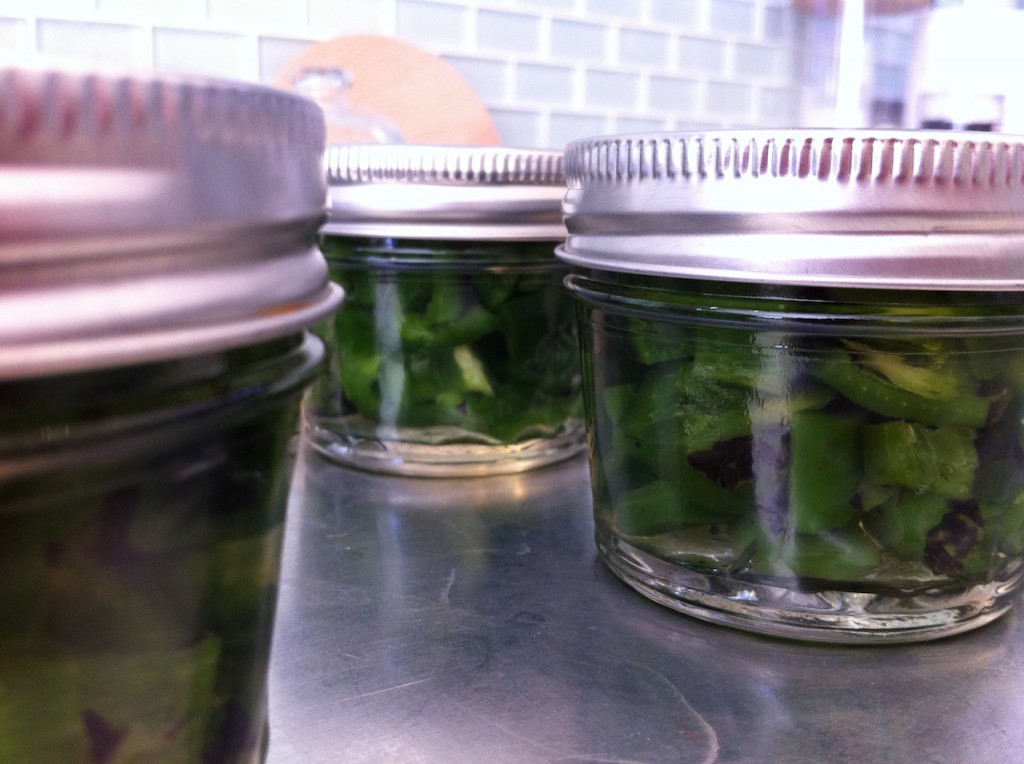 That's it ! They look so professionally done – forget those factory cans.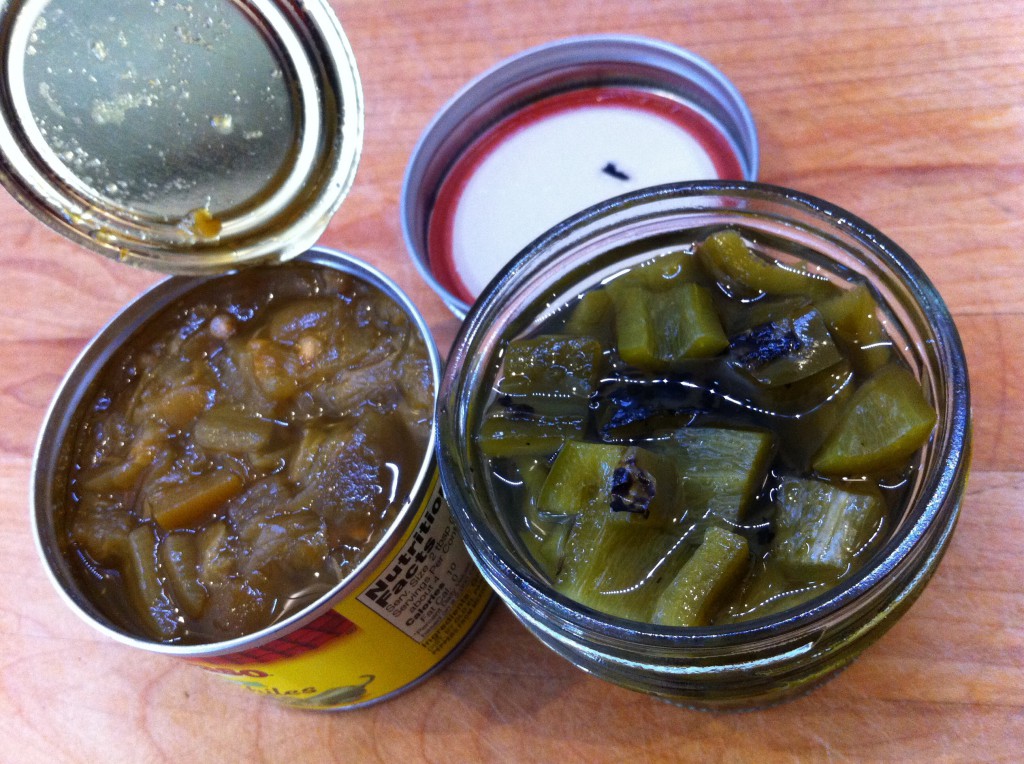 There's really no contest ! These chilies are far better than anything from the store. The taste is awesome – and just enough heat. You'll never go back. It's really easy too – an hour or so of work and you've got chilies for months – check back and I'll share a great recipe for summer that calls for these little green meanies. Until then, your chili's calling you…