It's that time of year again – Renningers Antiques Extravaganza !! I'm a junk junkie, I love everything old, well, most everything. Every year, there's a huge antique fair over in Mount Dora, FL (no, there really isn't any 'mountain' there), about 1.5 hours East.
http://www.renningers.net/index.php/main-locations/mount-dora/mount-dora-home
My Aunt Kathy, and I go every year at least once. Usually we bring long a friend and this year we had Ms. Connie again. We leave early (like 7am) and pack a tailgate lunch. This year Connie surprised us with breakfast burritos ! OMG – so good – add a beer and it's the breakfast of champions !! Or just champion shoppers for sure.
The weather was supposed to be cool but there was fog when we got there.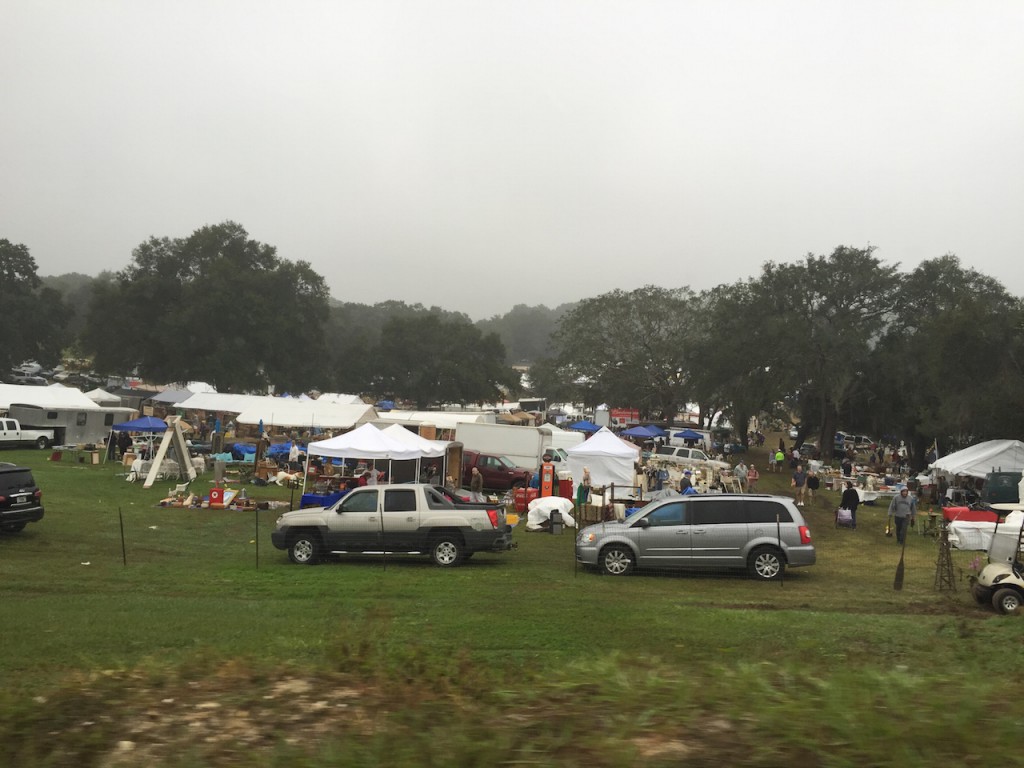 That's ok, the cold made the shopping all the better. We go on Friday (because we can) and that's when the pickings are fresh!
I wasn't there 10 minutes and spotted a display of sign letters. Wow – a 'B' ?! There are never any B's….and I can relight it ? What – $25 ?! Gotta have it !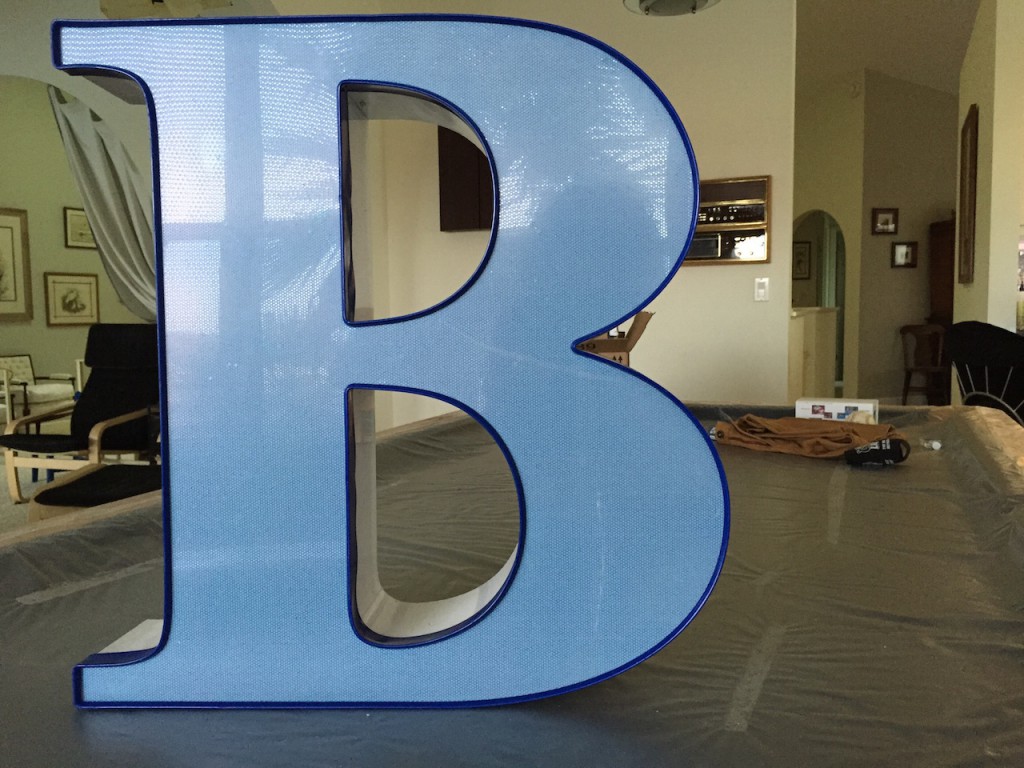 This is another reason to come early. As we made the first turn, I looked over at a guy still taking things out of boxes. And to what did my wondering eyes did appear,…a piece of pottery calling me. Pottery is a weakness. I admit it – I'm a pot head (ha -ha-). I'd seen this vase in my collector books, but never in person. I was afraid to ask how much. It had a chip in it's lip (many of mine do anyway),…'What can you do on this one?',…"Oh, it's chipped – how about $20?" I calmly said, "ok, I can do that." But inside I was giddy – I've been collecting for years and a 1920's lizard handled McCoy vase in white was in my grasp! I could've gone home then. And it'd been less that a half hour !!!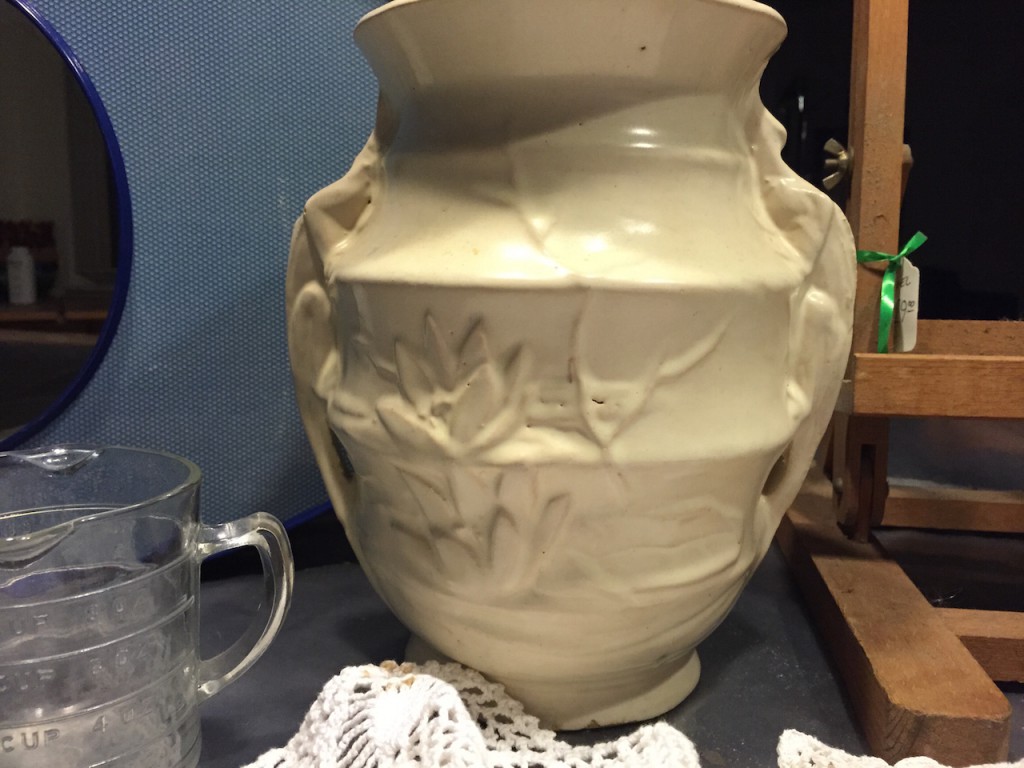 As we went along the crowd grew thicker and deals even better – I was good. I practiced restraint. I picked up some doilies, super cheap, for a project. And in a little shop, found a measuring cup for righties/lefties – it has 3 pour lips. Six bucks! Love it.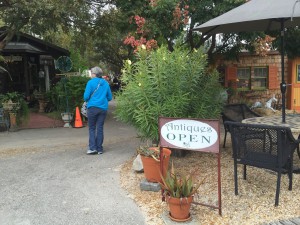 Speaking of little stores – there's a section of permanent display stores there that are just to die for. Like the 'tiny house' movement, this is the 'tiny store' movement.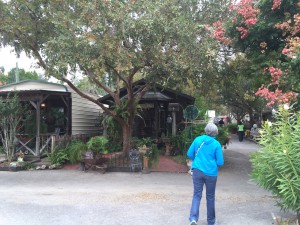 This store is filled with garden goodies and even lovely plants for sale. I could just move right in !
After a little lunch the weather cleared up and was gorgeous ! A burrito and beer was just what I needed to continue the day.
And continue we did – there's everything from stained glass rescued from old churches and long gone Victorian homes.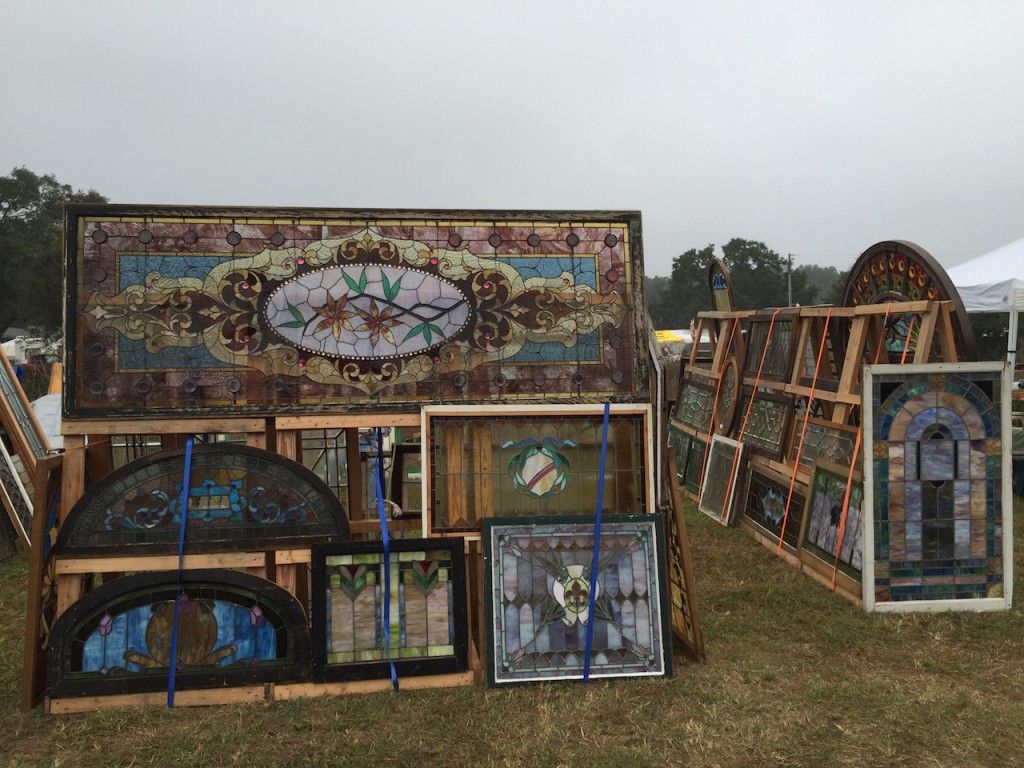 Old doors, mantles and even a display of door knobs and hinges,….and everything else. This is a local guy whose shop is called 'The Good, The Bad & The Ugly Antiques'. So true.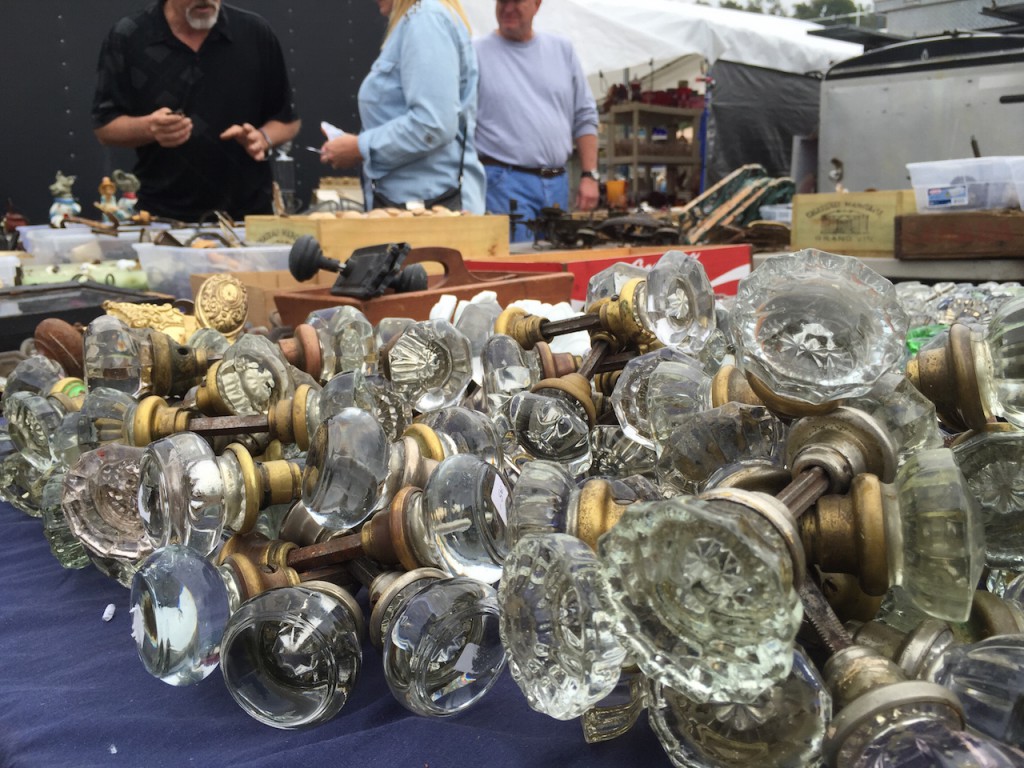 As the weather cleared the crowd thickened – but not too bad.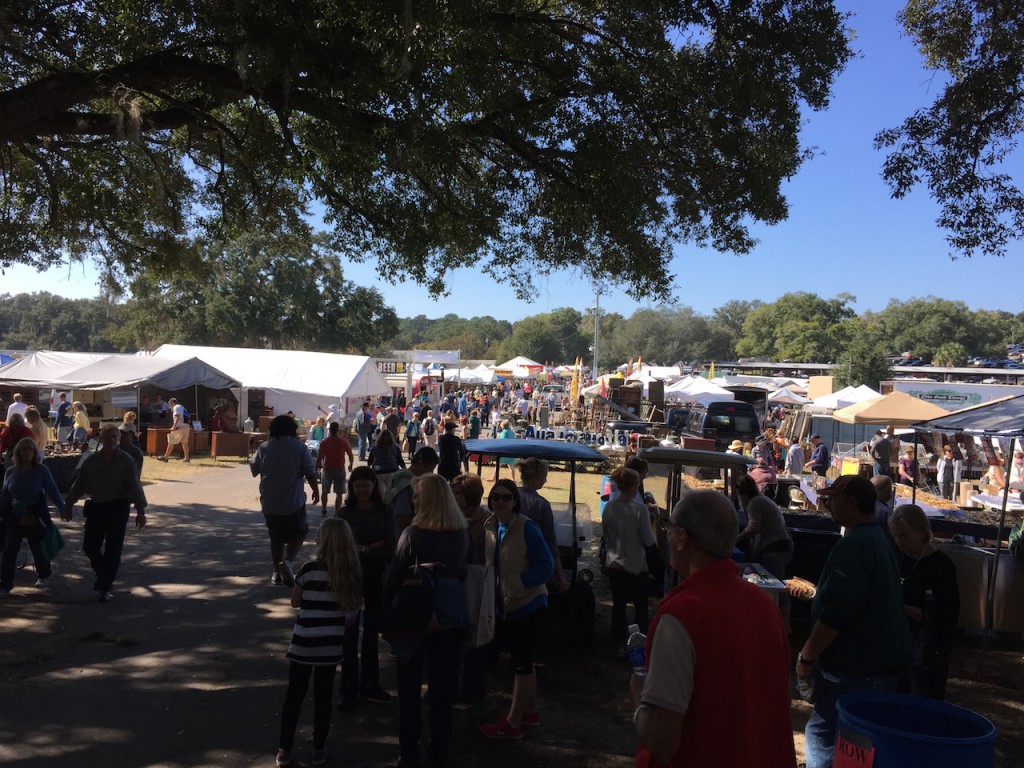 In one of the little stores I spotted a cool display featuring a store sign for tequila (which wasn't necessarily antique) with an old bumper car. Together, the 'cool factor' was off the charts !!!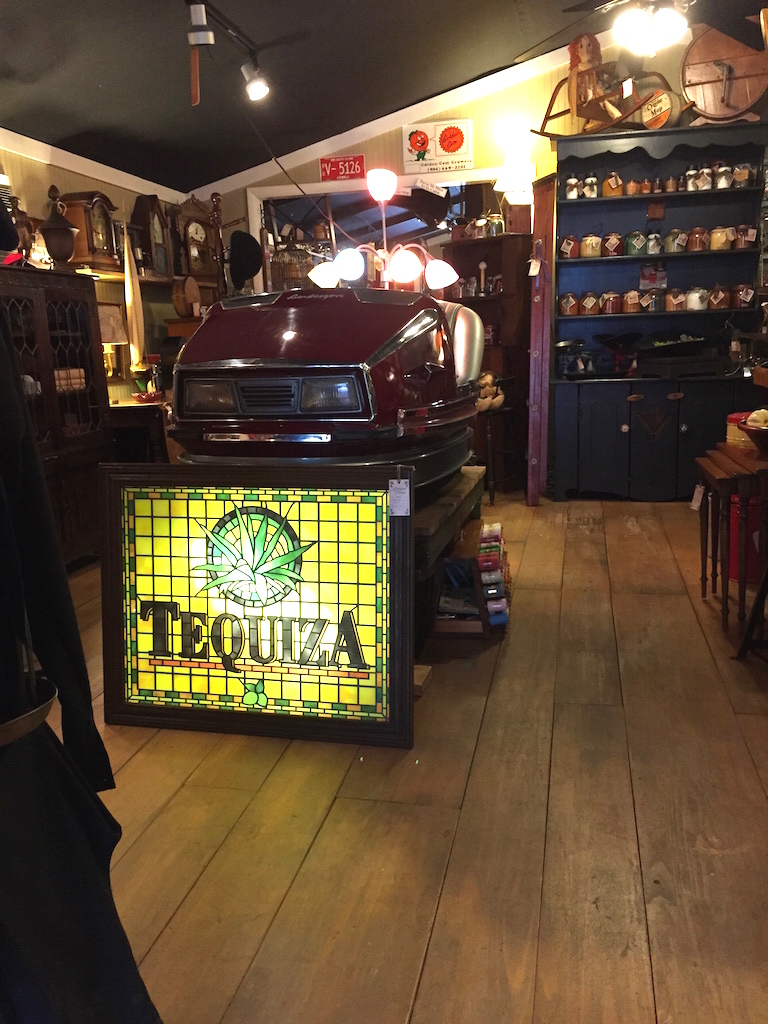 That's my haul for the trip – just before we left I spotted a tiny easel on the ground with a $29 tag on it and nearly walked away – I'm glad I didn't. The owner said, ' Ten bucks – I'm tired of packing it.' … I couldn't dig out my cash fast enough. It's not like I don't have any artwork to set on it !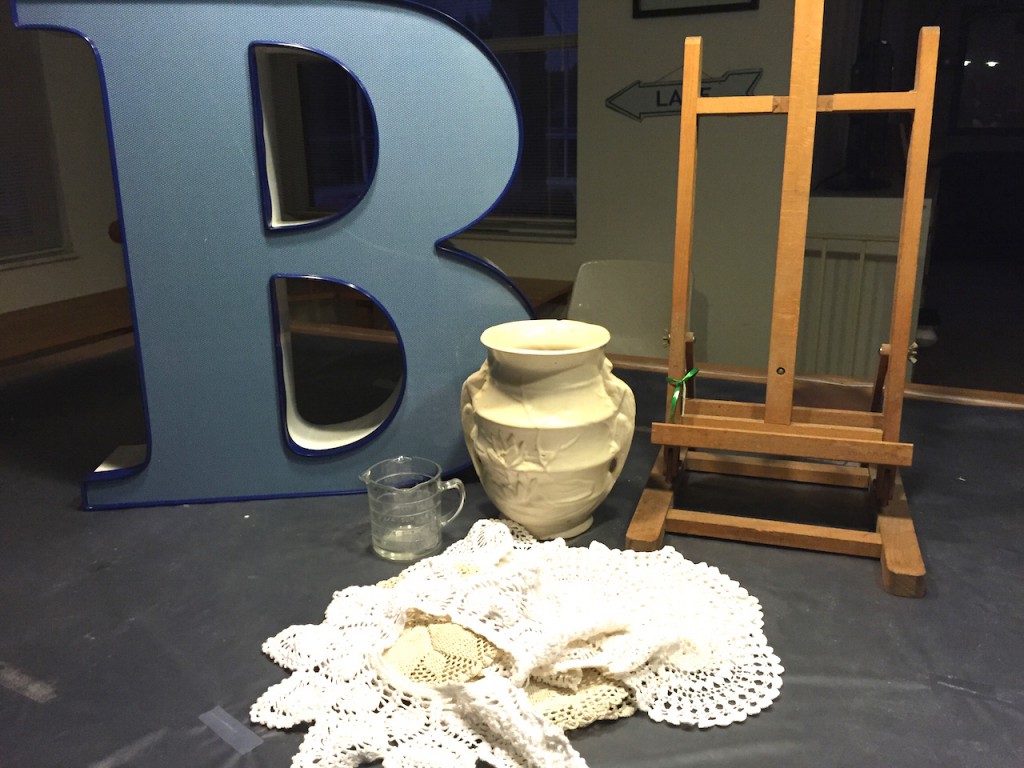 OK, so today's the Webster Westside Market (Mondays only) and it's usually pretty good after Renningers. Maybe I'll find something I left behind Friday. Hmm,… it's getting late – better go.
Later!