If you know me, you know how much I love Restoration Hardware. I've been shopping there for tidbits to add to our homes for years. Even through their changes, I'm still speechless walking into the store and gawking at the immense pieces of furniture, sparking chandeliers and the leather sofas that could swallow an NFL linebacker. Although, I'd need to be an NFL player to be able to afford those luxuries. A $5,000 sofa, just isn't in the cards for me today.
One of the many things they do so well are lighting fixtures. That gigantic mirror that was made for the huge wall in the master bedroom needs something. Scrolling thru the catalog, I spotted a shape I liked, but I wasn't in love with Grecian look and finish in gold tones. Not to mention the $350 price tag. Yes, each one…ouch.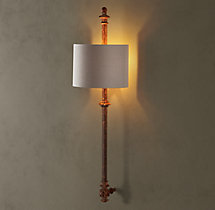 They also weren't hardwired, odd. Well, then they couldn't be that complicated. I put the thought in the back of my mind and continued with my painting of the room and other projects. And then one day, while at Lowes I spied a curtain rod assembly on the sale rack. This was one that had a track with clips in it. For whatever reason, my mind kicked into another gear (and my wallet wanted to kick me in the head) – that light – this could work!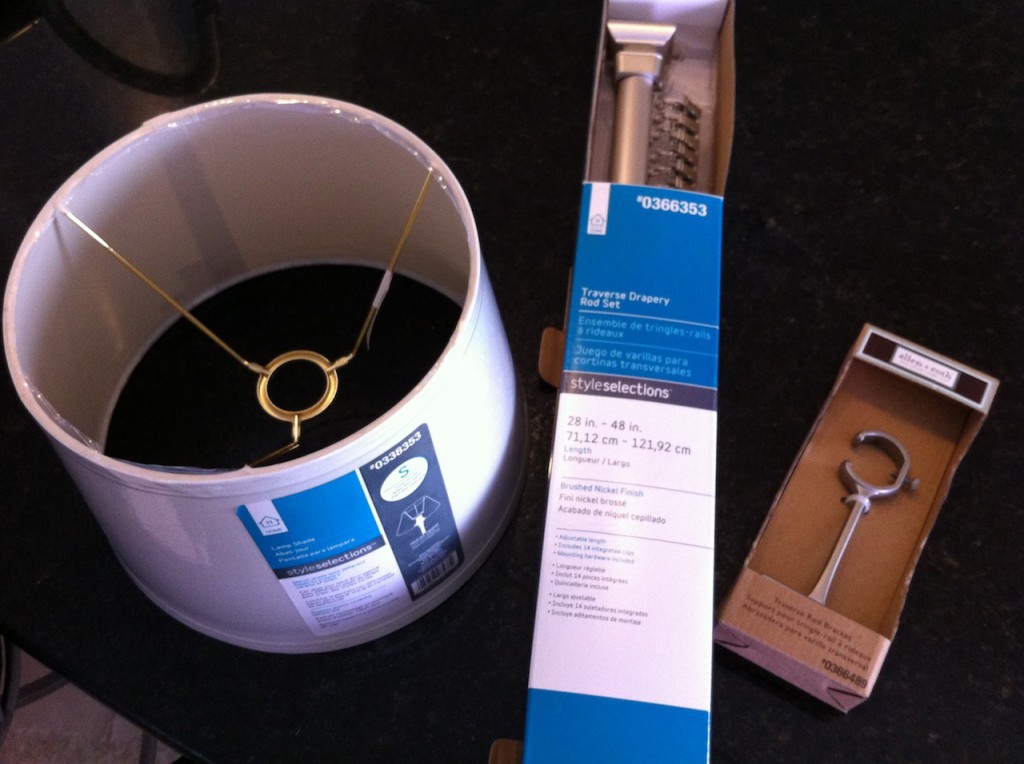 I picked them up and wandered the store for rest of the pieces I thought I needed. Never mind the fact that I'm NOT an electrician, I've got one on staff (hee, hee).
Turns out the one bracket pictured, I didn't need. You see, I can't throw out anything (I'm not kidding – it's a problem), and in a drawer I have baggies of drapery rod parts and pieces. I found I already had the perfect mounting bracket assembly. I also had a can of Rustoleum in Dark Steel (a fave) to coat all the pieces to match.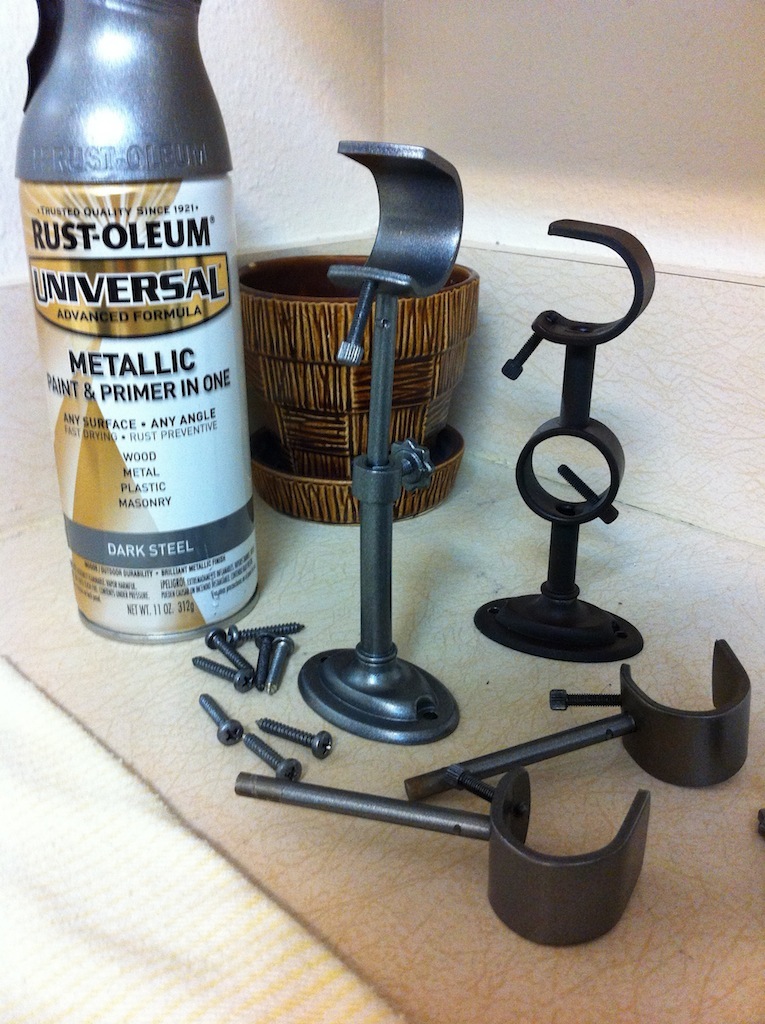 I took them all outside and gave them a spray. Meanwhile, I consulted with the 'electrical staff' and we discussed the project (that means I was all "Honey, can I do this?",…"Yes, I don't see why not."), and made a materials list. That would be a post-it and me digging thru the electrical section of 'HomeDepot Annex' (aka, the garage). I'm not the only one that saves stuff around here. My husband has a shopping mantra of, "If I need one, I buy two." (that applies to all small bits). And, yes, he had all of it. Two old lamp guts, cording, wire nuts, and patience – lots of patience.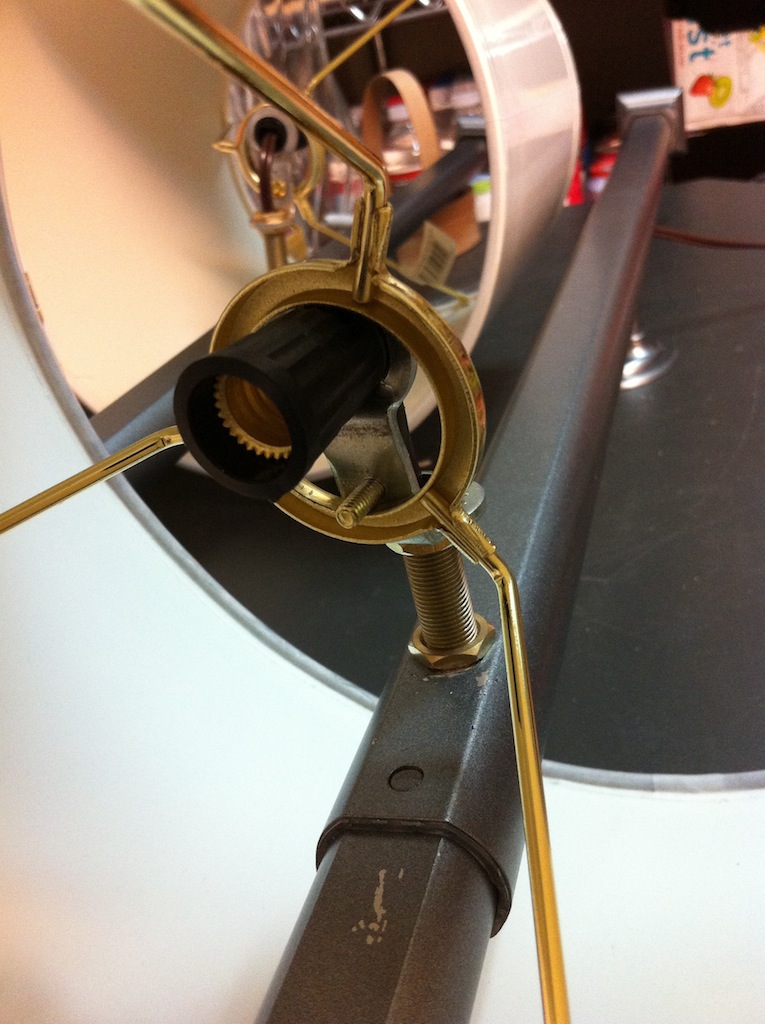 Actually, it wasn't that bad. That said, I didn't take very many pics of this project. It went together remarkably quick.
The above shot shows the inside of the light. We used the threaded rod to go into the curtain rod and make the shade hide the adjustable portion of the rod. Besides, there was already a hole, we just made it bigger. Then threaded the lamp cord thru and down the hollowed out curtain rod.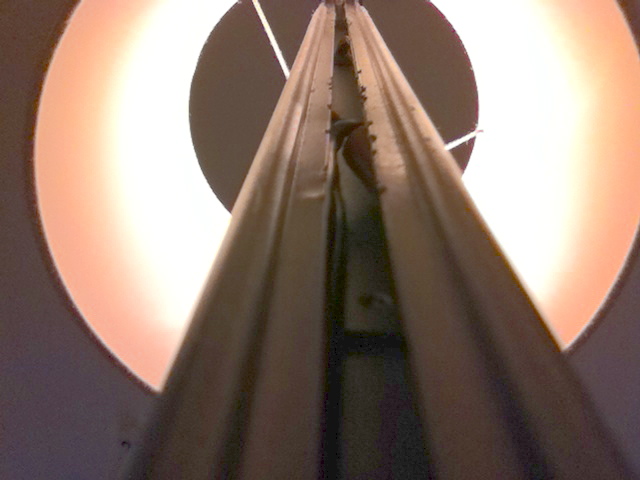 Since it had a track, that meant the back is open. Wish fished the cord thru it then fished it back out thru the mounting bracket, since it was hollowed out as well.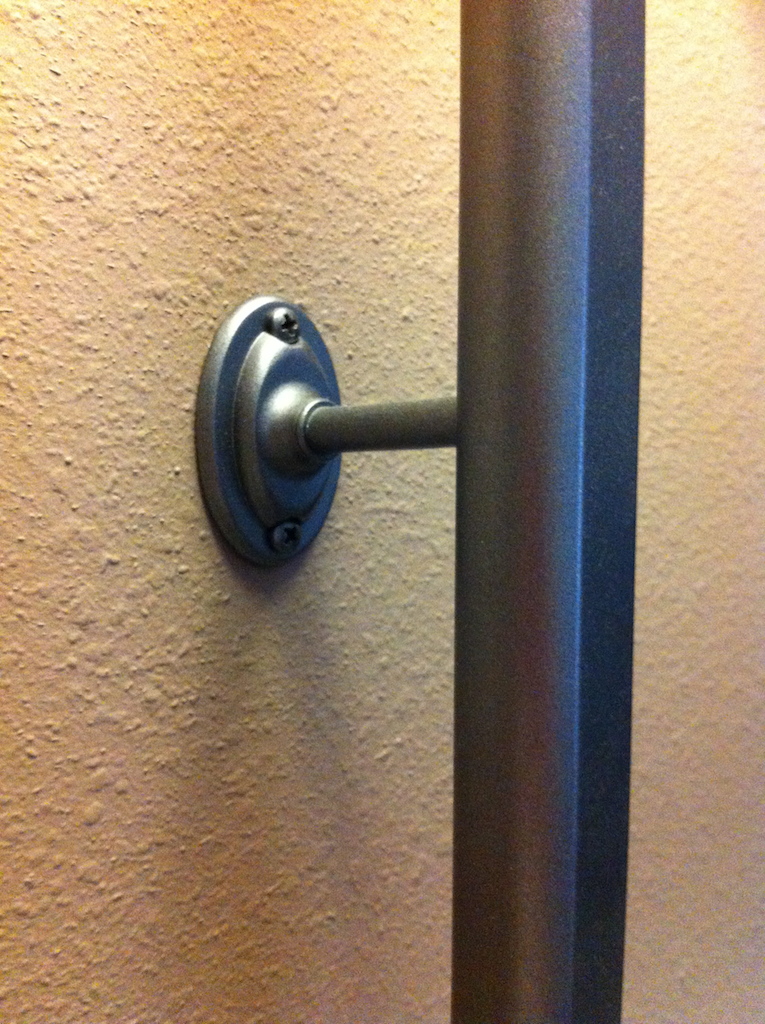 Here's the tricky part. Some people don't know that most bedrooms have a 'switched outlet'. Normally for lights, the top is on constantly, for alarm clocks, and the bottom outlet is switched at the wall near the door for lights. We chased the electrical cord for the lights into the outlet box and wired it to the switched outlet. Now when I walk in the switch on the wall turns them both on.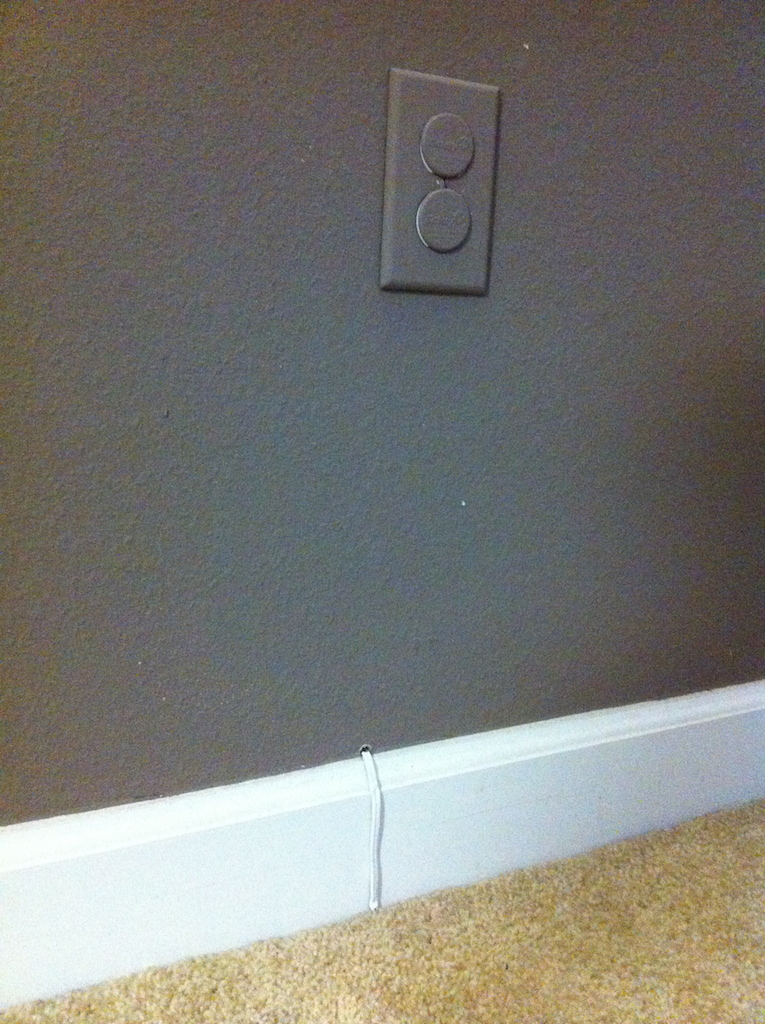 This was very clever – I love it. The cord from the other light was run down under the baseboard trim and into the wall up to the outlet. Speaking of outlets – here's a trick. You know those plug covers for little kids who like to put forks into outlets? Yup – I painted them to match and poof invisible outlets.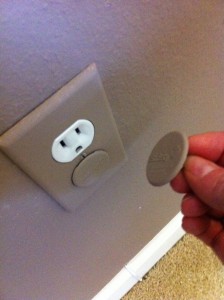 We'll talk about that paint color later. (Benjamin Moore 'Weimaraner', yes, like the dog)
Now that they're up, those shade I'd bought were just too light, and the wrong shape. I need a drum shade, a small one, and not pure white.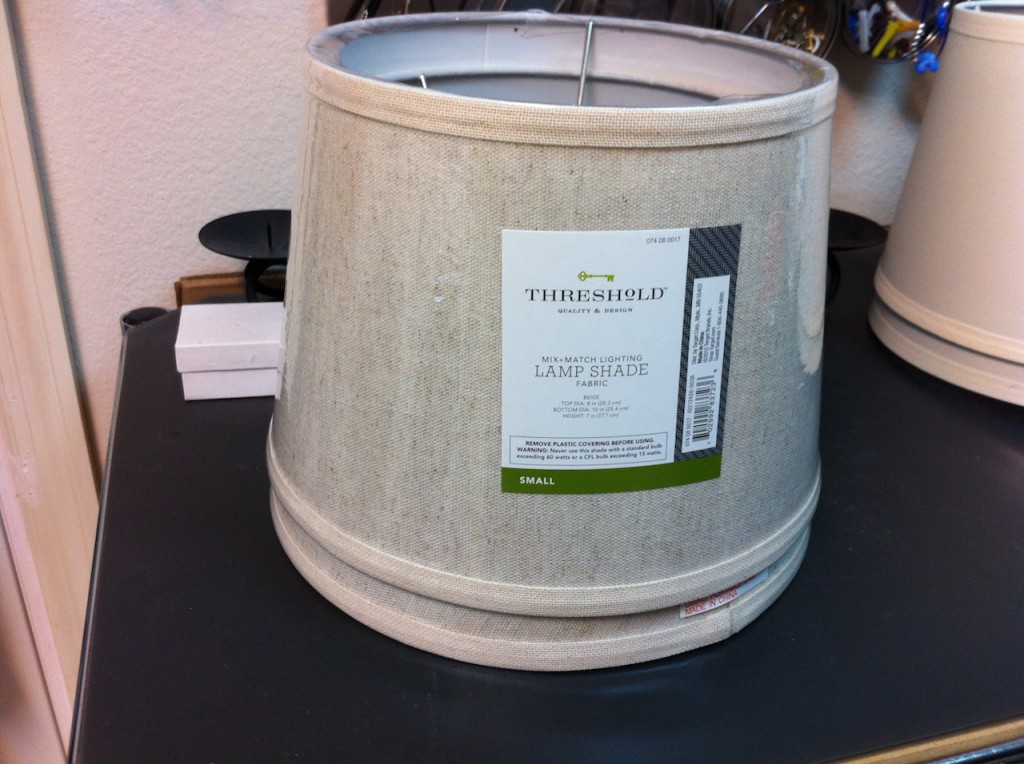 Oooo, wait Target had just the thing. I love it ! A small linen covered drum shade. I can't believe my luck.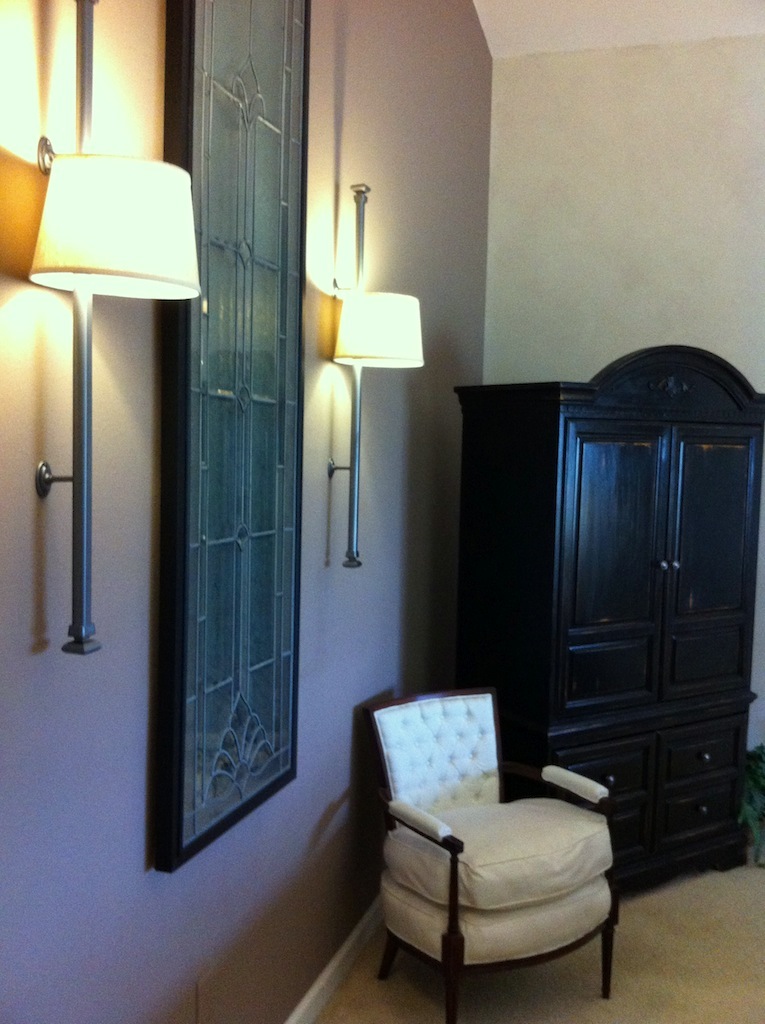 Now let's give it a look. A couple of low-watt LED chandelier bulbs. So perfect, just an accent light. Something that makes the room cozy, not a reading light. It throws a wonderful shape on the wall and is just what that big wall needed. In my opinion anyway.
It's my bedroom and I like it – and that's what matters.