OK, so you've seen the remodeled kitchen. You didn't think we stopped there? Oh, no. I told you that my little wad o' cash gave us an entire interior facelift ! There's still 2 bathrooms and carpet to put down. Come along and I'll show you the rest of it.
This was one ugly bathroom. I'm sure that when it was new, it was just the bees knees. They had little extras like the dressing table are that was custom built in, and the medicine cabinets were handmade….in the '80's The cabinets were the same as the kitchen, held together with staples and formica tops. I could even live with those things because they were a neutral color. What was begging to go was the shower door, the tile and ,…carpet…yes carpet.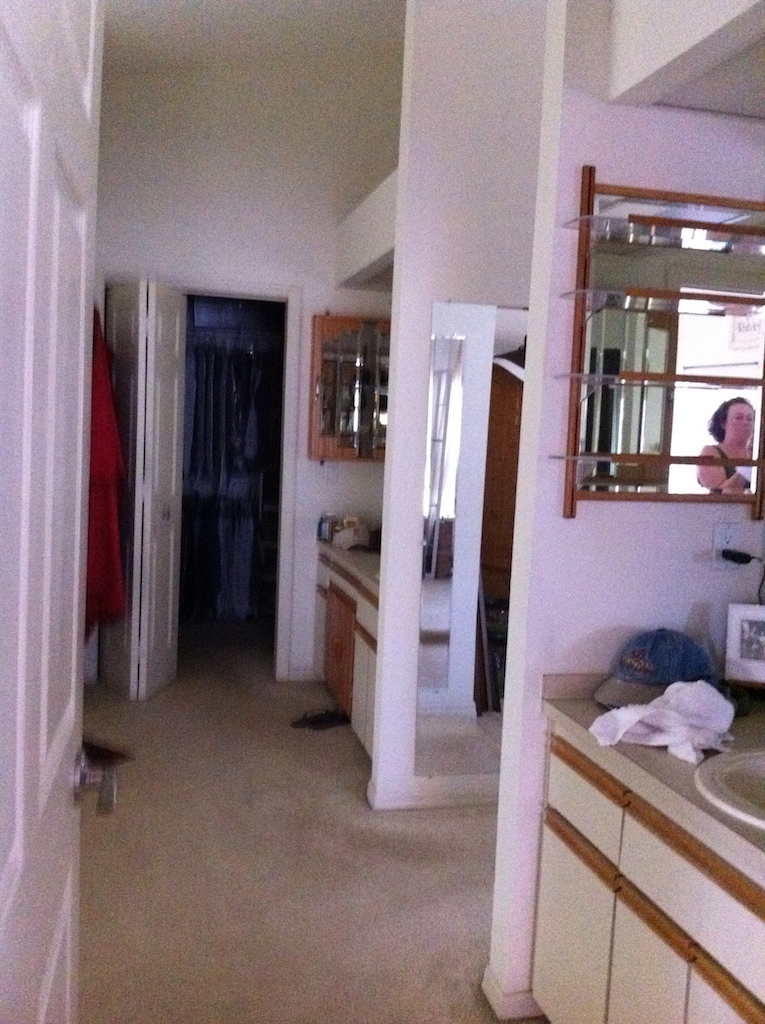 A little note about this photo…it was taken in haste because we were packing to evacuate. It's amazing how you figure out what's really important. I ran around snapping shots as we discussed out what we were going to do. Yes, we had just finished up on the kitchen and the crew was doing some last minute things when Bob, the Carpenter comes in and says, "Um, you might want to check on your neighbors,…it looks like there's a pretty big fire out here. And it looks close." We're used to the controlled burns for construction around here so I reluctantly strolled outside to the driveway,…OMG!!!! It was huge! (Big enough to warrant more than one news helicopter)…long and short of it was we were all very lucky even though several acres burned, only one person lost a vehicle. I could've been so much worse – My thanks to the rednecks, living outside the development, who were burning garbage in their backyard on a hot, dry, windy summer afternoon and let it get out of hand. Idiots. (Tater says, 'Ya, just can't fix stupid.')
Back to the beginning: Plans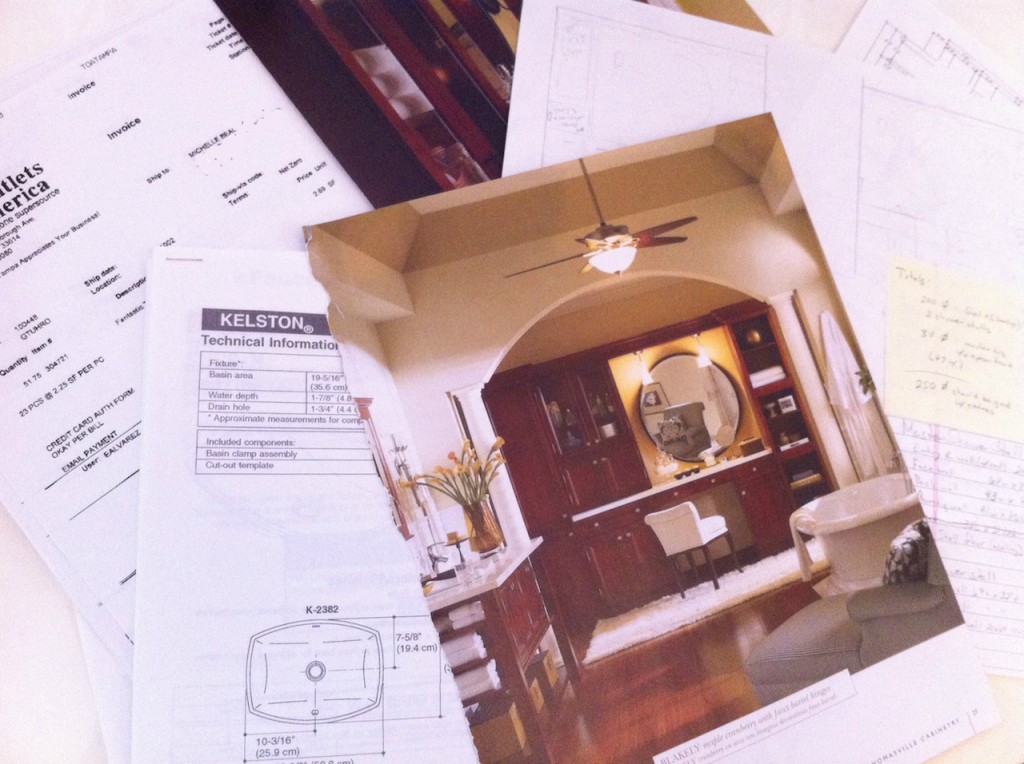 After I'd spent a month gathering ideas and drawing things up, and still was not completely happy. I stumbled on this photo in the back of a kitchen cabinet catalog. I liked the basic idea – round mirror with square cabinets. I even liked the pendant light arrangement. Wow- it does work! See, we had those wall-to-wall mirrors in all of the baths which weren't terrible, just dated and hard to work around (too big to 'frame'). Before I was about to take a hammer to the mirrors, my other-half, says to call 'the glass guy' (Spring Hill Glass & Mirror), and see what it'd cost to have them professionally removed and disposed of. Good call. Mirrors are heavy – so, a very pleasant, but enormous, guy shows up, with a helper, and takes one look at the bathroom and says in his Brooklynese, "Oh, I can get these out no problem – I installed 'em. But I might break 'em doin' it. Who built this house?"
Are you kidding me !!!!?
So, a few pops and each one came out in one piece – AMAZING! Then he's like, "So, what'cha want me to do with 'em'? I can cut 'em." Ooooo, now there's a thought that had never crossed my mind. He loaded them onto his truck and said to call in the next couple of days. Then I pulled out that catalog shot and picked up the phone. He cut them into 3 – 42″ rounds ! I picked them up and we hung them our selves as one of the last items. So for the price of one ginormous mirror, we got all 3 of them removed and re-cut. Fabulous !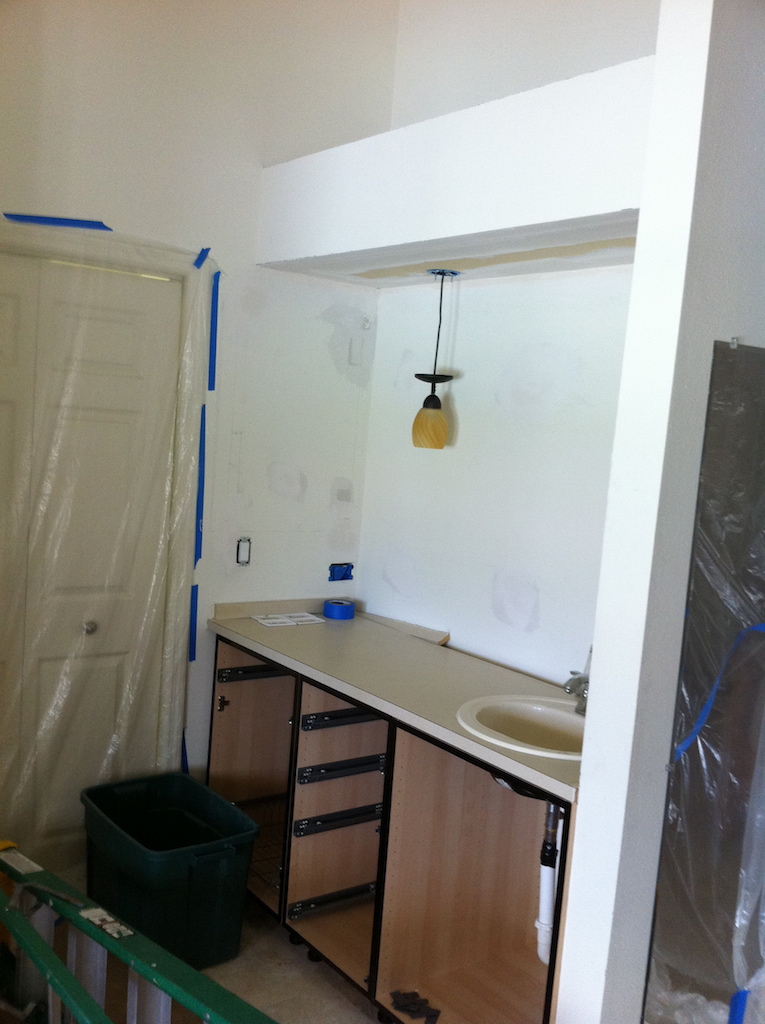 The demo of the baths were once again a DIY deal. We saved the countertops with their sinks and plumbing attached and laid them on top of the new cabinets as, they too, awaited granite countertops. Since we were waiting, I took a huge marker (Sanford Magnum…the biggest Sharpie you've ever seen!) and colored the front facing edges of the cabinet bases. That way, any seams not covered perfectly by the cabinet doors won't be noticed.
Next up, the electrical. I love my electrician, and my plumber..no really, we're like married and stuff. LOL The 'boxes' over the vanities had those fluorescent bulbs in them, you know the ones. Forty watts each, times 4 – ouch! So, he closed them off, installed a switched plug on top for overhead lighting, and on the same switch, installed the pendant lights. Cheapies from HomeDepot, easy to install, interchangeable shades. I splurged on the shades because I knew I'd use LED or fluorescent bulbs which are super white. Another good call – a warm natural light to do makeup by.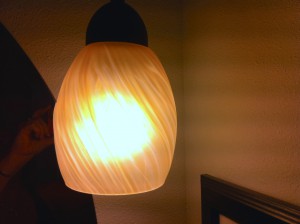 Next, what you didn't see before is part of the demo. Yes, there were tears –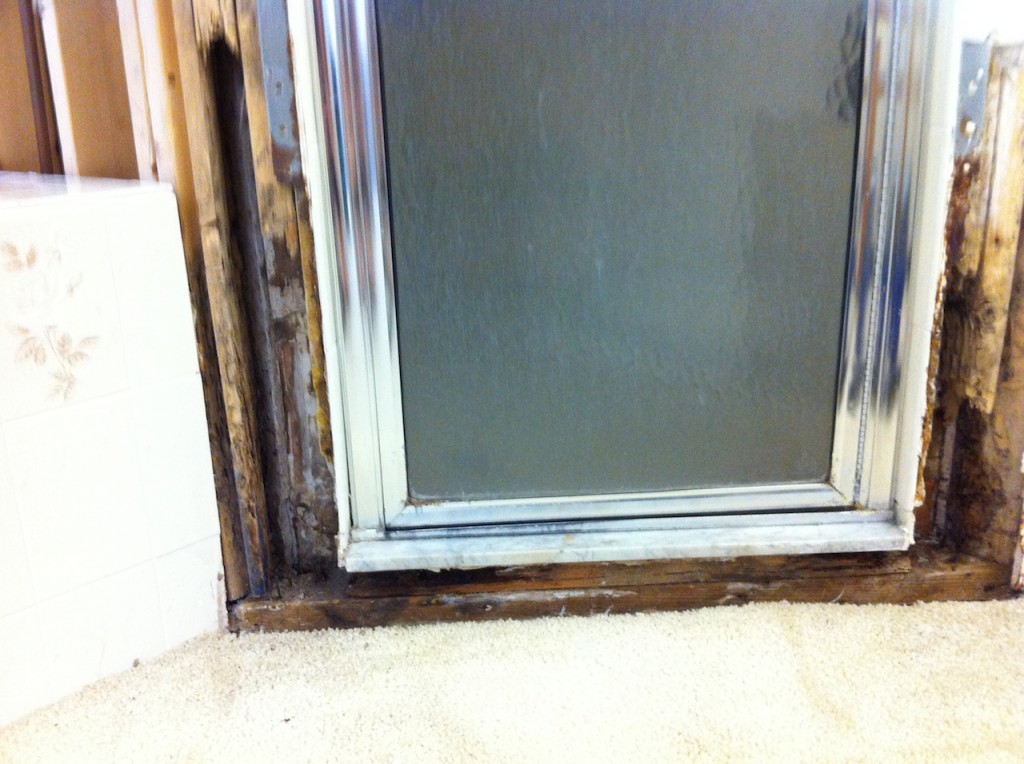 This my friends is what happens when you don't re-grout a shower. All the water seeps thru the tile work and termites move in AND EAT YOUR BATHROOM! We'd known that the previous owners had the place treated, and this was old damage. Whew! This was another expense in demo and re-drywalling and of course having Richard the Drywall Guru come in and make it look like it never happened. So amazing.
The tub – oh, yeah we saved it. They don't put those tubs in new homes anymore…it's HUGE. I opted to leave the fixtures alone as well, since I just didn't have the cash for it. The larger volume roman tub faucets require a different valve … a several hundred dollar addition..just for the valve. Nah – they're in good shape and at least chrome. Changing the tub area would've been a $6,000 change-order. I don't think so.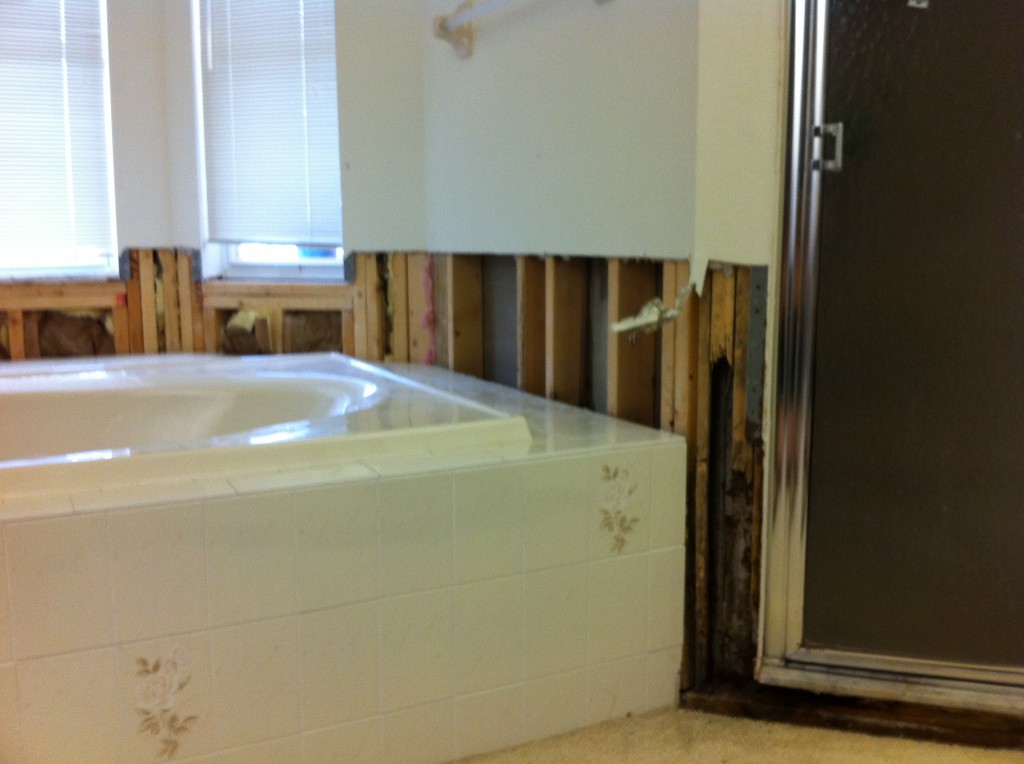 How about those 1980's tiles – hmmm, brown roses….everywhere. Before we did all of this, I'd consulted with the tile guys. Mr. Magoulis was surprised I wasn't tearing it all out, and putting in glass walls,….no…this is NOT HGTV…I haven't the budget for that. It's just a facelift. Ok, then he said that they could go over the existing tiles…what?! No demo, no new drywall…he said it's done all the time in hotel remodels. Perfect – see, those guys were great! ( I know, it's a flipper trick, but the job has been done 2 years now and the tiles are still beautiful)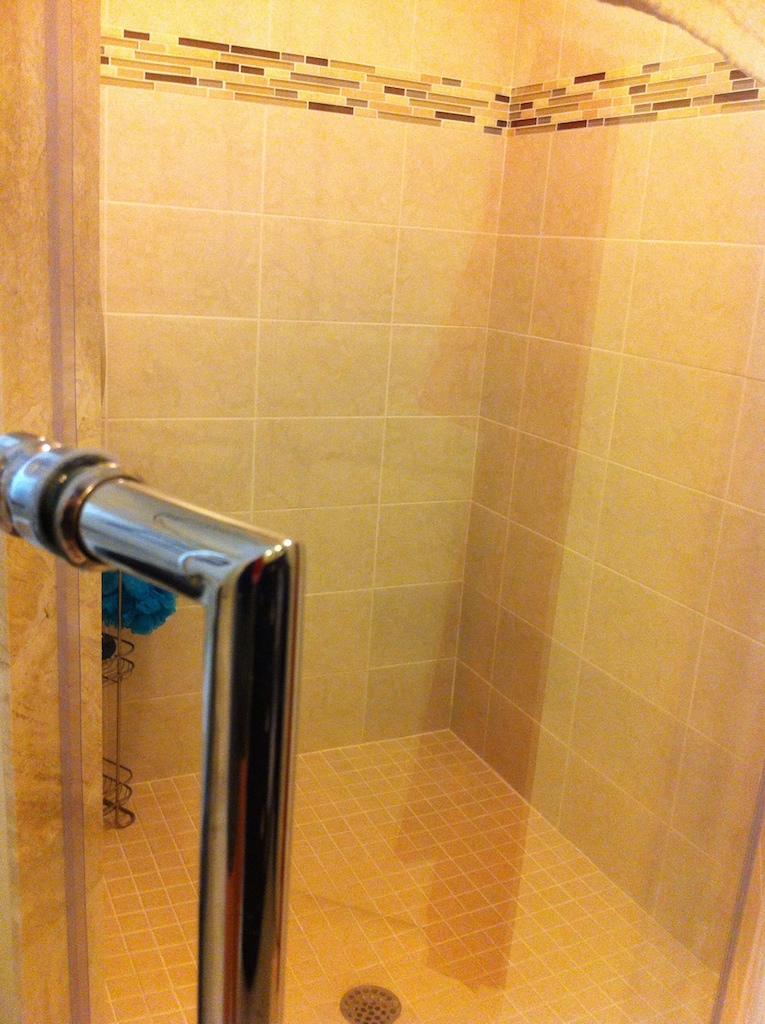 The floor tiles came from Lowes, off the shelf – perfect match!
More magic from the tile guys – they cut a floor tile on diagonal and laid it as a mirror image of the pattern to cover the shower seat. Sweet !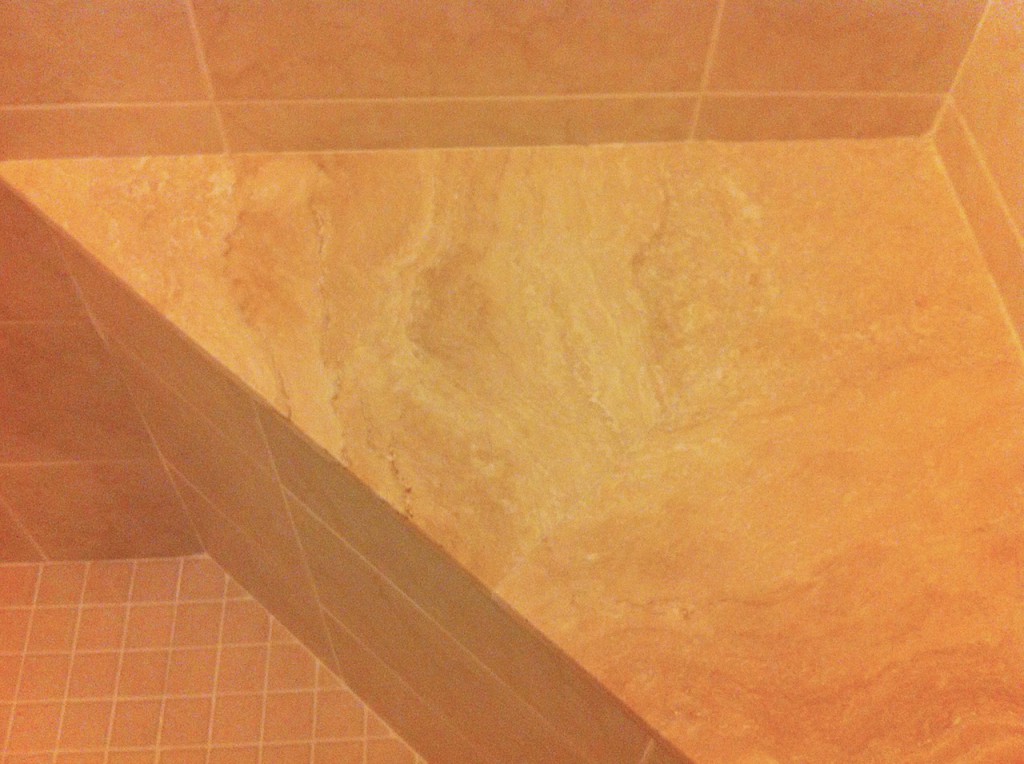 Max the cat has found yet another cool and sometimes quiet place to nap.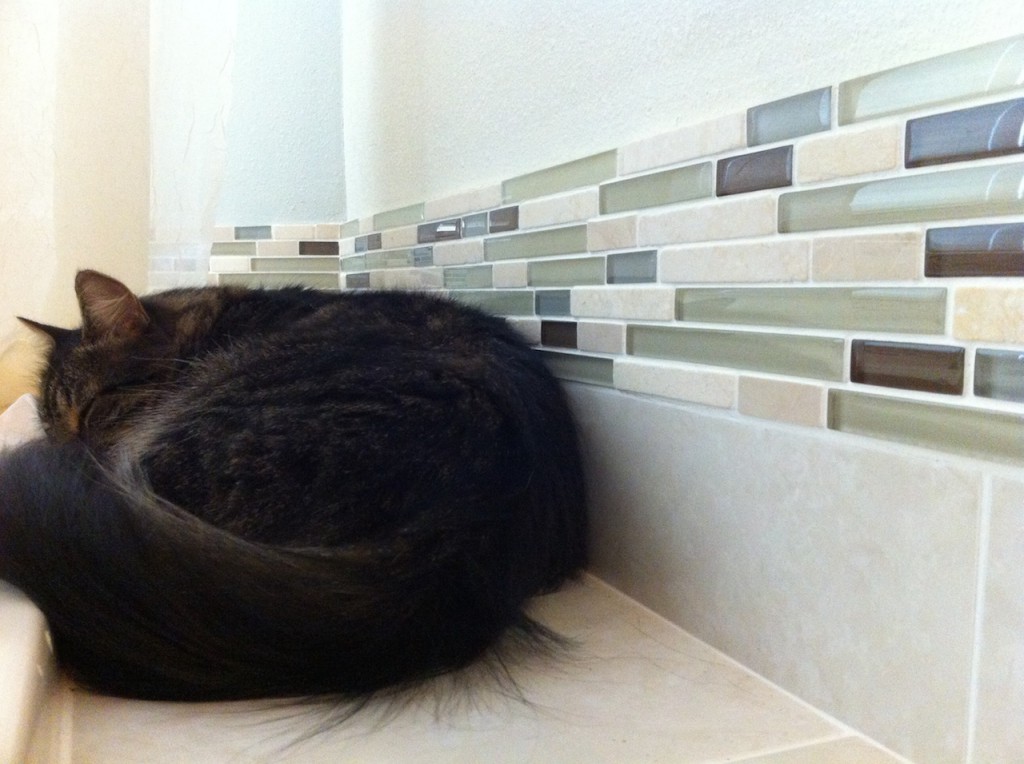 Speaking of tiles…I picked them up at Tile Outlets of America (where the floor tiles came from) for $1.19 sq ft. They have a matte finish which is great for the travertine accents and floor. The 8×12 size meant they were easier to lay, and looked modern laid on the 12″ long side. When the job was done, I kept some for extras, and returned the rest!
Those accent tiles (SomerTile) came from Overstock.com along with the biggest splurge – the glass door by DreamLine Mfg. All of that was shipped in free shipping, no tax…
So, I will say that, yes I did want different things…expensive things, a glassed in shower (meant moving the plumbing,…um, no), round marble mosaic border tiles…how much? (stop looking at Ann Sacks!!!), rip out the light boxes and hang mini chandeliers in groupings of three …so stylish. How much??! Hmm, next house. Yes, so, to work with the budget you have to WORK with the budget, not beat it to death.
…next I'll show you the results – and why we have kitchen cabinets in our bathrooms.