It seemed as if it took all summer, but it really didn't. We joked with the crew that we only needed them for a couple of days. "Just some drywall work – 2 days tops!" Right! As it turned out, they had other jobs they could fit in when we didn't need them and then we had plenty of other things going on when they didn't. Another successful project !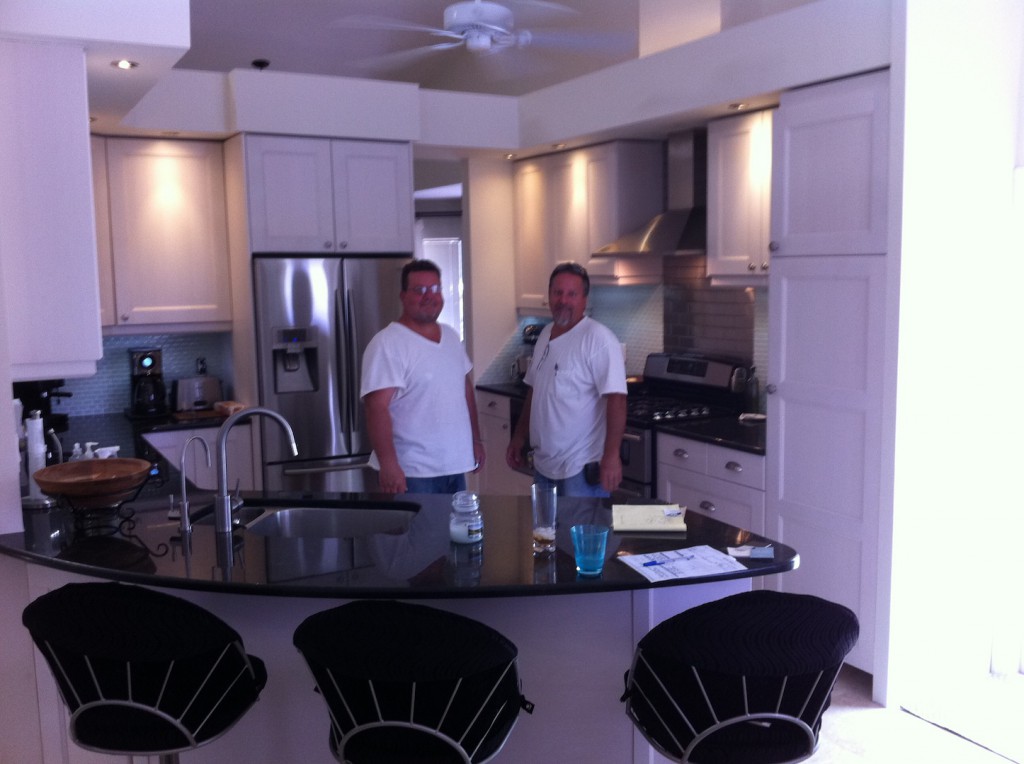 There's a lot more going on here than the lovely cabinets. Check the bar stools – they look familiar, no? Since I couldn't find any I liked, that weren't $350. a piece, I removed the backs and seats, took them to my favorite upholstery guy, Sam at Hernando Upholstery. He used some fabric I picked up at an outlet and recovered them for me. Meanwhile, I resprayed the metal chair parts with a nickel finish, Rustoleum. Presto – brand new!
The drawer pulls and knobs I got from different manufacturers, but they look great together! Bought online – free shipping, no tax. On the bigger doors, I used the same knob, but in a larger size designed for a closet door – again, perfect!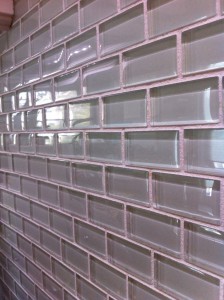 The backsplash was off-the-shelf at HomeDepot. $10/sq.ft glass mosaic. Now they have many more than when we did this project, but I enjoy the simplicity of the straight glass. NOTE: if you buy a large volume of something like this, check each sheet. I picked up boxes of these, and found that some were from a different run. The glass was ever so slightly thinner (damn China!), and in a glass tile, that means a different color. I took them back and made sure that each tile was exactly the same before the tile guys came back for the rest of the work.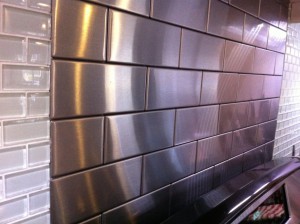 Speaking of tile, we used a stainless steel tile I found online from a company right here in Florida. I'd send you the link, but I think they've moved or changed their name to StainlessSteelTiles Mfg. Either way, they were a quality product. Each one is the thickness of a standard tile and has a cork backing for adhering. They come with a plastic sheet protecting the surface and are ready for grout, which I opted not to use.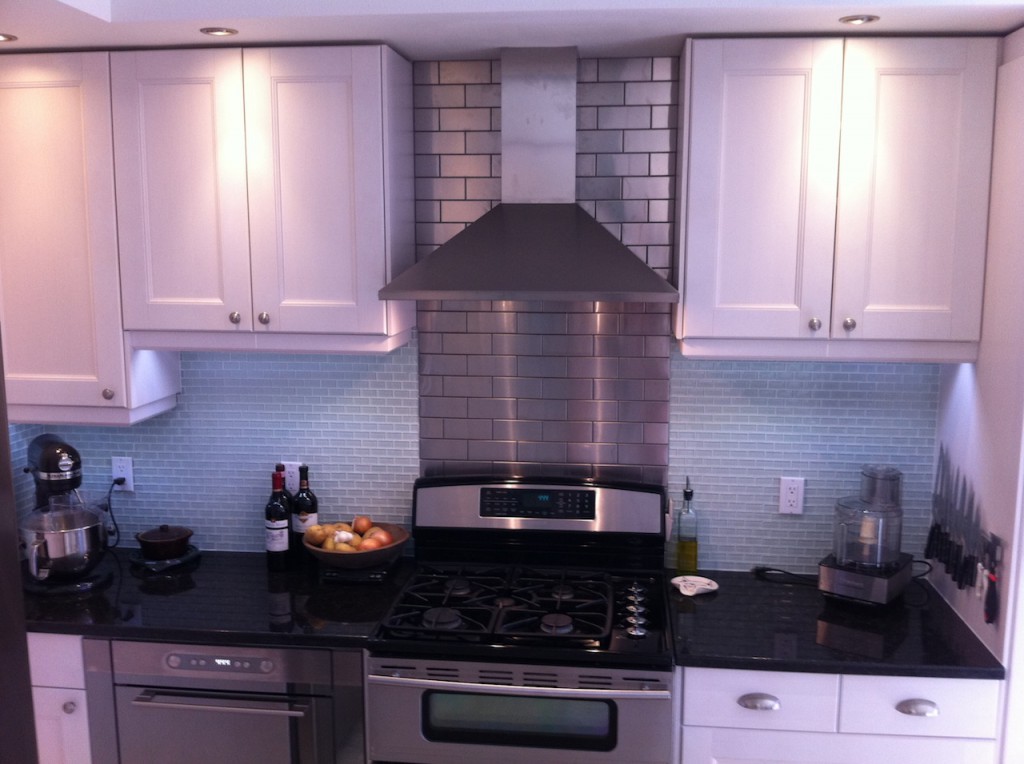 While we're on the subject of stainless steel,… long ago I was taught a few things about this gleaming material. There are many different grades of stainless. It is stain-less not stain free. If you consistently use water on it certain grades (like the kind they sheath appliances in) will eventually rust . Next, it has a grain, like wood. To keep it lovely, clean it, with the grain, and make sure you use an oil-type polish (like Zep Stainless Cleaner, at HomeDepot). If I get food dripped or splattered, (pretty rare) then yes, I just use soap and water, but go back later with a bit of 'polish'. I have not run across any multi-surface spray that will actually do as good a job. They all smear – sorry.
How about that IKEA range hood – way better than that old over-the-range micro hood. (sorry, it just wasn't working for me). Next to the range, installed into the top section of a pan drawer cabinet (clever!), is another splurge item (amazing how many there are) – the IKEA microwave…yes, it's a microwave, and once you learn to use it you'll like it. We found it was made by KitchenAid. How? Because she we installed it we found there were no display lights on it, save the clock. What? Yeah, so, not even with glasses and a flashlight do you know what function you're in. It was so weird that they sent not one, but 2 techs out to look at it. They thought for sure it was a defect and we sent it back – next one same thing. No, it was designed that way. Too bad you can't test drive these things in the store. Ugh – still cool – still keeping it.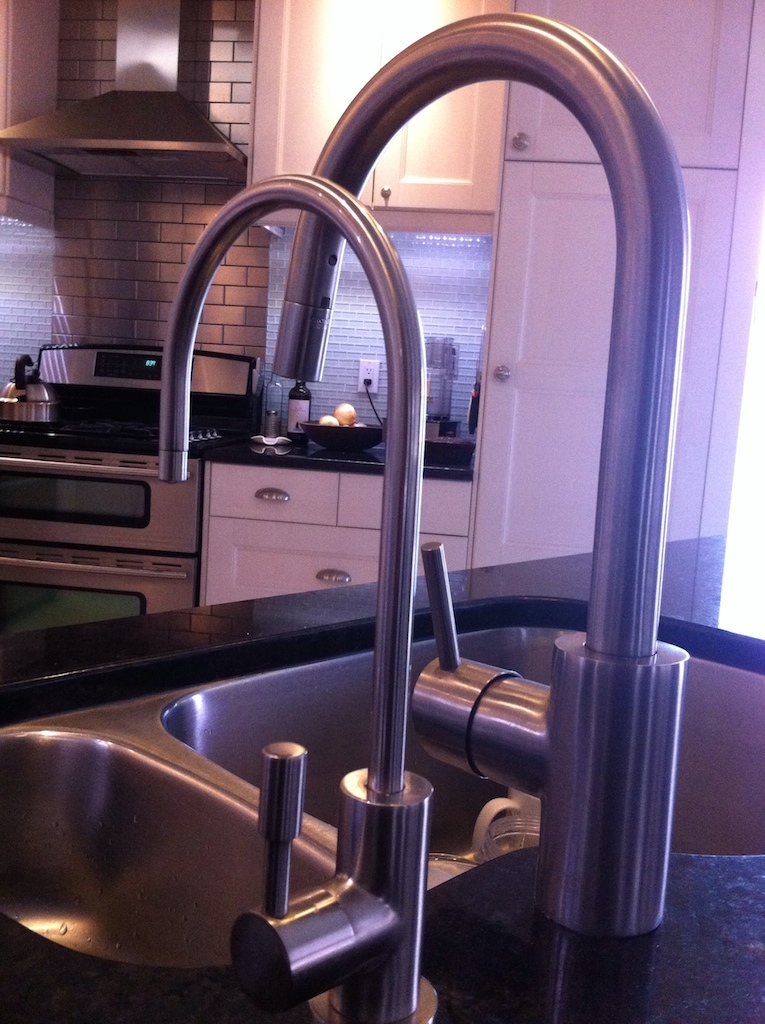 Next up is the plumbing. When redesigning kitchens and baths plumbing can be an issue. Know your stuff – take the time to move traps to accommodate some under cabinet items, as well as, in our case, a small side sink with giant disposer hanging from it. I really like the new quieter disposers that eat everything! Those In-Sink-Erator people must have heard me complaining, "It's called a dispose-all not a dispose-most!!" And, make your shut-off valves easy to find and use.
Why are there two faucets? Glad you asked, one is a Grohe faucet (so cool – a design splurge) and the other I got from Oversock.com because it's for water makers and looks like a pretty good match. Water maker? That would be the best $250 we ever spent. It's one of the first thing that goes into any of our homes,….bottled water from the tap. We got ours from Costco, but here's the link for the Premier Reverse Osmosis unit, read the back of a bottle of water and it'll say 'distilled by reverse osmosis'. Same thing. If I'm cooking with it, or drinking it – R/O please.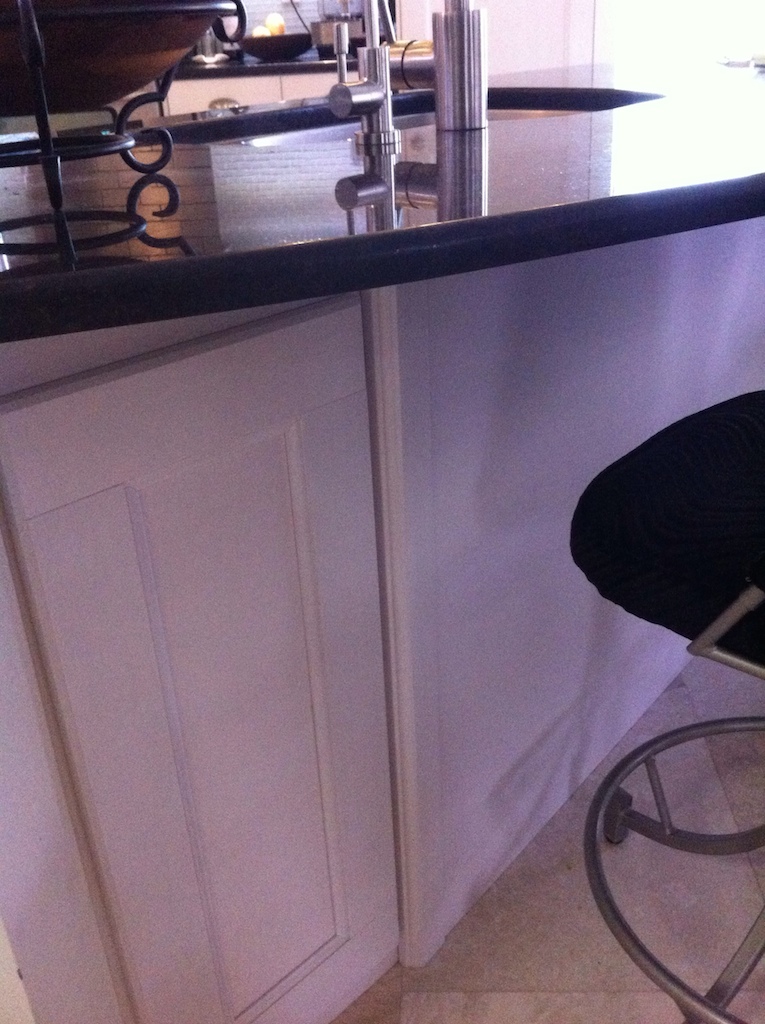 Where do you hide a 5 gal pressure tank and a set of filters? Remember the pic of the sink without the countertop? There was a triangular section of dead space as the cabinets made the turn from the sink/bar area to the wall side, that where it is. From there the water is piped up to the small faucet and under the cabinets to the fridge for ice and chilled water. And why can't you see it? Because we use the leftover door face, from the spot where the microwave went. Oh, you missed that? Anyway, a hole was cut in the back wall and covered with a removable door panel. Yes, I do freely admit to being an 'Ikea-Hack'.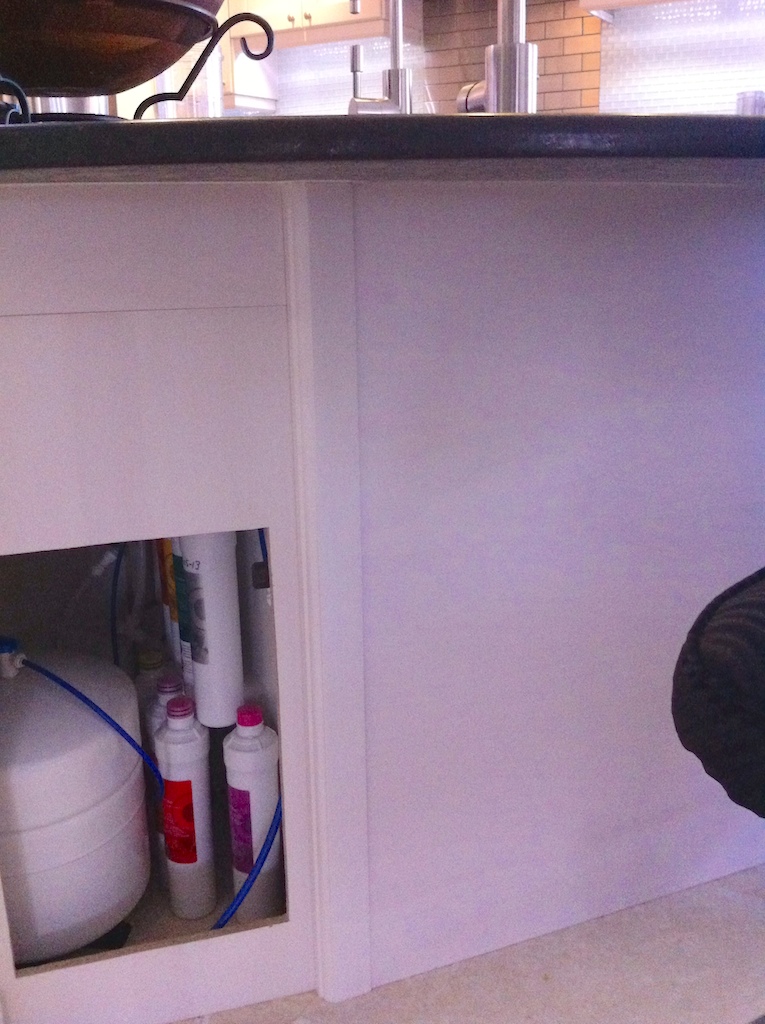 OK, what else interesting did we do, well, before we did anything we planned out how we use the kitchen. I love to bake, so I have a 'baking center' over the microwave with 4 feet of counter space for making double batches of everything in my monster KitchenAid 5qt mixer (another birthday gift), and my jam making adventures as well.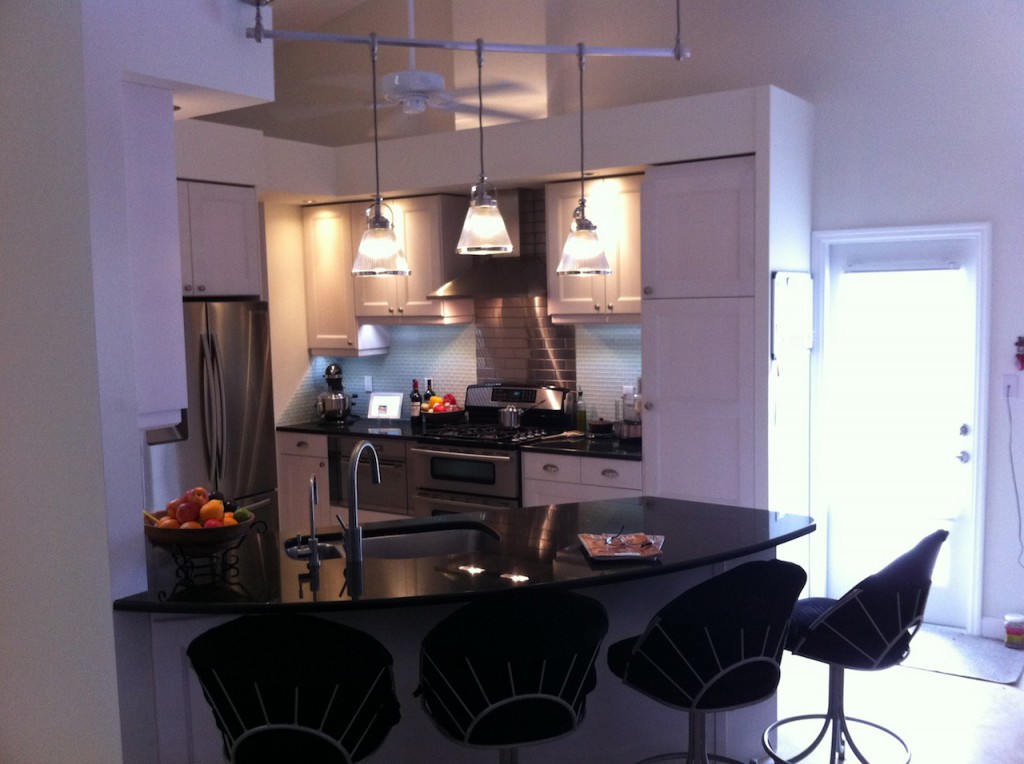 On the other side, is a really well designed pantry that uses every inch of space and between it and the stove is where the cooking prep area is. The food processor, knives, olive oil, etc. and under it pan drawers (Angelic sighs!)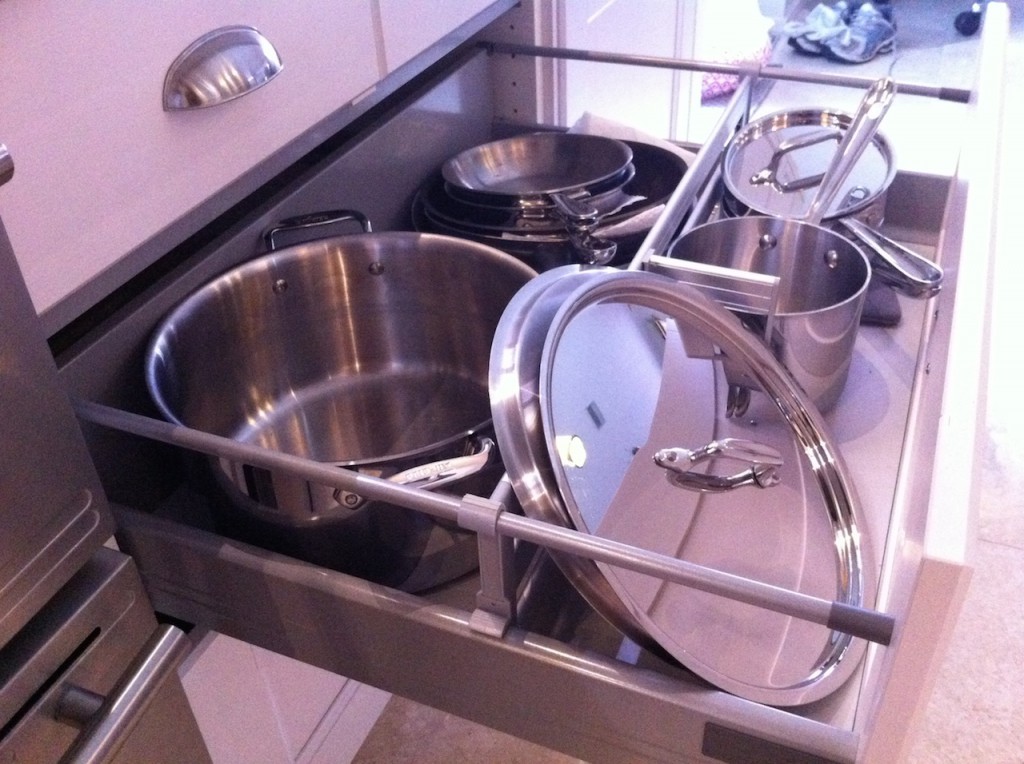 Got a weird appliance – me too. The Cuisinart Griddler fits like a glove.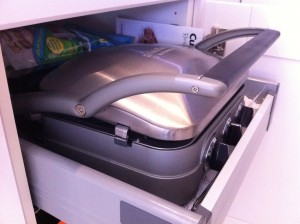 Remember where the fridge was? That move and this 12″ cabinet were worth fighting for! Without the twelve-inch, the corner is nearly useless for a whole sized human. Another tidbit, remember when I told you about turning the studs on their sides behind the fridge? Yes, that's because in order to get 30cu.ft. of space to fit where a 24 was, takes more than magic and fabulous engineering. They make the unit deeper, like 5″ or so deeper! So, make allowances. We made allowances and then made sure to buy the extra deep above-the-fridge cabinet – it's huge! It also makes the Samsung look like a pricey built-in.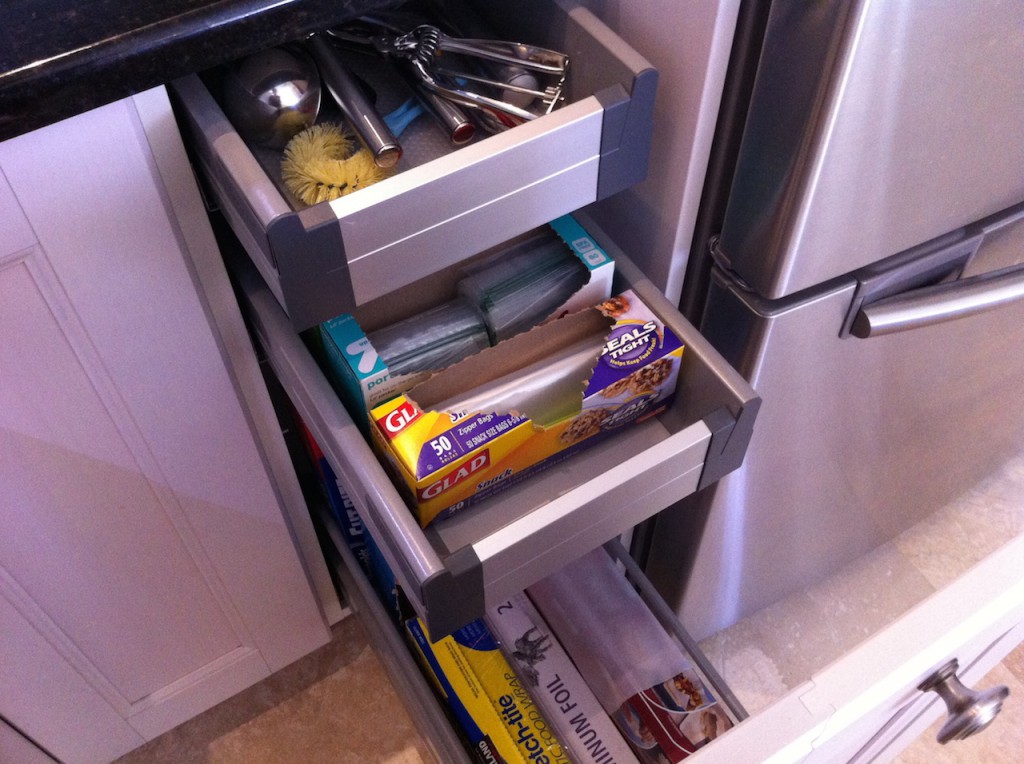 The pic below is why we need that space – this corner is devoted to our caffeinated vices! From coffee, to tea, chai, espresso – you name it. See, it's all in how you use the kitchen.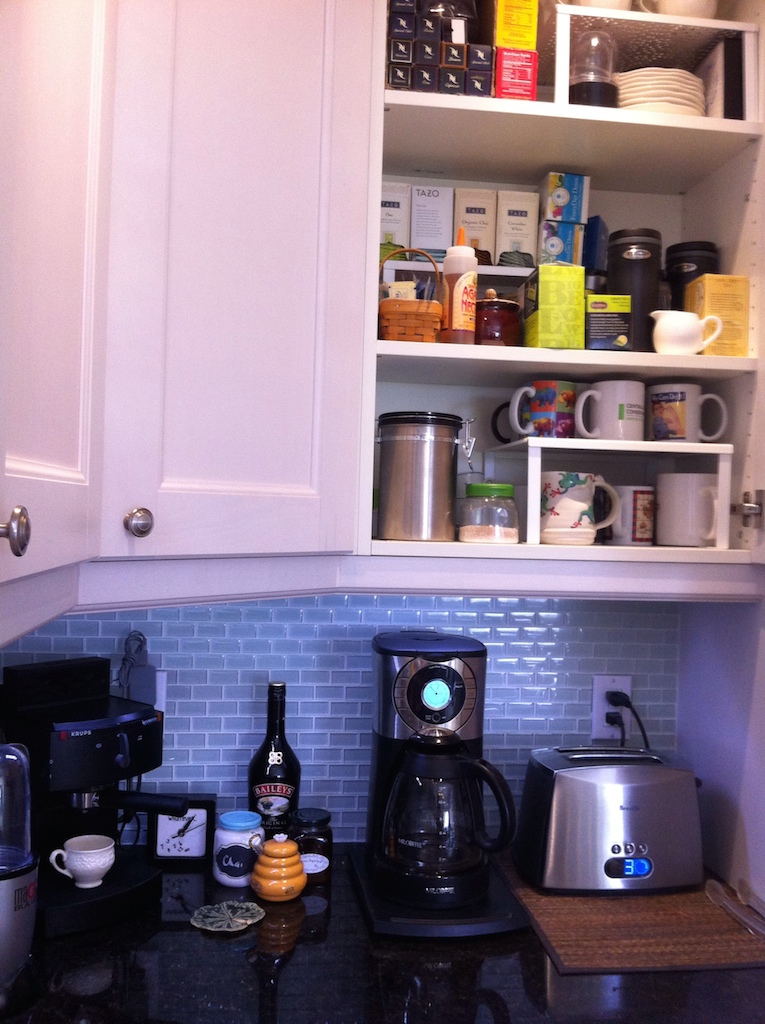 How about those lights? Like 'em. Yes, me too. The lighting in this area is approx 40watts…the whole room! I say approximately because the lights inside the glass door cabinets were rated individually at like .25watts… what?! Too much math!
Each of those used-to-be-halogens in the mini-recessed cans are 4w LED's, in the Pottery Barn pendants over the sink, are GE LED's at 2w each, the range hood lights I changed out as well. Speaking of Pottery Barn, those lights were on clearance so they were worth the extra nickels – they shine like jewels.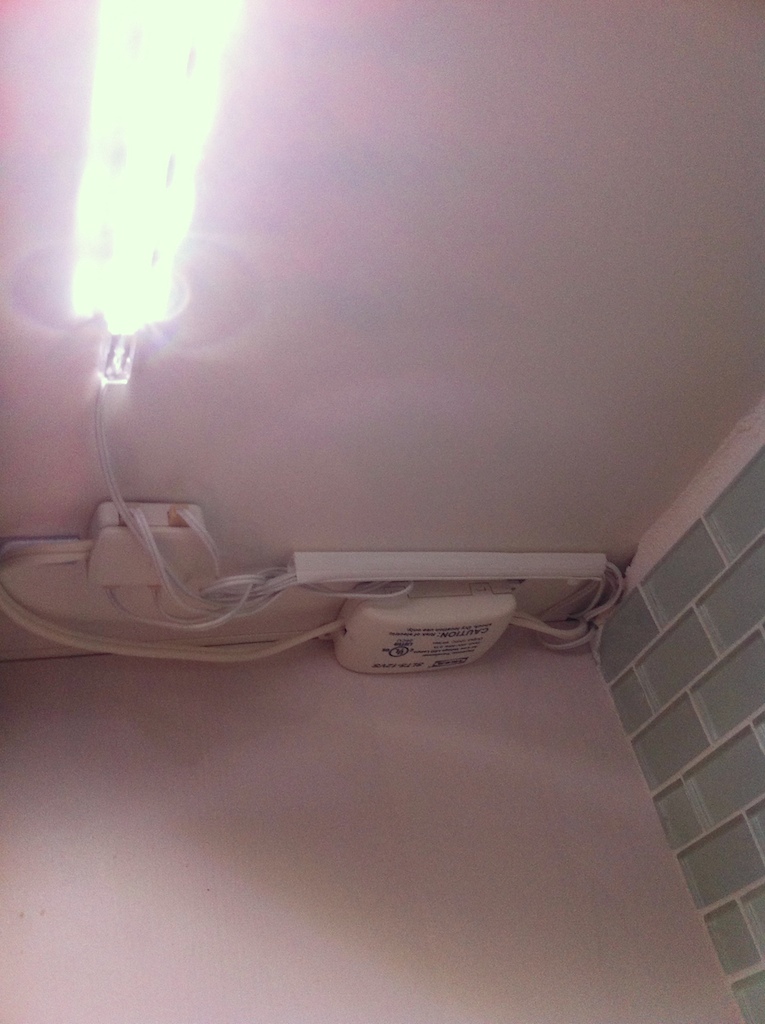 Under cabinets? Oh, yea baby – LED's too! That's a lot of little lights to count – and there are another set on top of the overhead box. Same set, laid facing up the length of the built out box, switched separately over on the pantry wall, along with the fan switch and others.
Some things that got over ridden were my ledge shelves under the glass cabinets and the 24″er's on the other wall. Oh, well. Other than that, it's just what I wanted. Simple, stylish, easy to decorate around – timeless, cause I won't be here forever.
So, that's it – that our IKEA kitchen – we love it !! Now I need to go make some cookies – too much typing…