Well, I'm back after a nice holiday weekend – hope you enjoyed yours as much. Over the weekend I had some other visitors stop over and I found myself giving the 50cent tour of the kitchen again…I'd better finish these posts so I can just tell people "Read about it on the blog!" LOL
Now, where was I…oh yes, the floors. Well, after the floors went in, we called back the Esposito crew to finish up the walls and look at hanging those cabinets. This is another tidbit I may have failed to share previously – if you want to save money, you have to be willing to DIY some things. Either the design work, demolition, and even some assembly. In our case, we've done so much of this reno stuff that Jon is the family plumber and electrician (within reason). Speaking of assembly, remember those 300 pieces from IKEA? Well, in the evenings and over a weekend, we assembled all of the kitchen cabinets…all of them. Labeled them and sat them on the dining room floor (which was covered with construction paper – cheap insurance). The crew came in and thought 'Wow- they've been busy!' Yes, busy saving time and money. As a side note, my favorite crew had never seen an IKEA kitchen set up before. I knew going in that it was a new adventure for them, and before it was all done it was nicknamed the 'I-kill-ya' kitchen!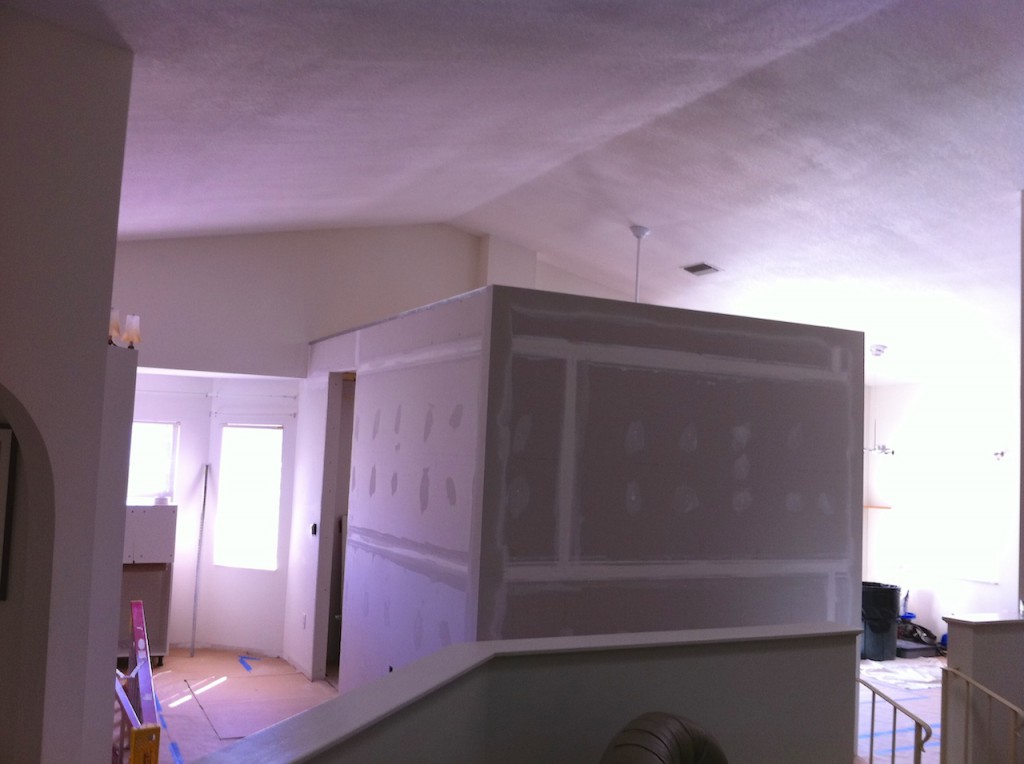 One of the reasons I felt comfortable going with the IKEA system is that all of the other places I priced, they were all 'just ordering boxes'. Unless you've hired a carpenter to build you a $50,000+ custom wood kitchen (and sometimes not even then) will you get anything other than shipped in boxes with fancy insets and doors. So, why am I paying extra for the big box store, to nickel and dime me on features, like soft close doors and lazy-susan insets? I didn't.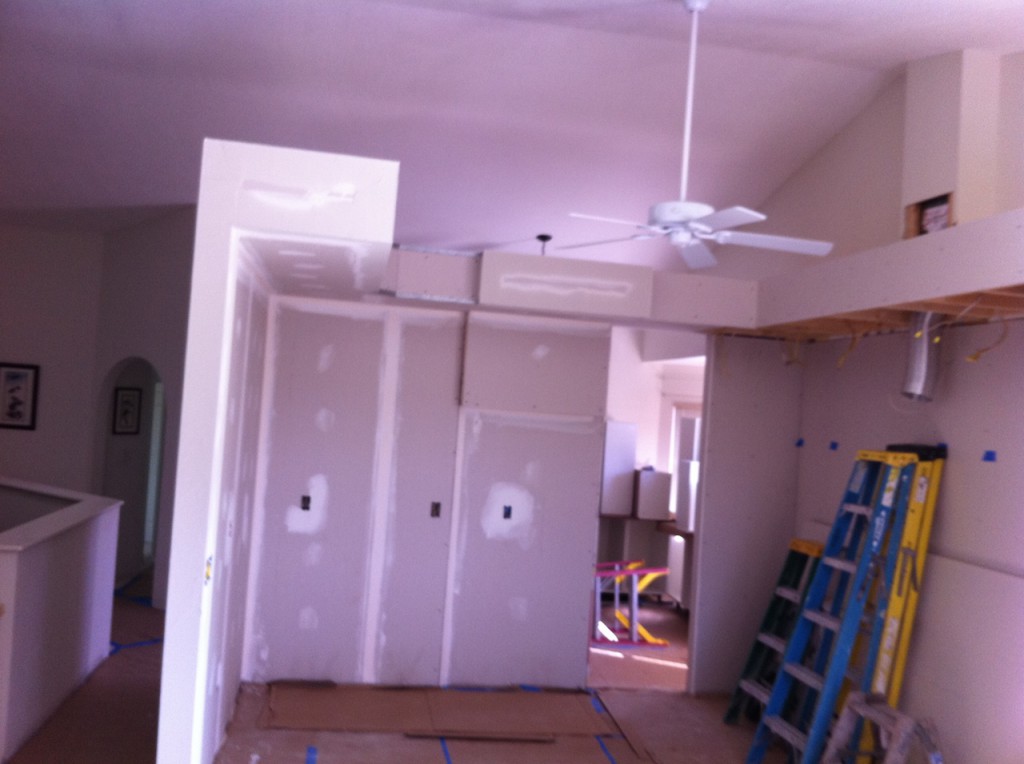 I will admit that the one thing I was apprehensive about was having the kitchen delivered and finding out that everything was 'Made in China'. I had seen some cabinets on the shelf at Lowes with a label not be sold in California – what!? not in MY house! I can now safely say that we have the 'UN Kitchen' – this stuff came from everywhere!! The 'boxes' were made in the USA (nice), the drawer bodies were from Austria (made for them by Blum – a high end kitchen product company), the wood painted doors were from Hungary, and the little metal bits were from China and other places, including the US. I was very happy – I don't mind supporting people in other countries, just be sure it's more than one.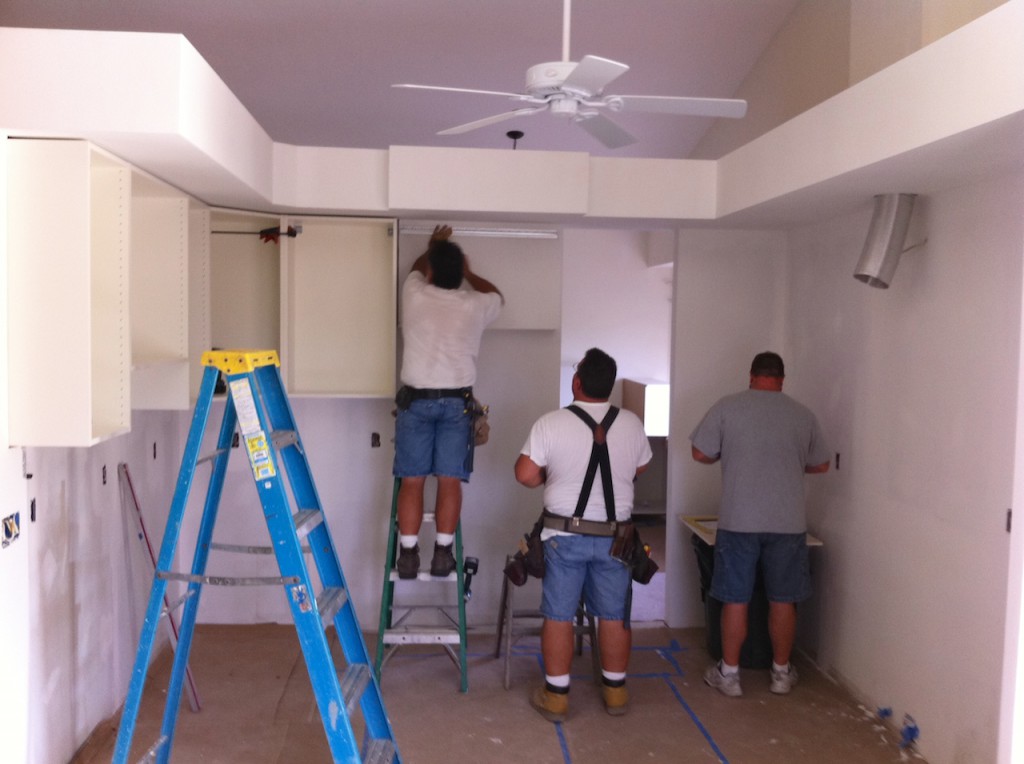 The boxes go up on a rail system and slide down to be joined together in place. NOTE: In some other countries, when you move you take your kitchen cabinets along with your sofa. Other than the light rails and tile work, it could all be disassembled and packed away. Speaking of lights, the photo above shows one of 'my bad's'. Before we knew it, the guys were hanging them just like any other cabinet set up – but these had to be lowered about an inch to allow for the cabinet doors to swing AND miss the little can light sconces. (Grrrr – 'I-kill-ya'!)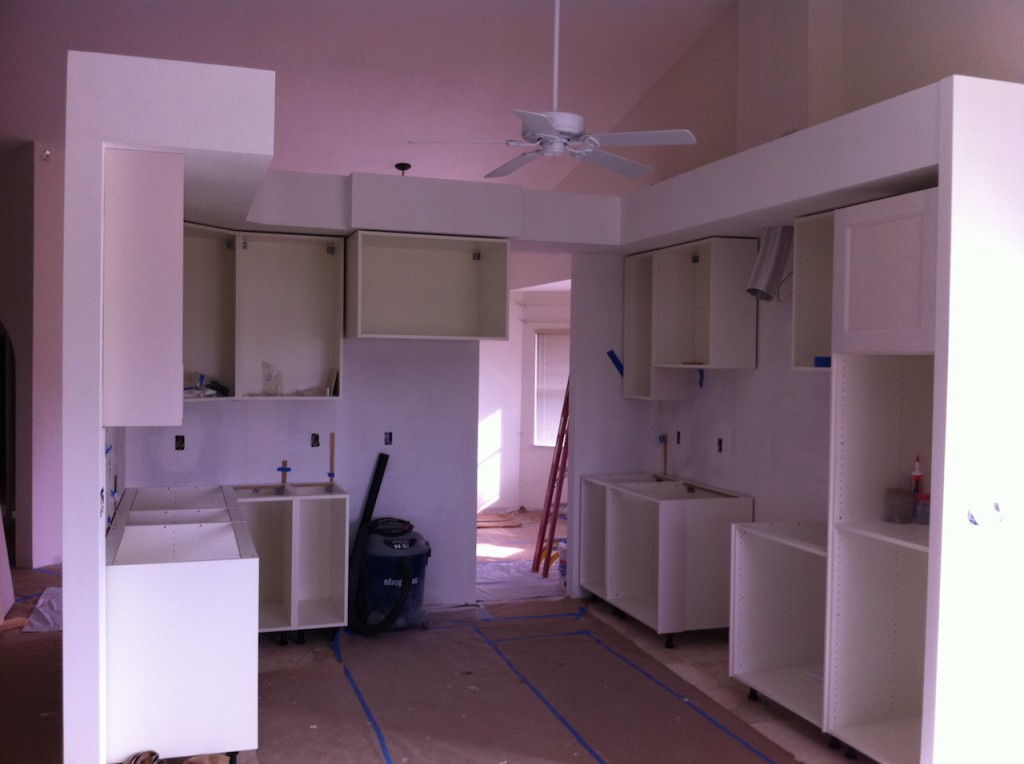 Speaking of lights – the best deal ever on lights are in the lighting dept! I bought, what turned out to be too many lights…they were so cheap!!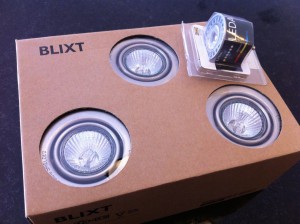 I had spec'd out one on each cabinet door – then we tested them one night – OMG – so bright! It's a kitchen not an airport! OK, a quick re-design before they cut into the drywall and we used 1/2 of the lights. (which I returned – easy peasy)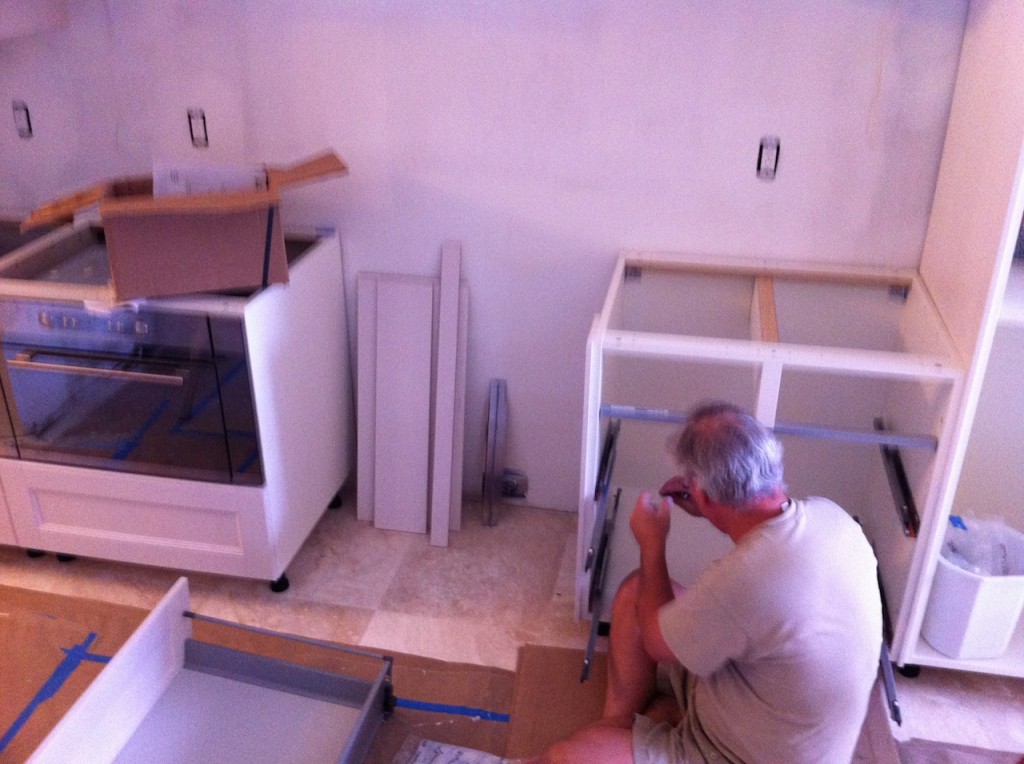 When the crew was away – the big mice did play! We set whatever we could while the crew was gone to save time. If you can build a Lego – you can build anything from IKEA. I love the leveling feet the cabinets sit on – behind the toe-kick boards it's open. We hid the water lines going to the fridge and extra parts and pieces there!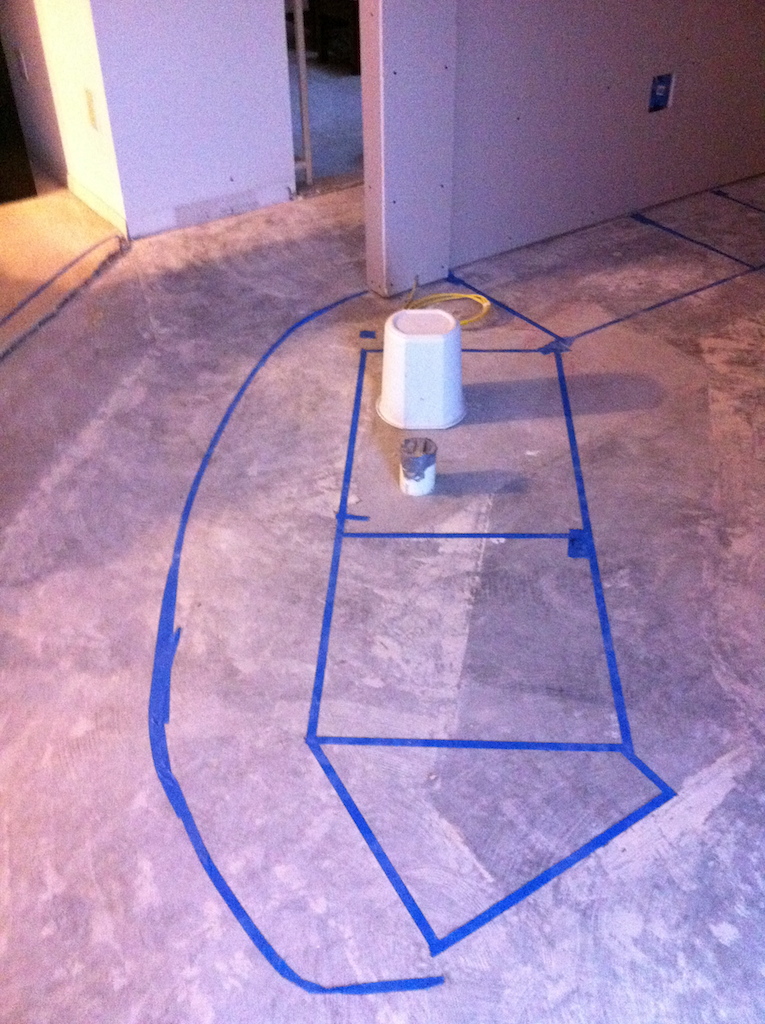 Another helpful tip – before we put the floors in we literally mapped out where the countertop was to go. That way we could walk around it and make sure it was where we wanted it. As it was, we moved to pool table back 6″. Which doesn't seem like much, until you actually play pool and a cue stick goes through a window on the perfect shot. I advise 'living' with your remodel info for as long as you can before you tear something up.
Alright, back to the lights, and the sink, and all the other goodies.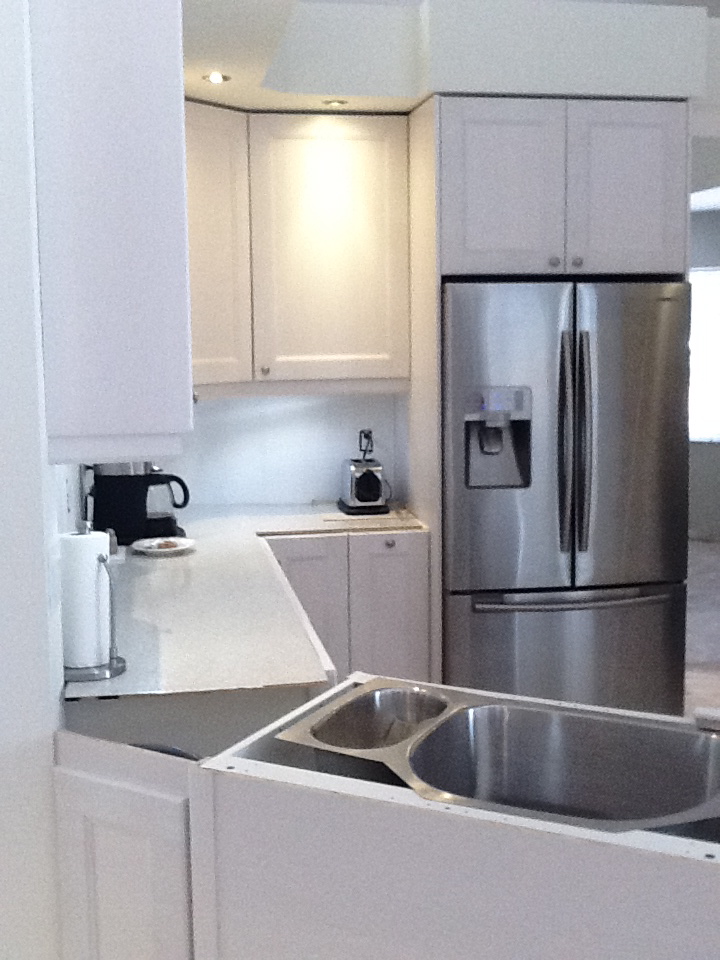 This isn't my first rodeo with plywood and contact paper counter tops – it's quite effective. While we await the counters being fabricated (or cut) we dry-fit the plumbing and the sink – ahhh, I love that sink. We ordered it from Elkay in their 'Made in the USA' dept. It was not cheap and we waited 2 weeks for it. But as my husband does business in the metalworking trades, we've learned not to trust Chinese metallurgy. At least, not for something I'm putting FOOD in. So, even though I could've gotten one on-line shipped from across the globe in 2 days for half as much, I adhered to my hubby's small request on that item. Besides, it's his kitchen too.
I can see you're getting bored so, since I don't have an installation shots anyway, I'll move past the countertop installation. I will say that I got a pretty good deal from the local guys on this. I stopped at so many stone yards, I was dizzy! Too much pattern, weird colors, way too expensive,…as the project wore on, my budget began to shrink and I decided on what's called 'Black Pearl' granite. Not the cheapest, but lovely, and the boys at HomeTrendz had 2 slabs perfect for the job. The counters cost half as much as the cabinets. (ugh – sticker shock!) That was one installation crew that was not my favorite, but the project manager made things right, and after it was all done, the wow-factor was well worth it.
Why did I choose granite? I admit, I like the idea of the 'solid-surface' products. Although, they were all just as expensive (some even more so), and each had an issue I didn't care for, mainly they were plastic polymers/resin with either granite or glass chips. Concrete would be good too, but I was afraid of it going out of style too soon. Stainless and copper sheeting will have dents like a car lot after a Texas hail storm in no time! No, I just like granite – it's made it much more luxurious – and the black color means that you can add pretty much any color to spice it up.
…tomorrow, the finale…I'll show you the end product and tell you where I bought some of my favorite things.