This is a quick one…(lie!)…now that the walls are up, now we need the floors done. I know you've seen the other photos where the original builder had installed the kitchen and THEN called the linoleum people to come in. Yeah, well that also meant that since the floor didn't go under anything, then all the edges were simply caulked in place. OMG – so, 20 years later, every edge was peeling up and the trim was shot.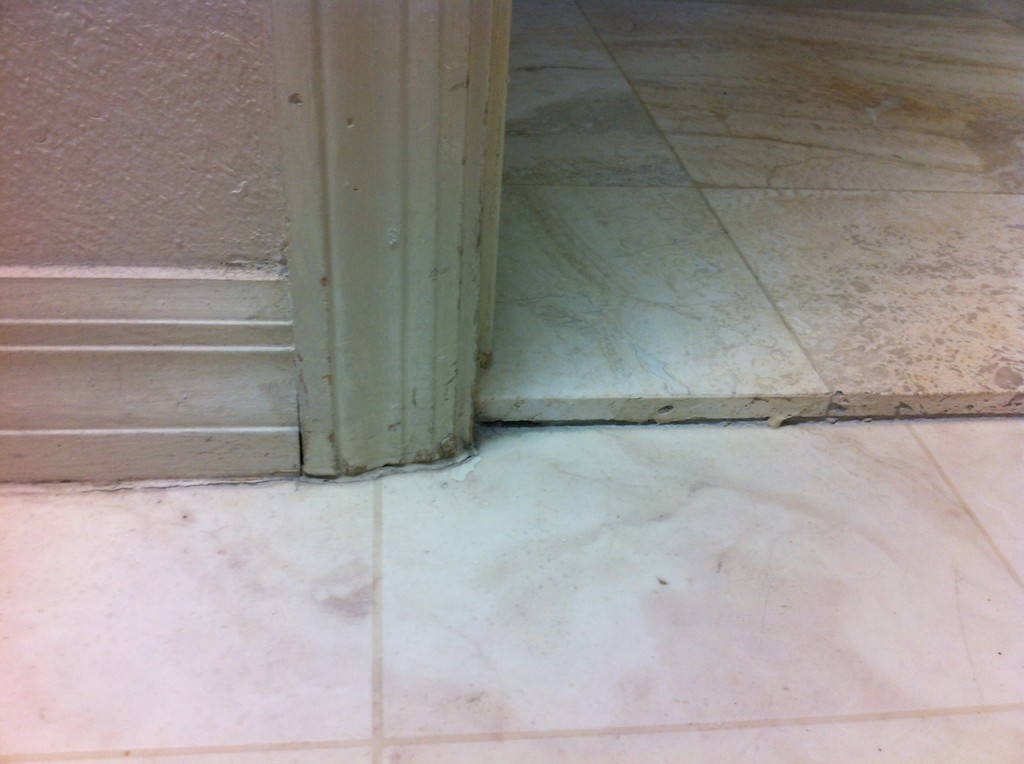 OK, budget minders,…are you seeing 'the haircut' scenario here? Yes, if you take up the old flooring in one room you've got to keep going. We 'went' up to the pantry/laundry room. It was just too big an additional project to redo all that too. Besides, close the door and nobody knows. So, measure and be sure your budget can handle the strain before you make that commitment.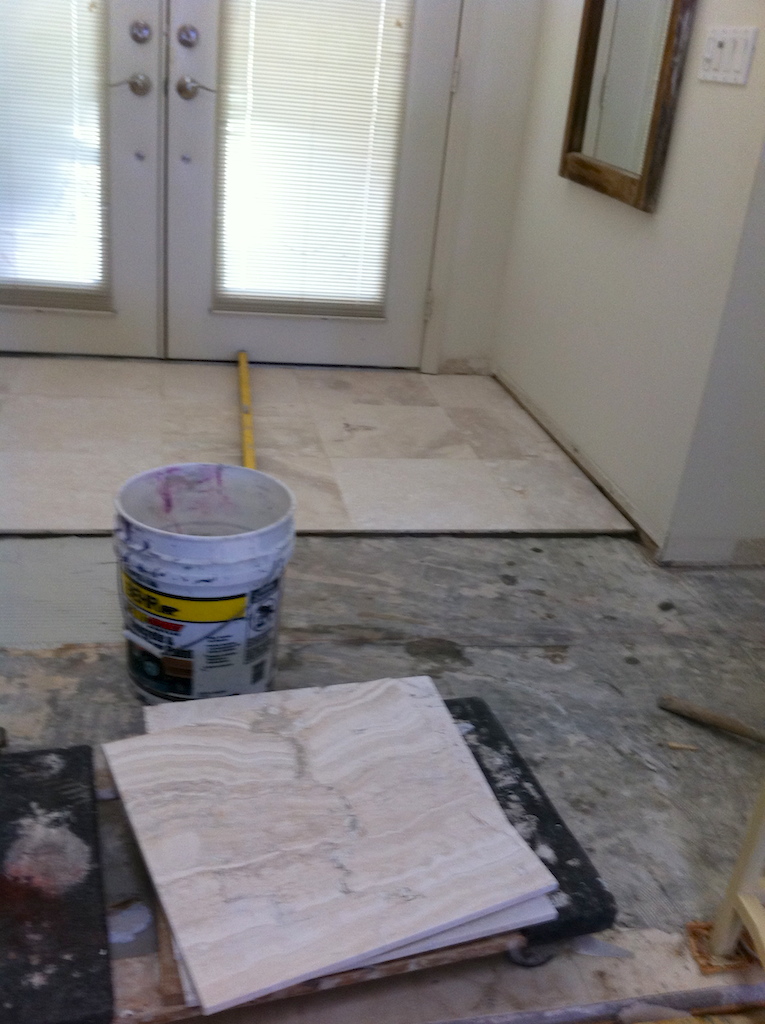 Speaking of being committed – I had spent plenty of time shopping price and product for this part. This flooring material was going to replace ALL of the hard surface and then some. (somebody thought that it was a good idea to carpet the master bath and dining room !) So, remember the last post where I had a pic of the plans?, Notice the areas I shaded in green pencil and others in yellow? That's the flooring – carpet / hard surface, add up the square footage, plus 5% for breakage. Now, why would I pick travertine?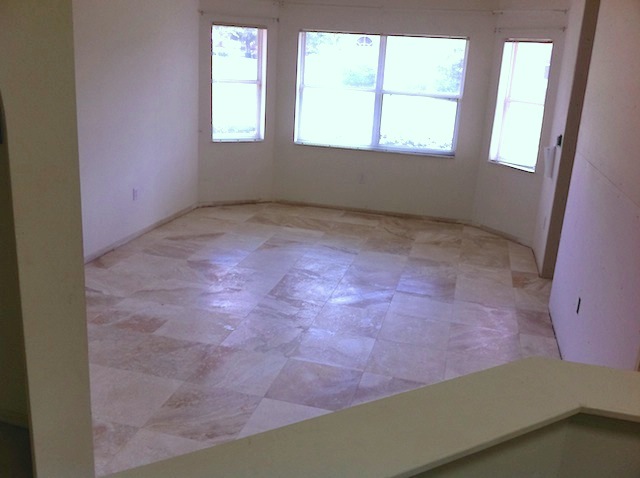 Everybody is into hardwood flooring, and that's nice, but not for this house. I just couldn't see it here. I'm not a fan of ceramic tile – been there, done that. Porcelain is beautiful and really durable. Then I found a light colored travertine I liked that I could afford, thanks to a visit to the Tile Outlets of America. Travertine is what you'll find in some of the more expensive homes,…no, it's not quite the French Limestone that my sister-in-law had, (- I'm still drooling!!) but it makes my list. This is a natural product that you can treat a bit like a good hardwood, in that it can be sealed as a matte finish or polished to a high shine. You can have a 0-grout line. If you crack or chip it, just fill it with a closely matched grout. Just make sure you seal it and most of all have a skilled installer. If you're getting a quote and he/she tries more than once to steer you to a standard tile, move on. The guys I went with, Magoulis Tile, were not the cheapest, but they work for a high-end builder and install a lot of these floors. They also listened, and gave solid advice – which is key with me. They didn't mind that I had my own product to install either.
I had the flooring delivered, another thing I highly advise. You may have a trailer to use and could pick it up for free, don't be tempted. You can't beat having a truck, that's insured, and has the fancy forklift on it to drive some 40 miles one way, drop the 2 massive crates of your precious stones wherever you want them. Soooo worth the $185!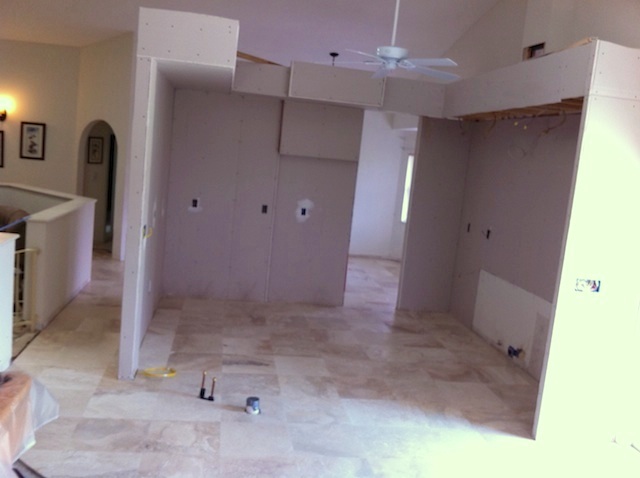 Last but not least, my tile setters said it would be two weeks to complete the job and it was to the day. That was for the main area, hall and the two bathrooms. I had them all set to come back when construction was done to install the 'stick-up' tile work, meaning the shower stalls, trim and kitchen backsplash. Which I was going to DIY, but he made me an offer I just couldn't refuse!
…so you want to see those IKEA cabinets go up…ok