Now that we'd decided on the cabinets, we need to get them here. That actually entailed a couple of trips to IKEA (twist my arm) and having them come and do a measurement. I went ahead and paid for that service, because if we bought the cabinets, the fee came off the bill. OK, I'm game.
The nice man came out and was very informative, but like so many 'professionals', he had little vision. He measured everything, laid it out and said, "…but there's not enough room for that (the fridge) here,…" and that wall?,… what about the door trim…we could try this…" Grrrr, he obviously hasn't met me. We walked him around and explained the layout, and basically that if the fridge couldn't be moved then I was. Do – or do not -There is no try !!
In a surprisingly short amount of time we got word of our impending delivery – yay!!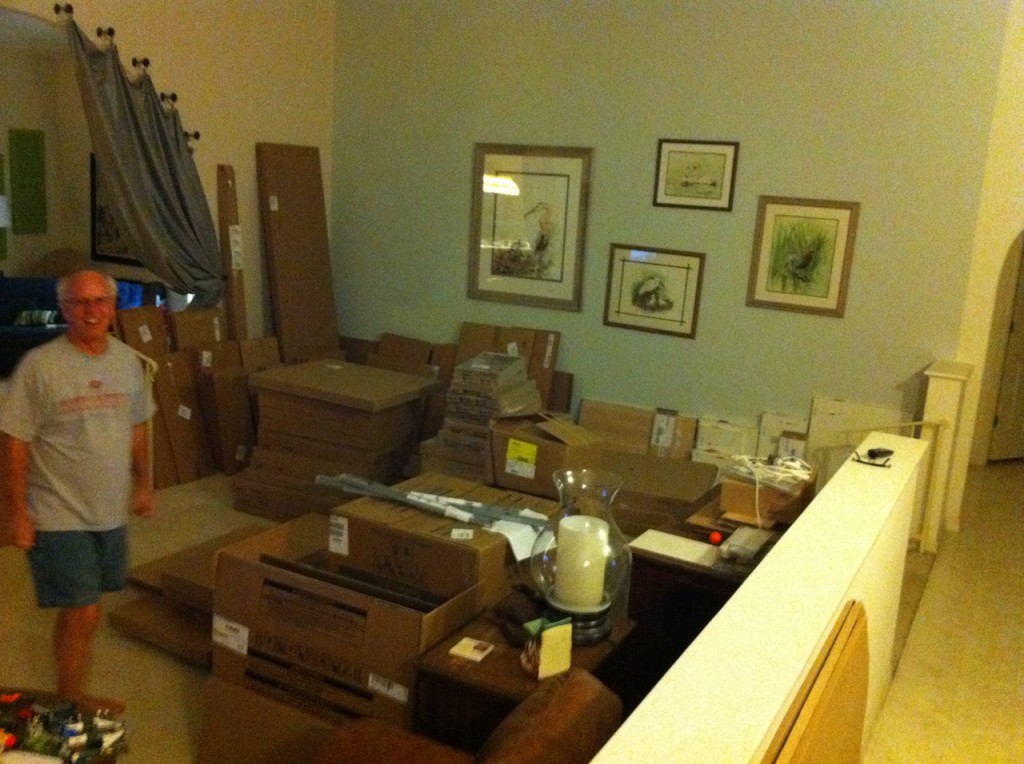 We waited all day for the truck – apparently, since it was more than a sofa and we were on the fringes of the delivery zone, we were last on the list. Naturally, they got lost…everyone does. When they got there at like 11:30, the guys were tired, but really nice – and unloaded all 300 pieces in the dark, that night…yes, 300. OMG! (I'm not at liberty to say whether or not we gave them a tip – wink,wink)
…and the next day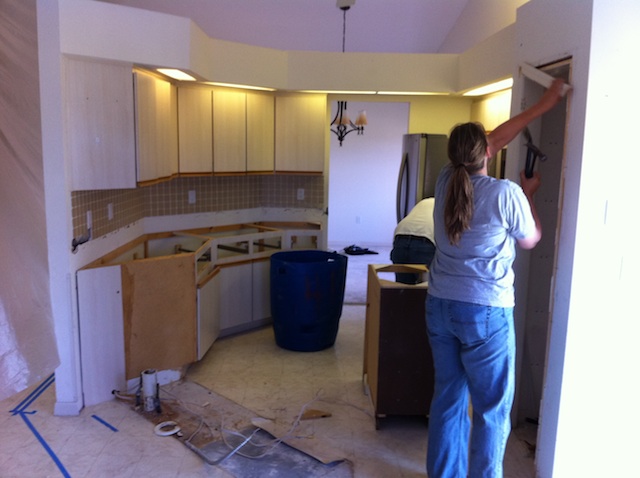 So, what does one do with a 'used kitchen'? You toss it in the landfill, right? Nay-Nay. We recycle here! Seriously, my sister had just taken on another DIY project house and if you can believe it, the kitchen in this rehabbed crack-house was octagon shaped.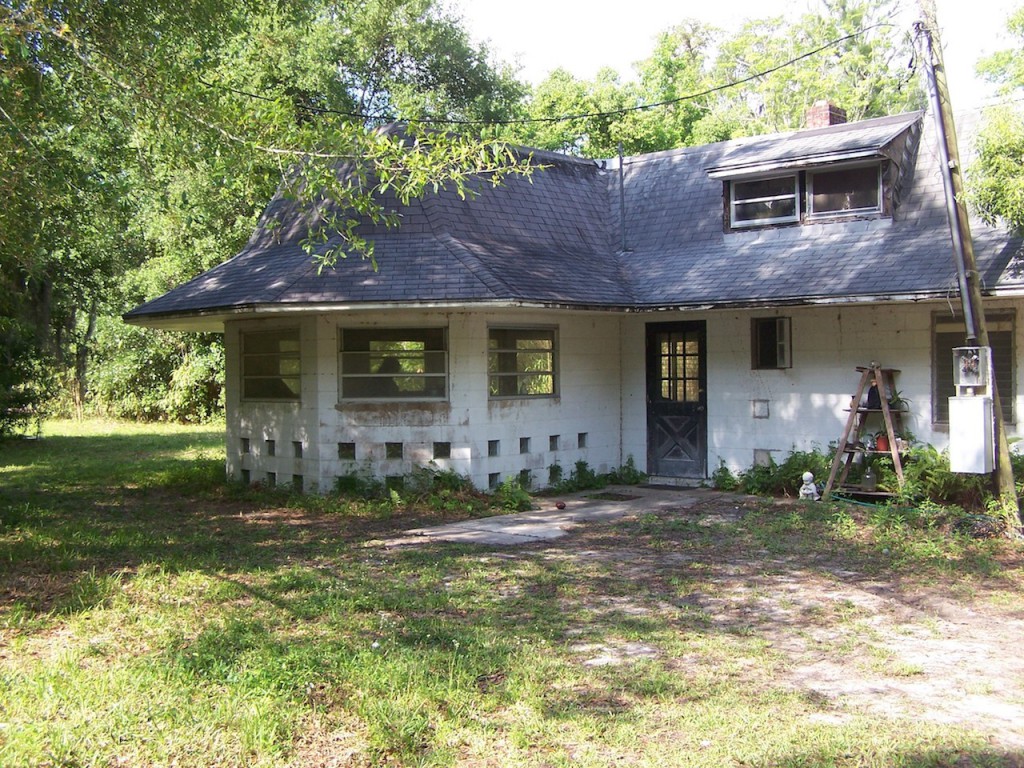 See – I wouldn't lie to you! We surgically removed the entire kitchen and she took it away piece by piece and re-installed it into that house…and it fit ! Here's when I made a huge mistake – debris removal. When we lived in The City, we paid the trash dept to haul away debris. We did things slowly, so it wasn't a big deal. Here, not so much. I made allowances for the cabinets, but not the old walls and flooring, and misc. crap – luckily Rebecca's got a pick-up for that too! And my drywall crew took some away as well. Ooops. Next time I'll be getting a dumpster, or one of those Bagsters from Waste Management – what a great idea (but not available in Hernando Co.)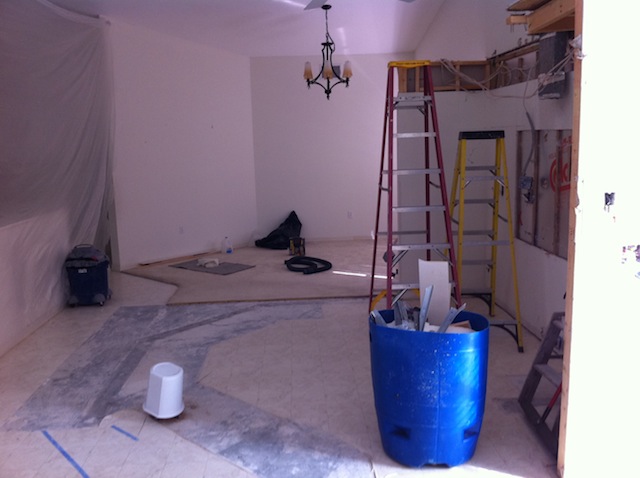 About that drywall crew, the Esposito brothers of Esposito Home Improvement, are top notch! Richard is the Drywall Guru (seriously, who does smooth finish here? – He does!) and his brother Bob is a master carpenter (measure three times and cut once) and Tony is their right-hand-man. They do it all – they're a triple threat on any project. Richard spent years as a project manager for a major local builder, so if he doesn't do it, he knows someone who does. That came in handy when I miscalculated the position of some plumbing. With a moments notice we had a really good plumber (Dolphin Plumbing – nice guys) there to help us out. Speaking of helping out, we had planned on putting up the cabinets ourselves, but then Richard mentioned,"We can do that too, if you want. We'll be there anyway." Too tempting – of course. This will prove to pay for itself in not having time away from the office. TIP: Know when to call in the professionals. Sometimes, you might be able to do it, but why.
Now that it's all gone – the walls need to go up!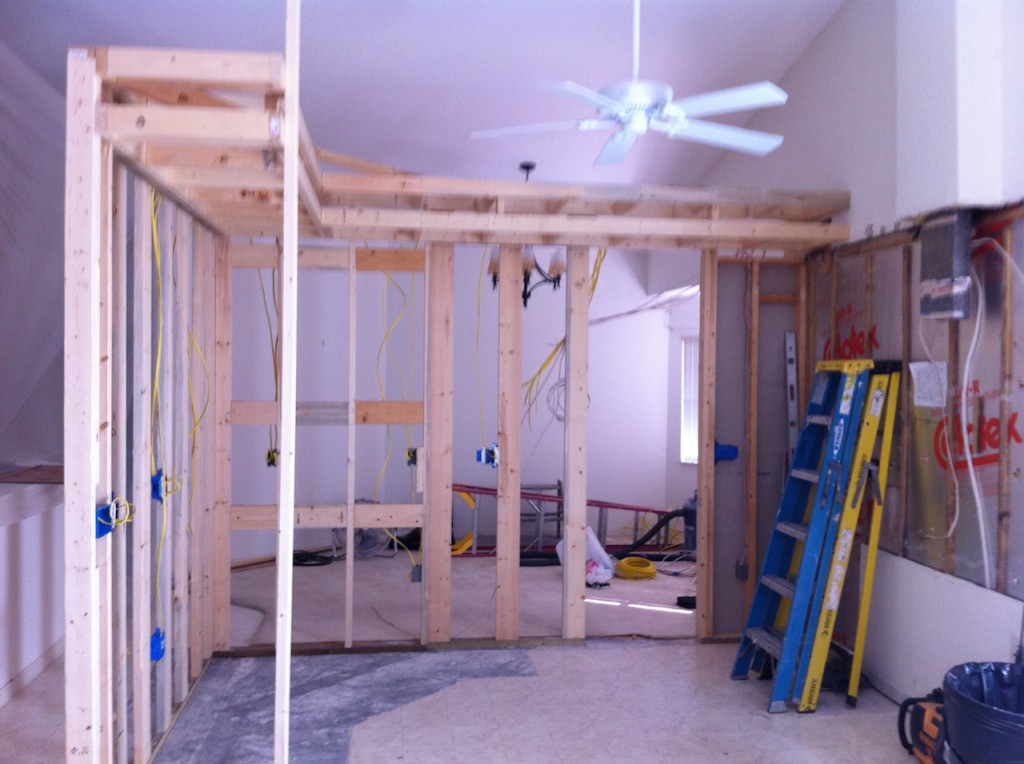 There were a few tricks employed to make it all fit together. Note, the studs behind the fridge are on the flat, for extra space. Also the majority of the ones on the main wall are as well, with a hugely overbuilt wall end to support and run electric thru. Speaking of over-built, I think there's enough wood in the top-box to build a small house with!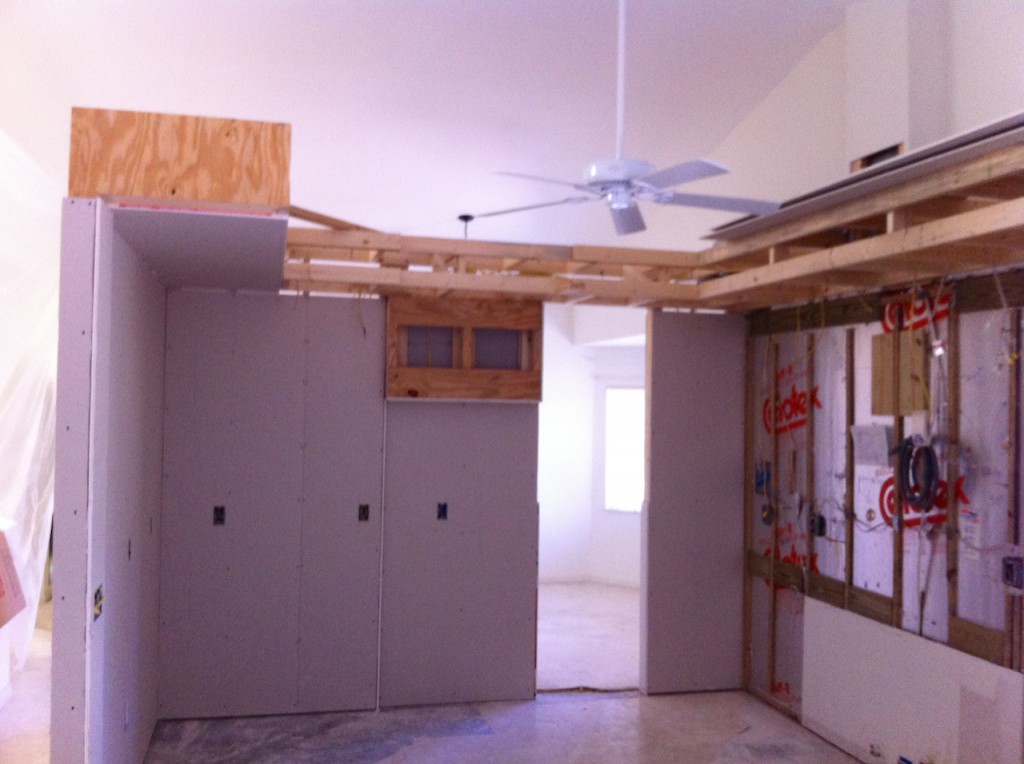 …Next is the flooring. My neighbors had looked at those crates on the side patio for a month. Now, it's all going in.