Some years ago I discovered that I was a 'remodelista',…not that I was an original, but certainly this was long before there was the Net and even HGTV. I think it really started when I was in JR High. I came to realize that I was actually allowed and capable of changing my surroundings. I hated my room (covered in wood paneling) so I found a bucket of white paint, a roller and away I went. Fast forward many years beyond and I bought my little blue house, but that's another blog for later. This is about my latest adventure involving IKEA.
I have been a fan of IKEA from a time when they were just a catalog of cool Scandinavian furniture. So, when they opened a store here, I was beyond elated !! I'm a complete junkie – I'm now forbidden to take the truck. This past week they announced that they were raising their minimum wage pay without being forced by the government. Yay ! – way to go IKEA. I figured that this was a good time to show you what we did with those 'flat-pack' wonders!
But first, a little back-story for those who aren't familiar…
Recently, I'd been asked by some friends how I was able (I say 'I' because my husband pretty much turned me loose on it) to accomplish so much with so little. I can run a 'shoe-string budget' out to it's bitter-end. Few things irritate me as much as reading about some fabulous remodel in a magazine and finding out that the homeowners are a husband/wife architect/designer team, with a seemingly unlimited budget. Ugh – I'm gonna be sick! Back in the real world, we spent $35k on a new kitchen, 1 full bath, 1 master bath, travertine floors and new carpet. OK, so the carpet did put me over-budget. Although not a professional, this is not my first rodeo.
The project I speak of is house #3, the newest one, and was built in 1990. Just a baby at only 24 yrs old ! The last house was 80 ! That said, it presents a different set of obstacles. Where as with the other houses, we had places that other people had messed with. One, for instance, the previous owner had simply removed those pesky ground wires from all the outlets…OMG ! But this was also the house where the guy had a barrel in the living room to heat the place. His version of a simple 'wood burning stove' made of a 55 gal drum!! We had none of that here, but the week we moved in the garage door died, the a/c went on the fritz and the disposer 'threw up' all over the kitchen – the following week the washer dropped dead. Ahh, the joys of homeownership. I remember losing it one afternoon and sobbing to my husband "I-i-i-i-t HATES uuuus !!" We got thru it and he had calmly reminded me that it was all temporary, and that soon enough the other home would be sold and we could begin remodeling this one. Guess what happened next…
Oh, yeah,…the other house didn't sell soon enough and the Great Recession shut off all income for months at a whack. I'm not going to go on about that – but before it was all done (and all the gin gone) we somehow found ourselves in a position to renovate the big house. (honestly, it was the best place to hide a tiny windfall from The Wolves. If I didn't spend it right, the business or someone else in need would swallow it up.) At roughly 4,000sq ft, it's our biggest edifice yet. There was no way there was enough money to redo all of it. At that age, the pool needed re-marcited, it needed painted badly (luckily it's white), old leaky windows and more. That was just the outside. What we really couldn't handle anymore was the real problem inside – builder grade everything! Although, the builder was one of the better one's in our area, it was still filled with linoleum floors and cheap cabinets. The kitchen was so small…designed for retirees, the pool table had center stage! Since I spent a considerable amount of time fighting with the bank to recover the funds due, I had plenty of time to take notes and window-shop. Once we won that battle, I took my little wad of cash and set the wheels in motion.
NOTE: Both your Real Estate Pro as well as your Accountant will tell you that upgrading a kitchen and the baths is a very wise move!
Let me back up a little bit. Before we moved into the Big House, the first thing we did was have the popcorn ceilings removed – Best Advice EVEAH!! (thank you Cyndie) NOT a DIY!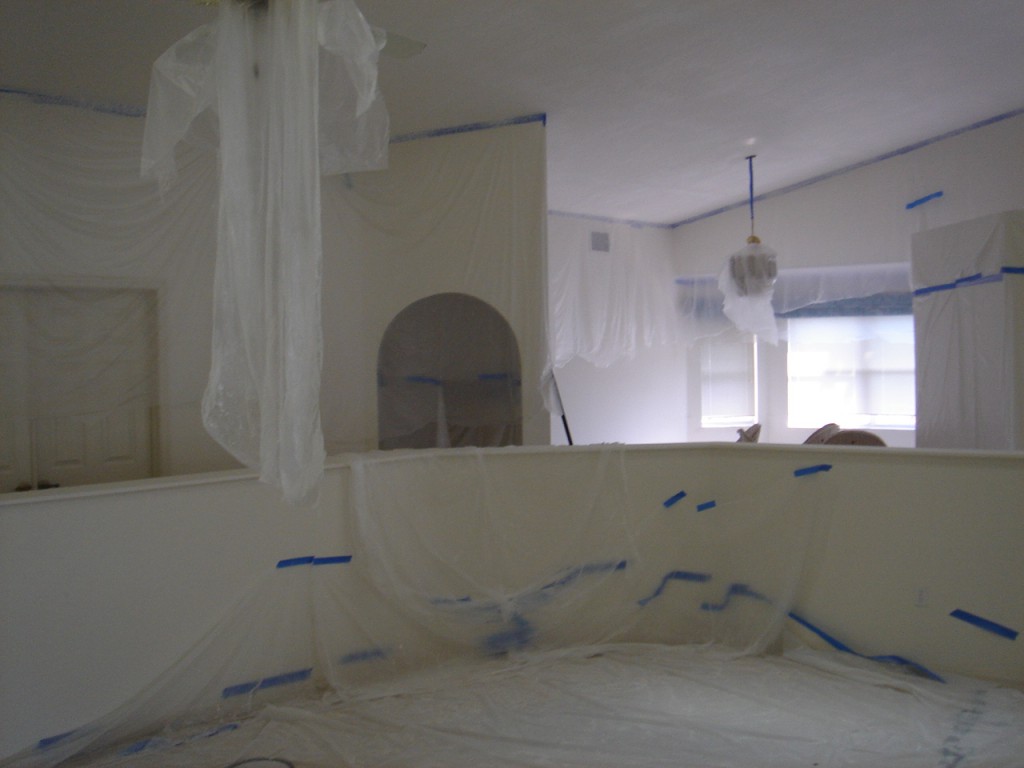 Appliances: every kitchen remodel includes all new appliances, doesn't it?
Later after we settled in, I eventually brought my range with me to the new house. (mainly because the guys were sick of eating burnt pancakes!) Not too difficult considering the new place was across the county. I know, who actually takes the stove?! ME ! I have a gas/electric double oven Jenn-Air. Nobody looking at the old house would really appreciate my $2,000 birthday gift. (I'm a practical girl – and my hubby luvs me) So, I replaced it with a standard stainless unit for the potential buyers. Count that as one major appliance down. NOTE: this appliance buying scenario is a trend with me. This is how I do it. I'm on a first name basis with MY Sears guy, (Jim A. at the Brooksville store) and he gets me the best deal on whatever I come in wanting,…12 months same as cash! Outlets and scratch-n-dents are ok, but many have no warranty – be careful. I buy them one at a time, I never buy suites. I buy the next-to-the-top-of-the-line of the best brand I can afford. No Wolf ranges – just my Jenn-Air, thank you. Dishwashers? Bosch! I'm new to the Samsung fridge, but so far am really happy. During the Great Recession, we had hit a point where I thought our credit was going to be cut off (even though payments were made) so I ran out and replaced the ancient power-sucking Whirlpool fridge with a gleaming Samsung french door number – 30cu.ft of WOW! Appliance #2 down,…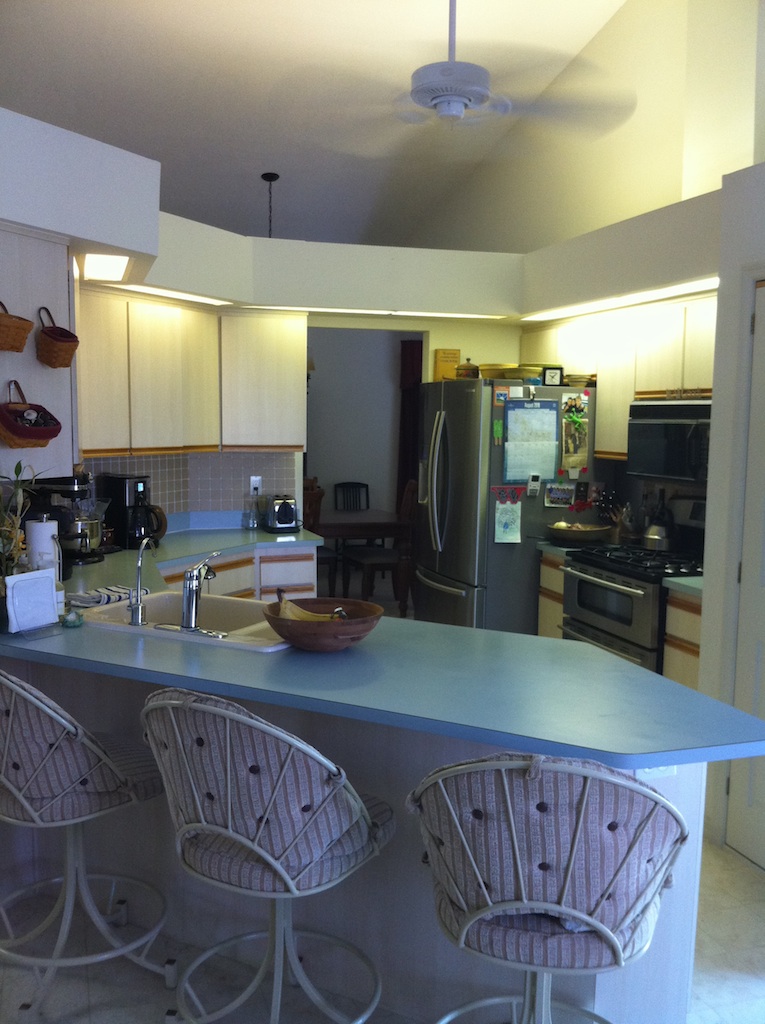 Then went the microwave, Appliance #3, my faux pax. I replaced it too soon. Not knowing that I'd be able to remodel the kitchen 6 months later, I replaced it. After the re-design, I moved the microwave spot completely – oops – now it doesn't fit at all. But the one from IKEA does. (Note to self: Think ahead!) Now, the bright side was that the installer from Sears turned out to be a guy who's real trade was tile work, but was moonlighting to pay the bills. This was fortuitous, because a few months down the road, he and his father from Magoulis Tile came in and did some fabulous work for us! But more on that later.
Appliance #4 – the dishwasher. I hadn't been in love with the Kitchenaid that was in the house and it worked up until one day the control board gave out. Ugh – another one?! OK, fine. I wanted a Bosch like my girlfriend has. She has huge dinner parties, leaves piles of dishes in the kitchen and the maid comes in the next morning and crams it all in the Bosch – and it cleans everything! I want one. This time I went to Lowes. Why? Because they had the unit I wanted, a great price, 6 months same as cash, AND if they installed it they'd refund that charge AND there was no sales tax…a win-win-win my friends!
So, now I've told you a bit about the minuscule budget, and the reason I didn't need to buy thousands of dollars worth of appliances in one lump. Some got paid off early, one had to have it's balance moved to another card for a bit longer. The energy savings nearly made the payments!! Seriously. Just look at that pic above – the old Whirlpool fridge stuck out just as far as the new one, because you couldn't open the side by side doors otherwise! The microwave was so low that I couldn't put a stock pot on a back burner. Refacing wasn't an option – every cabinet was a custom fit size for it's round space (wasted space!) Where's that sledge hammer ?!
Make a Plan: If you don't have a copy of your house plans, get one from your County office.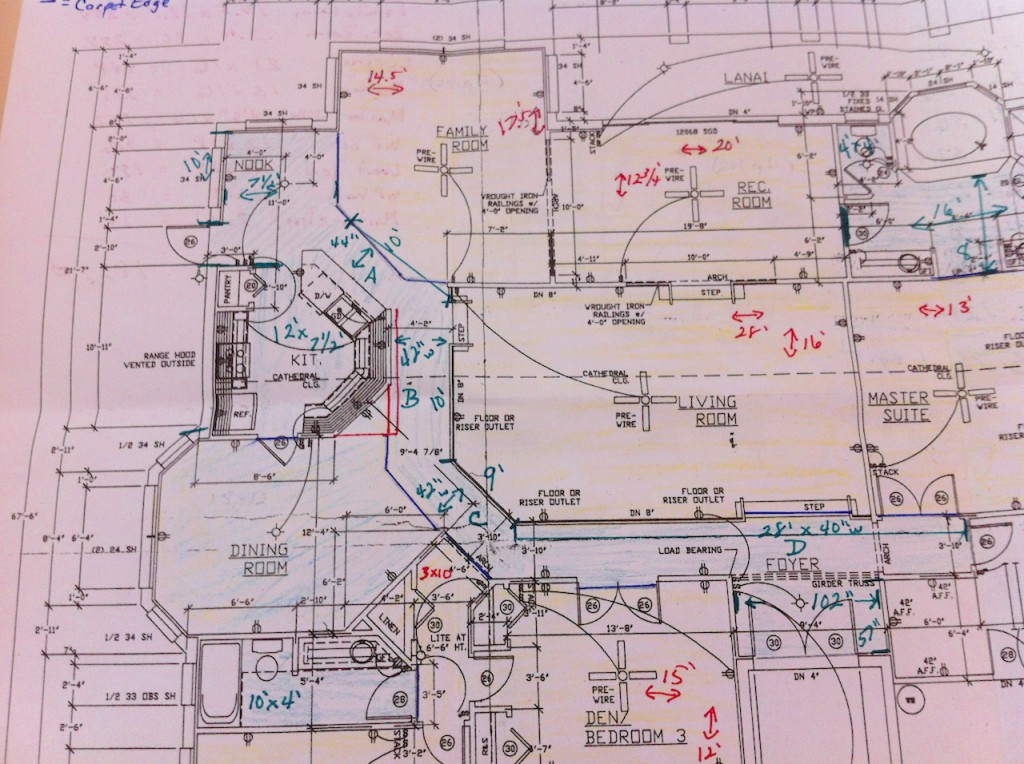 We laid out blue tape on the floor to make sure the space would work. We squared off the back wall into the dining room so we could use standard box cabinets, and robbed a couple inches from the side hall. (the red line on the plan copy) Seeing it on the computer screen or paper is one thing, but sometimes you just have to walk around it. I had picked up brochures and gotten a couple of estimates. I tried not to go on and on because I never want to waste someones time. Especially if walking thru the door everything looked too expensive. (ahem, Ferguson) The last house had a kitchen from HomeDepot, off the shelf, not custom. I paid them a visit and they had comparable prices, the local guys were close, Lowes was highest – none of them had an affordable white painted cabinet. Thermofoil is NOT a good thing (it yellows over time, and can melt, but they won't tell you that). Then I went to IKEA.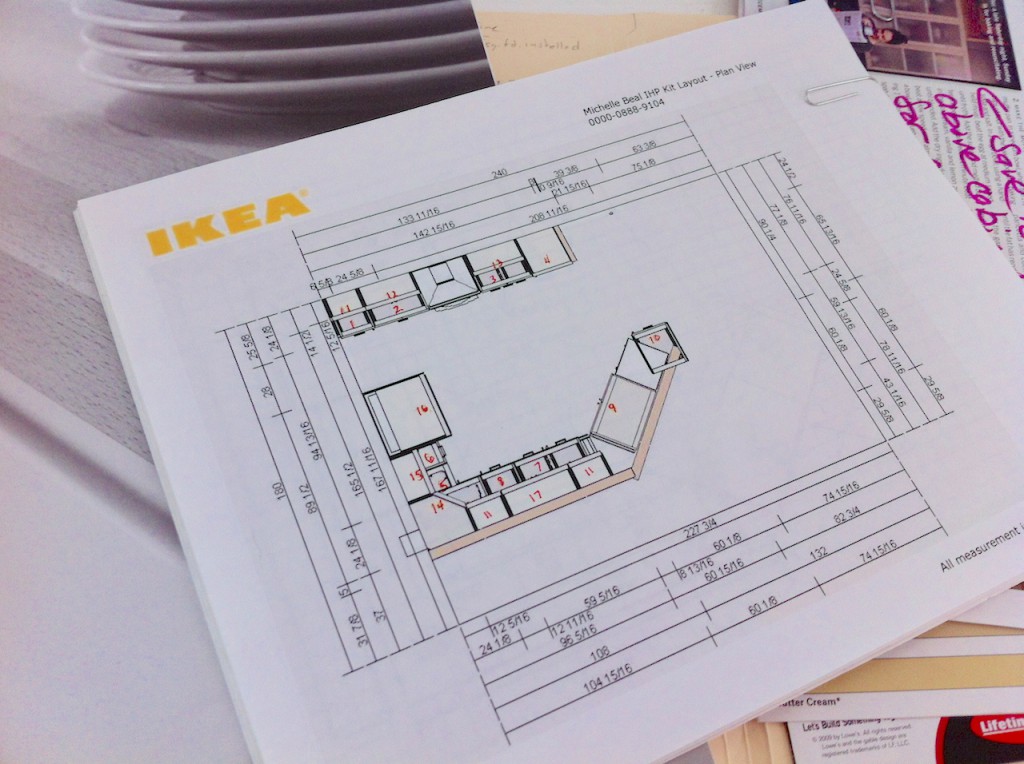 When I ran the design thru the system the price was amazing – for less than the other quotes, I bought the cabinets for the kitchen AND the two baths, and a microwave, and a range hood, and a dishwasher. Sorry, that's simply a no-brainer! Yes, I did just list 'dishwasher'. Sometimes, you can get an extra 20% off if you buy 3 appliances – I needed a hood, and I simply thought the microwave was too cool … so I threw in the cheapest applicable unit for the discount and resold it, still in it's box, to my girlfriend to put in her guest house. Perfect!! When you're spending nearly $8000 – a 20% discount is huge!
Speaking of $8000 – IKEA doesn't take checks. At my bank, you can't take out more than $3000 on a debit card…I did not know this. Note to self; contact the bank prior to for an advance big purchase clearance.
…tomorrow, the truck comes with the goodies ! (a big truck….very late at night…)