Doesn't every bathroom have a giant octopus on the wall? The last room to do in this renovation / facelift is the Guest Bath. Formerly, filled with the same pressed board cabinetry as the rest of the house, it too, was on the chopping block.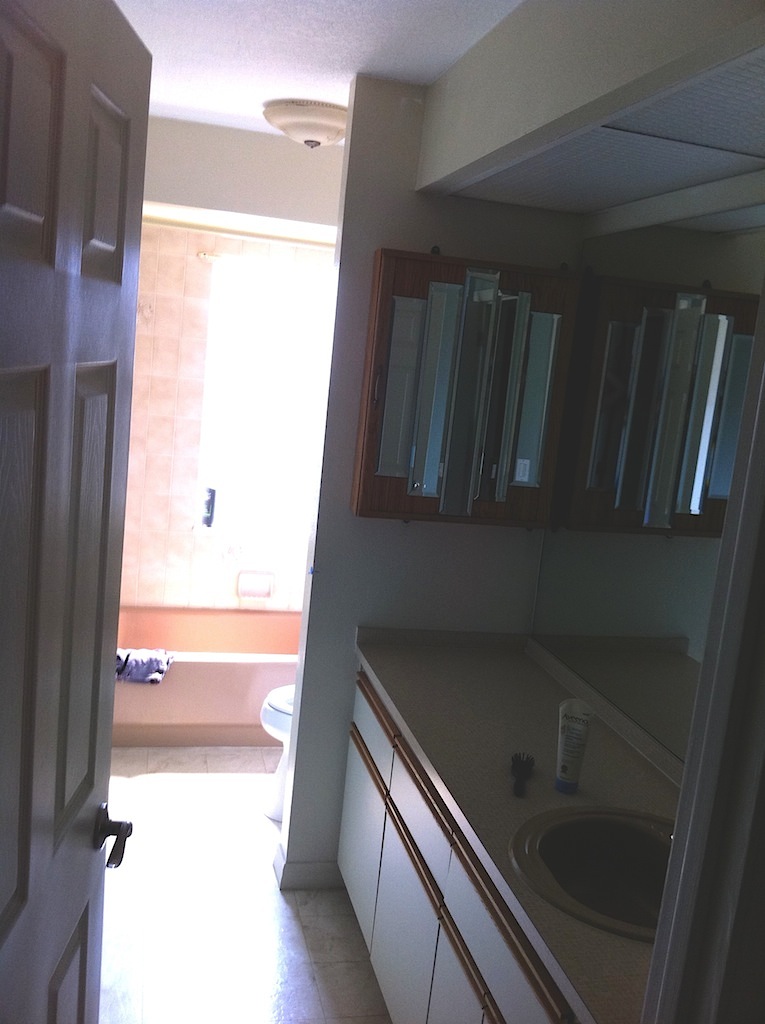 That standard 80's layout, with the walled of tub & toilet area, short bath cabinets and wall-to-wall mirror – oh, no wait, there's more… linoleum floors. This was a complete gut job.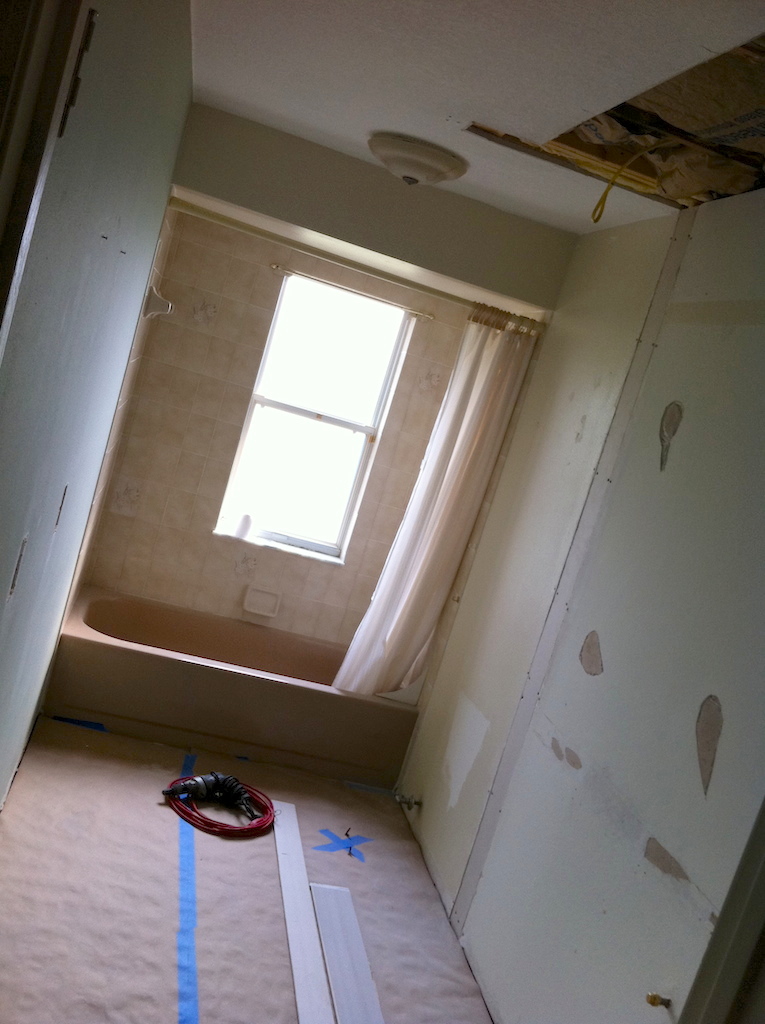 Not a bad space without all that stuff. Just taking the light box down was an eye opener. Mainly because first, we couldn't believe the huge lumber that was used in it – second that there were empty pockets of missing insulation all over the place!
To start with a clean slate, we ripped out the cabinets and saved the counters because we knew we need them later. I did mention that we lived in and around this entire ordeal. This was not one of those "Here's the keys, we're going on a cruise – see you in 2 weeks when it's done….", yes, there are people who do that….we would not be them.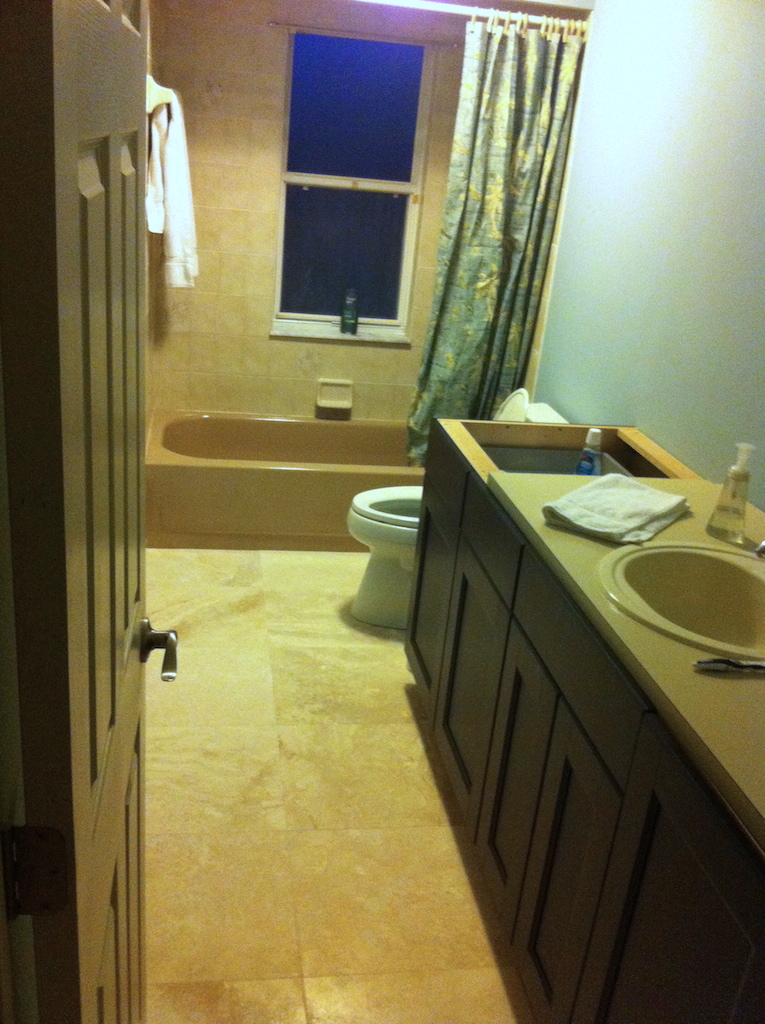 First up were the floors, which were done along with the kitchen and master bath timeline. After the demo, the Esposito crew came back and worked their magic on all the holes we'd put in the drywall. Again, amazing, like it'd never been any different. Next we sat the cabinets. Yes, more kitchen cabinets. Now, don't think for a minute that it was that easy. One the end, near the door, the wall is on a diagonal…cabinets are not. So, before we assembled that last end cabinet, 'Hubby'…aka: electrician, plumber and basic carpenter… cut down the sides to fit. Then mounted some masonite to the back, since the IKEA back board would no longer fit, and painted it to match (cause I'm weird like that).
Notice those fabulous tiles – ugh ! Worse than in the master bath, these were all tan with appliquéd roses…and a tan tub…my eyes!!! The guys at Magoulis Tile did an overlay there as well. But then there's that tub. OK, well, since we weren't destroying the tub surround for the tile work, I thought it could be saved…and painted. WHAT?! Oh, yeah. I'd seen this done and called around for quotes. A couple hundred dollars would paint that tub and recondition the gigantic fiberglass one in the Master. Along the way though, we had an issue. One of the tile guys dropped a tool on the edge of the tub and chipped the enamel. Before he had even come to tell me, Mr. Magoulis had arranged to find someone to repair it. This worked out well for both of us, as he was relieved to hear that I had planned on recoloring it all along (whew) and the guy he'd called was cheaper, and closer than mine. Perfect. I'll show you that now, even though that was the last item to be done. (no peeking!)
That tub recoloring was crazy – the smell was unbelievable and took 2 days to complete. He ran a special vent outside with huge fans and taped of the room like a crime scene…or a scene from Young Frankenstein, 'No matter what I say, DO NOT open this door!!'. It was so worth it – have you ever ripped out a cast iron tub? Well, I have, and it's not fun. We'd already installed a new toilet, which was an adventure when the 20 year old plastic mounting ring broke, and it was a Kohler bisque. He matched the color perfectly, and it's been fabulous ever since. He had but one request – only clean it with Scrubbing Bubbles…no abrasives. OK, I can go with that.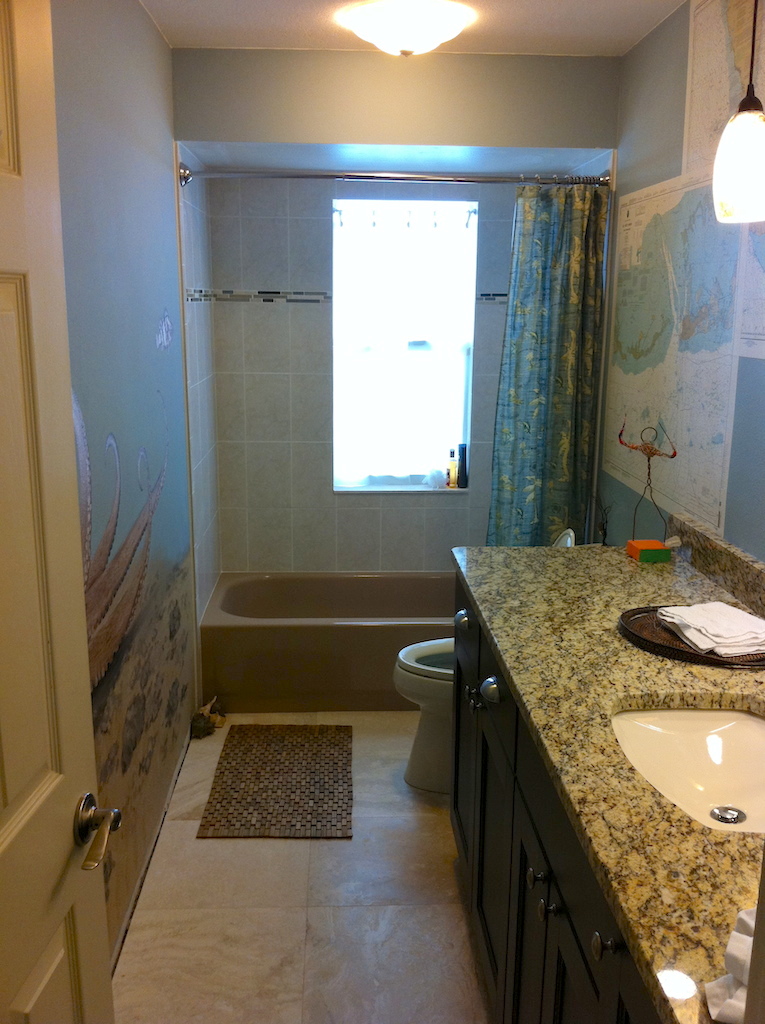 So, you've heard about my love of these bigger base cabinets in a bath, these are no exception. The long narrow space meant I couldn't really do much on that long wall anyway. Leaving that end wall out made it so that the dark, large cabinets didn't completely swallow the room. Although, now there's no medicine cabinet – so what! We still have open space under there. The countertops were part of the package deal I got from the local granite guys. It's a different stone than the other bath, because it was scrap, but it looks great with the dark wood…and the artwork.
More on the art & decor. I had a completely different decorating scheme worked out for this room. Then I found a Tommy Bahama shower curtain and my son fell in love with it. Soon I found myself using the nautical theme as a basis for everything in the room. Ironically, now that it's done, the shower curtain is the one thing I'd remove because it's just too much.
Here in Florida it's easy to decorate with a nautical theme. Careful though, you can also make it look like a Tarpon Springs gift shop too. Nah. I had my eye on a wall mural from Pottery Barn that was an enlarged antique map. Cool – expensive….no thank you. Later I found myself out with the boys at West Marine buying boat stuff. I found the coolest trove of charts! So, I picked out one from our area north of Tampa, one from the Keys and one from Cuba and gleefully bounced up to the counter,…"I neeeeeed these!" The guys weren't really surprised because they'd seen me do weird things before…like taking brown craft paper, wadding it up, tearing it into bits and wallpapering it to the living room wall – awesome, looked like leather! (but that's another blog) I' d planned to do the same here – and it work fabulously.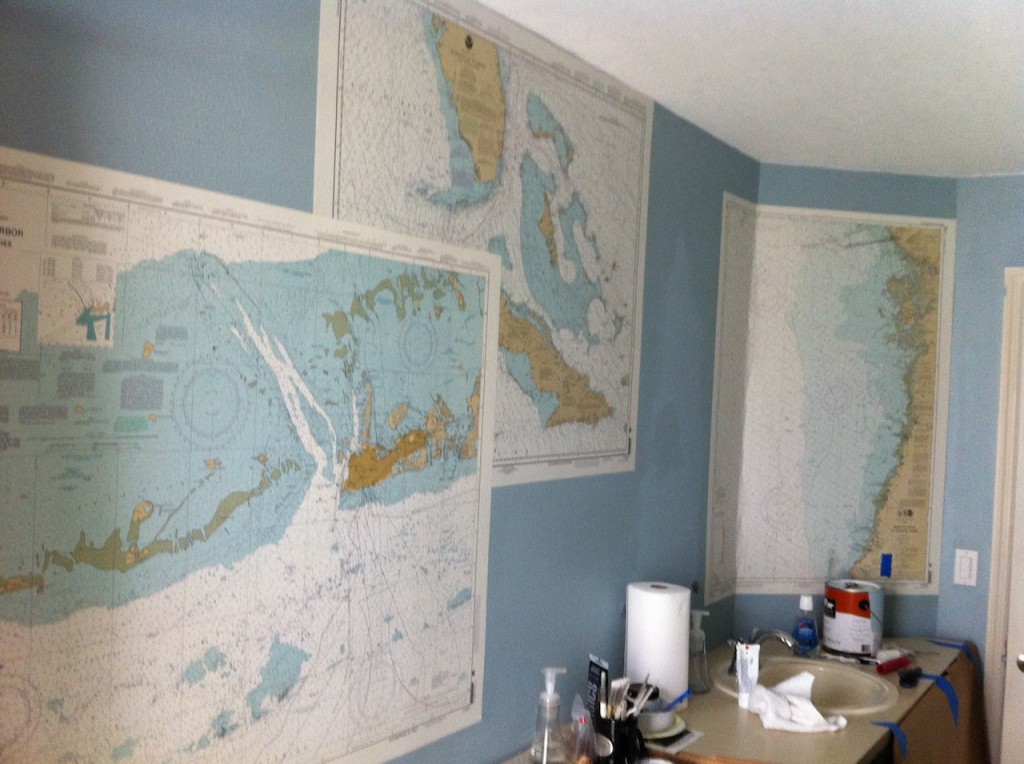 I can now easily add 'paper-hanger-assistant' to the list of things The Hub does! I was struggling with boxing those big maps, he was all "oh, yeah, I was always helping my Mom hang wallpaper – it's was the '60's she papered everything!" I knew just how I wanted them overlapped for and artsy look. I was careful to cover it with several thin coats of sealer, with lots of drying time between. So, what's with the paint brushes?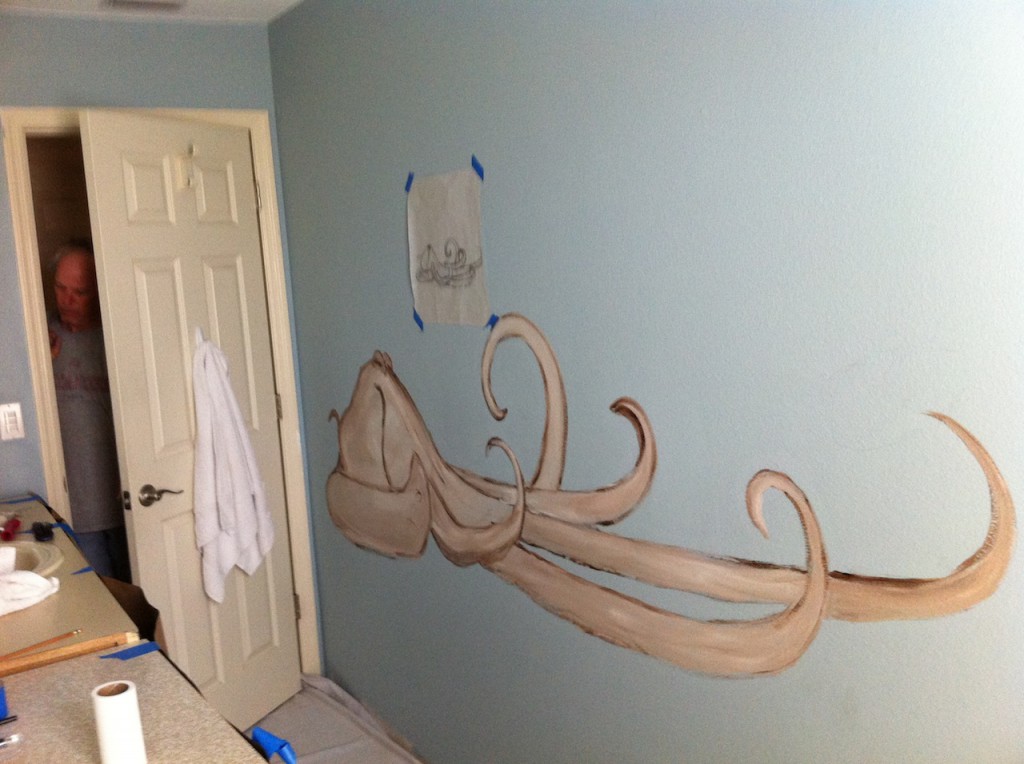 When your Mom's an artist, you can't just say 'Oh, can you paint this little thing.' Oh, no – this became a huge (and fabulous) mural. It all started with me seeing some of those vinyl wall stickers on Etsy and I wanted just the octopus arms coming from the door. Then my son takes one look and says, "But where's the rest of it?" … can we call Grandma?" Okay, okay…we'll call Grandma… and this is what happened next…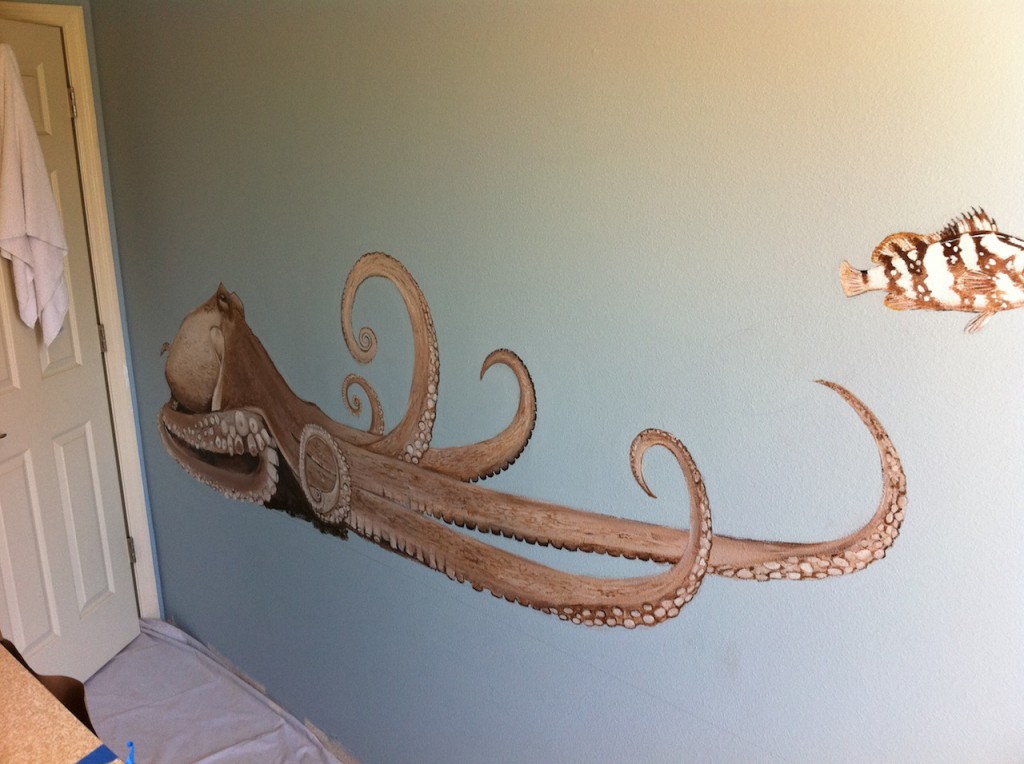 …and after a few more days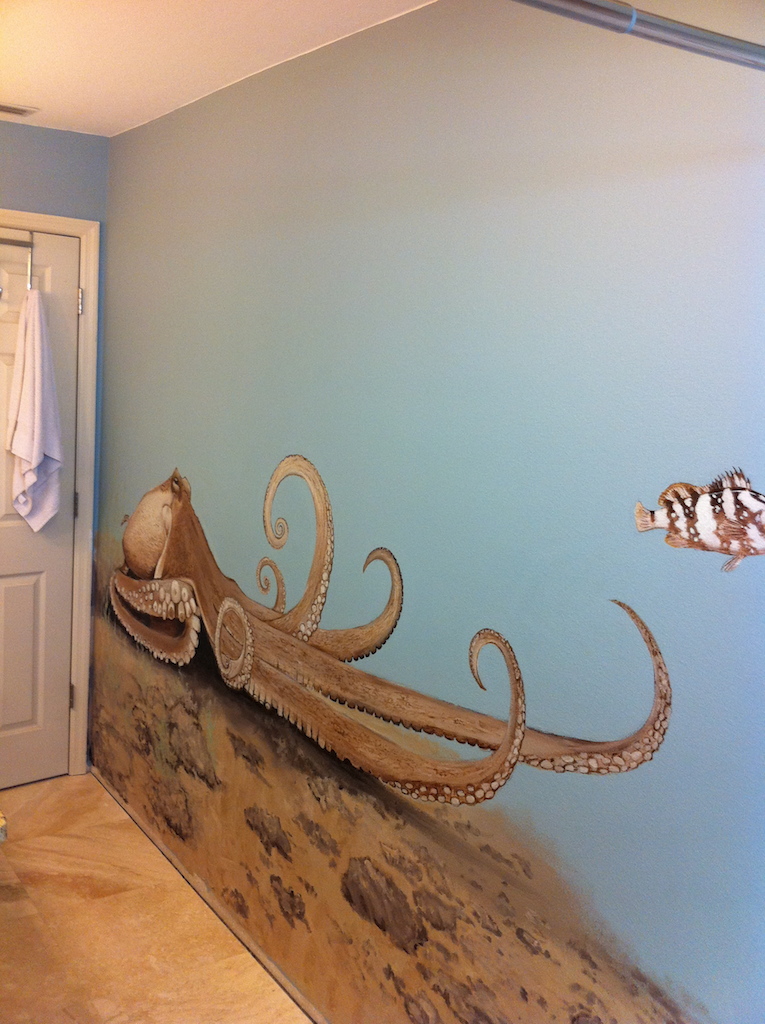 No, I do not want emails from people telling me about the fact that it's a Pacific Giant Octopus and a Nassau Grouper (they don't live together really)… it's art people !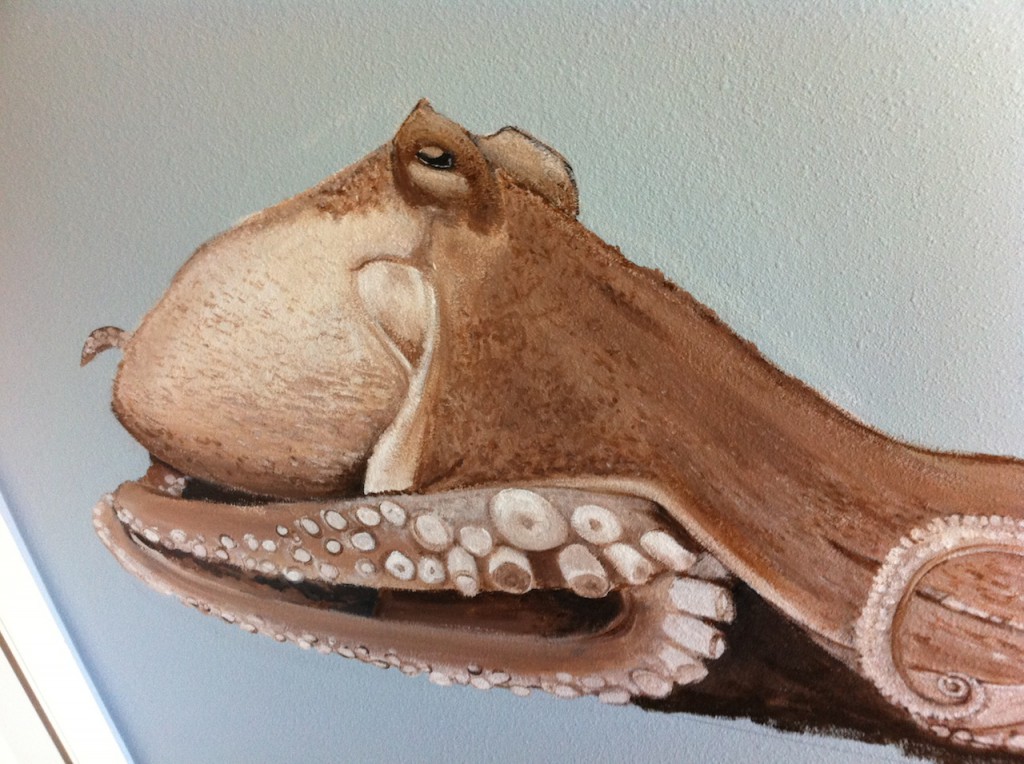 Now as you wash your hands it watches you ! Bwahahahaha! You'd think it would scare some people, but we had a young relative from ND visit and was enthralled – she just stood there starring at it. It really is soooo cool ! Thanks Mom 😉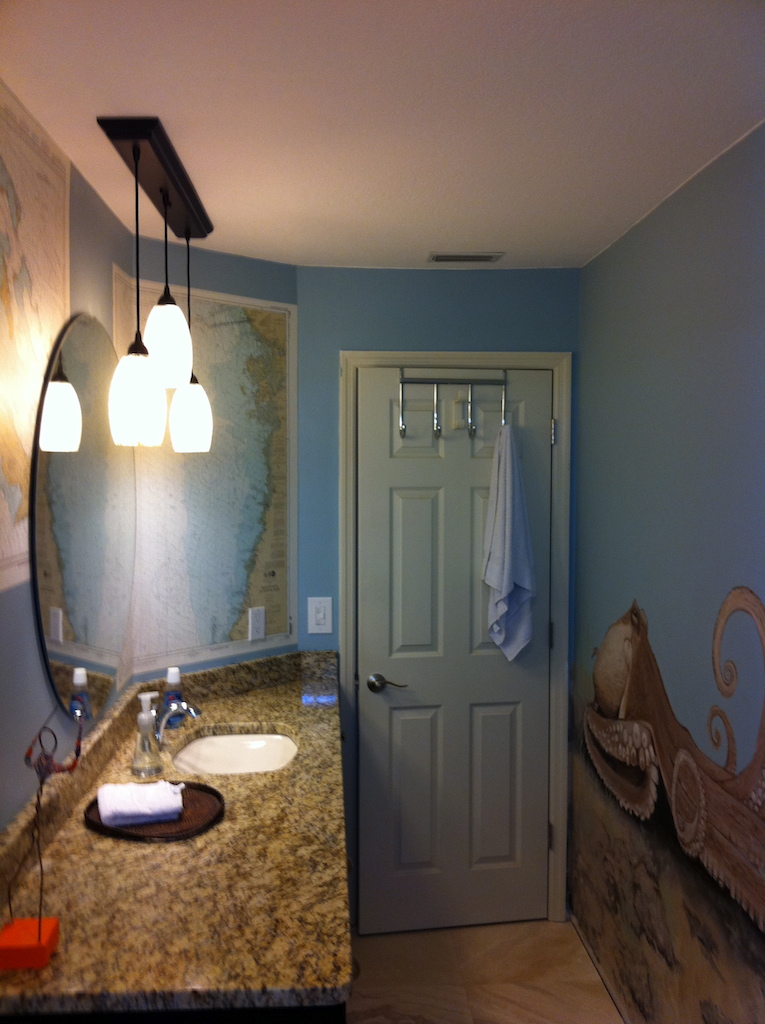 Hang the re-cut 42″ monster mirror, some lights from Lowes off the shelf. I loved that the glass shades looked so much like the octopus skin, but you can't see that – you'll just have to take my word for it. We're done!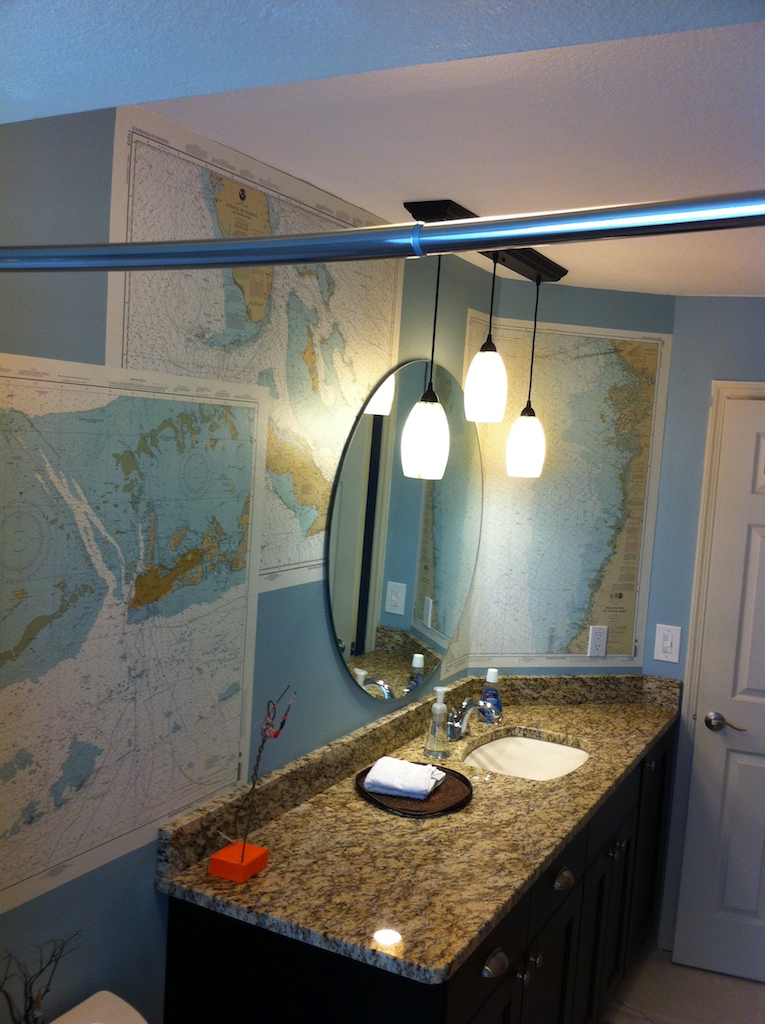 That's the fun and funky Guest Bath here at chez' Beal. You know, I really should tally up the cost on this, but I'm really lazy. Take my word for it – we got a lot of bang for the buck.
I think tomorrow I'll show you how we gave an 80's pool table a facelift you probably wouldn't have guessed at.
Or maybe how I soaked bing cherries in bourbon…your Manhattans won't ever be the same. So many projects. I really have been a busy girl !