Back in October, I went with my Aunt and her friend Connie to Renningers Antique Extravaganza. I'd picked up one of those old sign letters that have become popular these days. It cost me a whopping $25. I loved it because this one was from a real sign and not one of the reproduction Chinese metal ones. I was so happy the vendor had a 'B', which are always gone. It was even blue to match our rec. room – how cool is that!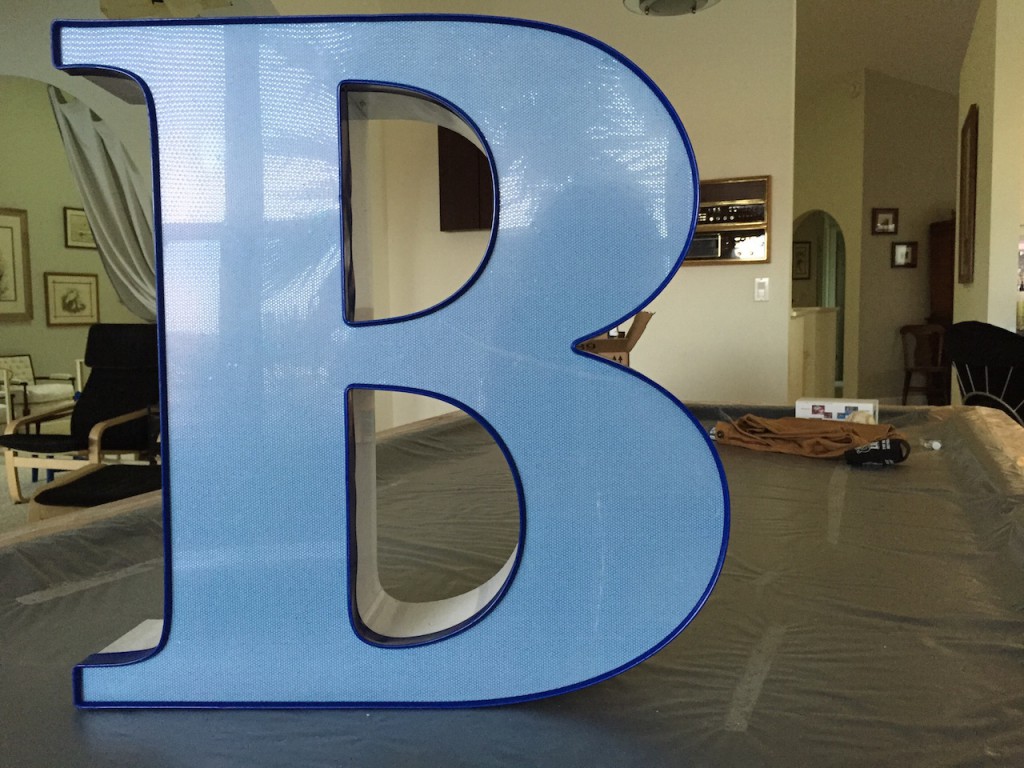 I was too busy to deal with it right away, so I sat it side. The holiday's came and went and I recently dug it out to hang it. But first, I gave it a shake…? what's in there rattling around? Maybe I don't want to know – no, it's killing me. Besides, it may be a light fixture that's repairable. Wouldn't that be fun! A lit sign letter over by the pool table. Yes, please.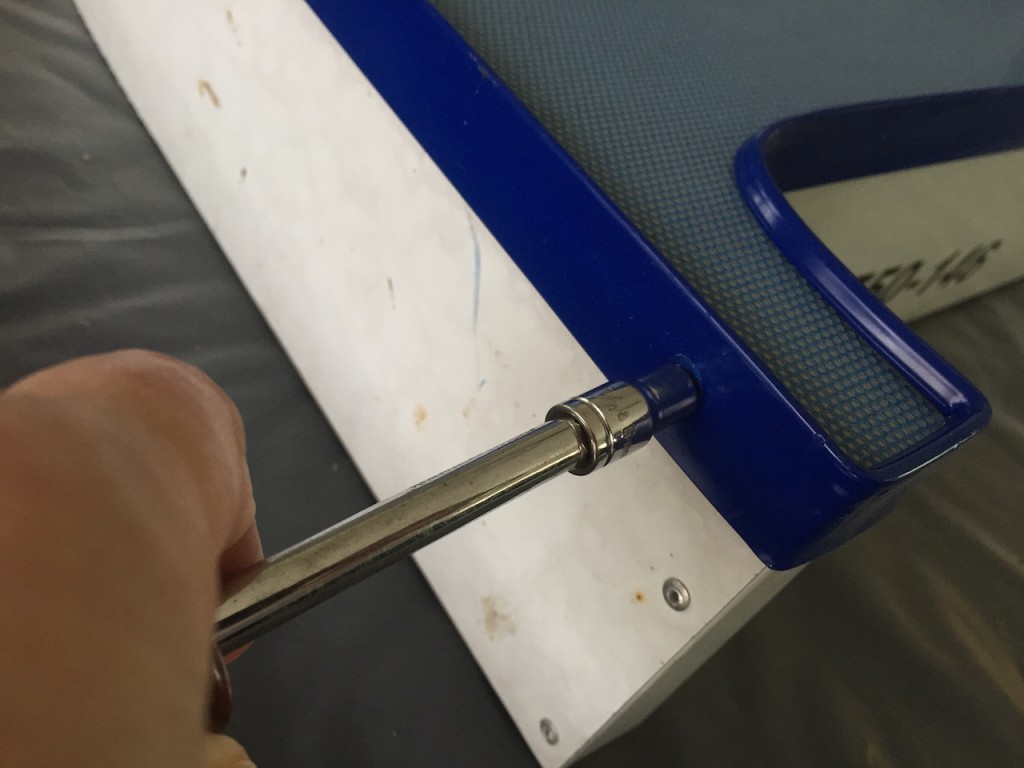 Step 1
Get out the socket set and open that puppy up. Carefully,…you don't know who's living in that box!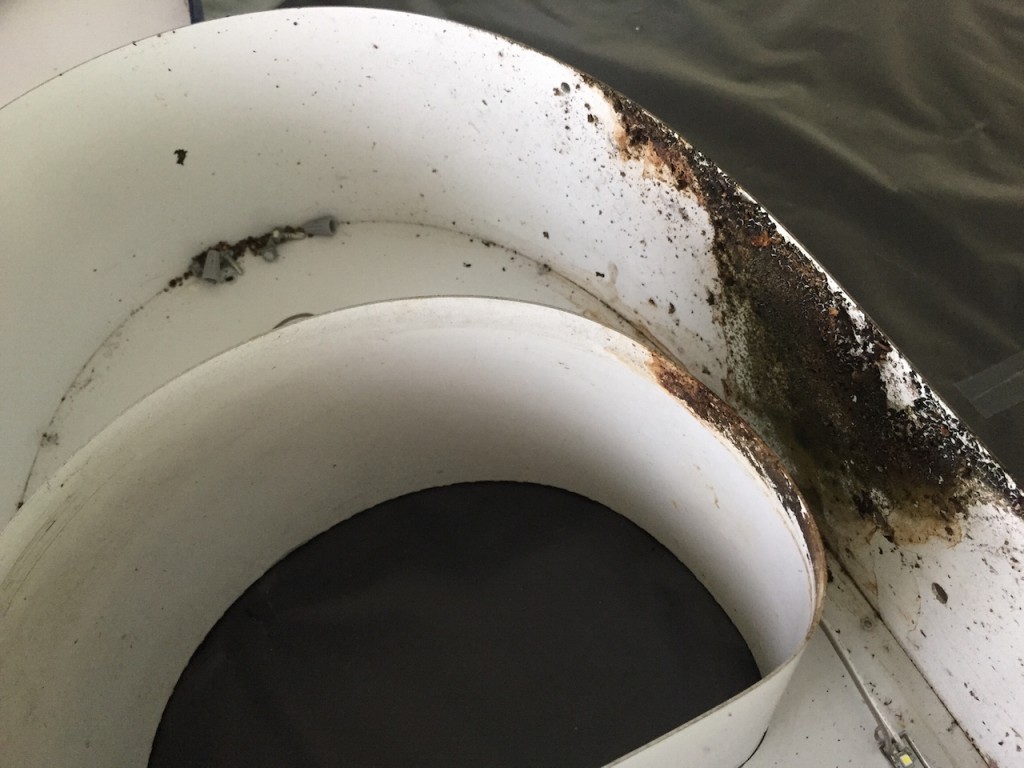 Step 2
Ewww ! Well, it could be worse. There's no telling how long it's been rained and snowed on,….and 'anointed' by birds. Nah, this just looks like a lot of weather dirt. Get it cleaned up.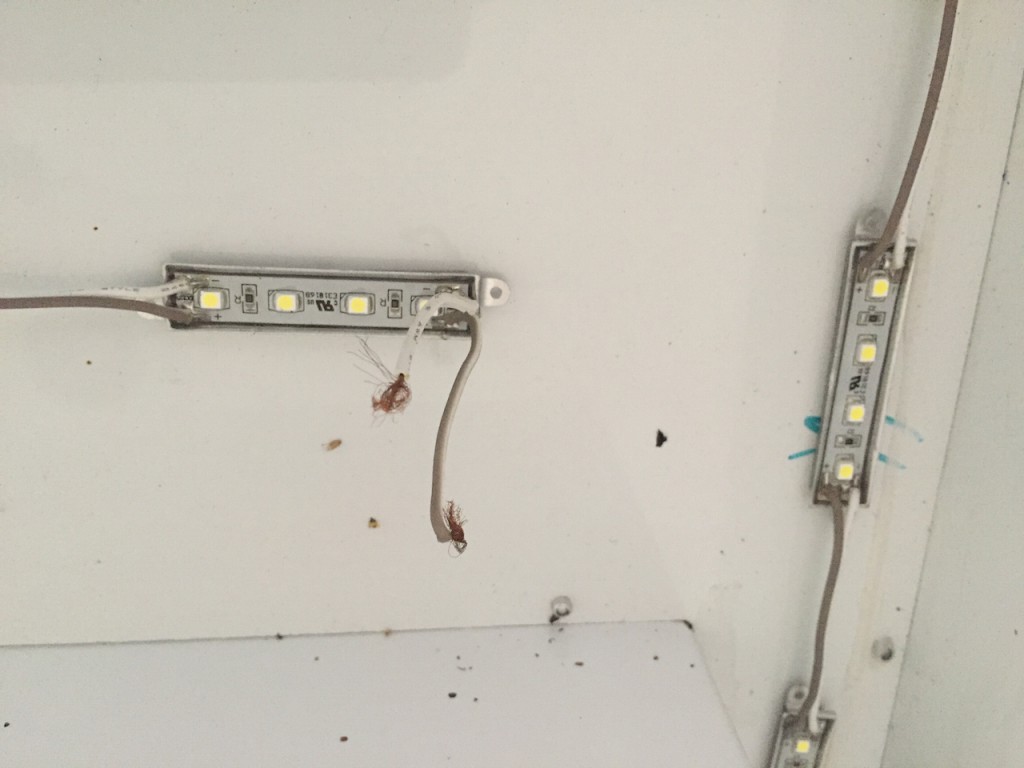 Step 3
Hey, look LED's ! It can't be that old. I wonder if they'll fire? This is when you have to stop yourself. Because I didn't. I asked my favorite electrician, aka : Mr. B, to wire it up and plug it in. "No sweat", he said. Before I could say anything,…actually I was on the phone and I heard the "BZZZT !!" from across the house. I was just hanging up and he looked at me, rather irritated. Then, as we often do, we said the same thing,…"LED's need a transformer ! – oops" After a good laugh, I told him I was going to use one the transformers from the leftover set of lights from Ikea. "You could've told me…" he said, "I thought you were busy and would get to it later. You beat me to it!", I replied. Anyway, there's no telling what size this commercial grade set would need – advice – don't bother. Just assume you'll need new lights.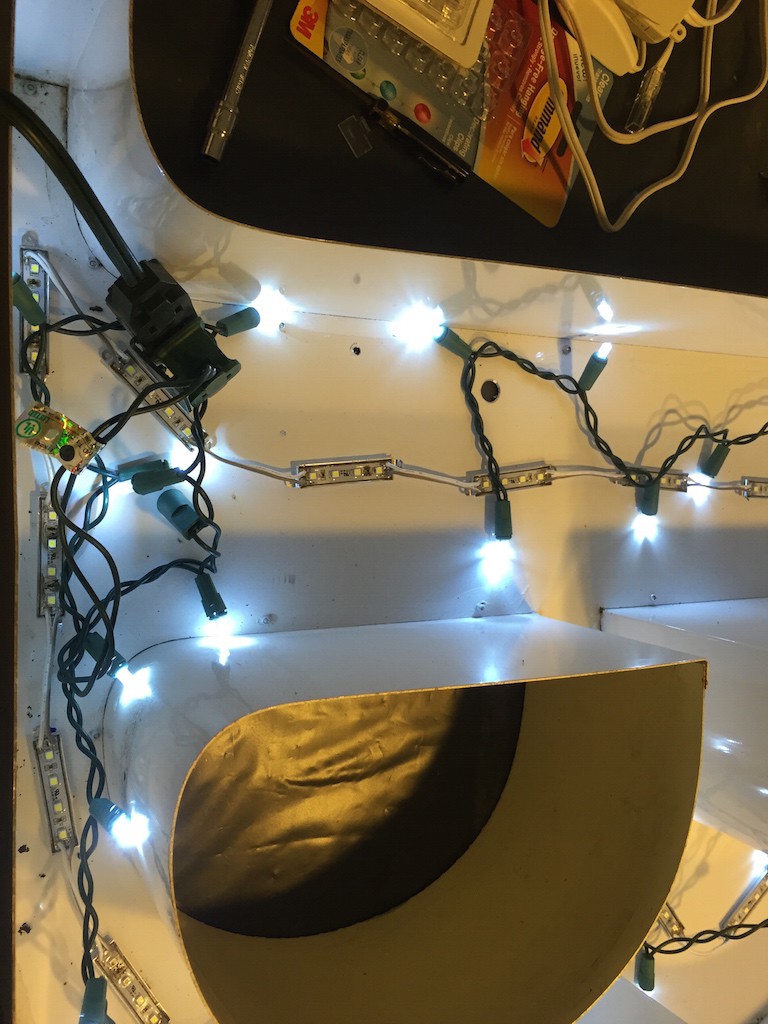 Step 4
OK, so, moving on… go and get some of those cheapie Christmas lights. I know you bought a set or two while they were on sale after Christmas! Set them in and test the layout.
Yes, you can use a nice new set from the under cabinet/counter lighting section at H/D or Ikea, or wherever, but they're NOT cheap. I, however, am.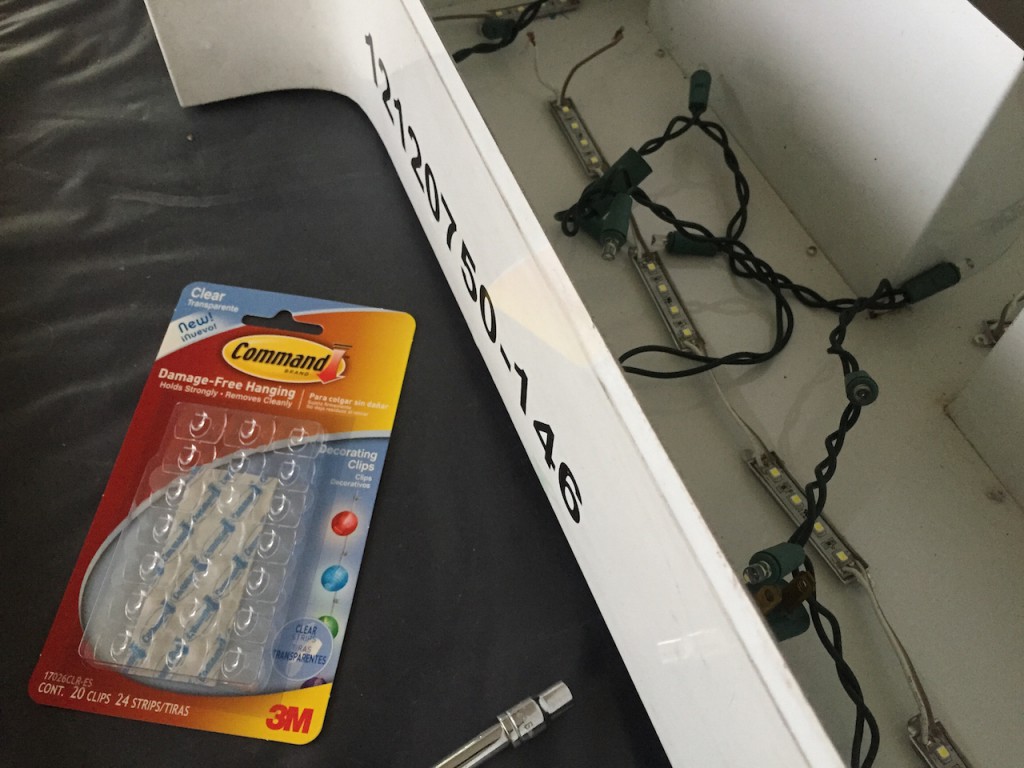 Now, use some little Command hooks and get them secured in position. Mind how the light will sit, so you can make sure they don't fall out of their hooks after you get it reassembled. And, if the weather is cooperative (which it was NOT while I did all this), spray paint over those numbers.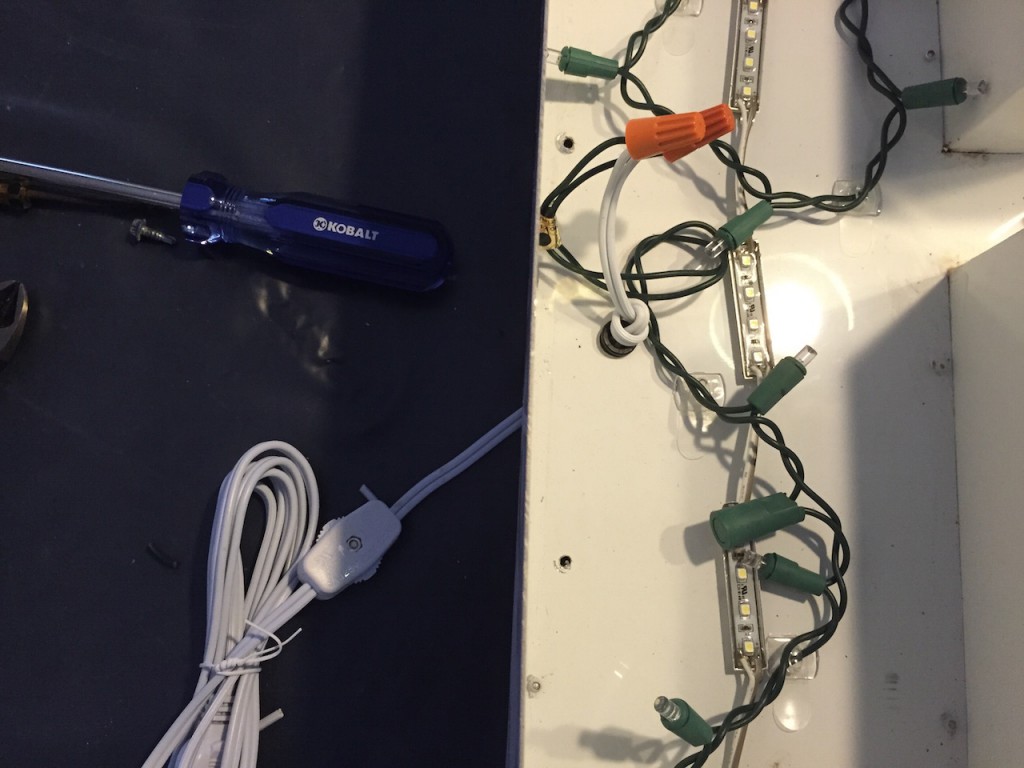 Step 5
Now, since Christmas lights don't come with their own switch AND the plug is too big to thread through the wire-access hole, cut the plug end off. Get a switched plug from the lamp repair area at your Home Depot for about $5 bucks (Lowes didn't have one). Cut the end off and using wire nuts, re-wire the light. String lights have their own mini-transformers.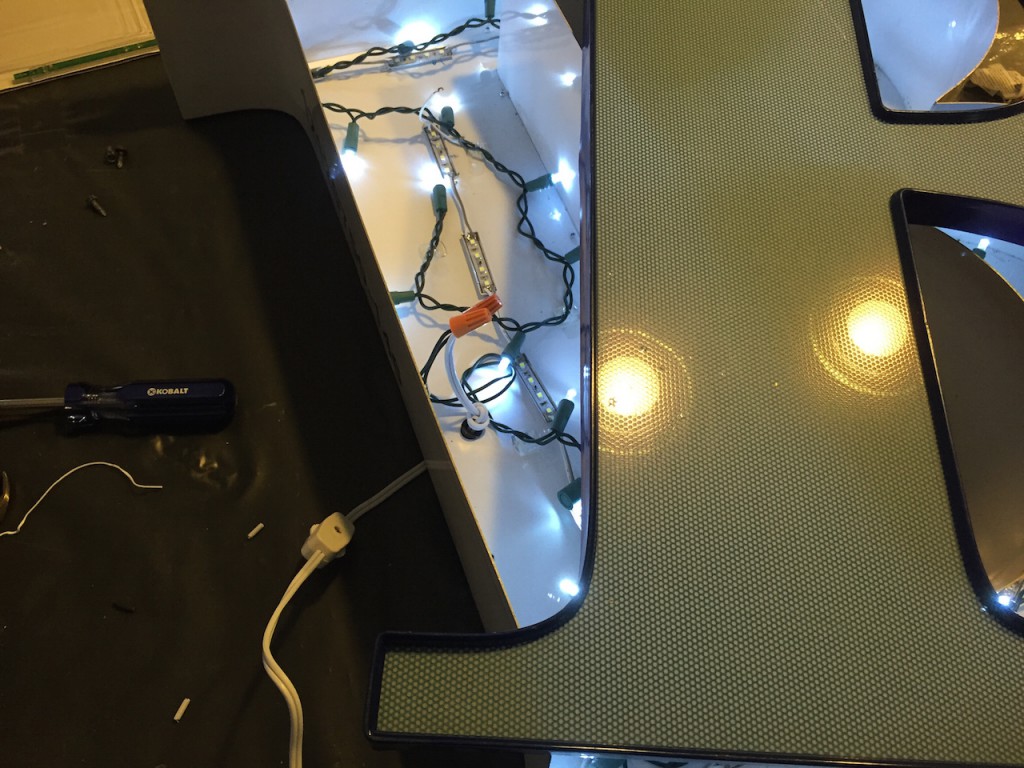 Step 6
Hey ! It works !! OK, now, before you get all excited, lay the light cover back on and make sure it looks good. Replace the cover and that's it !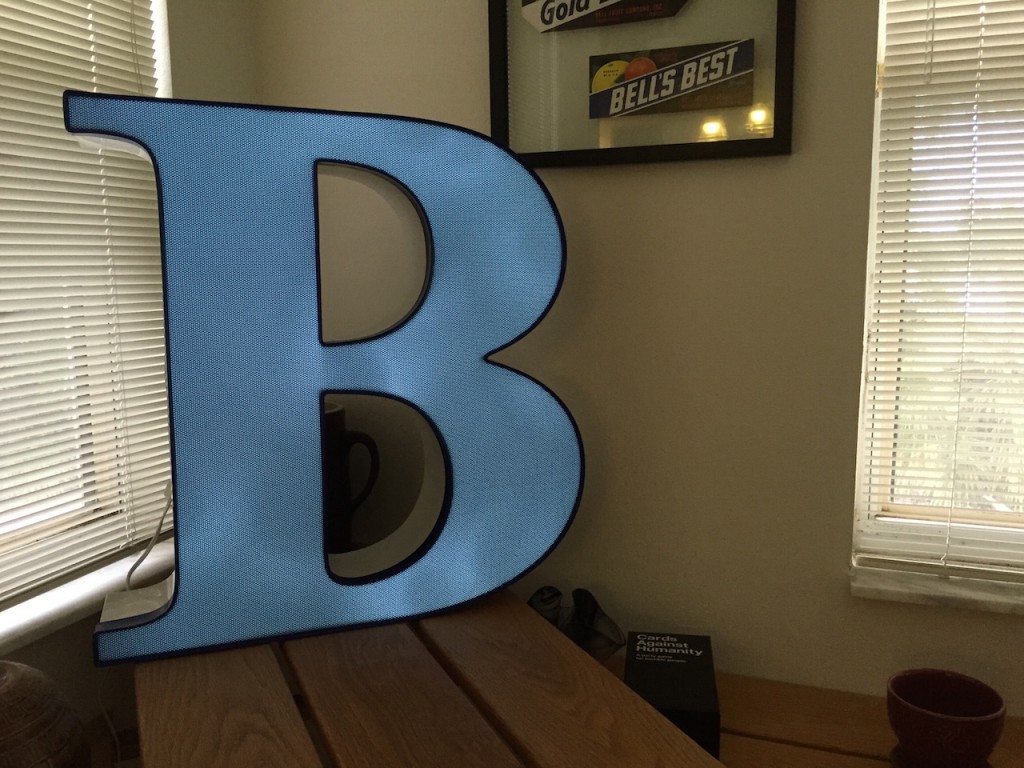 Finale:
All done ! It looks good lit in the day time…
But even better at night,….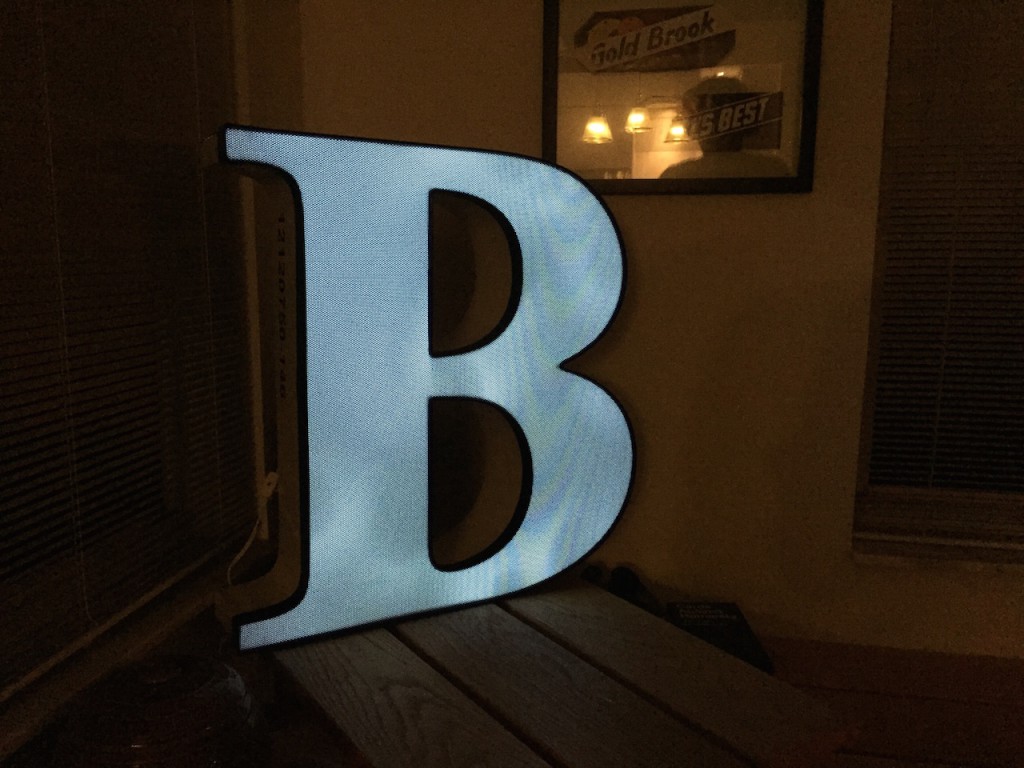 This is so cool next to the pool table. It's felt is a navy blue, and most things in that room are a blue hue – Perfect !
So, if you're out 'junkin', go ahead buy that light. And don't just hang it on the wall all lonely – give it another chance to shine!