Halloween's over, but pumpkin season is just breaking into full stride! This year I bought, at my local Farm Stand (Fraziers) a lovely pumpkin. My son just had to have it. He loves 'em. So, we picked out a medium sized one and added $8.00 to the tab. Not bad – it was a pretty perfect specimen. Instead of carving it up, I just added it to the Halloween decor, knowing full well that I'd be doing my own sort of carving later.
Pumpkins are FOOD. Now, as you well know, I love to play with my food – not like that! But seriously, how many get carved, and added to an Instagram,…and then tossed on November 1st. What a waste! Poor pumpkins… oh no, not this one. Jack-o-Lantern gets a lobotomy..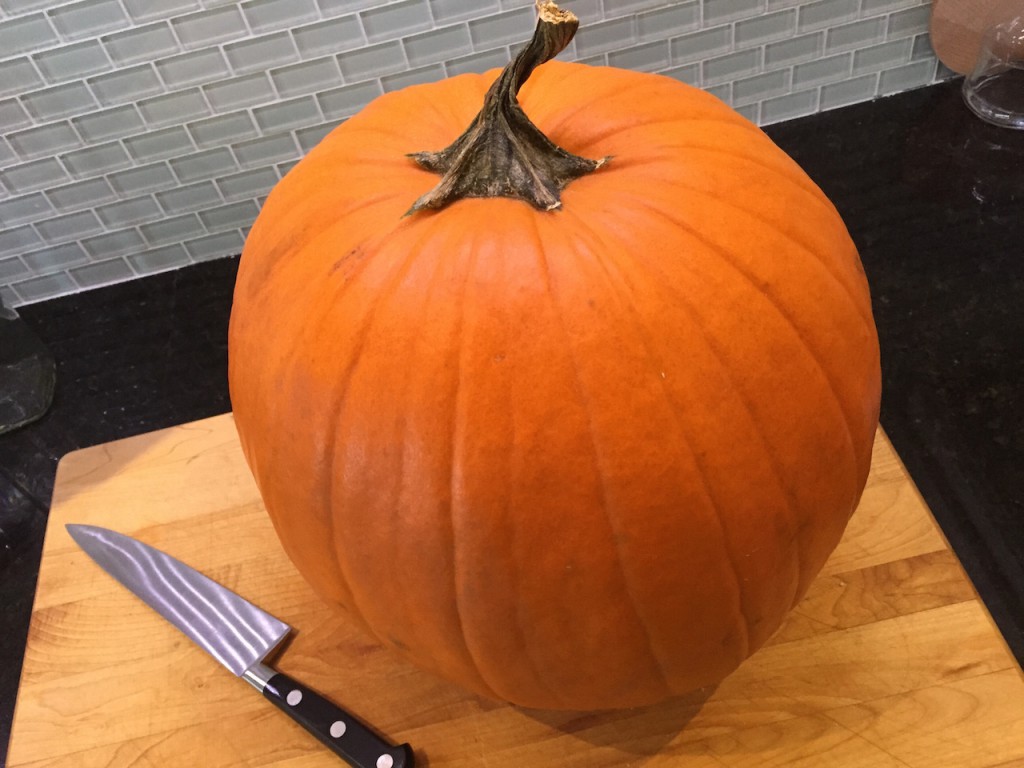 …oh Jack…..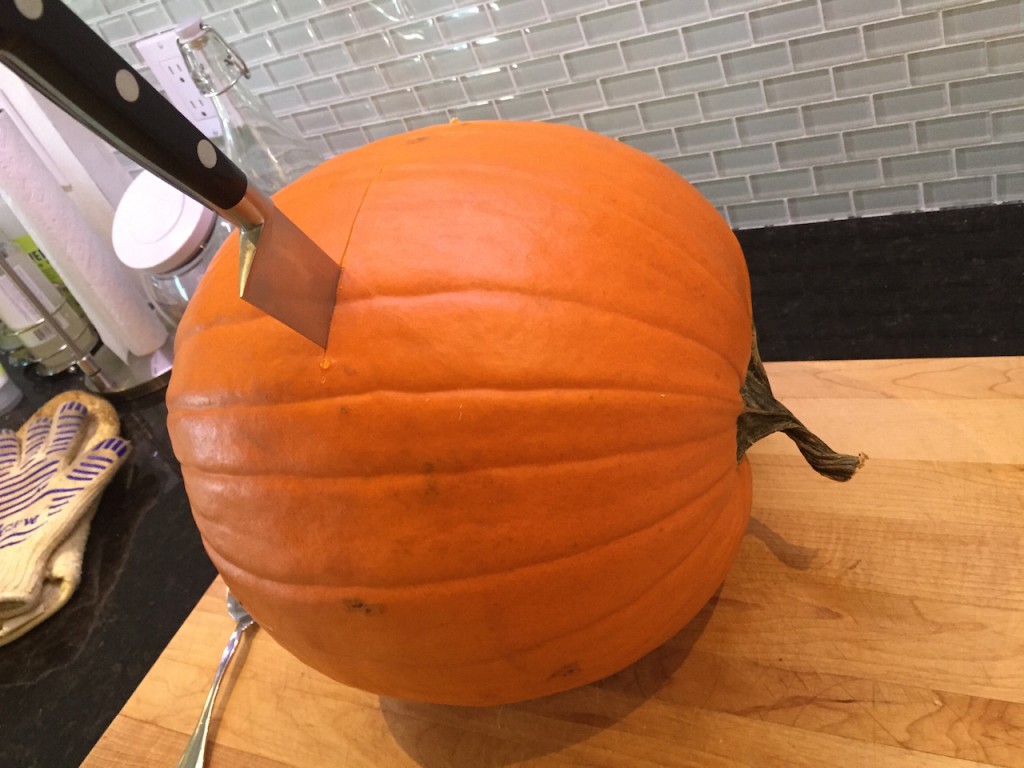 Step 1
Get it cleaned up and cut in half. Preheat that hot box to 350 please. Gather a couple of baking sheets and line with parchment paper (depending on your pumpkin size). Or just grease one,…but that's a whole lot of cleaning.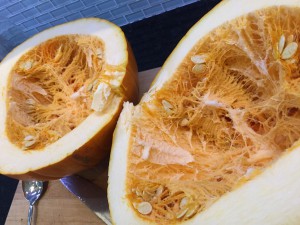 Step 2
Cleave that bad boy in half, and scoop out the seeds. Save them – we'll roast them tomorrow.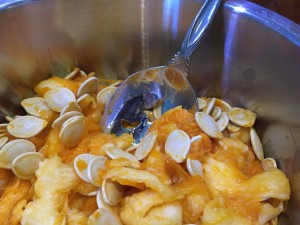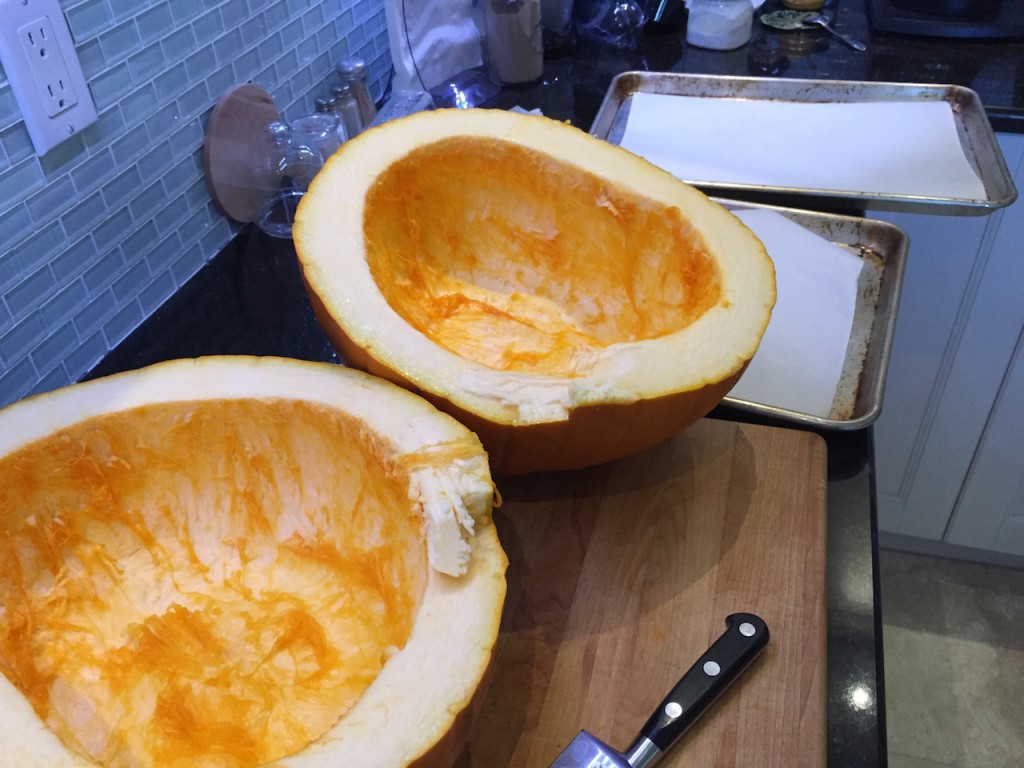 Step 3
Now that they're cleaned out, set them face down on the baking sheets. NOTE: If we were 'roasting' them we'd drizzle with olive oil, salt and pepper, keep them face up to brown.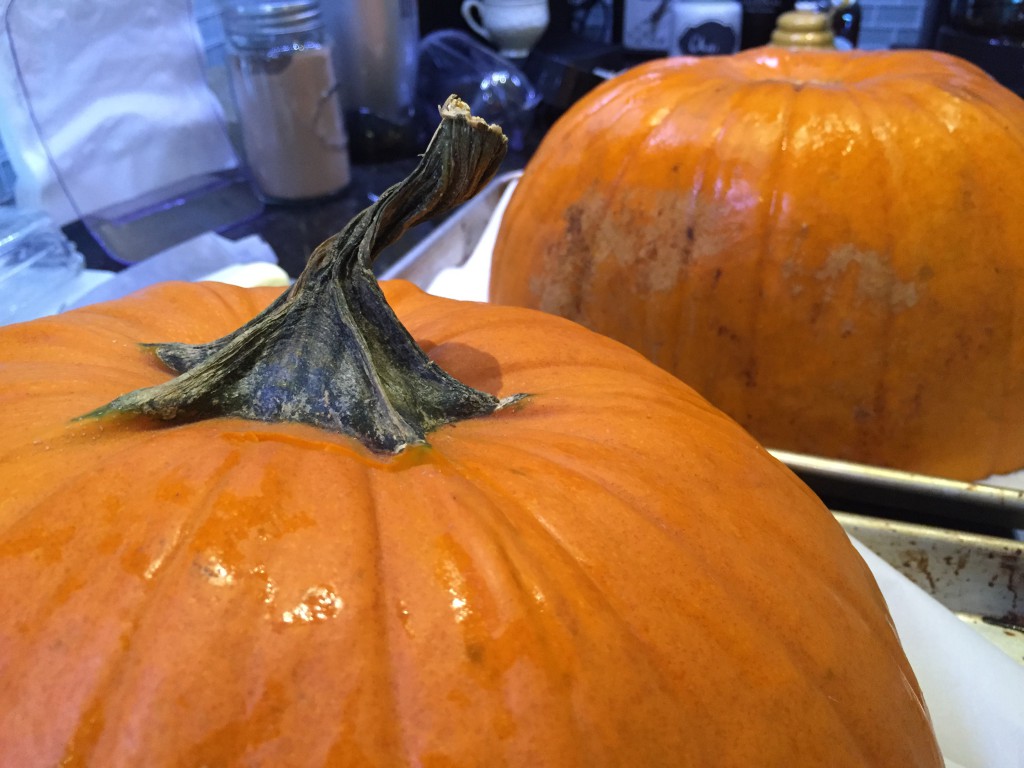 Step 4
Cut a little vent hole and make sure they're clean. Remember, they did come from a field and you may have just set it on the stoop without a wipe-down.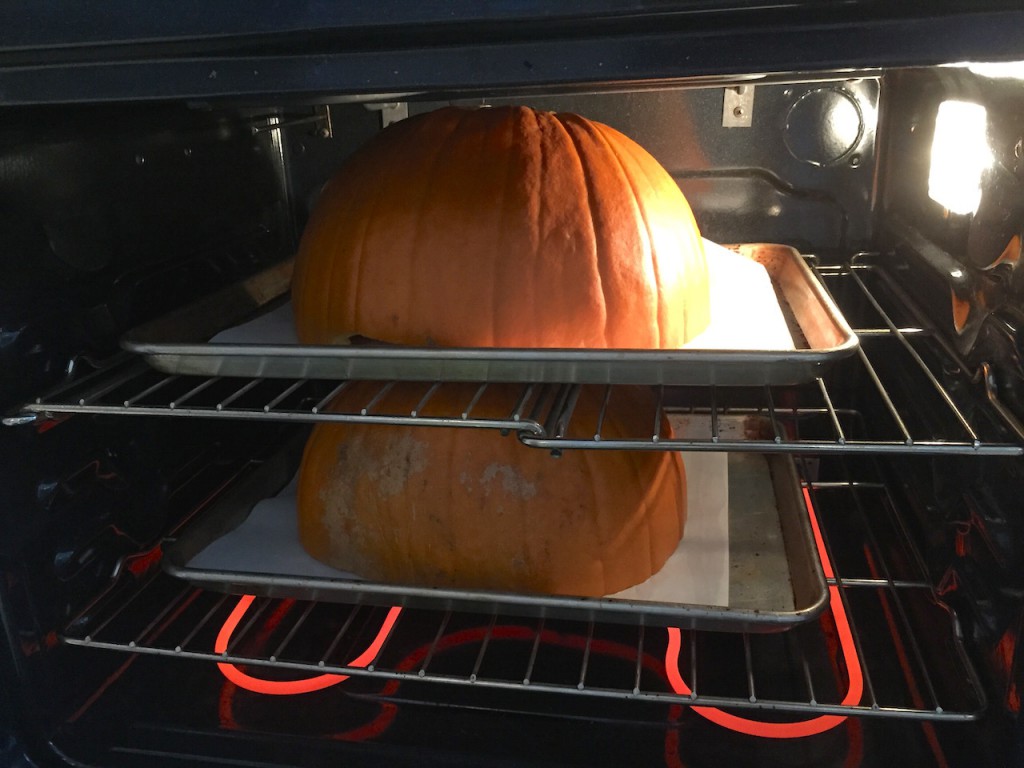 Step 5
I know, I can't believe they fit either ! I did have to cut the stem though.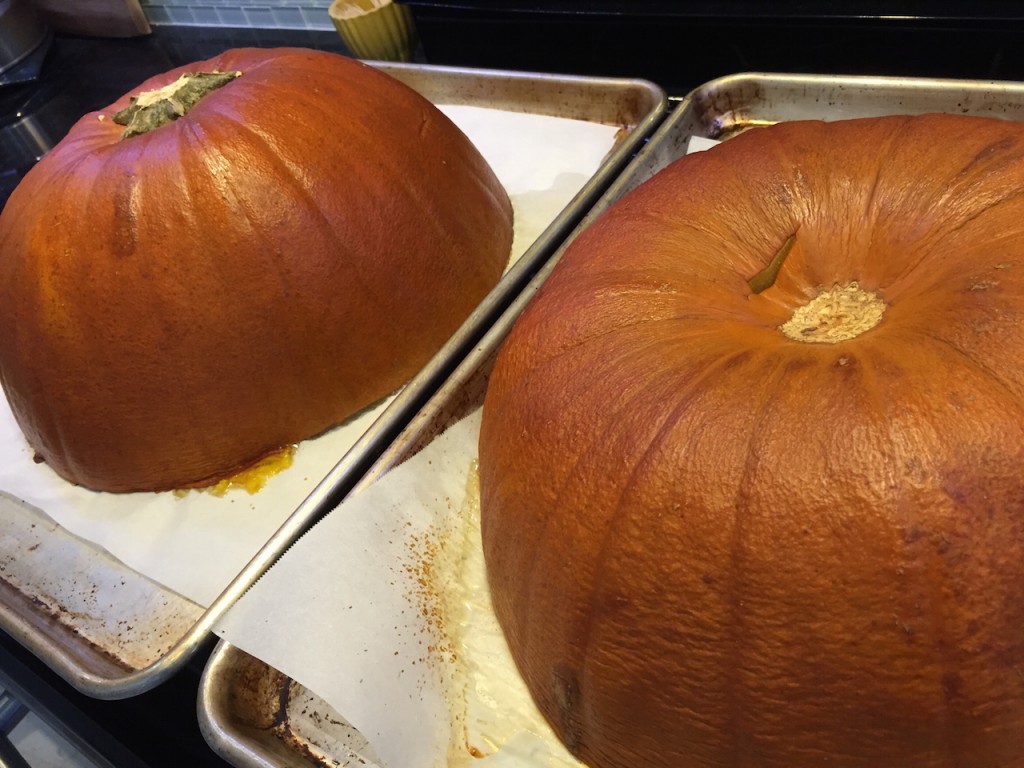 Step 6
And about 45 min later,…. they're soft and ready to go.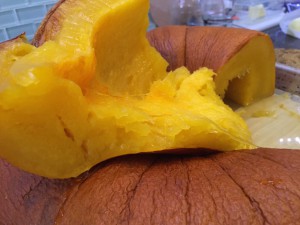 Step 7
Let them cool a bit and then scoop out the flesh,…. (more Pyscho soundtrack)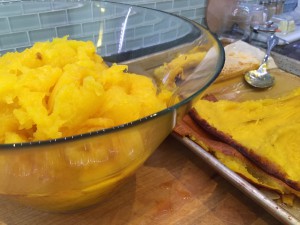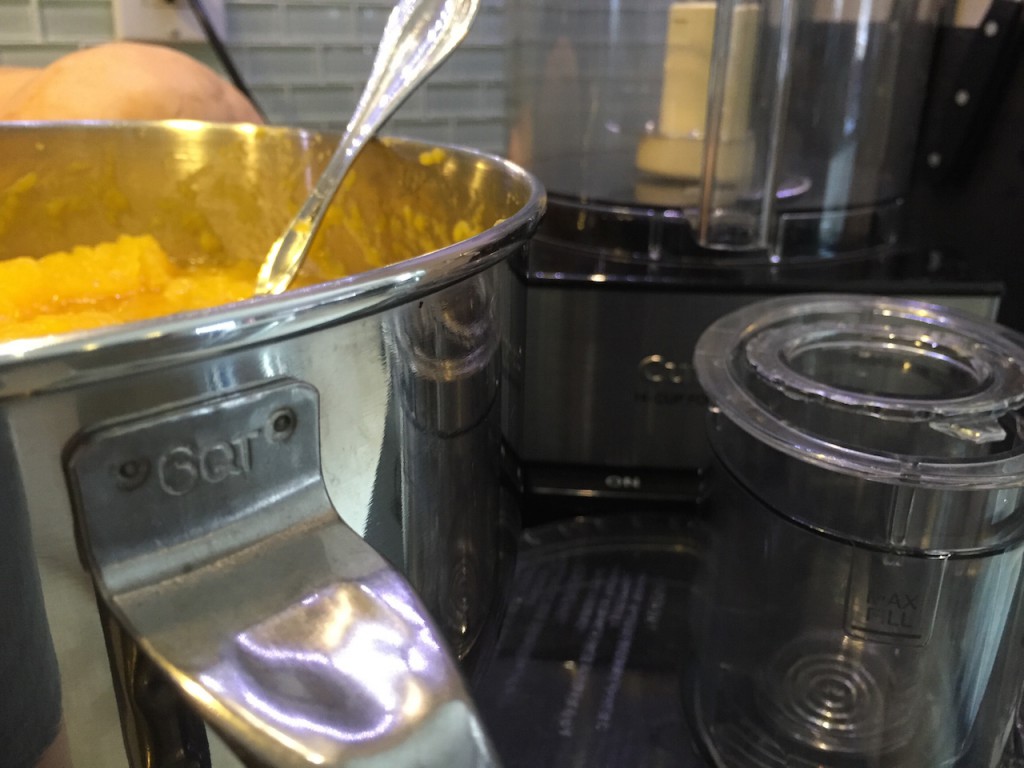 Step 8
Yes, that mixer bowl say '6 QT' – and it's full.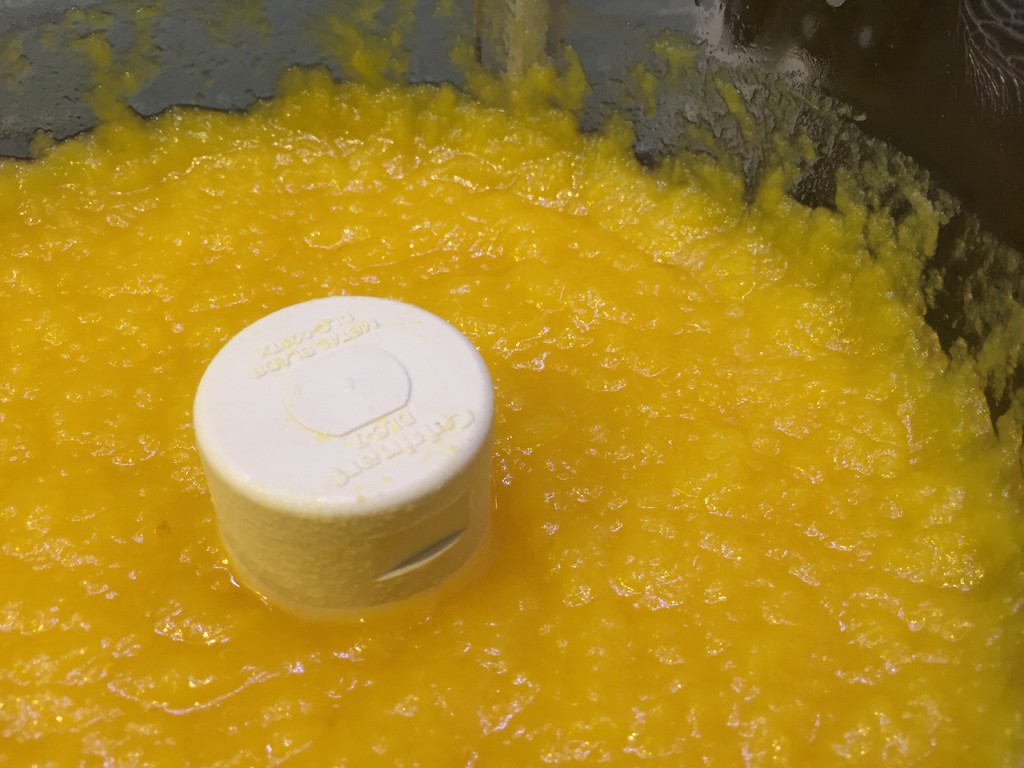 Step 9
Get it into the food processor and give it a spin. A few pulses and it's puree ! Just like the can,…only better. Yes, it's 'yellow', so is the can of 'organic' pumpkin. Libby's is a certain breed – tastes the same – bland and squashy. Perfect.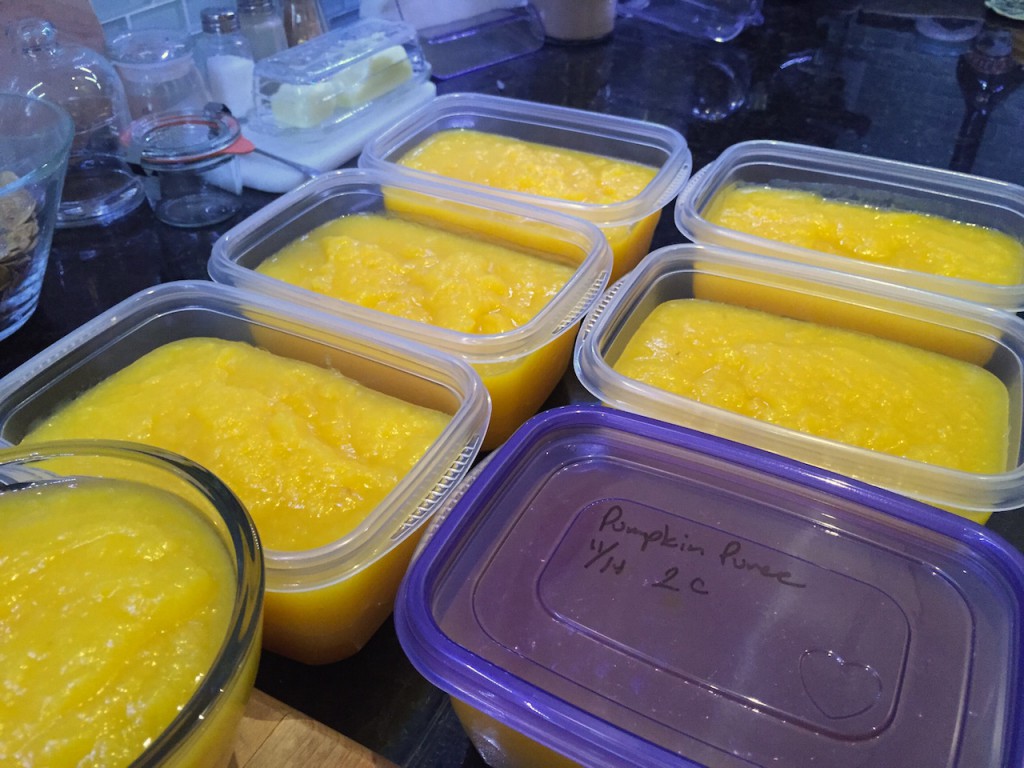 Finale:
I put mine into 2 cup portions (16oz.), which is more than what's in the cans. I got how many? 7 (probably more like 8 cans worth at 15oz each). How much is a can at your store? Here they run about $1.89, unless it's on sale…Amazon is WAY more. So, my $8.00 pumpkin helped feed the local economy at my LOCAL farm stand, looked fabulous over Halloween as decoration and then I'll be making it into muffins and, yes Pumpkin Roll for the Holiday season baking to come. What a deal !!!
This isn't about being all 'Martha' or being too cheap to buy it at the store. This is about not wasting food. This is the Thanksgiving Season – yeah, 'HalloThanksMas', I know. But honestly, these next couple of months are all about being thankful for everything we have through the year – from food to friends and family.
Don't waste any of them.