HEY! It's pumpkin season – you were warned! I am a self professed PSL junkie. That's a Pumpkin Spiced Latte, in 'Starbucks' lingo. Every year I wait, somewhat impatiently, for the local coffee house to come out with the annual PSL. No shopping trip South to the Big City is complete without a pit stop at the Starbucks drive-thru on the way out of town. It's so bad that when I place my order with an "I neeeeeed a grande, pumpkin spiced latte, skinny as you can…" the baristas will mess with me and say something completely crazy like, "Oh, we're all out." NOOOOOOOO! 'Just kidding, it'll be right up…$4.50 please.' Ouch, how much. Ok, ok, I did use the term 'junkie' earlier. Ugh.
I discovered I probably needed professional help with my obsession, when I purchased a bottle of a pumpkin spice latte syrup last season. It set me back,…wait for it,… $12.95 for 8oz. That liquid gold was like happiness and sugar & spice, and bunnies, and rainbows all rolled into one! Just thinking about making a PSL at home made me giddy. I greedily hid the bottle in the fridge after use (like anyone else in this house cares!), but one day it was gone. E M P T Y…. "What'd you mean it's 'seasonal'?!" I suppose, if we can have something everyday it's not special anymore. I mean, what's Christmas morning without the other 364 days of suspense? Ok, it's finally pumpkin season again…I'm a happy girl. Pumpkin cookies, pumpkin roll…and the ubiquitous PSL ! I'm amazed my skin isn't orange with an odd version of a Fall tan. Although, $12.95 for that bottle – I'm just sooo cheap. Wait, I saved the bottle (oh yeah, you know I did). I can make my own and it'll be PSL 's FOREVER!!! Ok, I'll settle down. Now go and get the following goodies and get thee to the stove.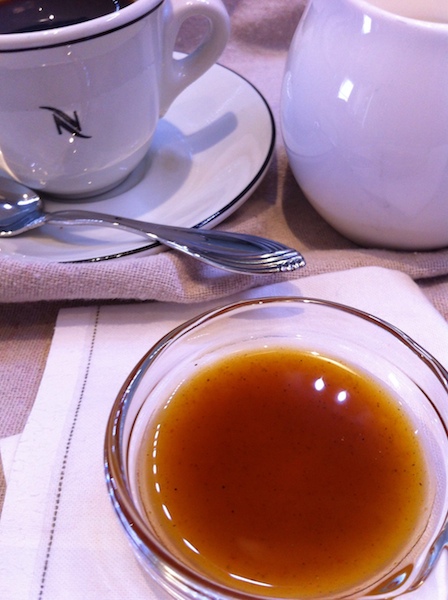 PSL Junkie Fix:
This makes a bit less than 8oz. That means it fits nicely into the bottle, and there's space to add creamer if you like. Also, this can easily go all-organic if you're into it.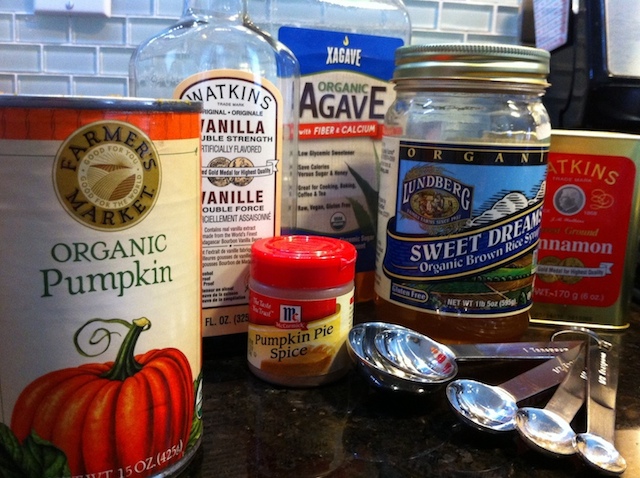 Step 1: In a small sauce pan combine the following.
1/4 Cup Agave Nectar
1 Tbl Brown Rice Syrup
1/2 tsp Vanilla
4 Tbl Pumpkin Puree (NOT that pie filling stuff)
1/4 tsp Pumpkin Pie Spice Mix
1/8 tsp Cinnamon
A dash of Fruit Fresh (aka Citric & Asorbic Acid to keep it from going brown too quick – optional)
3 Tbl (or 4) Water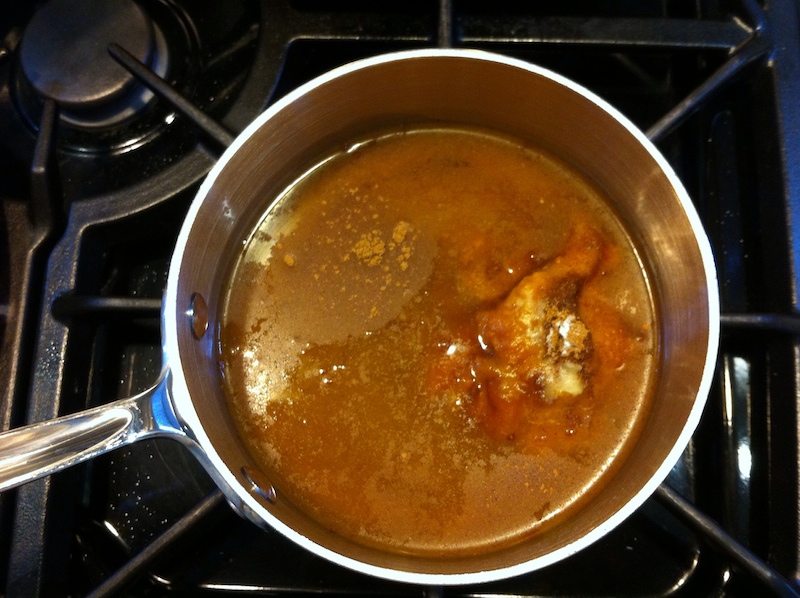 Step 2:
Bring this together over low heat to a simmer. I must admit, this isn't the most appetizing photo ever…now if you could smell this, you'd feel differently. Let it simmer for about 5 min or so to get the spices married to the pumpkin…love this kind of wedding!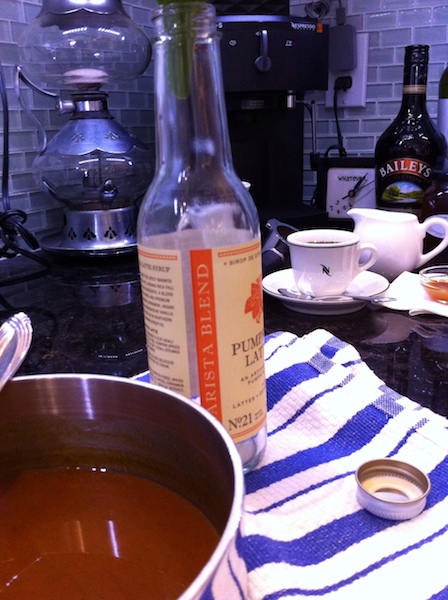 Step 3:
Let it cool and fire up that Nespresso machine (or your coffee pot – it's all good). I'm such a coffee nerd (not to be confused with 'coffee snob'). We actually have a corner of the kitchen devoted to our caffeinated vices. Yes, Bailey's + Coffee = Happy Mommy Saturday morning. OK, I digress, now go fill your bottle. You're done. (keep refrigerated please)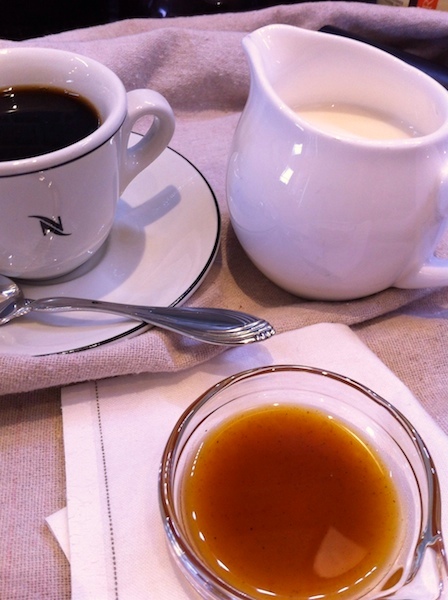 Give it a test – aren't you pleased with yourself!? It's sooooo good. Now, if you're going to use it only for coffees then feel free to mix in (to taste) either half & half, or some lo-fat evaporated milk. Me, I have to leave it the way it is because it's been found not only in coffee, but tea, and even drizzled over morning granola or a vanilla fro-yo! Did someone say PSL Smoothie?? Oh yes, my friends! Blend up some of that whey or soy whatever protein powder you add to your smoothies, along with some vanilla almond milk, ice and your new golden goodness – OMG! I told you I was a junkie. See, I wish I had other 'obsessions' that didn't involve food or paint strippers…It's no wonder I have to watch my weight constantly. You'll probably never hear me talk about my being obsessed with running a 5k…unless it gets me to Starbucks quicker. I'd need to work off those PSL's!
Enjoy!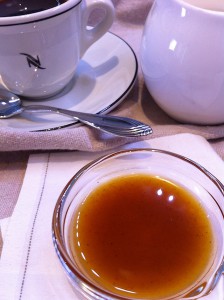 PSL (Junkie Fix) Syrup
2014-08-28 15:56:07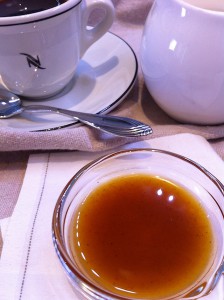 Pumpkin Spiced Latte's all year baby!
Ingredients
1/4 Cup Agave Nectar
1 Tbl Brown Rice Syrup
1/2 tsp Vanilla
4 Tbl Pumpkin Puree (NOT that pie filling stuff)
1/4 tsp Pumpkin Pie Spice Mix
1/8 tsp Cinnamon
A dash of Fruit Fresh (aka Citric & Asorbic Acid to keep it from going brown too quick - optional)
3 Tbl (or 4) Water
Instructions
Get it all into a sauce pan and simmer a few minutes.
Let it cool a bit and funnel into a bottle. - DONE !
Notes
Yes this is for coffee, but don't stop there. Add it to pancakes, muffins, icings, drizzle over frozen yogurt and ice cream too. Sky's the limit - enjoy.
BadZoot https://badzoot.com/