The Peaches are here, the peaches are here!! I've been waiting for 3 years for this little tree to have an actual harvest. All I can say is be careful what you wish for. Last year I got two or three little tasty peaches. Remember when I remarked about how pretty the blossoms were? They really were gorgeous. In fact, the tree itself is beautiful without fruit at all. Smooth reddish bark, lovely foliage during the summer. When the leaves do fall they're small and just blow away. Then it's a giant winter twig and suddenly there are flowers as pretty as any cherry tree. Well, I was wondering if each flower would actually turn into a piece of fruit – it did.
O M G !!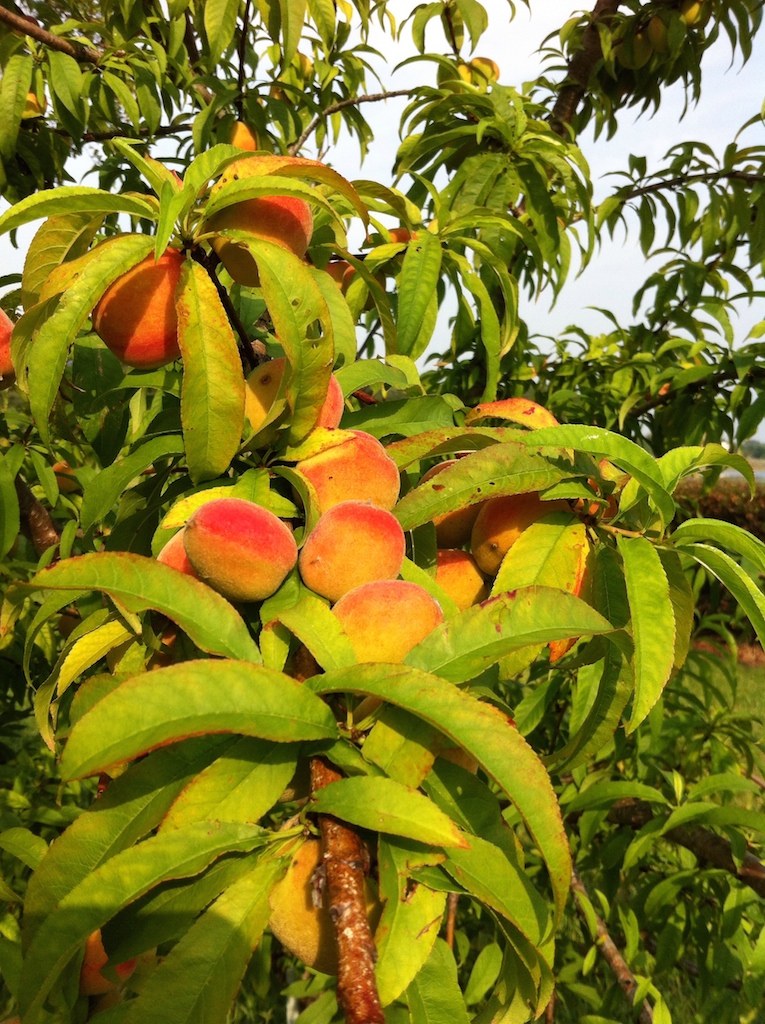 I don't mind that the crows made off with a few. At least they told me that they were finally ready. (for the most part)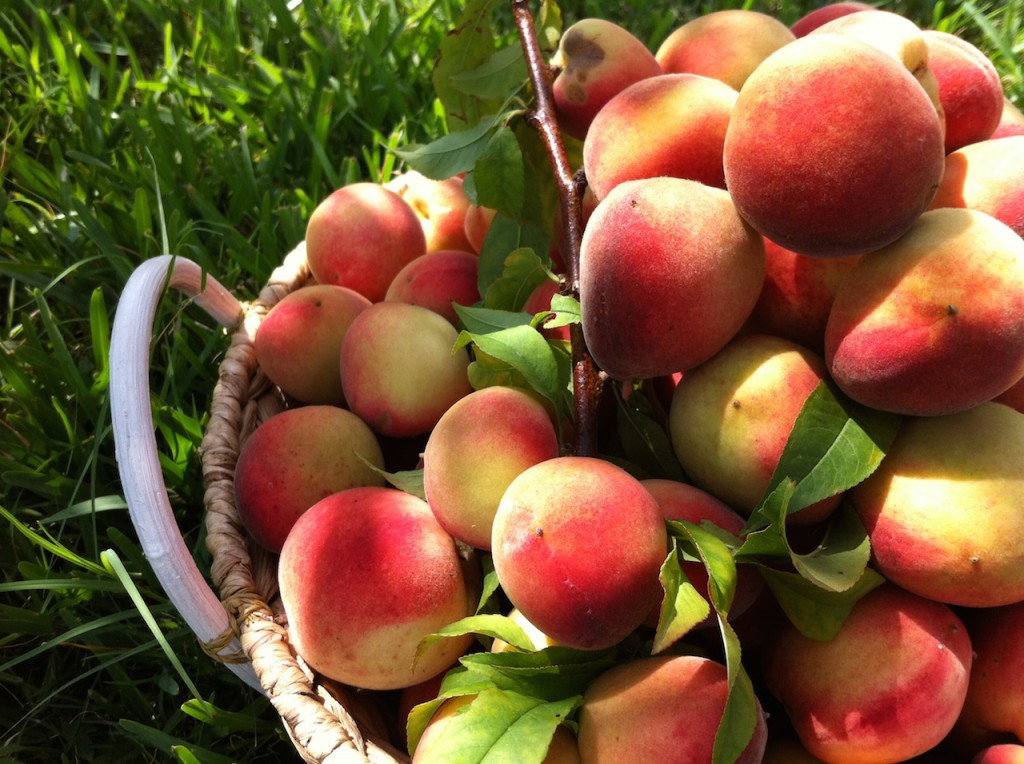 Shadow, the dog, came out to supervise the harvest. Once again she's puzzled about me eating that nasty, gushy, tennis ball. "I thought you were supposed to throw them for me!" YUCK Mom !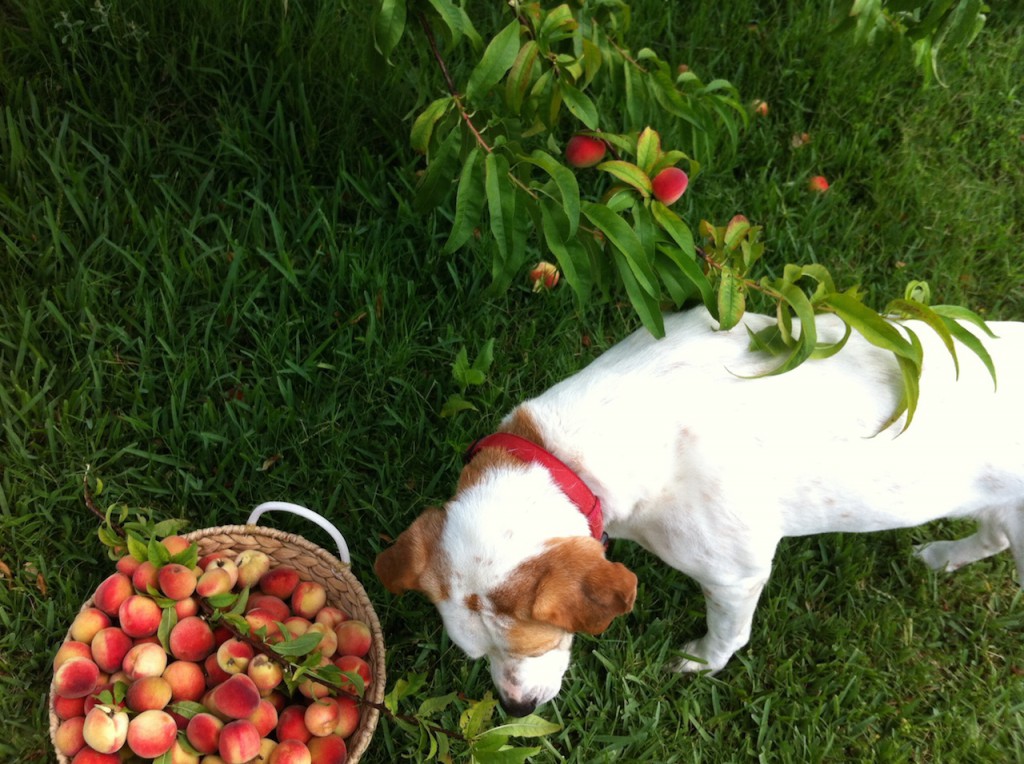 My little harvest basket was a bit anemic – another Ikea cheapie. Two trips to fill this basket and I haven't made a dent in the batch. What am I going to do with them ??! Oh, I'll think of something.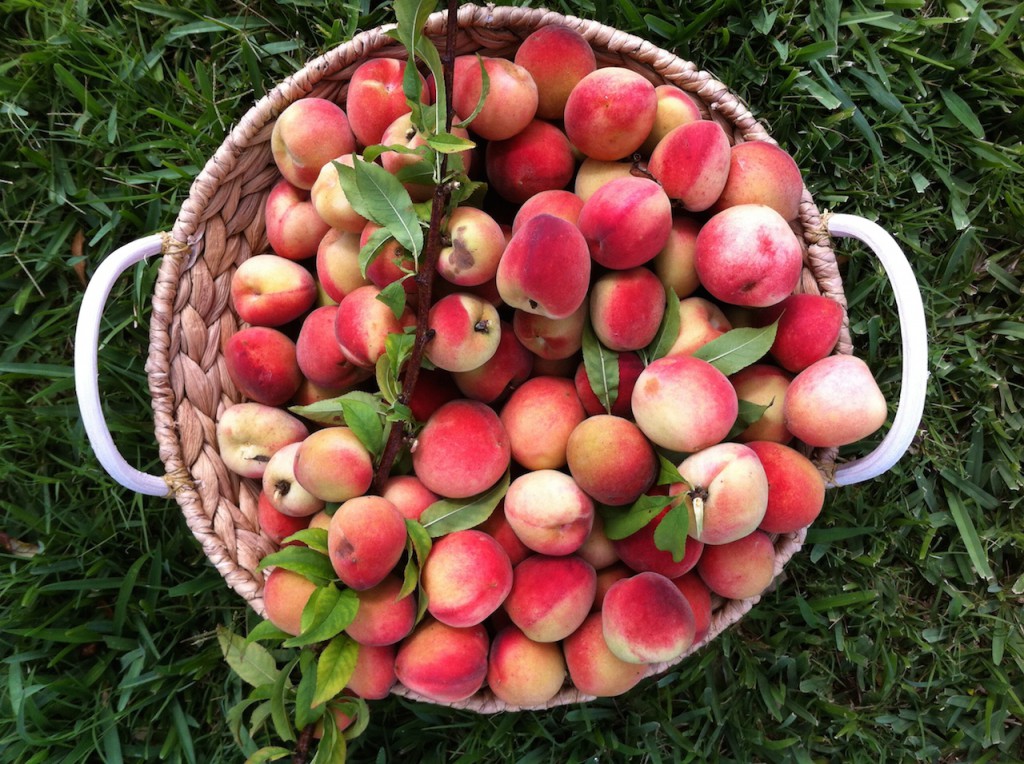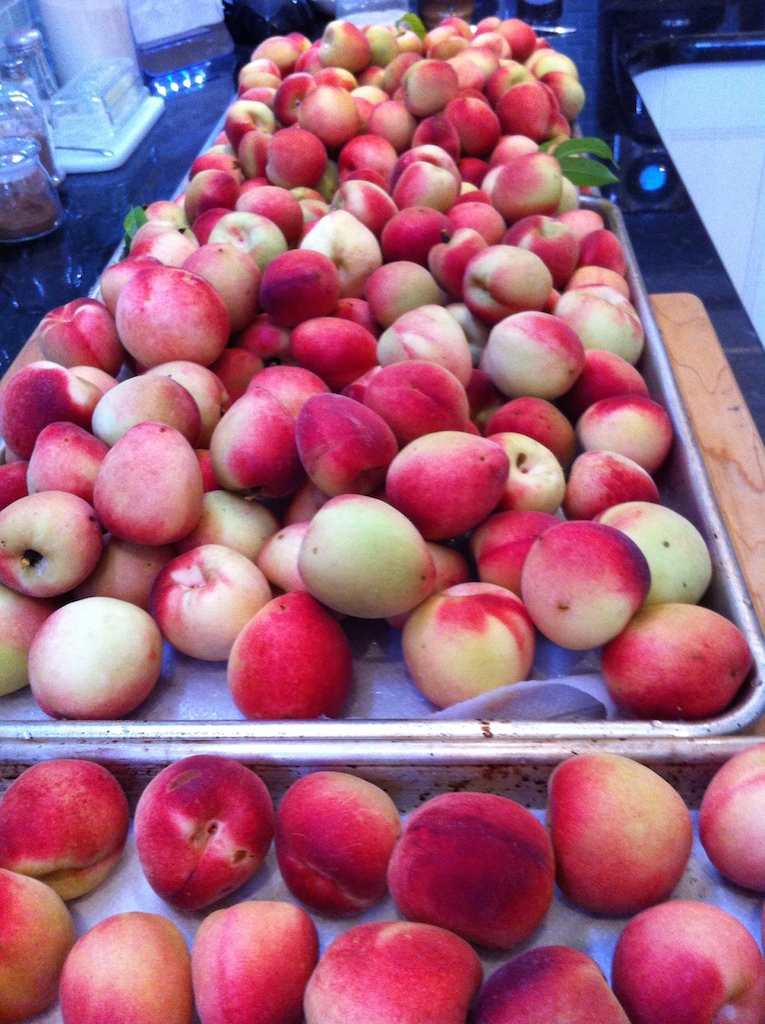 These are 'Tropic Snow' peaches. Small, free-stone, with white flesh. Some were not quite ripe. But they had to be picked, they were weighing down the tree. One of the branches had already snapped (thank you Mr. Crow). To accomplish this, I cleaned them all and laid them on paper towel lined cookie sheets, shoulder down. (the 'shoulder' is the top where the stem is) I then covered them with a cotton sheet. It's supposed to be linen, but I didn't have a piece that big handy. Honestly, I had to use a twin size sheet! I sat the pans of peaches on the guest bed and closed the door, nice and cool, and dark…and no guests. Three days later, they were ready.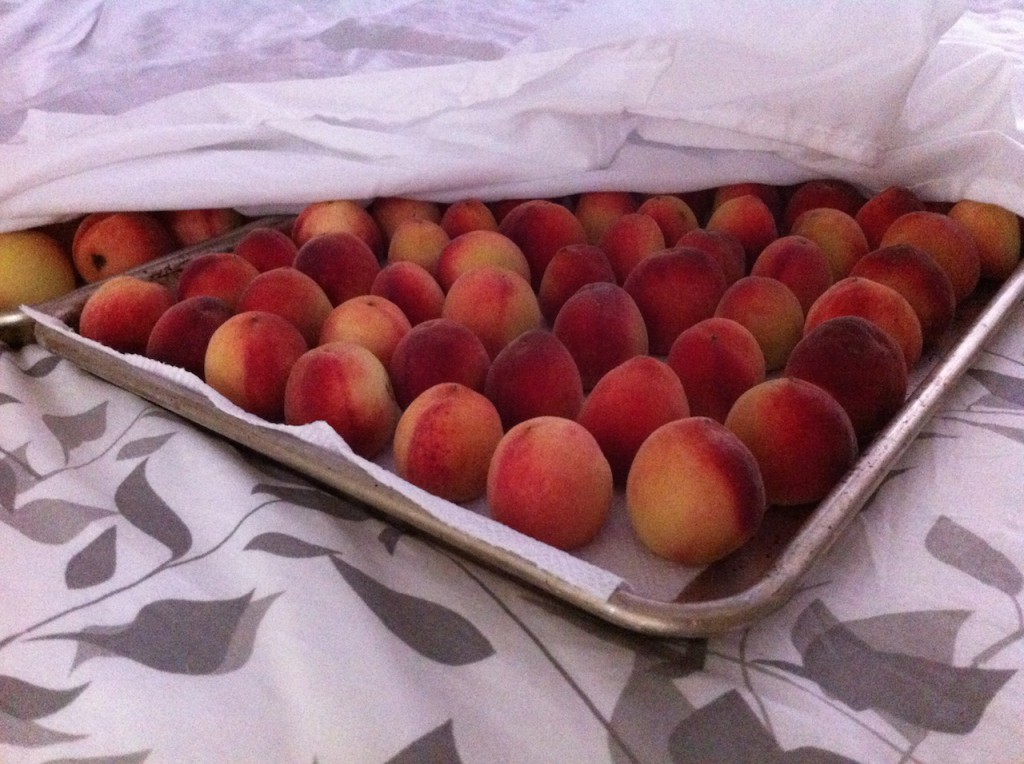 Yum! And I thought they smelled good before.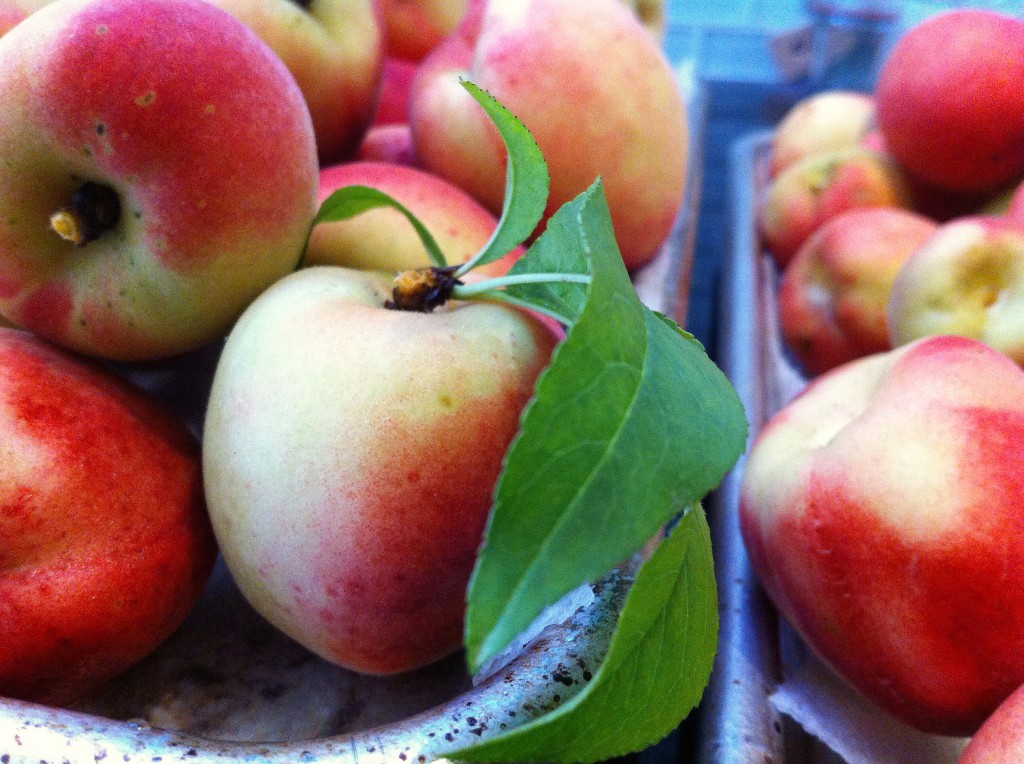 I took a few and cut them up, meanwhile, tossed with fresh lemon juice to keep them from browning. When I'd filled a tall Ball jar, I drizzled them with honey – put a lid on it and parked in the chill chest. Tomorrow, there'll be peach sauce for everything.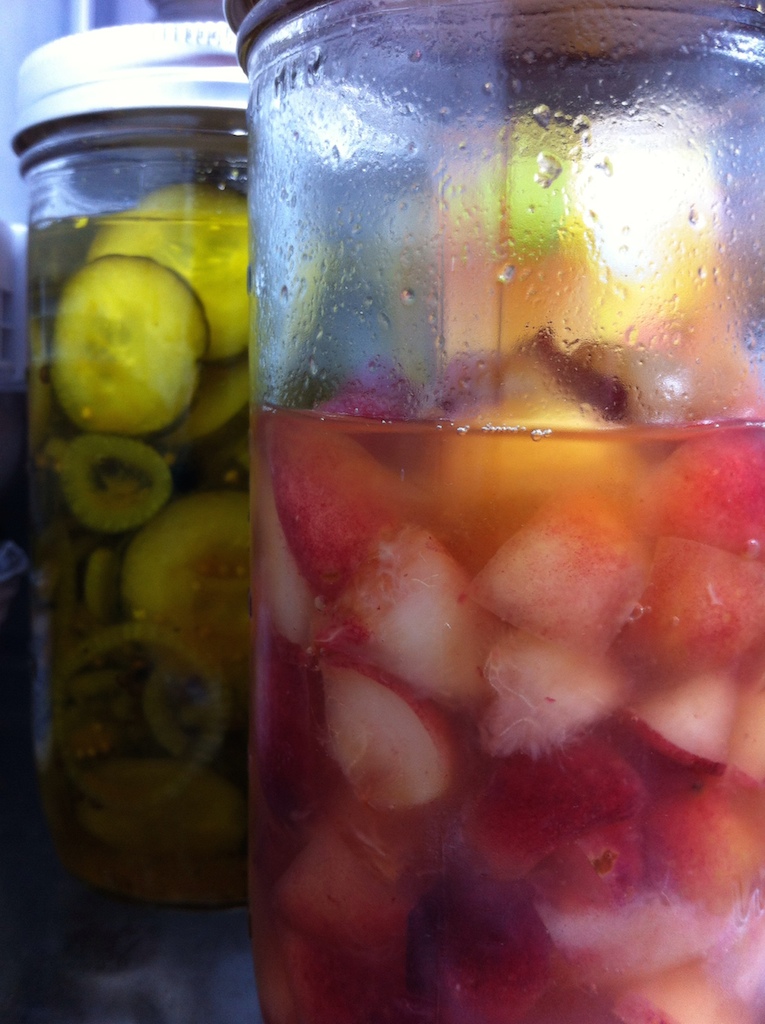 Hmm, my Aunt likes peaches – I'll have to bring her some. Maybe in a 5 gallon bucket !
So, the moral of this story is – plant a peach tree! They're beautiful and delicious!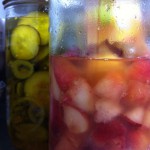 Honeyed Peaches
2014-06-13 07:04:26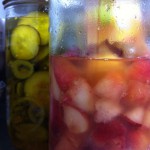 A healthy way to enjoy fresh peaches.
Ingredients
Fresh Peaches to fill a jar
1/2 a lemon worth of fresh lemon juice
1/4 cup Honey
Instructions
Wash and cut the peaches, enough to fill the jar. While chopping, stop and sprinkle with lemon juice to keep the fruit from browning. After the jar is full, drizzle over the honey and lid. Place in the fridge and give a light shake every now and then to stir around the juices as they release.
Notes
The volume will be decreased by about half as the fruit macerates. So, the yield is simply half of whatever volume you started with. Adjust the amount of honey as you like.
Great on frozen yogurt...and in a daiquiri !
BadZoot https://badzoot.com/