It's that time of year when I clean everything out. Everything from the file cabinet of old bill statements to the makeup drawer. Yes, I do actually throw stuff away. OK, maybe not the 2 year old tube of Chanel lipstick – no ! I love that color!! And I do actually clean out the fridge on more than an annual basis. Although, my husband used to refer to our 'reefer as 'Madame Currie's Cabinet' . . Why do they call those drawers 'crispers'? Nothing ever stayed crisp in them? For me it was 'the rotter'. Of course, that was when I worked 8 hours a day and had a 10 year old Whirlpool fridge. You know the one…side-by-side, almond painted, energy pig,…fully equipped with dual rotter bins!
These days I'm loving my (at the time we bought it) slightly pricey Samsung French-Door number. Thirty cubic feet and not a rotter to be had! But still, it needs going through in a big way after a cooking spree. You can't buy just a few sprigs of parsley, and heavy cream is no longer on the menu for my dieting ways. This is when I make a veggie broth. That half an onion and those carrots that are a bit dried on the ends, maybe those tiny garlic cloves that are in the center of the bulb – oh, you know I don't toss those either. All that can go in a stock pot. Guess what else, I discovered, can get tossed in there,…parmesan cheese rinds.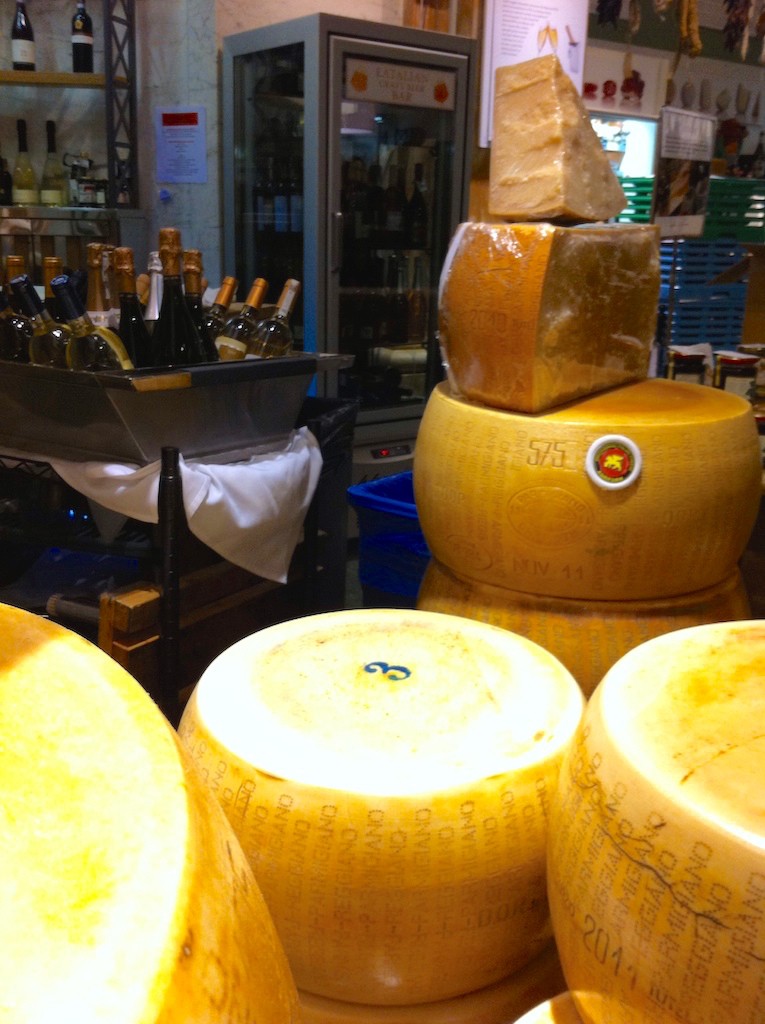 So, maybe not everyone shreds their own cheese. I do because it's cheaper and it's better cheese. I had bought a hunk of about a pound at my warehouse club and shredded it up. *This pic, was from the trip Will and I had taken to NYC. We made a stop at Mario Batali's 'Eataly' – wow, these were nearly incalculable sums of cheese! Will was like, "That's ALL cheese !?" (he loves cheese), of course all I saw were dollar signs,"OMG!"
I digress, back to MY cheese… I shredded it and kept the rinds because I'd seen a post from BonApetit about 'Parm Broth' – What!? I have a half a bunch of parsley left and some wilting thyme, as well as 2 halves of garlic bulbs (because I'd used the big cloves from the outsides of each bulb). Oh, yes,…clean out your rotter and follow me…
Parm Broth :
2 Tbl Olive Oil
1 Onion, peeled and quartered
1 head of garlic, halved crosswise
1 bunch of Thyme
1 Bay Leaf
3 or 4 sprigs of Parsley
1 tsp Black Peppercorns
1 Cup White Wine
8 Cups Water
1 Pound Parmesan Cheese rinds *
*Note: I almost NEVER have an entire pound of just the rinds. There was only about a half pound that I used. However, I did use an extra large, sweet onion to hopefully make up some of the flavor.
In a stock pot heat the olive oil, and then add the onion, garlic, thyme, parsley, and peppercorns. Brown them up, about 5 min. Yes, they'll stick to the pot – that's ok.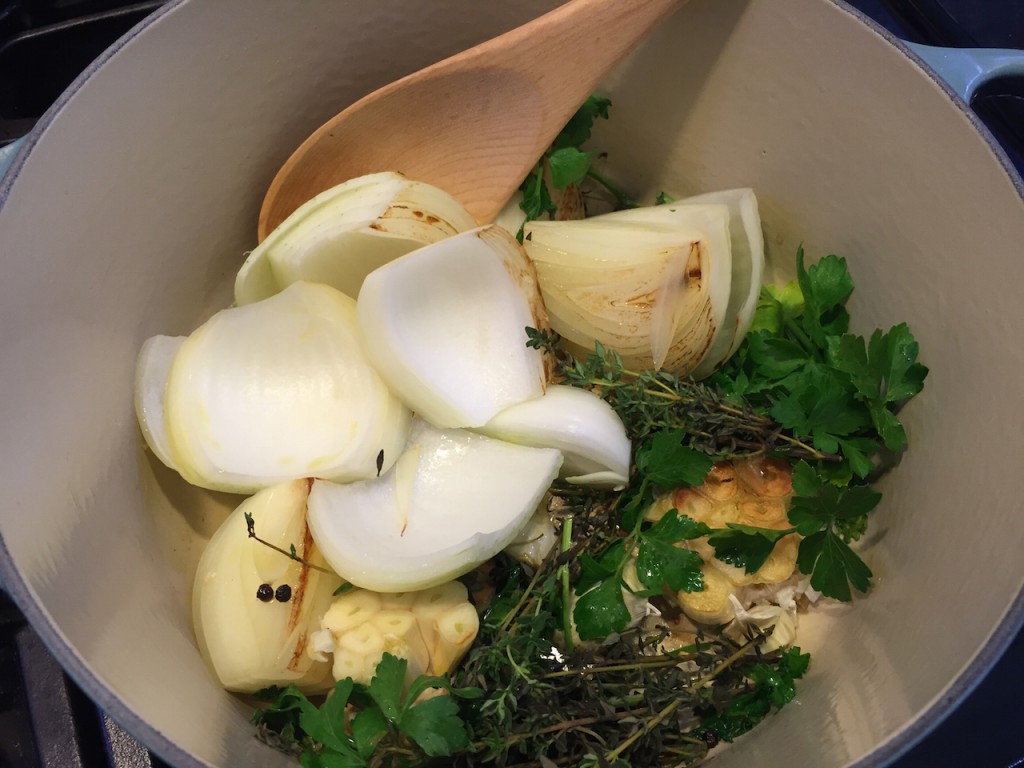 Add in the wine and scrape up the brown bits. This 'fond' will make the broth sing.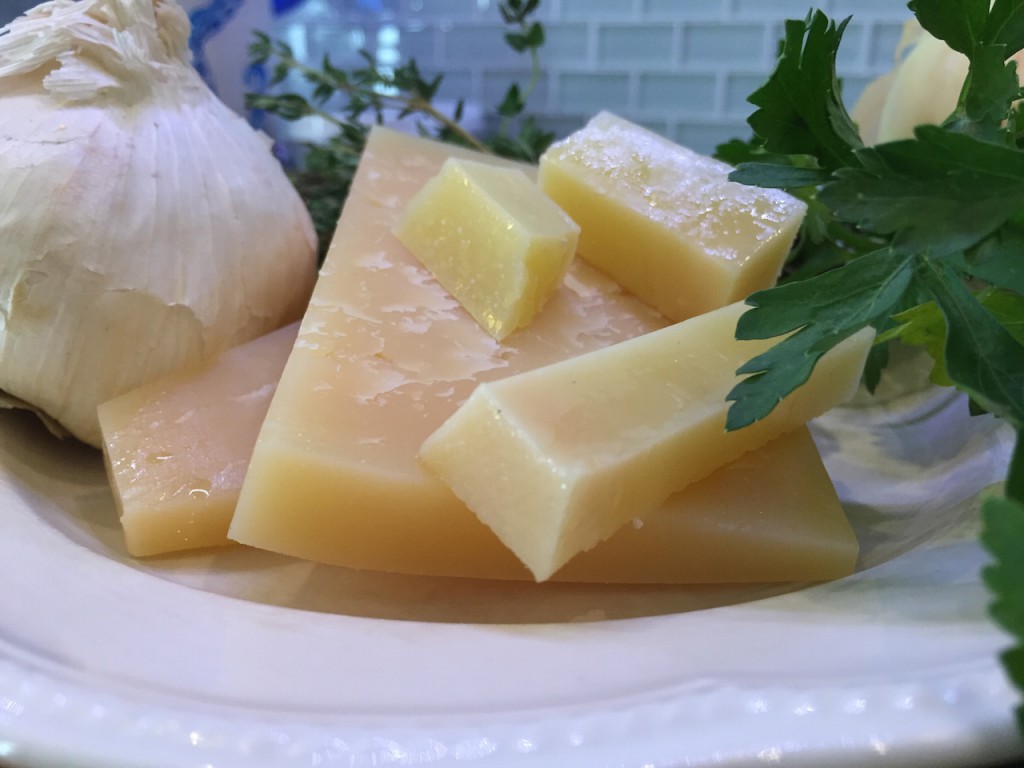 Now add about 8 cups of water and the cheese rinds. I didn't bother with a pic, since the cheese sinks to the bottom of the pot. Later, I consulted the site where I'd seen the post because I remembered their photos as being delicious looking. Why? Because they couldn't have follow the directions AND snapped pics! My parsley was so wilted and the thyme had given up it's little leaves long before the cheese got tossed in – food stylists – such a tease!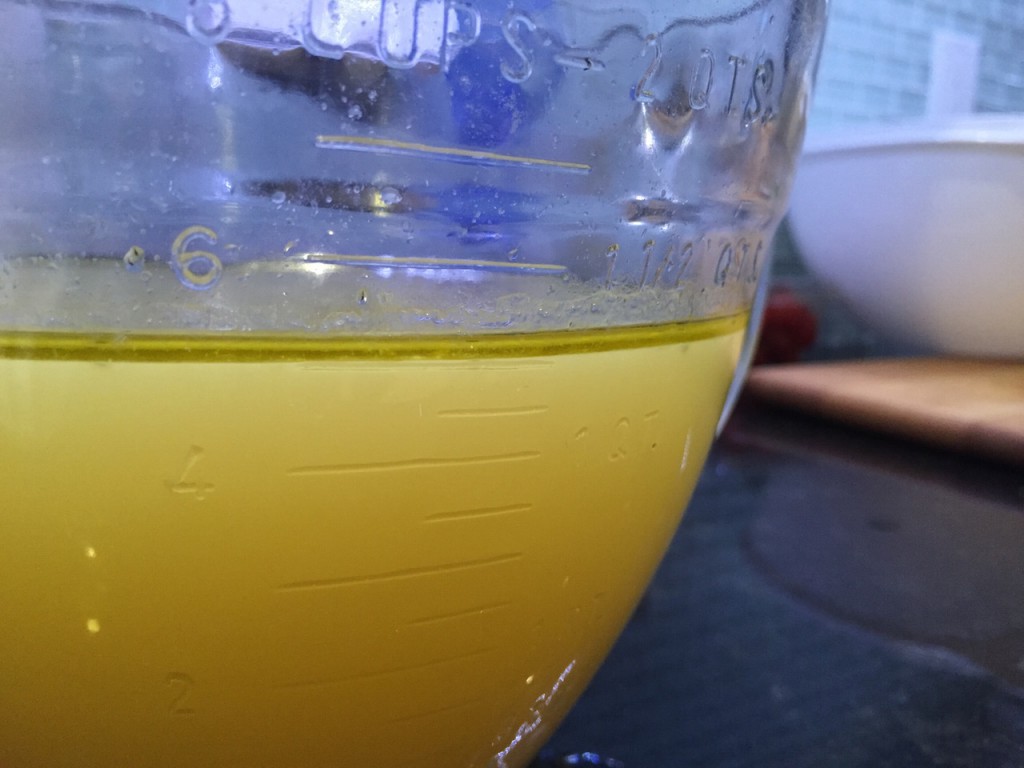 Let it simmer a couple of hours and strain off the aromatics. Wait until you see that rubbery mass that becomes of the cheese! Like something straight from a 50's sci-fi adventure!! Ewww… oh, no. I added a touch of salt and, as it sat the flavor changed. It blossomed.
So, go and clean out the fridge and make up a broth of whatever you've got! This is going to make an awesome risotto, don't you think?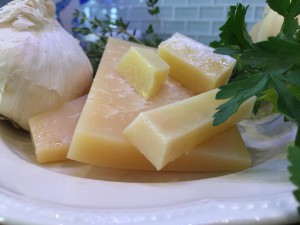 Parm Broth
2015-01-08 12:24:47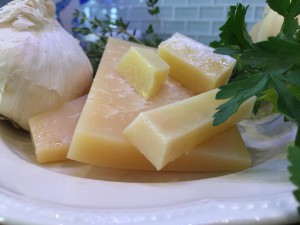 A rich broth from something you'd toss. Trash to treasure.
Ingredients
2 Tbl Olive Oil
1 Onion, peeled and quartered
1 head of Garlic, halved crosswise
1 bunch of Thyme
1 Bay Leaf
3 or 4 sprigs of Parsley
1 tsp Black Peppercorns
1 Cup White Wine
8 Cups Water
1 Pound Parmesan Cheese rinds *
Instructions
Brown the onion, garlic, parsley, bay and thyme in olive oil. Deglaze with the wine then add the water and cheese rinds.
Simmer for about 2 hours.
Strain the aromatics and you should have about 4 cups of delicious broth. Add a touch of salt if you feel a need.
*I only had 1/2 pound of rinds available, so I used an extra large sweet onion to make up - still very good.
Notes
Use this to make a monster risotto. Or change up your quinoa dish by using this instead of chicken broth. Either way - this is good eats!
Adapted from Bon Apetit
BadZoot https://badzoot.com/