The holiday break is over and the kids went back to school (yay!!!). I'm sure you remember those days and enjoyed reliving your adventures as they ask, "So, what did you do over the winter break?"
Well, for me, I helped paint a chair. Um, yeah. This is what happens when my little DIY buddy, Ms. Mia, and I have too much time on our hands. A while back she'd come to me with a vague request of "You know I'm tired of my pink walls,…" I don't think she thought I'd say, well ok, then let's paint 'em! But that's another post. During our little decorating drama, she'd said she was going to toss that old wing-back chair. NO! Never give up on a piece of furniture! OK, so we didn't have the cash to re-upholster it, but those divas at Pinterest had a great idea I'd seen – painting upholstery! What!!?? Oh, yeah baby! I looked around and there were many posts about it. I liked this one, http://www.hypheninteriors.com So, it's not some anomaly that one person did and reposted it,…this was an actual project. Let's go!
First: Find 'the chair'. In this instance, the chair was old, and looked like it'd been in storage for way too long…pet fur covered cushion, dirt on the legs (which, if I'm honest looked like sand splatter…as in left-out-in-the-rain). So, this wasn't a high-end piece we were tearing up. Speaking of tearing up, amazingly, there wasn't one rip in the fabric! Perfect!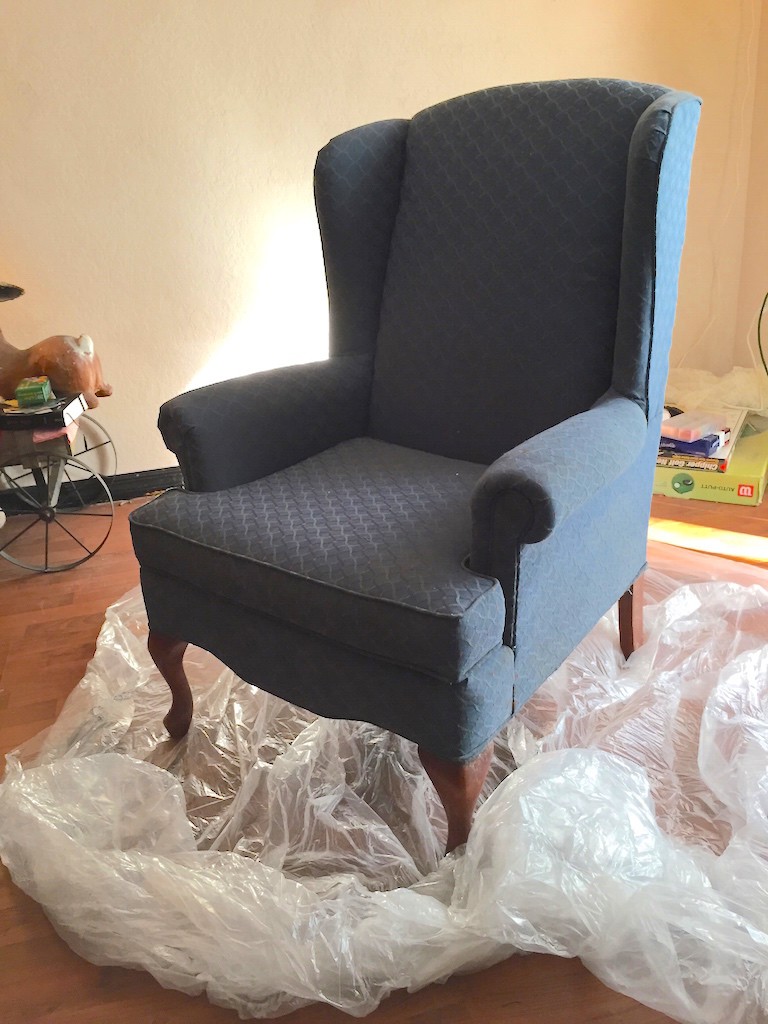 Next up: The materials. Pretty simple: Latex paint, water, and fabric medium. Fabric medium is what t-shirt painters and fabric artists use to mix with their paint to make it bond to the textile without being a layer of plastic (which is what acrylic/latex really is).
So, after we selected the color Behr Ultra 'Spice Wine', we discovered that Pantones Color of the Year 2015 is 'Marsala' ! Wow – we are so ahead of the curve!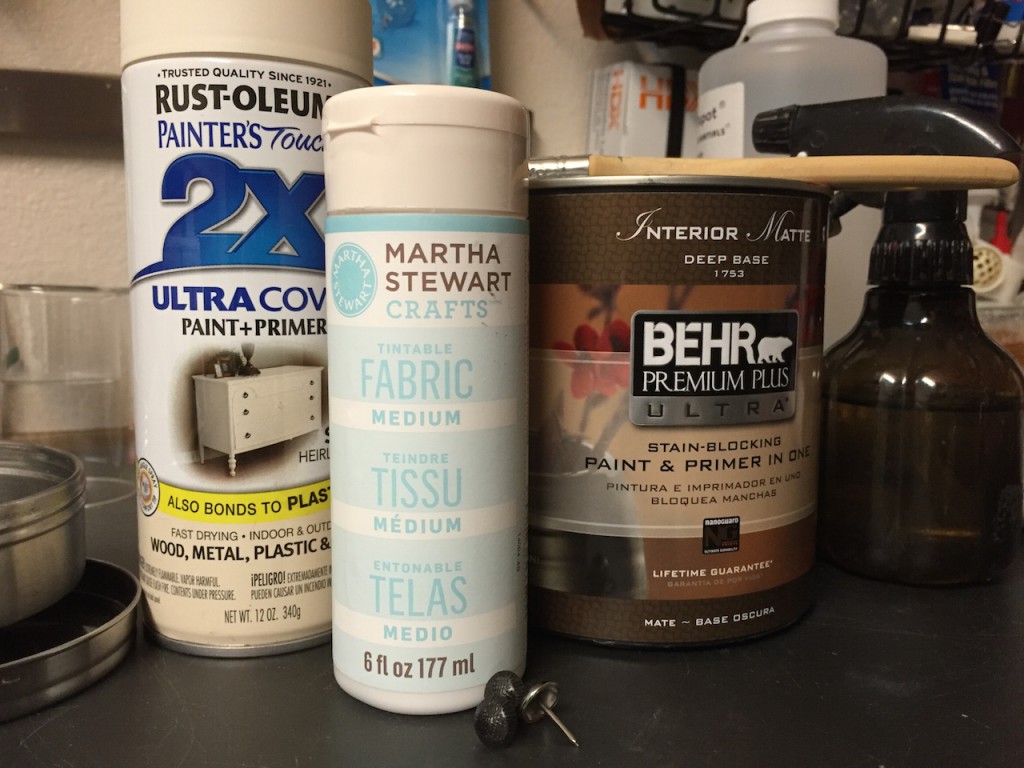 Ok, enough of that – now find the fabric medium. I advise ordering it online. I cleaned out my Jo-Anns of these tiny bottles and then found a Martha Stewart version at Michael's, but not enough for the whole project. To keep the consistency, I used the little bottles first because they get cut with water and will go further. Besides, I thought Martha's product was maybe a better quality and saved it for the final coat.
But as with any project remember : measure twice and cut once. (that goes for paint too)
Now, prep the patient : Clean up the chair.
Mix : Latex Paint and Fabric Medium in a 1:1 ratio.
Then Mix THAT with water. 1 part Water to 2 parts Paint Mix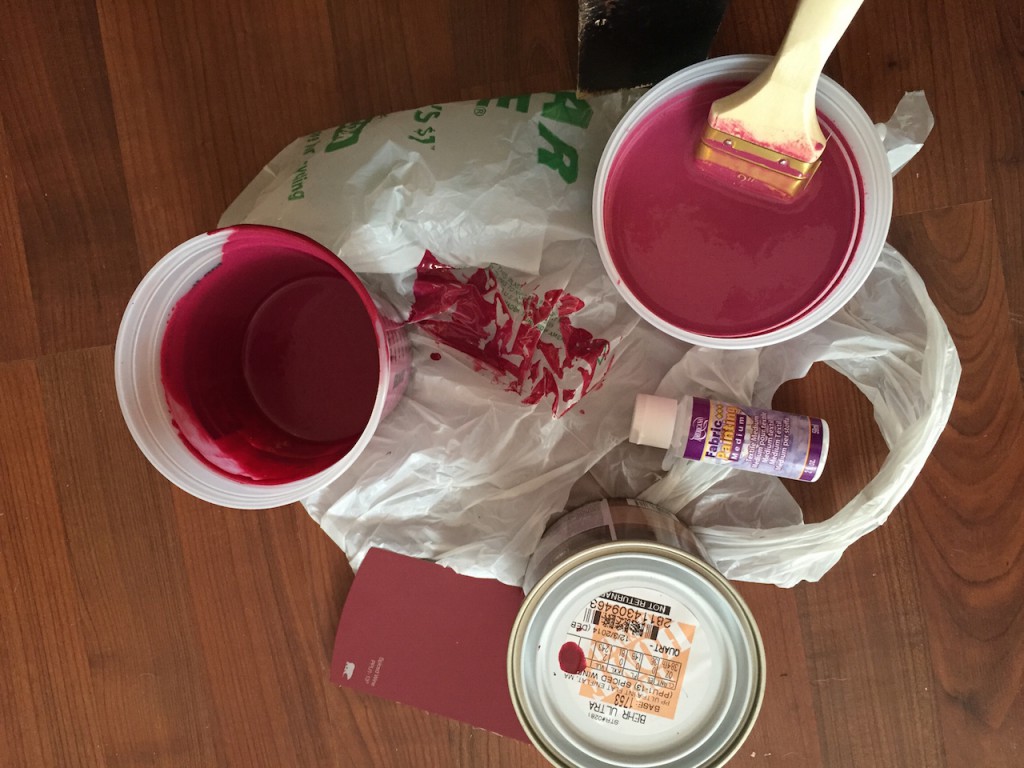 This is not a pretty color. It's sort of milky. Notice I did not give you a recipe to follow. That's because I've got no idea if you're doing an ottoman or a sofa (yes, they've done that too – check out Mon Petit Studio OMG I love it !). So, use what you will…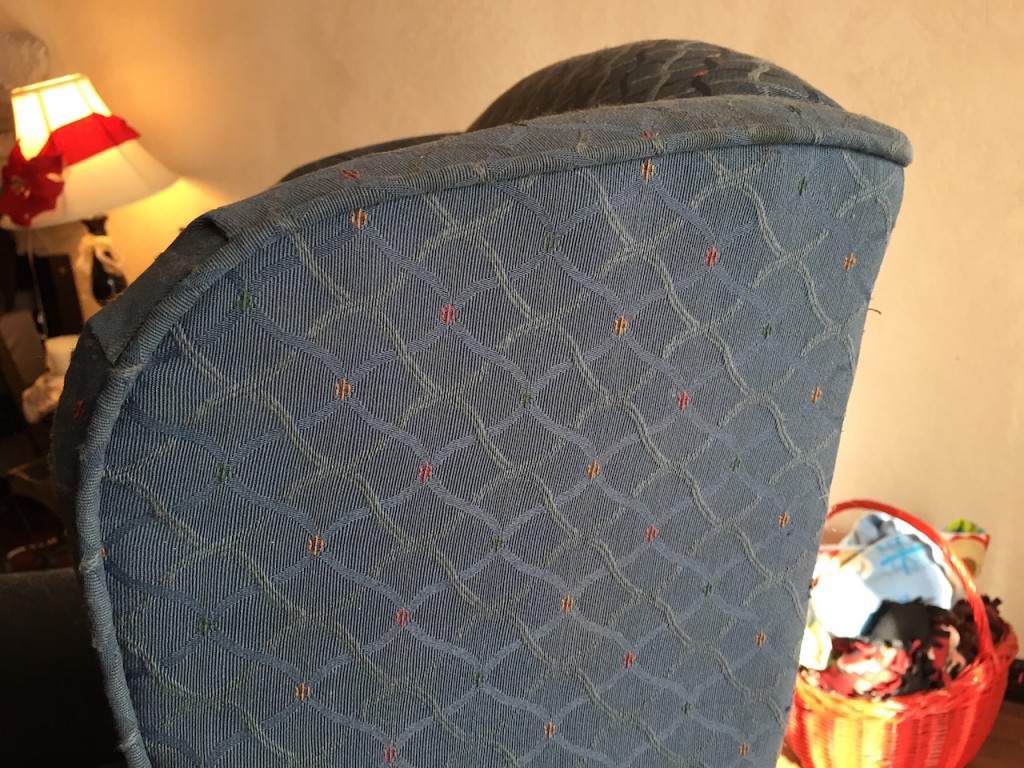 Step 1
Get a chip brush and brush on the thinned mix you made up. Make sure you get in the nooks and crannies. Yes, this will look like you spilled a big bottle of pep on it…that's ok. It'll dry as a transparent color. You'll see.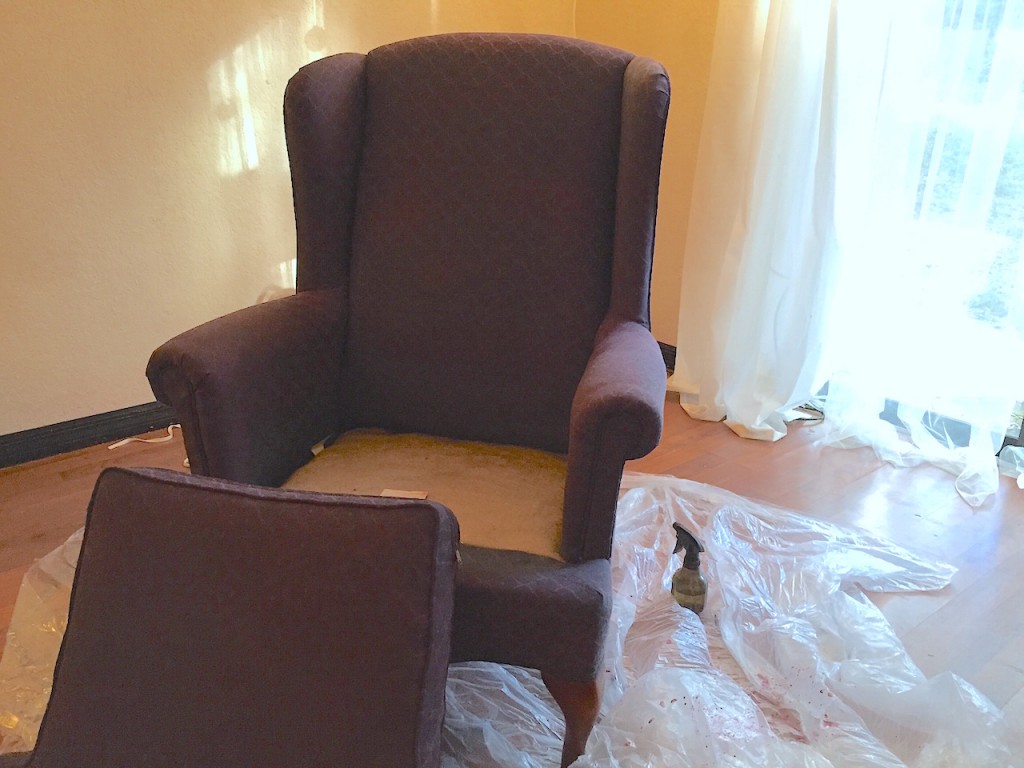 Look at the difference.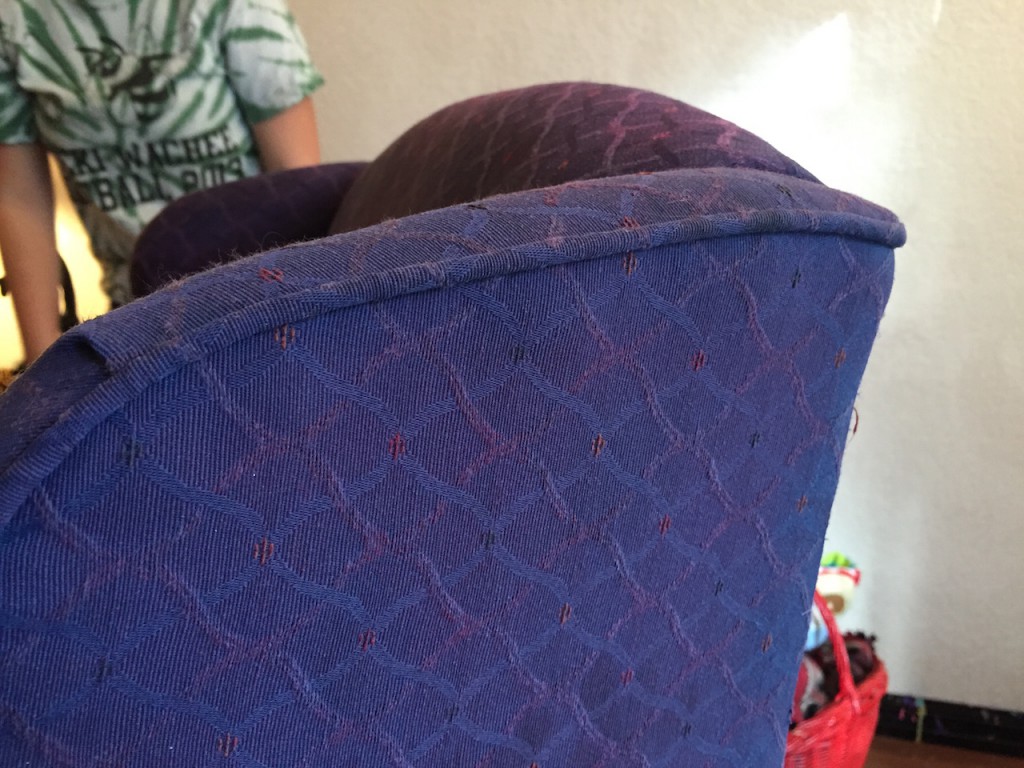 Step 2
Let it dry overnight. And then give it another coat with the same watered down mixture.
Step 3
Yes, even after 2 coats, it's a bit streaky and unattractive. Wait – stay with me!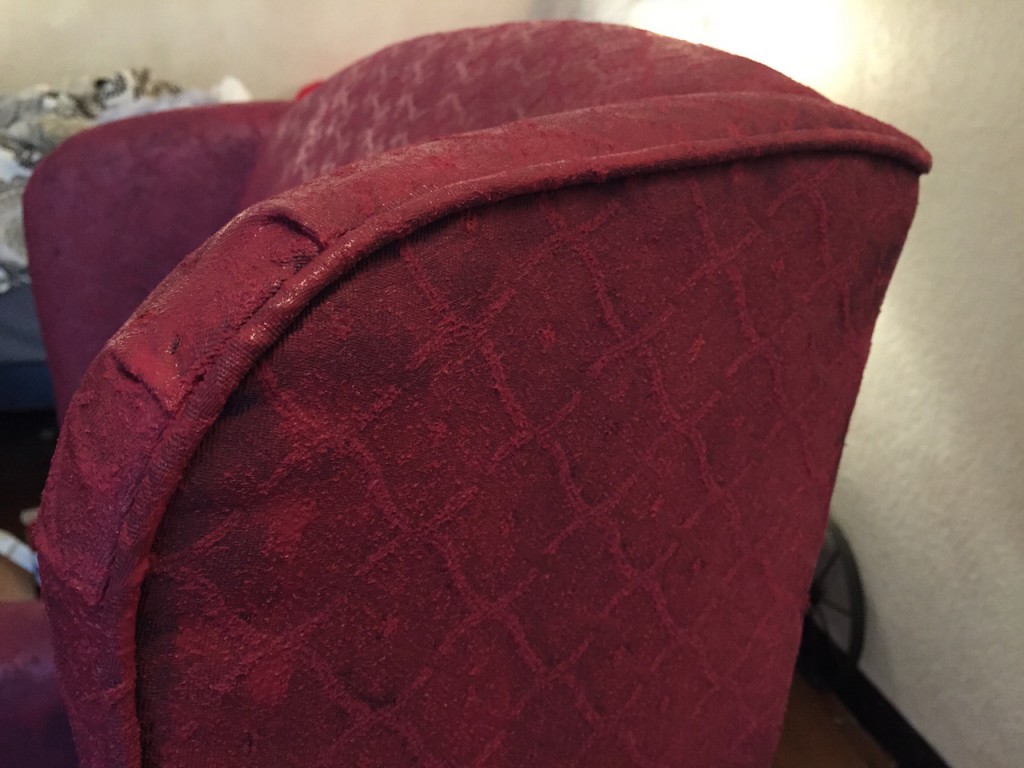 Step 4
Which is actually paint coat number 3. This is your final coat (should be anyway). Mix up more paint and fabric medium in a 1 :1 ratio. Brush it on just as before. Let it sit overnight to dry as well.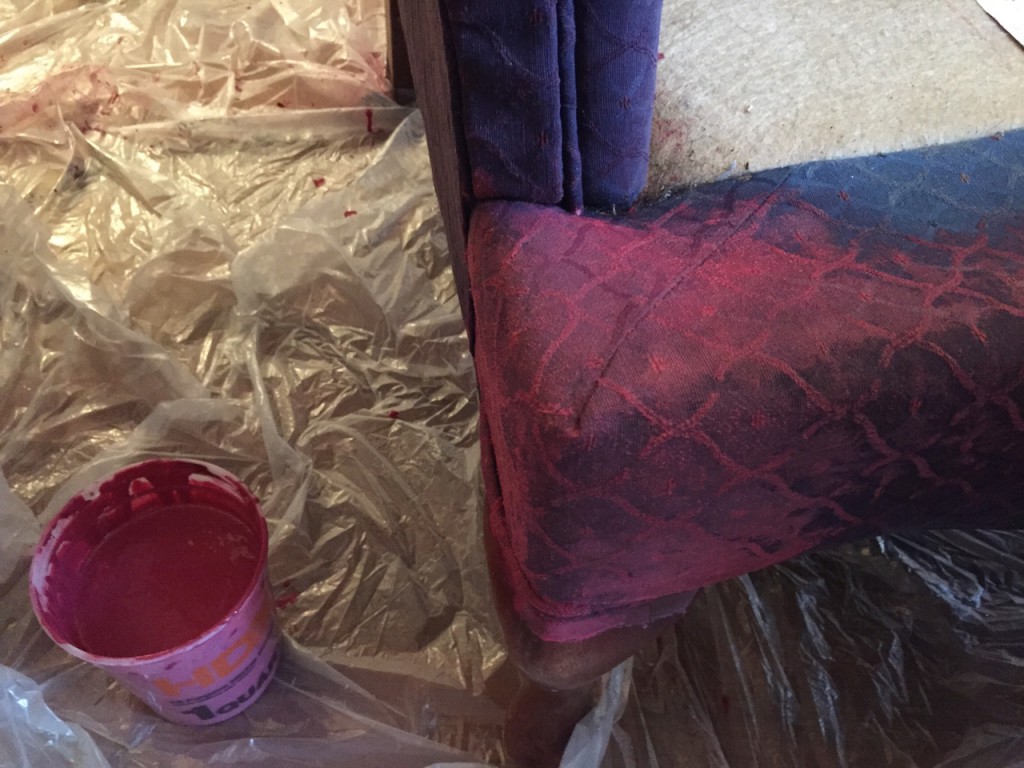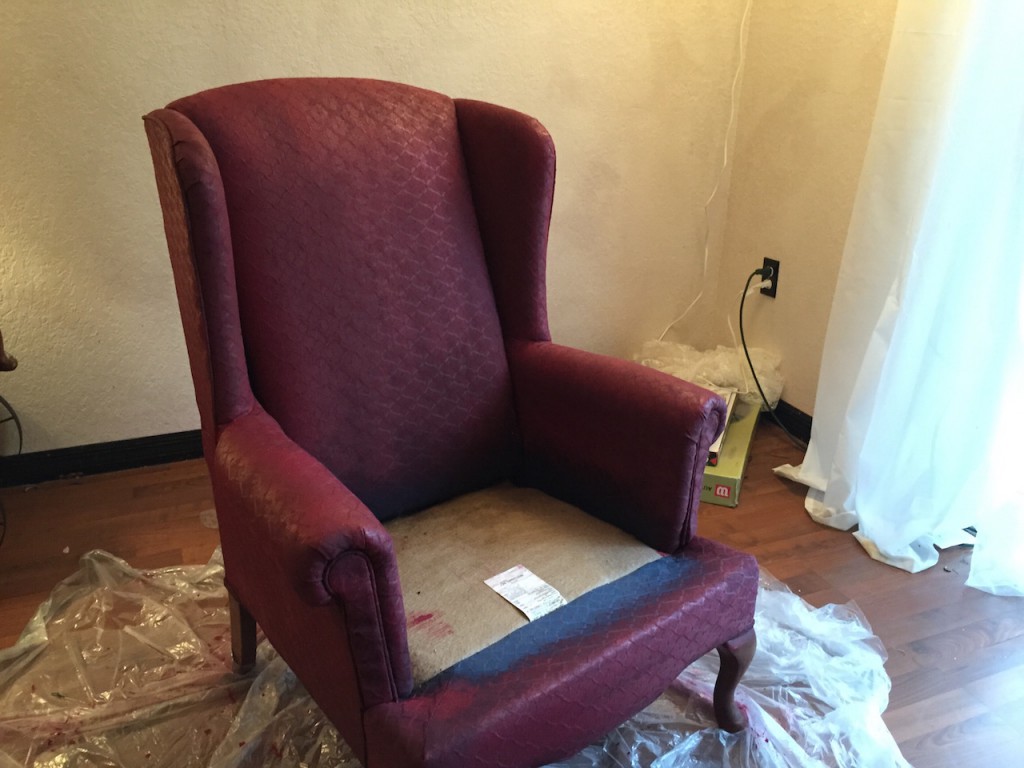 Finale:
When I came back, we drug the chair outside and spray painted it's legs and tapped in some silvery upholstery tacks around the arms.
Wow – is that the same chair?!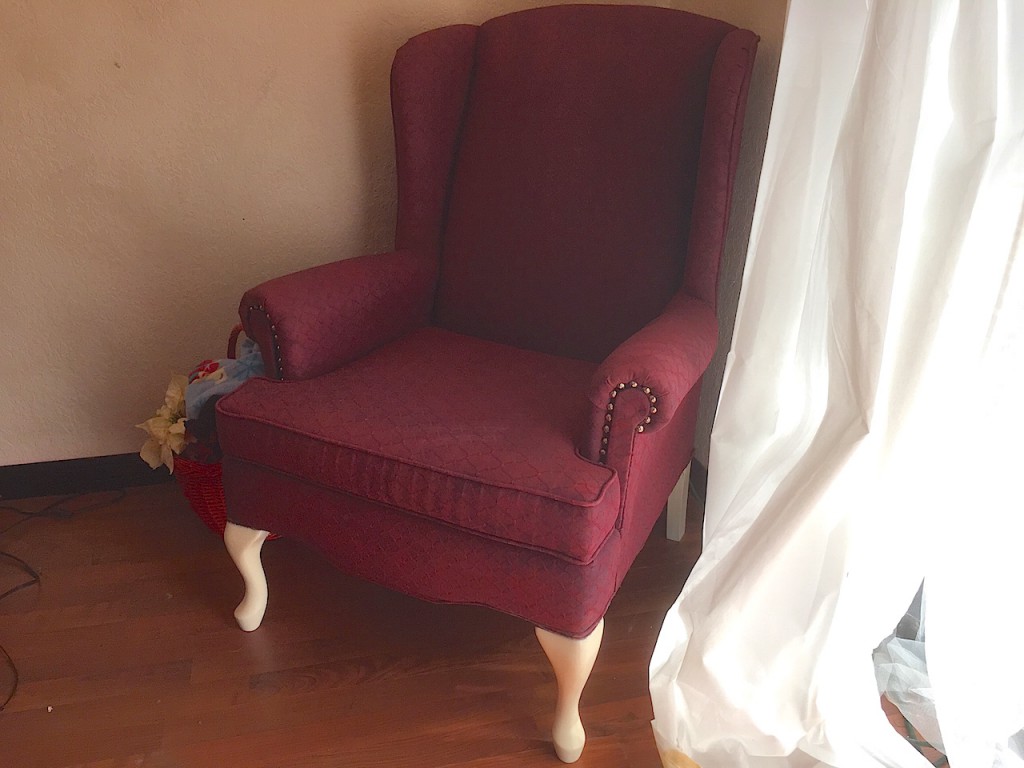 I can't believe this worked ! Yeah, the edges need a touch up, but I've got some leftover paint for that. Even in bad light, it's a stunning transformation. Remember?….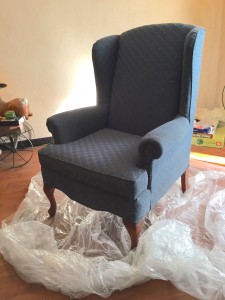 The fabric never was especially soft, and now it has a slightly different feel to it. Not bad, just different. I know you're going to go out on the worl-wide-web and see that there's spray paint made especially for upholstery. Yes, and it works…but wait until you see what it costs. Then you have to factor in that the cans don't go nearly as far as one thinks. Oh, what did this project cost? Um, maybe $20. Yes, the latex paint was the most expensive thing – and I've got half of it left for something else later. The tacks – $3.20, and you know I got all that fabric medium with 50% off coupons – oh yes I did !
It's perfect to sit in the corner with a sweet pillow on it. Or just a pleasant place to read. No, it isn't itchy and the color doesn't rub off. I'm so happy this worked out,…because I'd be extremely irritated if it didn't ! (damn you Pinterest !) Nah – I'm loving Pinterest as always!