Newsflash : My sister raises pigs. Yes, pigs. Yes, she has a day-job because these, high maintenance pigs take so much care and cash that she has to work to support her swine-habit. These days she raises them almost exclusively for Chef Baker at The Refinery, and his new restaurant, Fodder & Shine. One of the perks to her pigs is being included in foodie events. She, herself, is not much of an 'event' person. A few days ago she emailed me because she needed a date for this 'Outstanding in the Field' thing she wanted to go to,…but not alone. Well, ok.
So, off I go…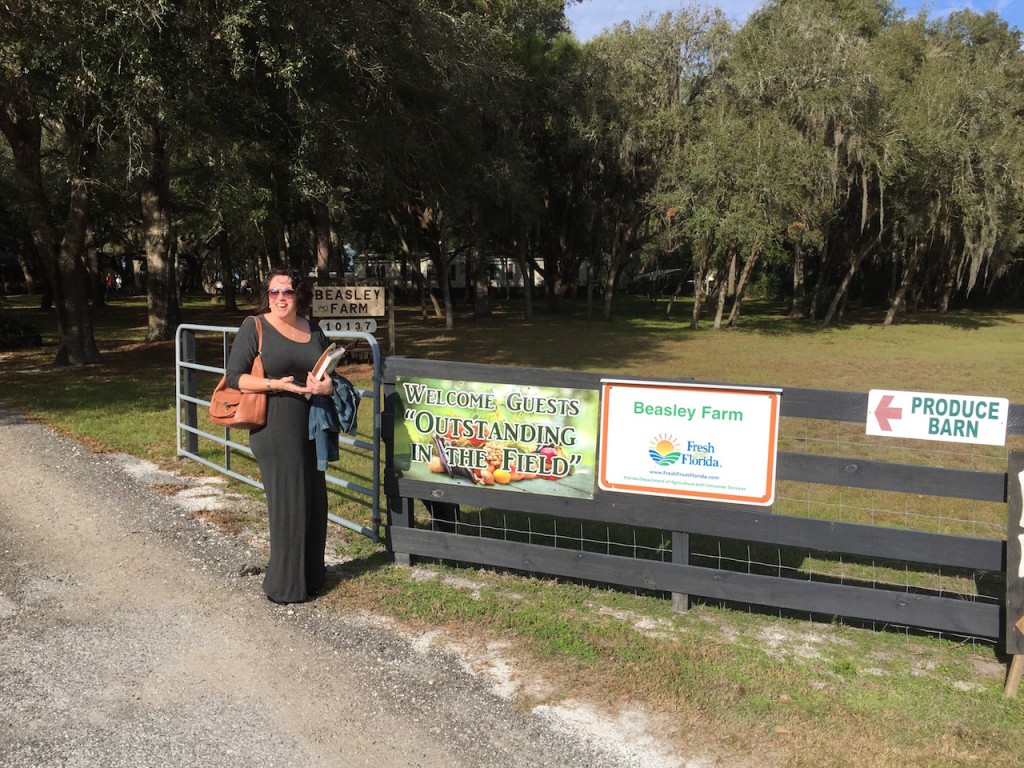 I know the Beasley Farm, as I buy from their stand at the local Farmers Market often. Apparently, they sell to Chef Baker as well. And, like Rebecca, opt to do it exclusively. Why? Because Chef knows about farmers, he calls Beasely's and asks them what's available or what looks exceptionally good that week. Proteins (meats) have to be planned for months in advance – meaning pork. Chef gets it – and the suppliers are there for him. In return, this symbiotic relationship goes forward to include representing their crafts together at various functions. That's why she ends up with these 911-Wardrobe emergency calls to me. This time I got to go along – I'm glad I did.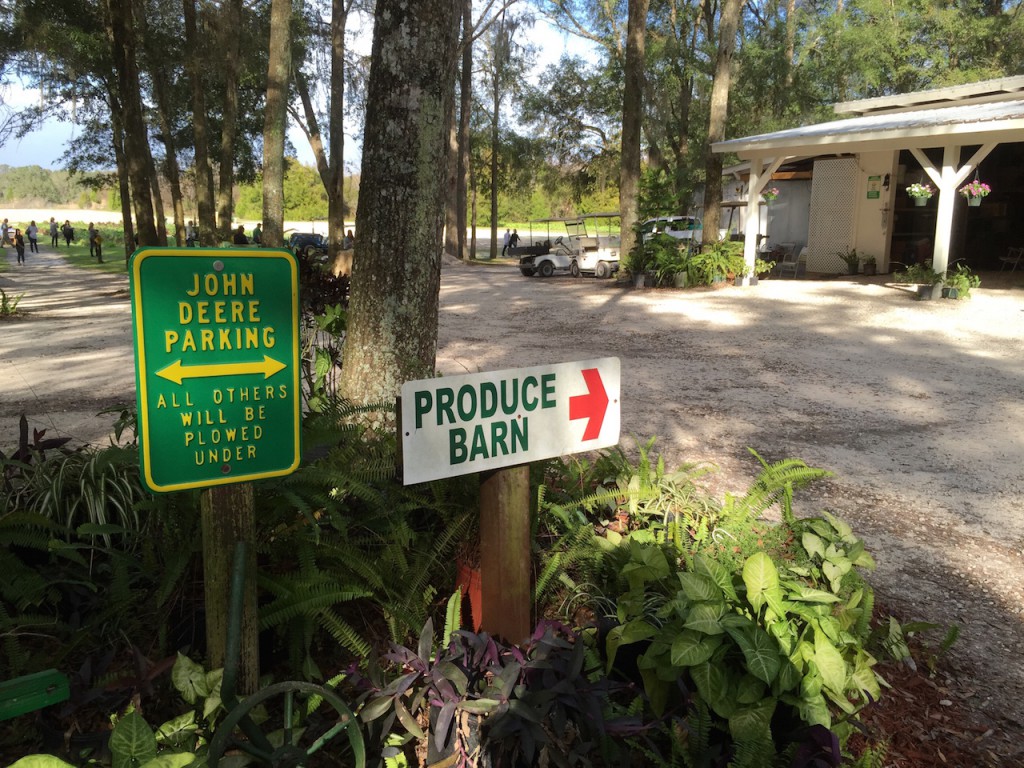 Outstanding in the Field is one of those 'events' you see on Food Network. Their mission (business) is to connect people to the land where the food actually comes from. The perfect setting for a unique dining experience. This is no bar-b-que hoe-down, or standard catered affair. And these are not your average country party guests.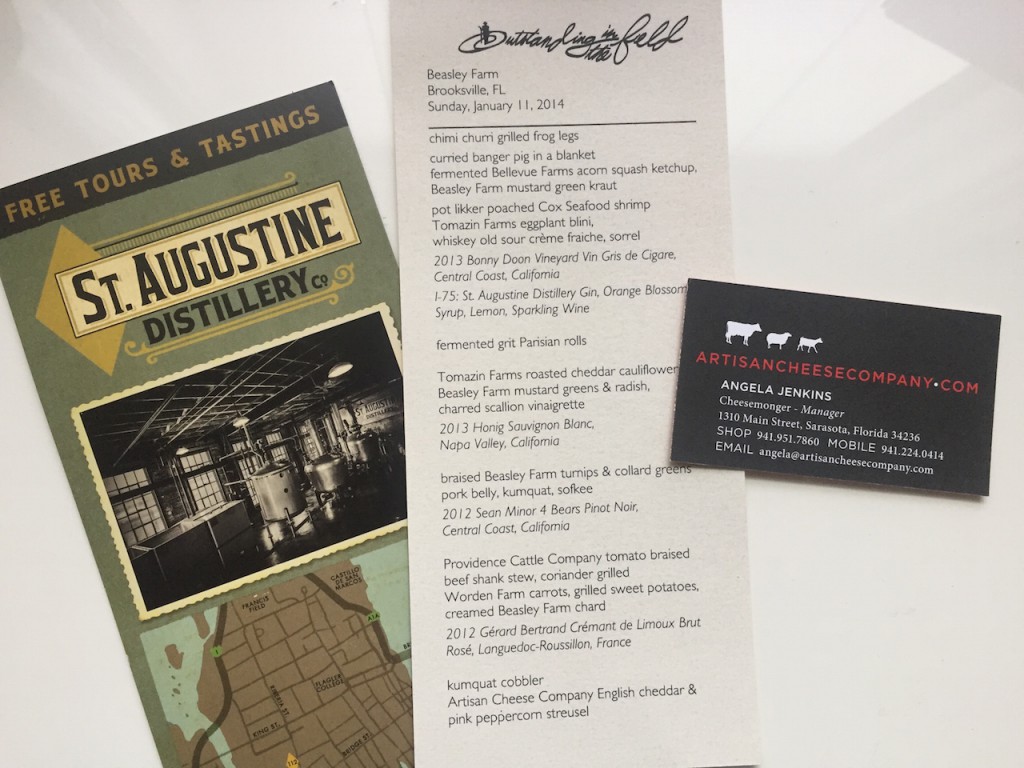 I like to think that my years of appreciating the arts has helped me to develop a certain level of class, or at least, level of intelligence that makes people of class (or money,…and that's not always one in the same) tolerate me. Even I was now operating on the fringes of my social skill set.
That's ok, I can run with these dogs.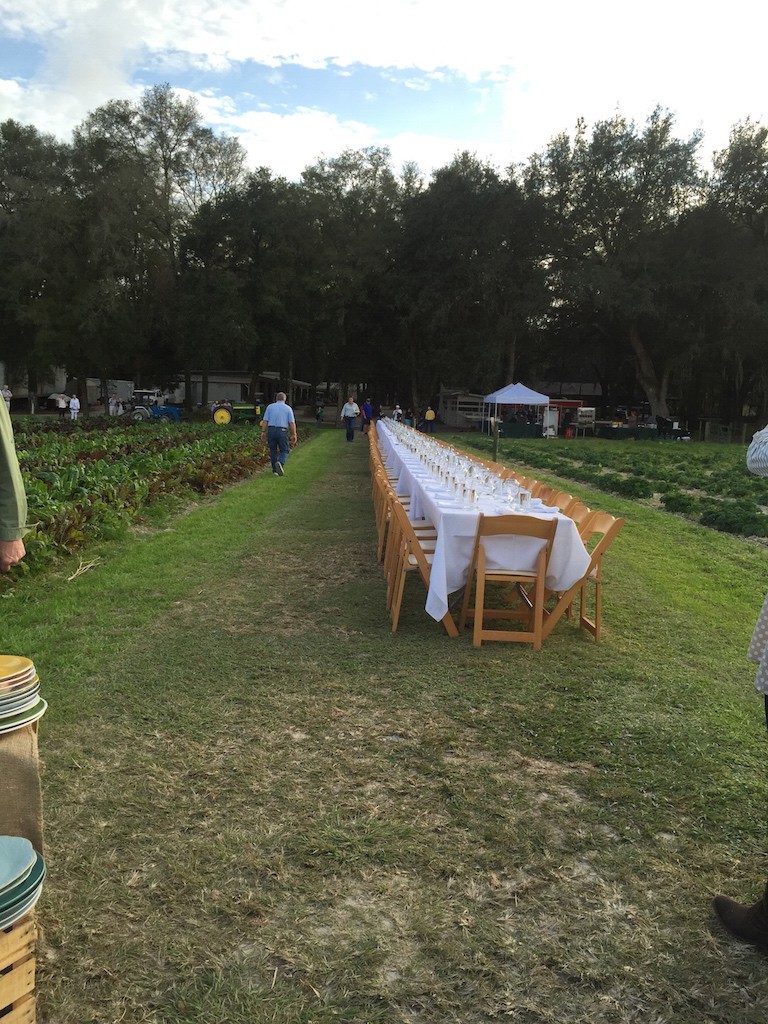 This is 'the long table'. A set for 125 people…the longest family style service I've seen.
But first, there's drinks and appetizers.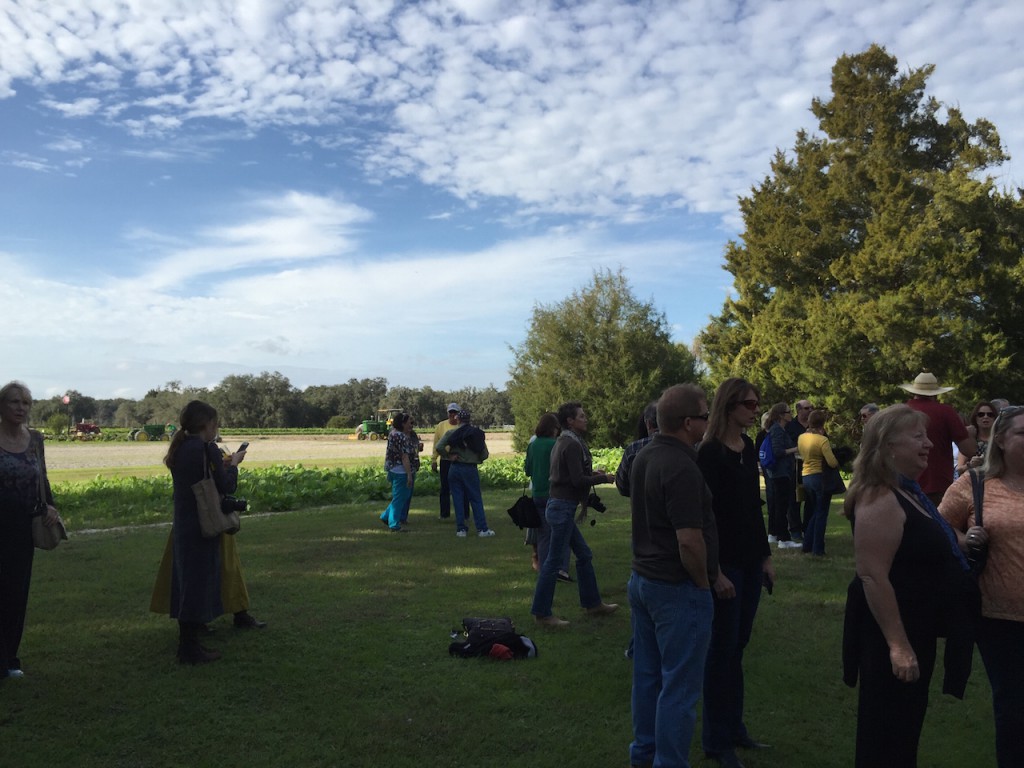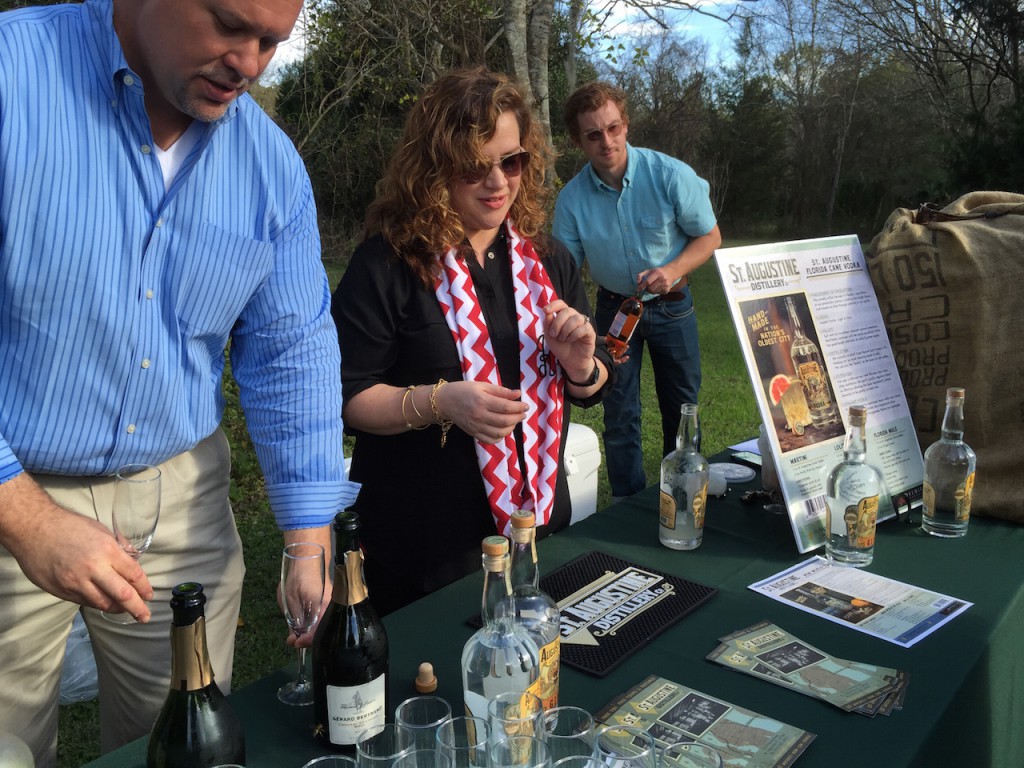 By the way – this was really good gin! From where? St.Augustine Distillery The 'I-75' is an excellent cocktail and since I have some orange blossom syrup leftover from the holidays (remember the cranberries?), I might treat myself to one or two sometime!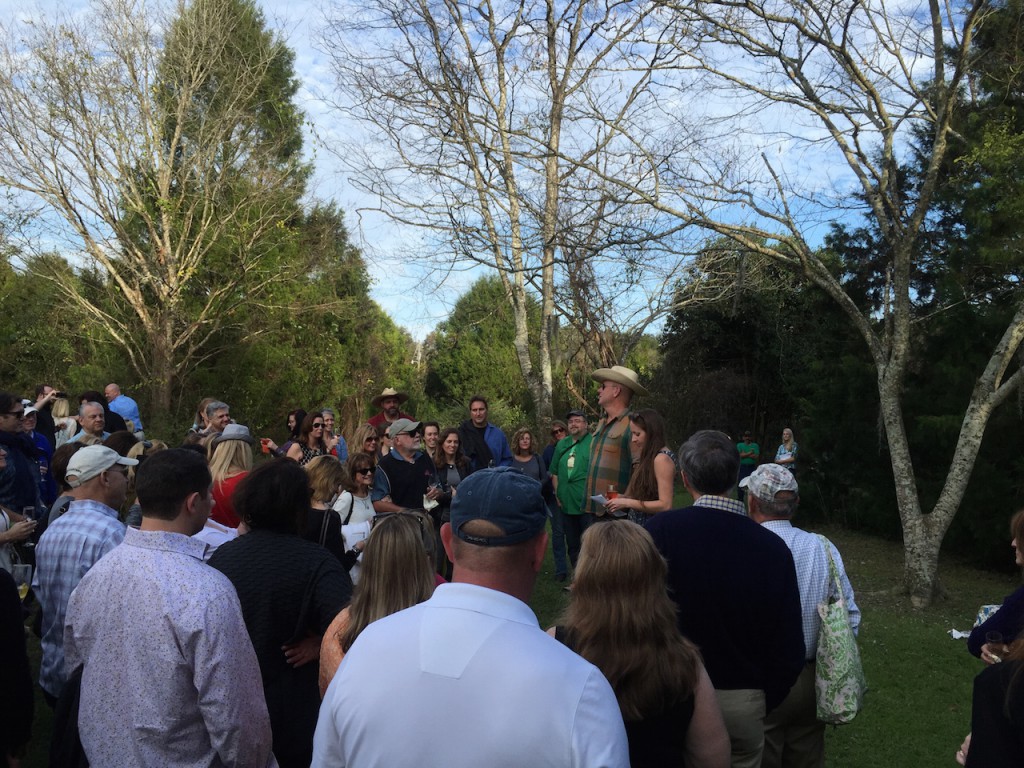 Jim Denevan gave a short speech and we were off on a farm tour.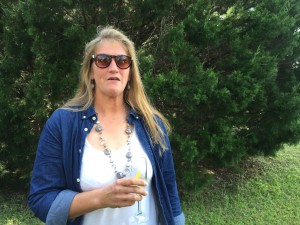 But first another drink…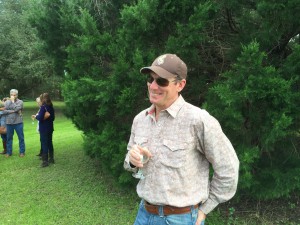 Somewhat less camera shy, Bo Rooks, one of Rebecca's rancher friends. He raises 'Cracker Cattle', a Southern specialty as well as being a fellow part-time pork producer.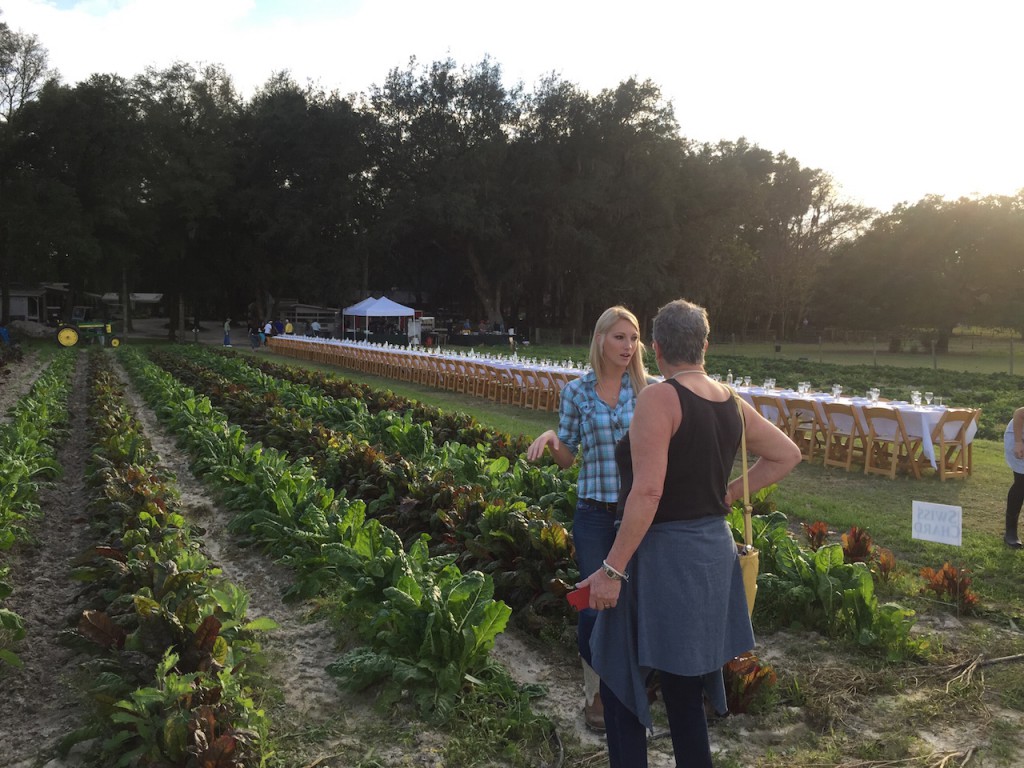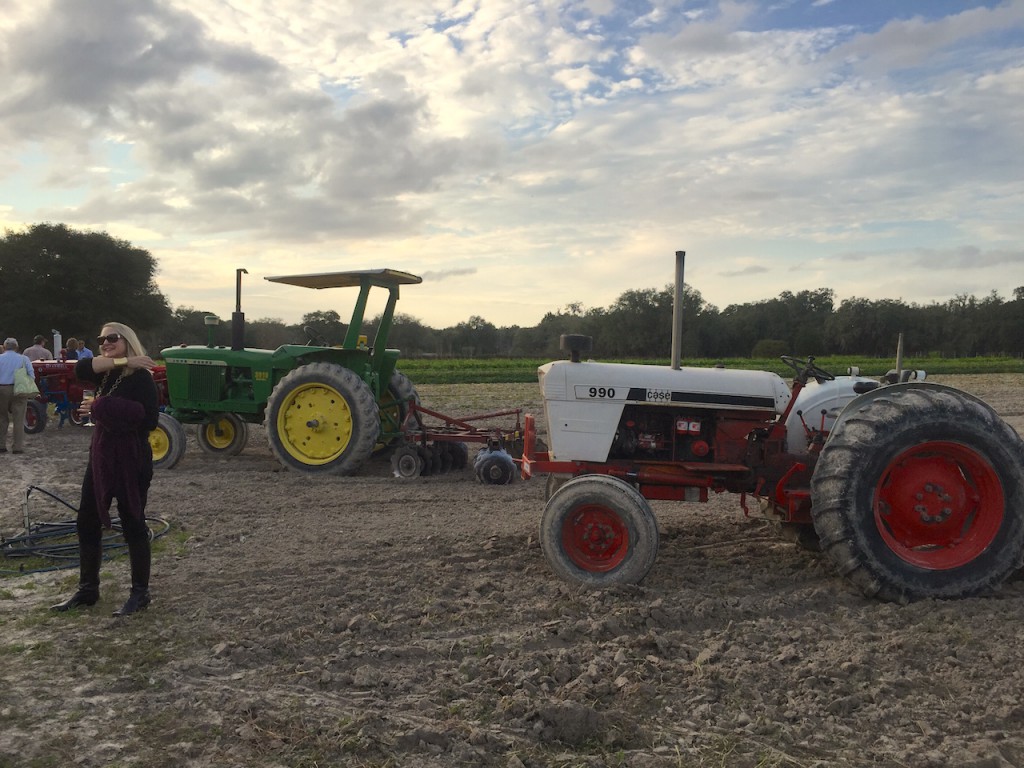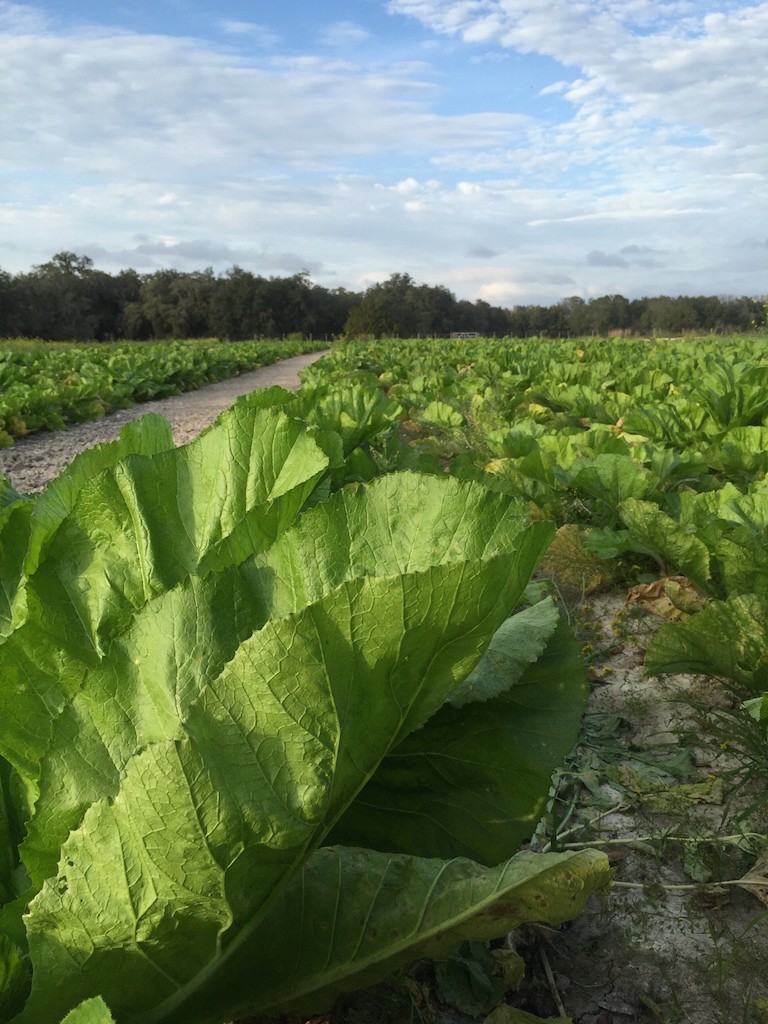 After we were all gathered up, we picked up our plates…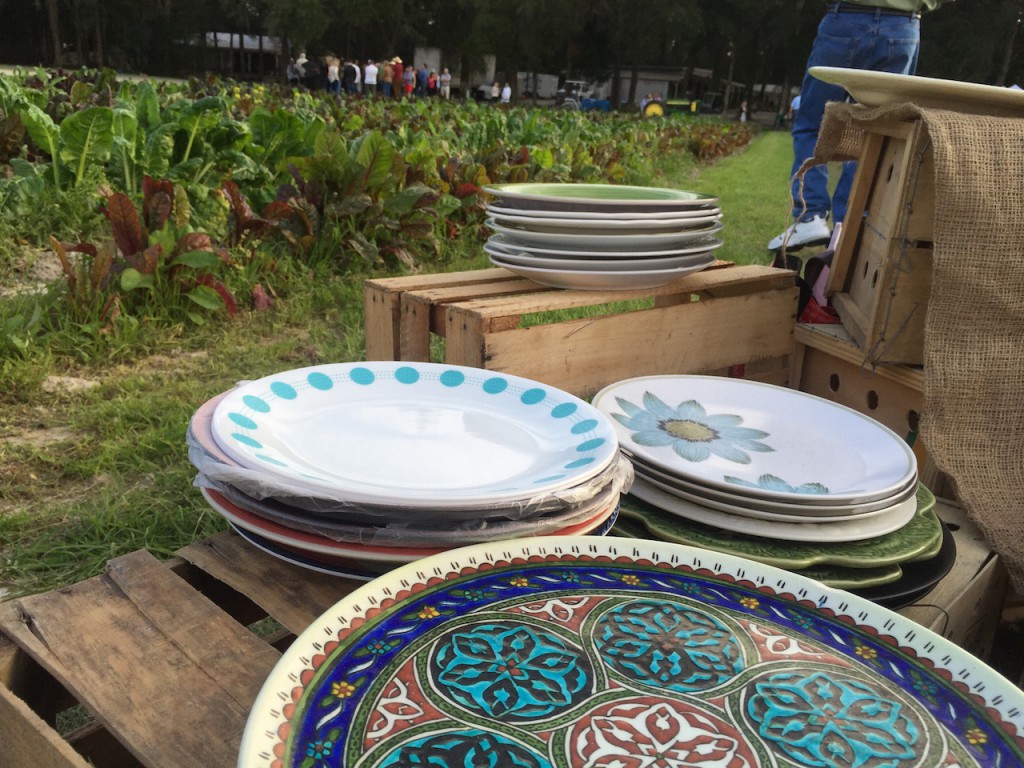 …and picked out a seat.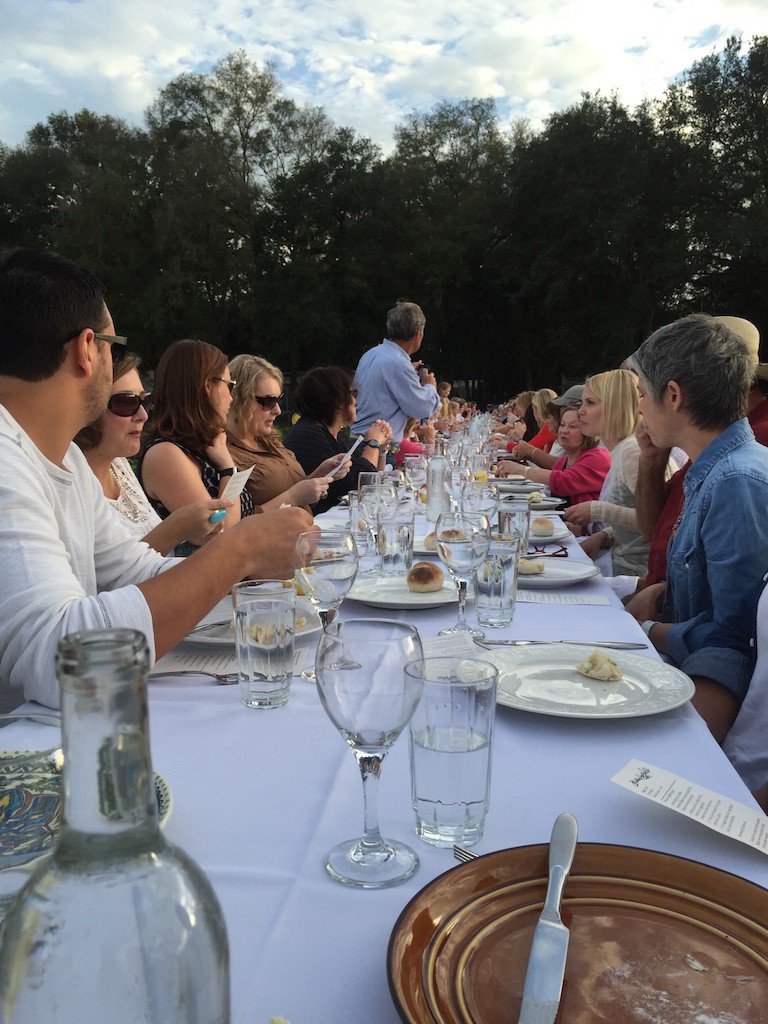 We were lucky enough to be seated across from Angela and Natalie from Artisan Cheese Company in Sarasota.They were so much fun. We kept calling them 'The Cheese Girls'… I think they're the Alie & Georgia of whey!!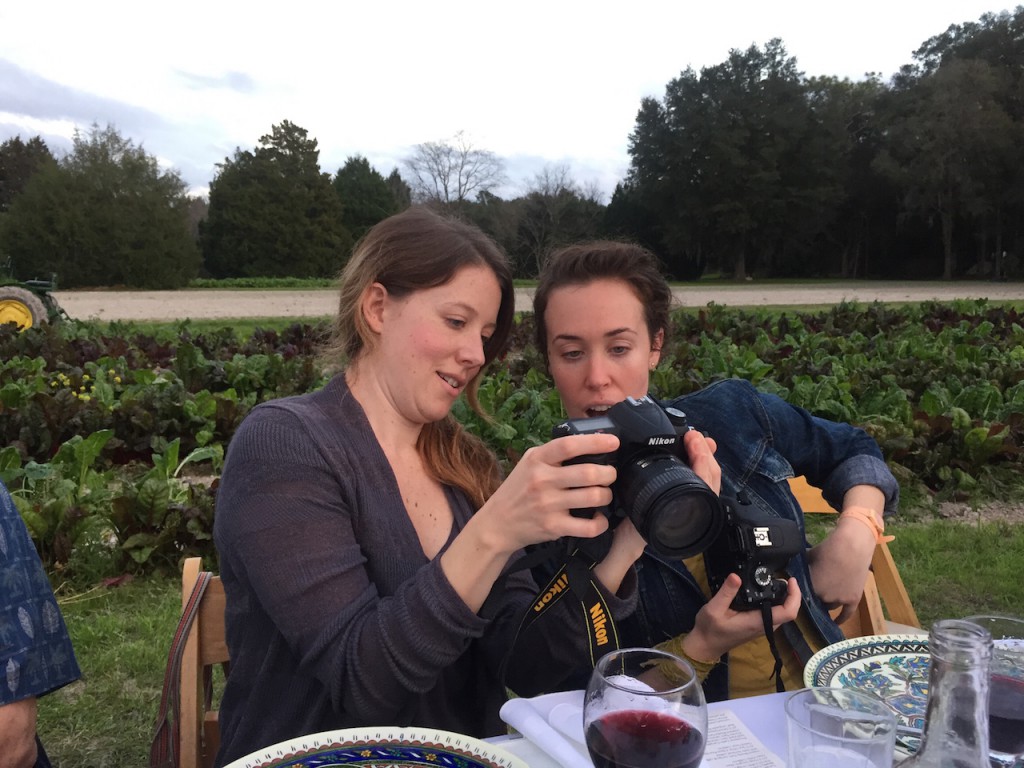 Next to me was a couple from New Jersey, but they have a home in Naples. Fabulous people! They actually book these dinners in advance and plan trips around them. They weren't the only ones.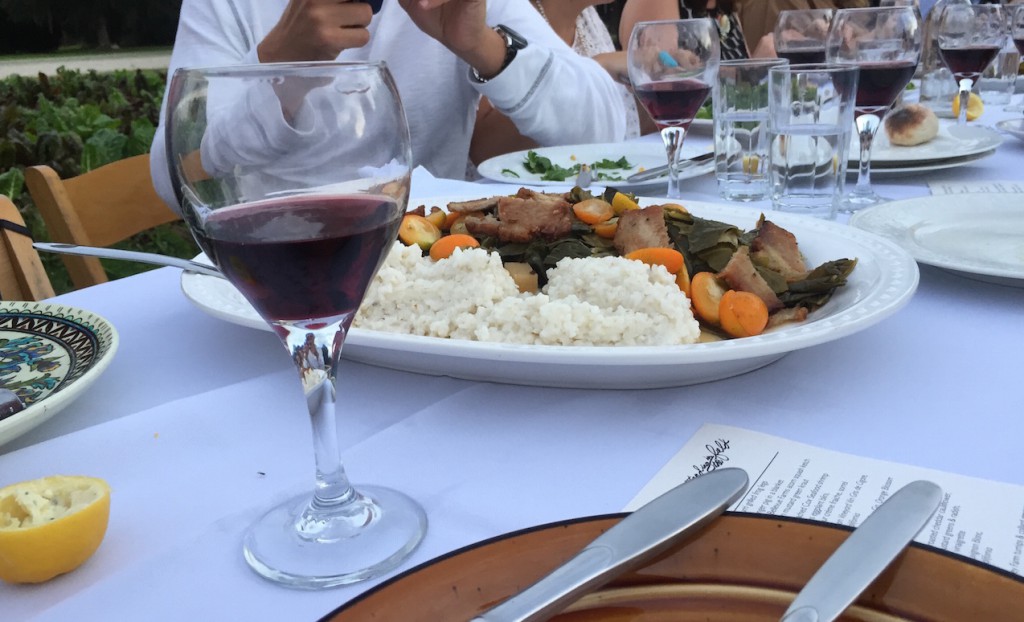 The food was excellent. This pork course included buttery smooth pork belly sourced from whom? Yep, Rebecca, with a little help from her friend Bo. It was served with collards and kumquats (from Dade City) – what? It actually worked deliciously.
Keep in mind, these are not caterers, these are chefs used to working in their own kitchens. Different deal. Still fabulous food from a world class chef. Yes, world class, Chef Baker is a 'James Beard' Nominee.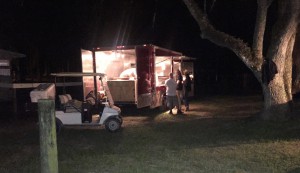 Along with him was a gentleman who came up from Tampa with a mobile wood-fired-oven for the breads. OMG – really?! I could've stopped there – NOT.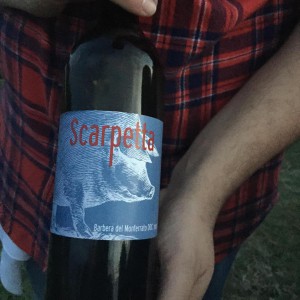 A different wine with every course,..of course.
As the sun set, they brought out little olive oil candles and we continued to enjoy our new found friends, and some old ones. Turns out, I went to school with Mr. Rooks' sister. Small world.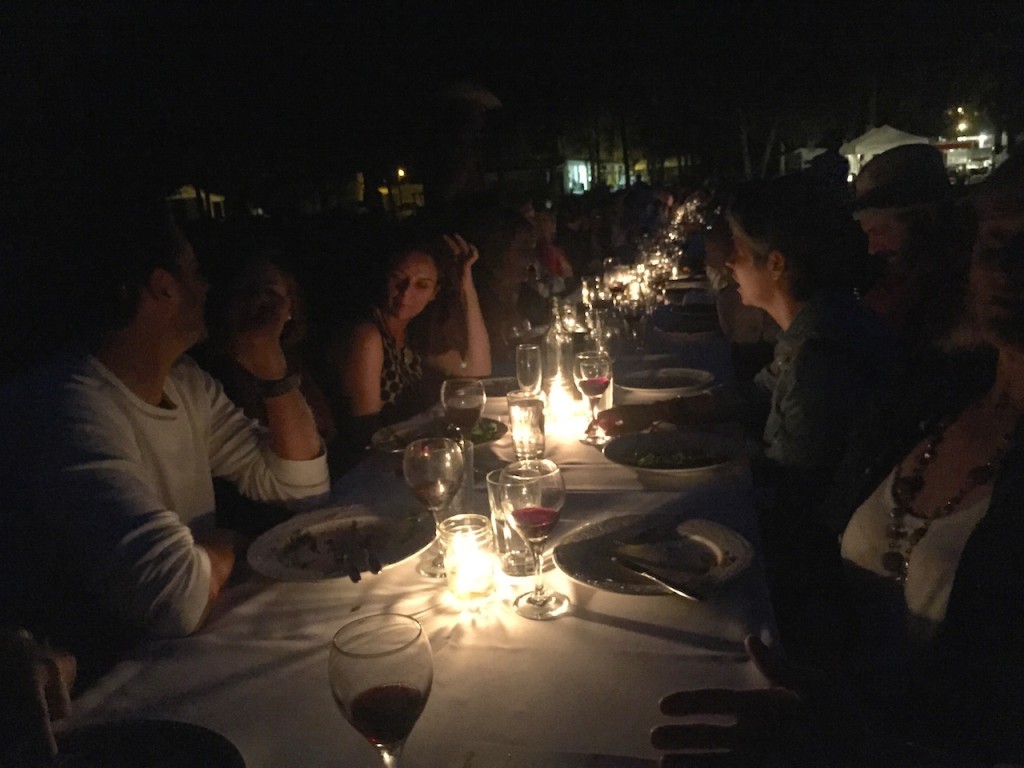 Dessert, yes please. Kumquat Cobbler topped with a streusel studded with Angela and Natalie's cheeses. Devine.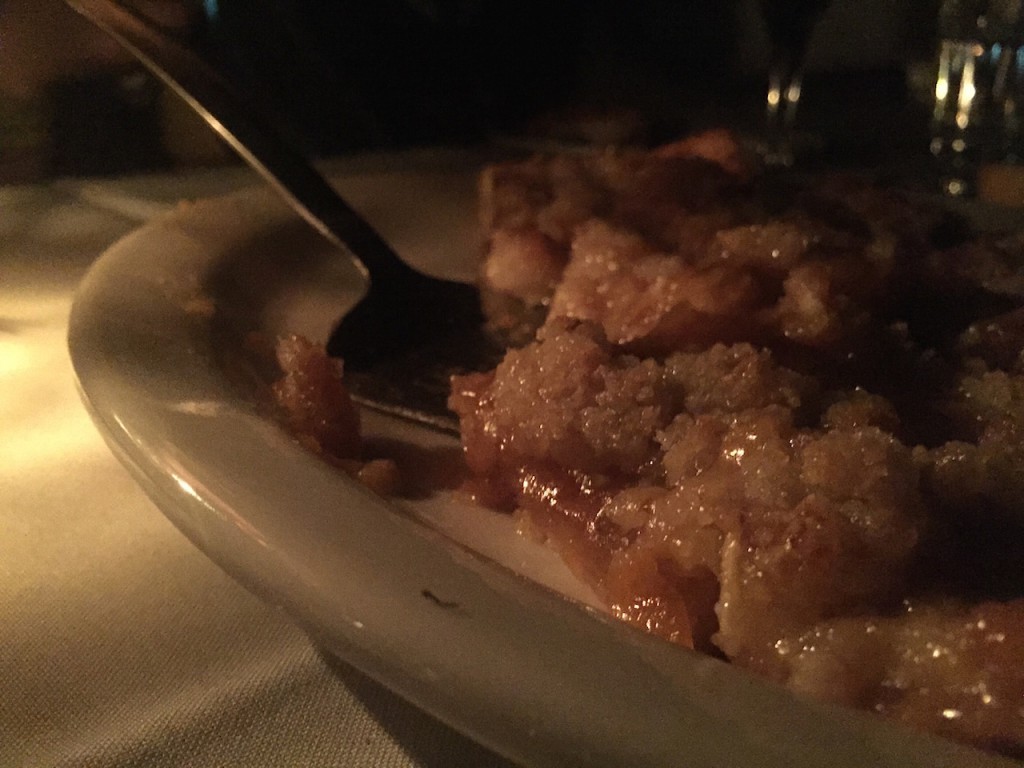 After the party was over, I was lucky enough to have Chef sign my copy of the cookbook that he's featured in 'Farm to Table' and meet the author Jim Webster.
These ladies were picking up their plates and making plans for next time.
They even gave me a hug!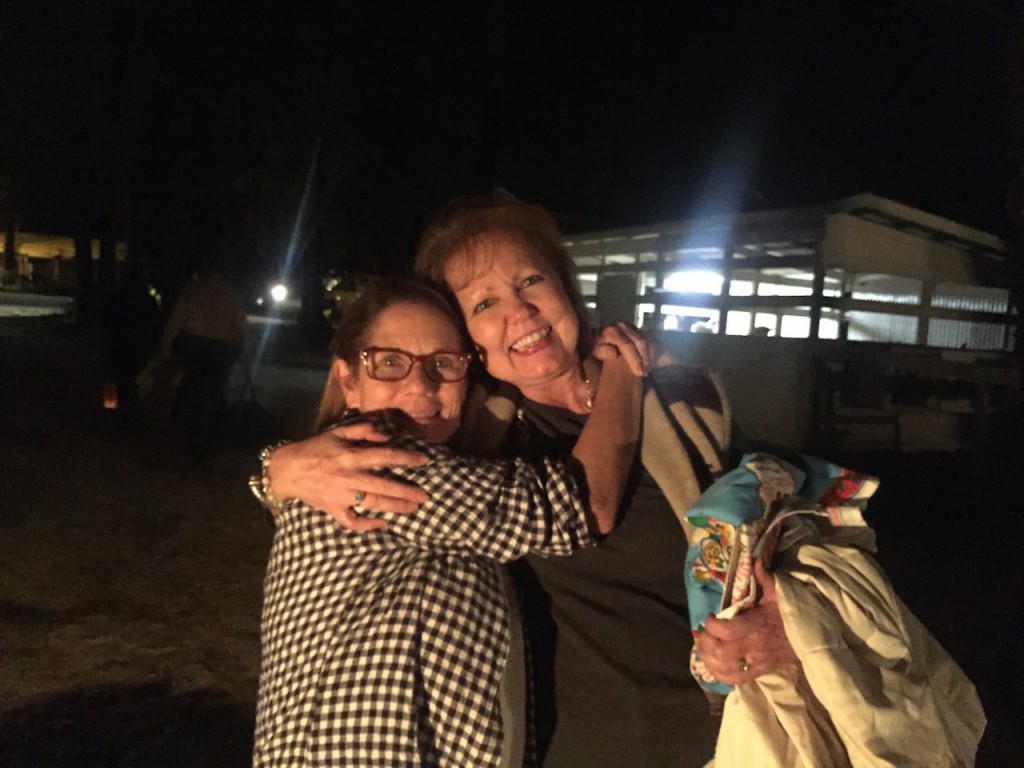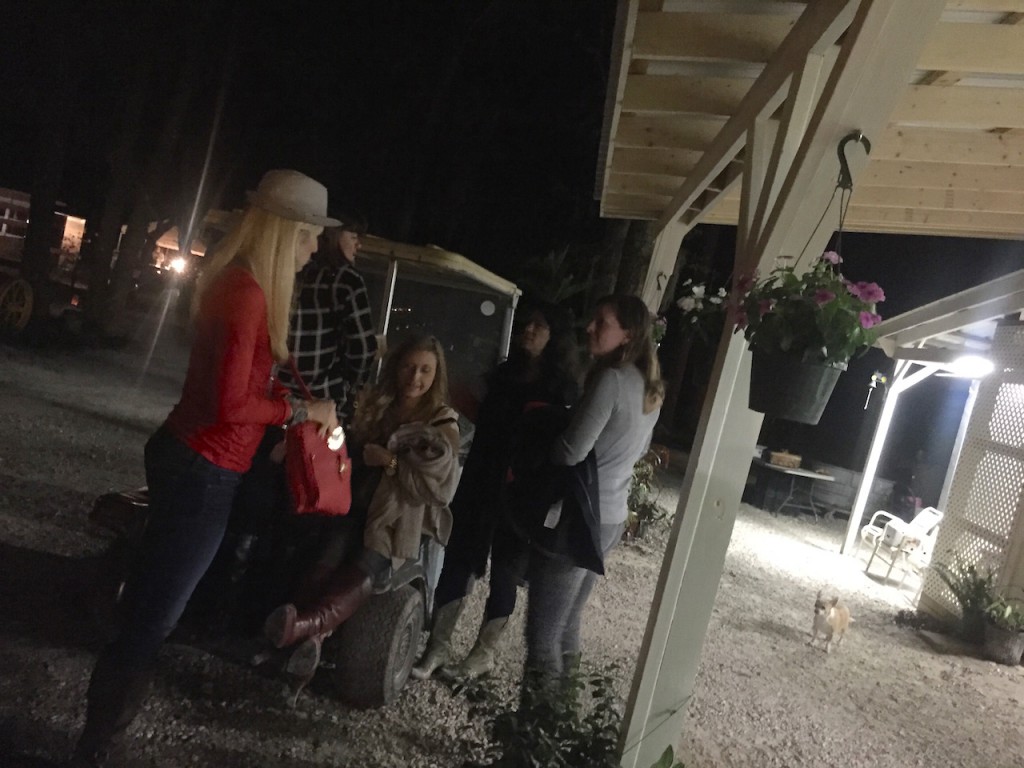 These ladies were giggling like school girls, taking turns with golf cart rides and loving the little Chihuahua 'farm dogs'!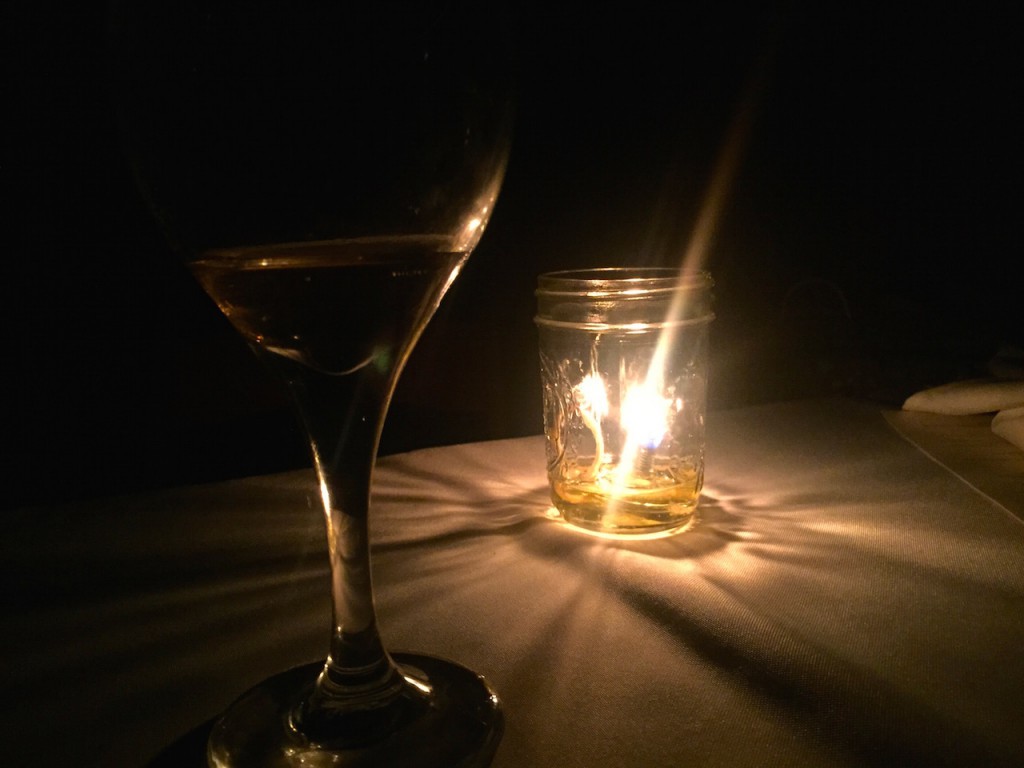 That's how the evening ended. As pleasantly as it began,…out in a field.