Ok, my Pinterest devotees, you've seen them and gone all 'Oooo, and Ahhhh' yes, it's the ombre cake. This trick is remarkably easy to do. Most will simply use varying food colors in white cake mix. Now, you know I can't bother to blog something so easy. Let's take it up a notch, shall we.
Recently, I was asked to bring a cake to a party for a dear friend who turned 90 – yes, 90! I can't just show up with a standard birthday cake. Hmmm, what do ladies like? Chocolate! But what kind … all kinds! Easy there, let's think about this. The last time I brought a chocolate cake for a function, it was awesome too, but it had a touch of coffee in it and the kids heads spun like tops! You'd have thought it was punch laced with RedBull – OMG – Let's not do that again. Wait, how about that new cookbook? No, not that one,….this one…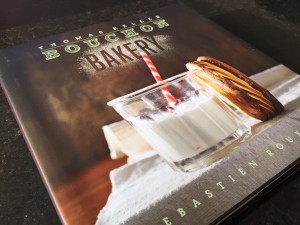 I've had this on my Amazon Wish List forever. One day, I had other things to order and couldn't take it anymore. I added it to the order – a treat for ME !
Back to that cake deal, Mr. Keller has in his cookbook of deliciousness, a Devils Food Cake. I read it and thought, I just can't wait ! Problem is there's no conversion to make it as a regular round cake. It's supposed to be a sheet cake that you cut circles out of…yeah, I know. That's ok, I can make it work…how hard could it be? (did I really just say that)
*Disclaimer…since there are rules on publishing copyrighted material, I'm going to show you the highlights of what the book doesn't show you…and why I had to continue on without it.
Chocolate Ombre Cake (probably should be 'hombre cake'…we were friends by the time I finished the damned thing!)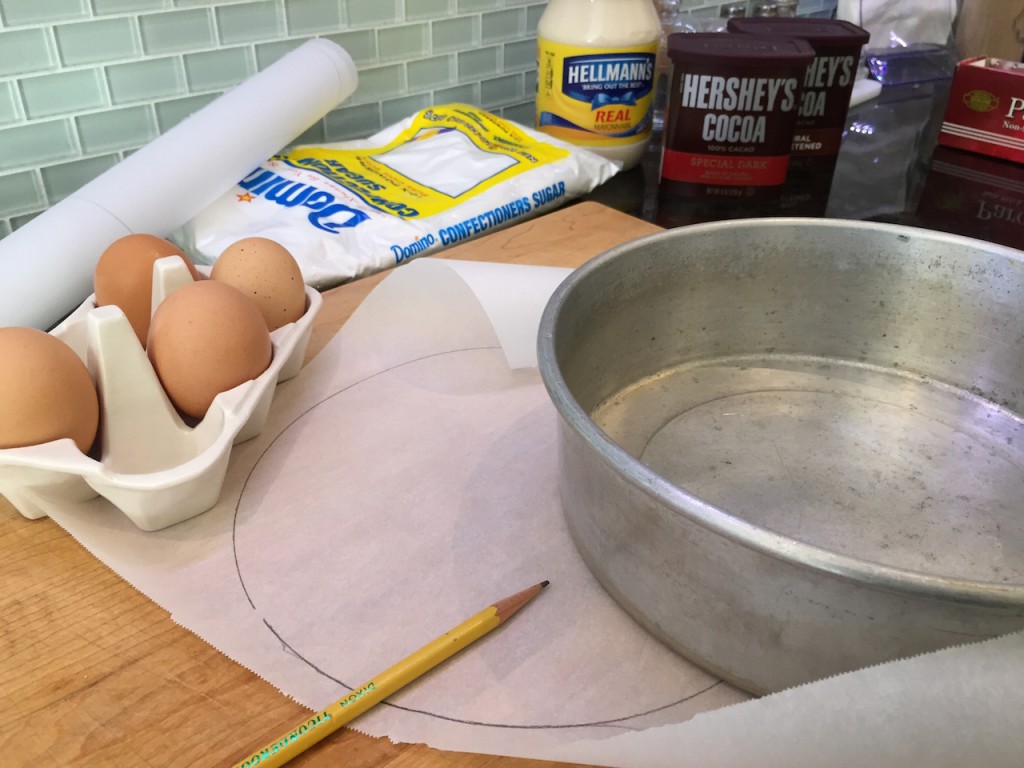 Step 1
Prep the pans with parchment and preheat that oven. Now, if you're making this with a cake mix,…which is fine, the temp, etc will be different.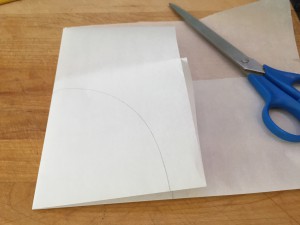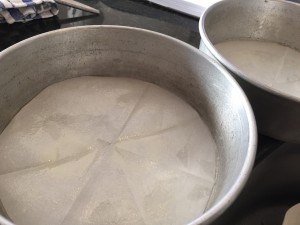 Step 1a and b
Since you can see through the parchment, fold over into a pie and cut,…cause I can't cut circles either!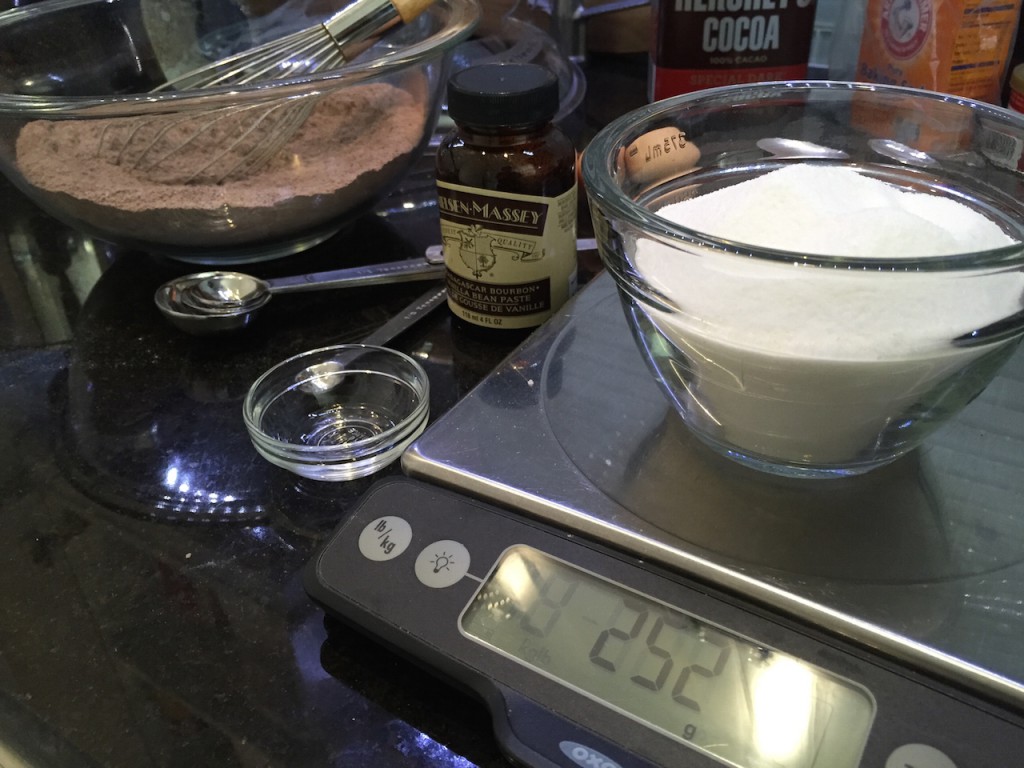 Step 2
Now, get that 'fancy' chocolate cake going. Mr. Keller weighs everything, but still lists measurements. This is where you can pull out whatever super moist chocolate cake recipe you like. One favorite of mine is my Mom's 'Mayonnaise Cake', but that's another blog post. Cake mixes from the store just don't cut it. …not yet.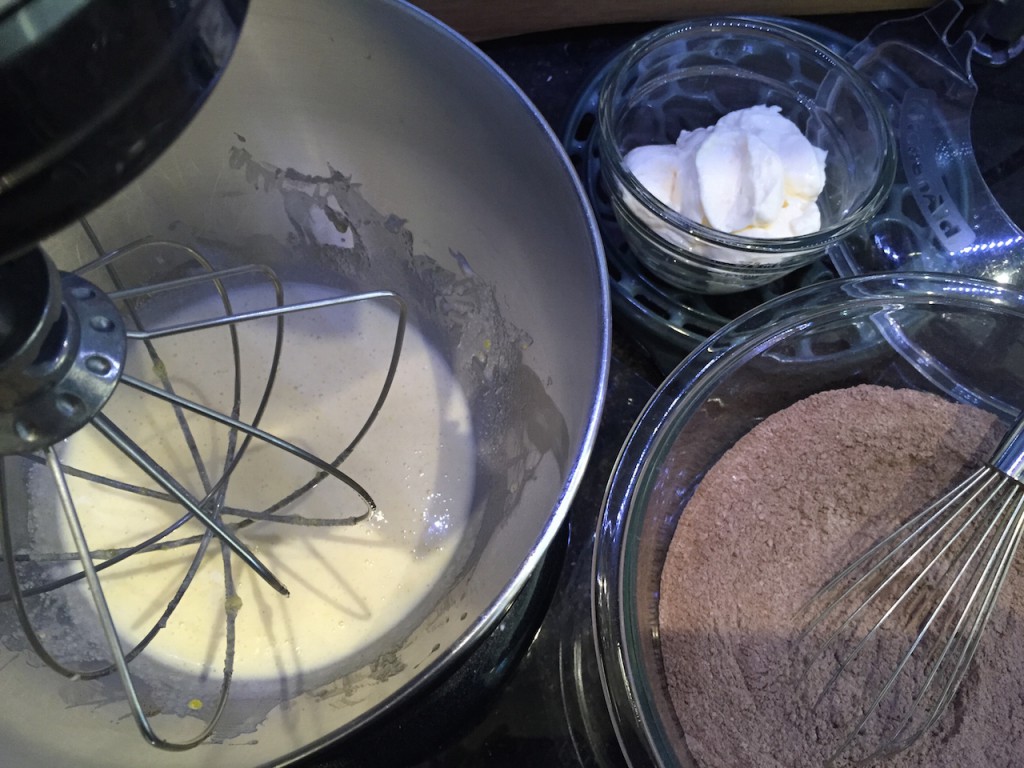 Step 3
It's pretty standard, mix the wet, mix the dry add the dry to the wet,… oh, no we have to f o l d as well.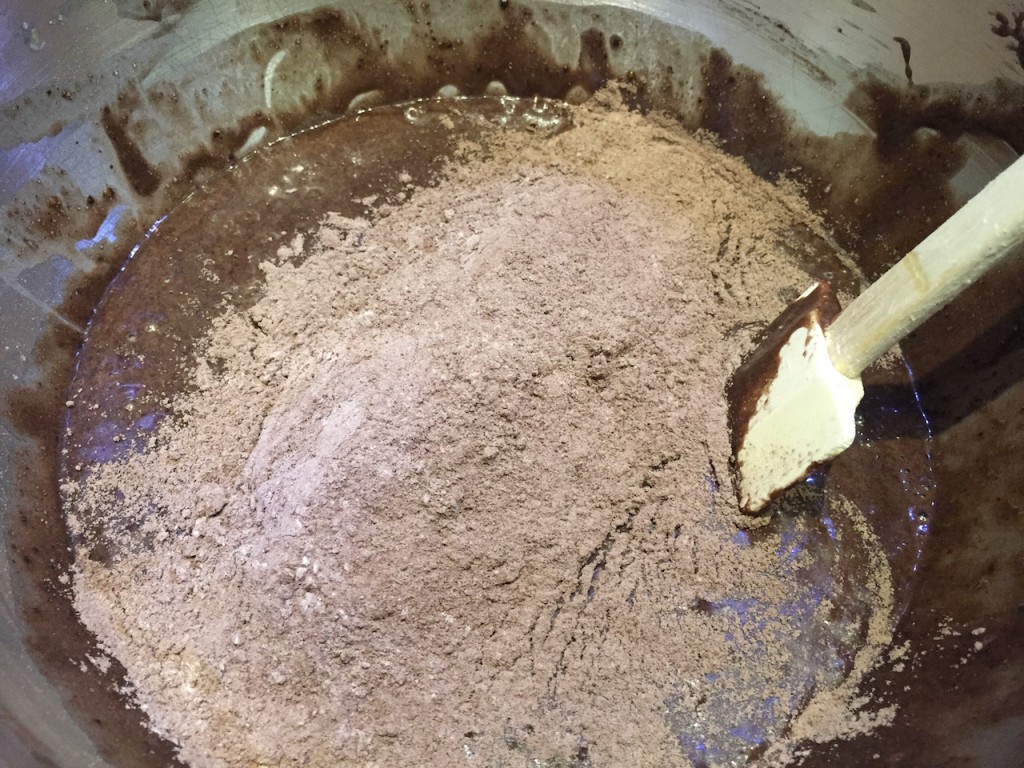 Step 4
Yes, carefully fold in the last intro of water and the dry mix. Wow, this is kinda labor intensive. * If you're going the route of 'less-labor-intensive' (aka – cake mix) you can use buttermilk instead of water to make it more moist.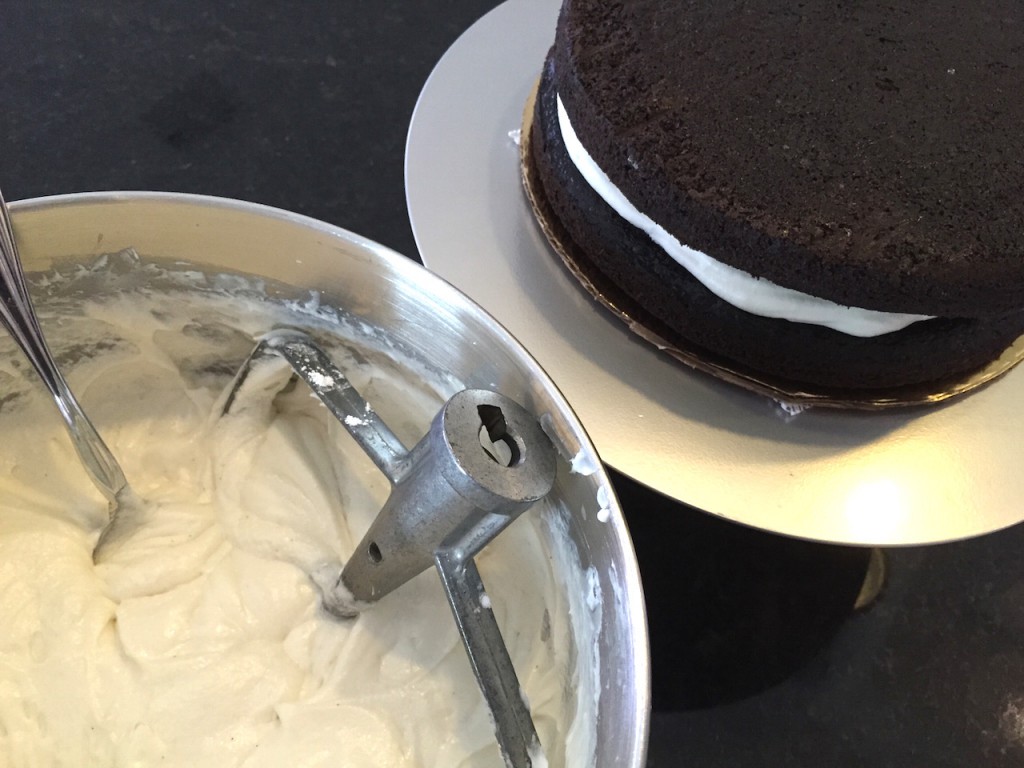 Step 5
Hey wait !! Yes, I skipped some steps here. I'm going to assume you know how to bake a cake. I split the batter between the 2 – 9″ pans and it looked to be the equivalent to one sheet pan. Turns out, it basically was. After about 10 -15 minutes, out popped 2 flat 1″ tall super moist cakes! After they cooled, I wrapped them in plastic wrap and put them in the freezer. Yes, the freezer.
This is where I really decided on the Ombre Cake. You see, those 2 -1″ cakes weren't enough and I knew I'd be making more. OMG – more weighing and folding, and … hey, don't I have a cake mix somewhere? Oh, yeah. My friend Duncan Hines had a box Devils Food cake that's nothing like what I just made. I beat one up and took half of the batter and added 1/4 cup of 'special dark' cocoa powder to it. That makes 3 – flavors of chocolate! Perfect!
I baked up those puppies, let 'em cool, and tossed them in the freezer for the night as well.
And the next day….Step 5 … make up a batch of your favorite buttercream icing. I took mine up a notch with some mascarpone cheese … cause everything better with CHEESE!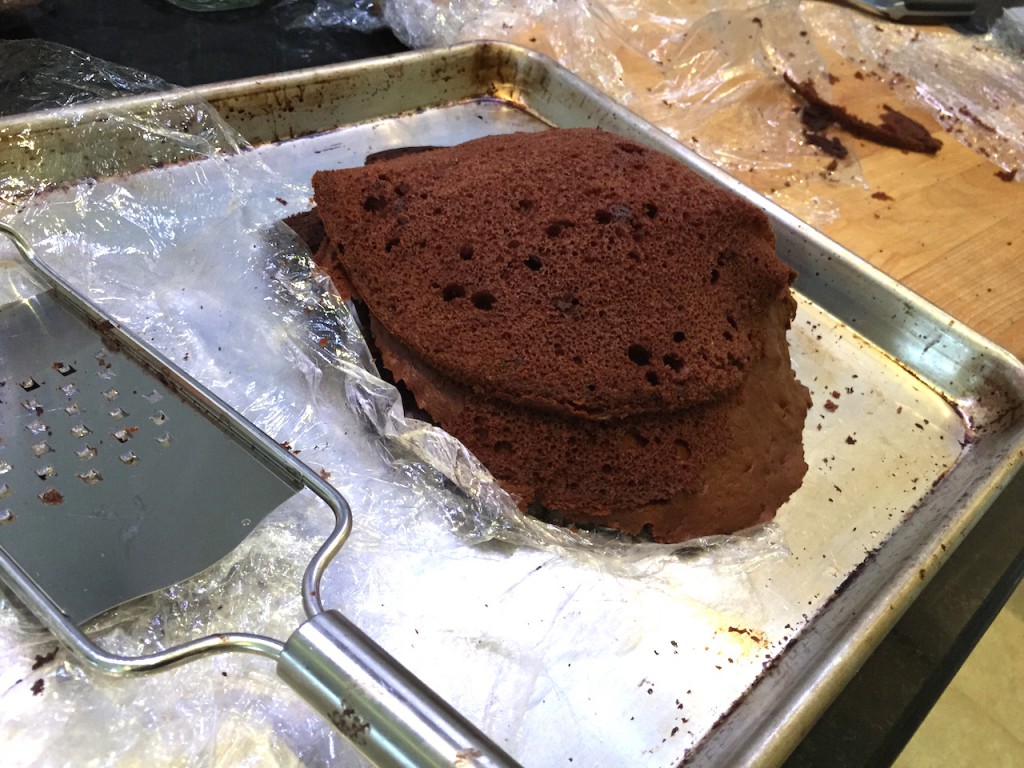 Step 6
This is what most people don't do – but bakers do. These cakes need to be an even 1.25″ that means that the tops need cut off and the edges need 'shaved'. Why the grater? Well, chocolate burns and the edges can taste like spray grease – not good. Quickly, do what you need to to make them uniform in size. The other ones already look like the biggest Oreo ever!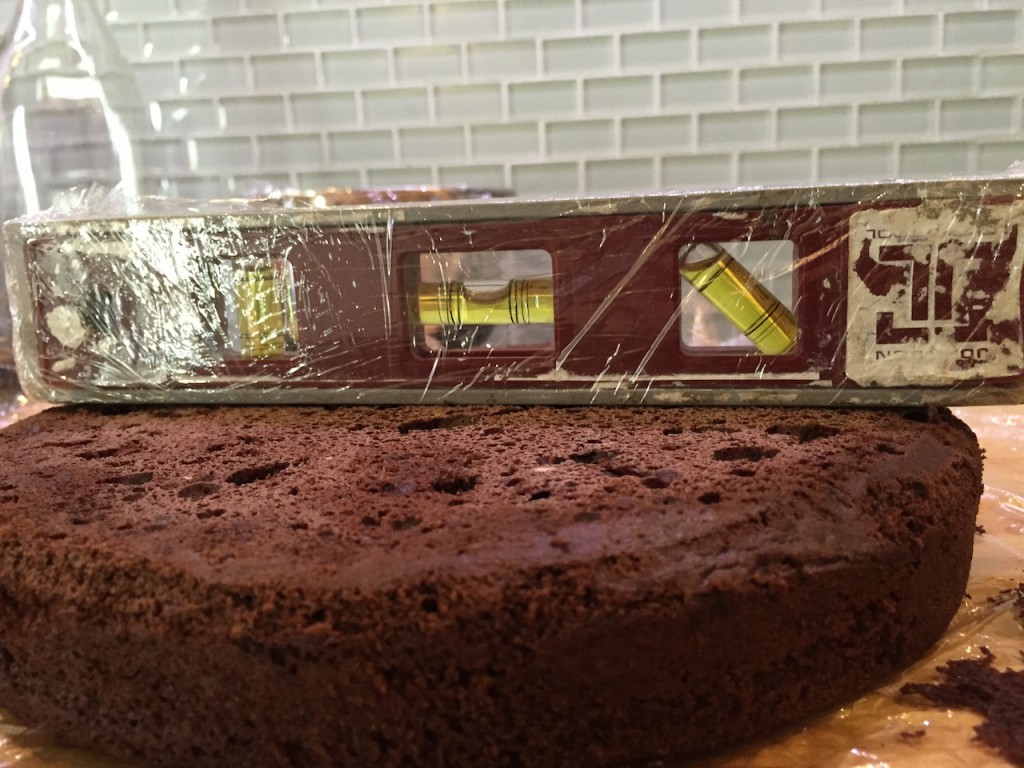 Step 7
Level? Yes, it's from the garage – I wrapped it in plastic first! The cake stand isn't level so if each one is, then it's easier.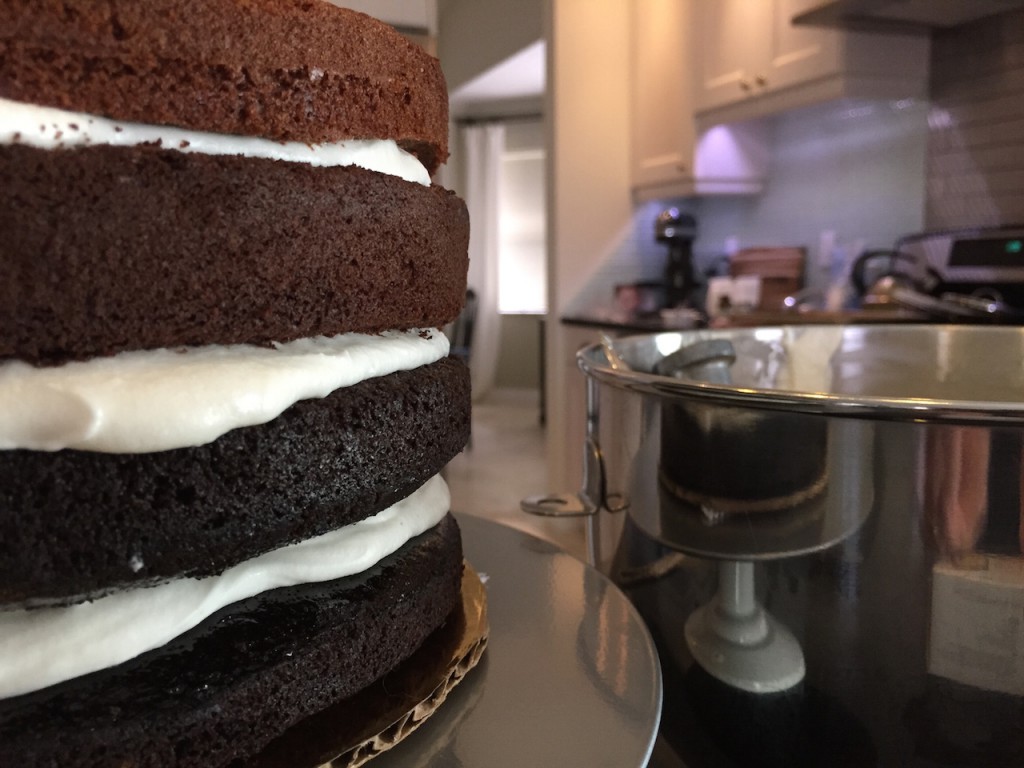 Step 8
Look at that ! Ombre Chocolate! Now, get a second bowl and give that cake a 'crumb ice' coat.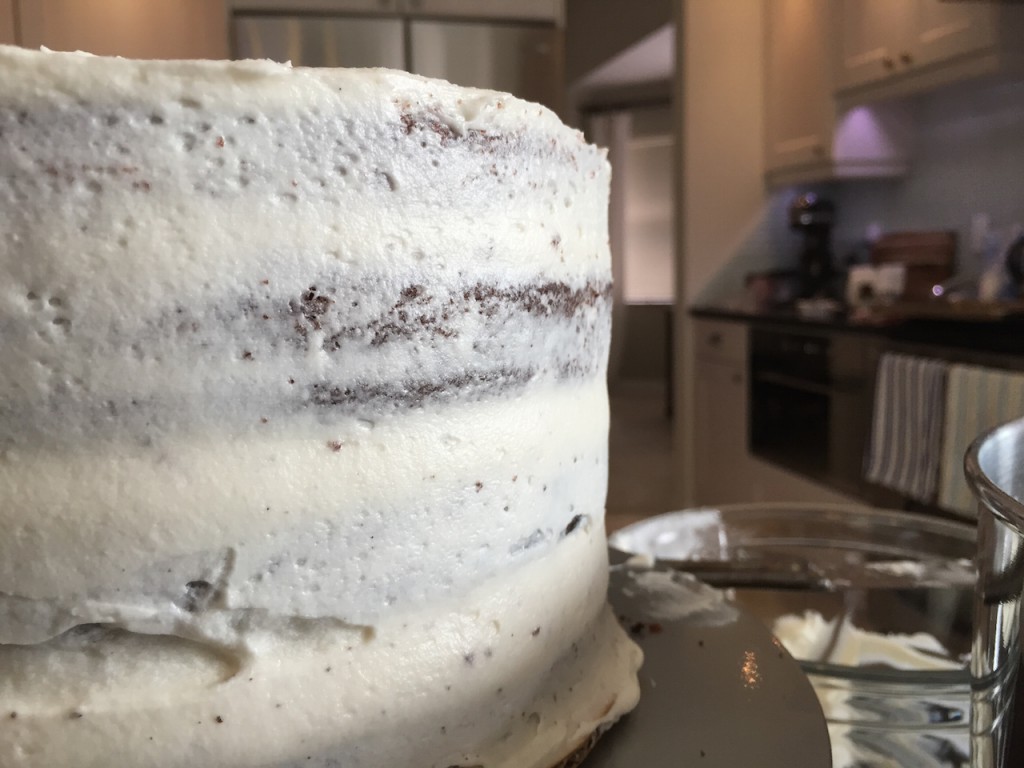 Step 9
'Crumb Ice' is a thin layer of frosting that needs to set up a bit and keeps crumbs from getting into the nice outer layer. Work with a small amount out of a separate bowl as to not contaminate the big batch with cake bits. Now – get it in the cooooolah! I've just realized that my nearly 80deg kitchen is no place for frosting (especially after I put that cousin-of-cream-cheese in it !)…cover the bowl with a damp towel, to keep it from drying and get it in the fridge too.
Now, go and do something else. ….about an hour later…..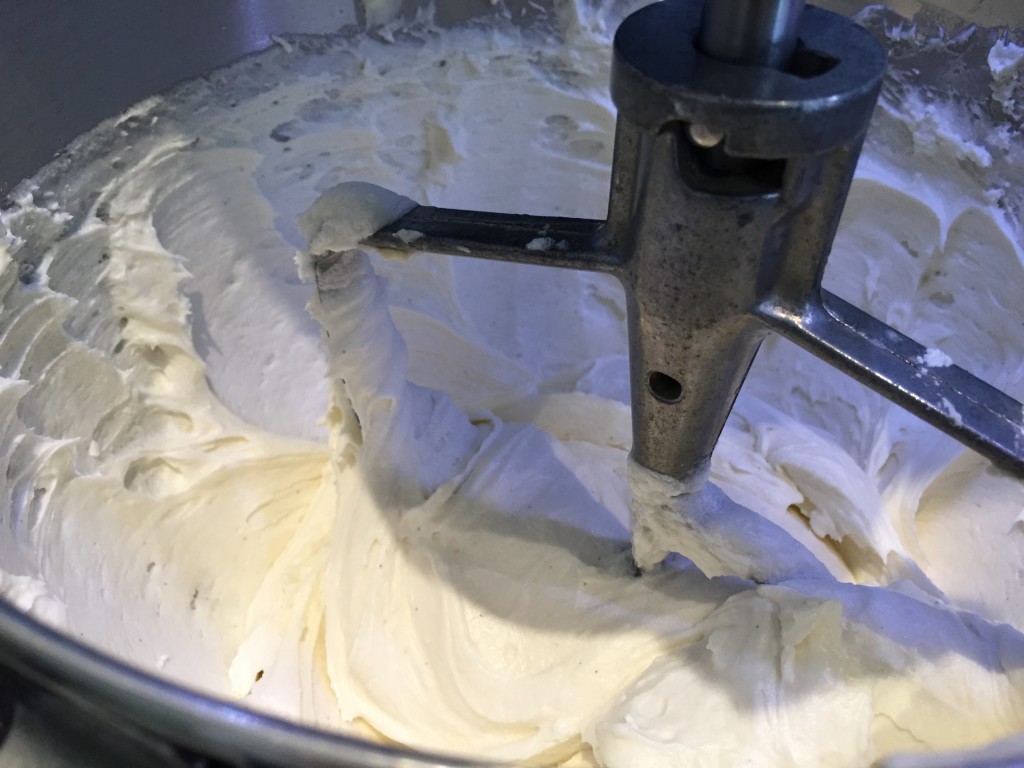 Step 10
Get that icing out, with it's beater, and re-fluff it. So much easier to work with !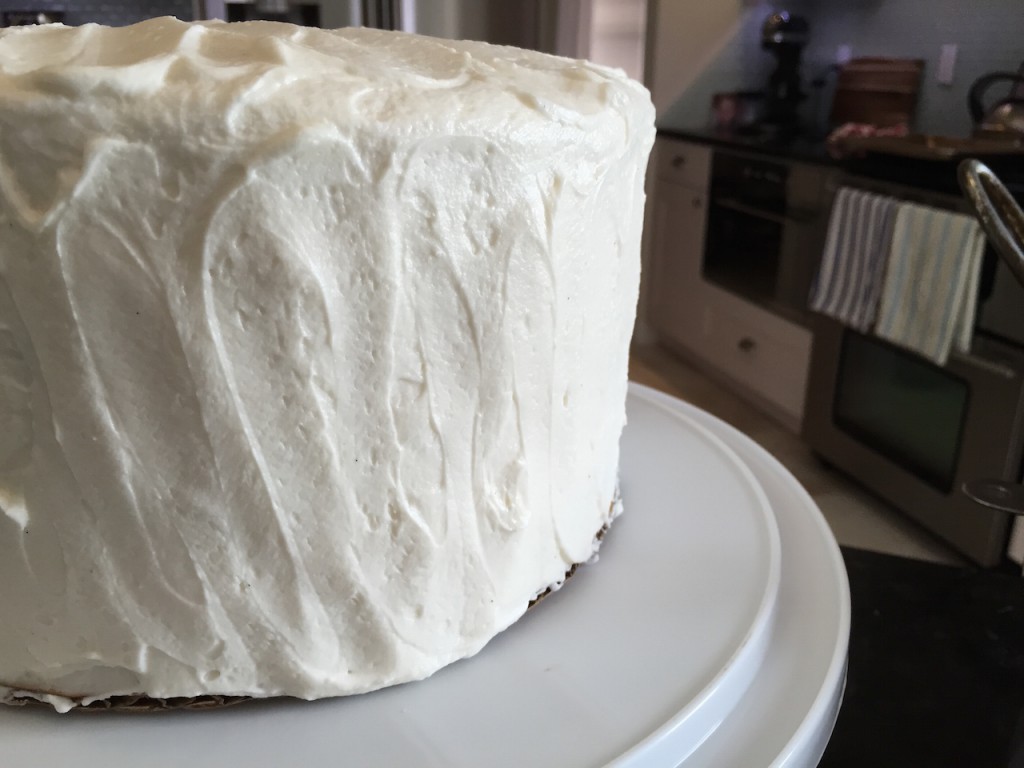 Finale:
I did a rustic style of icing,…like on Pinterest ! Using a wide icing knife, and a 's' pattern, I went around the cake with a thicker, final coat.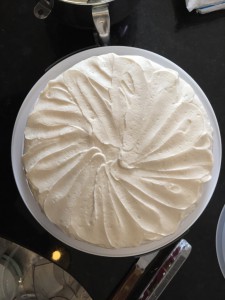 Even the top view looks cool – it needs a topper of some kind, but that'll wait for the party.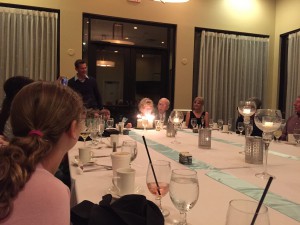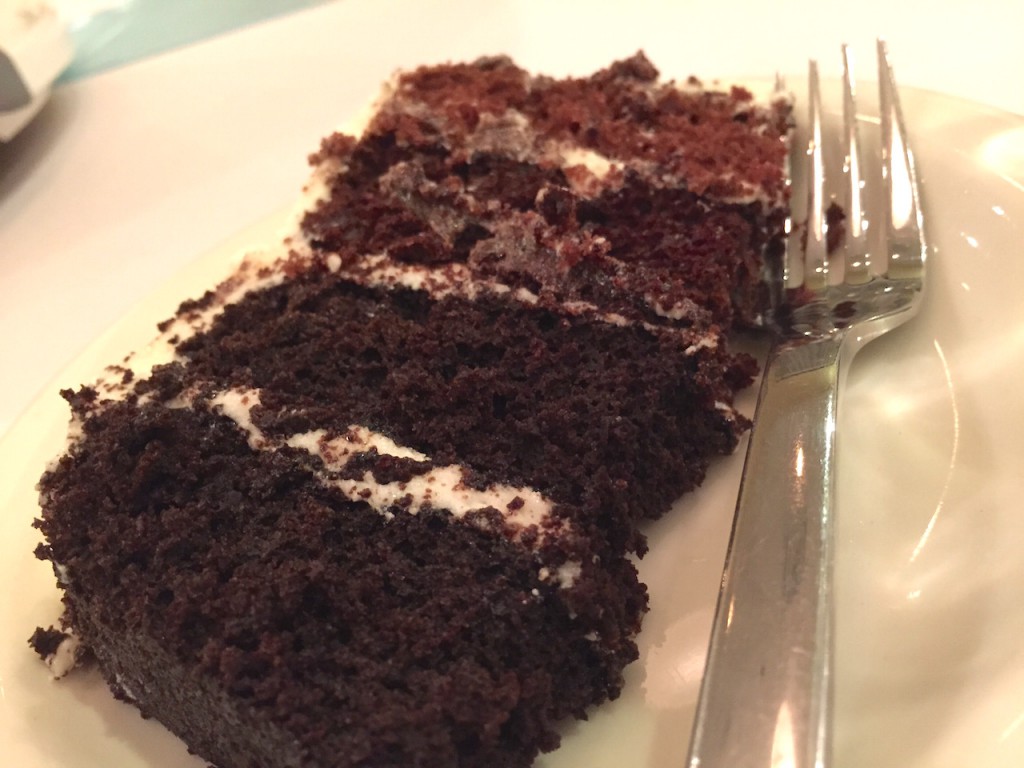 So that's it my friends – you too can do the Ombre Cake and impress your friends. This Pinterest project is no 'Pintrosity'(… oh, I'll be posting one of those soon).
The Holidays are coming ! …you're welcome.