Yes, I've been gone a while,…. I baaaack !
Some time ago my Hubs went away on business and I got a wild hair to do something I've always wanted to – take a lesson in stained glass. Lucky for me we have a local studio, Minds Eye Glass Art Studio, just off US 19 in the small plaza next to Harolds Auto…the big pink dinosaur. They give classes for a very reasonable rate. It was, I believe $50 for 4 sessions a few hours at. Basically, like renting studio space,… but with a teacher. OK – I'm game.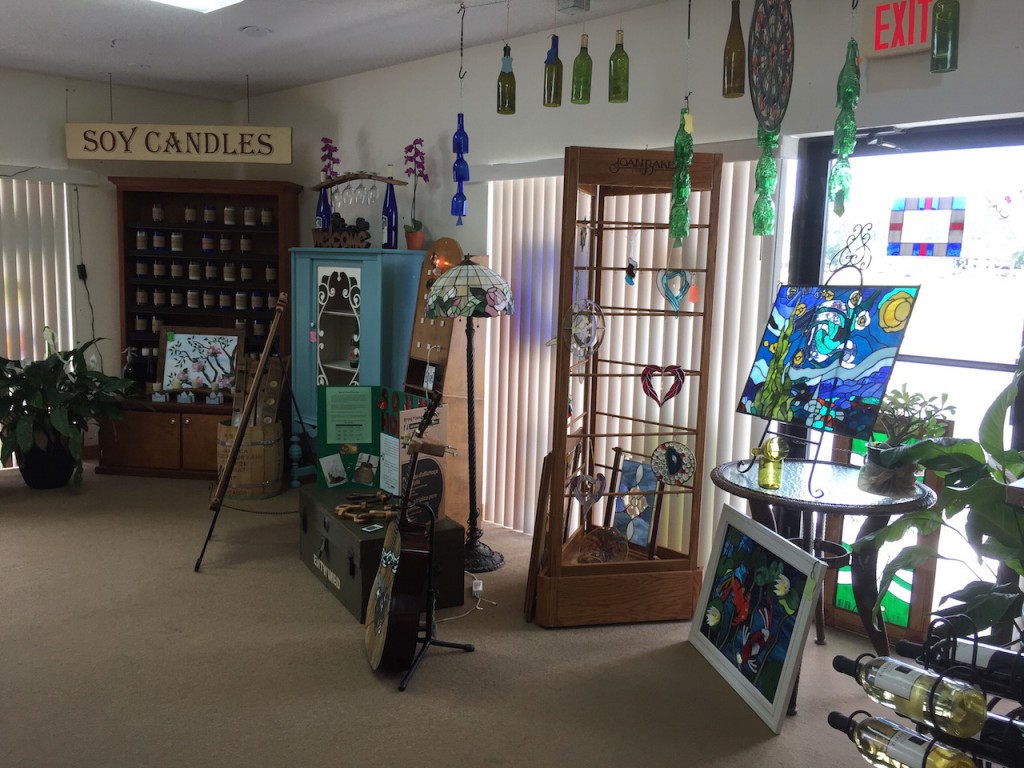 First off, this is a store not just a studio. You can buy expertly made stained glass items as well as recycled wine bottle glasses, soy candles, and of course a wide array of glass equipment. The glass stock is wonderful. In addition to standard use glass, every month or so, they head south to Sarasota (our art capital of FL) and pick up specialized pieces to have on hand. Let's get back to that lesson…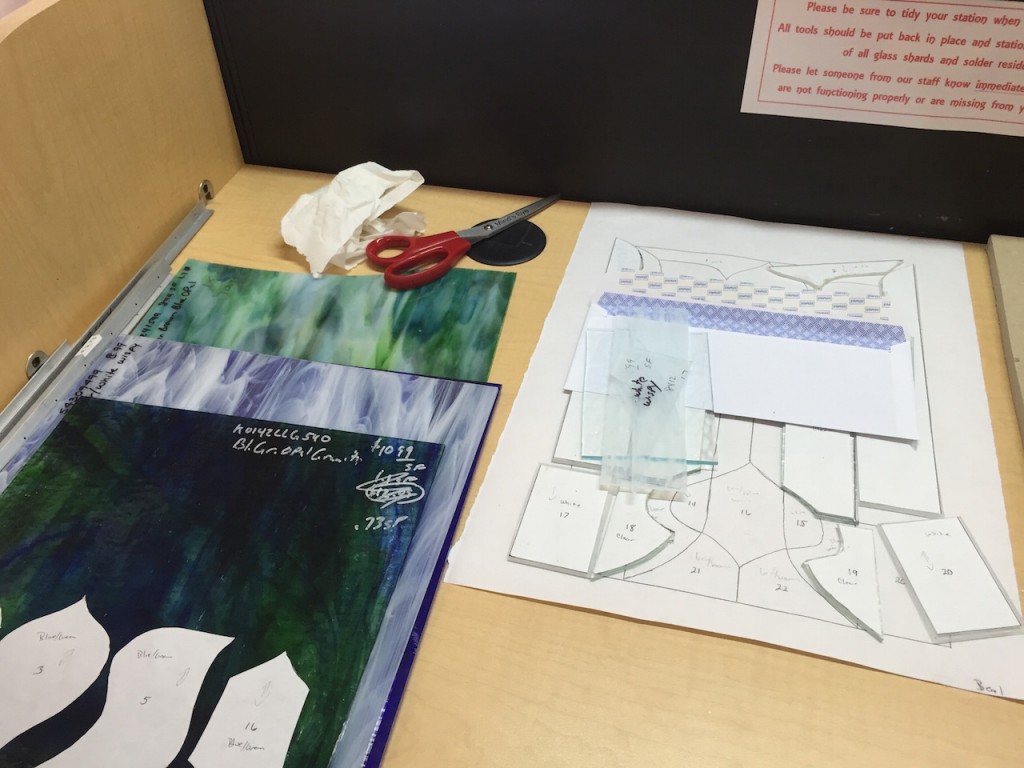 Step 1
Pick a pattern. The pattern should be printed on butcher paper, and you'll see why in a bit. This paper takes quite a bit of abuse. Pick your glass. I like glass with movement – ok, I like ALL glass! Number each section of your pattern like a paint-by-number. Then coat the back with a spray adhesive. After the glue dries, stick it to the glass and begin to cut out each piece. (all of this is done under the watchful eye of my instructor…it's a good thing!)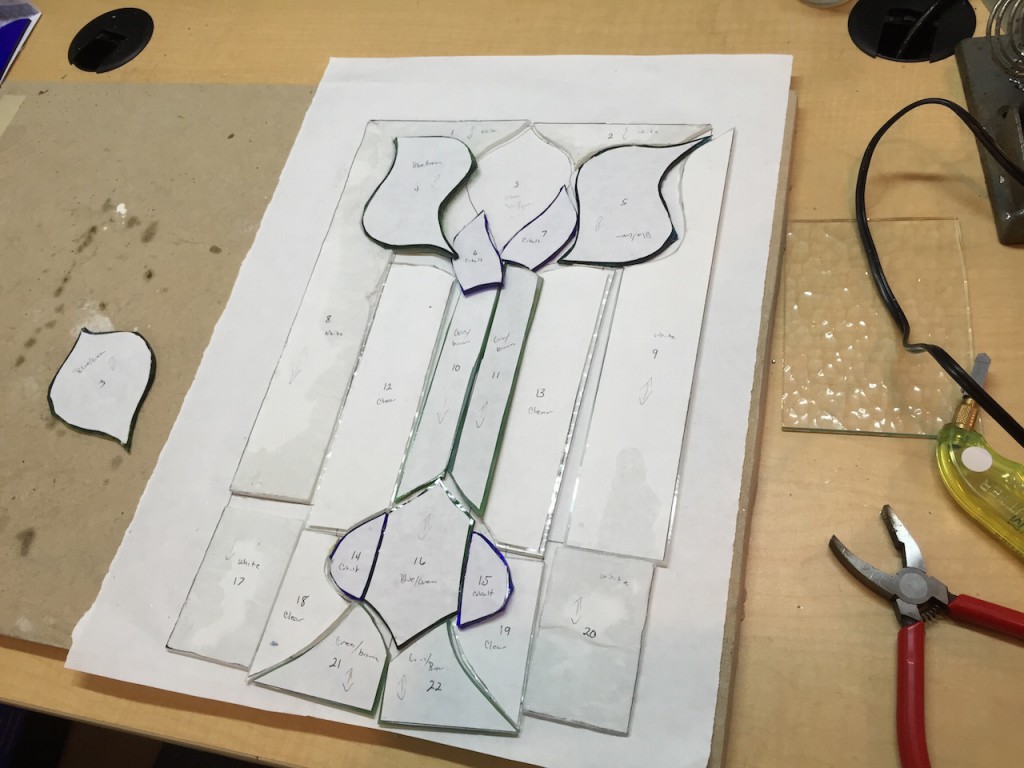 Step 2
Tim, my instructor / studio owner / glass artist, went over each of the tools and how to use them. Now, I've cut glass before, but not like this. Now that they've been cut and nipped into as close to the pattern as I dare,…we grind. (Easy now – don't go there !!)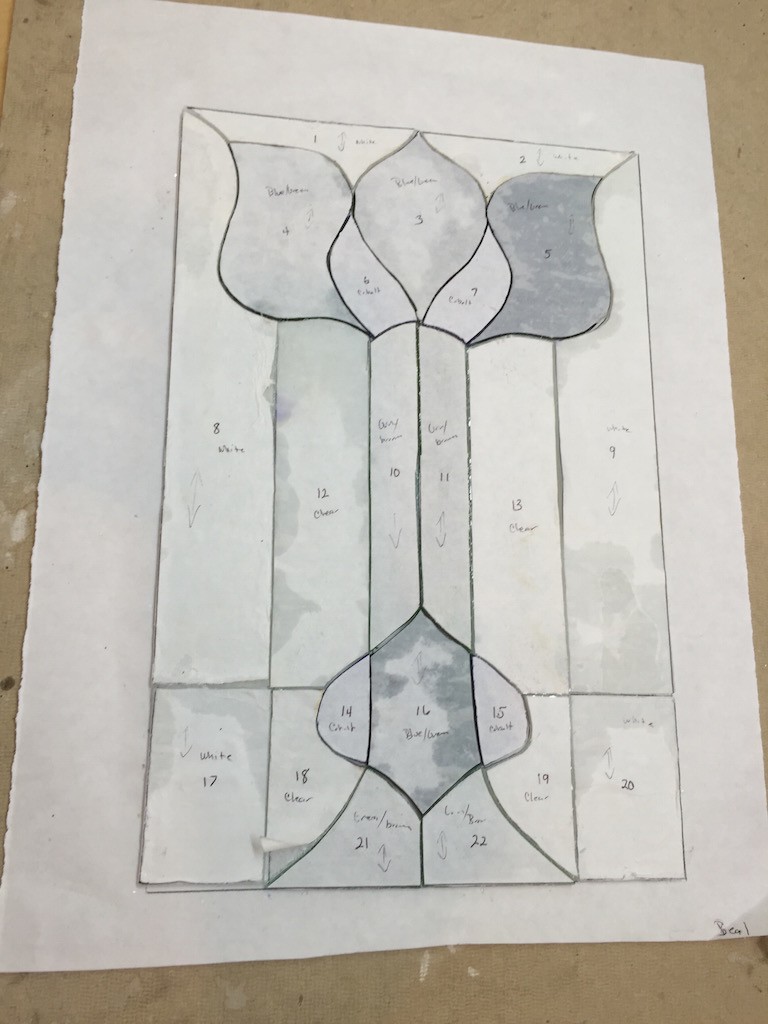 Step 3
The grinders are set in various coarseness, so I went with a medium set. They are wet too – so that paper takes a beating. If it slides, set it aside to dry and work on another one.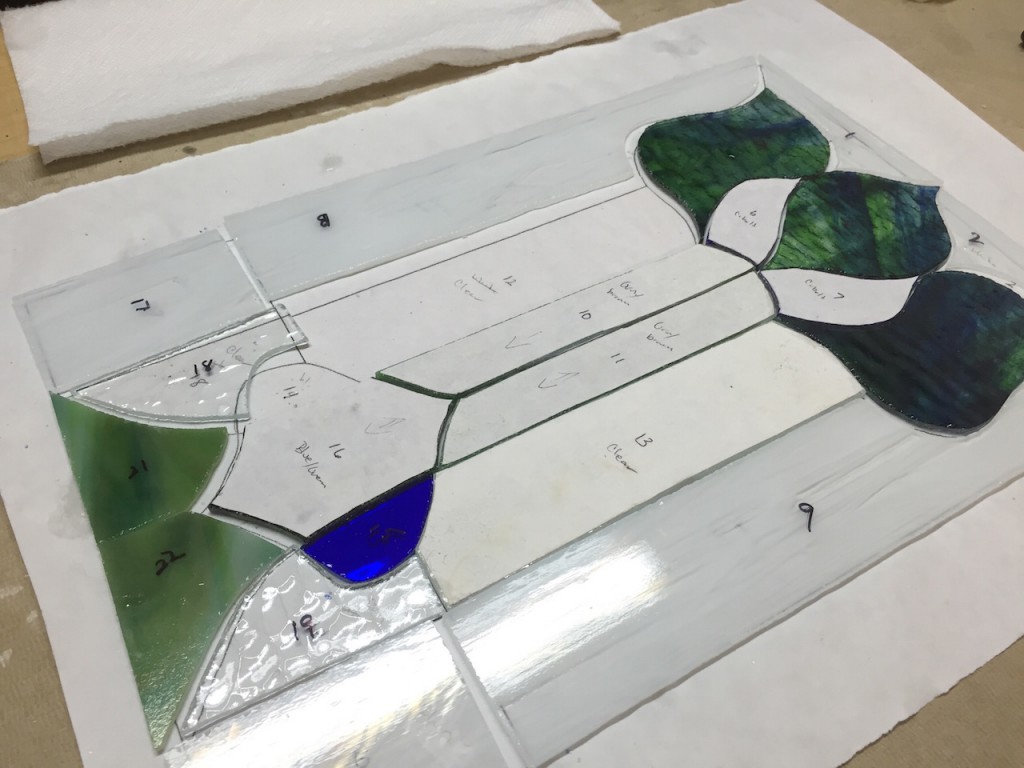 Step 4
Now we reveal… soak each piece in warm water to remove the paper. Mark each piece with it's pattern number using a Sharpie to follow the layout. This is more helpful than I thought. I kept taking pieces way to work on them and I could see how a large piece would get out of hand quickly.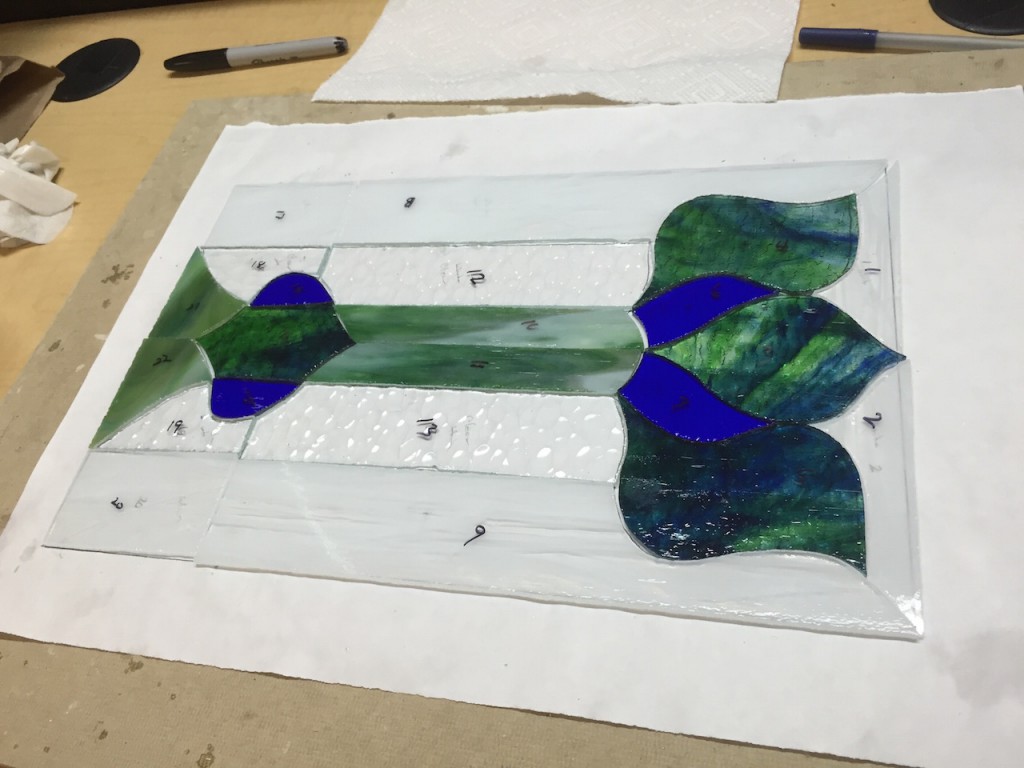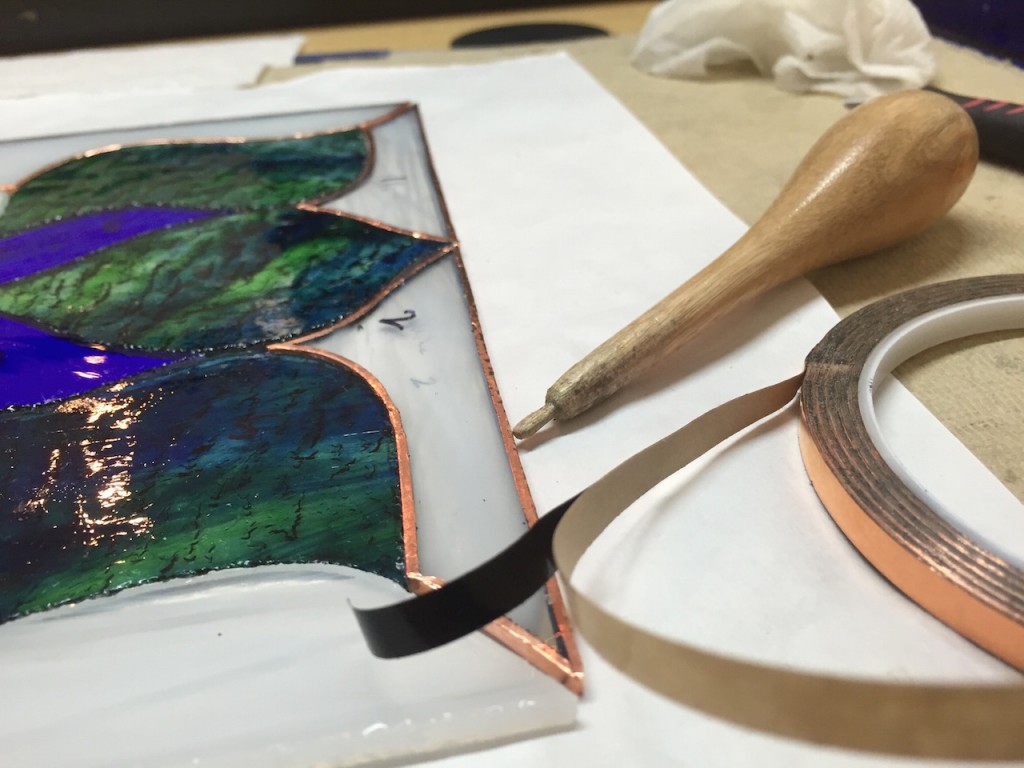 Step 5
This copper foil is self adhesive and makes the leading adhere. Fold it over the glass and press it into the undulating ripples in the glass using this wood tool called a 'fid'.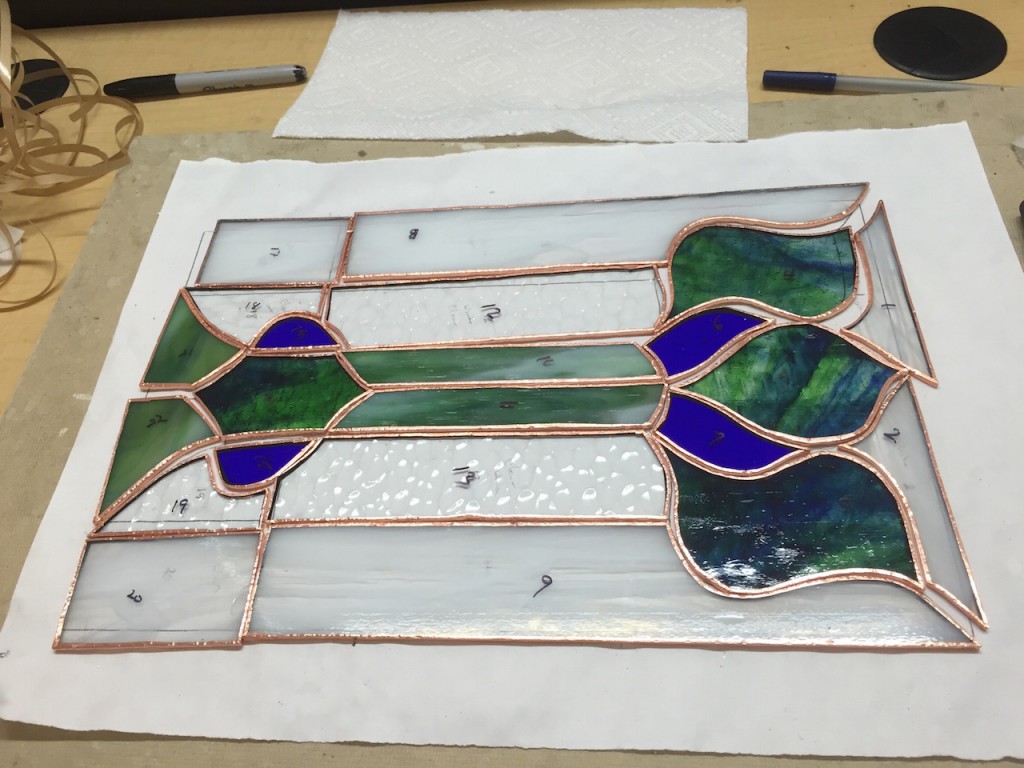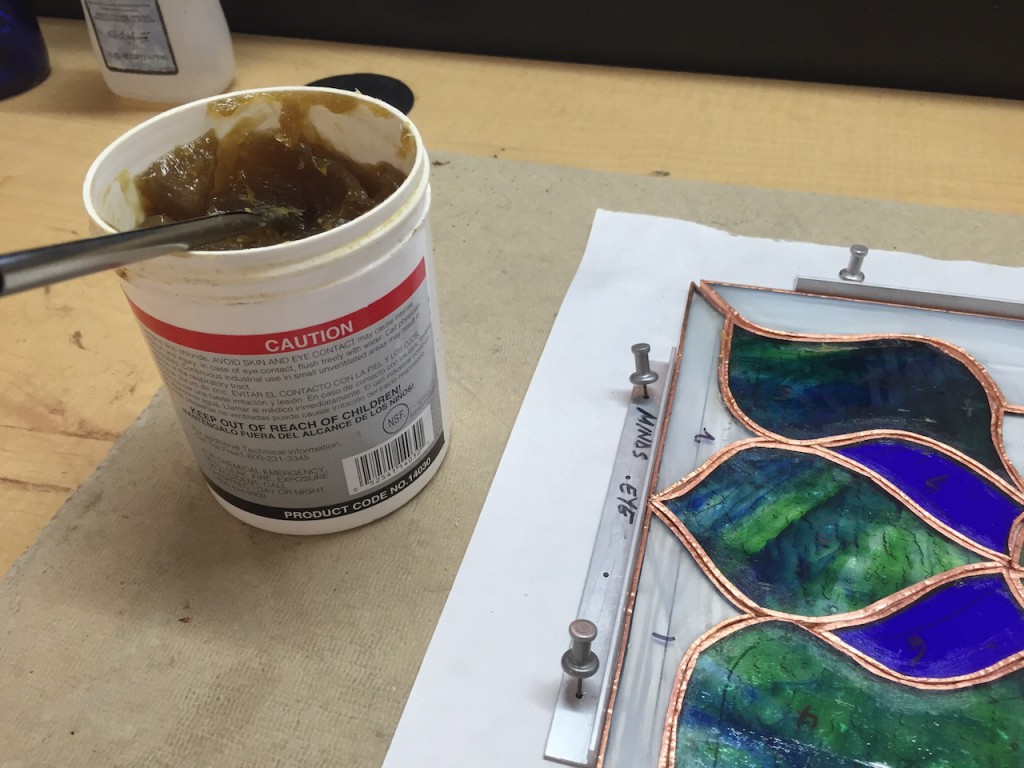 Step 6
Just like welding or soldering, they use a flux product to get the solder/caming to flow and adhere to the copper foil. But first, secure it to a board using some trim and industrial strength push pins.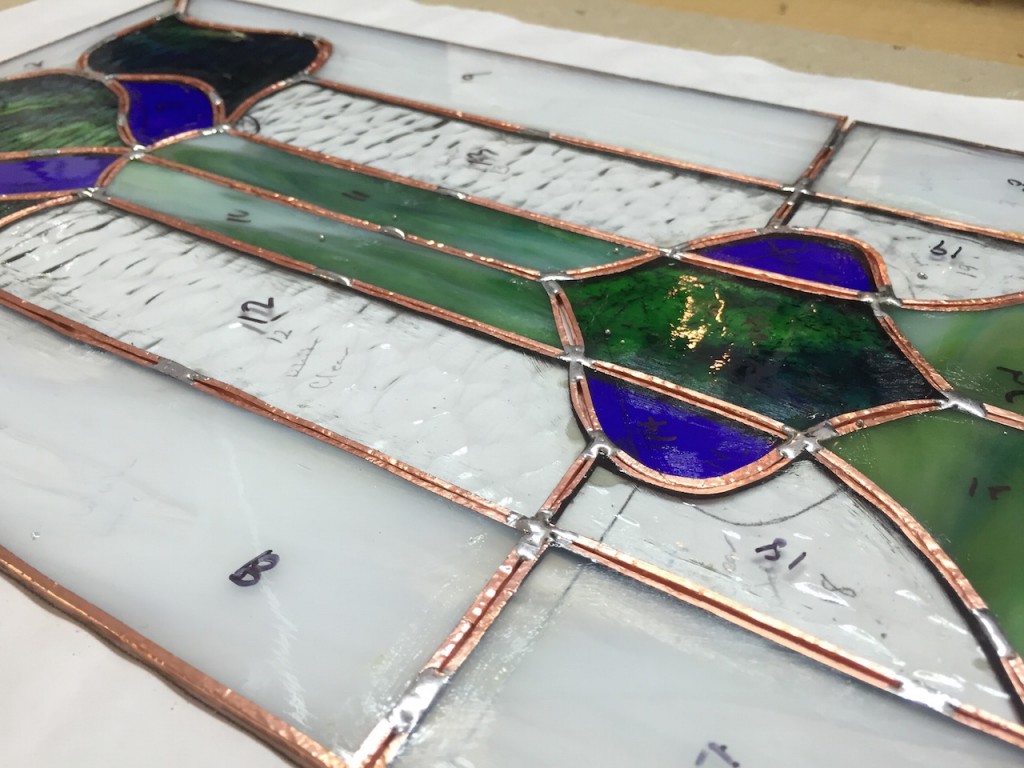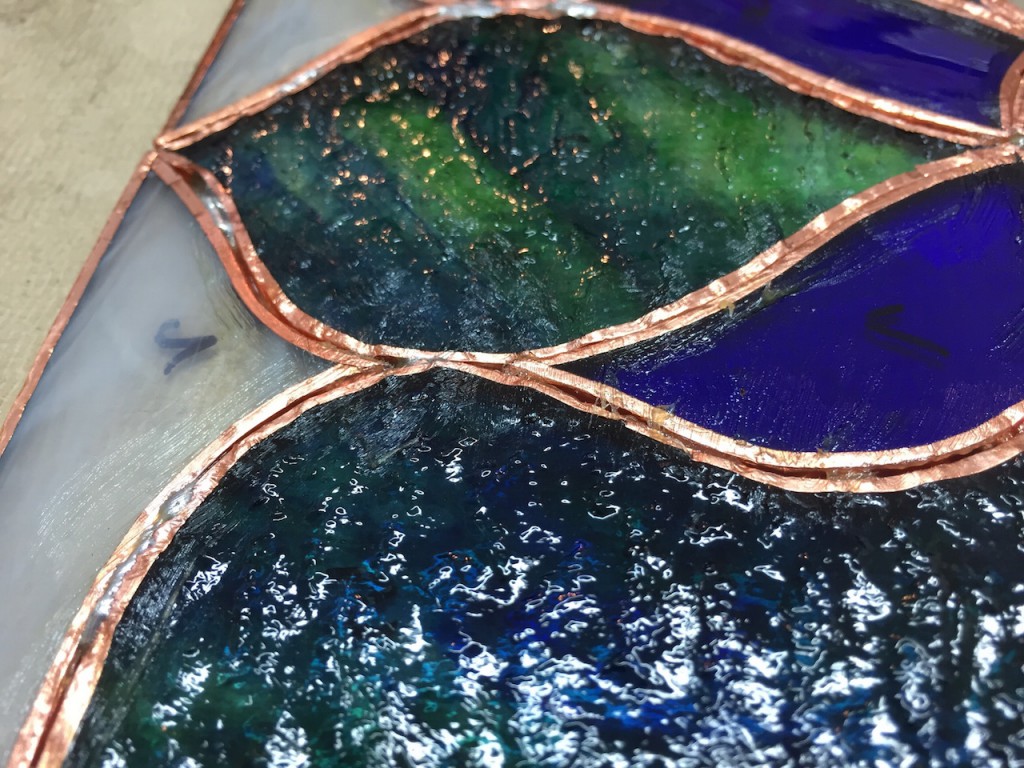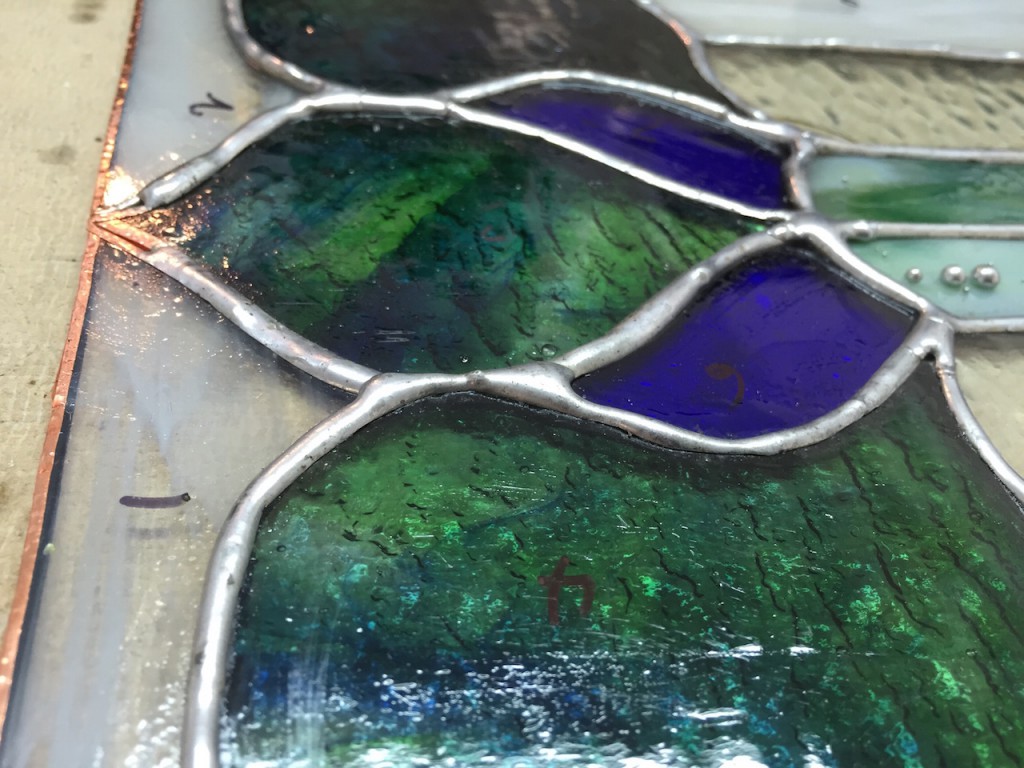 Step 7
Now follow up with more solder. Be careful not to get the edges. You need to leave room for the frame.
I've obviously opted NOT to attempt to hold a soldering gun, and the solder, AND my camera…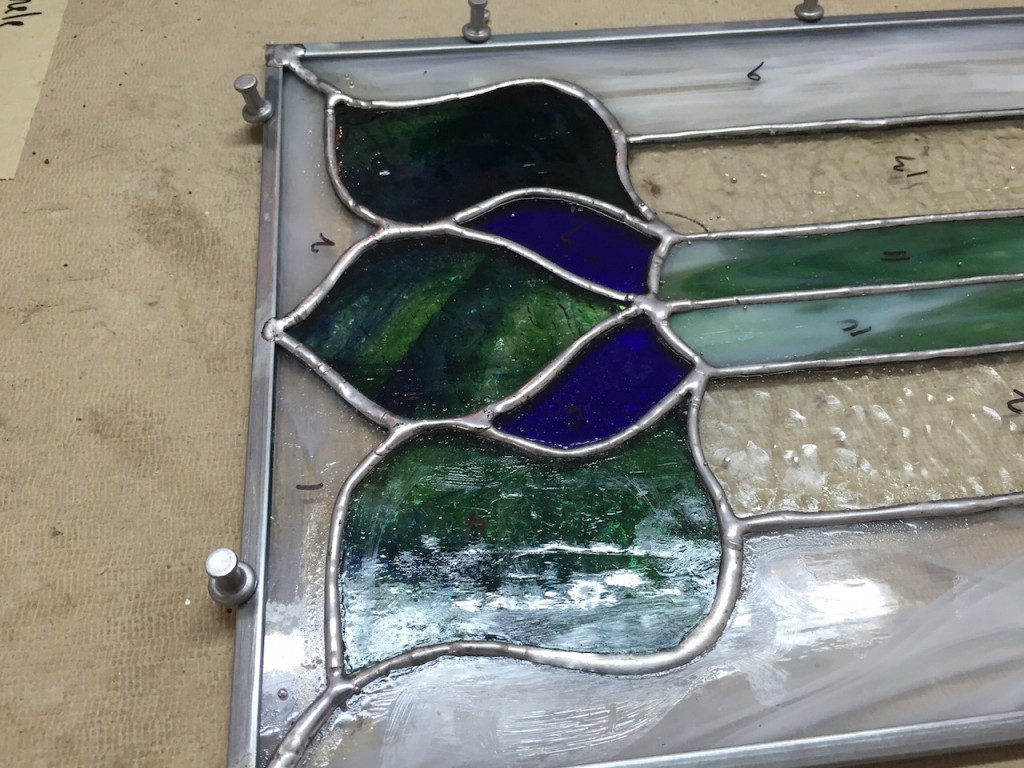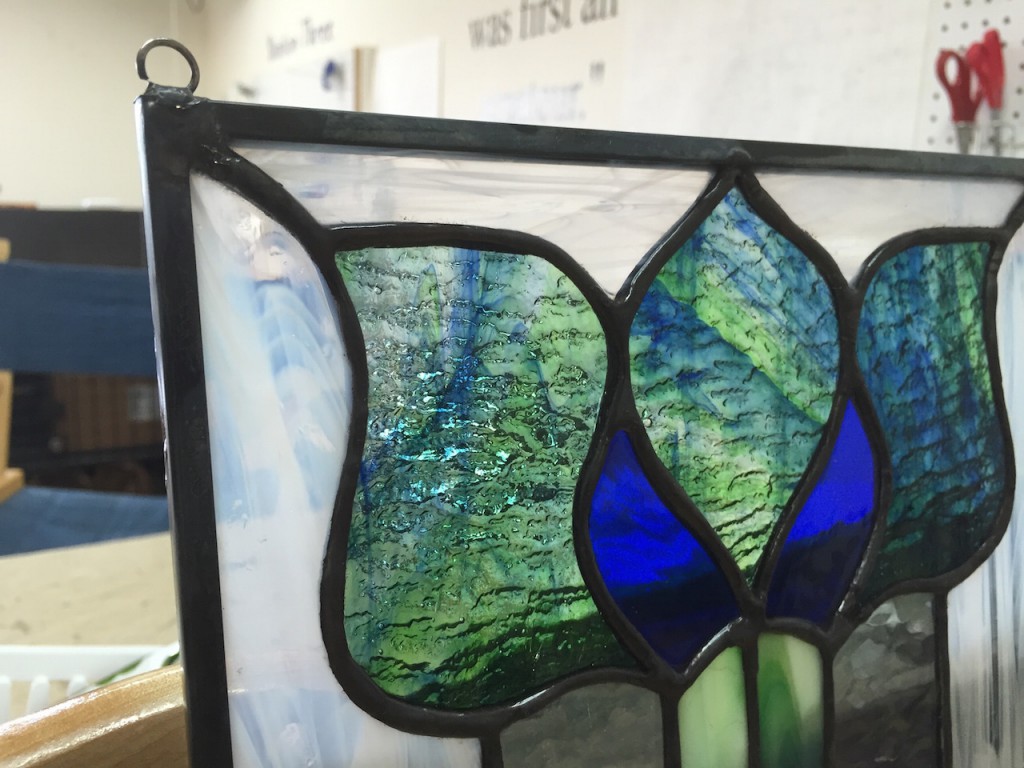 Step 8
Brush on a little oxidizer to turn the lead and frame a dark burnished color. Oh, and re-solder that ring at the top…oops. Now give it a rinse and you're done !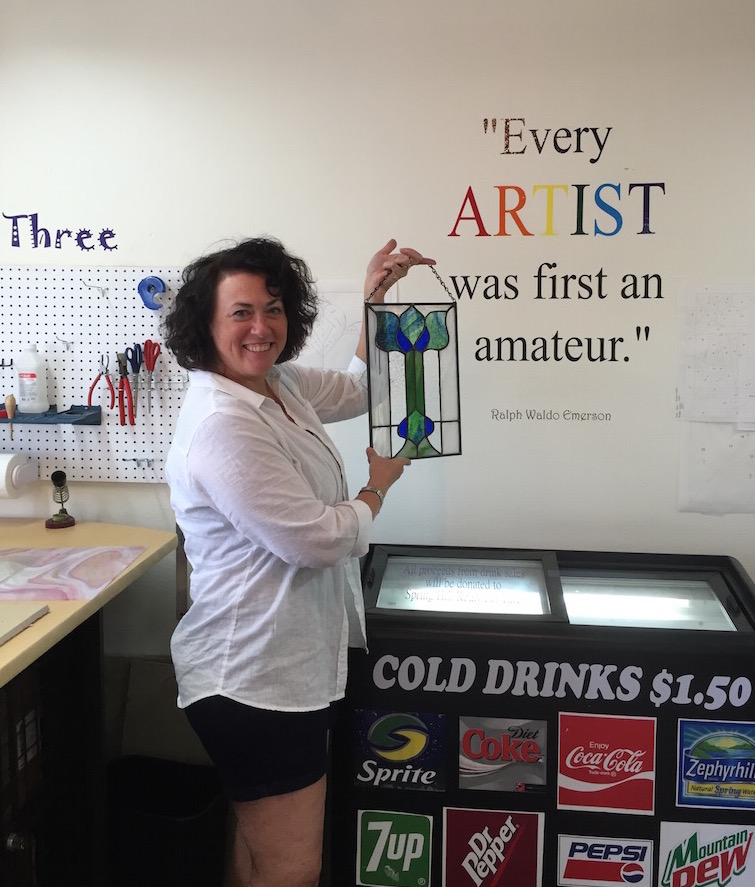 That's it ! All done… I love it.
This is a project that they did to raffle off for the WWHS Band !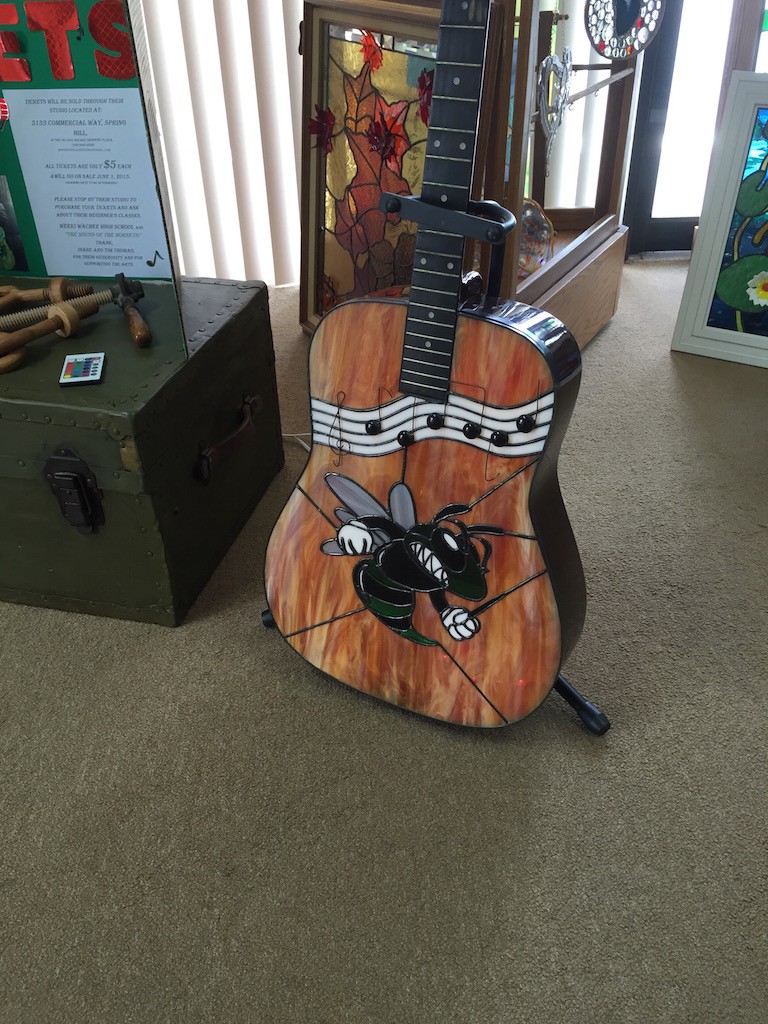 This stained glass guitar is playable and is also filled with LED lights – so cool ! They've been selling raffle tickets for months to help pay for the kids to go to the Chick-fil-a Bowl in January. Stop in and by a ticket or three ! The kids need you !
You'll also find them hard at work repairing people's glass door insets and making more elaborate pieces to add to homes all over Central Florida.
One last shot of my masterpiece …