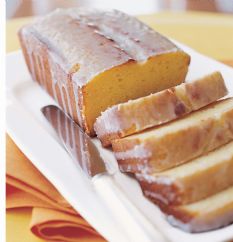 The last morning of Mermaid Weekend this year, we all shared in a great breakfast supplied by the girls in one of the other cabins. Since the motto of the weekend was, "diet starts Monday!", I knew I didn't have to turn down Vera's decedent sausage and gravy. (am I drooling, still) My contribution was this pound cake (minus some of the 'pounds'). It was yummy, moist, and summery tasting with all those lemon accents.
Barefoot Contessa – Recipes – Lemon Yogurt Cake
I didn't make the extra icing glaze for it, as I'm not a fan of all that sugar. That said, I knew it might need a little something extra. During the stop on the way up to Cedar Key, at the farm stand, I wanted to get some fruit for it. I thought for sure they'd be plenty of fresh berries – NOT. OK, now what? There, by the register, was a small basket of Florida peaches. Yes, we can grow peaches here. They're small, and not the free-stone variety. Since they smelled good, I bought a handful. I also picked up a bottle of local honey as insurance against those peaches being little peach flavored rocks!
I diced them up the evening before serving, put on a little squeeze of lemon to make sure they didn't brown too badly. Then I doused them with some of that honey and sat them in the fridge. And the next day,… they had a bright honey laced syrup – and were the perfect companion to Ina's delicious delight.
Enjoy!