Let me start by saying I am NOT a beer drinker. I'm big on all things gin and vodka. Although, I have been known to drink a half beer from time to time. It all depends on the food being served. Let's face it, pizza and burgers sometimes just need a beer. But sometimes you can find a beer that can stand alone. Hmmm, now you've got something I'll try.
With the new trend of 'craft-brews' out there, I was hoping that we might find some new selections at our local sports bars, and stores. No luck. Well, not really. It seems we live a bit too far outside the 'traffic-shrapnel-zone' for the cool things they get in the Big City. I've tried some fun bottles at a Seminole Heights restaurant I like, The Refinery. Upstairs their trendy bar serves up plenty of delicious Tampa originals. At home, those stylishly tasty brews are hard to find. But this winter, that scene changed.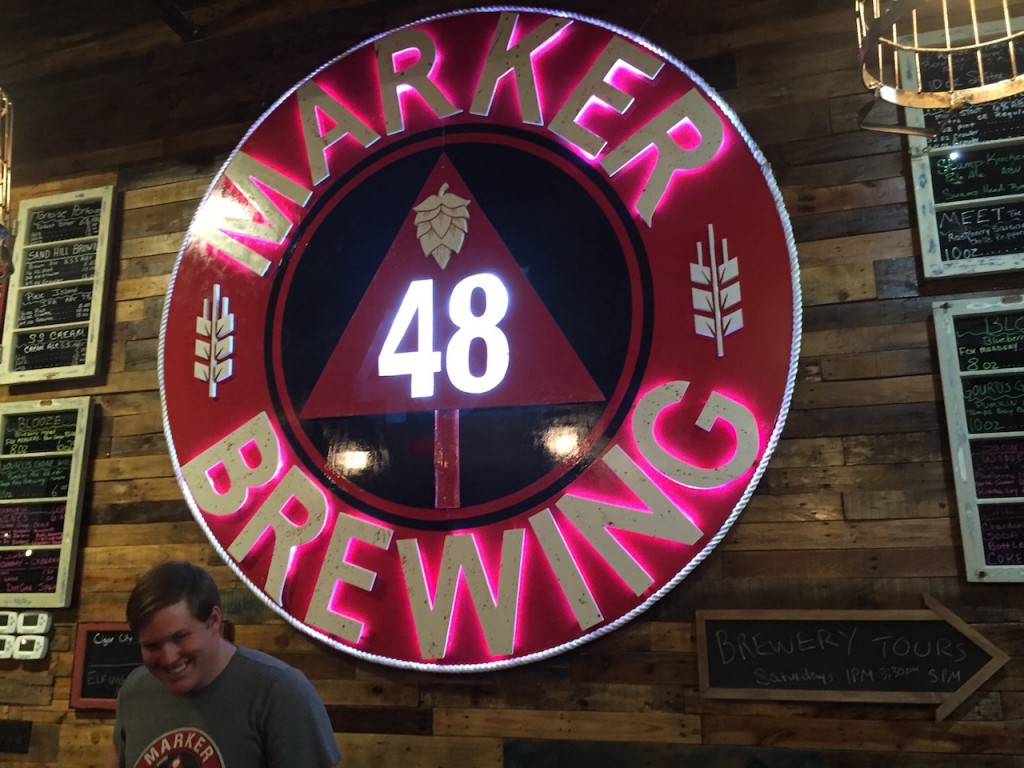 Yes folks, I bring you,…. Marker 48 Brewing.
Over the holiday I found my self there first with our high schools booster club members. After a night of fundraising over at Ci-Ci's Pizza, we wandered over to see what the fuss was about at the new place. The one that used to be a oil change joint ! No – seriously.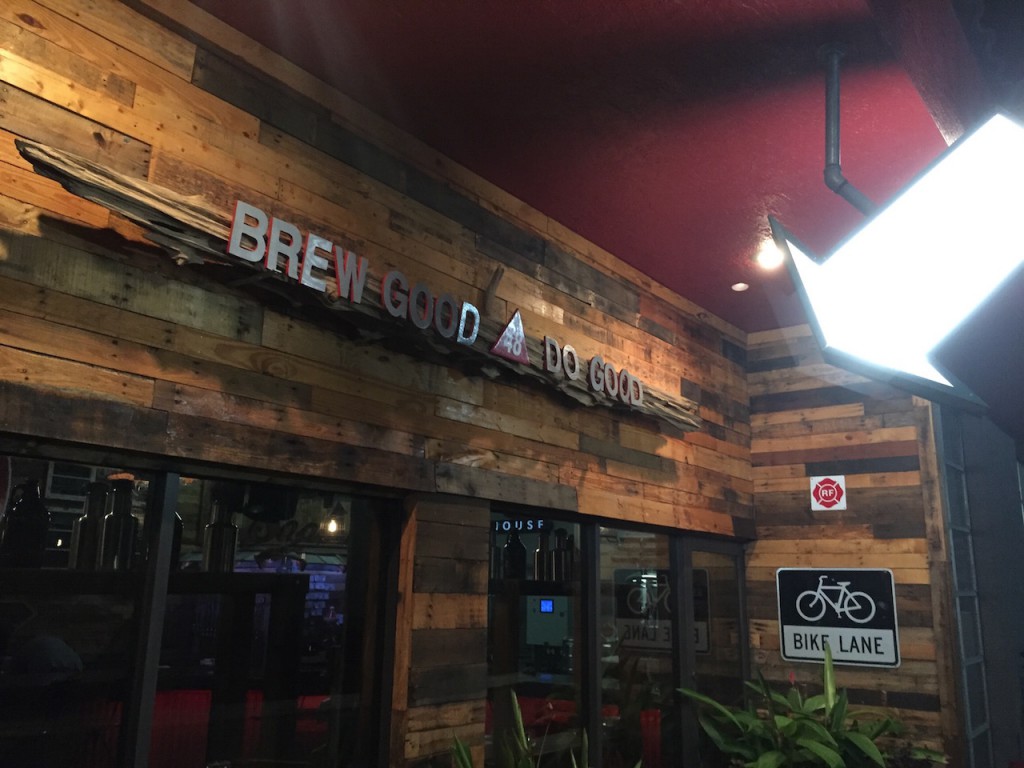 Many pics in this post, read on….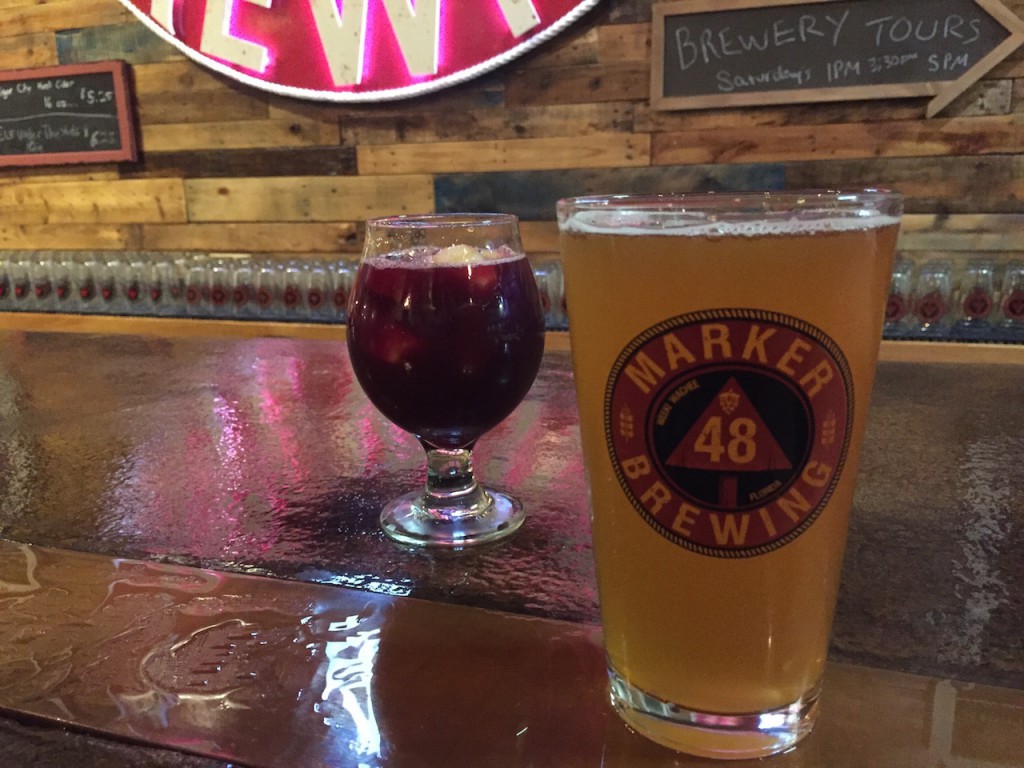 See the copper strip the beer is sitting on,…? It's ICE COLD, refrigerated to keep your glass chilled as you drink.
Speaking of cool things, I would come back just for the music. Seriously, I don't know who picks the playlist, but it's perfection. (George Ezra? Ray Lamontagne?? Really, in Hernando County – yes please)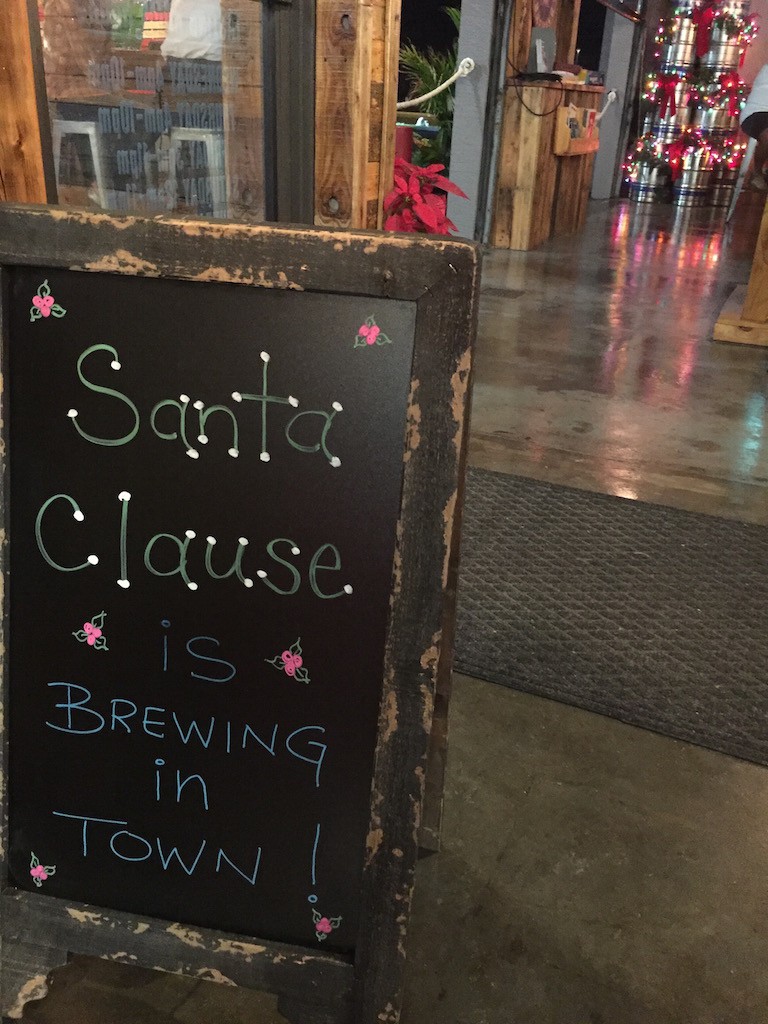 They can't be all bad – they've got a tree made of beer kegs!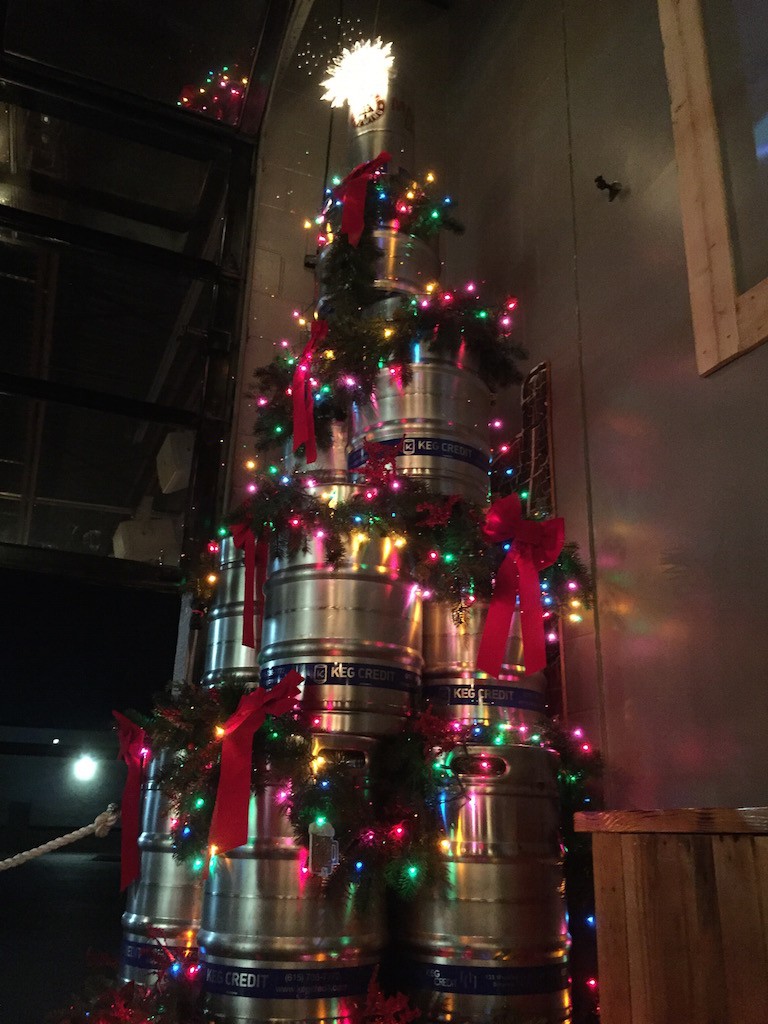 Yes, they sell beer by the keg too. I'm thinking I need to spread the word about their brews to some of those trendy restaurants in Tampa Town.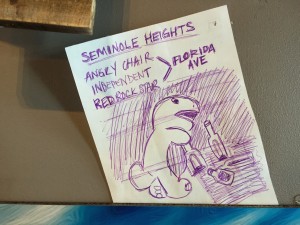 (carry those stickers in your purse,… hoppy graffiti !)
Looks like someone else has been leaving beer scented love notes… I'm guessing Barney's wasted cousin has been hanging at the Red Star Rock Bar, drinking some Angry Chair brew…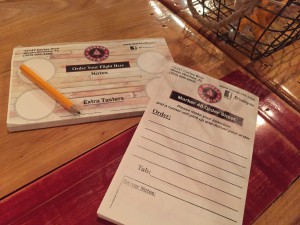 This is listed as a 'beer garden and tasting room'… So, let's taste !
That's not all. Out back there's the 'garden' – like your BFF's backyard, only better. It was quiet on a Sunday night before Christmas. So the Giant Jenga was open, as well as the pin-pong table, and corn hole. On the far end was a massive screen showing A Christmas Story, and plenty of fire pits going to make us feel all festive!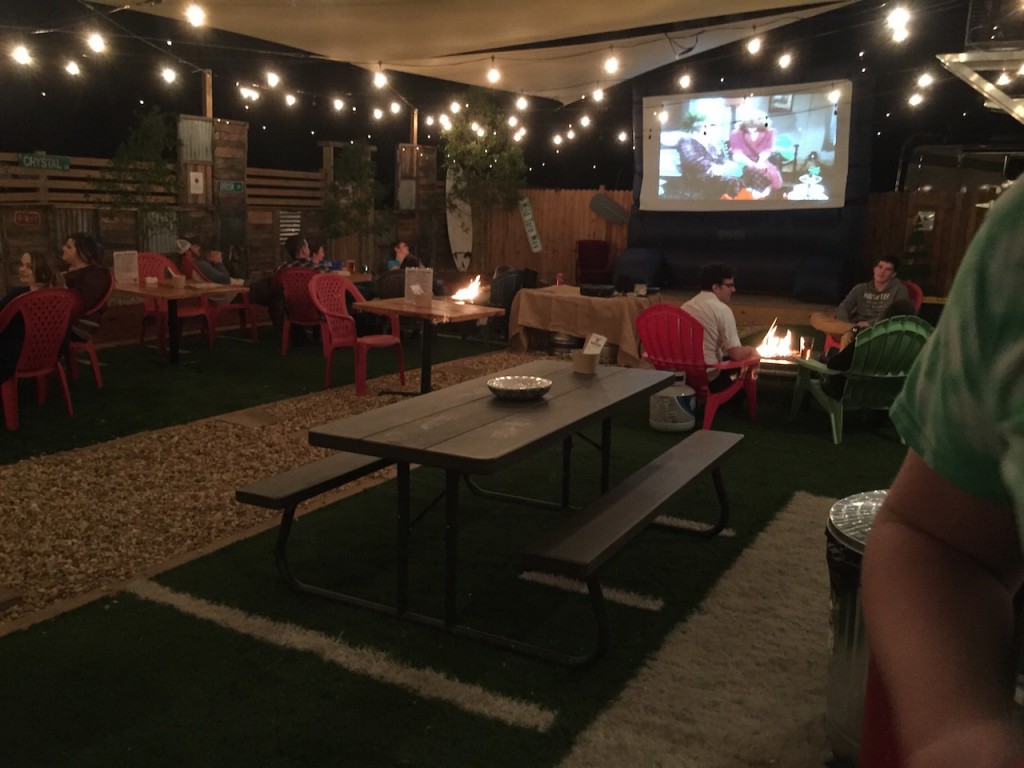 It doesn't end there – back inside there was a strange setup. I did say this was once an oil change joint,… well, they converted the work pit into a fun room. Yeah, seriously….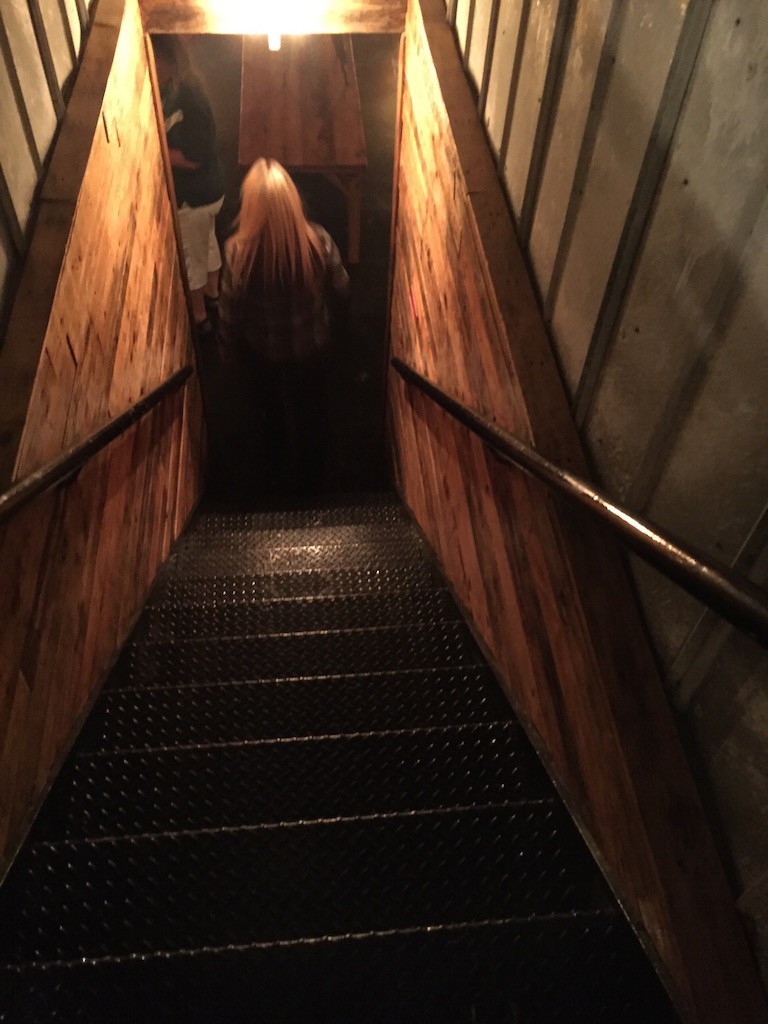 You can rent this space for whatever you want – a bachelor party, bachelorette party, company party, my birthday, Tuesday,…whatever.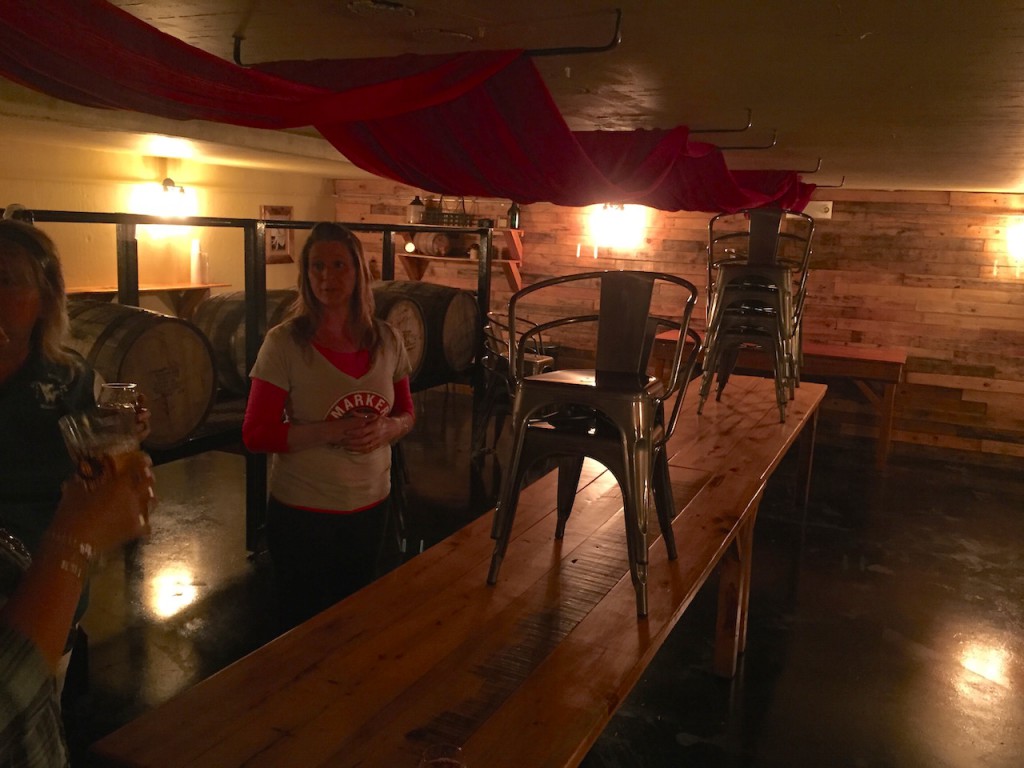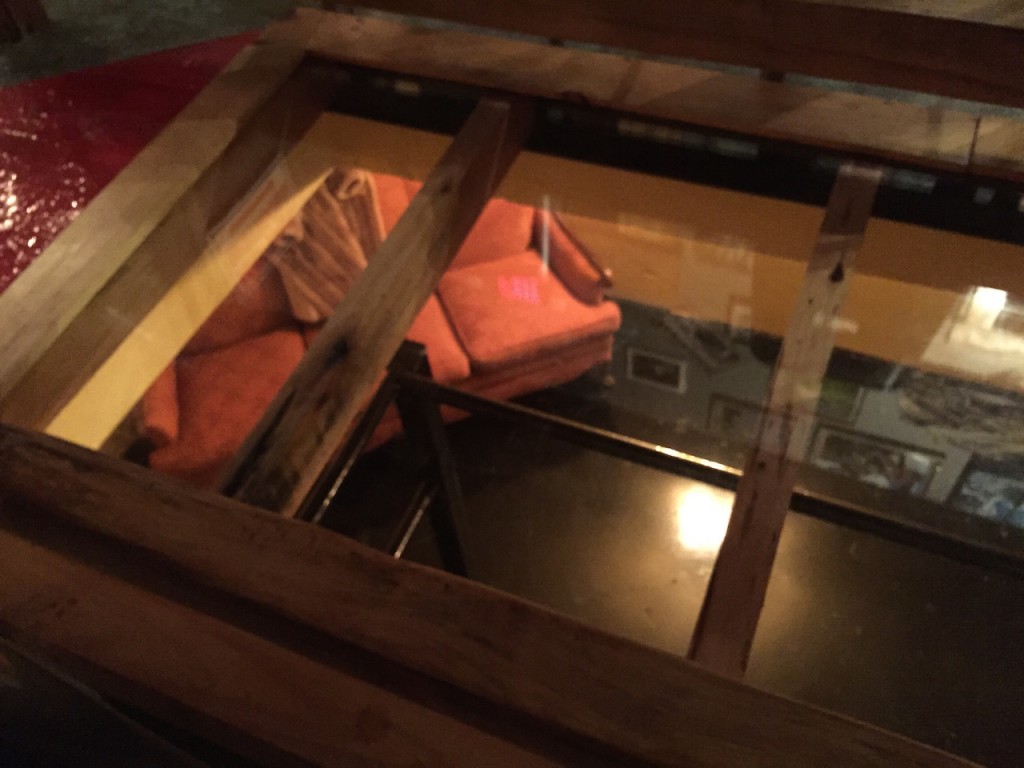 We were so silly that evening! After spotting the sofa thru the plexiglass covered floor, we knew it was a photo-op.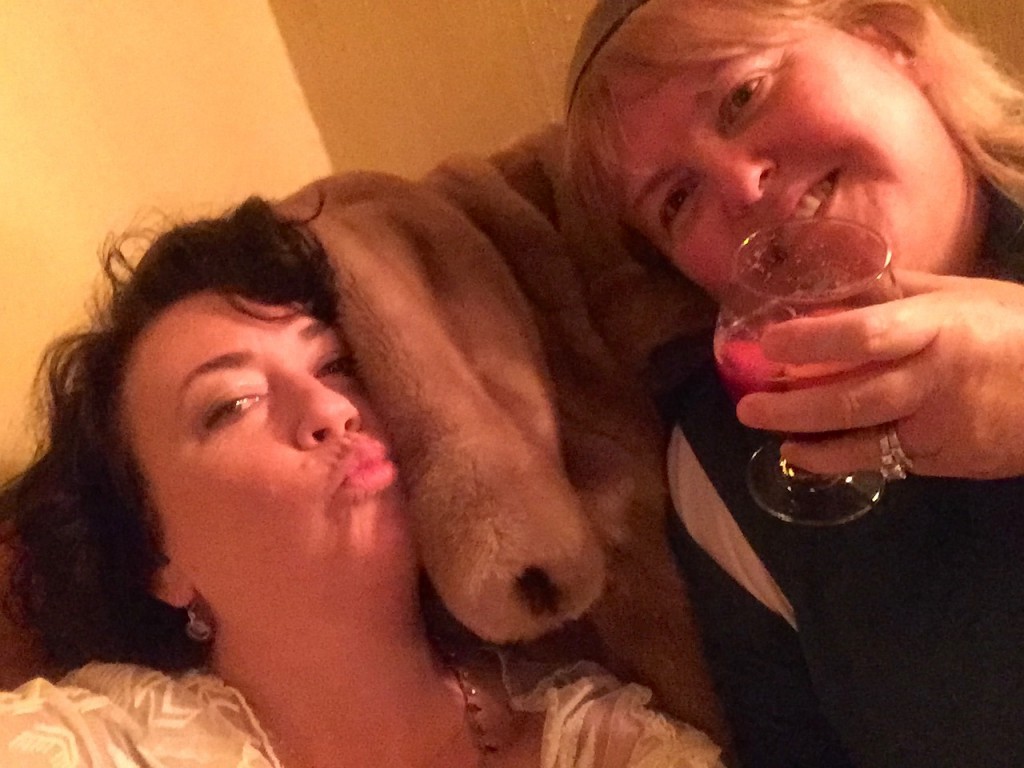 Lynne and I had to practice our selfie skills – drinks in hand – luvin' the old Prohibition Moll look.
Meanwhile, back upstairs, it was nearing closing time (but they didn't care).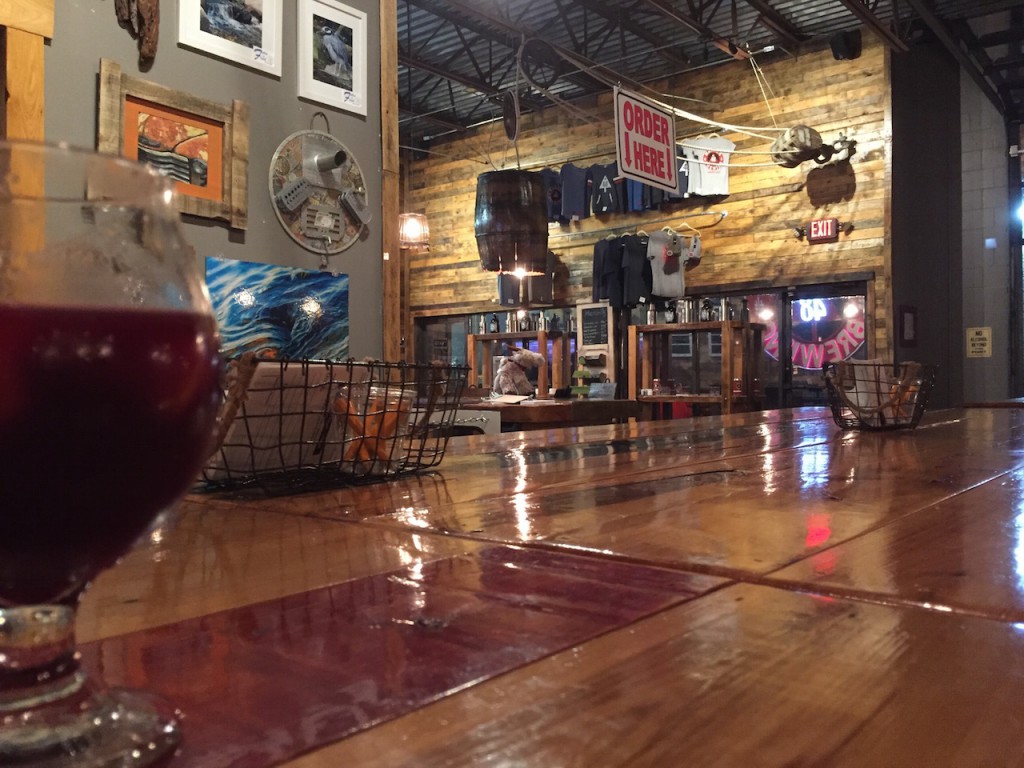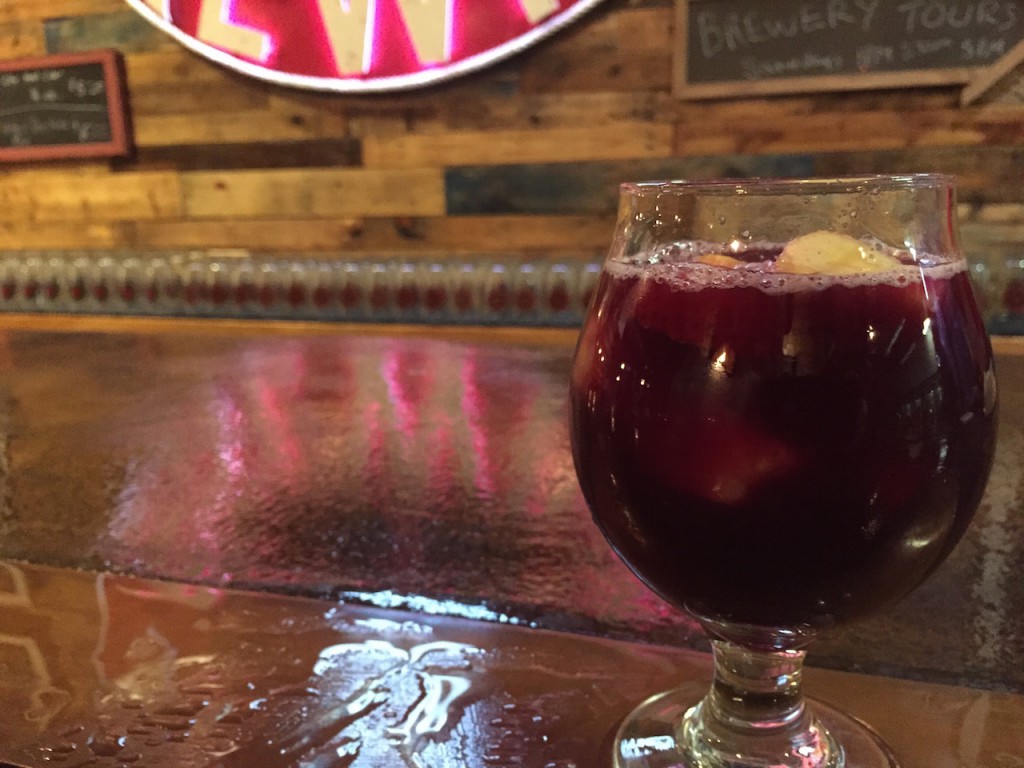 NOTE: There is NO food served by the tasting room. There are licensing rules (daaaamn!). But, never fear, there's a food truck parked next door, conveniently just outside the 'garden'. There's the new cuban place next door, and you can get Bizzocco's Pizza delivered in – no problem.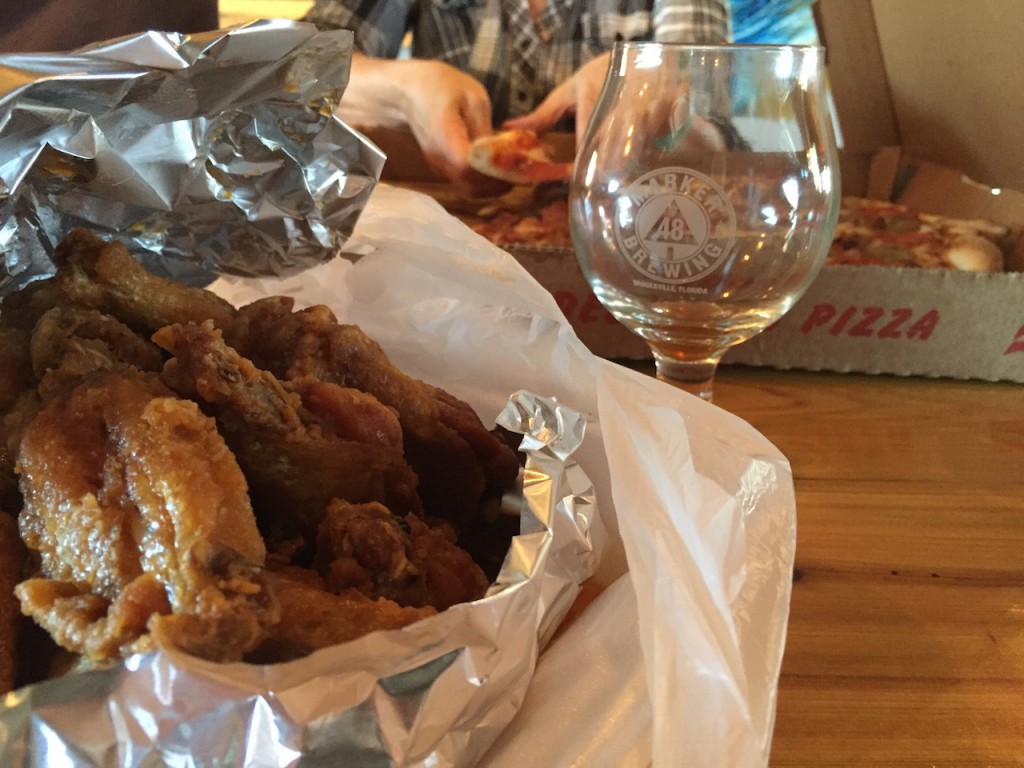 We opted for pizza and wings on another visit. Yes, this was such fun, we've been back three times over the holiday break – bringing anyone we can!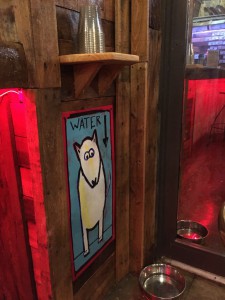 You can bring the dog too (and the teenagers)…
So, I've gone on and on about the place itself without ever mentioning the beer. The beer is GOOD – really, really good. (I'd say great, but I'm GreyGooseGirl) I had a brew called 'Elf on the Shelf' – delicious! Not too heavy, and definitely not your average bottle A/B product! Even the amateur taster knows a good wine from a cheap one,… this is not cheap. It is, however, inexpensive for the grief and time it takes to make it. We had a table of 6 (plus a teenager having a Coke) and as my cousin-in-law picked up the tab, he remarked at how little he got away with. This is the guy who brews his own beer and lived in Brooklyn before moving to DC – both trendy beer-snob spots ! He knows his stout from a cuvee'. Yes, they make a cuvee' at the Marker 48 too !
Now, we have a new place to hang out at – whew! I was beginning to worry about this county. So many watering holes have become 'early-bird-special-joints', it's been a downer. I'm feeling much better these days with somewhere fun to spend some time at – get yourself over there and try it out ! …and get a growler to go 😉