Our local high school has fundraisers. Yes, like all of the schools, there's never enough money. It seems, the taxes go up and the spending goes down, hmm.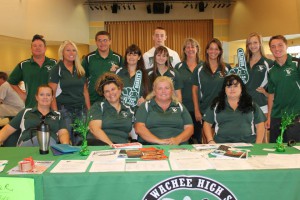 Our WWHSABC (Weeki Wachee High School Athletic Booster Club) has come up with another great fundraiser, laundry soap!
Everybody needs that!
Crazy, I know. I'd never heard of it either. Last go 'round I bought a bucket to be supportive, but honestly it's a really good deal.
But first I have to tell you that this supports ALL of the sports. There are even times when the band, chorus, and cheer have been included, when times call for it. These kids deserve a hand up. These days, anything and nearly everything is a separate expense. Wanna go to an away game? Oh, and you want a bus to take you? That's extra. Yes, the Boosters have to basically 'rent the bus and driver' from the School System. And that's not all, newer equipment, and uniforms?- silly people – that's extra. Really?! Yes, really.
The tennis team was so happy to get matching shirts,…from the Boosters !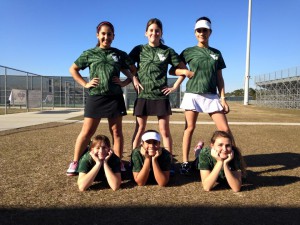 Sporting equipment isn't cheap either. My son's cleats are $100 a pair, a parent purchase. Want thigh pads to help guard against injury? That's not an issued item. The school supplies the basics and even cash for that is dwindling. Staff does what they can, but when the State/County slashed the budget for 'extra circular activities' they cut it to the bone. Not by a few hundred dollars – thousands. So, it falls on the Boosters work harder to do what they can to make up the shortfall. And work they do.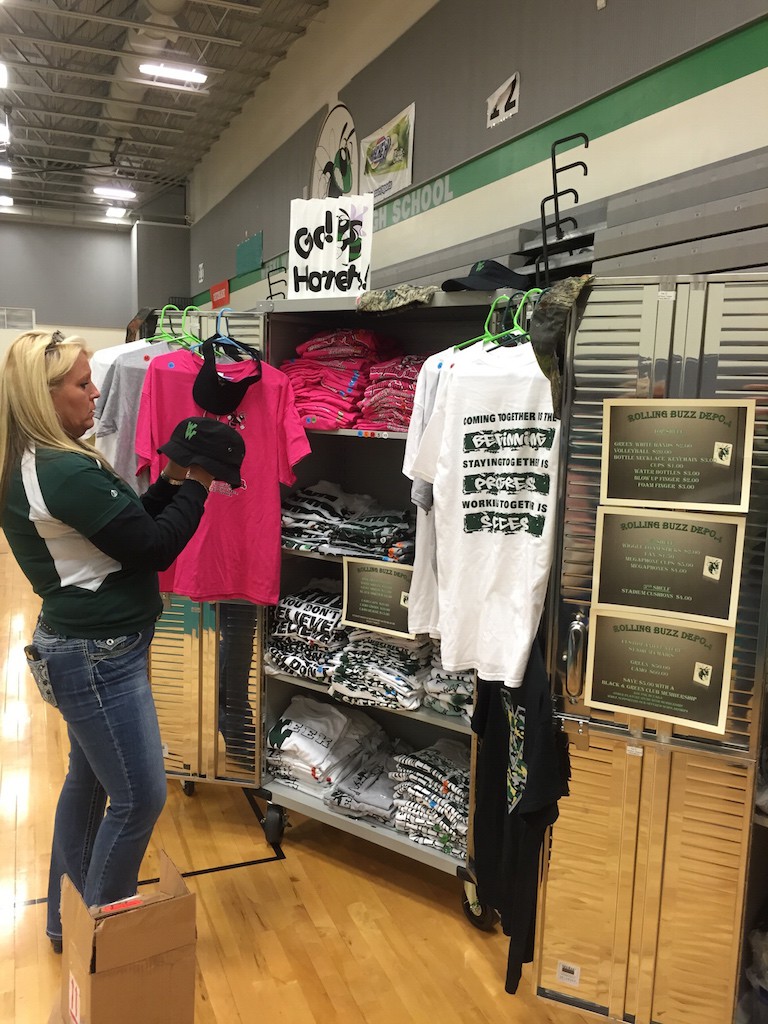 We get community support, don't get me wrong, – the golf team loves the folks at Glen Lakes Country Club! They allow the kids special fees to play and some of the members have donated used clubs and even golf shoes. We can't thank them enough!
I digress,…laundry soap. This is name brand soap that's distributed by a 'fundraising corp' and is sold in 5 gallons buckets. What the heck to you do with that much soap? Have you got more than one kid – oh, yeah I'm talking to you. Storage issues…have you got a garage, or pantry? Every couple of weeks I refill my 'little bottle' that I keep in the laundry room.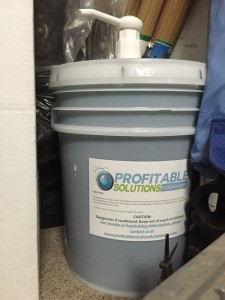 My 5 gallon bucket hides under the whole-house-vac can. It's a perfect fit.
Nobody I know has space for a paint-5 o' suds in their laundry room!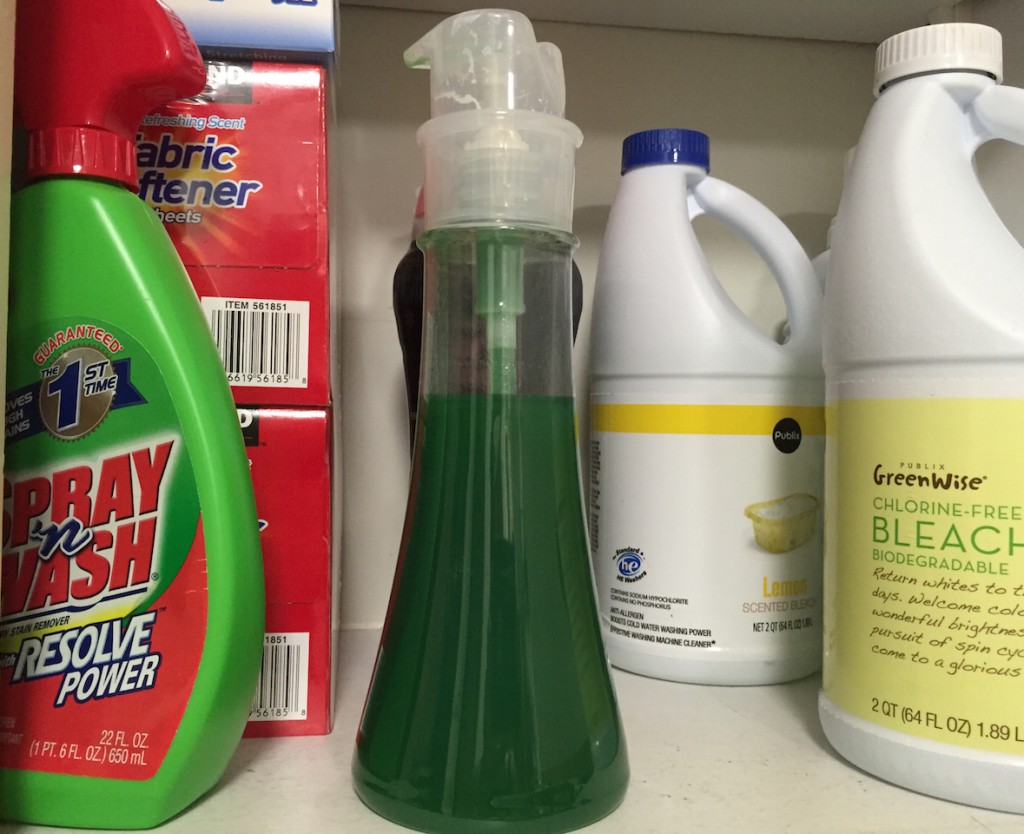 A refill of my favorite 'Method' detergent bottle and I'm good to go. I like Method products and I recycle so, I'm glad I didn't toss this bottle. (I think I've had it more than a year!) I know that 5 -6 squirts of the little bottle equals my preferred measured cap for a load of my HE detergent. The huge bucket comes with a pump too. Easy peasy!!!
OK, what's it cost…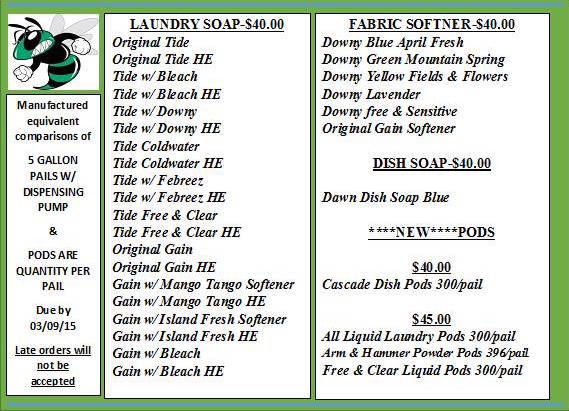 I ran the numbers. At $40.00 for 5 gallons, that's 640 oz. = .0625 /oz
At Sams Club a 225 oz mega bottle costs $20.48, that's .0910 /oz
Target and Publix are running sales this week, 100oz for $9.99 = .0999/oz (I think that size bottle runs $13-15.00 regular price – .15/oz)
Walmart has an oversize jug of 150oz for $14.97 = .0998/oz
Think about it – at .0625 per ounce, that's cheap! If the Target sale was a 100oz bottle for $6.25, you'd be all over that, right? Well, here you go. And it doesn't spoil – it's soap. I won't have to buy detergent until next year! One less thing for that shopping list.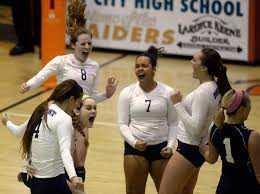 Besides, it's for a good cause.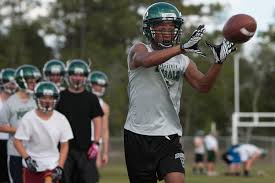 Contact the WWHSABC at their website http://www.wwhsabc.rocks, email info@wwhsabc.rocks or call Mary Stone direct 352-232-0509 to order your pail.