Yes, I'm crushing on a martini ! I'm allowed, I'm a big girl. I'm also a fan of the LemonDrop or lemon martini, but where I live getting a good one is difficult. For whatever reason the minute you add any juice to a martini the barkeep assumes you want some overly sweet, sugar rimmed girly drink…no thank you. (this is BADzoot you're dealing with here ) I'd rather pass and make my own at home, and I won't even need a driver. I even make my own Limoncello, which I posted…you didn't miss it did you? That was so good that it got me thinking, can't I do that with limes? I mean I really miss my G&T's with limes (the drink no longer sets with me). Well, as it turns out, you can DIY…check it out.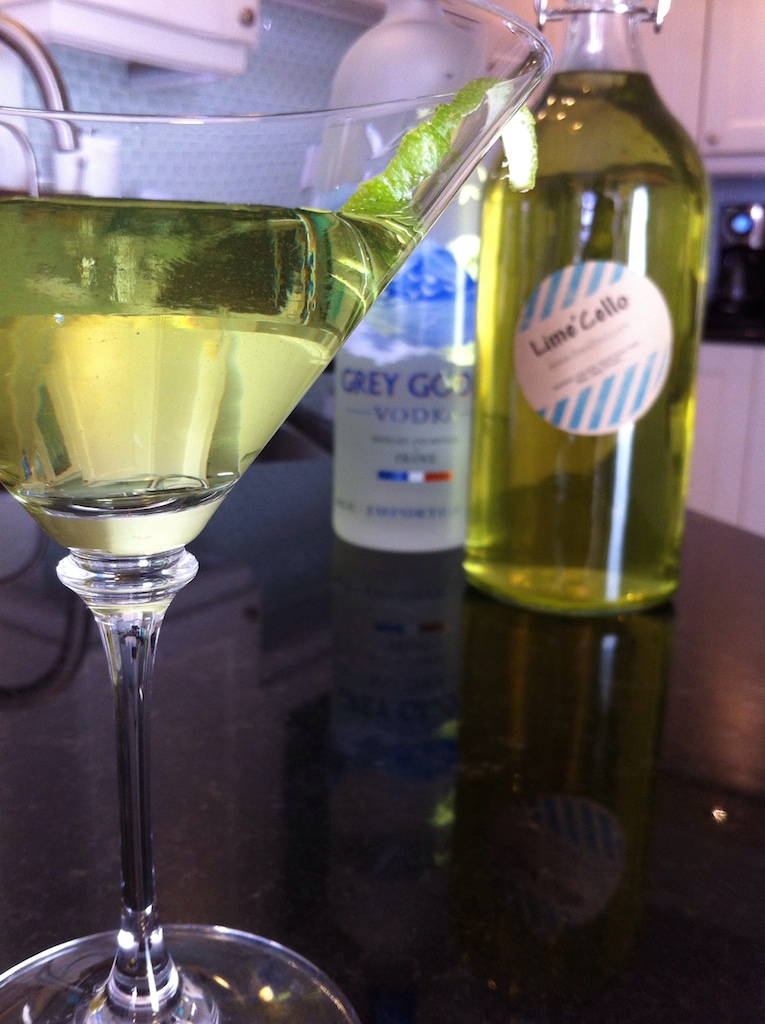 Lime'Cello
10 Limes (washed please – you don't know where that zest has been!)
1 – 750ml bottle Decent Vodka
3-1/2 Cups Water
2-1/2 Cups Sugar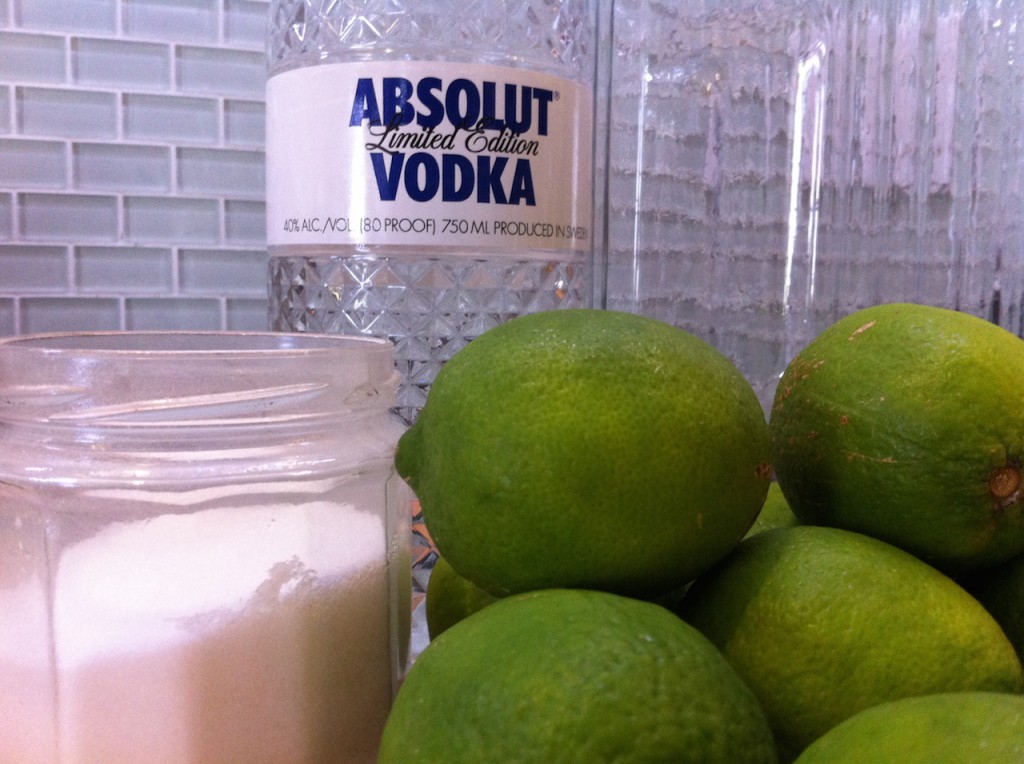 Step 1:
Gather the Goods and get those Limes washed up.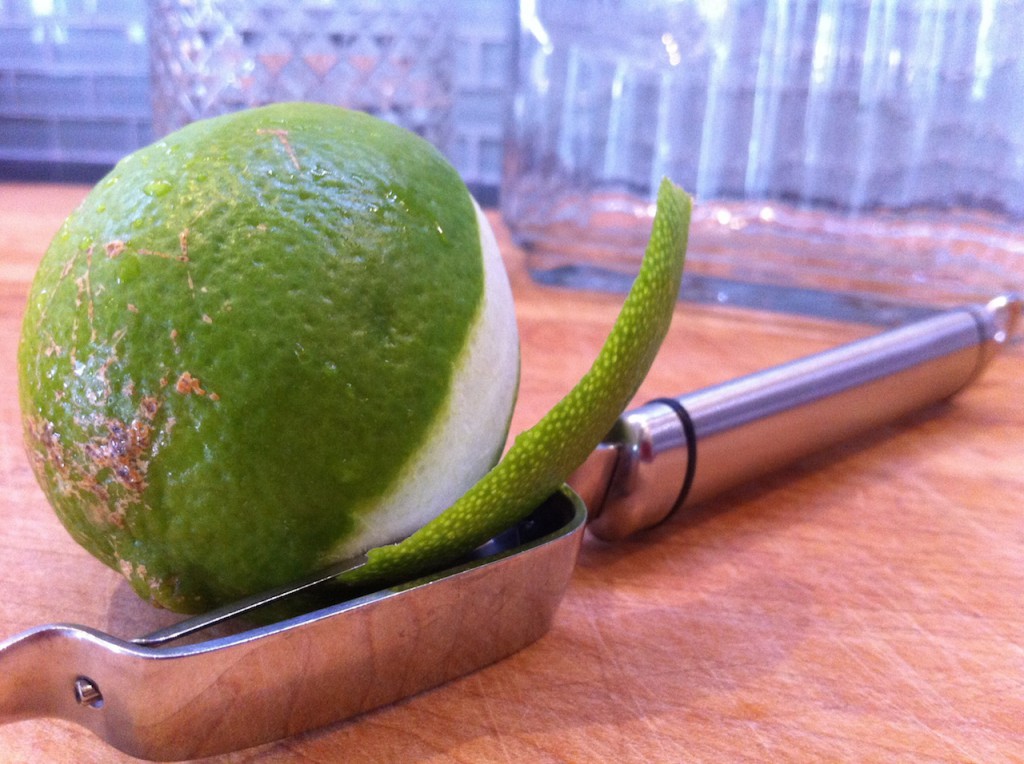 Step 2:
Use a peeler and remove the zest from the limes. Try to leave the white pith behind. You can juice these later for margaritas, or cherry limeades or something.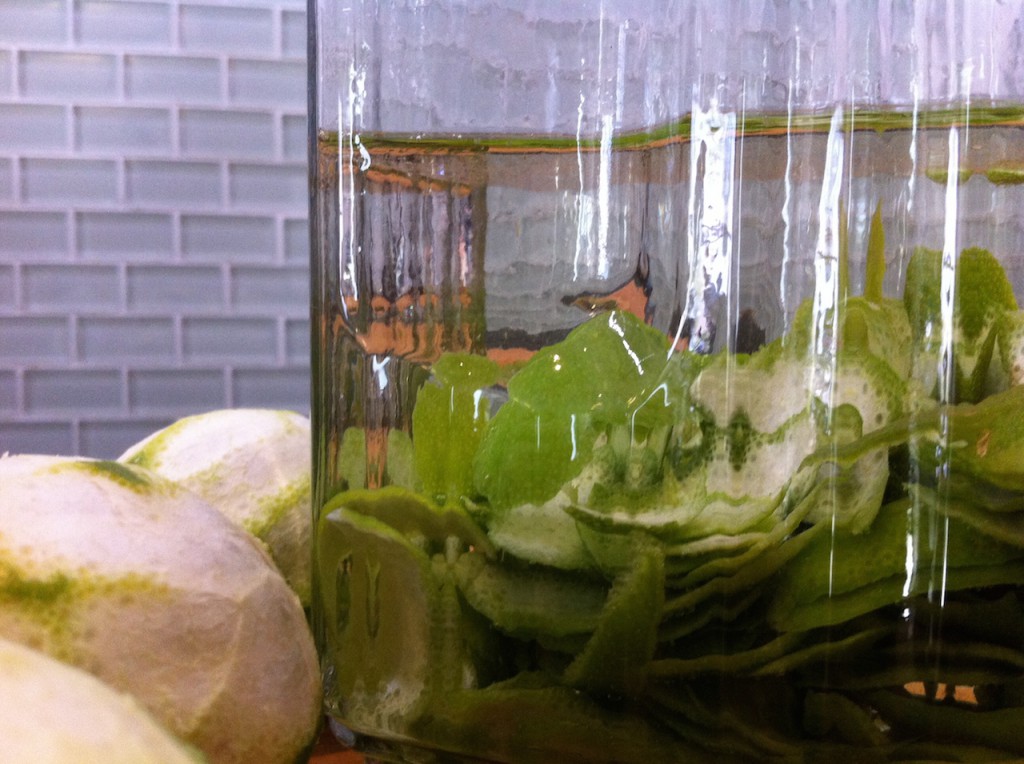 Step 3:
Get the peels into a 2 qt container (glass is preferred). Pour in the whole bottle of vodka and lid. Cover the lid with some plastic wrap – can't let that sauce evaporate! Now let it set at room temp for 4 DAYS.
Step 4:
Now, don't panic over that color that the peels turned,…it's an odd army green. I said don't panic. Just dissolve the sugar into the water in a pan, and let it cool to room temp.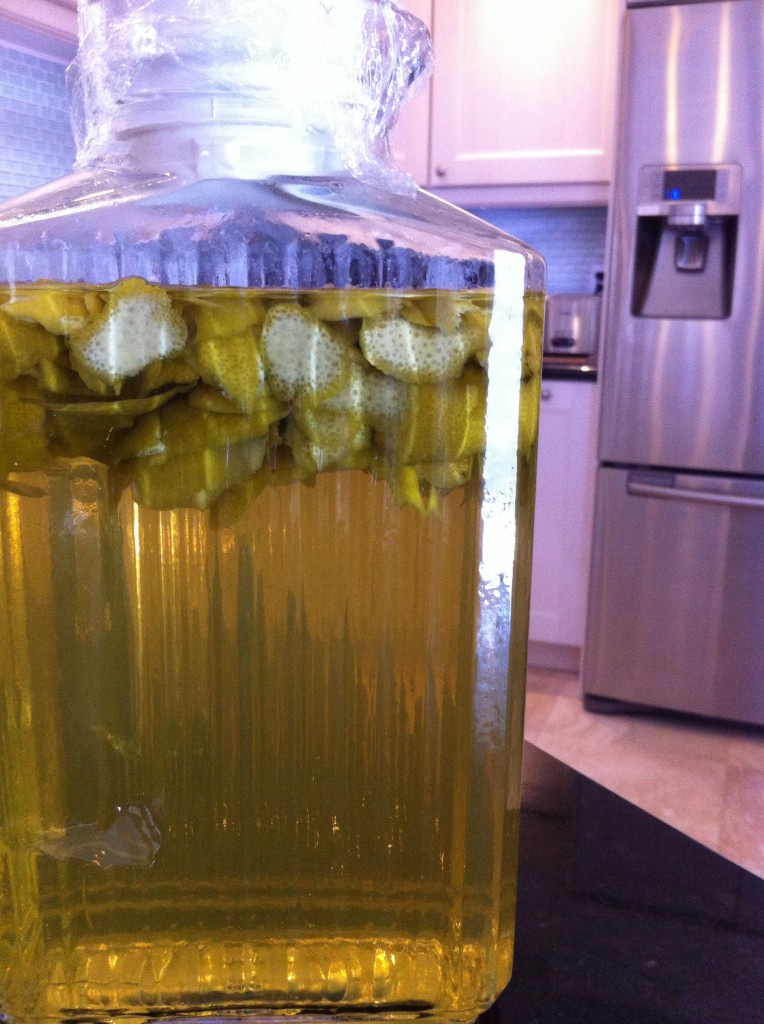 Step 5:
Pour the simple syrup (sugar/water) into the container and recover. Let this sit at least overnight.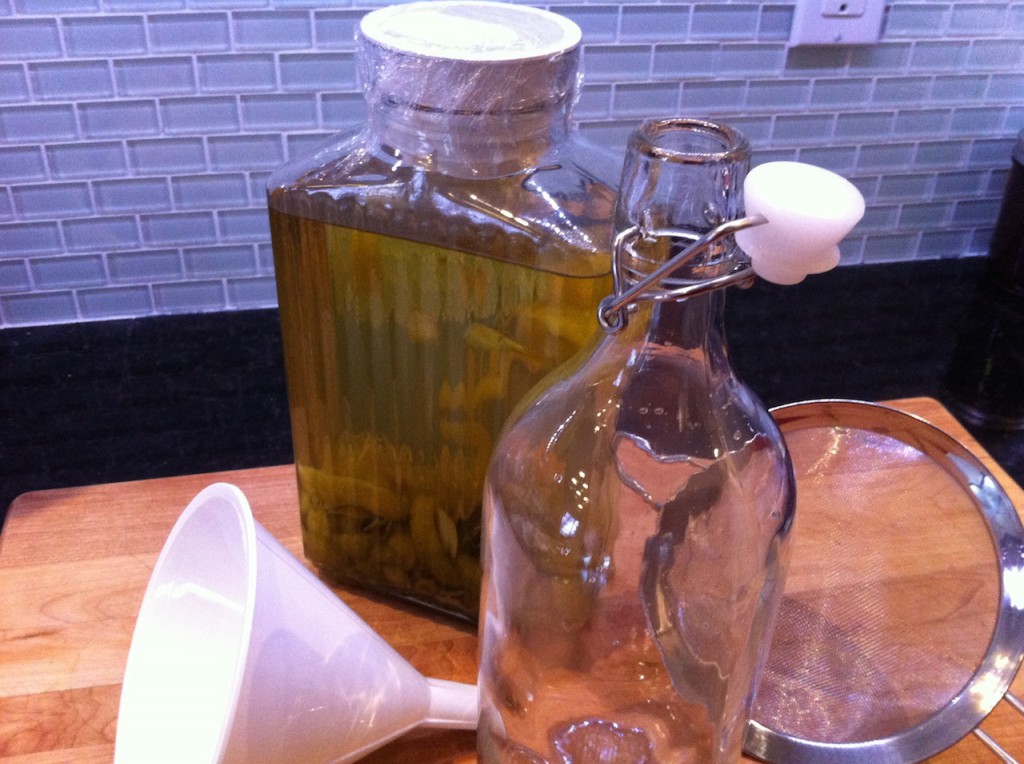 Step 6:
Strain out the peels and funnel the elixir into a cool bottle, or two.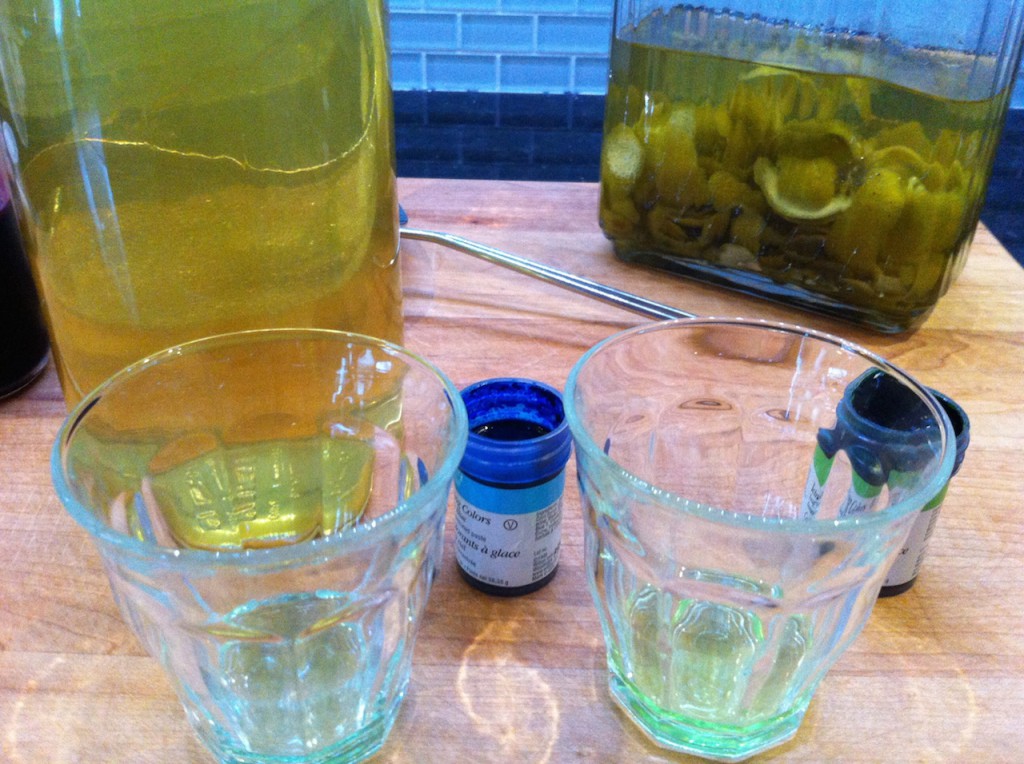 Step 7:
You don't have to do this, but remember how noted the color was an odd army greeny? Well, that color is, first off very close to the lemon version, and second it just isn't very appetizing. This doesn't mean you need to go crazy with food coloring – we're not going for a Midori green (yuck!) The blue added to the yellow liquor didn't turn out to a be a green. Who knows why. So, I just added a touch, and I mean a dip of a bamboo skewer tip into the food color…like the head of a pin size addition made it perfect!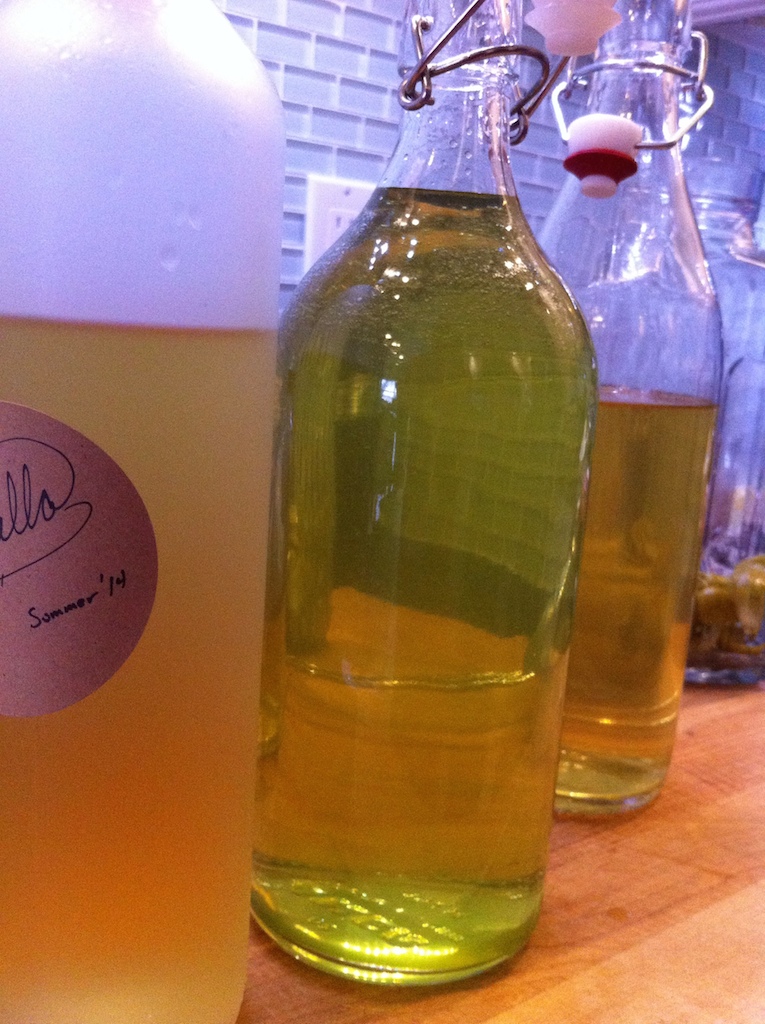 There, that's much better. A touch of green,…now a label…and a martini ! Besides, I've waited all week for this!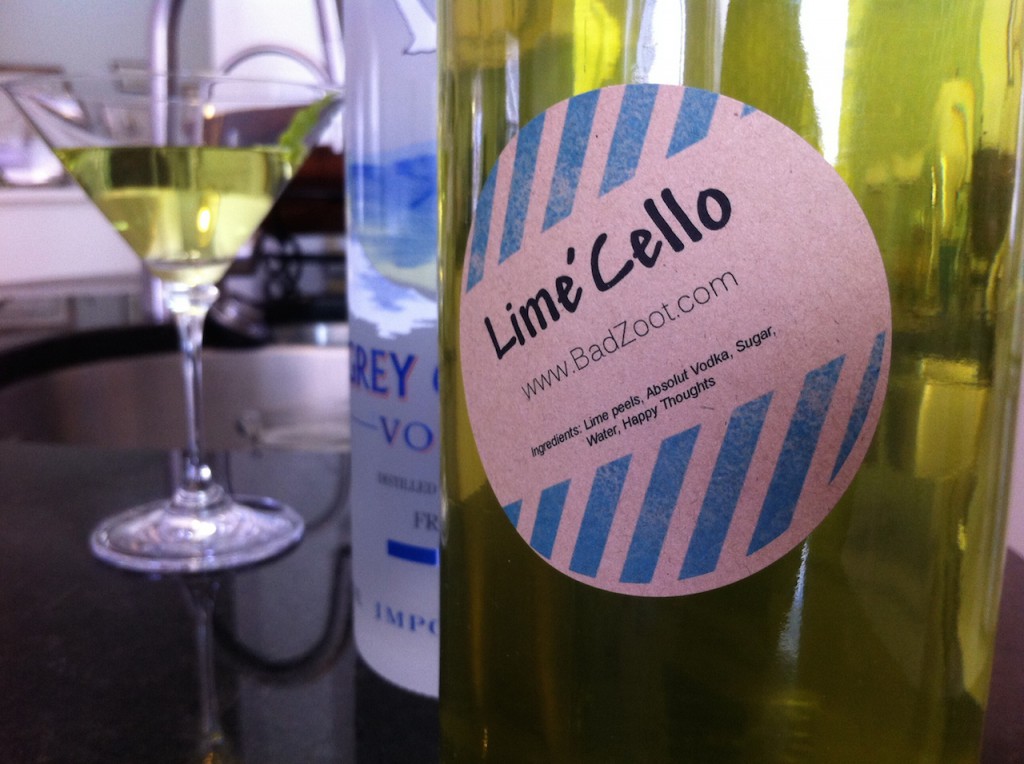 Go and make some for yourself. Can you add tequila? Oh yes,…please…….
…make it top shelf – don't disrespect your handiwork.