Yesterday was quite interesting. I'd stated in the previous post that I was off the the School Board Workshop and that I'd let you know how that all turned out.
Wow – I'm so glad I went. Although I wish I'd brought my husband – it was quite illuminating.
The Board, for their introduction, stated that they'd all fielded numerous calls and emails about the redistricting and that everything had been posted – which brought forth noise from the crowd. Because it wasn't. (that's 'staff's' job) That was one of the reasons I includeded the screen shots on my last post – it's no where to be found. Wait, this is familiar.
"But look, you found the notice didn't you?"
"Yes," said Arthur, "yes I did. It was on display in the bottom of a locked filing cabinet stuck in a disused lavatory with a sign on the door saying 'Beware of the Leopard'.", 'Hitchhikers Guide to the Galaxy'
Or maybe it's buried and 'staff' knows where it is. We don't. They went on about how 'this is difficult' and that 'they care' and that they had a 'committee of professionals and parents' to assist. The parent input is a nice touch. From what I understand it was set up to fulfill a legal obligation and that's all. Which is probably where the 'leak' came from.
My husband has served on planning committees before and he had a similar experience. There's no real 'input' that staff wants. Basically, you're bothering them while they're doing their job. 'Staff' only listens to staff, which are employees, not elected officials. Another thing to note is that these 'staff' members are the same ones who helped back us all into the corner to begin with. Why are we still listening to them? Oh, because they're 'staff'.
Staff sat there and presented their findings, which was the reason we were there – we'd seen the map. Here's some of the highlights:
The Bus Coordinator attempted to explain to us how it's more efficient to bus students 17 miles to a school (WWHS), then force students who live within 5 miles of their school(WWHS) to be bussed past, that school, to another school(CHS) 12 miles away. Yes, I did say that. Later at public comment, Mr. Raguso (a fellow parent) wanted to know "…if diesel burns differently in a school bus than other vehicles….? Because that makes no sense." Many questions flew from the Board which wanted to make sure that it really was $40,000 per route in cost to operate the busses, and if that new GPS system that cost $80grand helped devise all this. The ridiculousness continued until The Board couldn't handle any more and moved on.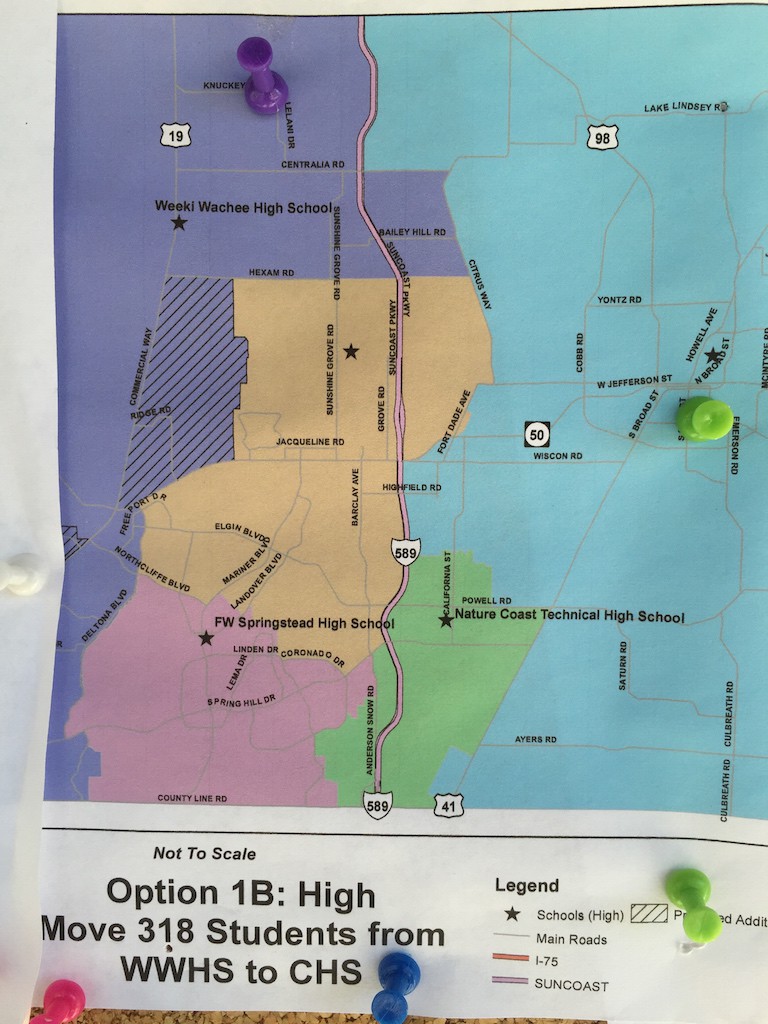 Next, the reasoning behind the moves, which were nearly as unbelievable. the long and short of it is that the main reason schools are unbalanced due to uncontrolled School Choice. Which, I understand, was opened up while Ms. Jackson was acting Superintendent some time ago. Make note, Ms. Jackson is now in charge of this redistricting project. School Choice is an option now only available to District Employees, or people who want to send their kids to Central (12 miles away), Nature Coast Tech (about 18 miles) or Hernando (25 miles away?). It wasn't always like that. Fill out a form, get it notarized and apply. Tell them your kid lives with their Aunt in that zone, and as long as you drive them*, they get to go there until graduation. (* I believe – but the bussing is so bad it wouldn't surprise me to find they're involved)
Beyond that, there's just low enrollment at the Central Zone, even with the very quick mention of moving 69 Endeavor students over to help fill. I had no clue what they were talking about and had to look that up later. Apparently, the Endeavor program is for at-risk students. A completely separate 'academy' for kids nobody can handle? Why would you mix them in now, after you've discerned they need to be separated?
The Board went back and forth asking nearly ALL of the other questions that we all had. Here's where I was amazed,….all those calls and emails that people made were actually received. The last time I went to a School Board meeting we were met with blank stares and lip-service smiles. I give kudos to this group because they never backed off when Staff didn't have any discernible answers. Ms. Duval, wanted REAL numbers. Mrs. Narverud was interested to know that her own development was cut up by the Staff that made note of how they went street by street for neighborhood continuity. (Um, no they couldn't have) She also pointed out that they kept mentioning other 'Options', which were not options at all because they involved completely different schools. Matt, I think, asked about the portables, Mr. Johnson broke in with pointed questions as well. Gus, well, he speaks very plainly and somehow was able to bring up a laundry list of issues with what Staff was presenting.
Everyone's consensus was that something must be done, we all agree, but you re-district the kids furthest from the school and work your way in. Part of the reason we live where we do is because of the school zone. It was built for the citizens that live there, and a few additions if space is available. NOT the other way around.
Weeki Wachee High School, I discovered, is the least of their problems. School Choice students at the elementary next door at Winding Waters are, and have been, out of control. They're bursting at the seems. Apparently, the same is at Suncoast Elementary, but they're going to close JD Floyd just to the north of it ??? I don't have all of the info on that – that's a whole other post.
Officially, the issue was tabled for further review. This doesn't mean it's over – they'll be back.
Now, this begs the question….why was there the giant sucking sound from the schools on Ken Austin Parkway to begin with? It can't just be the Recession? Why on earth do parents look forward to driving their kids to Nature Coast, a Vo-Tech school that's next to a smelly chicken farm, and is nearly 20 miles away? (I shouldn't bad-mouth it, I'm sure it's a great school) Because their only other option is Central. Wow- is it really that bad? Yes, yes it is. After the experience with my son at the middle school over there, I can say yes. A 7th grader shouldn't really know what the word 'lock-down' even means, much less be involved. I knew a teacher for Central high school, many years ago was bullied herself by students. One of my son's classmates at the middle school took so much bullying he snapped. He's no longer with us – sadly, he ended his life. My son has the better part of an entire year of 8th grade Science wasted because the teacher couldn't control the class and gave up – most in that class failed, I'm told. The teacher, when I asked about her, was 'no longer employed there'. How's his science at the local school (WWHS)? Well, next year he can apply for 'Biology Honors'…. this is an education worth moving and fighting for. I (we) will continue to fight.