For many years, my husband and I have been sharing our love of a recipe that my mother-in-law handed down to us. Marinated Flank Steak. I have a printed copy of her actual recipe card that was faxed to us from across the country back in '97 ! Yes, 1997. It's splattered with bits of soy sauce and is yellow with age – I love it. (Thank you Norma!) Now, maybe my in-laws might not be so happy to see this posted,….or maybe they don't have a copy. Well, they do now 🙂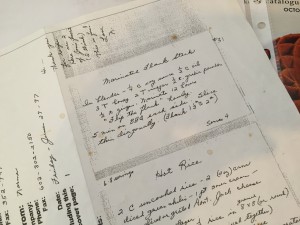 I've decided to finally share this because, first off – it's good,…and I like you. Second it's really nothing new. What might be new is that, recently, people have been using much more of this once forgotten cut. The Flank is like the Brisket, a well exercised muscle, only it's cut from the rear quarter. There's Brisket, then Plate (or skirt), and then the Flank, in that order. One thing I love about Flank is that it has way less fat than skirt steak, is way cheaper, too. It comes in handy sizes, unlike Brisket, which are thick slabs to be slow smoked for Texas B-B-Q or slow braised into a corned beef (which hasn't any corn in it – ???). Flanks are maybe 1″ – 1 1/2″ thick, about a pound or two each, should be pretty square, and not have a ton of fat on it. I'm sold. OK, well, I'm sold at the warehouse clubs. Since people now like flank, they seem to command prices as if they're a NY strip ! My Sam's club has it sometimes at a decent price, but you pay for less-than-desireable butcher skills. Now, Costco, on the other hand, are always worth stocking up on – perfect cuts of 'choice' meat, at $7.49/lb – I'll drive for that ! (Yes, Sam's is 7 min. away, but I save my list for an hour trip to Costco…so worth it !)
Norma's Marinated Flank
1/4 Cup Soy Sauce
1/2 Cup Vegetable Oil (I like a canola/sunflower mix)
3 Tbl Honey, local please
2 Tbl Cider Vinegar
1/2 tsp Ground Ginger
1/2 tsp Garlic Powder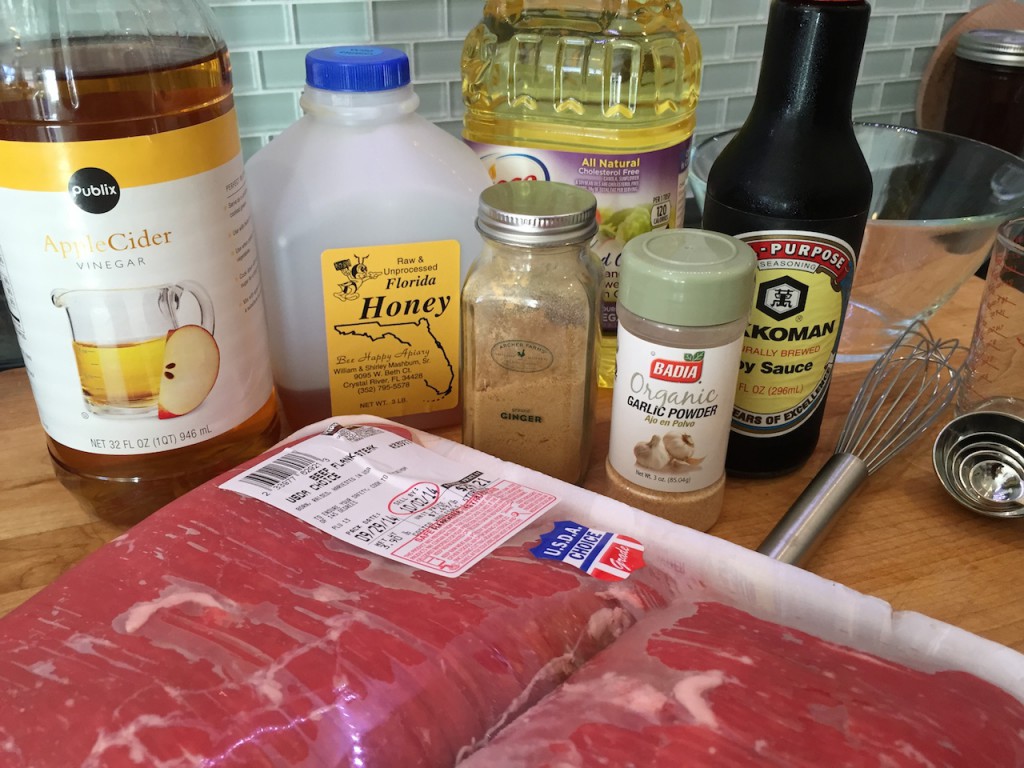 Step 1
Gather the goodies. I know you've got most of this stuff hang in around the pantry! No, it's not 'BarnCat Honey', my fave, but this'll do in a pinch. More bitter, but perfect for a marinade.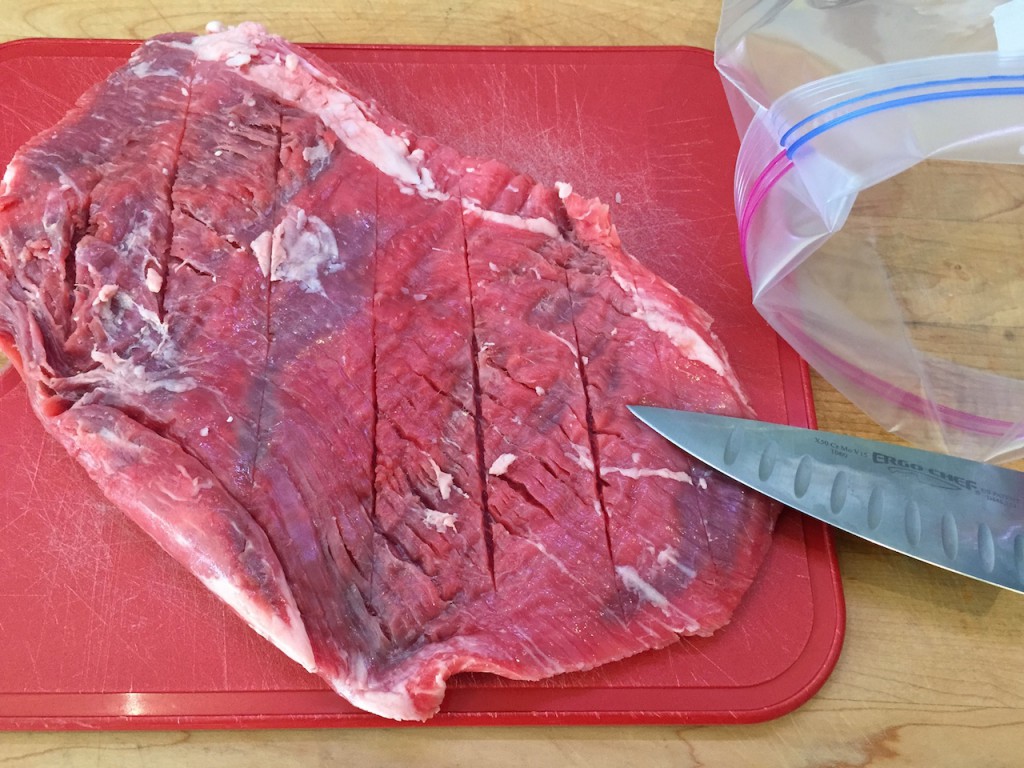 Step 2
Score the meat. Take a sharp knife and slice the top of the meat in an 'X' pattern, across the grain. Just lightly – this gets the marinade into the meat opposite the strands of the tissue. See how square this piece is, it's the Costco cut. Later, the 'stunt' steak was from another run at Sams- not so square.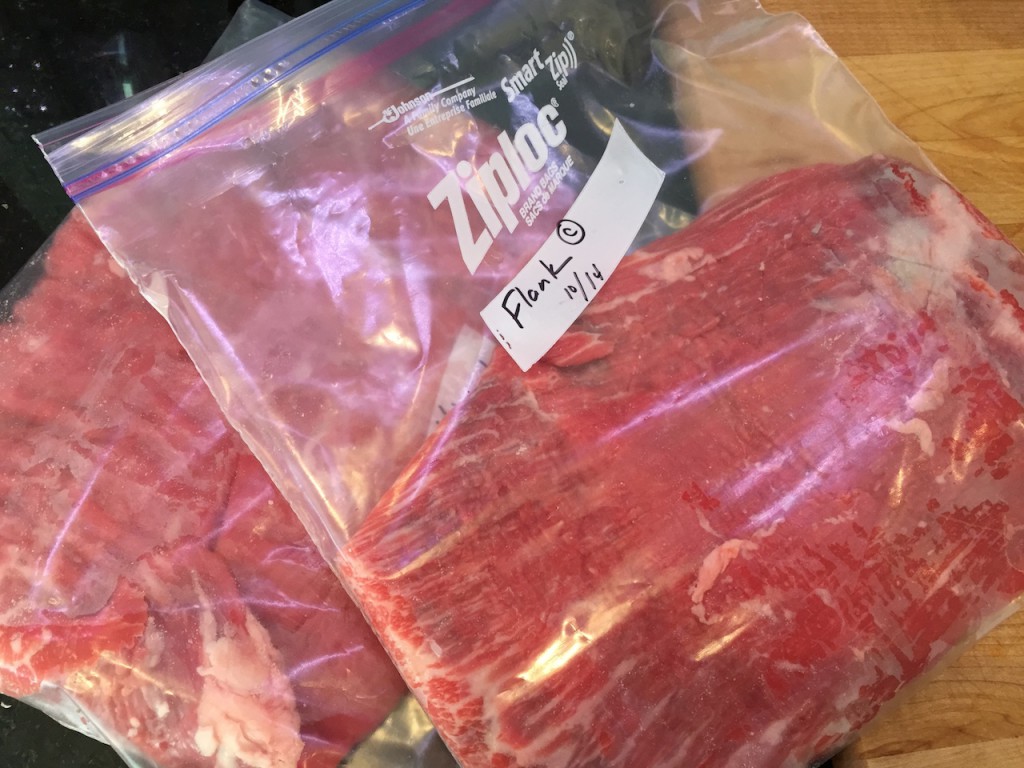 Step 3
Park them in individual freezer bags and mark them. What it is, When you bought it, and Where you bought it.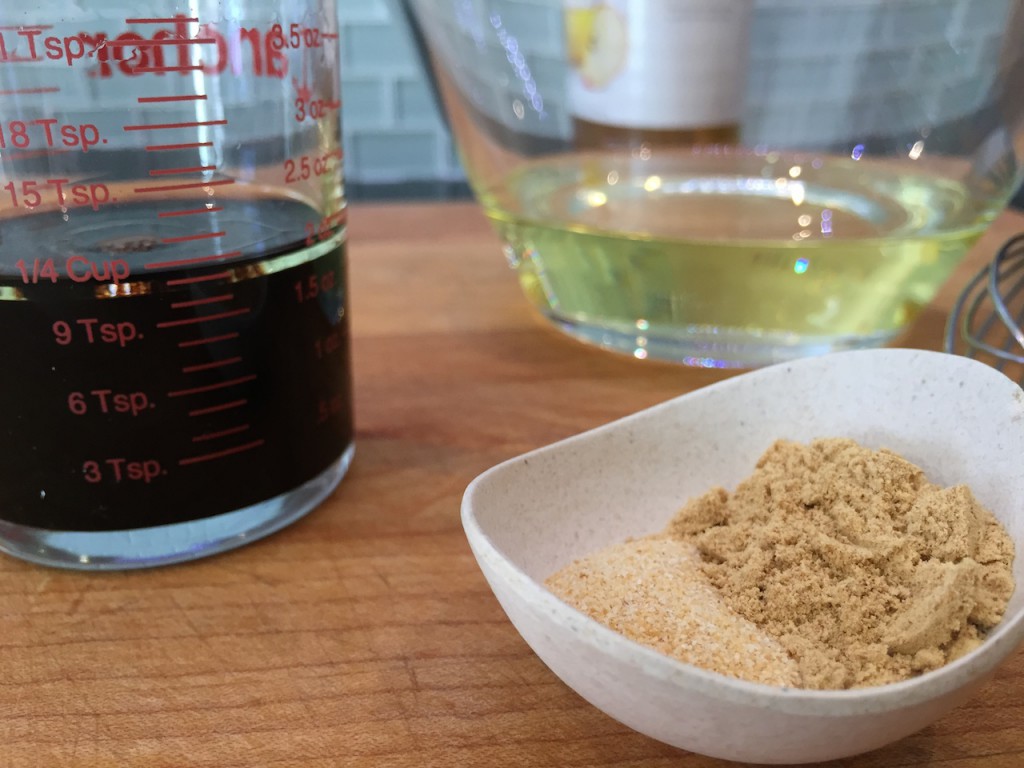 Step 4
Make up that marinade. I make separate batches for each steak.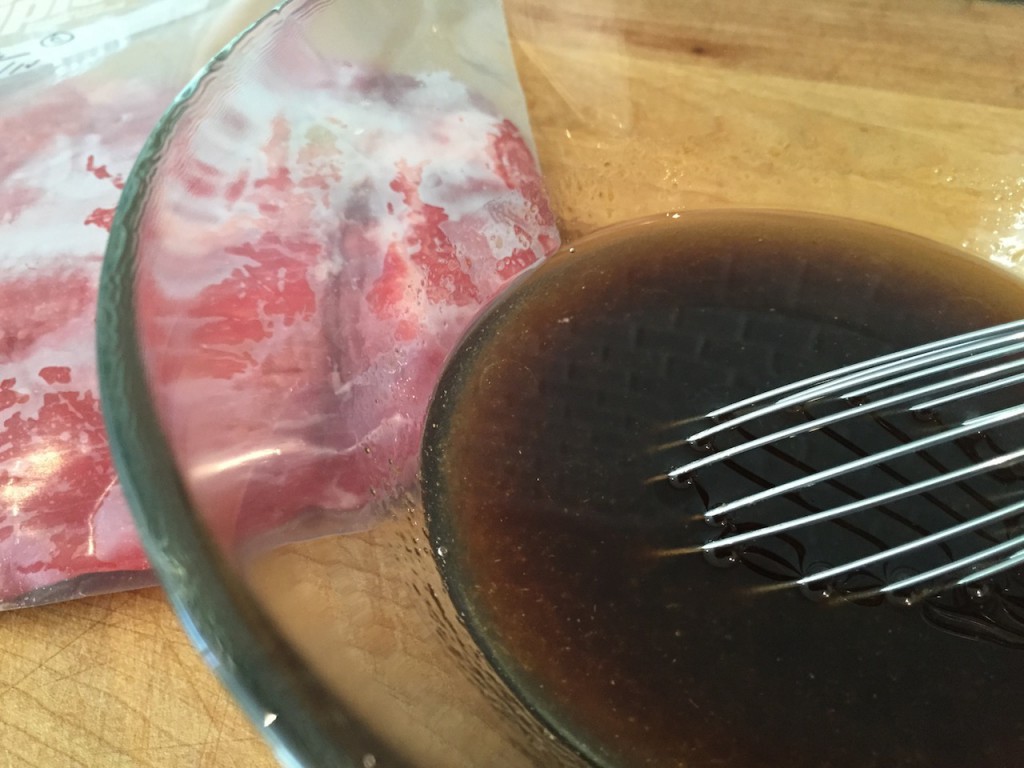 Step 5
Everybody into the pool and give it a whisk !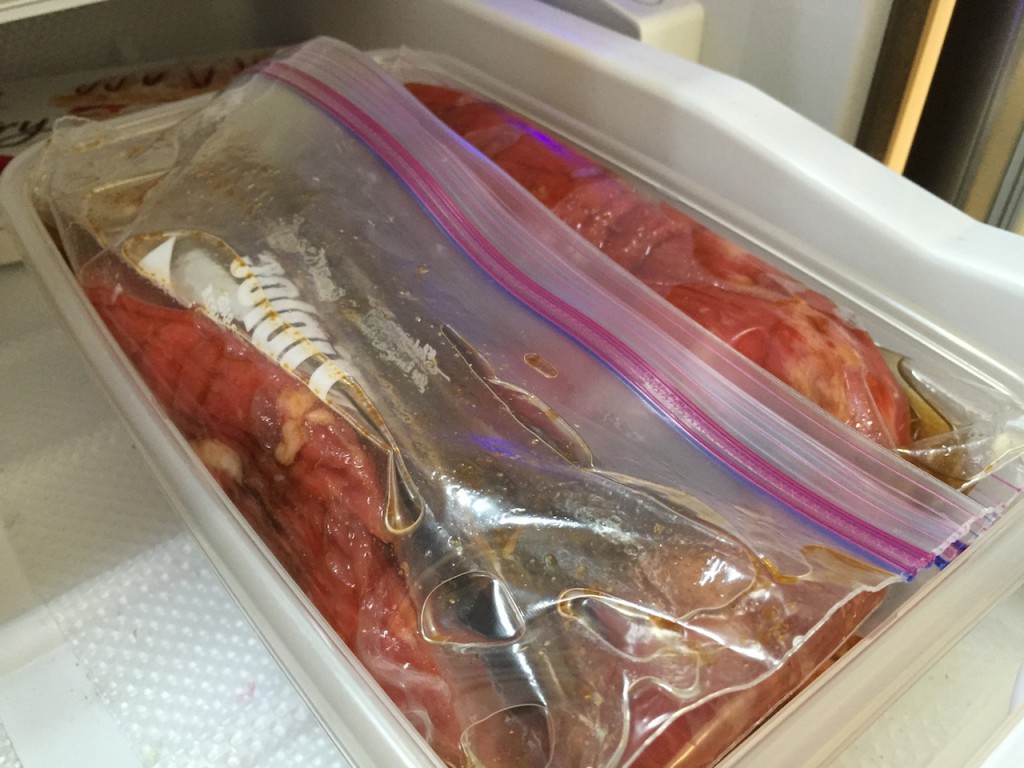 Step 6
Close the bags, squeezing out as much air as possible and park them in the fridge. Use another container for insurance. Every few hours, flip the flank. And the next day – park them both in the freezer (unless you're grilling that night). Freeze them flat. They'll sit like books in the freezer just waiting to be thawed – yes, IN the marinade.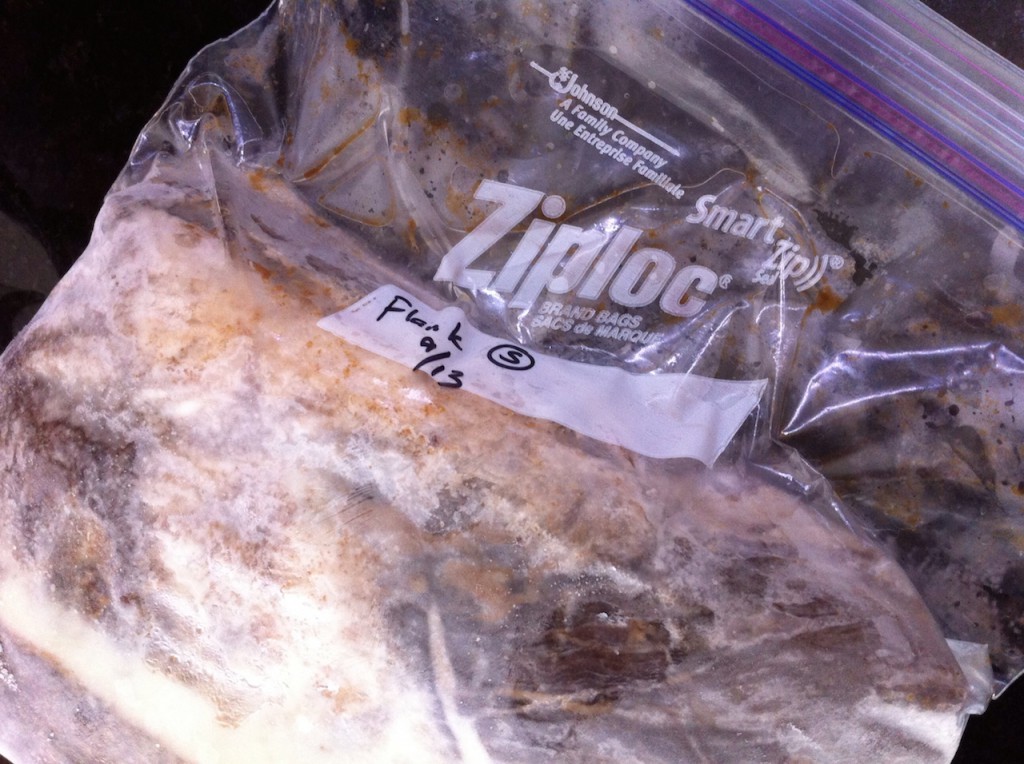 How long will it keep – you'll be shocked. Yes, this was a forgotten flank in the back of the freezer a year old ! (these shots were first done back in June – but I didn't buy any more meat until just this month) BTW, if you like camping, this is your best freezer pack eveah!!!
Back in the day, we'd go camping and take our old Volvo wagon – soon thereafter was dubbed 'The Chuck Wagon' by our friends. By the time we got to our site and the day was over, the meaty freezer packs had thawed and were begging to be on the campfire! Yum!
Fire it up baby – Get 'em grillin' !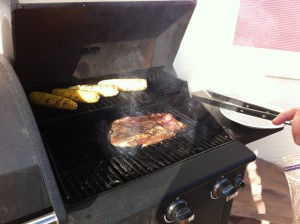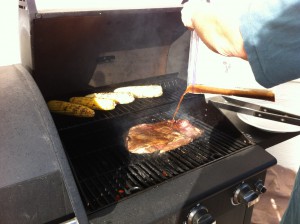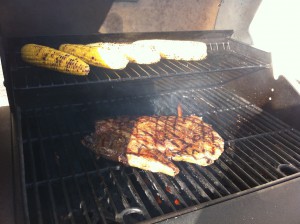 Let that puppy rest a bit. If not, all the juices will escape – not good.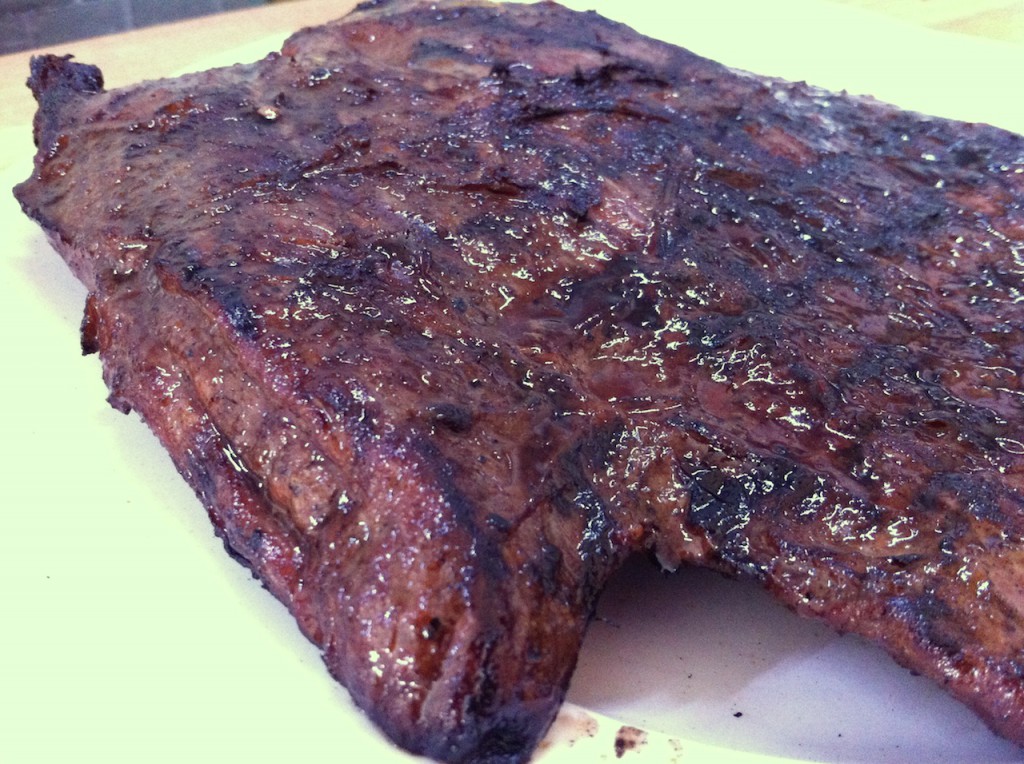 Slice it on a bias, opposite the grain of the meat.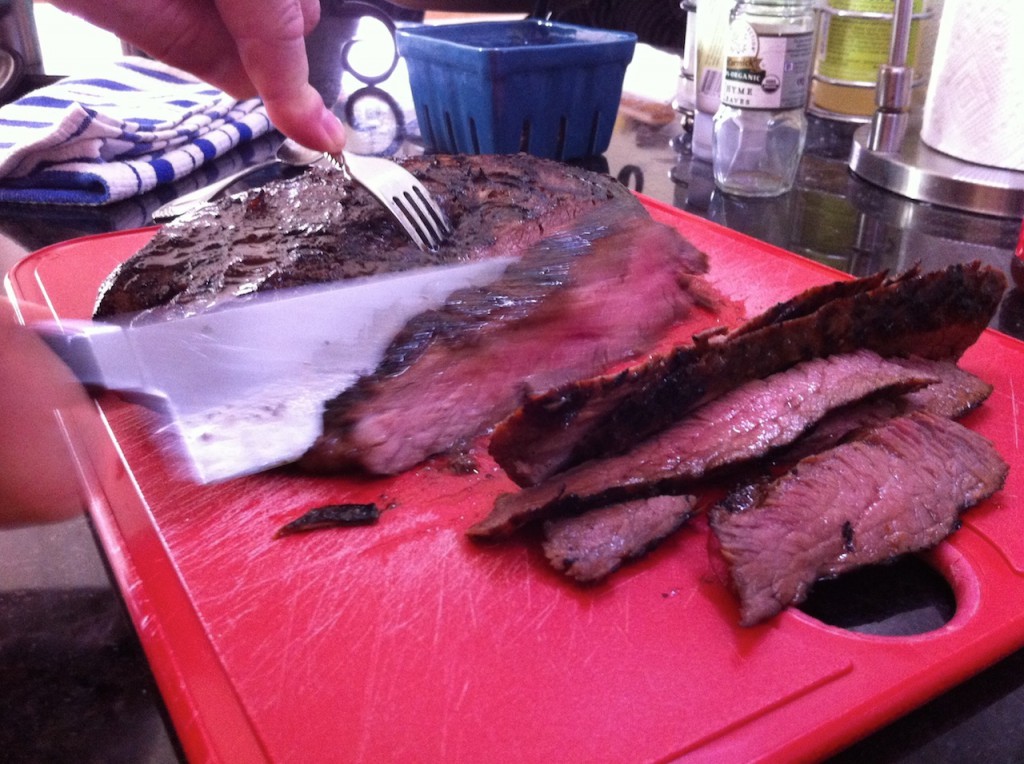 Yummy!!!! This is an all-purpose recipe that NEVER fails to please !
Wrapped in a tortilla with a side of rice – yes ! Or slathered with your fave BBQ sauce and tossed on a hoagie – yes, please ! Nachos…OMG ! The list goes on and on. I actually have re-frozen what's left and tossed bits into chili for an extra punch. Sprinkled it on a BBQ pizza, and more. Oh, and I didn't tell you about having it on a salad with red onions and a bit of crumbled blue cheese…too bad I didn't tell you about THAT!
Make this now !! The weekend will be here soon and you'll ned a tailgating centerpiece to wow your guests with. ,…..
You're welcome!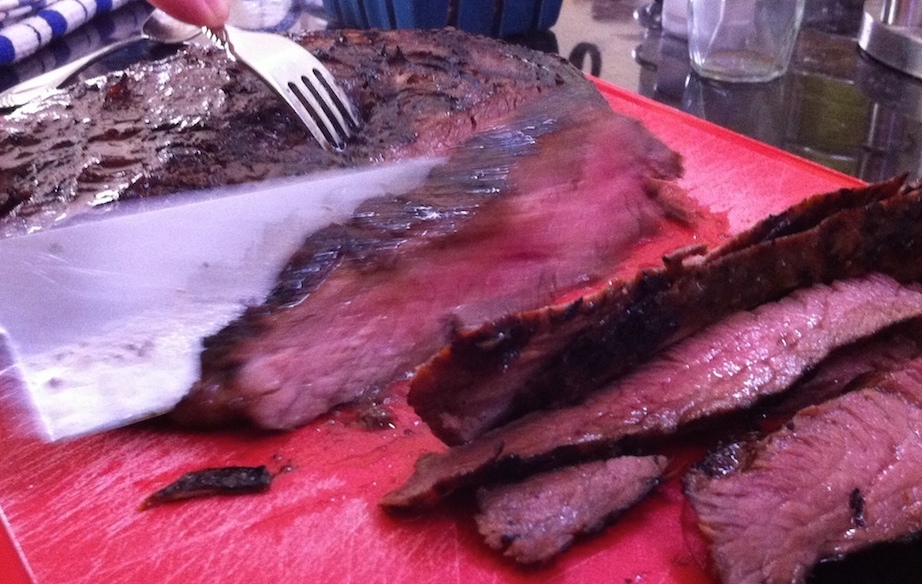 Norma's Marinated Flank Steak
2014-10-13 10:53:38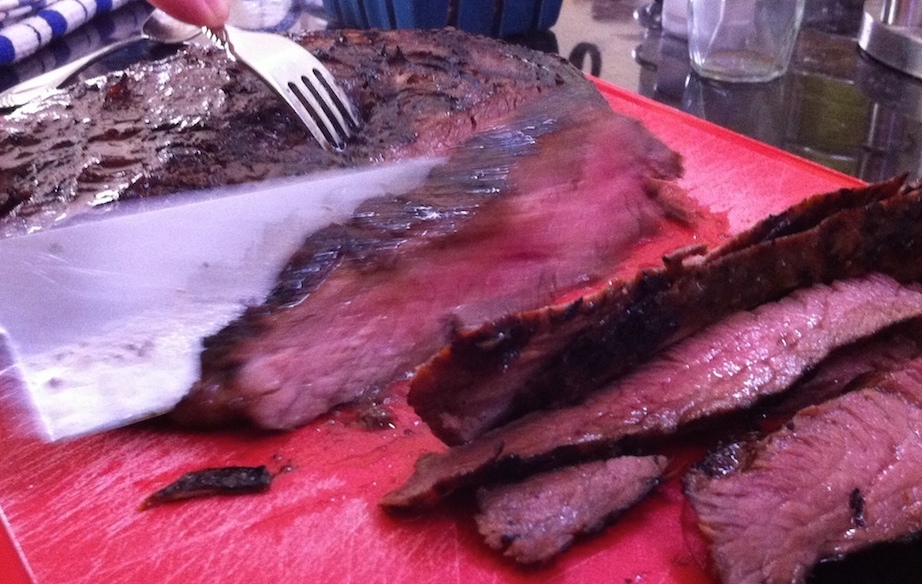 Serves 4
This is all purpose perfection in grilling !
Ingredients
1 - 1.5 or 2# Flank Steak
1/4 Cup Soy Sauce
1/2 Cup Vegetable Oil
3 Tbl Honey
2 Tbl Cider Vinegar
1/2 tsp Ground Ginger
1/2 tsp Garlic Powder
Instructions
Score the meat, place in a freezer bag.
Make up batches of marinade and add to bag. Squeeze out the air and seal.
Place in the fridge, and flip every hour or so for at least 12 hours - or overnight.
Grill it up and enjoy.
Or toss the steaks, still in their bags into the freezer.
Notes
Be prepared to be volunteered to bring this to every picnic and camping gig !
Adapted from Norma Beal
Adapted from Norma Beal
BadZoot https://badzoot.com/