Anyone who knows me knows I have terrible knees. Always have. If I spend too much time on the dance floor (usually prompted by an excess of my friend 'vodka',…at least he doesn't tell me I can sing), I pay for it with huge, ugly swollen knees the following day. Swollen, like can't wear jeans – swollen like a softball. Ugh. Yeah, that's not all, they crackle when I walk. Like I'm wearing plastic bags on my feet. Working out can be a challenge, but I do it.
…sometimes.
I've discovered a home remedy for my creaky knees. So, I have to share it with you. Grape Juice and Certo Pectin.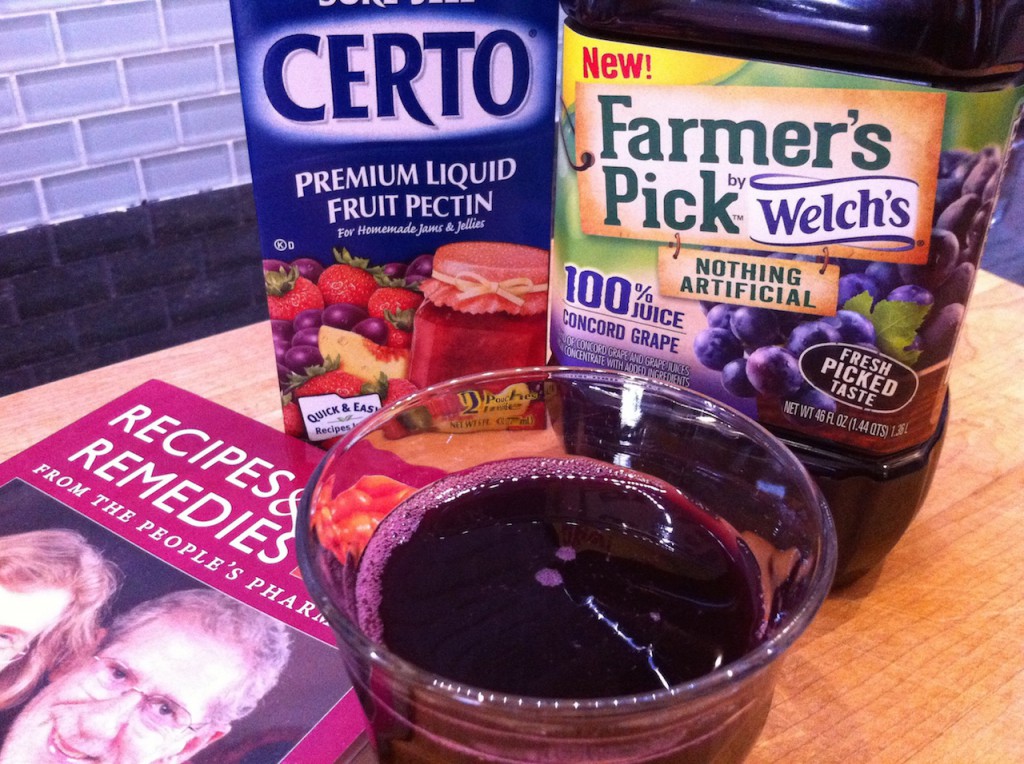 This comes to us via the good folks at The Peoples Pharmacy. Yes, The Graedon's that haunt the Sunday morning public radio station airwaves. I've listened to them for years. OK, maybe half listened…cause I've usually half asleep. Honestly, they have some interesting guests and good info. So, when my husband sent in his annual contribution to NPR, they gifted us a copy of their book 'Recipes & Remedies'. It's really quite interesting. I mean, they had me at 'gin soaked raisins' !
Another thing they had me at was the list of qualifications these people have. Good Lord, I've only seen more degrees on a thermometer! They explain why some of the quacky things we find on the internet actually work. Even though, they freely admit that this has them stumped, so many people use this trick that it can't be ignored. And, since I'm a fan of grape juice I thought I couldn't lose.
So, take 1 Tbl Certo (liquid pectin from the baking aisle) to 8oz Grape Juice – ta da!
Or, take a full packet of Certo and add it to a bottle and drink a cup every morning. No more creakiness. Seriously, I've used it – it works. Now, I'm sure that I'll still pay for an evening at The Shed's dance floor, but these days when I walk thru the house I don't hear myself coming.
Well worth the try.
…tomorrow, more healthiness !