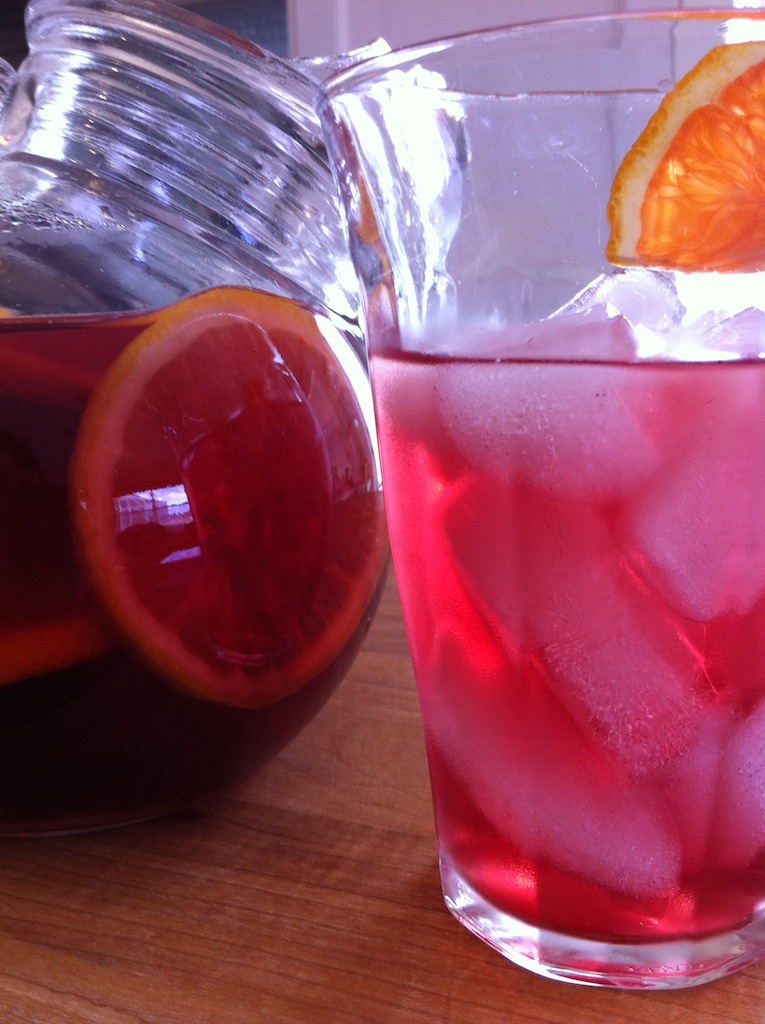 For as long as I can remember my Mom has been a bit of a health food nut. OK, these days we call them 'foodies' – whatever. So, my favorite 'foodie' gives me this recipe for her version of 'that kid drink that comes in a little pouch and you add water and a pound and a half of sugar'. You know the one. I'm a skeptic in this because most of her recipes have to be tweaked for the average taste bud. Which is crazy because she makes incredible baked goods – just not for her to eat. For years (way before Truvia was out) she used those drops of stevia that taste like licorice and tried and tried to convince me that it's 'sweet' – NOT. Tasting is believing here, thank you!
Turns out, this is good – I mean really good. This herbal and green tea concoction is good and strong to be poured over ice. Which means it's great as a take along in that travel cup. And because there's fruit in it, I'm tempted to add rum and tell myself it's a healthy cocktail ! Here, I'll show you what I mean…
I cut the recipe in half to fit into my oh-so-sweet antique ice-lip pitcher, but I'll give you the full monty.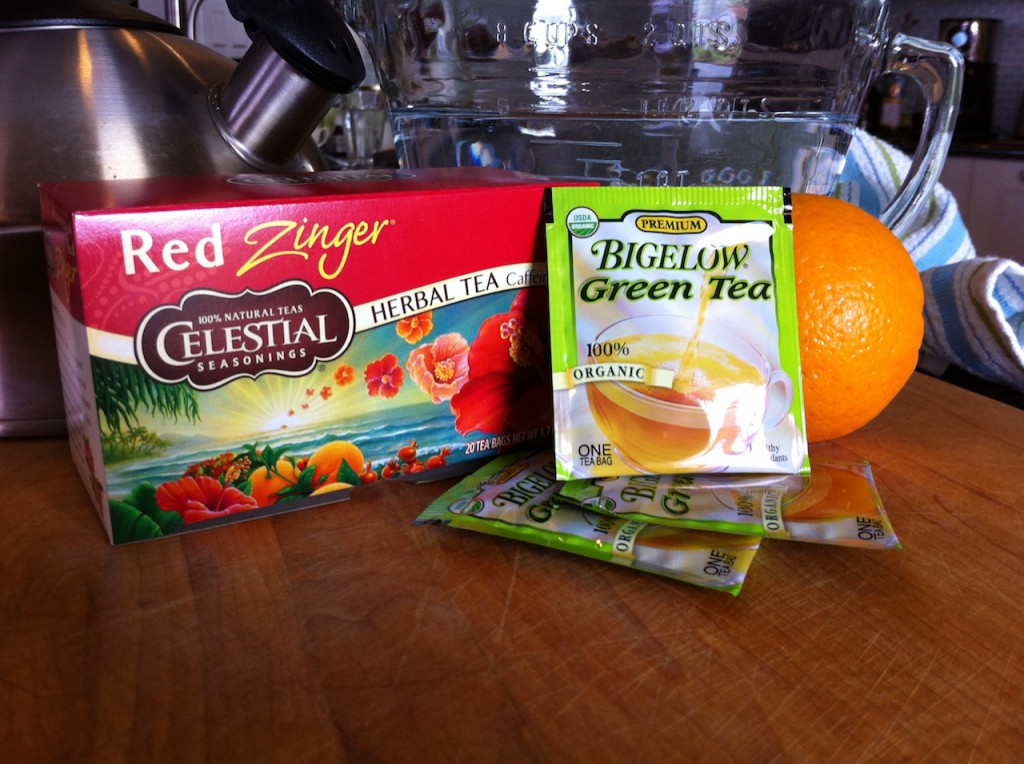 Step 1: Get 9 cups (or so) of water boiling. Plus one more cup at room temp – I'll tell you why later. (2.5L)
Meanwhile, gather up:
4 Celestial Seasonings Red Zinger, herbal hibiscus teas bags
5 Green Tea bags
1 Orange, sliced thin, seeded
Your choice of sweetener – or none at all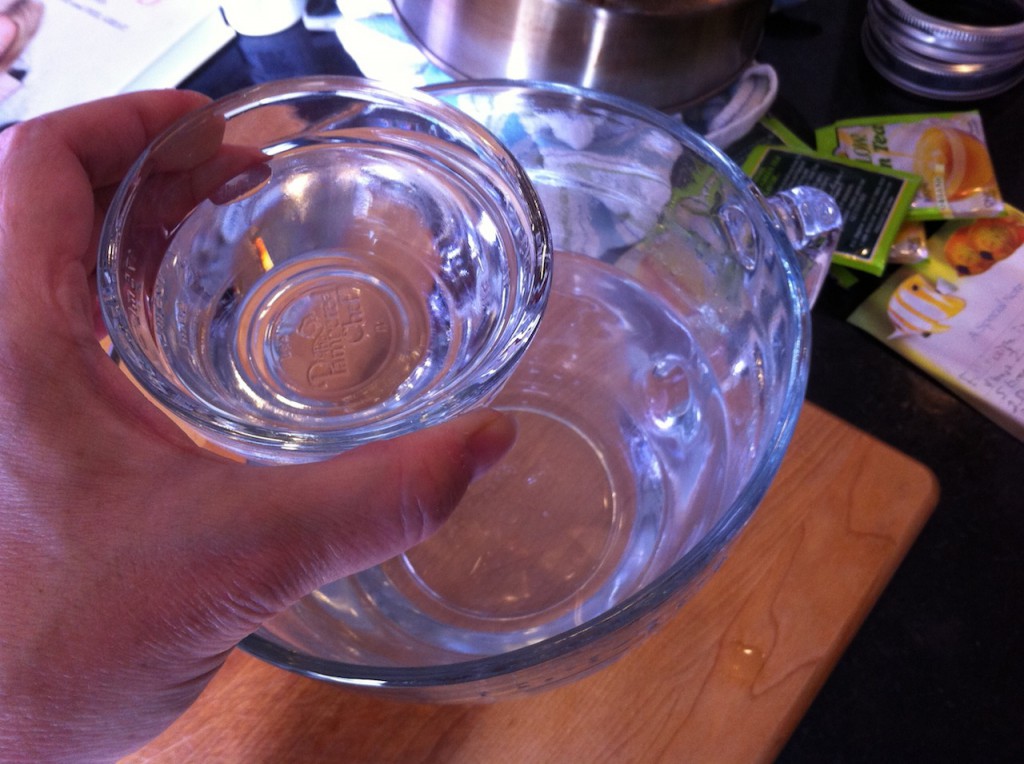 Step 2: When the water is done boiling, pour it into your container. Mom makes hers in a pyrex pan and later pours it into a large ice-lip pitcher (looks just like that kid-drink!). Here's a tea tip for you: add in a cup of room temp water, then add the tea bags. This keeps the super heated water from 'bruising' the tea. I never knew this. Learn something new every day.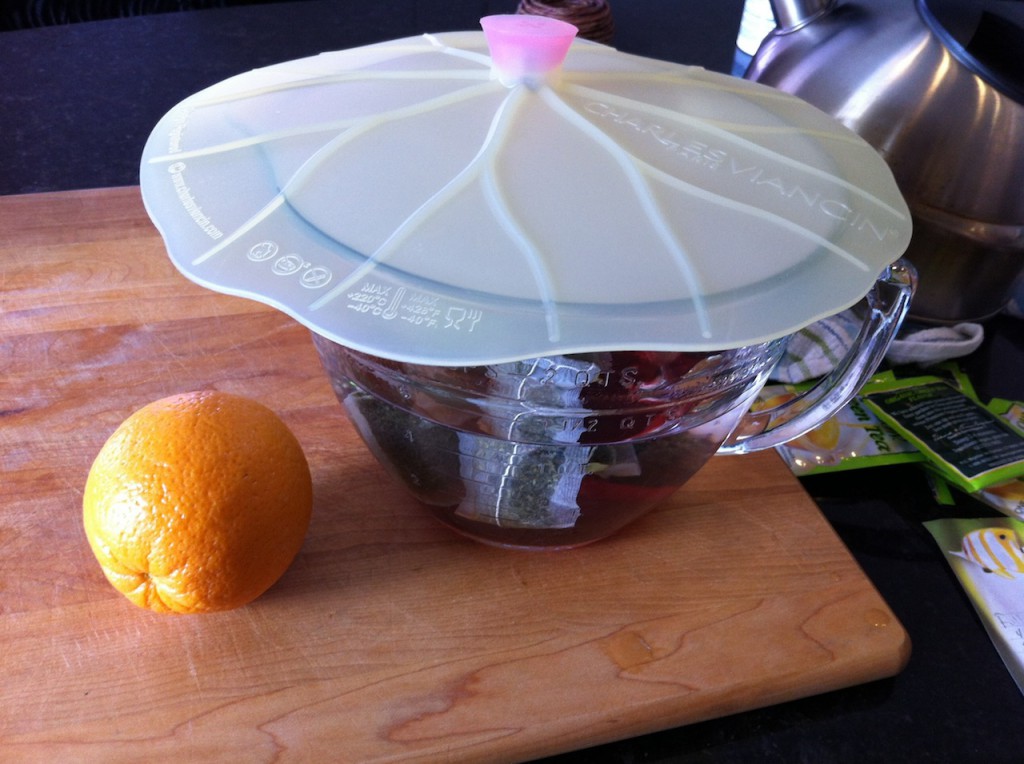 Here's something else new – see that crazy lid, that's a tid-bit I found at our new kitchen store Good4U http://www.good4uproducts.com. It's a silicon universal lid that looks like a leaf. I'm such a sucker for kitchen gadgets!! This new store is just full of 'em !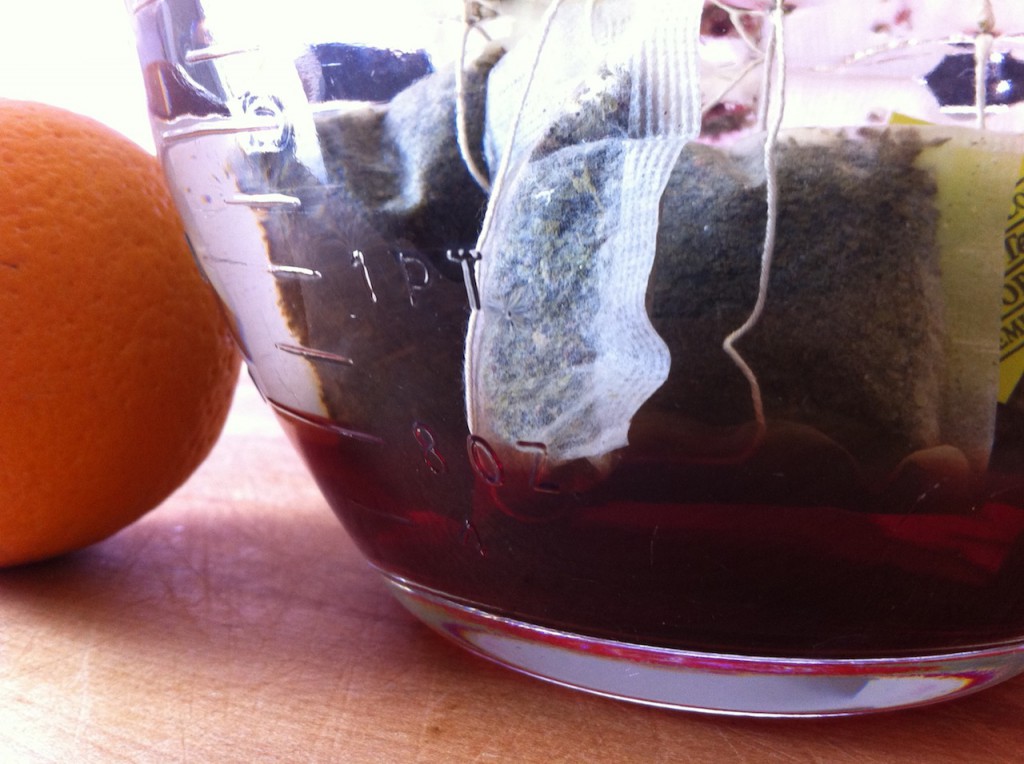 Step 3: OK now let it steep for about 10 minutes. Neat how the red zinger pools at the bottom of the water.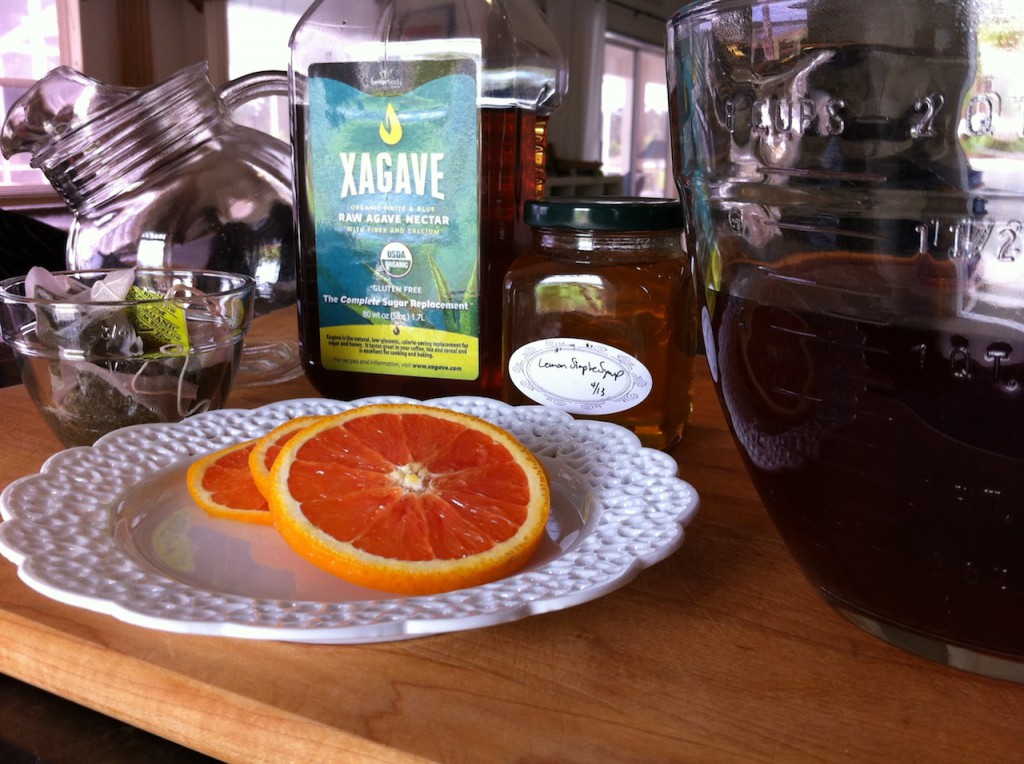 Step 4: Now remove the green tea bags, or they'll get bitter later on. Leave the red zingers in the pitcher, add the orange slices and your sweetener of choice. Today I used agave. Although before that I did pour a glass and add my lemon simple syrup (YUM…makes monster Lemon Drops!).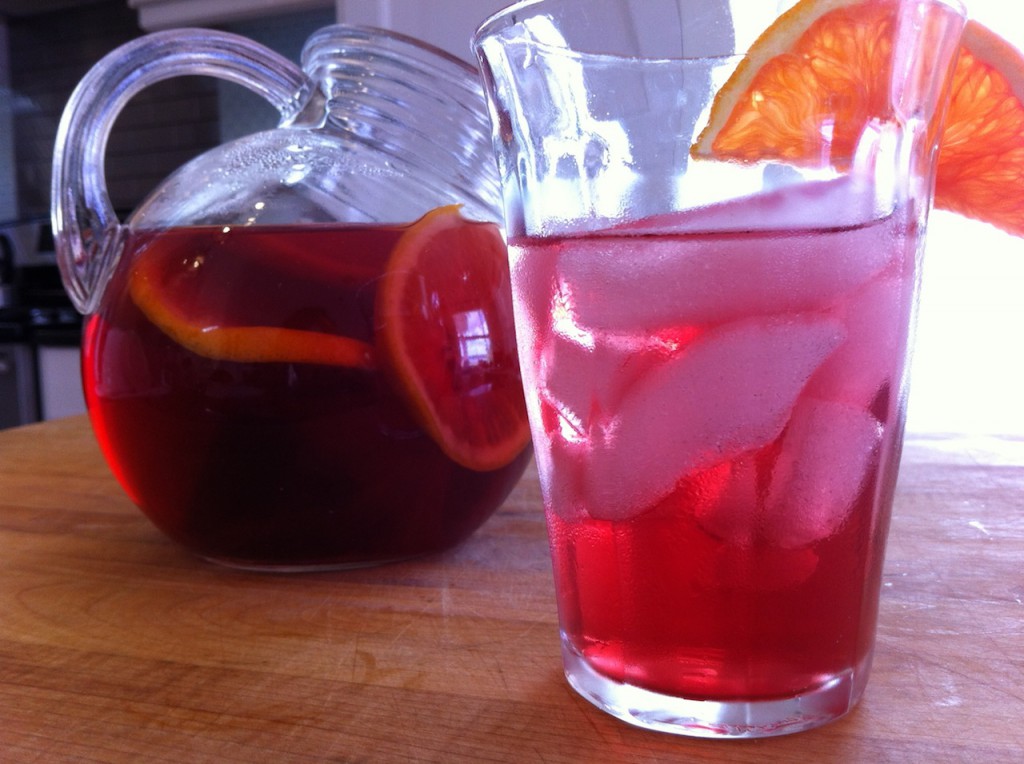 Finale:
That's it! Let it all set to get to be room temp before putting it in the fridge – your fridge will thank you. Pour over ice and enjoy. This is as good for you as it is beautiful and your waistline will thank you too.