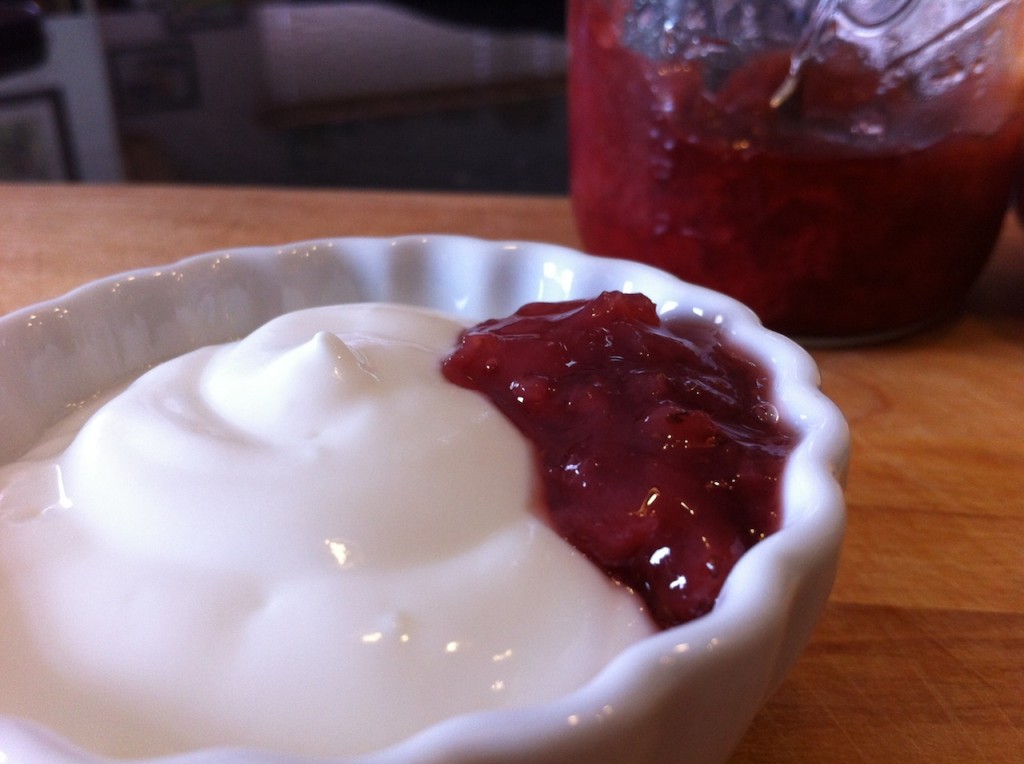 I am a fan of yogurt. Surprise! Yes, my Mom started this love affair when I was very young. She had one of these Salton yogurt makers. We'd wait for that tangy custardy stuff not knowing that if we'd breathe a word of it at school we'd be laughed out of the lunchroom. "You eat spoiled milk – yuck! Weirdo!" Yeah, ok – whatever. I kept quiet and continued to ladle on the honey and down that creamy goodness. Then I got a little older and things changed. As I moved on I bought yogurt at the store. Suddenly there was a ton of it – but my Foodie Mom warned me that this was a processed version and was filled with factory tricks using sugar and cheap jam. Nooooo. It really wasn't anything that I remembered. It was smooth, but thin. And she was right, there was so much fruit syrup in it that there was no tang left – and wasn't the tang part of what made it good for me? Yet again, homogenized for all those kids in school who'd teased me and now they're all grown up and it's a fashionable shopping cart accessory! Ugh. Then came Fage… (aaaaah – I'm a complete junkie) Greek yogurt! Now that's closer to what Mom made – and I can add more or less jam. And where'd they get that honey? It's fabulous! And the price? Ooooo, not so fabulous. It's $1.50 each…times 4 per week…times 52 weeks…WHAT?! $300/per year in yogurt? Wait, didn't I see a yogurt maker for sale somewhere? Hmm, $50 for one like Moms or, wait for it, the new fancy schmancy one is $130! But it'll cook it and then cool it too. Seriously? People have been making yogurt in various forms since probably before the dawn of cheese. (Honestly, before there was cheese – was life really worth living?) Off I went to see about making my own, in my way, in my own little jars. Come along and bring your candy thermometer.
Yes, You can make your own Yogurt
Step 1: Gather the goodies…it's a super short list! Milk – Yogurt (starter) – Pan – Thermometer – Jars … seriously, that's about it. Oh, and a stove is helpful.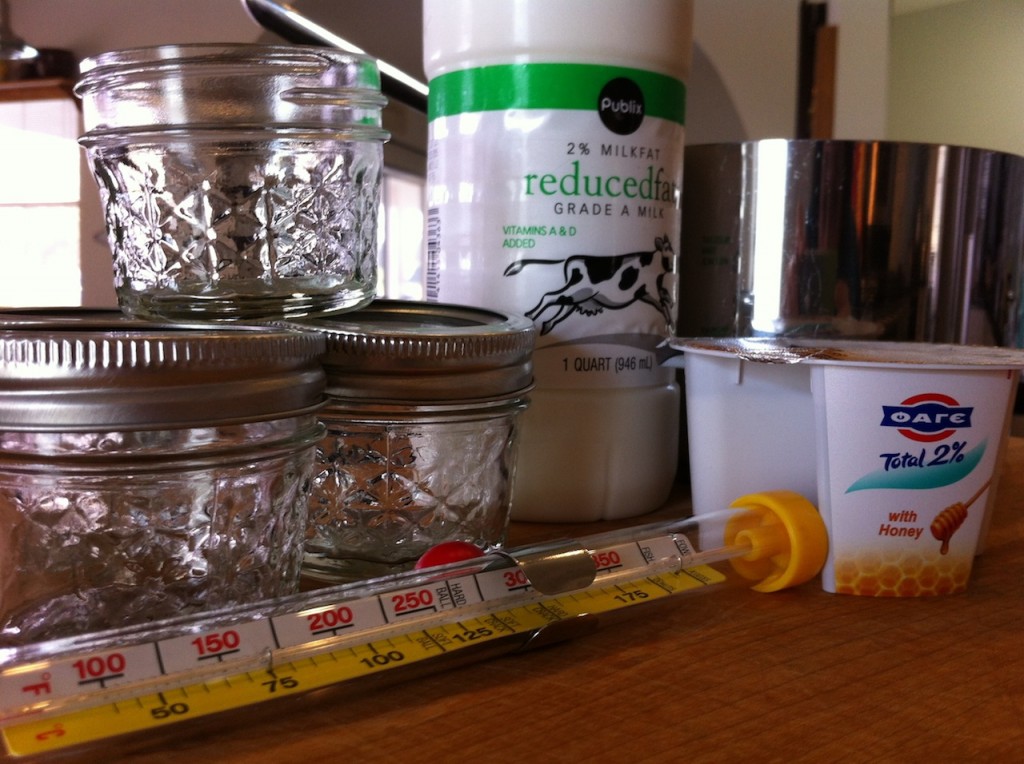 Now, here's where the 4,000 internet posts when all over the map. The milk. Some said don't use Ultra Pasturized milk, then some said that it's the best to use and you can skip the first heating step…ack! Just get some milk. I didn't complicate things. I normally drink Organic Valley milk (fabulous!!), but it's ultra-pasturized. There's no raw milk to be had. So 1 quart of non-RBST 2% was my choice. I don't do whole milk – too fattening. The fat-free wasn't a good choice for my first venture out either. Besides, I like a little fat in my yogurt – thank you.
Step 2: The little jars. Hmm, do I make it first and then transfer it into portioned jars? Or do make it in the jars from the start? Let's do both. I have these 4oz jars from all my jam making. Now, let's see how much is actually in the store bought yogurt container. It can't possibly fit in that tiny jar?! Can it? It does. These little Ball jars are $8.50 or so for a dozen. Perfect. Now, don't eat that package the way I did – you have to save some for the new yogurt!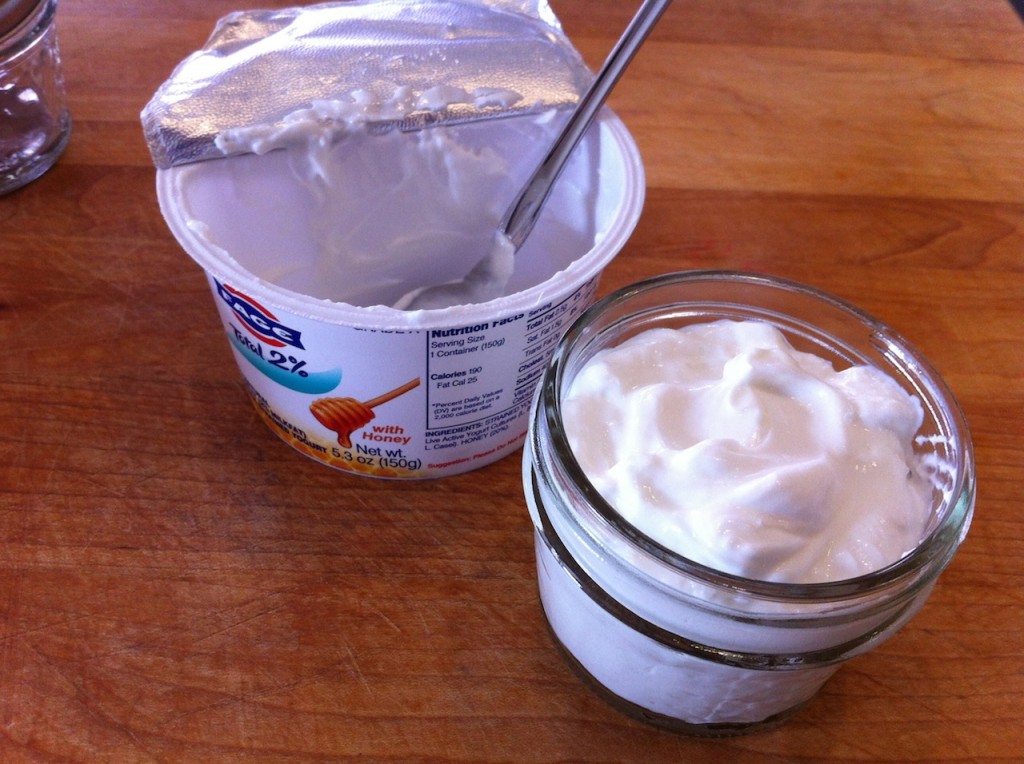 Step 3: Get your milk into a pan and clip on the thermometer. Bring it up to a scald, slowly. Which is about 190 – 200 deg. NOT a boil. Meanwhile, figure out what you're going to use to keep it warm for the next 7 – 8 hours. Yes, I did say ALL DAY. Yet again the Internet has as many ideas on that as I have gray hairs and now I've got some more. Ugh. As I was stirring the milk, I glanced up at my stove control panel….hmm, this beast has a Proofing function. Isn't Proofing the raising stage of bread while yeast grows….same thing. Just to be sure I laid my meat thermometer on a silicon pad to check the temp. Not quite warm enough. Back to the Manual…the Drying function is 100deg. Bingo!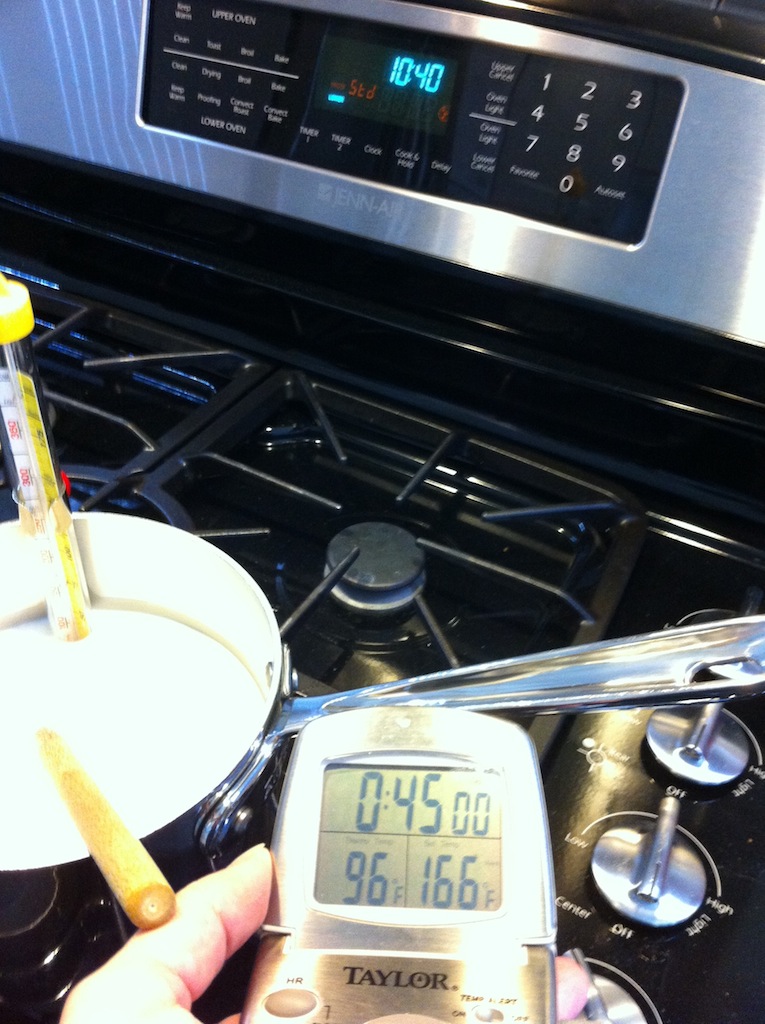 Step 4: Ok, now the milk is warm enough. You have to cool it to 120 deg. I'm an impatient person – surprise. So, I set the pot in a little cool water while I got the jars ready.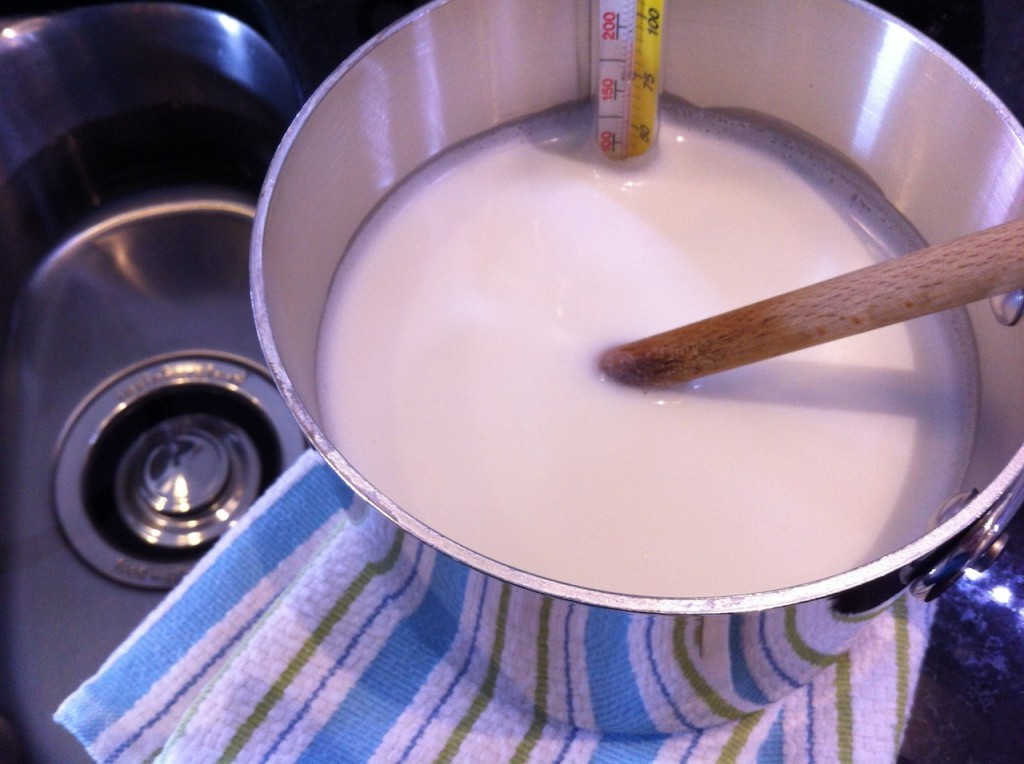 Step 5: I set the jars in a dish to make a water bath. You don't have to, but everyone else that sets them in a cooler with warm water, or a crock pot with water,… Besides, I think it's just good insurance for even heat distribution. (at this point I haven't paid attention to the fact that the oven has the convection fan going…for even heat distribution…duh) Anyway, take about 2 – 3 Tablespoon of your favorite yogurt (see, I told you not to eat it all), but use the plain version, and whisk it into the milk. Then just pour it into the jars.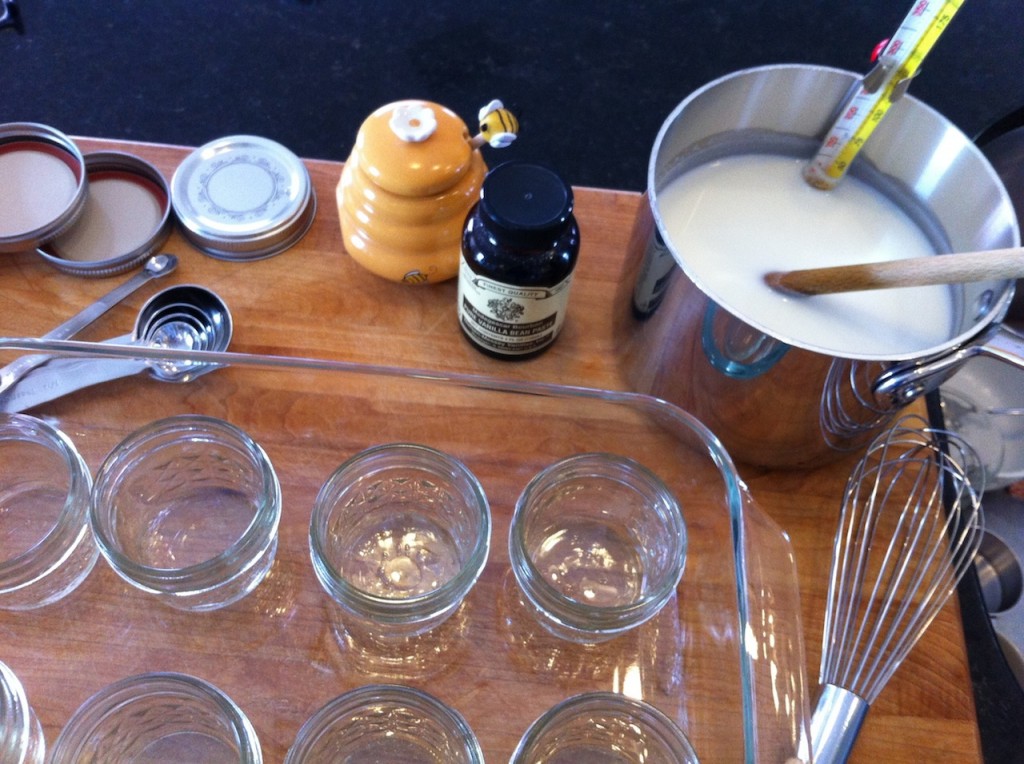 Step 6: At this point I took a couple of jars and added a tiny spoonful of vanilla paste. Later, this proved to be a very good idea. Vanilla paste is a miracle substance to be added to all things that require the scraping of vanilla beans – or anything else vanilla flavored. It's awesome!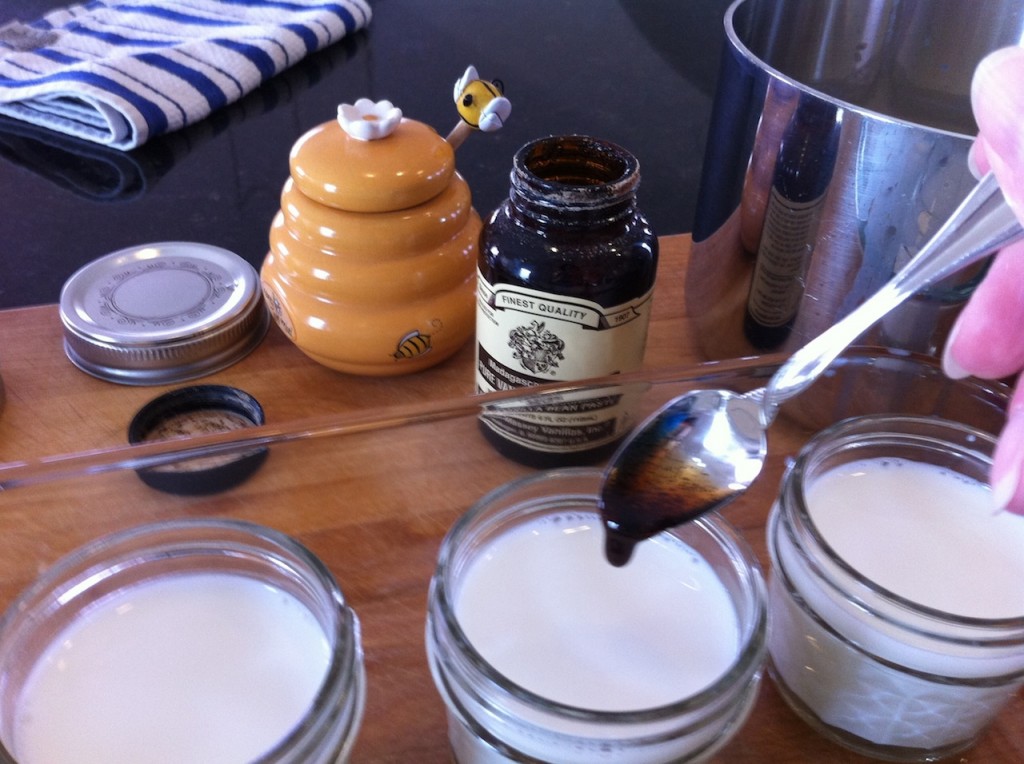 Step 7: Get 'em cookin'. I left the thermometer in with them so I could check on it from time to time. I am a rookie at this.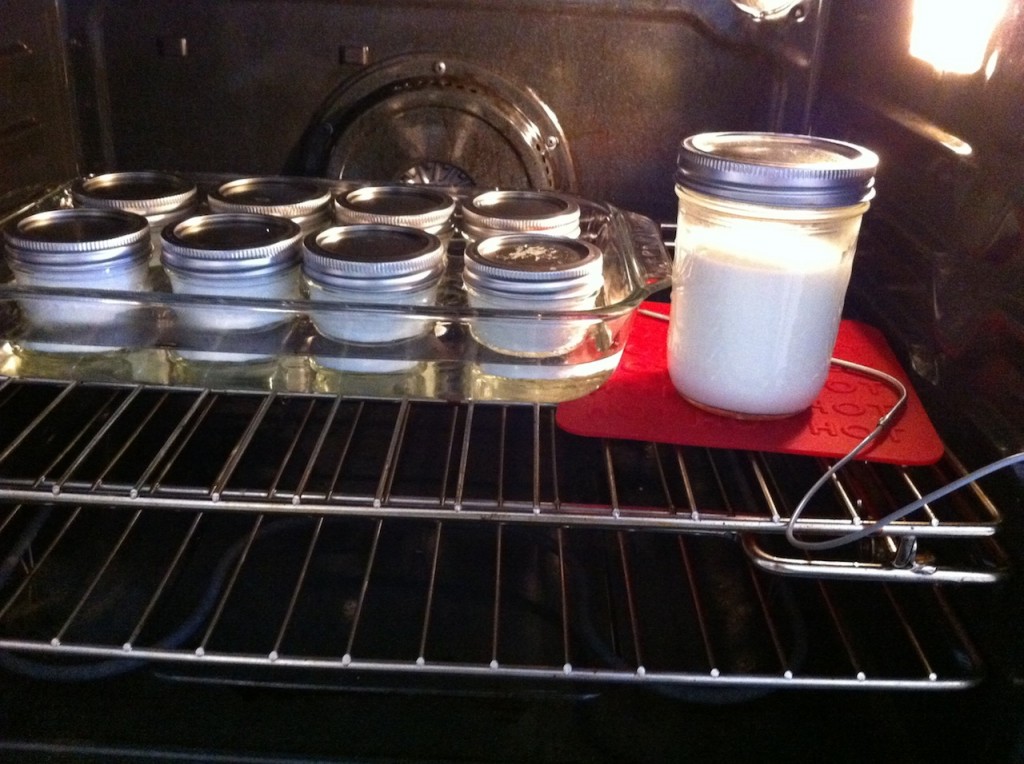 Step 8: And the next day… ok, well, I did take them out of the oven and into the fridge that evening. I dealt with checking on them the next morning. Wow – look at that y o g u r t. mmmmm This bigger jar I'd reserved to make Greek yogurt out of. To make it, you simply strain the water out. I got a little cheese cloth, a bowl and strainer. Easy.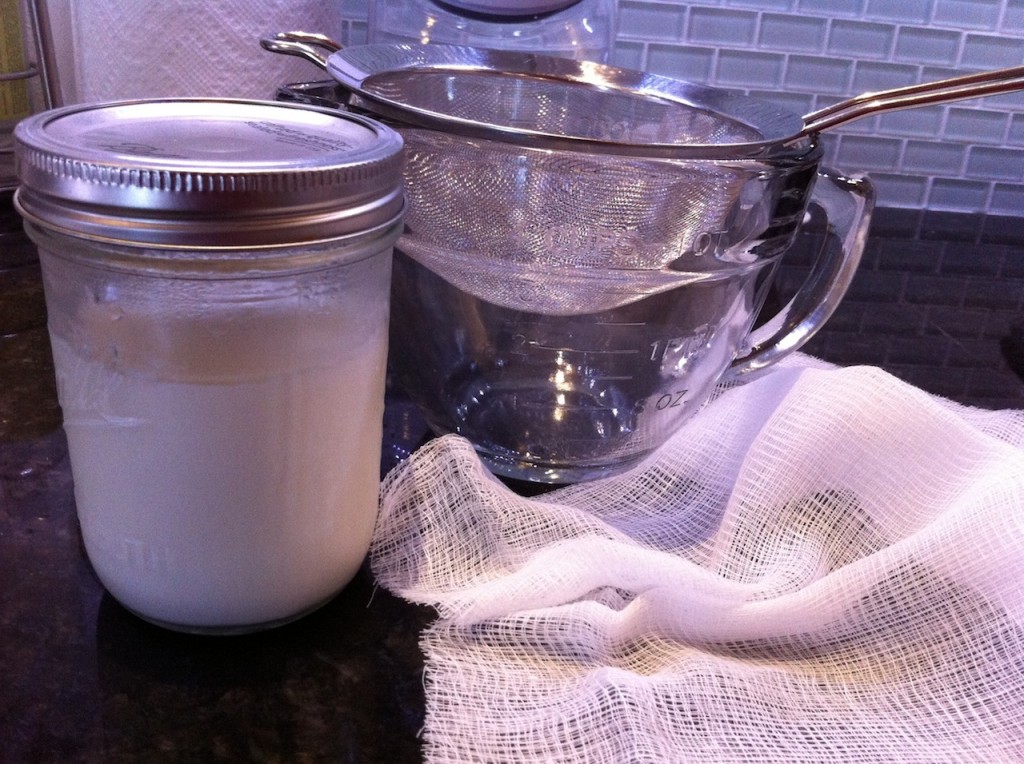 Step 9: Before I dumped it into the strainer, I thought I'd test it first for firmness. OMG – the spoon stands in it ! (At that point I had to let out a 'pirate laugh' because I was so pleased with myself – it worked!)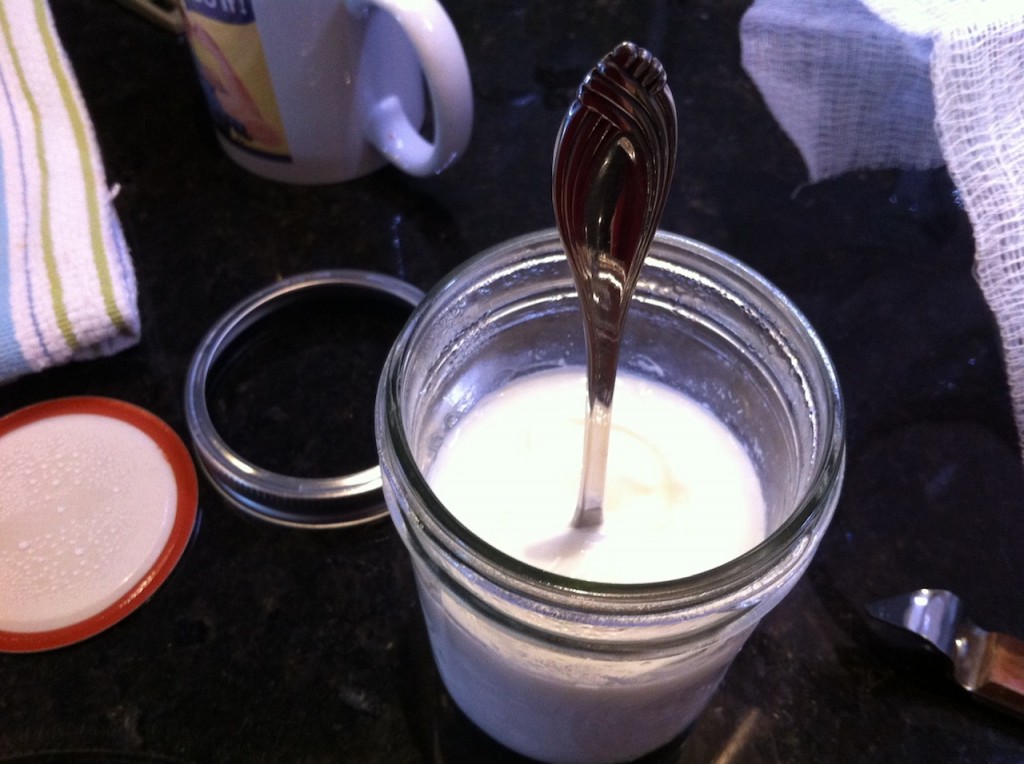 Step 10: Here are the other little guys in the fridge. How many is that? There's 8 little gems and for how much? Let's see, the milk was $1.85 and the Fage starter was $1.50 and I ate most of it (oops). The jars I already had, but they cost $.75 each and are reusable. Then there's the extra jar of yogurt I used for the Greek style, which I didn't add to the count. This is so hard to calculate. We'll just call it at $2.00 for a batch – divided by 8 – is $.25 ! A QUARTER. Period.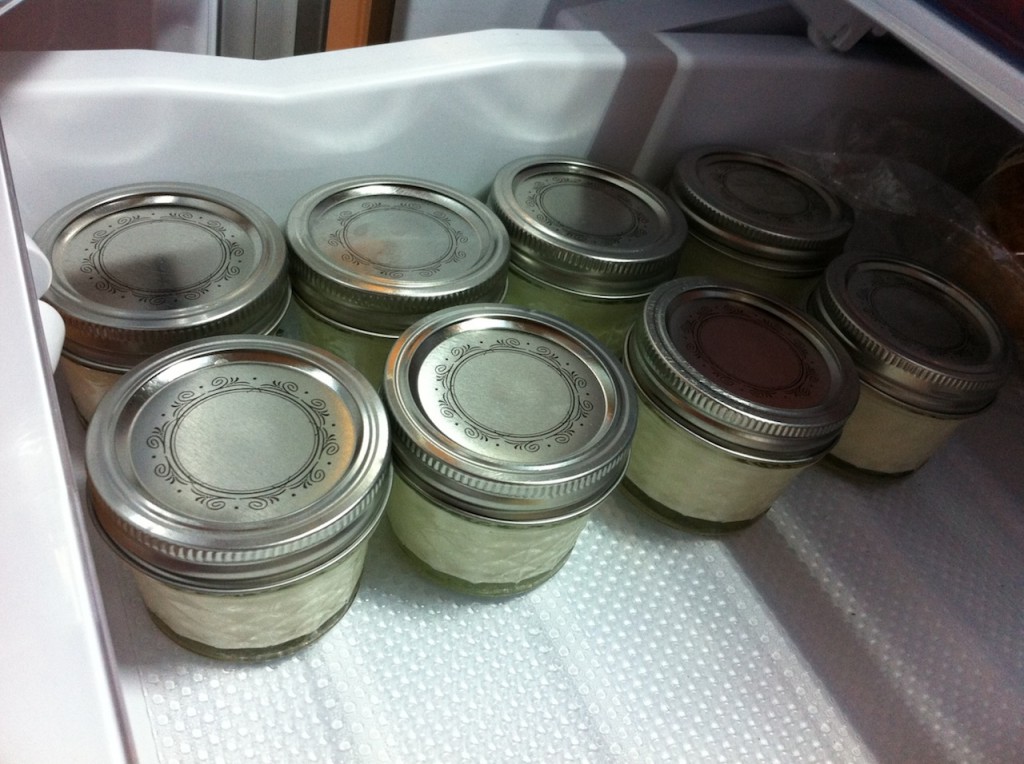 Step 11: After 45 min on the counter there's Greek Yogurt!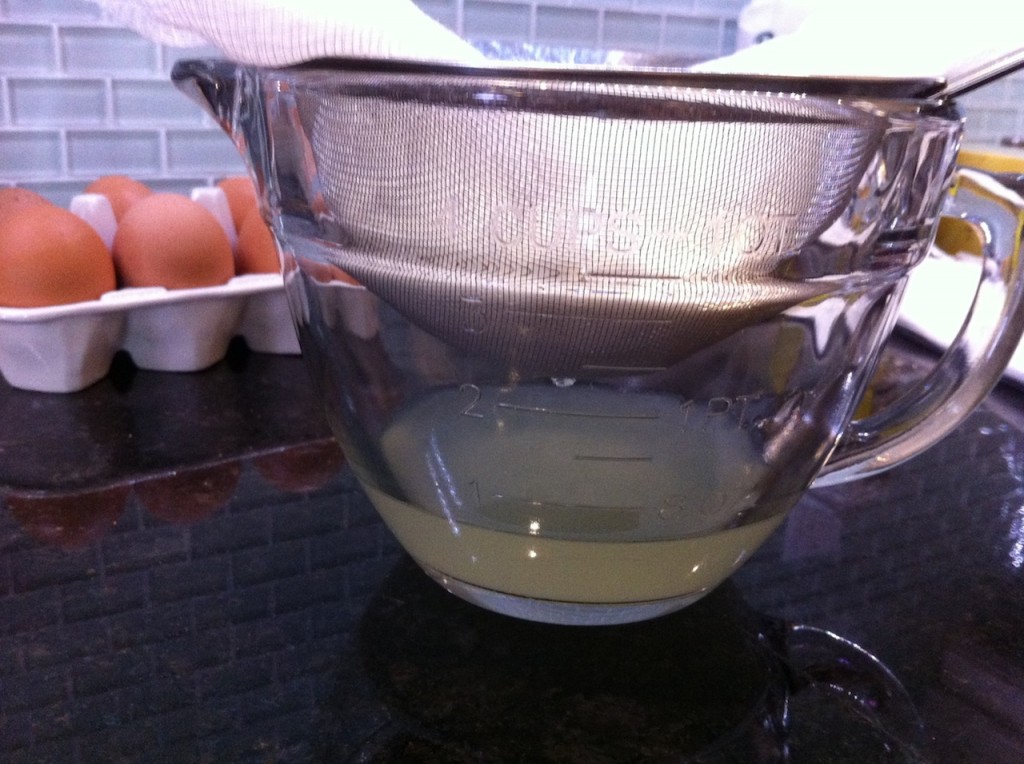 Step 12: I thought the cheesecloth would be a mess. Instead, the yogurt just rolled out into the bowl, like cheese. I gave it a whip to make it smooth and voila. Hmm, how do you say that in Greek? Well, Google Translate says it's προσχηματικός (LOL…yet another pirate laugh!)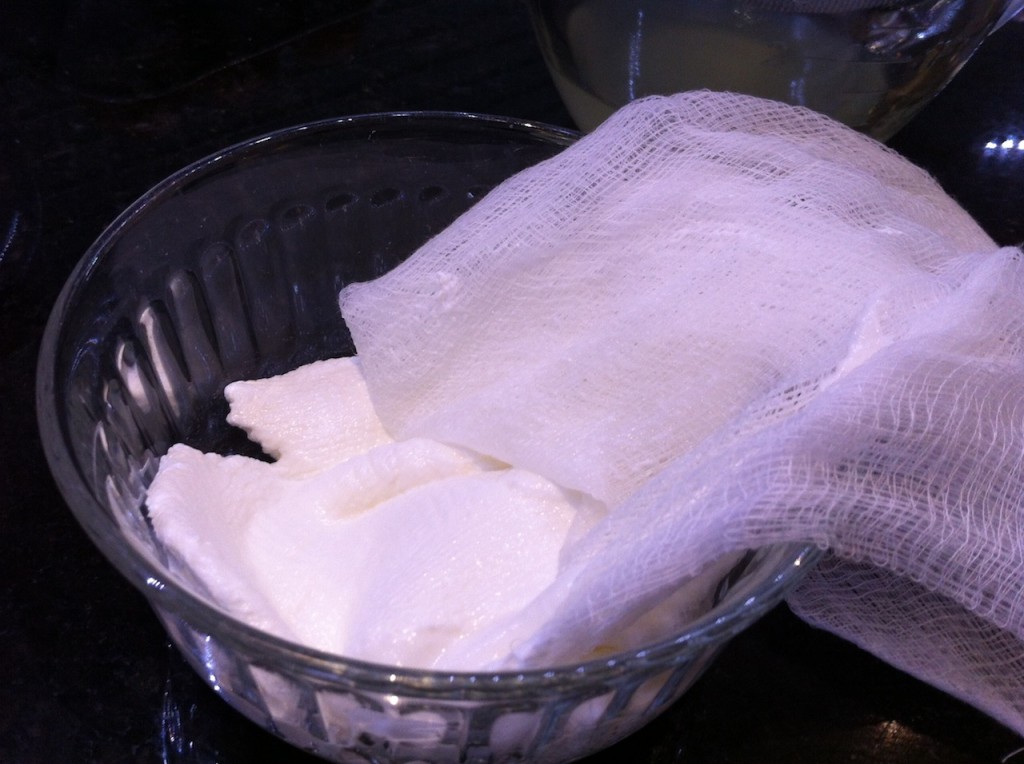 Finale 1:
That's it guys: Here's the final product. This photo was taken after the yogurt was already at room temp, and had to wait for me to take a half dozen photos and it still held it's shape. Some homemade jam, and I'm in love! The taste? Smooth. Next time I'll cook it longer – like overnight. The longer it sets the more tang there is. This was reminiscent of crème fraiche. I would soooo put this into an ice cream maker – but that's another Blog post.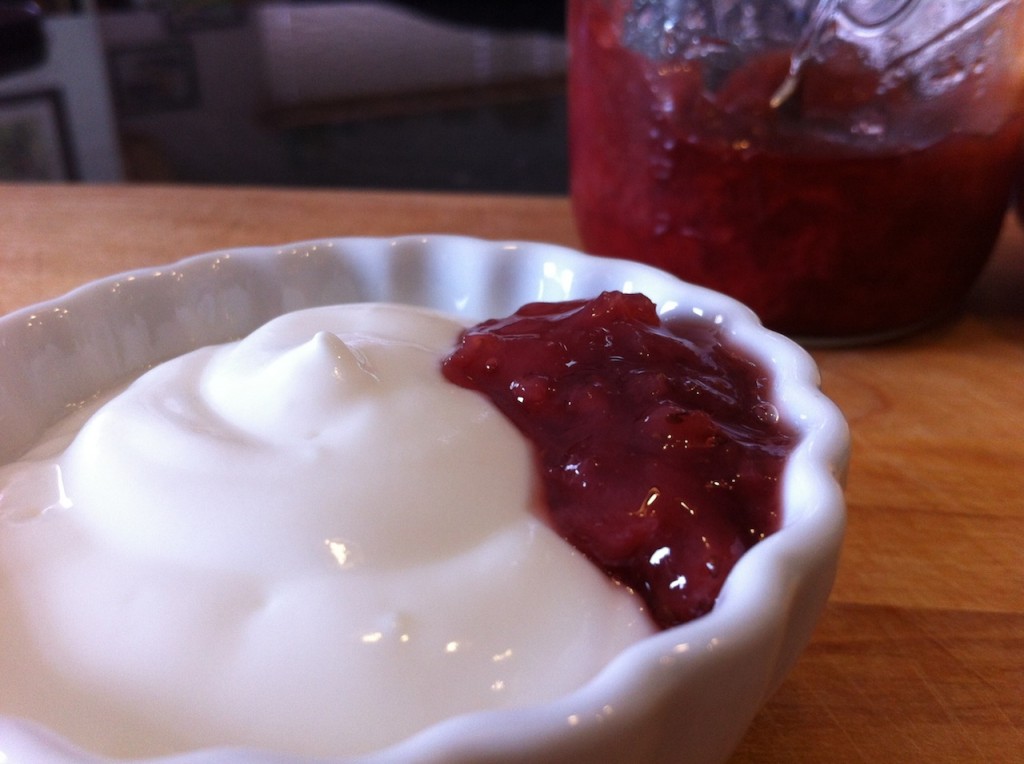 Finale 2: Remember that vanilla paste ? … oh, yeah a drizzle of honey is all it needs.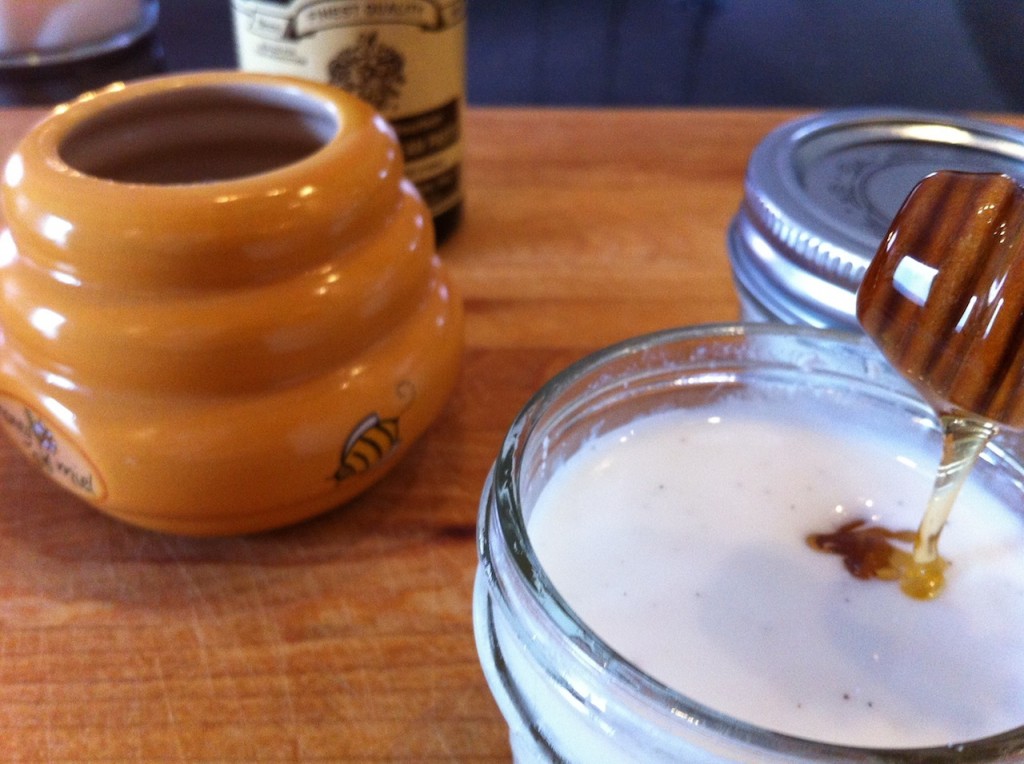 Finale 3: Here's this morning's with blueberry jam and honey. I like the way there's enough room in the little jars to add a topping and put the lid back on.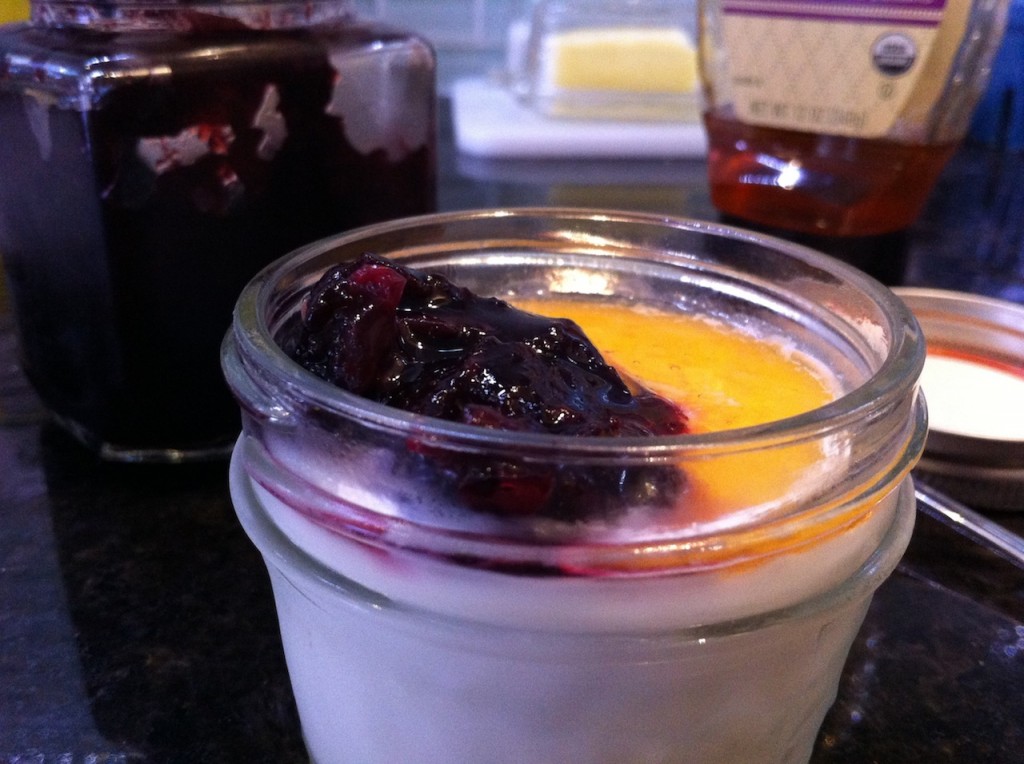 You too can do this ! Save yourself TONS of money. And I know you've seen the commercials, or maybe your Dr. told you, or Dr.Mom – yogurt makes your tummy happy in so many ways. So, why not do it yourself and add in what you want to it. Homemade jam, honey, agave, vanilla paste, lemon marmalade, grated ginger and honey…oh yeah baby..the list goes on an on and on ! Enjoy.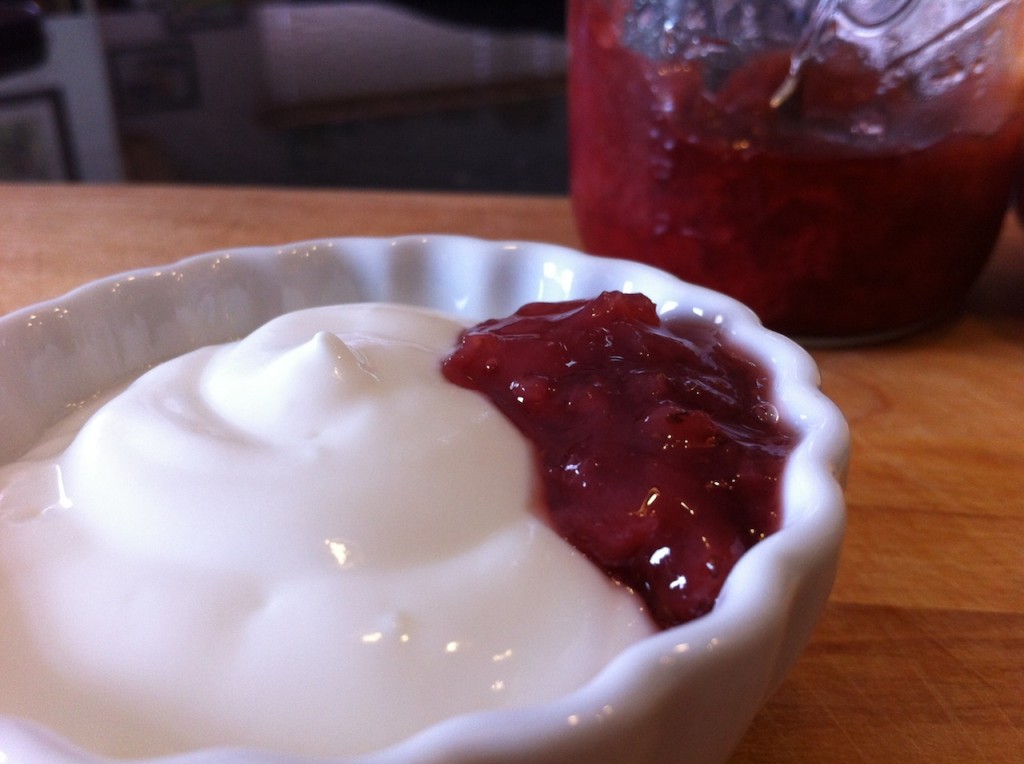 Greek Yogurt for All
2013-11-21 14:33:54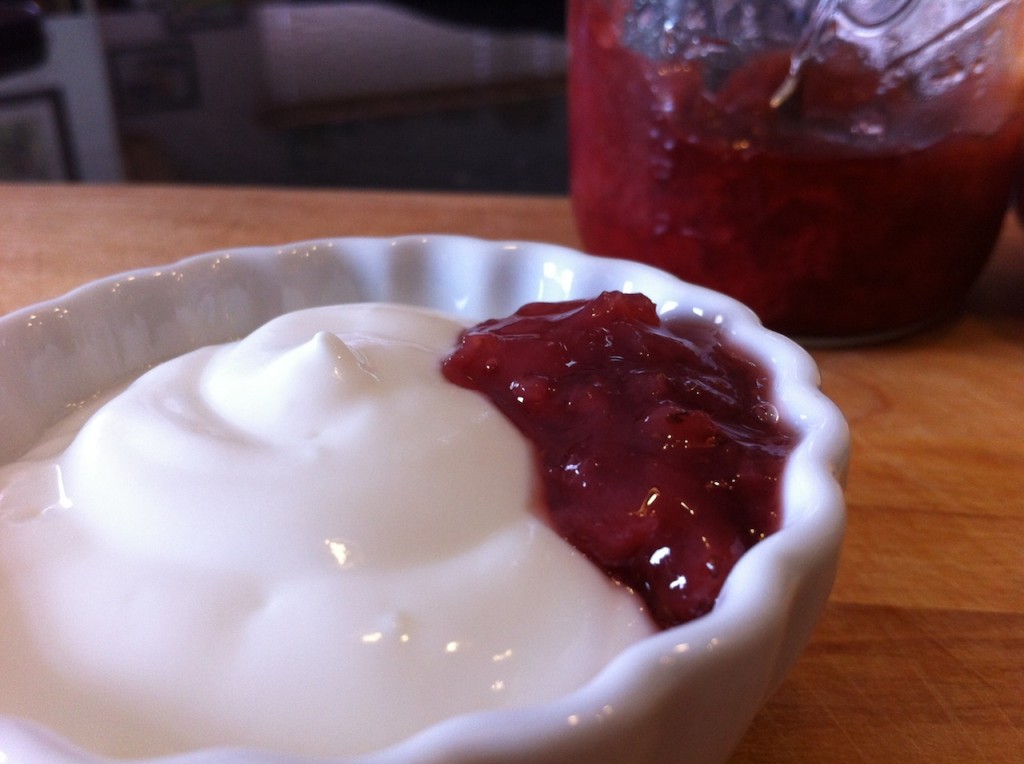 Fabulous Creaminess, and so good for you.
Ingredients
1 Quart Milk* (organic is best - but regular will do)
Yogurt Starter (left from the last batch or from the store)
Instructions
Warm the milk to 180 - 200deg (a scald). If using Organic milk that is 'Ultra-Pasturized', you can skip the first heat. *This is about technique. This works for a quart or half gallon,...
Cool to 90 - 100 deg, then whisk in the yogurt starter. Place in a warm place (90 or so degrees) for 6 to 8 hours. That's it - you've got yogurt!
For Greek yogurt, simply drain away the whey (liquid) in a strainer until it's reached about half of it's original mass.
Roll the yogurt into a bowl and whisk until smooth and creamy. If it has drained too much and appears to be a bit like cheese, just replace some of the whey liquid. Or you can add in cream or milk for super creaminess, but this adds calories. While whisking, you can add in your flavors if any, but first reserve a bit to start your next batch.
Notes
My favorite flavors to add are Local Honey, and Vanilla Paste. Later I'll add in some lo-sugar homemade jams and even my morning granola. Don't limit yourself - this is awesome with ice cream toppings too for an evening treat. Pass the carmel sauce please! Yum!
BadZoot https://badzoot.com/