This more fun in the kitchen. I was always fascinated by those ice cream cones that were dipped. I'd watch the ladies at the Dairy Queen fill my cone from the, equally fascinating, soft-serve machine, and then dip it into this small vat of chocolate wonderment. That covering would set hard by the time they handed to cone to me. Wow – How'd they DO that?! Of course, my Mother being the 70's health foodie she is, would cringe and wonder 'Ugh, whatever that is, it can't be good.' Well, years went by and I grew up forgetting all about those little fun things. One day, I was reminded, when I spotted a product that was really just the same stuff, only in a squeeze bottle, that I could buy and use for myself. Sweet,…and kind pricey. We never splurged for that stuff. Those days, a carton of ice milk (no, not ice cream) was a luxury. We just made sure it was at least chocolate. These day I've a bit more coin and my tastes have changed slightly.
Some weeks ago I beset upon myself a challenge to make a kind of ice cream I love out of frozen bananas. Ben & Jerry's Chunky Monkey (ahhh * the Angels call !). Oh yeah, you know it. That over-the-top fabulousness that I dare not keep in the house. Yes, after your most horrible day it is totally worth the million calories and $5 price tag to buy and devour the entire pint,….all by your self !
To accomplish this goal, I needed a special ingredient. Chocolate chunks. No, not chocolate chips – I need the yummy kind that will melt in your mouth and not get stuck in your teeth. It's bad enough I'd need a trip the gym – I don't want a trip to the dentist too ! In comes the DIY 'Magic Shell'. Yes, Pinterest has nearly as many posts for this as for homemade Nutella (don't get me started). After some reading and testing I've reached perfection…and it's only 2 ingredients!
DIY Magic Shell
*the best way to do this is if you have a scale – it makes everything measure perfectly* Thomas Keller said so, and he wouldn't lie. Since he's kinda good at what he does, I'm listening!
160 gm Semi-Sweet Chocolate Chips…good ones (aka: 1 'scant' cup – meaning between 3/4 – 1 cup)
100 gm Coconut Oil, refined (or the unrefined is OK but it'll have a faint cocoanut taste – and that's not a bad thing) Or a 'scant' 1/2 cup.
How many noticed the ratio difference? This is why professionals weigh ingredients.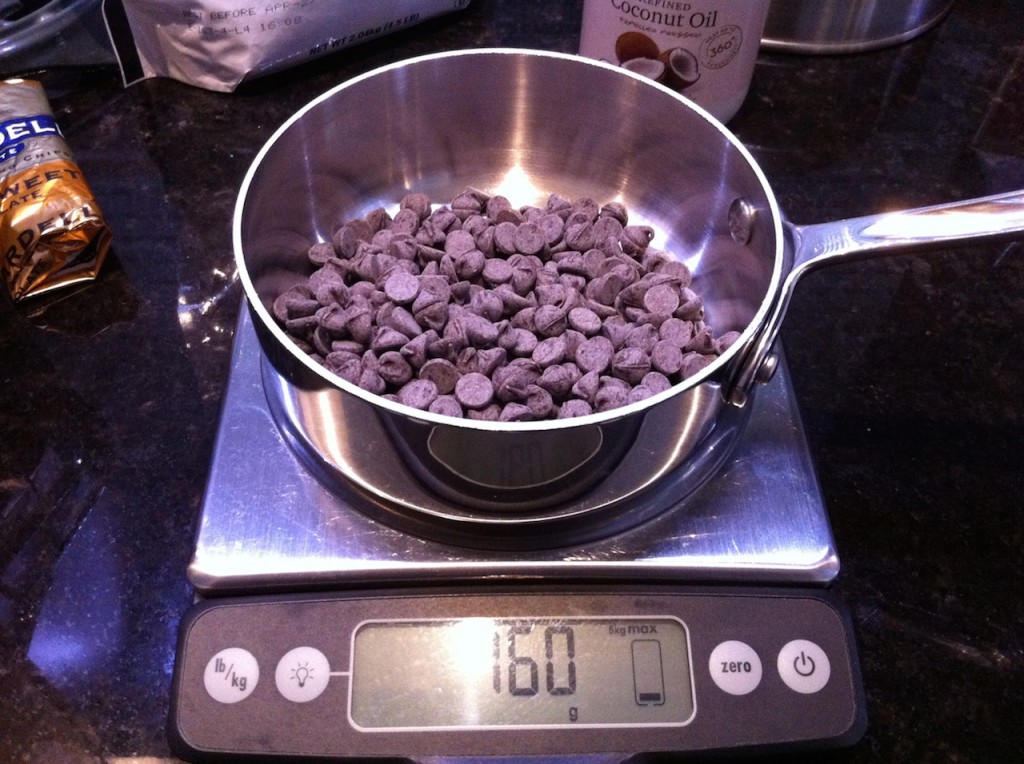 Step 1:
Get the chips measured out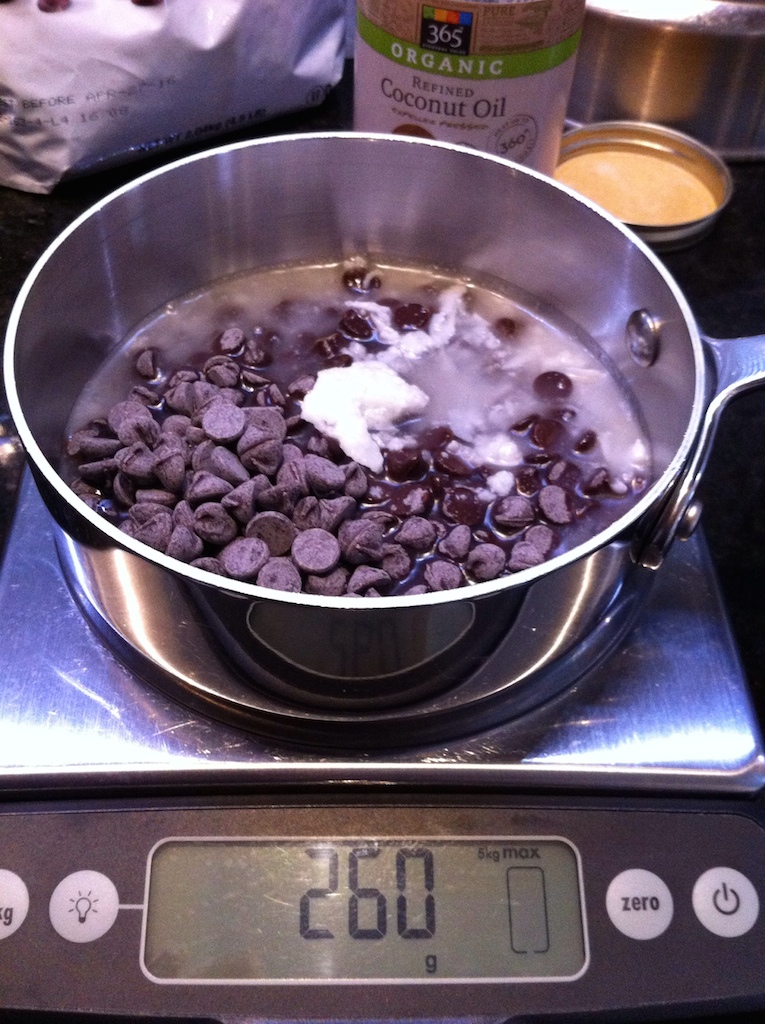 Step 2:
Get the oil measured in and all of it melted – slowly. Don't walk away, chocolate burns easy. Just until there are still some chips unmelted and stir those in off heat until they do.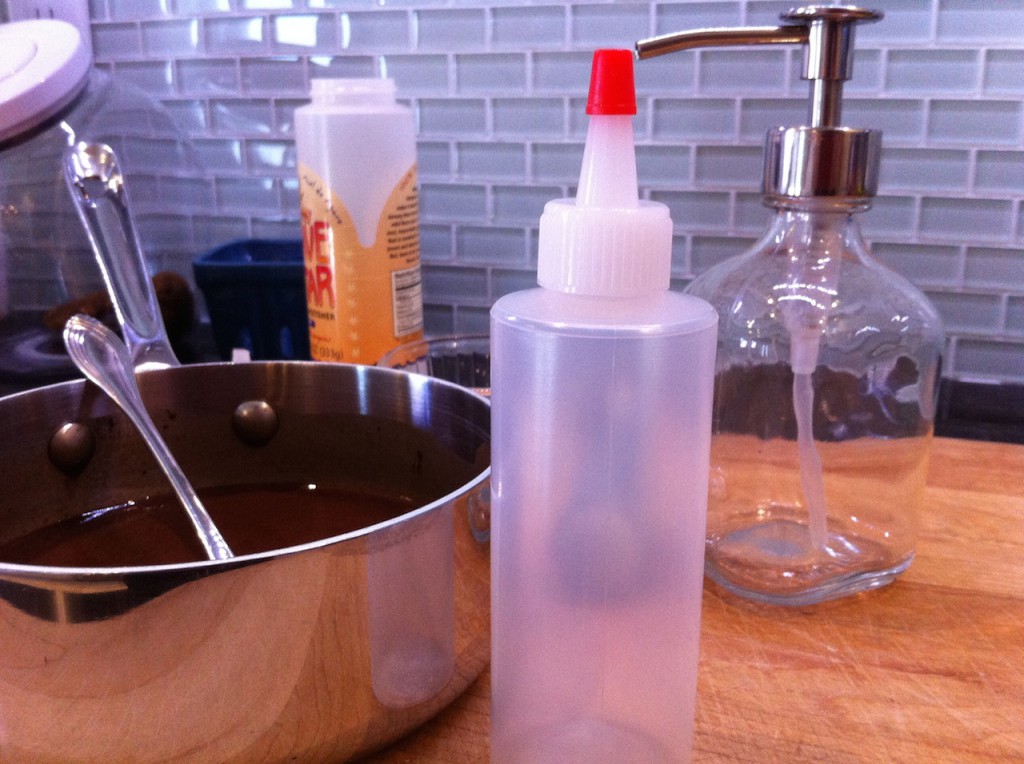 Step 3:
Get it bottled. A little squirt bottle that I use for thin cookie icing will do. Or that recycled agave nectar bottle,…or a pump bottle and I could just keep it by the coffee maker…. oops, I'm getting carried away.
Finale : That's it – !
Oh, need some of those chunks for your topping…take a little plastic wrap and a small plate (the plate well is perfect!) fill and toss in the freezer for a minute – Done!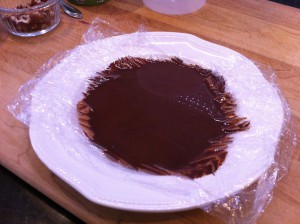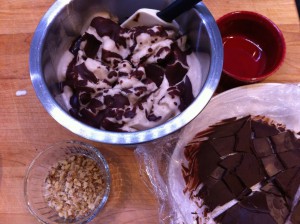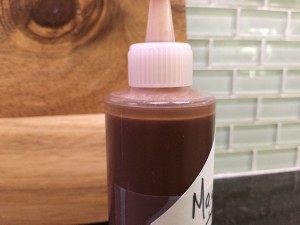 Note: I shouldn't have to tell you this but DO NOT put it in the fridge. Also, a bit of the oil will naturally separate, so give it a quick shake before you use it.
Now, break out that vanilla frozen yogurt – because we're all on diets here ! A little drizzle and I'm back at that Dairy Queen, all of 8 years old !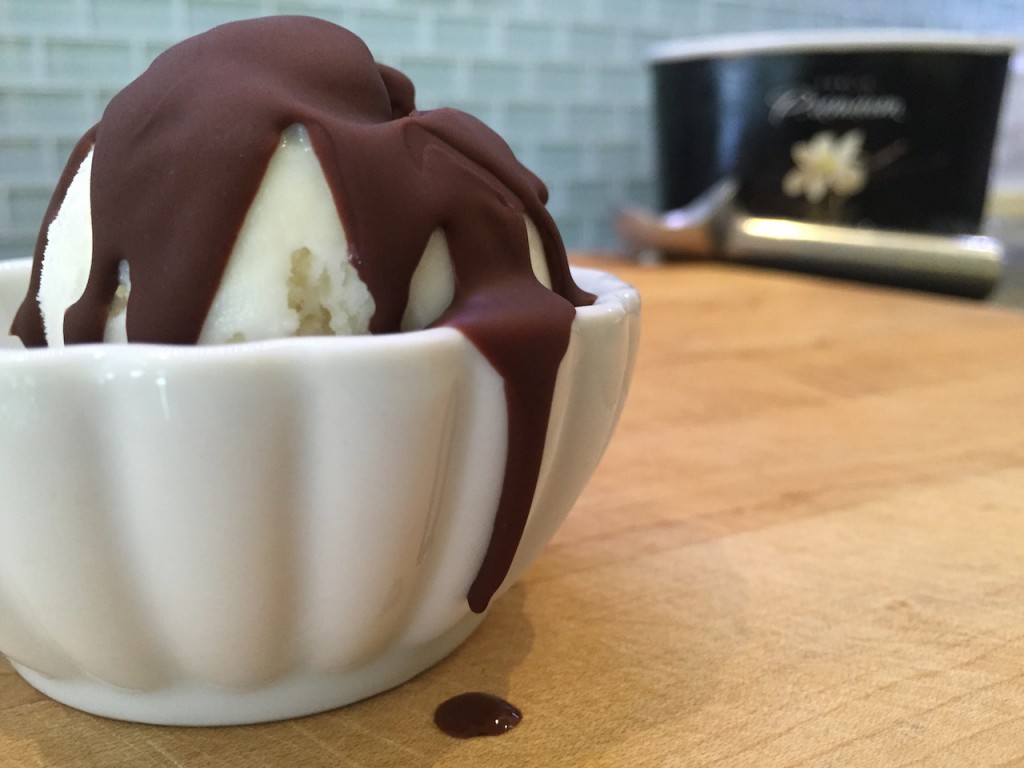 Another note,…maybe I'll have to blog it, but I got a new toy – For our anniversary, my husband got me a new iPhone6. I loved my iPhone4, and still do. I used the camera way beyond it's design specifications for my Blogging adventures. I have every intention of doing the same with this one. Notice the difference in the first pics and the last 2 ? Wow – the resolution is incredible, the file size is manageable, and I didn't need to run it through the color fix app. It's love I tell ya – love!