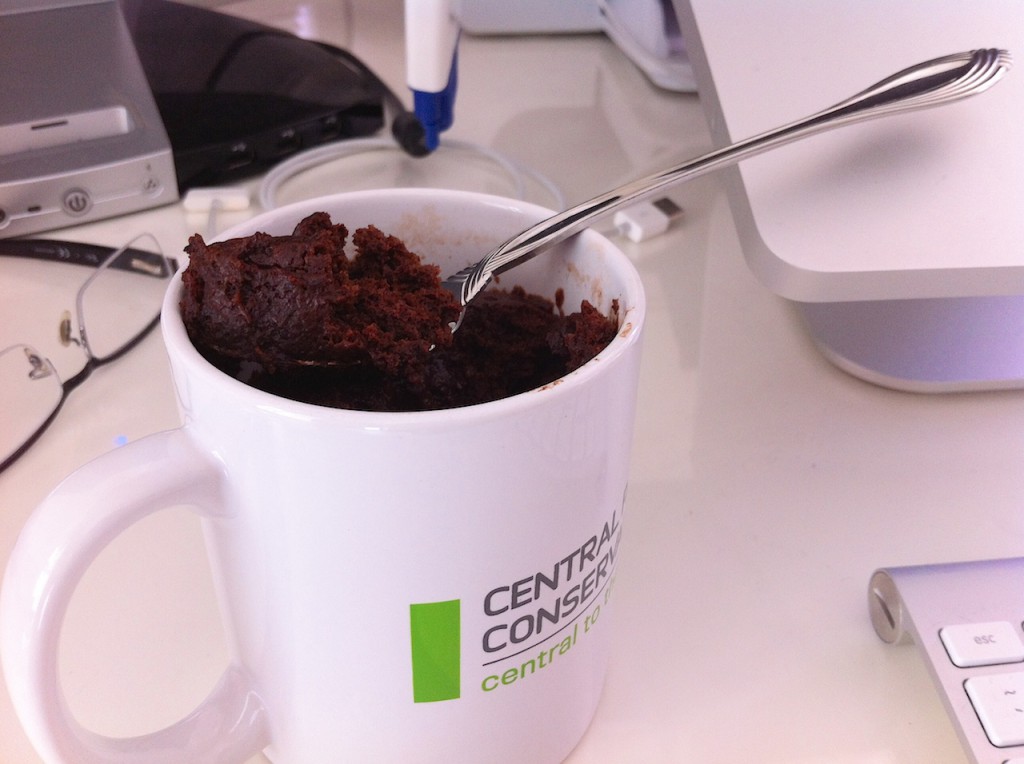 Cup…Cake
Mug cakes are not new things. However, over the years, many have lost the simplicity of being able to make a cake in a mug at the office. Too many ingredients, and some are even a packaged deal (yuck!). I'll use the excuse for making a chocolate treat that it'll help by being even a little healthy, and keep you from strangling your supervisor. When I worked in an office I would've died for one of these at 3:00 in the afternoon! Every office I've ever worked at has been like an internment in a walk-in cooler! Fresh-hot-chocolate cake – YES !!! These days, there are as many recipes for these as there are stars in the sky, but one's too complicated, one's not sweet enough, one's got an oily taste,…after a few tries, I thought about two things ; what's my favorite chocolate cake, and what's in an office fridge. First answer : Mayonnaise Cake. As a child my Mom would make this uber moist chocolate cake for my birthday every year. The secret? Mayo…it has all the eggs, oil, and salt, vinegar and other binders all in one package. Second question: What's in the average office fridge? Coffee cream, milk, mayo, mustard, a bowl of misc condiment packets, some butter substitute crap, week old fried rice, hockey-puck bagels, and whatever the office Vegan brought in for lunch (no one would dare touch). Reminiscent of a bachelor pad fridge,…if he was schizophrenic. No, there are NEVER leftover donuts…EVER.
OK, now let's look over those mug-cake recipes of the flops…yes, I can rebuild it – make it better –
Office Cup Cake
Note: Feel free to make up the dry ingredients at home and toss in a tiny Zip-Loc, with the instructions and list of wet additions written on the label.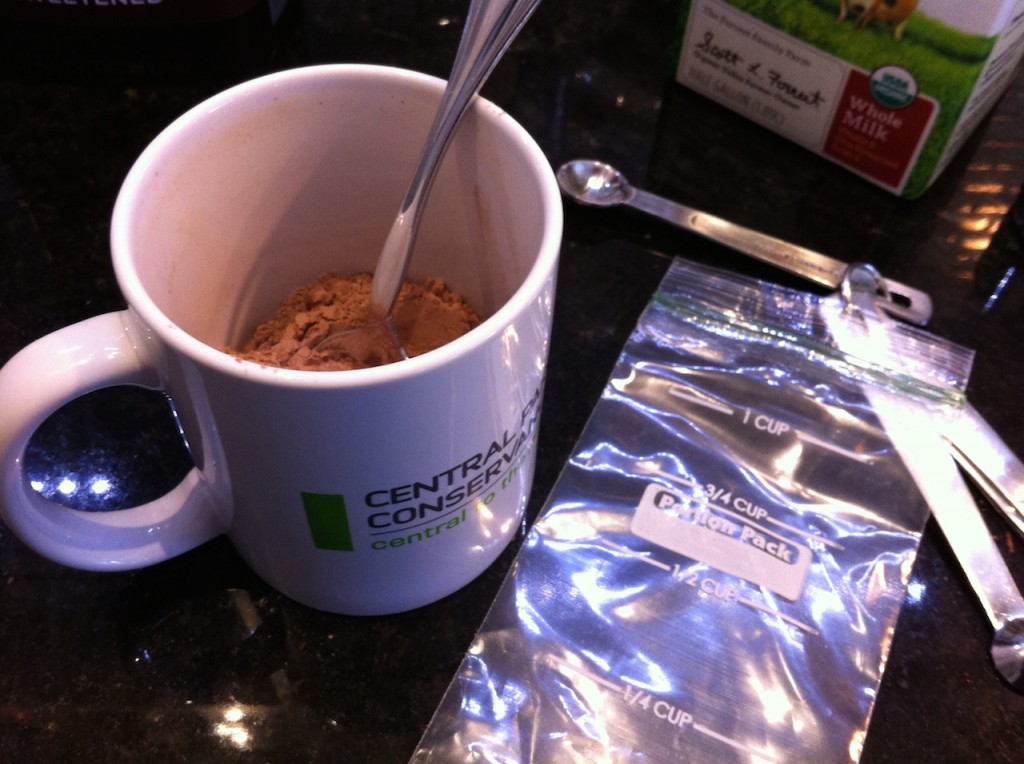 Step 1:
1/4 Cup Flour
2 Tbl Cocoa Powder, unsweetened dutch process
1/4 tsp Baking Powder
2-1/2 Tbl Sugar (if you like it 'sweet' make it 3 full Tbl Sugar)
1 Tbl Mayo (you can use Vegenaise) – That's about the same amount in one of those cafeteria squeeze packs. Convenient, no?
1/4 Cup Milk (I think you could probably use some slightly watered down coffee cream too – no fake stuff though)
Get the dry into your coffee mug and mix.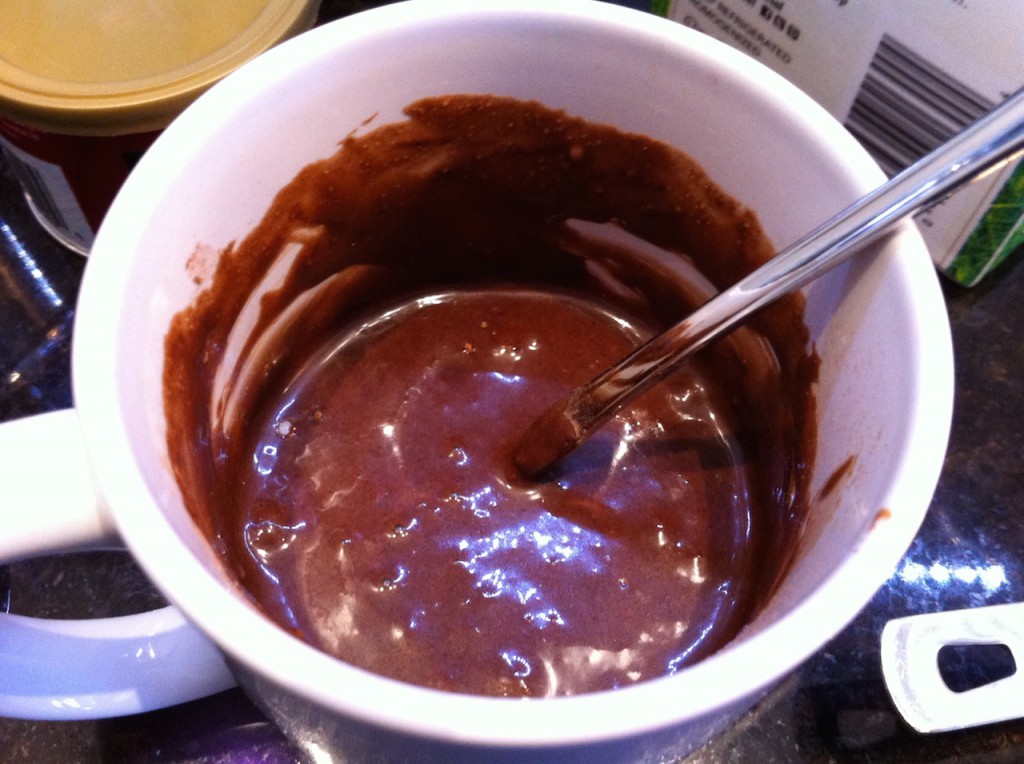 Step 2:
Add in the wet and mix until it's like cake batter.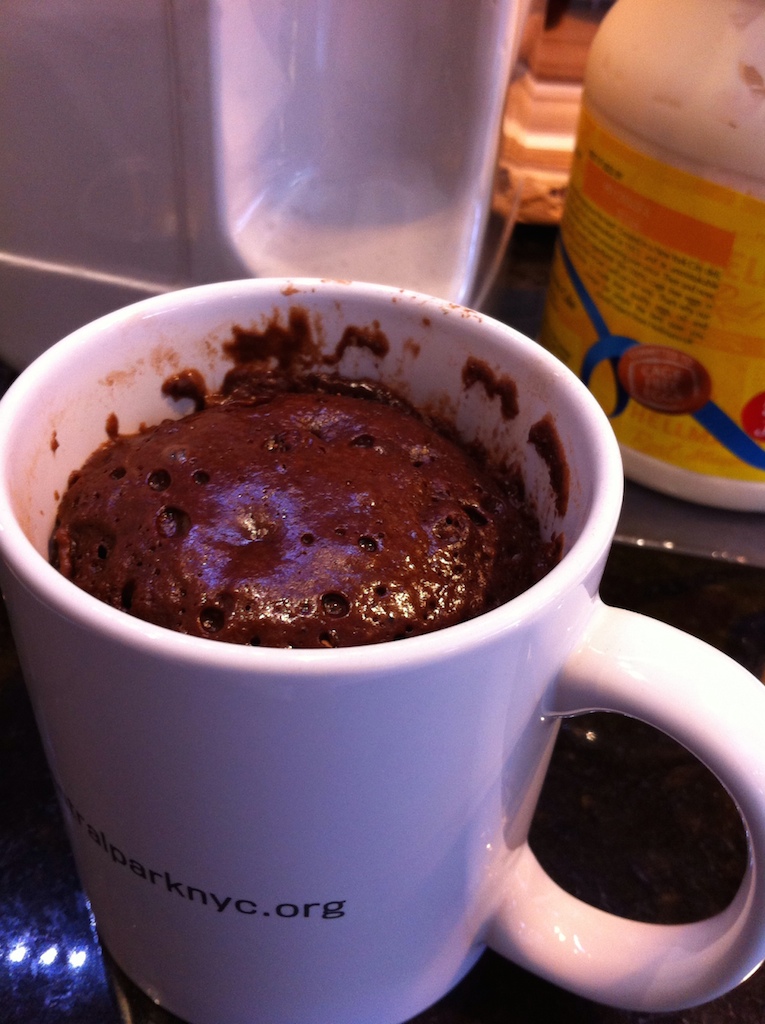 Step 3:
Pop it in the microwave for 1:15 or 1:30 depending on your oven. Keep an eye on it the first time. It should raise up, but look a bit undone on the top – that's ok. That cup's nuclear! It'll continue to cook. Make sure you've got something to set it on, lest you melt your mouse pad!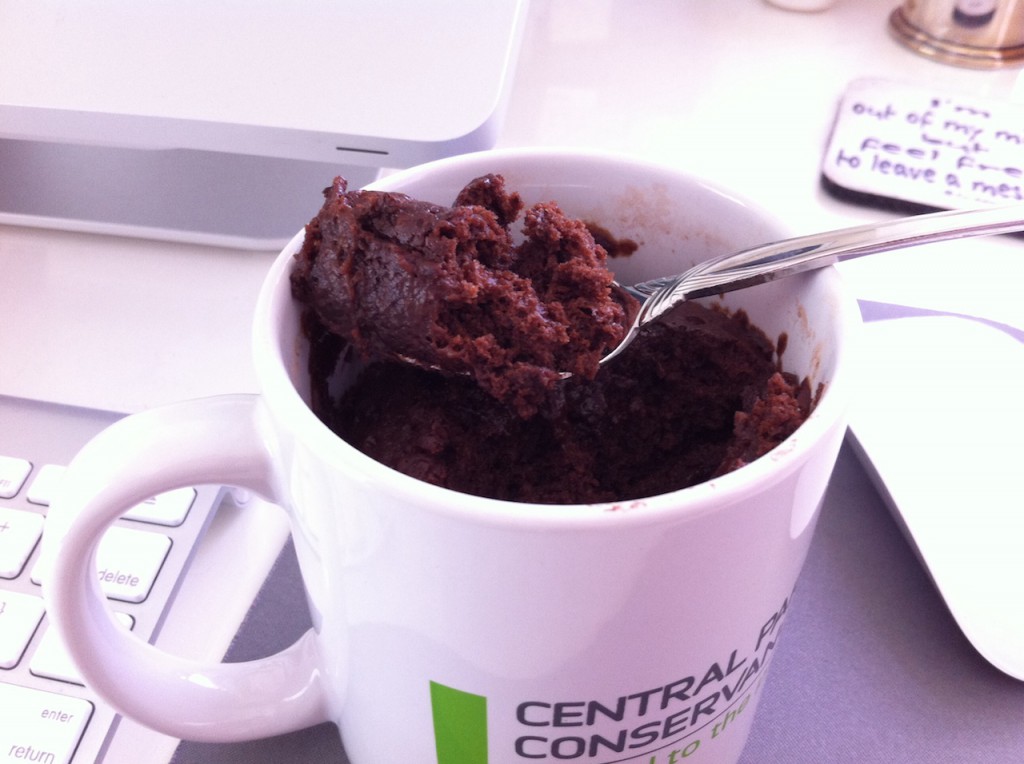 Your 3:00 slump is over !! How long did it all take? Well, less time than the guy 3 cubicles down takes for a smoke-break!
Now, if you really want to be the office darling, break out that jar of Nutella that's hiding in your desk drawer – I know it's there! Before you nuke your mug, put a dollop of Nutella in the middle of the batter. You don't have to mash it, it'll be there warm and yummy, melty goodness, with the cooked cake all around it. Like a Lava Cake only with N U T E L L A !!!!
Yes, I did just make your day better – you're welcome. Now get back to work!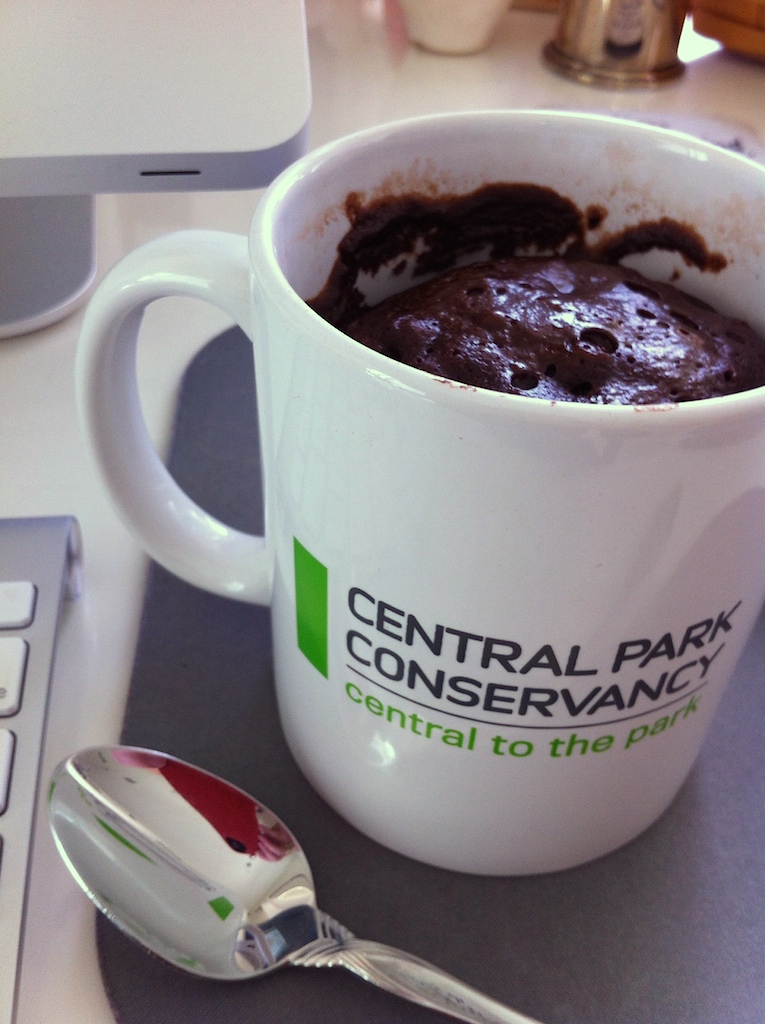 Cup Cake: Mug Cake
2014-04-03 16:27:02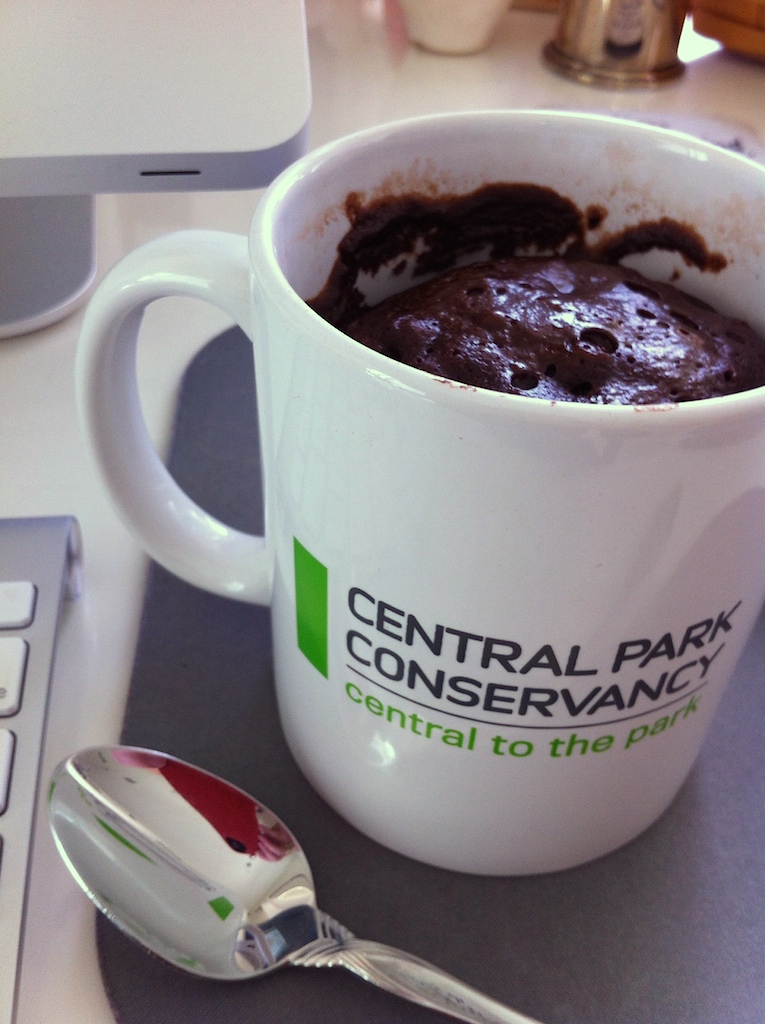 Serves 1
The best mug cup cake I've found yet !
Ingredients
1/4 Cup Flour
2 Tbl Cocoa Powder, Unsweetened Dutch Process
1/4 tsp Baking Powder
2-1/2 Tbl Sugar (or 3 Tbl, if you like it 'sweet')
1 Tbl Mayo
1/4 Cup Milk
*optional Nutella
Instructions
Mix the dry in the mug. Add in the wet and mix until it looks like cake batter. (add optional Nutella) Microwave for 1:15 - 1:30. Let cool for a bit and devour!
Notes
You can make up little pre-mix zip-Loc baggies and add the wet ingredients when you're ready for a snack.
BadZoot https://badzoot.com/