BadZoot's back in the kitchen, and up to no good – It's summer and it's time for cherries. I love my fruits and veggies and these stone fruits make my all time top 10 ! It's actually not a good thing that the wholesale houses sell them in those big containers – I will eat the whole thing myself ! No, my tummy is NOT happy with me for it. A few of these luscious bing babies are fine – a pound and a half, not so much.
Recently, I set out to find something else to do with them. I'd been reading thru a book called 'The Drunken Botanist', and there was a section about Maraschino Cherries and how they've been mutated into "…any chemically treated, artificially dyed batch of cherry-shaped cellulose in a jar could be sold as maraschino cherries." I know I've never seen a real cherry with the psychedelic red color that comes in those jars. Come to think of it, that's not cherry juice either. What is that stuff? Not juice, I assure you. I looked around and discovered they do still import the real thing from a company called Luxardo, but at $17 a jar, it'll be a while before I order some in. I read on. Apparently, making your own is rather easy. Basically, soak your pitted, sour cherries in a jar of brandy or bourbon. OK, so that goes on a list of things to Blog…a very long list.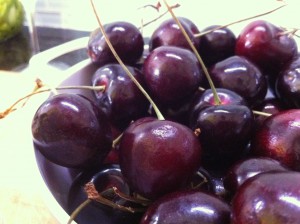 Fast forward to a shopping trip to the big city and I stumbled upon a jar of 'cocktail cherries' in a gourmet store,…they were $20…no, they didn't come home either. Then I glanced over the ingredient list and was intrigued. This was a black syrup concoction. Hmmm. They added spices – all of which sounded like they'd work well with some smooth bourbon. I might do this…I could add spices to the found non-recipe for cherries – and I just bought a 3pound box of those Washington state wonders at Costco. Off to the kitchen we go….
Cocktail Cherries: making a Manhattan a whole other drink!
NOTE: These are not a gooey sweet addition to a sundae…however, I did read about a food truck gal who was using the juice to make 'grown-up snow cones' ! LOL – what a great idea!!
The problem is the pit. I don't own a cherry pitter. Nor, do I intend to. Lucky for me, my favorite magazine contributor, Food&Wine's, Justin Chapple had a little ditty about pitting cherries with a chopsticks and a wine bottle – WHAT!? Oh -yeah.
So, get some cherries…and a wine bottle (just empty that one from the fridge – you can drink that glass as you pit!), chop-sticks…no, but I do have a straw, and a skewer – perfect.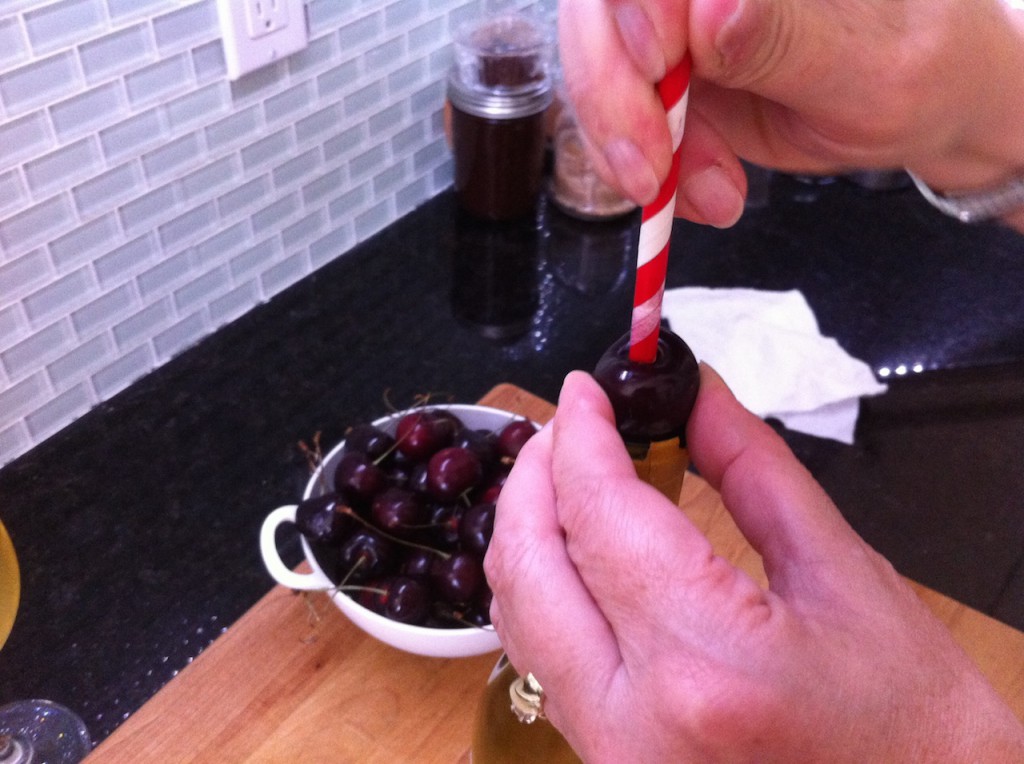 Set the cherry on the bottle top and using the weapon of choice, push the pit through the cherry and into the bottle. Wow- like magic!!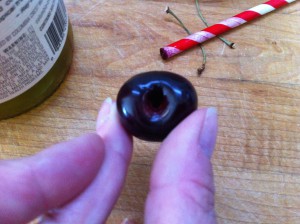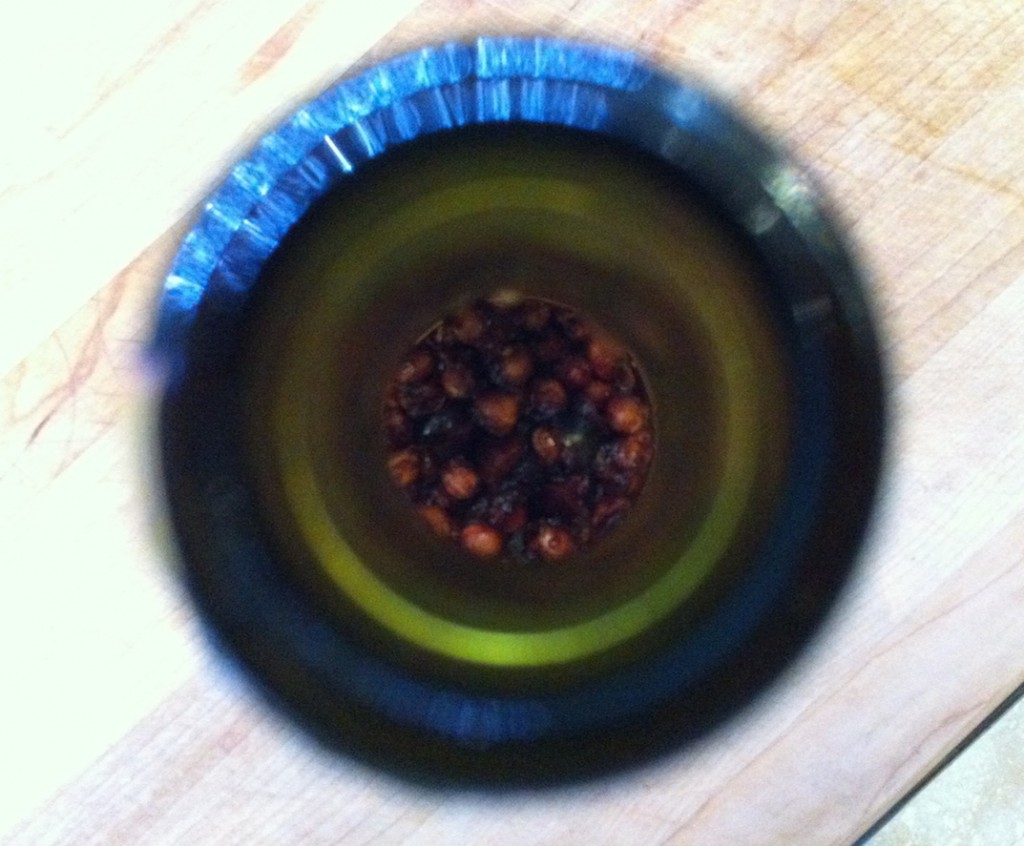 Look at all those pits!
OK, now for the serious work…if you could call it work. Here's the part where you decide whether or not to 'process' these gems. I did, because they made 4 – 8oz jars. So get your clean jars sterilizing before you begin.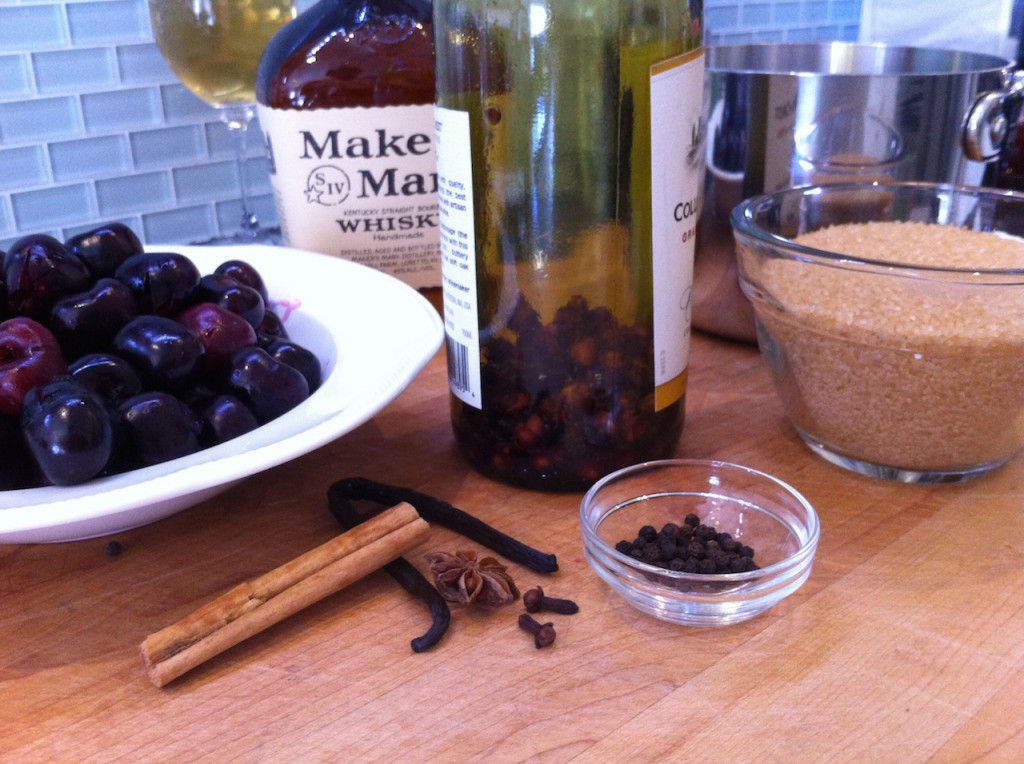 Step 1: Gather the goods.
1 – pound of pitted cherries (I used those dark, sweet bings)
1-1/2 Cups Turbinado Sugar (Sugar in the Raw)
1 Cup Good Bourbon
3 Whole Star Anise
1 Piece Cinnamon Bark
1 tsp Whole Black Peppercorns
2 Whole Cloves
1 Vanilla Bean, Split and cut in half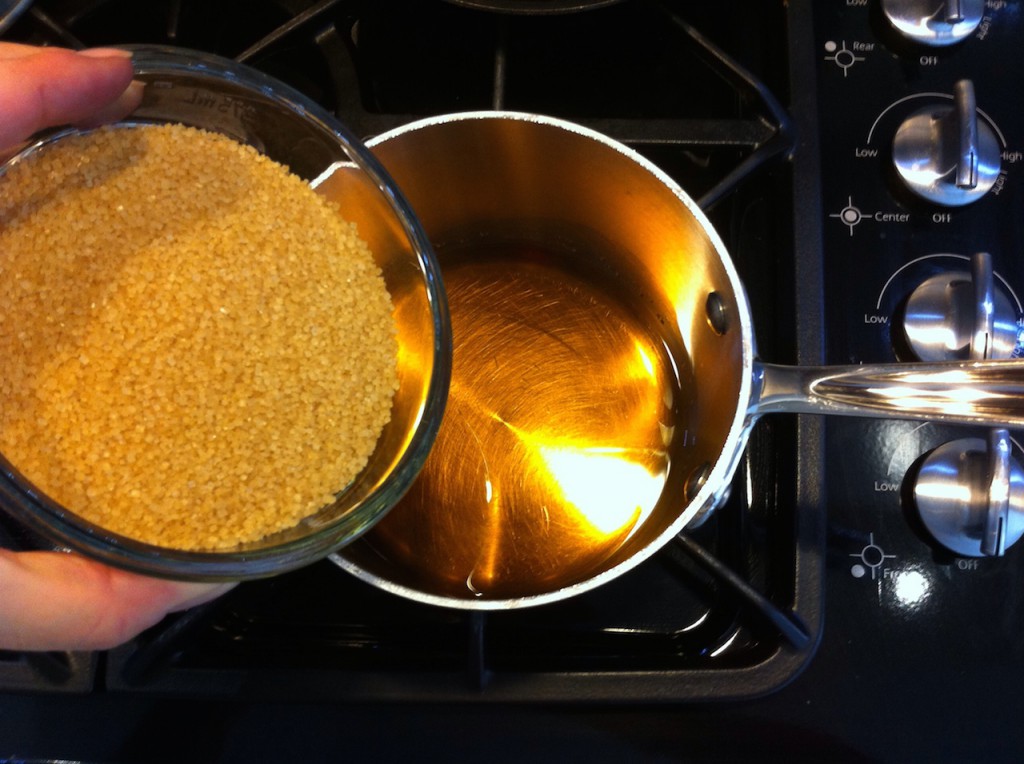 Step 2:
Get that bourbon and sugar into the pot on low.
Step 3:
Slice that vanilla bean down the middle so the seeds release, and cut it in half if it's too long for your pot. A note on vanilla beans, I buy mine at the local health food store in their herb section. They're always fresh because they sell a lot of them and they're less than half the price of the grocery store supply.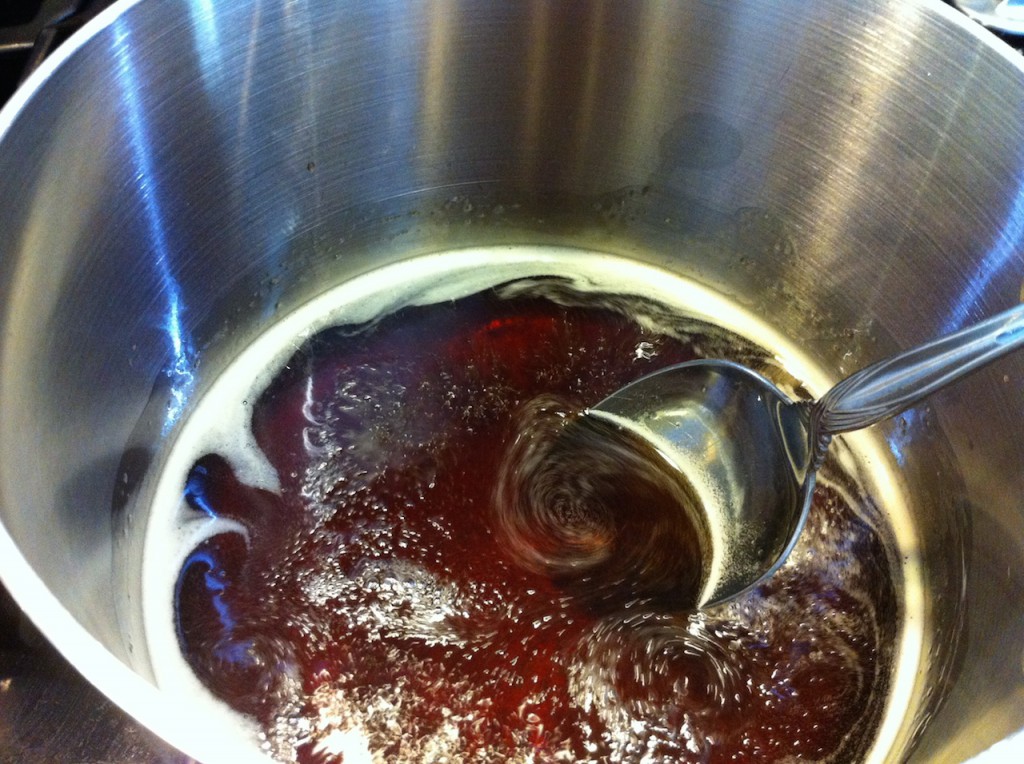 Step 4:
Get that sugar melted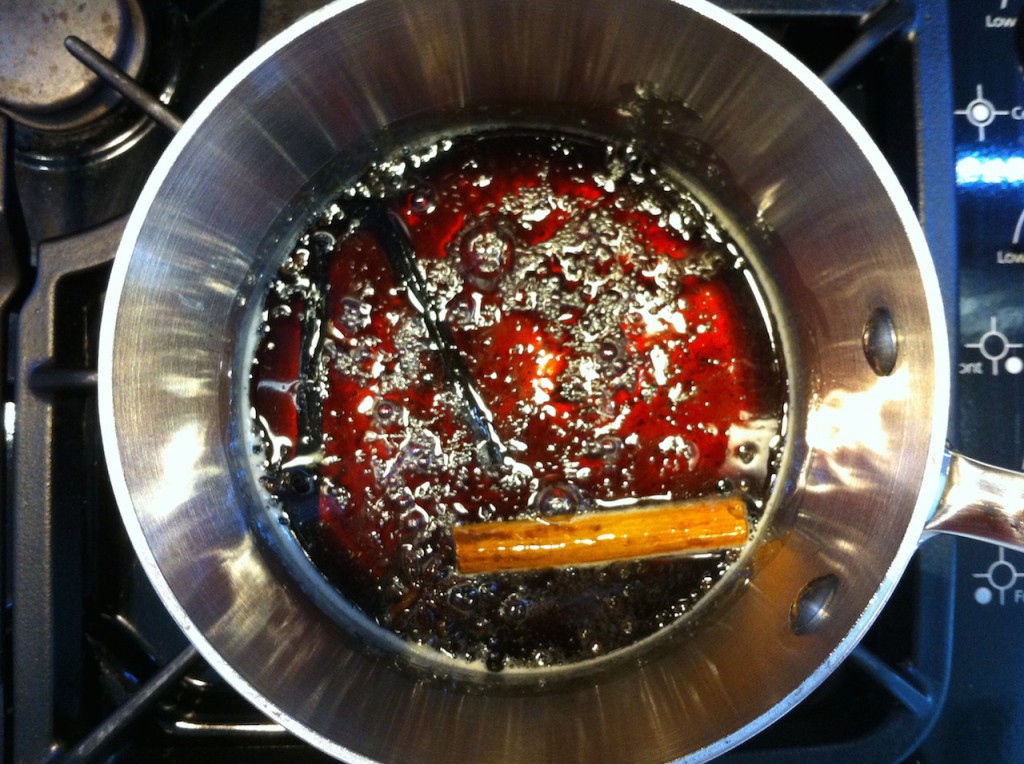 Step 5:
Add in the spices and simmer for 5 or 10 minutes. Then turn off the heat and let it cool a bit, maybe another 10 minutes.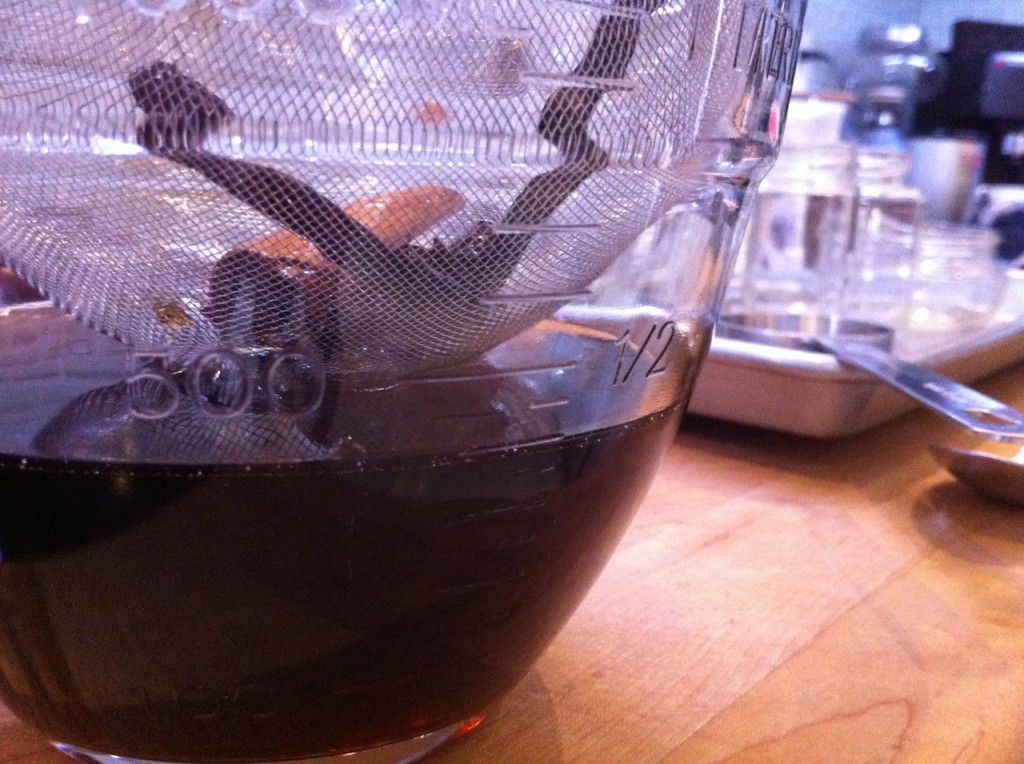 Step 6:
Strain out the spices and get ready to jar.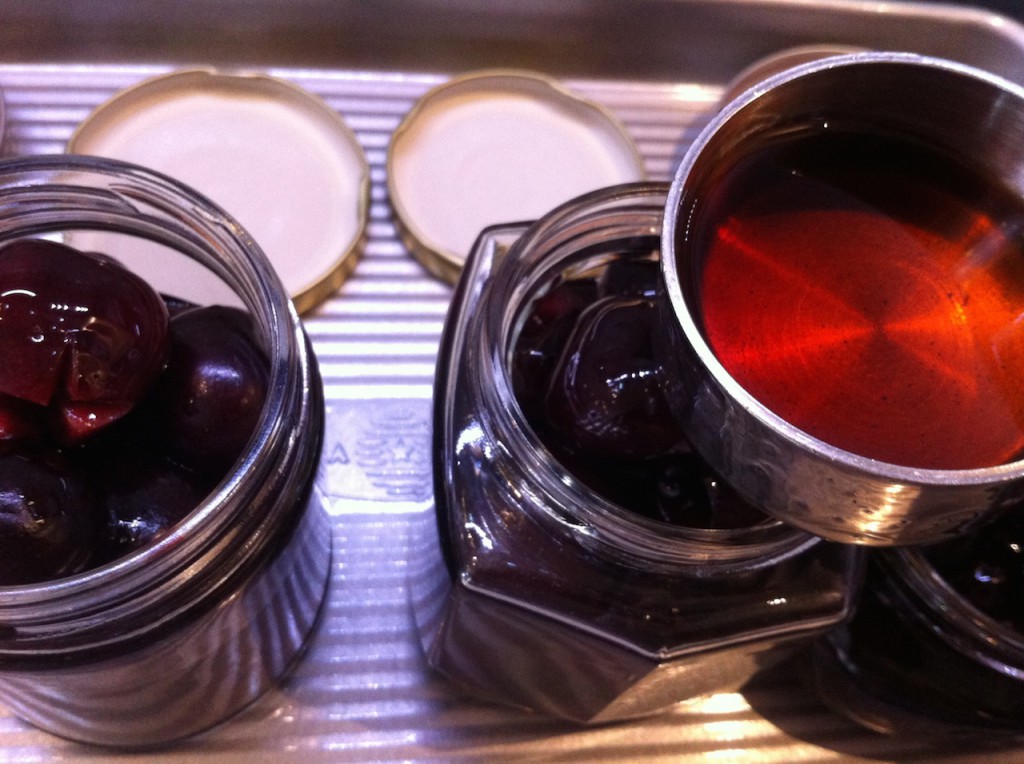 Step 7:
Pack the fresh cherries into the jars, and pour the warm syrup over them. Lid, and process. Or be prepared to keep them in the fridge.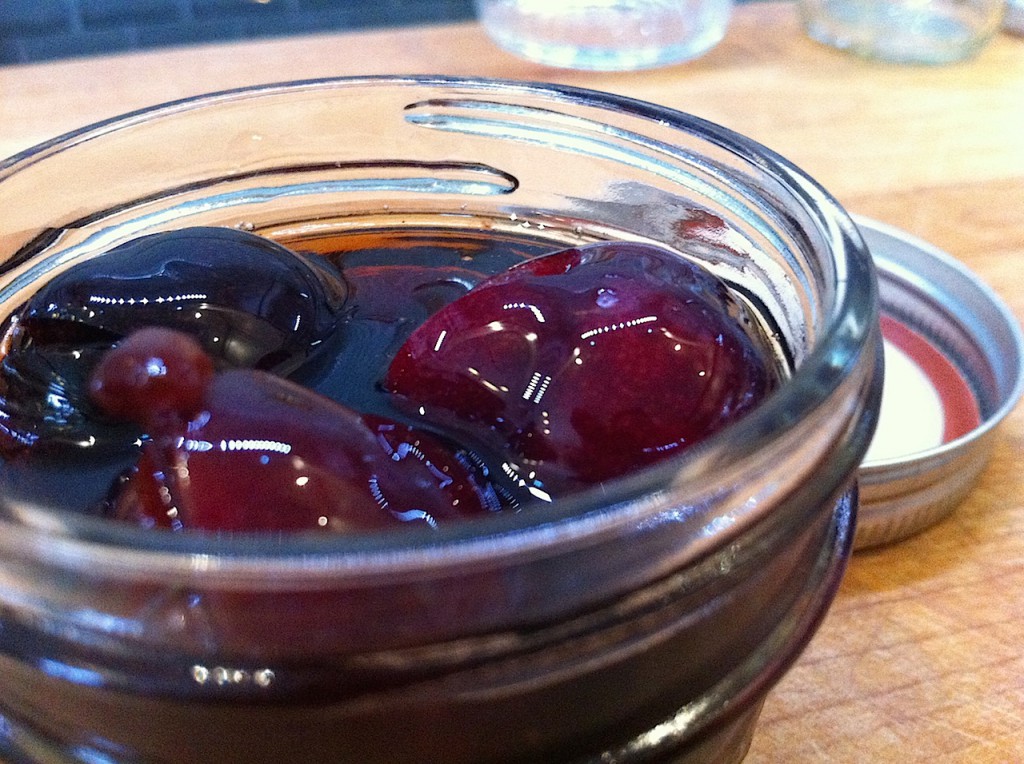 Finale:
That's it. Let them sit for a few days before using.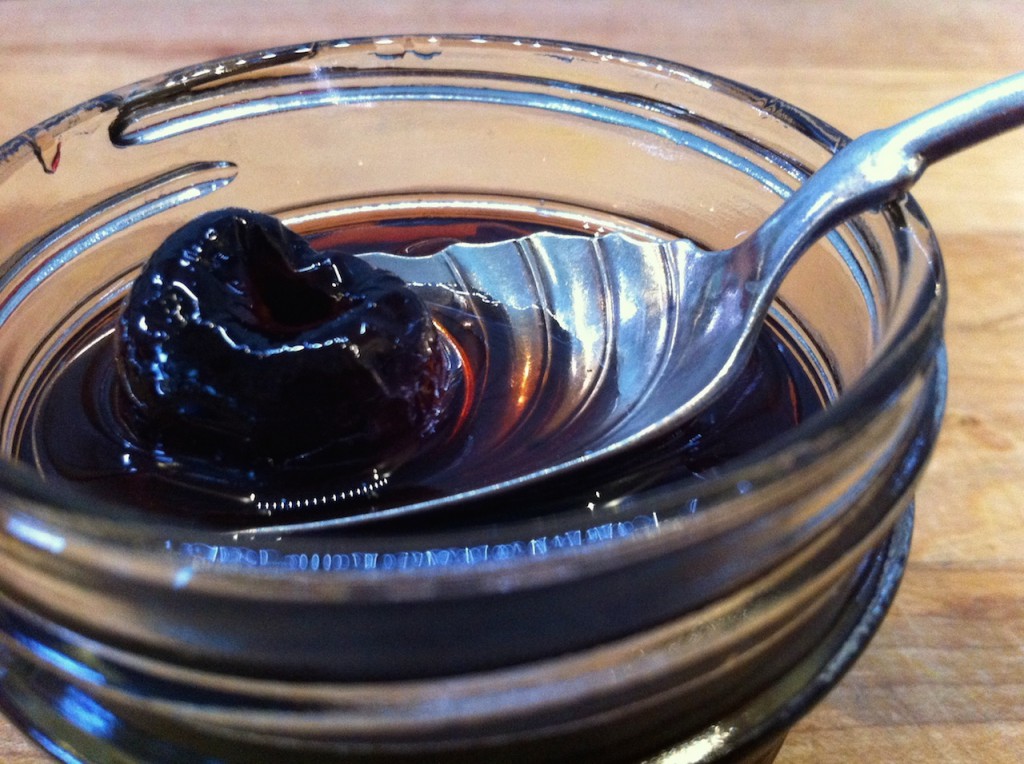 This was an experiment that went very, very well. I pulled out the smallest jar that I'd reserved in the fridge take a better picture – lovely. Then I made the mistake of licking the syrup off of the spoon,….Dear Mother of God !!! Forget warm Nutella crepes… this is where it's at !!! That syrup is right up there with 'doughnut in a microwave' !! (and I know, you know what I mean!!) Now I have to go and get some more cherries before they're out of season, because those 3 jars will be gone soon and I'll not have anything to bring as party hostess gifts!
I highly advise trying this – your Manhattans will never be the same!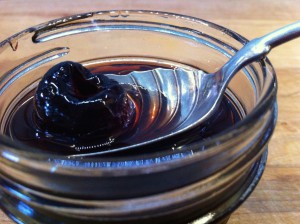 Cocktail Cherries
2014-07-23 09:00:10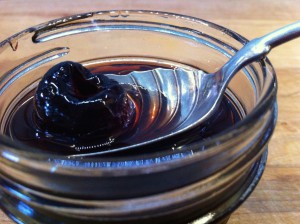 Make your Manhattan a whole other drink
Ingredients
1 - pound of pitted cherries (I used those dark, sweet bings)
1-1/2 Cups Turbinado Sugar (Sugar in the Raw)
1 Cup Good Bourbon
3 Whole Star Anise
1 Piece Cinnamon Bark
1 tsp Whole Black Peppercorns
2 Whole Cloves
1 Vanilla Bean, Split and cut in half
Instructions
Pit the cherries
Dissolve the sugar into the bourbon
Add the spices and simmer 5 or 10 minutes.
Let syrup cool about 10 minutes.
Place cherries into jars and pour over the syrup.
Notes
Let these sit for about a week for the flavor to develop - your patience will be rewarded !
BadZoot https://badzoot.com/