Who remembers Coco Wheats? Yeah, me too. I think they still sell them, but not at my store. That's ok, cause I'm not supposed to eat them anyway. It's one of the first examples of overloading a perfectly healthy breakfast cereal with super sweetened chocolate. Like I ever needed help eating Cream of Wheat (which I still love).
Being originally from 'up North', having hot breakfast cereals was a standard in the winter. I never complained about having a belly full of hot cinnamon laced oatmeal in 14 degree weather! Even now, in Florida, I still love my oatmeal mornings.
I digress, drifting off on all things I love about Fall and cold weather on a hot September morning! These days we need something a bit more healthy than Coco Wheats – enter Quinoa,…chocolate laced Quinoa ! Yes, it too lends itself nicely to cinnamon spices, and a drizzle of maple syrup in the morning. It's so packed with protein that I really can only eat a small bowl. So why not make it with chocolate milk,…chocolate almond milk? Oh, you've not tried that?! Well, don't – you'll be hooked too! The neighbor boy down the street gasped in horror that I hadn't had any of it, after spotting the regular almond milk in the fridge door one day. Well, if the YooHoo King is all over it, then it must be good. Wow- I'm so done right now. I can have a small glass in the evening and that's it – no cookie needed. Dessert in a glass. Add it to a smoothie and fugget-abowdit !!
So, chocolate quinoa for breakfast – oh yeah baby …lemme show ya!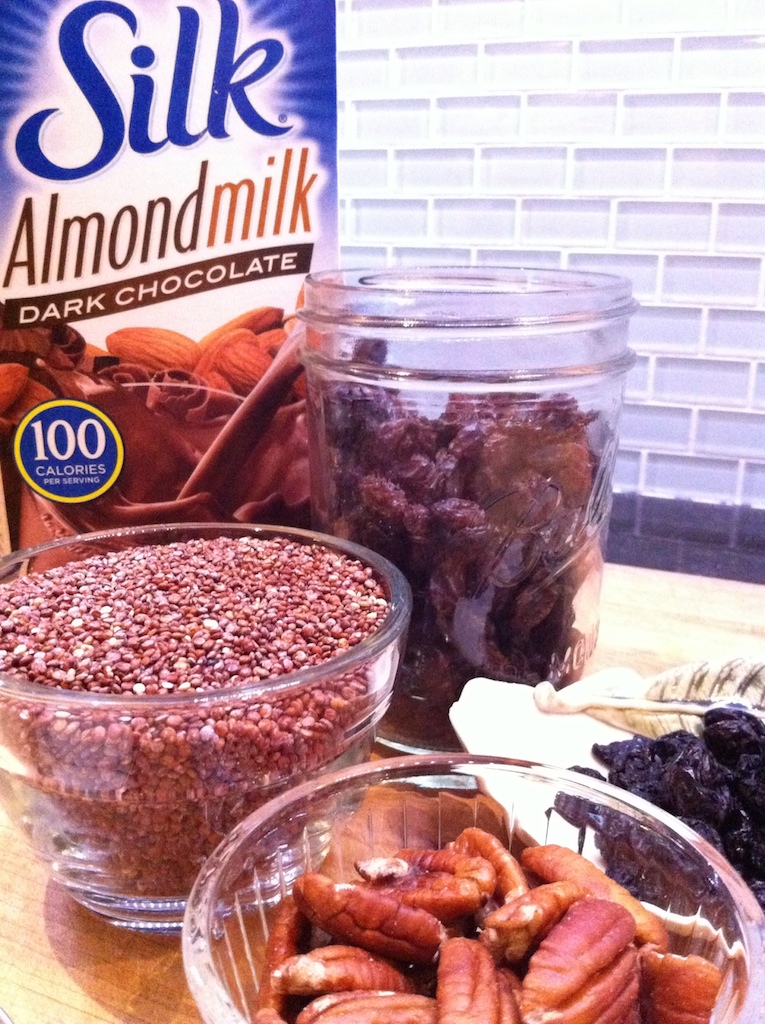 Step 1
1 Cup Quinoa
2 Cups Chocolate Almond Milk
2 Tbl Brown Sugar* (optional as the milk is sweetened)
1/2 Cup or so Dried Fruits like Cherries and Raisins (play well with chocolate)
1/4 Cup Toasted Pecans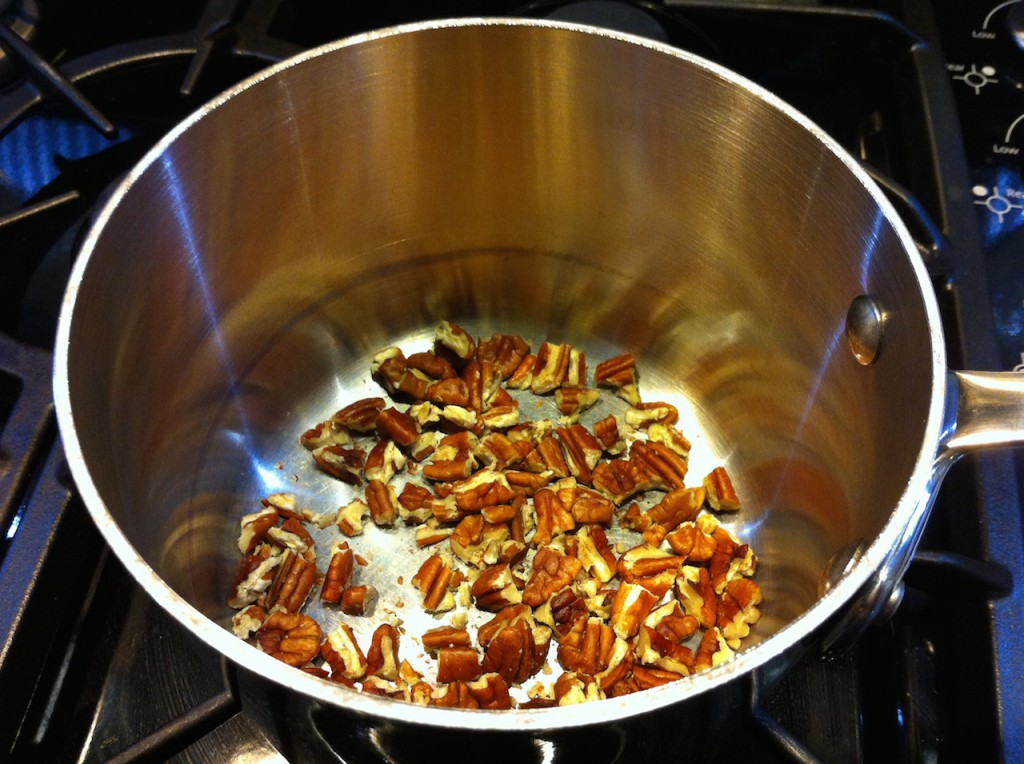 Step 2
Get the pecans in the pan and toast them lightly. This only takes a minute. Careful – if you can smell them, they're burnt !
Step 2.5:
Rinse the quinoa – just a bit under the faucet in a strainer is fine.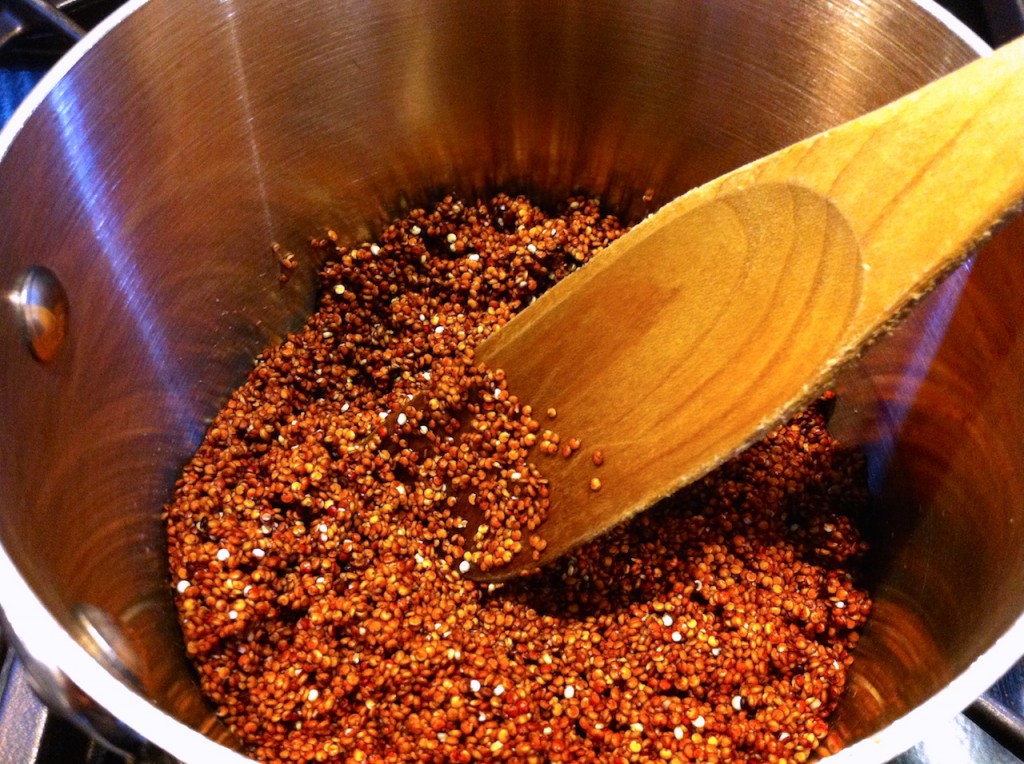 Step 3
Once the nuts are toasted, take them out and set aside. Toss the rinsed quinoa in the pan and toast it too. This give it the nutty flavor.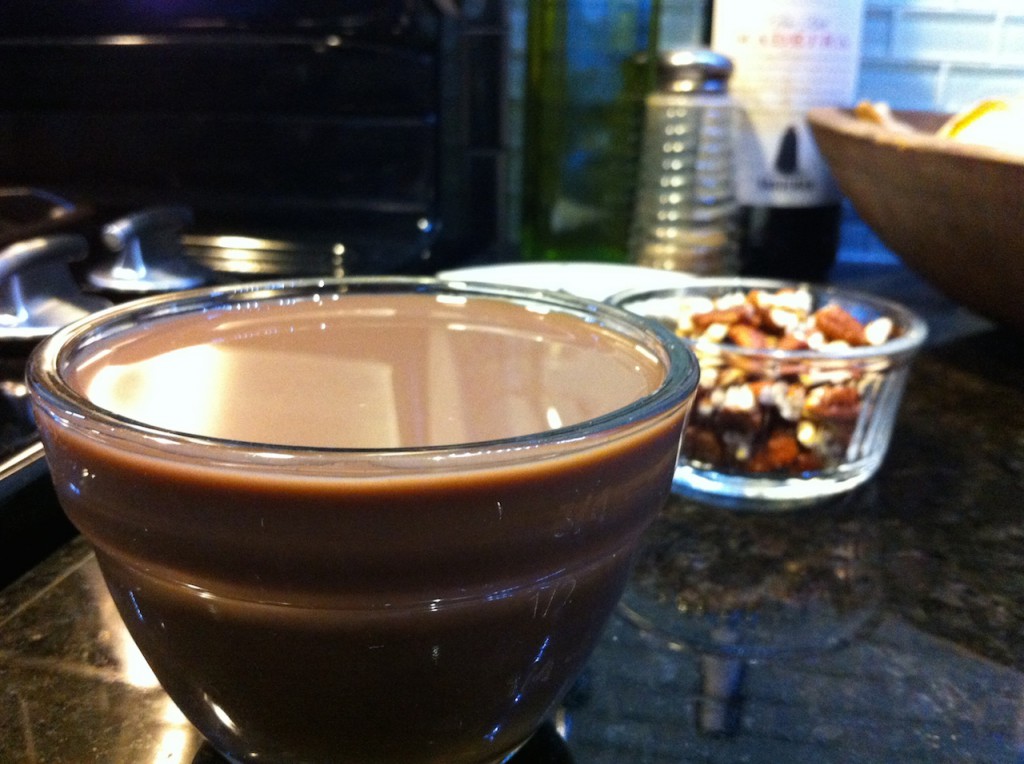 Step 4
Get out that almond milk. OK, you can make it with vanilla almond milk, and add cinnamon, etc., but that's another blog post!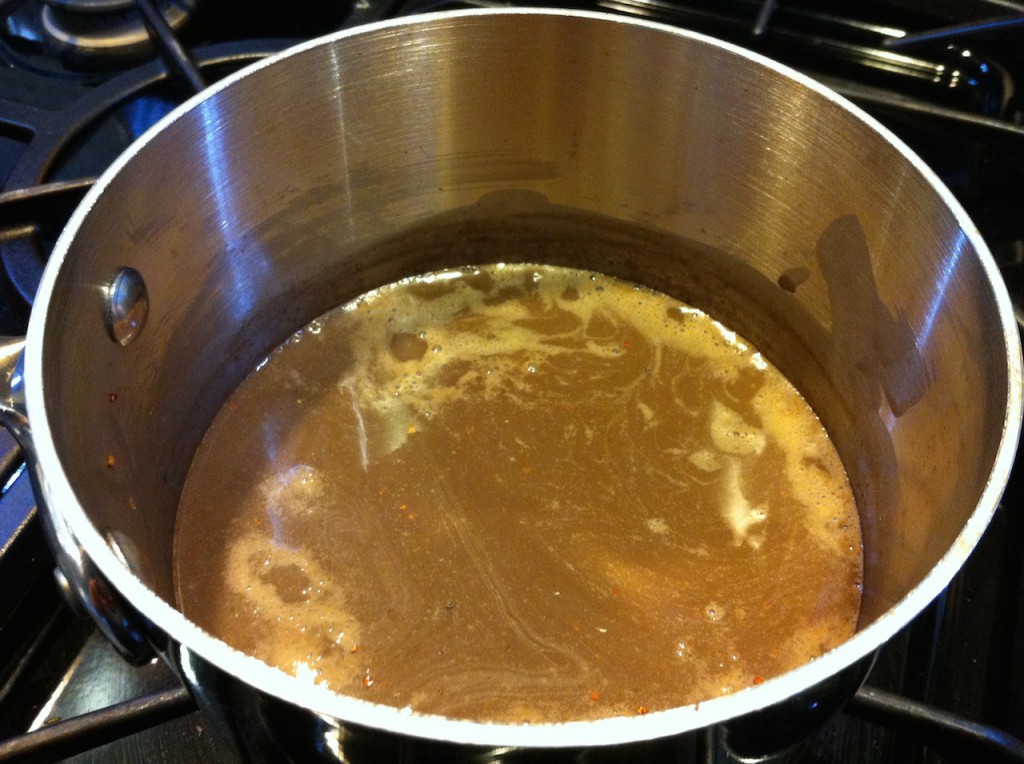 Step 5
Get the milk in with the quinoa, give it a stir. Bring it to a simmer and cover it. Let it cook about 15 min.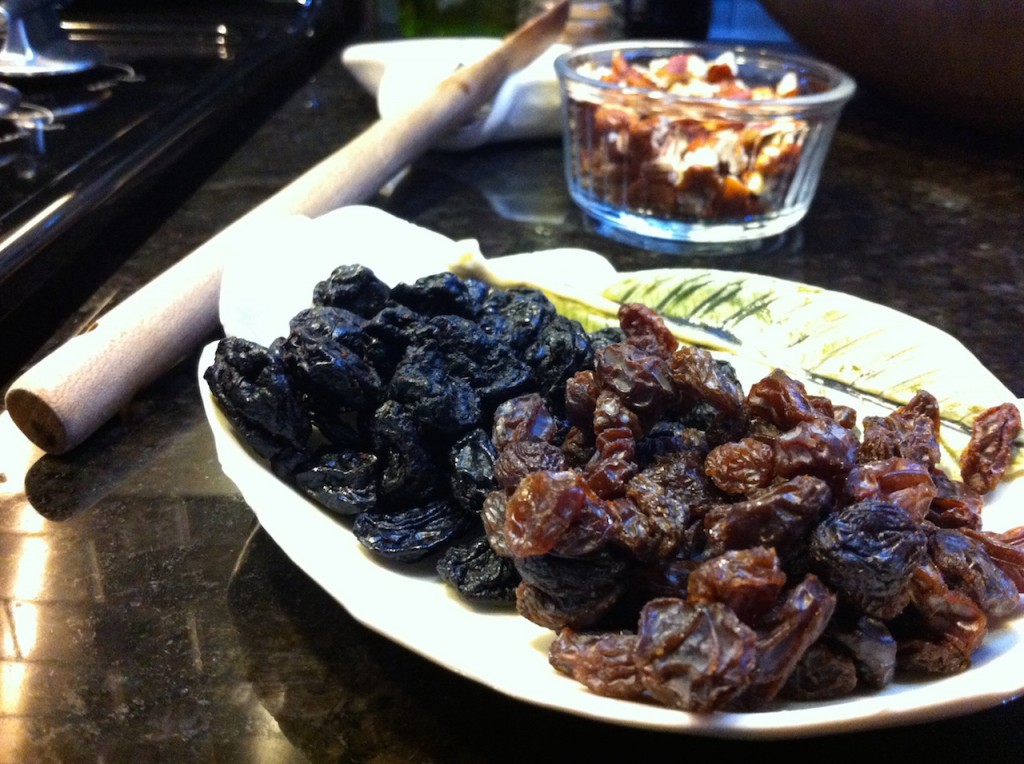 Step 6
Uncover and add the sugar, and dried fruit.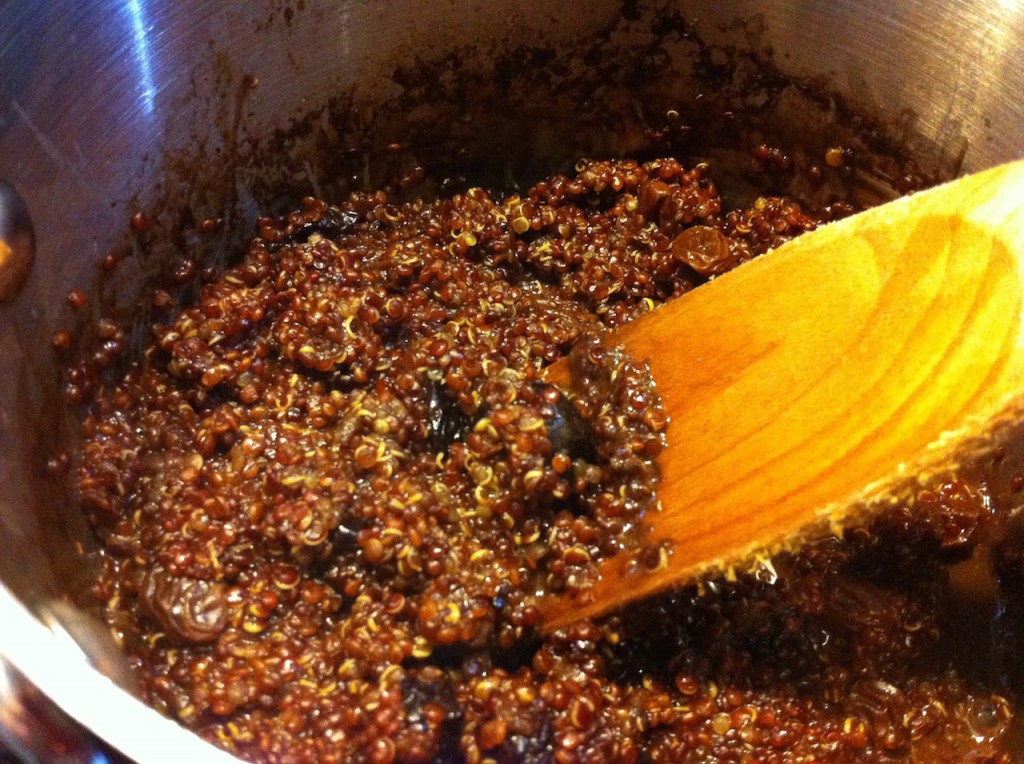 Step 7
Let it continue to cook, uncovered for another 7 min or so, until most of the milk is absorbed. That's it – steamy hot chocolatey goodness !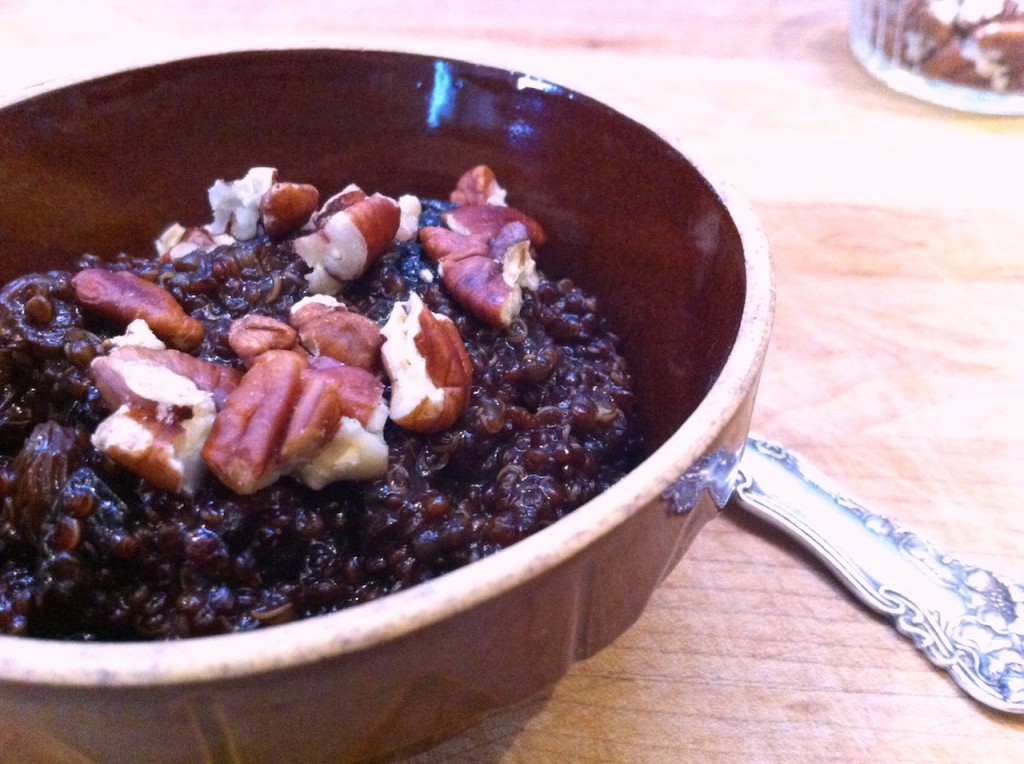 Finale:
Top it with a sprinkle of those toasted pecans and there you have it. This is so chocolatey and nutty tasting that I could actually use this as a add-in for a regular bowl of oatmeal !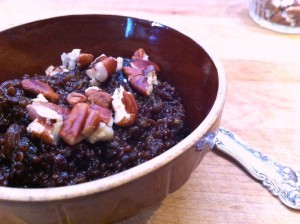 Chocolate Quinoa
2014-09-15 08:43:10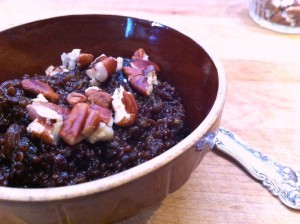 Chocolate for breakfast - YES!
Ingredients
1 Cup Quinoa, rinsed
2 Cups Chocolate Almond Milk
2 Tbl Brown Sugar (or other sweetener - optional)
1/2 Cup or so Dried Fruits like Cherries and Raisins (play well with chocolate)
1/4 Cup Toasted Pecans
Instructions
Rinse the quinoa.
Toast the pecans, set aside.
Toast the quinoa in the same pan.
Add in the milk and simmer covered for 15 min.
Uncover and add in sweetener and fruits.
Continue to cook, uncovered for another 7 min or so, until milk is mostly absorbed.
Top with toasted pecans and enjoy!
Notes
This is a somewhat heavy cereal - use it as an add-in for regular oatmeal too if you like.
BadZoot https://badzoot.com/