Who wants cake for breakfast?! ME !!! Remember the old Cosby routine where he justifies feeding his kids chocolate cake for breakfast because it contains everything you'd have for breakfast anyway… maybe assembled a bit differently. "Dad is great,…gives us chocolate cake…" I don't care who you are, that's some funny stuff right there. This is a chocolate cake you could almost get away with doing that! Seriously,…
…..did I mention it's ON your diet?….Oh, yeah baby.
This is an old recipe that I've tweaked just for you, cause I like you,…. but you knew that.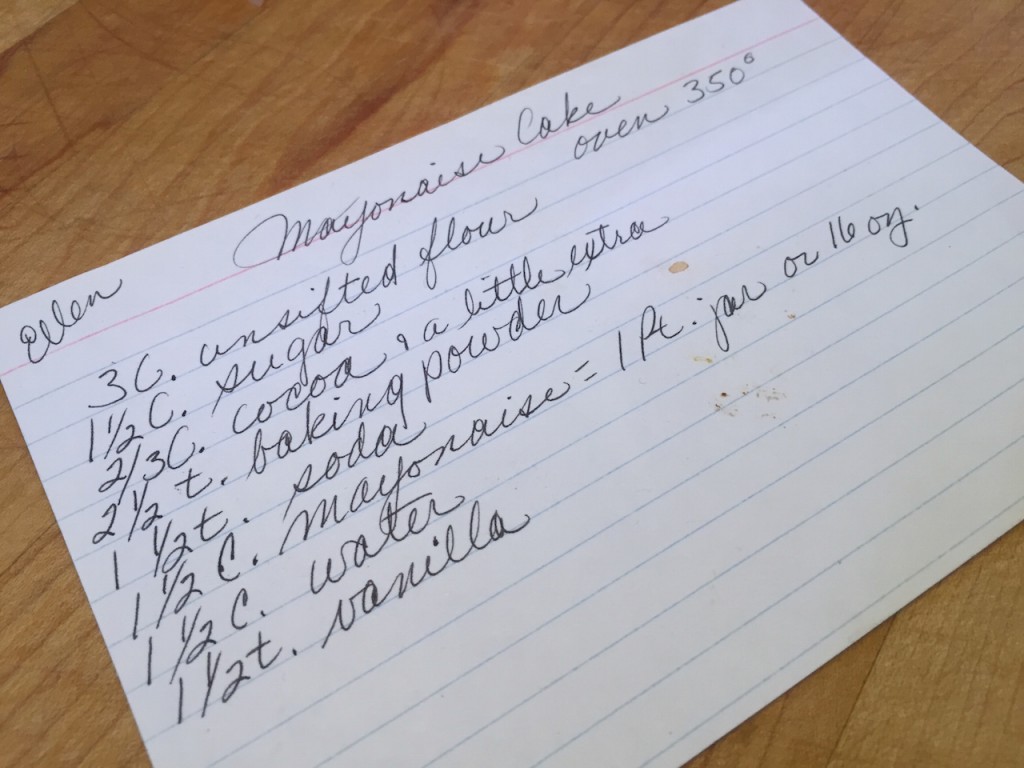 Mayonnaise Cake has been around for a really long time. Ok, at least as long as I've been around. Growing up it was always 'my birthday cake'. Now, admit it, when you just read the words mayonnaise and cake together it was a nauseating thought. Oh, no. The mayo, you see, has all of the fat, and salt, and eggs you need for the cake. And keeps it super moist! Even Thomas Keller's fabulous cookbook, 'Bouchon' has a version. I wouldn't lie to ya! Here I've subbed the two non-diet friendly items for a lower calorie version. And it's good – real good, and real easy.
Gather the goods : I used 2 – 8″ cake pans. Preheat the oven to 350.
Scroll down to the recipe card for the measurements.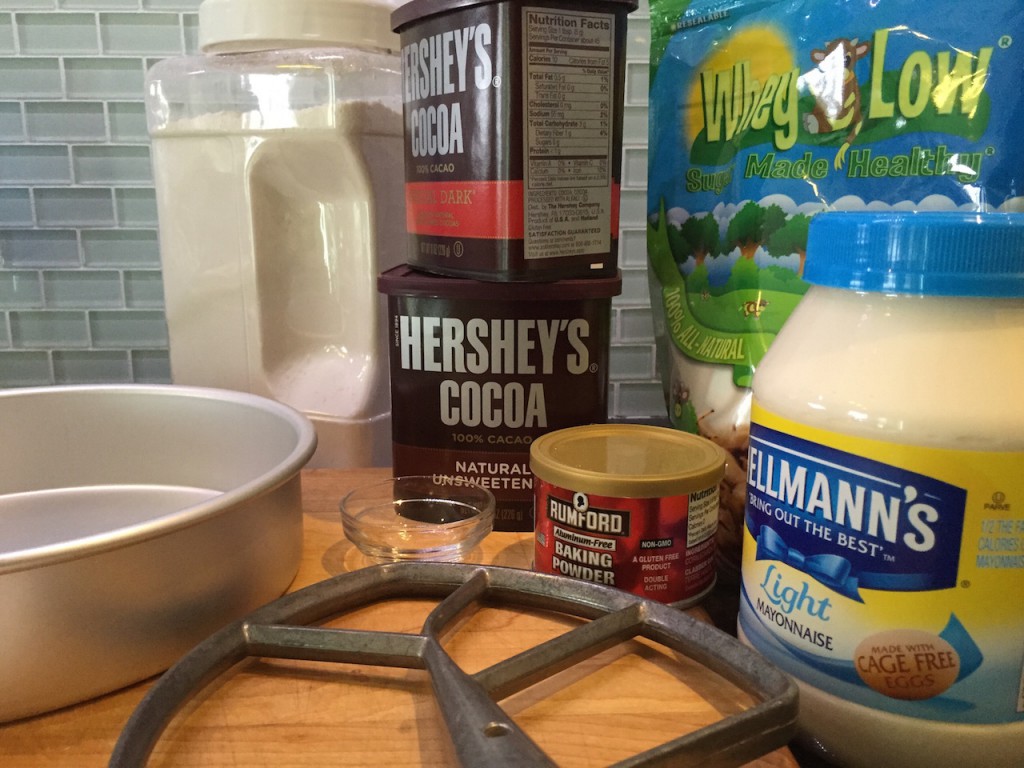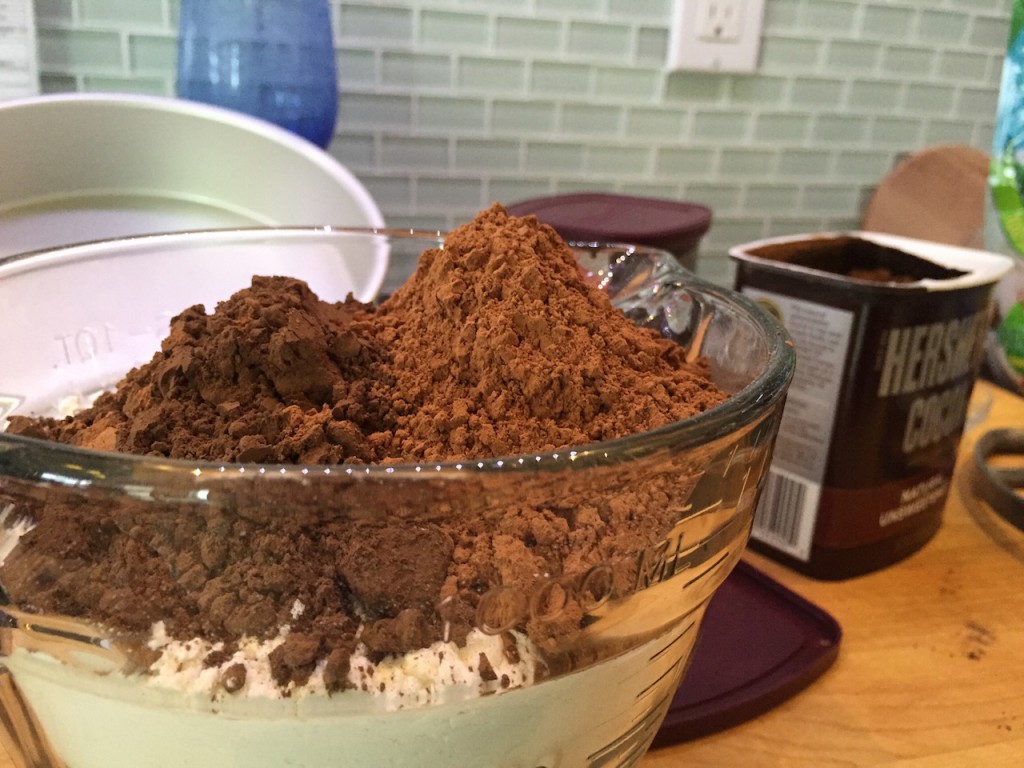 Step 1
Mix the dry ingredients and set aside. This is more or less a 'dump' recipe, so don't fret about the order so much. I used two kinds of cocoa, because that's what I had. Why not.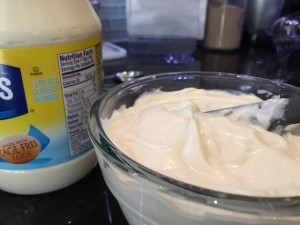 That mayo is 1/2 the fat !! (NOT the fat-free version- don't EVER buy that stuff). I'd try this with Veganiase as well, maybe next time.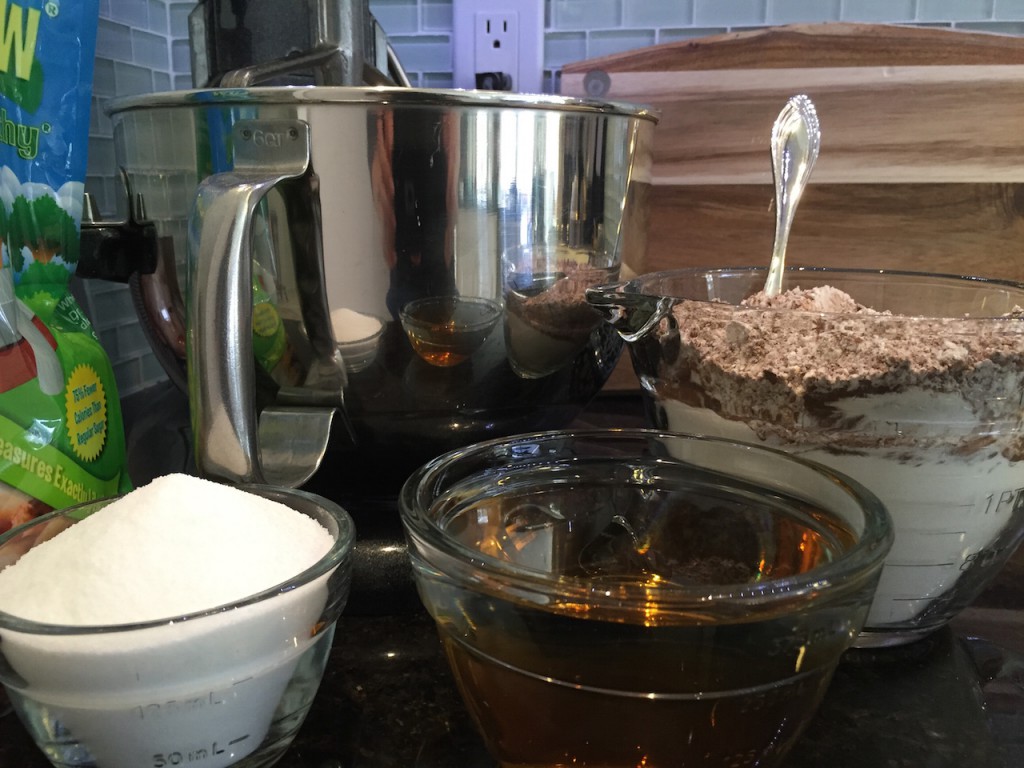 Step 2
Get it all into the mixer. I mixed the wet and then slowly added the dry. Yes, I consider the 'sugar' to be a wet. Speaking of 'sugar', this Whey-Low is 75% less calories than sugar and tastes great!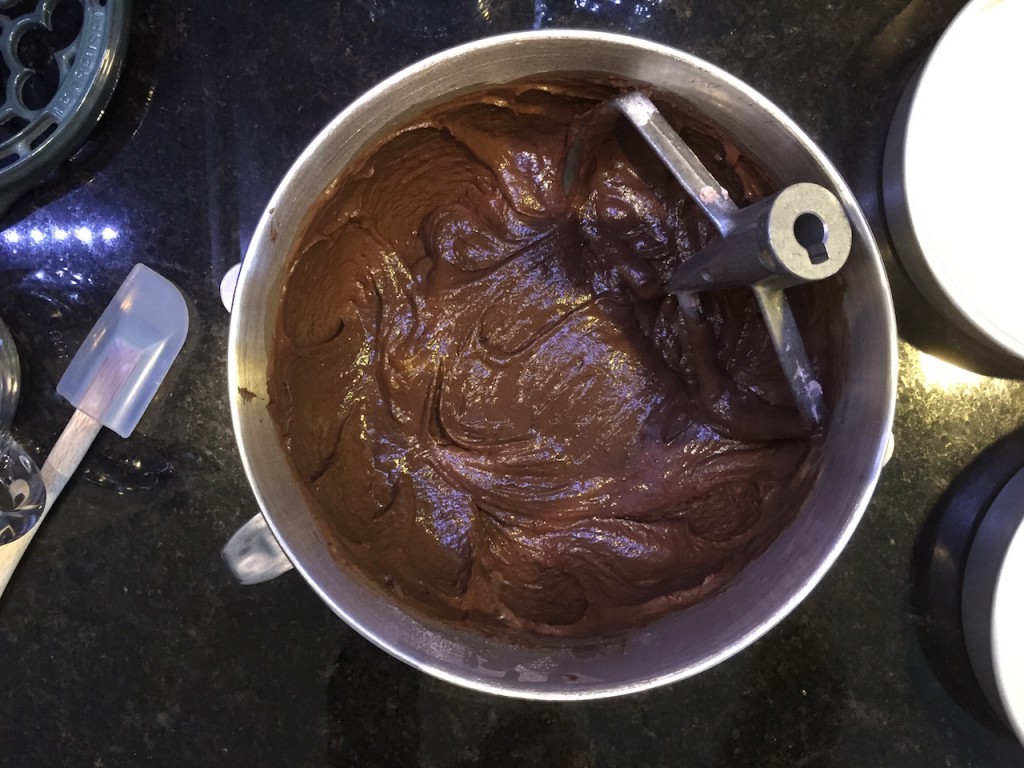 Step 3
It's thicker than most standard cake mixes. Get those pans prepped with a spray of 'Bakers Joy'. To make sure they're even, I scoop it out a 1/2 cup at a time.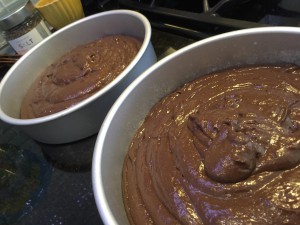 Step 4
It's thick.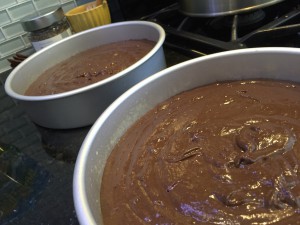 Drop each pan on the counter to break any interior bubbles. And give a swirl / shake to smooth out the tops a bit.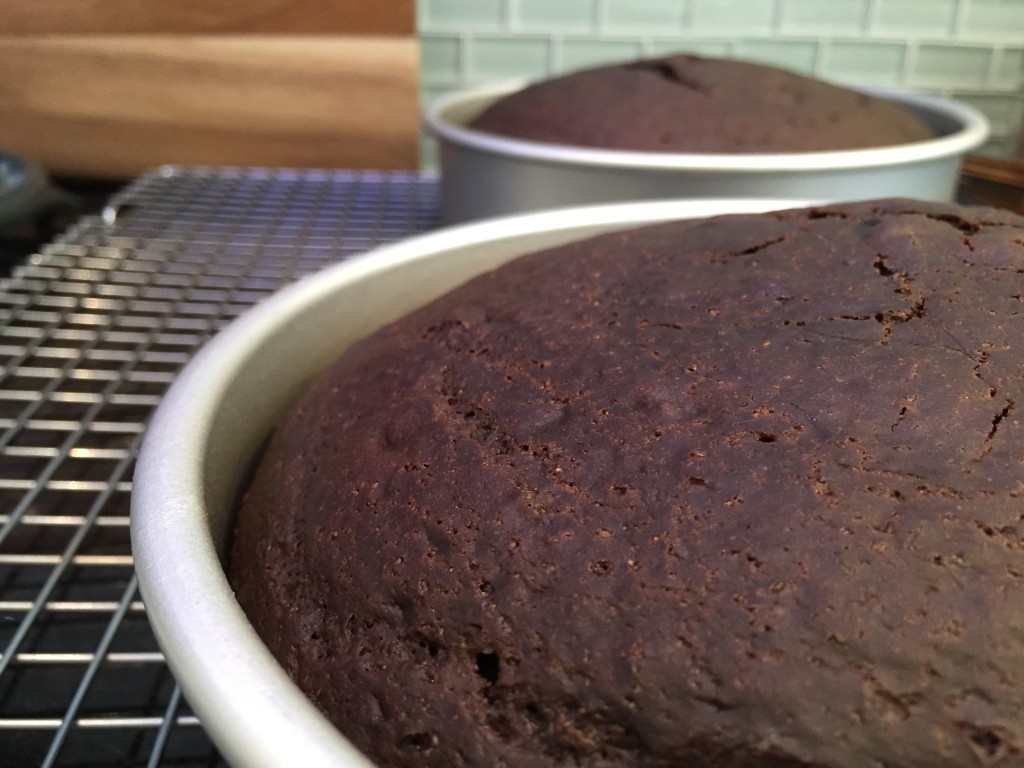 Step 5
Get them into the hotbox for about 20-25 min. Depending on your oven, just check them until they're done. Let them cool in their pans for maybe 10 min. or so. and then get them onto a cooling rack. Now, go clean-up. You'll need those pans in a bit.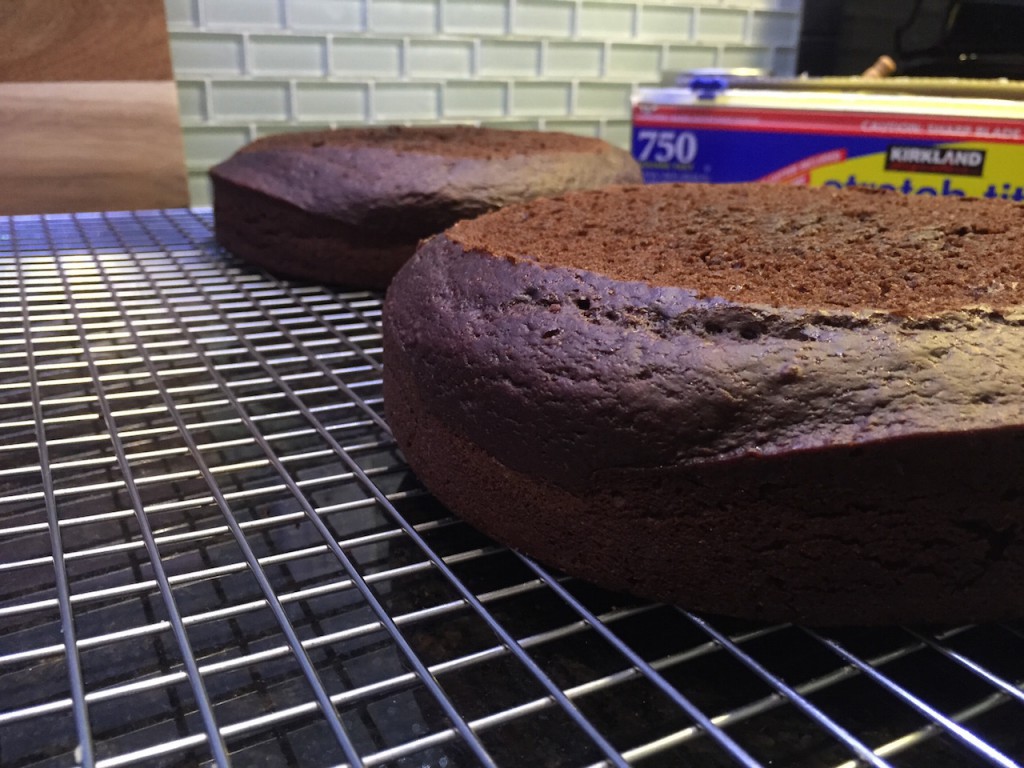 Step 6
After they've cooled, get a bread knife and slice the tops off. (You'll need them for parfaits later!)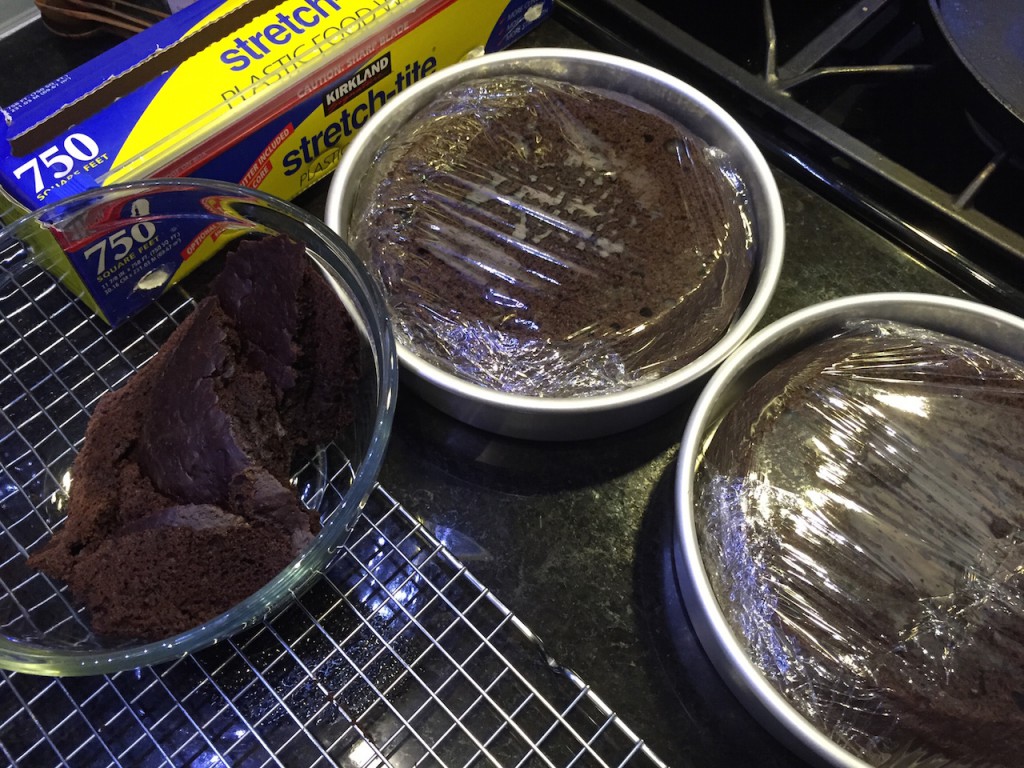 Step 7
Wrap the cakes in plastic and set them back in their (cleaned) pans. Cart them off to the freezer. Why? Because cakes will retain their freshness (see the moisture that the wrap is holding in), and are way easier to decorate super cold. The pans help them keep their shape not matter what you've got in that chill-chest.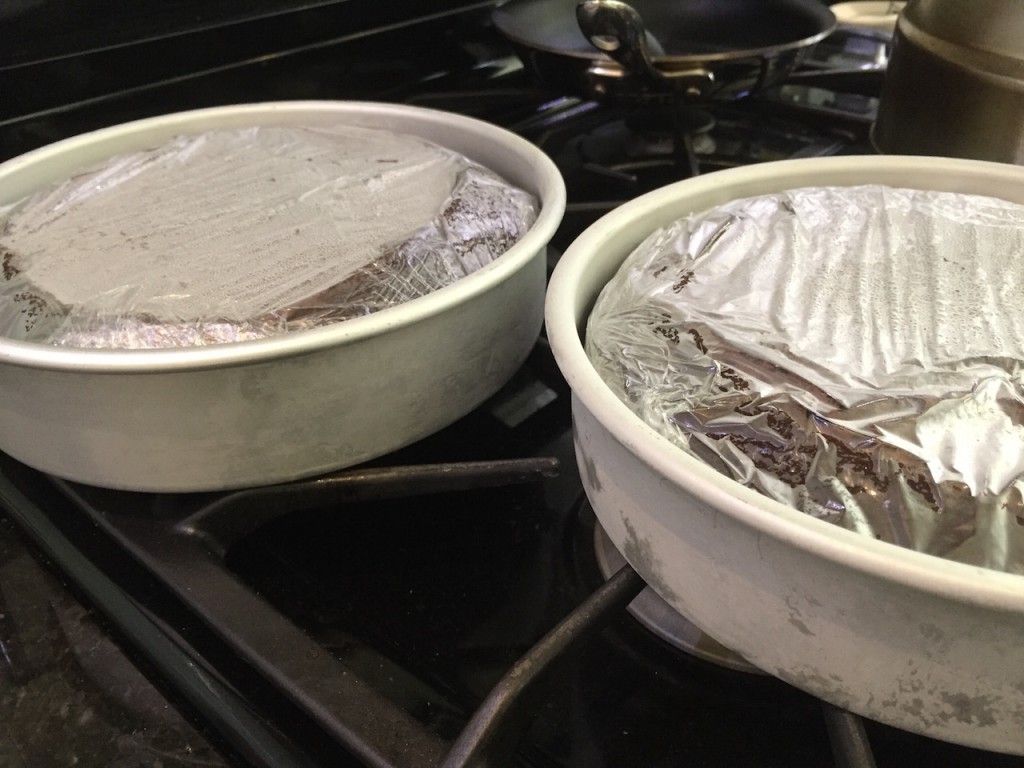 Step 8
And the next day….Ooooo, look at that. You were too busy to decorate them yesterday anyway.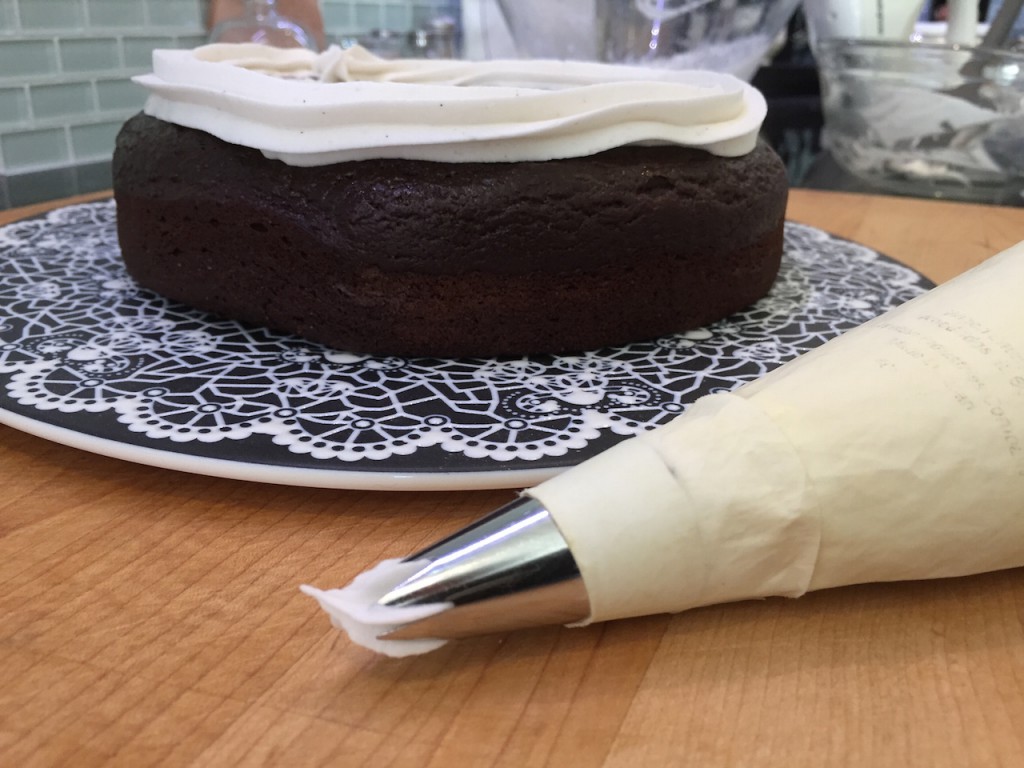 Step 9
Now contemplate your frosting options. Tomorrow, I'll show you what this delectable treat is…Whipped Coconut Milk Frosting.
Cake Plate : Crate & Barrel Halloween sale rack (yea, I know, right?)
Set the cake rounded side up. Give it a thin layer in the middle (just enough to make the layers stick) and a ring of piped icing the fill in the rounded edge gap. Put on the other layer rounded edge down, leaving the nice flat edge on the top. Now, just pipe or knife whatever you like. Keep the icing off of the sides. This is a lo-cal treat, so don't smother it with icing and ruin it.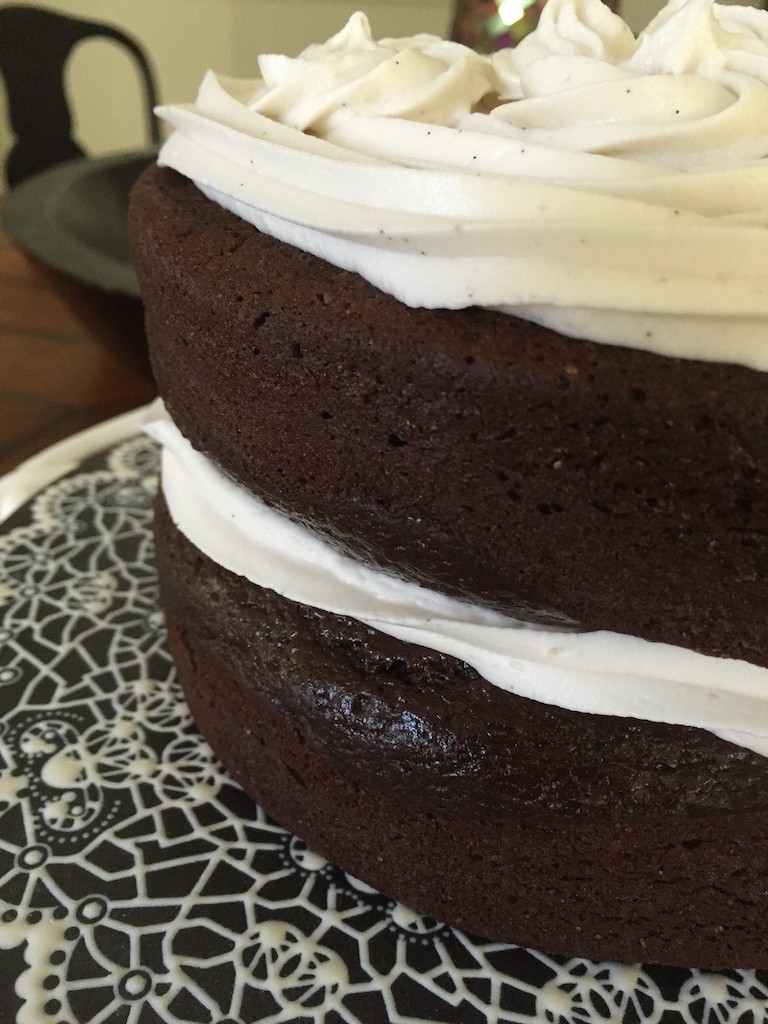 Finale:
Oh, yeah baby !! So good !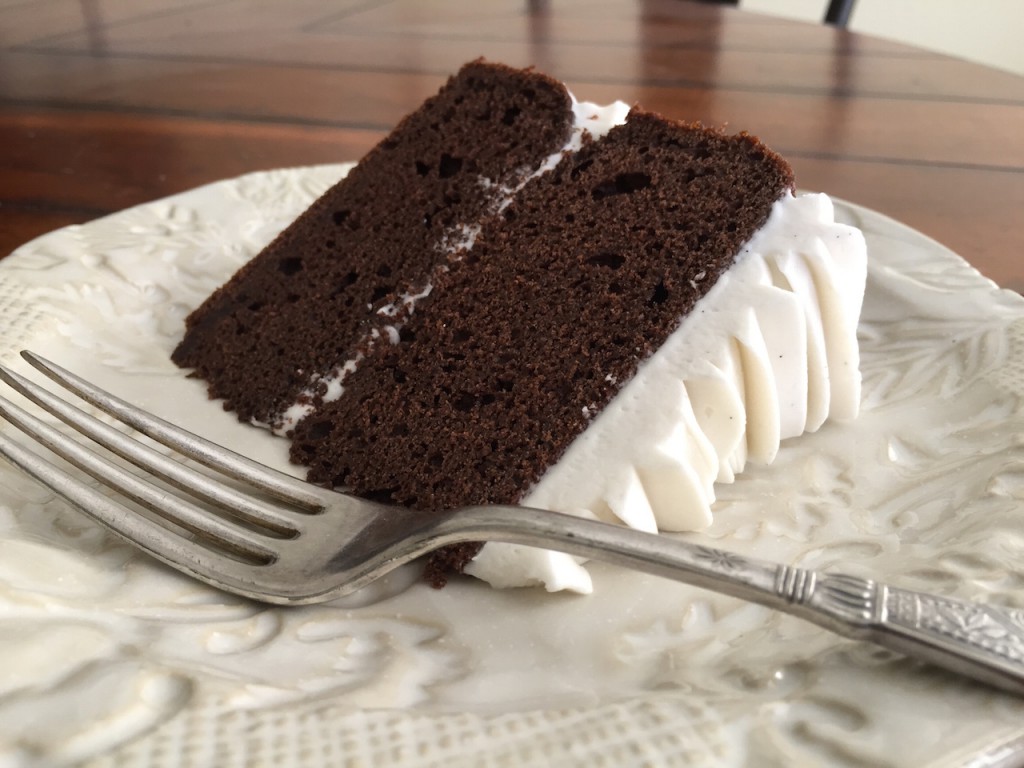 Cake Plate: Anthropologie Forest Walk, fork: antique fair find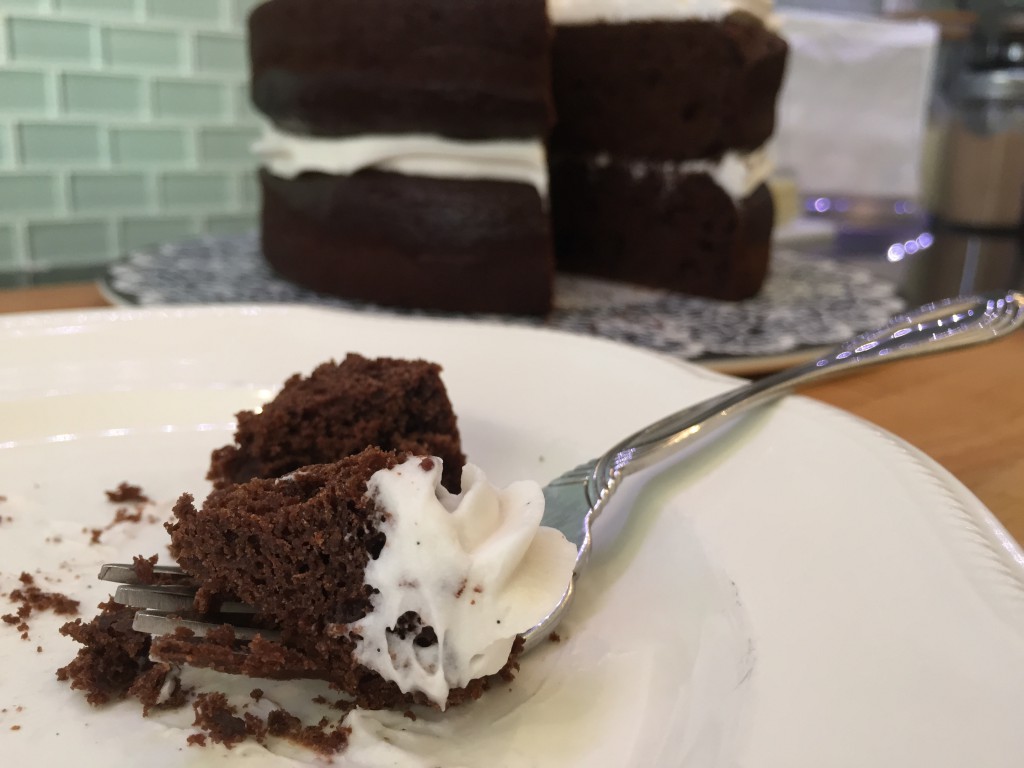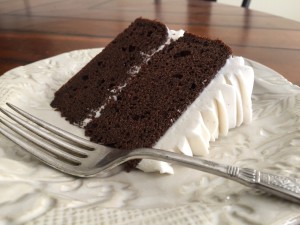 Mayonnaise Cake
2015-02-03 14:10:39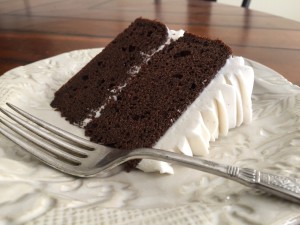 So good - you could eat it as breakfast (NOT)
Ingredients
3 Cups Unsifted AP Flour
1 1/2 Cups Sugar or sweetener* (Whey-Low was used here)
2/3 Cup Cocoa plus a little
2 1/2 tsp Baking Powder
1 1/2 tsp Baking Soda
1 1/2 Cups Mayonnaise (I used the Light version)
1 1/2 Cup Water
1 1/2 tsp Vanilla
Instructions
Preheat oven to 350deg. Prep 8" pans with spray.
Combine the wet. Combine the dry and add the dry to the wet mixture and beat.
Divide into pans and bake for about 20 -30 min.
Notes
A simple cake made lower calorie by substituting the biggest calorie villains. Mayonnaise and Sugar. * I used Whey-Low, but you can use Truvia Blend, or Splenda - your choice.
Adapted from Ellen Snyder
Adapted from Ellen Snyder
BadZoot https://badzoot.com/