I get myself in trouble surfing the net for cool ideas for the house – really just great ways for other people to separate me from my cash! Nearly every new remodel I see has some romantic little chandelier hanging somewhere, usually over a lovely tub. So I've had this idea floating around in my head for a very long time. Since we remodeled our master bathroom some time ago I, naturally, had it in my head to incorporate one. I've got one of those ginormous tubs – why not? Oh, building codes….yeah. Well, 'code' says that we can't put electrical over a tub (but it's ok to have a light in the shower – don't get me started). That leaves a 'candelier'. Only, hanging it beyond the tub means lighting them will be a pain and will probably never happen. Not to mention they're hard to find and even those are not what I wanted. OK, the search gets a bit more narrow. Meaning, now they need to be LED candles that I can operate by remote. Hmmmm. Wow those pillars are pricey!! And I still can't find anything to put them in. Everything sold for a garden is cheesy, and then there's the cool modern ones, or maybe a trendy French one with little wood 'crystals' – ouch, how much?! And then I need to rip it's electrical guts outs? Ugh.
Now fast forward to our little trip to Renningers Antique Extravaganza and that monstrous brass 10 light chandelier I picked up for $20…oh, yeah…that'll do.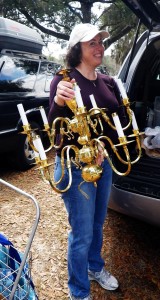 But first I lent it to the Jess/Andy Jubilee (my cousin's outdoor wedding at Perfect in April). I spray painted it with a mirror finish that made it look silvery and it lit up the dance floor. Now that the party's over, it needs to go back to being what I'd bought it for in the first place. (no, it won't fit in the newly wed's Brooklyn apartment – this thing is big – unlike NYC real estate!) Let's see what I came up with: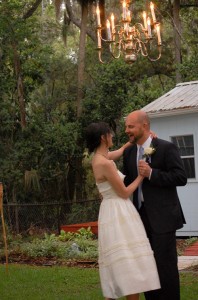 Step 1: Find some replacement lights. The fixture will need to be un-electrified so they'll need to be those LED candles. My friends at Amazon had just the thing. These little numbers are for Christmas trees. They come battery operated, with a remote, and a little clip assembly to hang them on a tree. And now that I see them, I may need to get another set for December's decorating.
Step 2: Gotta test em – look how cute! They flicker light candles and everything, and I love that tiny remote.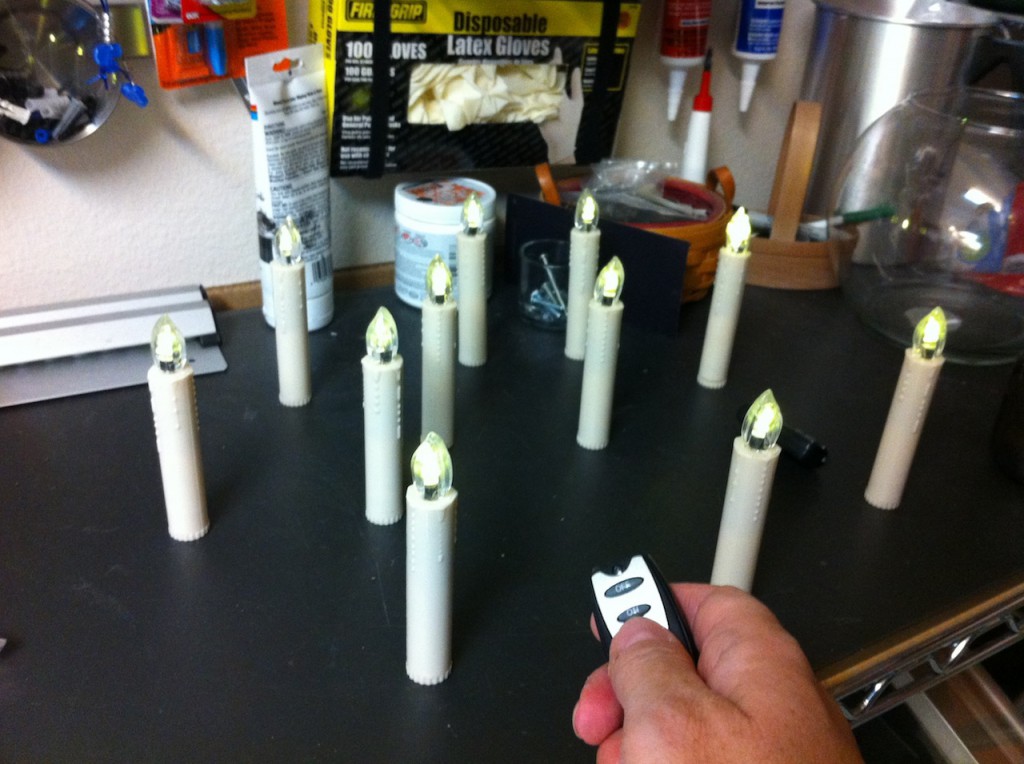 Step 3: Get out those tools and cut away the bulb assemblies. I left the wires intact enough that, if for some reason later, it can be re-electrified. And here's the little clip that came with the candles. This we'll pull apart so that it can be the base for the light. That way the candles can easily have the batteries replaced.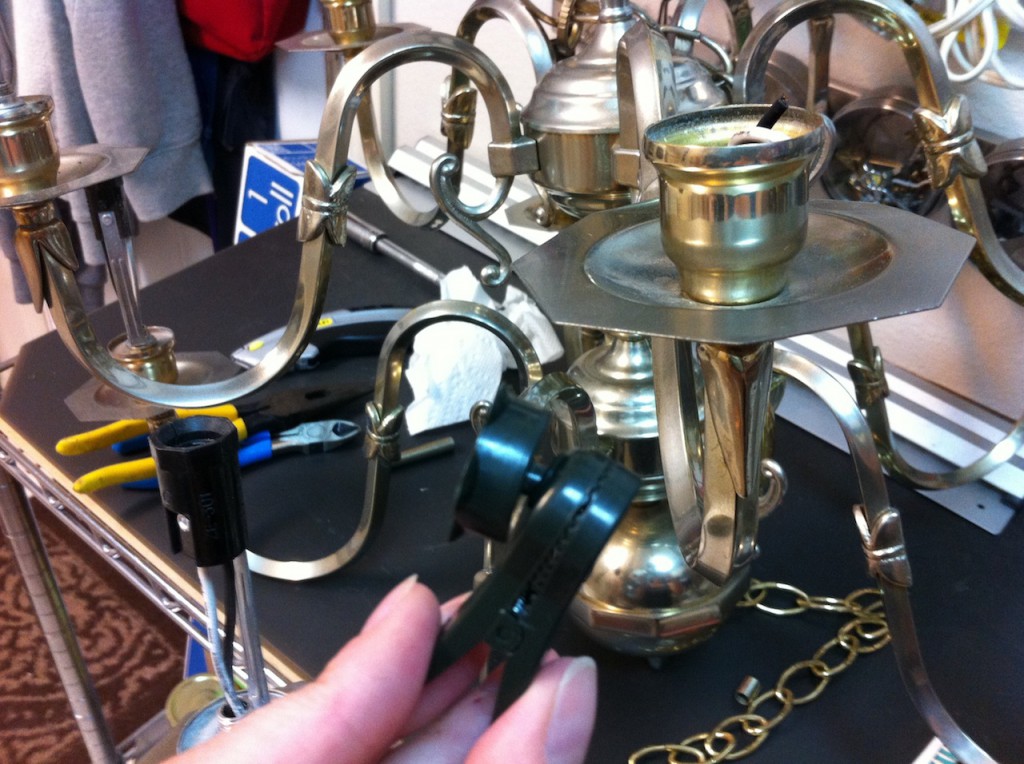 Step 4: I found big washers holding the other assembly in place, so we'll keep those. I need to give the candle base something to glue to, as well as hiding the wires . But first the sconce and little cup have to go back together and they need a threaded rod to hold them in place. I found some old lamp pieces in the nuts-n-bolts stash and cut them down to fit (this was not fun – many bandaids were in my future) Then I tucked the wires inside the rod, sconce and little cup and replaced the nut and washer holding them all on. Then back to those big washers and some Gorilla Glue. I tucked the wires beneath and glued the edges lightly. Now, gluing steel doesn't always turn out well. This is no weld and I know it may come apart someday, but the way my test held, I won't be worrying about it. I let it set overnight just to be sure.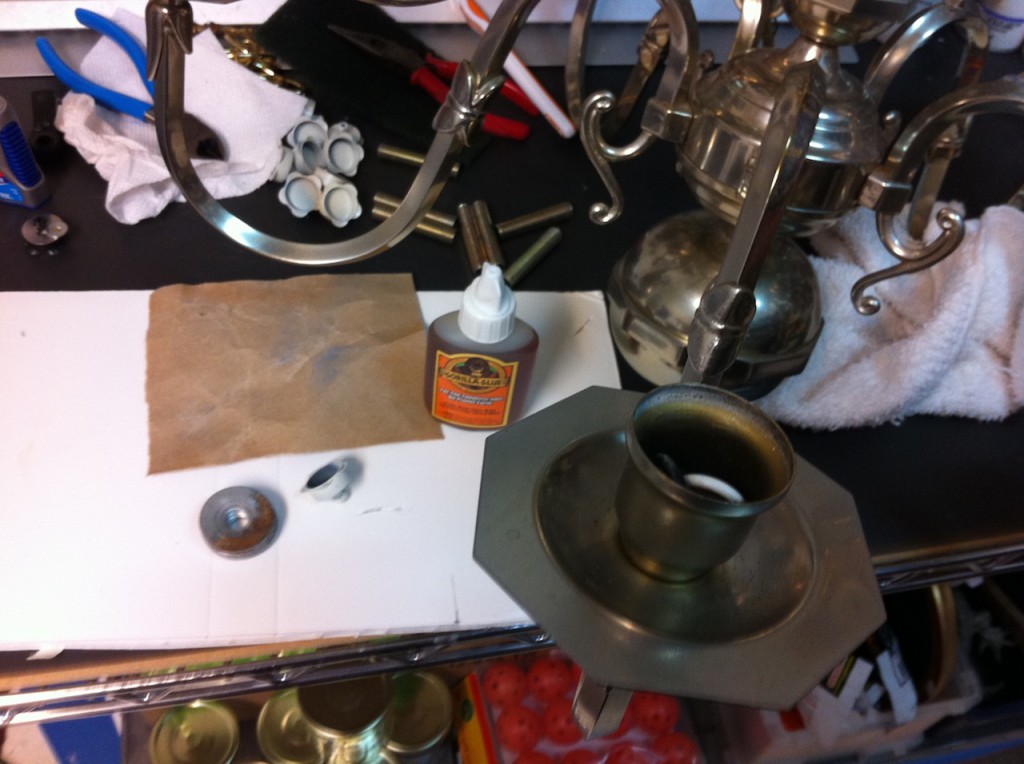 Step 5: …and the next day… Remember those clips? OK, the top holders are a swivel so they just popped right off. A little spray paint to make them off-white like the candles, good to go. Although, that piece sticking out had to be cut off as some of the wires took up too much space inside the little cup. Just a pair of wire cutters and no band-aids this time!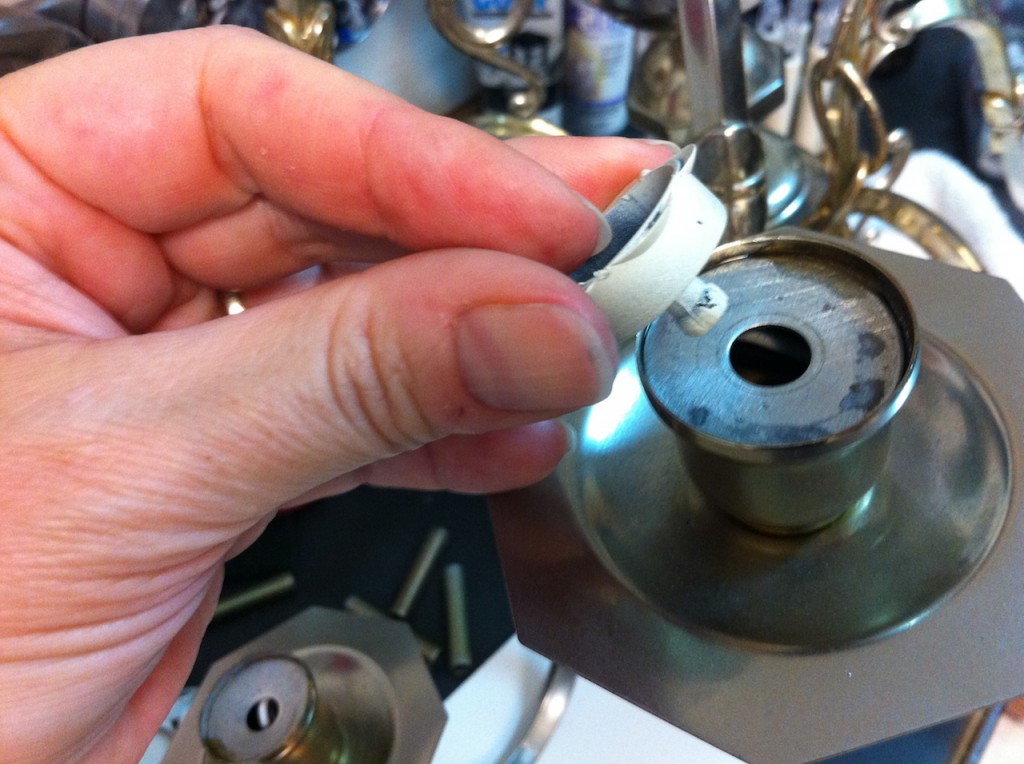 Step 6: A test to make sure they all still fit nicely. Then I glued them in place with Gorilla Glue too.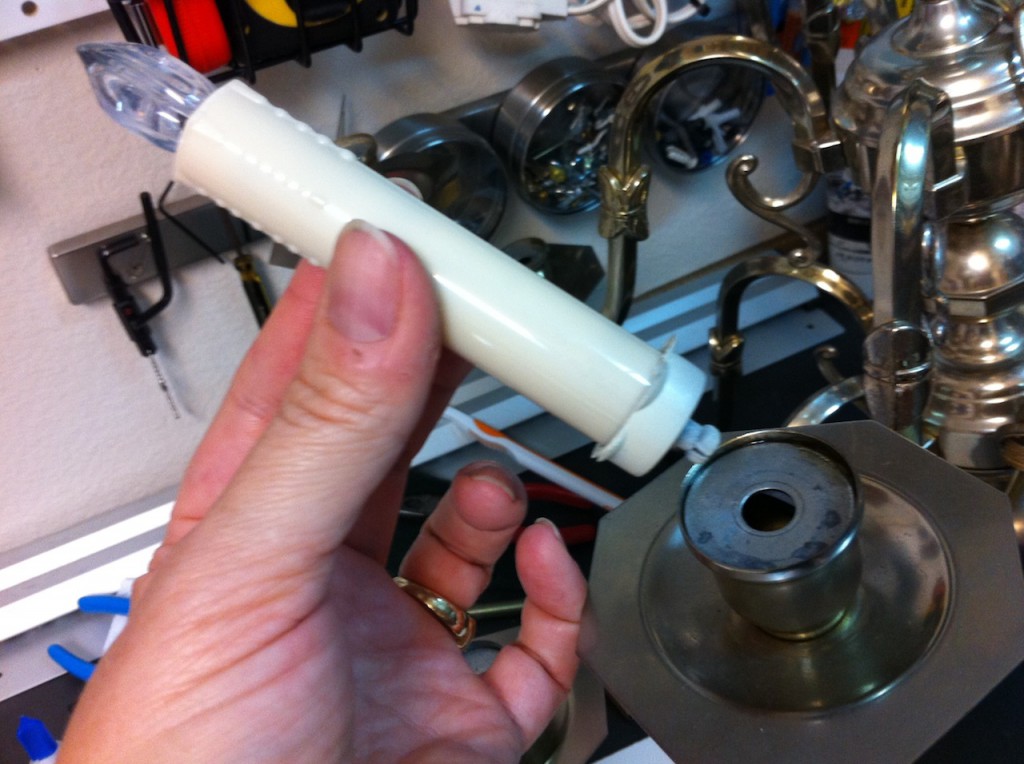 Step 7: A little later I couldn't wait so I turned out the lights and there it was. Like fireworks inside, I was ooooing and haaaaaing! About that time my neighbor came in and wondered what the heck I was doing and where'd I get a sterling silver chandelier – yeah, the color is that close! (I can't stand it) "Honeeeeeey!!! Come hang this for me!! Pleeeeze"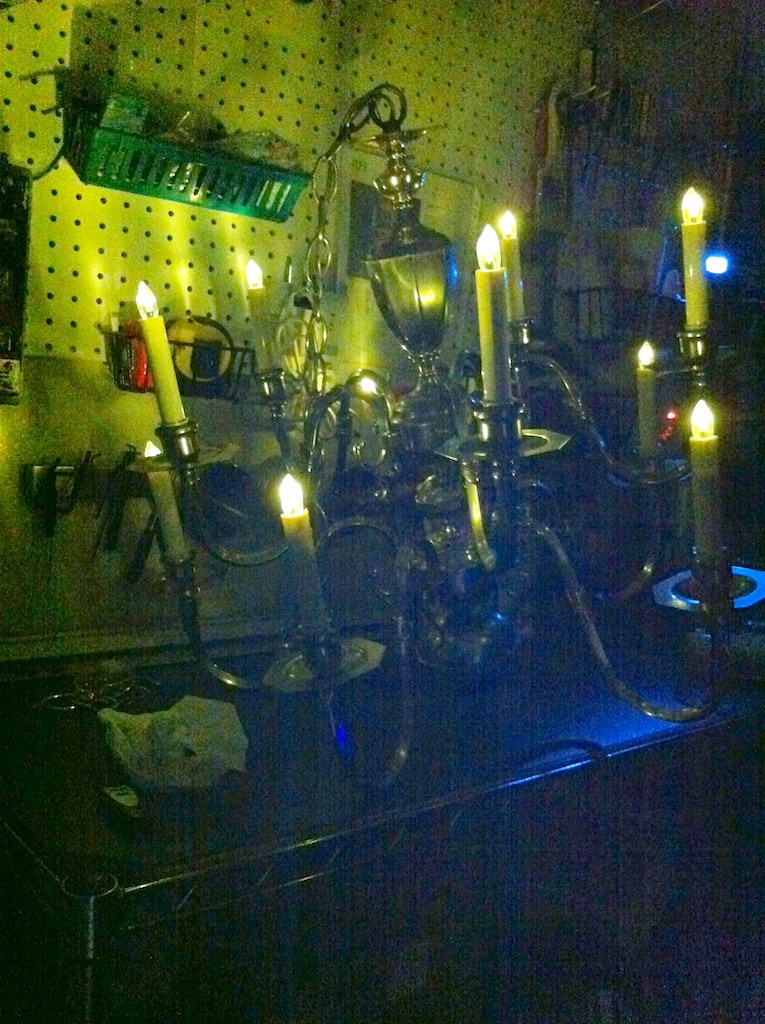 Step 8: Since this is a 10 pound piece of metal over my cost-too-much-to-replace tub, and new tile work, I opted to use something designed for a real light and not just a glorified cup hook! Besides, maybe they'll change the Code one day and someone (not me) will put up another fixture and be so happy that those Beals were so ahead of the curve to install a cut-in box for them. (you're welcome)
Step 9: Thank you Honey – I love it! (now I have to decorate around it….and no, it doesn't match my other lights) Hmmm. But I'm lupin' that tiny switch, it works great!!! A little click and they come on and flicker away. It needs a bit of adjusting. It's been though a lot! I mean, can you believe that this POS that had been hauled around from who-knows-where in some guy's station wagon to be sold in a field antique fair for a twenty could be so cool ?! So romantic – where's my bubble bath!?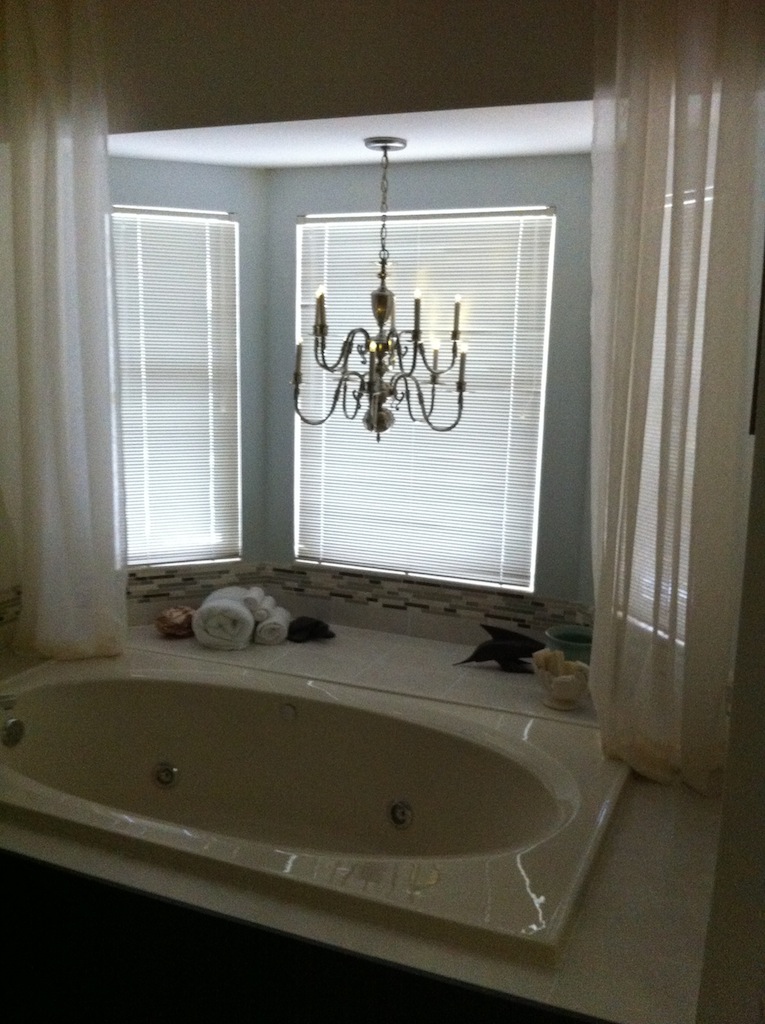 Finale: Here's a shot of it on a cloudy day. I did actually take a little movie of it flickering at night, but it's a big file and kinda dark.