Caviar Cookies…What a revolting thought!
No, no wait – this is a bit of April Fools at the Holidays. This time of year I spend an inordinate amount of time (and money) at one of my favorite places, Williams-Sonoma. Every year Chuck and his band of merry-men collect tons of odd ball and hard to find items to include in your seasonal cooking adventures. In the market for steamed French chestnuts? Sure! How about that Vanilla Paste I've told you about – oh, yes! This year I bought, completely by impulse…it was sitting there by the register in a sweet little basket of holiday trimmings, Chocolate Peppermint Caviar. I kid you not. It looks exactly like caviar, but made with minty chocolate bits that are slightly crunchy! Now I'm no fan of caviar, it's just not on my list of good things – it's on the list of bad things (I don't have to kill the chicken to make an omelet). But that's just me. That said, this candy treat is screaming to be part of your Christmas cooking. Or whatever holiday your celebrating – everyone celebrates something that the end of the year, right. So, I give you….
Caviar Cookies
Here's the inky colored goody: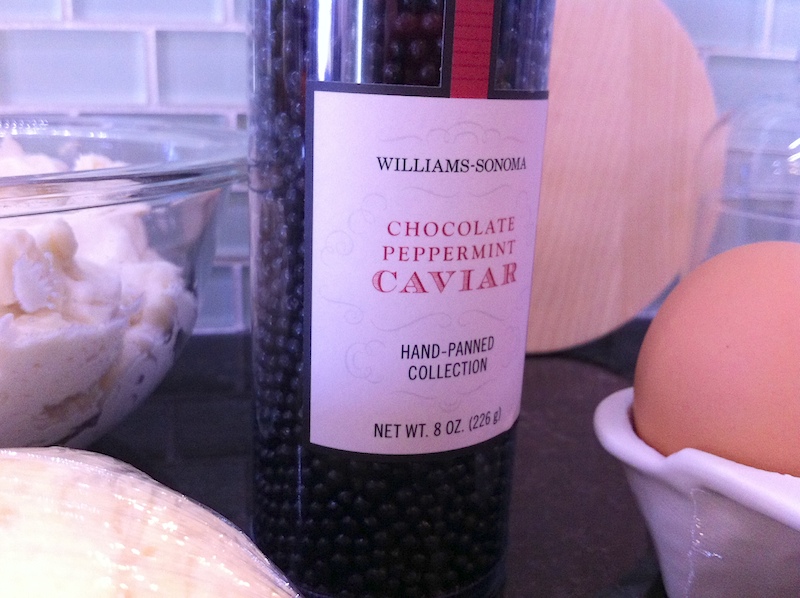 *Note: WS no longer carries this lovely little treat. But versions can be found all over the Net. Feel free to sub any 'caviar looking' chocolate niblet.
First: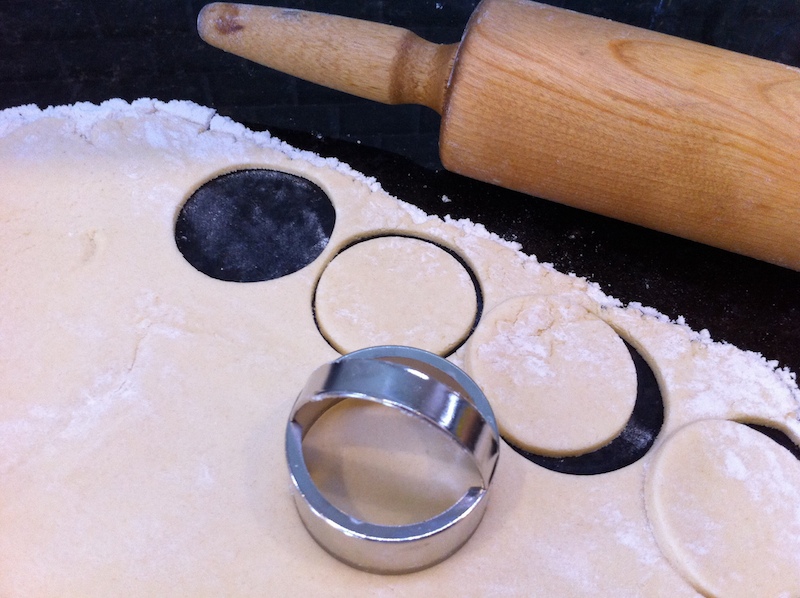 Step 2:
Get out your favorite sugar cookie recipe and a biscuit cutter that's about the size of a Ritz cracker. Roll 'em out and cut.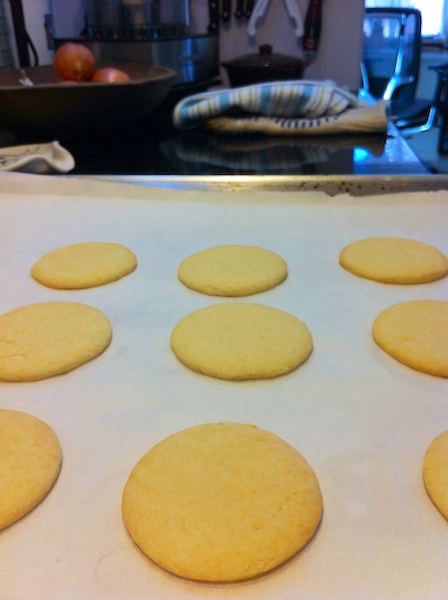 Step 3: Mmmmm, smell that? Oh,no, you can't -sorry.
Step 4:
Get out your favorite fluffy icing. I made mine, but I know you're hiding one of those insipid cans somewhere! – ugh! Icing's so easy, but that's another blog. OK, so here are the tiny treats! So cute on a salt cellar spoon – I don't do caviar, so there's no horn spoon to be had here. Note the sour cream in back? Take a bit of the sour cream and mix in a bit of icing to sweeten it up and give it form. I used about a 2 – 1 ratio, but I don't know how many cookies you're making to give you a recipe. Do it to taste, but be careful not to add too much icing or it'll just taste like cream cheese frosting. Oh, yeah, I know you can just buy a can of that too…eeewwww! The sour cream makes it different and fresh.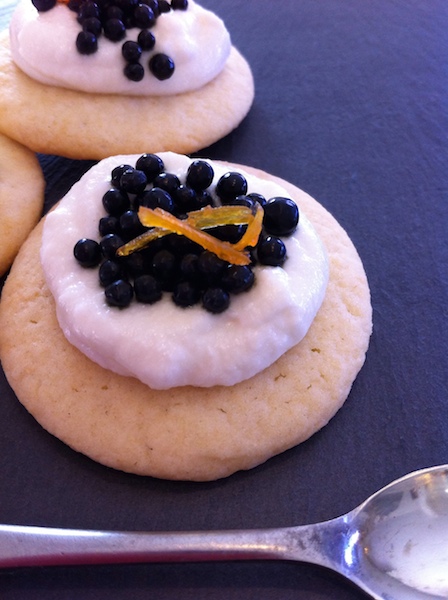 OK, so a dollop on each cookie. Now make a tiny dent to hold the little chocolate nibs. That's it! So yummy! So cute. Oh, I had made some carrot jam previously and added a eency weency piece of candied carrot to make it pretty…it is the holidays after all. Even at Christmas no one is safe from my somewhat odd sense of humor.