Who would eat a raw cranberry ?! OMG – what an awful thought! No, no, no…these are 'candied' cranberries. This is my new wow 'em treat for guests this holiday. Why – because they're unbelievably festive and even more unbelievable easy! I actually had to take extra pics and spread out the steps to make you think I was actually working at this!! (too many exclamation points,…the grammar police will be here soon…) OK, I'll calm down, cause there's a catch. Yes, there's always a catch isn't there. This time it's the weird ingredient of the season ; 'Orange Blossom Water'. You probably won't find it at the supermarket, but you can add it to your 'Cookie Day supplies' order from King Arthur Flour, or Amazon. I found mine at Williams-Sonoma (that place is the scourge of my checkbook! – hurts so good). It was on sale and I just knew I'd need it some day. That day has come.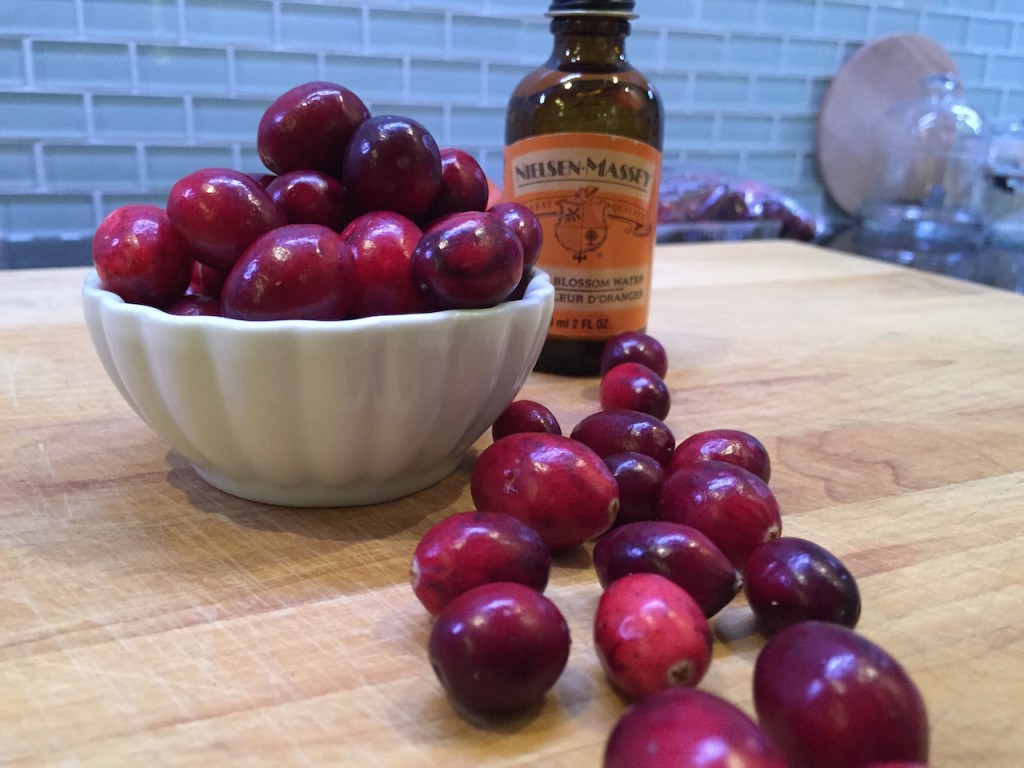 This deliciousness is brought to us courtesy of Food52 and 'CozyDelicious' – thanks guys – this is awesome!
Candied Cranberries
Step 1
Make a simple syrup with 1 Cup Water and 1 Cup Sugar (I think you could do this with Whey-Low or Stevia too…but not today), and 2 tsp of Orange Blossom Water*.
*Now, the recipe said you could omit this – but why. This is such a wonderful and unusual ingredient – get some. The smell is NOT orange liqueur,…it really smells like orange blossoms…I live in Florida, I know what I'm talking about. It's elegant, like you'd imagine being in Yves St. Laurent's kitchen,… if he had one.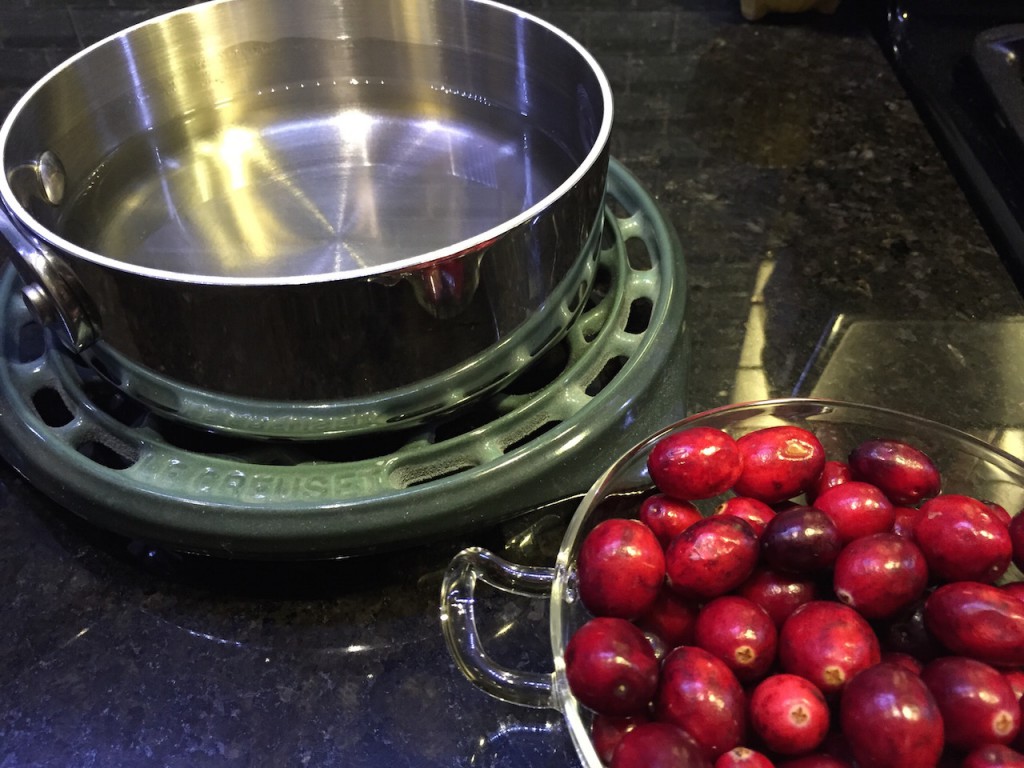 Step 2
Take it off the heat and let it sit for 10 min. Then you can add the berries.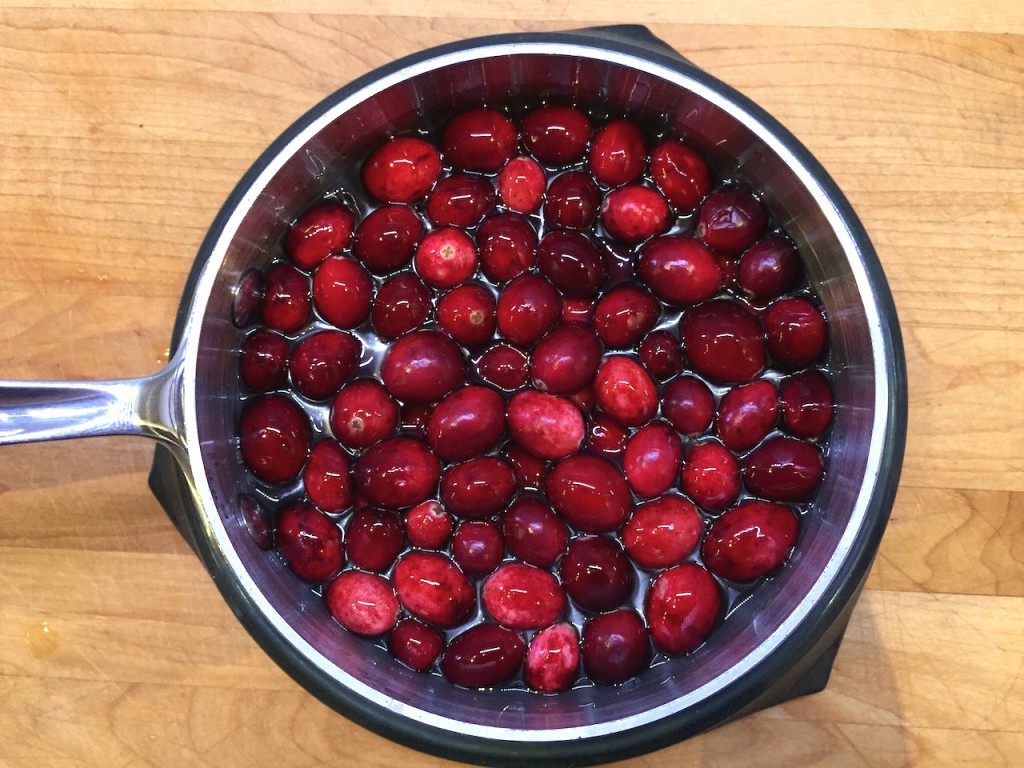 Step 3
Set that sweetness aside to cool to room temp.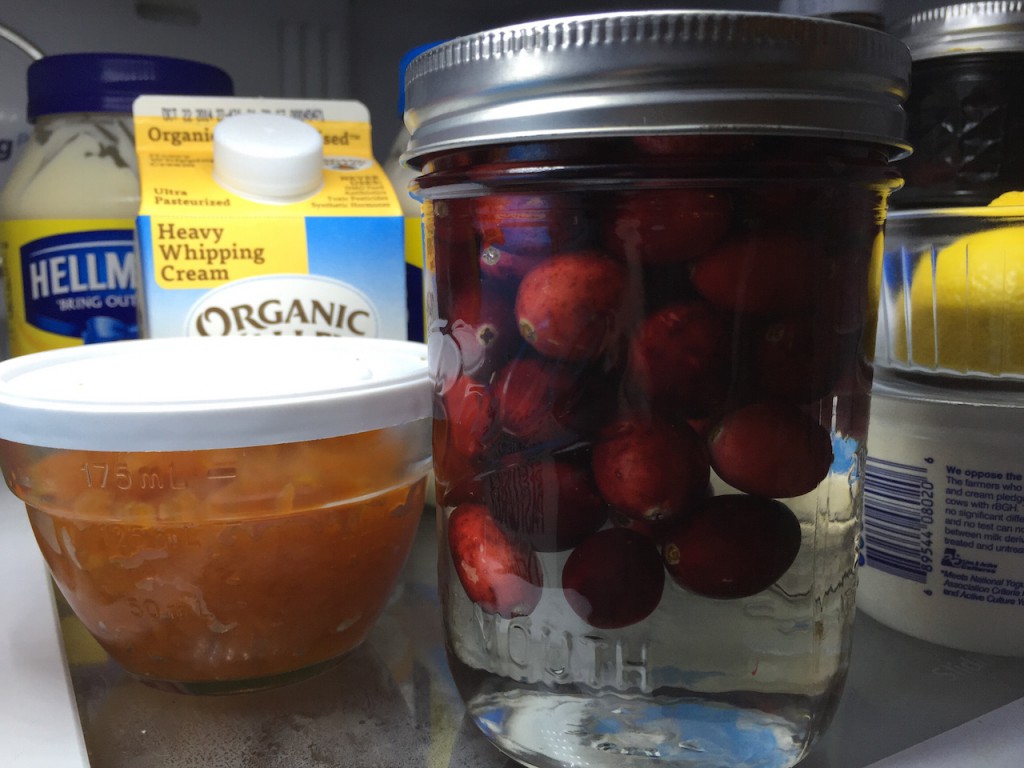 Step 4
Later, dump it all into a sealed container and park it in the chill chest for a few hours (I did mine overnight).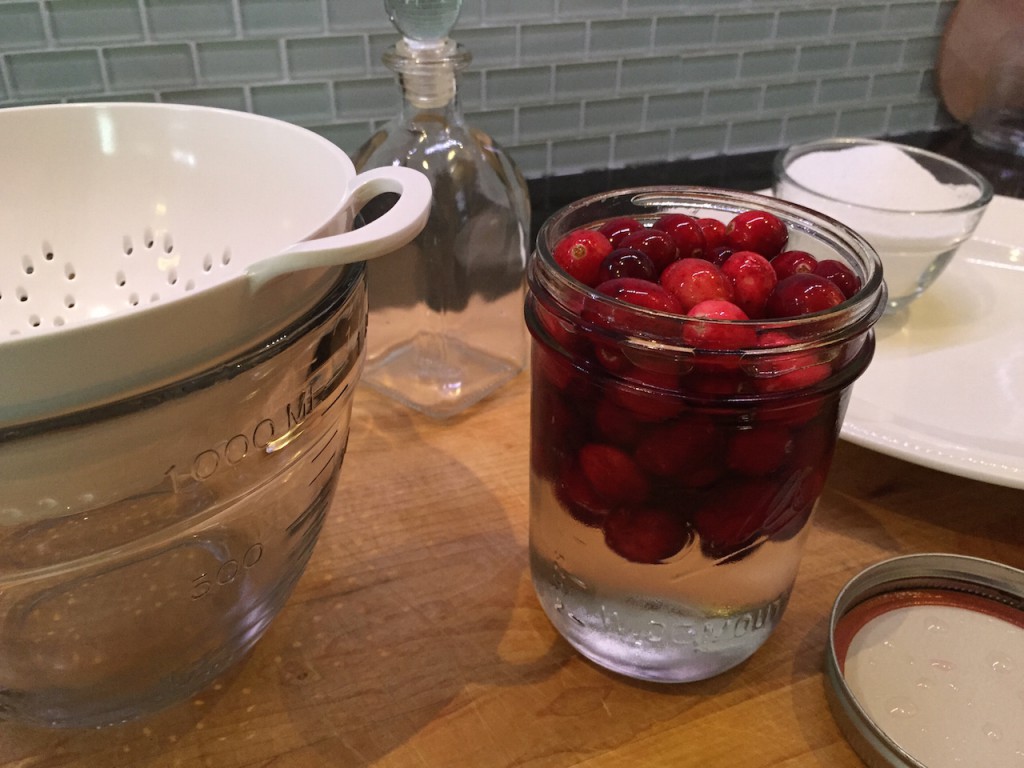 Step 5
Drain off the liquid,….NO don't dump it!!!! The GreyGoose Gods will never forgive you! Have you tasted that stuff?? It's screaming to be funneled into a sweet little bottle and parked at the bar. Oh, yes my friends,….a martini is in my future. One with an orange twist and a touch of Orange Blossom Syrup.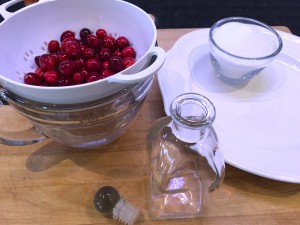 Step 6
It's not even a step…
This is so good – and you'll NEVER find it in a store. Hmm, this might make a good gift for the 'Martini Maven' on your list.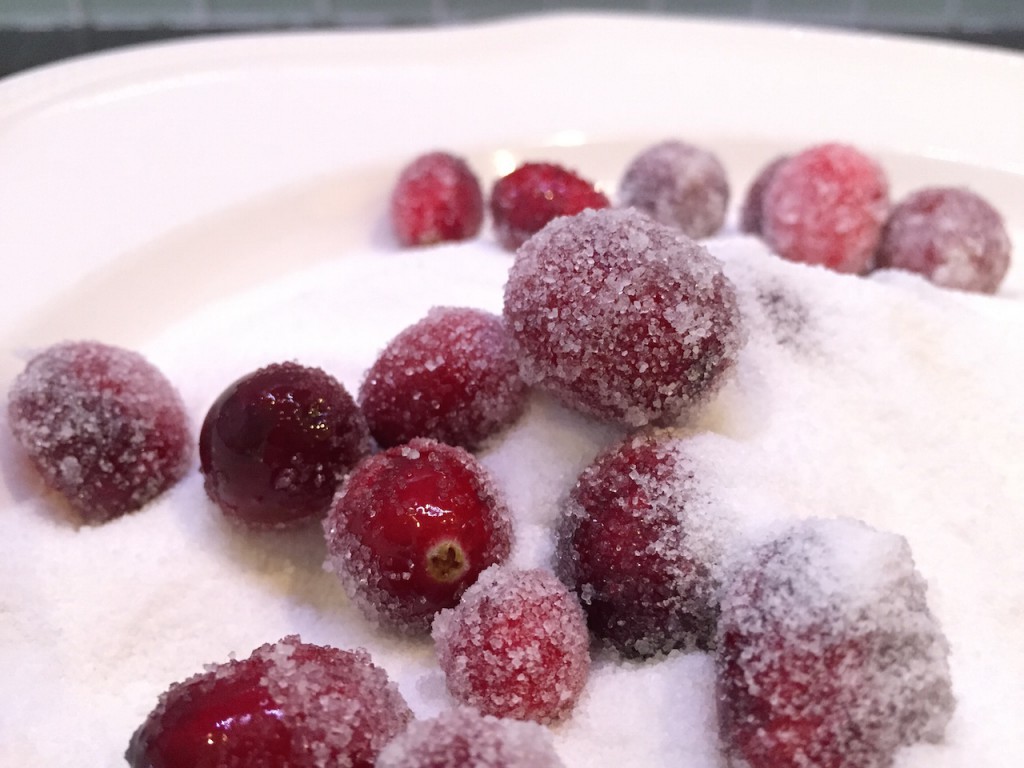 Step 7
OK, before they dry out, give the berries a roll in the rest of the sugar (about a cup).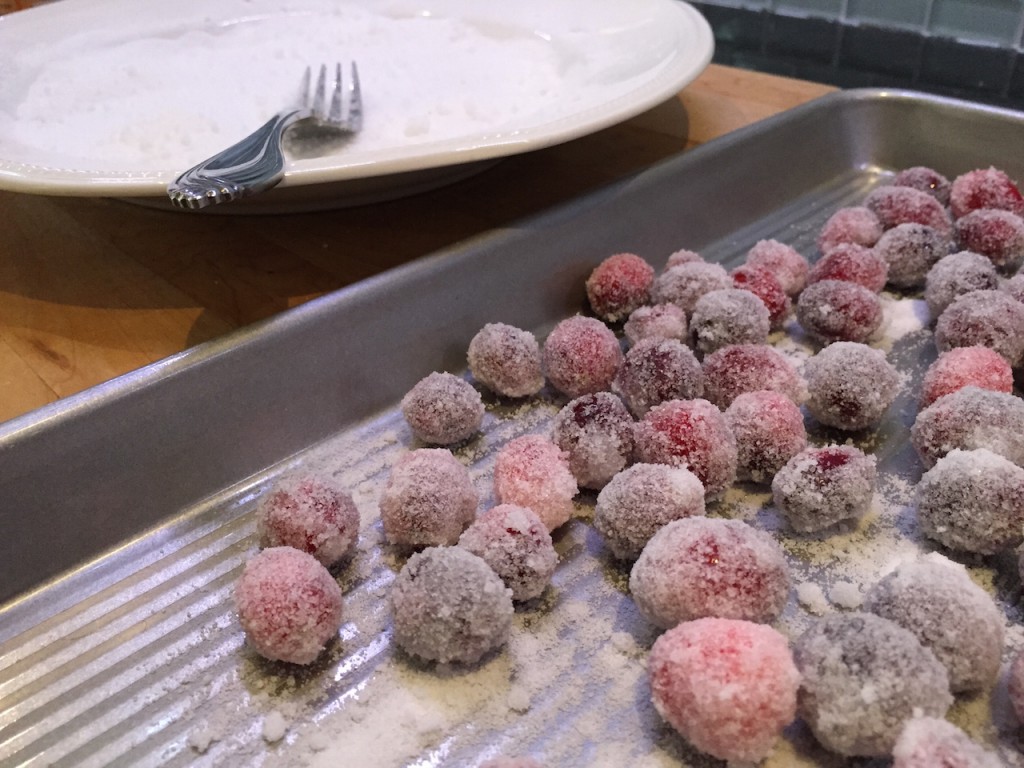 Step 8
Lay them out and let them dry for an hour or so before serving. And yes, like the ones strung on the tree, they'll keep…well, whatever's left will.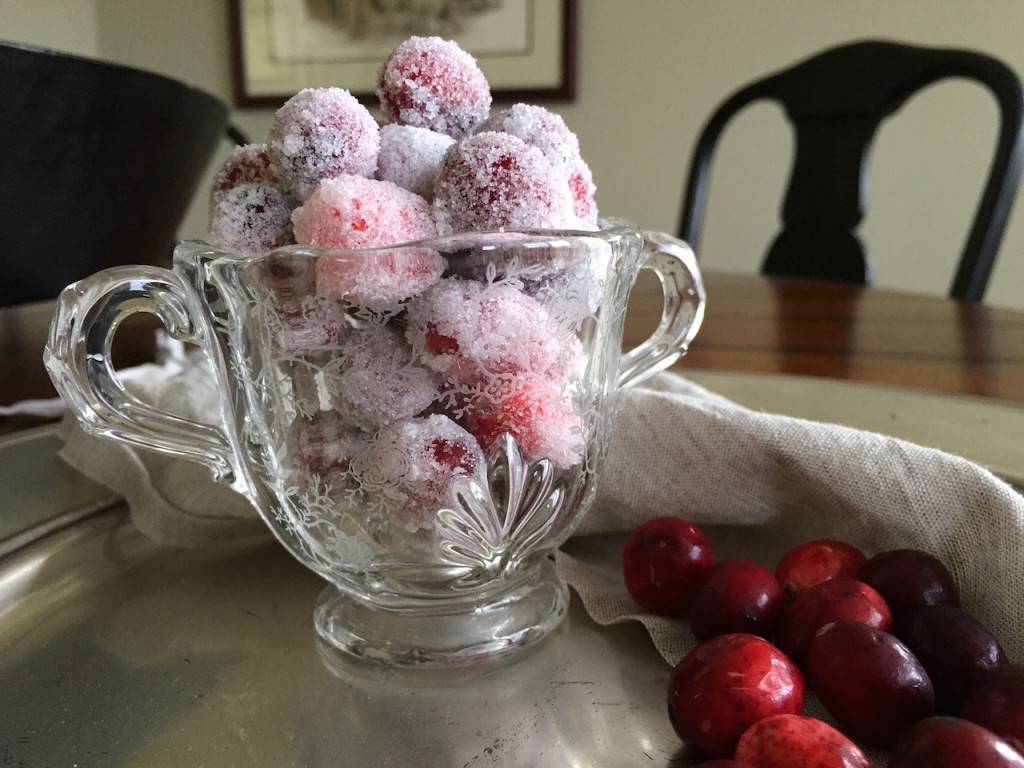 WARNING: You will eat them before your guests get there – make a double batch!
You're welcome.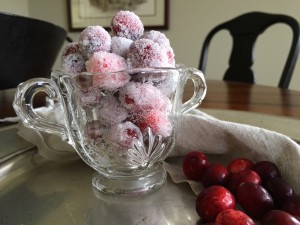 Candied Cranberries
2014-11-19 14:57:17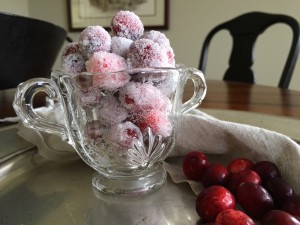 Like an ornament you can eat !
Ingredients
1 Cup Water
2 Cups Sugar (divided)
2 tsp Orange Blossom Water
1 Cup Fresh Cranberries
Instructions
Make a simple syrup with 1 Cup Water, 1 Cup Sugar, and Orange Blossom Water
After the sugar dissolves, set it aside for 10 min. Then add the cranberries.
Let it sit to cool. Place in a sealed container and refrigerate for 8 - 24 hours (l did mine overnight)
Draine, roll in 1 cup sugar and let dry on baking sheet for a hour before serving.
Notes
I've had to hide them - I ate all that didn't fit in the fancy sugar bowl for pics...gone...all gone.
Remember, save that syrup for another use.
Adapted from Food52 / CozyDelicious
Adapted from Food52 / CozyDelicious
BadZoot https://badzoot.com/