It's been more than a few days that I've waited to post this, and there are a couple of reasons why. First, as the days progress people off load their own pics to their Facebook feeds and I can pick up some better ones than I have. Second, and lastly, the Brides family has incurred a great loss in these past days.
The patriarch of the Heil family (the Brides maternal Grandparents), went to see his Lord just days after the wedding. I had thought it odd that, after so many years of seeing the inseparable couple that is/was Del & Doris, that Doris would attend the wedding without Del. She simply noted that "..he just wasn't feeling well". Later we found that he was more than 'not feeling well'. Doris and the rest of this strong Greek family held their stiff upper lips and carried on with the ceremony as if Del was with them in spirit anyway. He would've liked that. We will all miss Del and his strong but, fun loving soul.
OK, now… moving on – how about that tremendous wedding !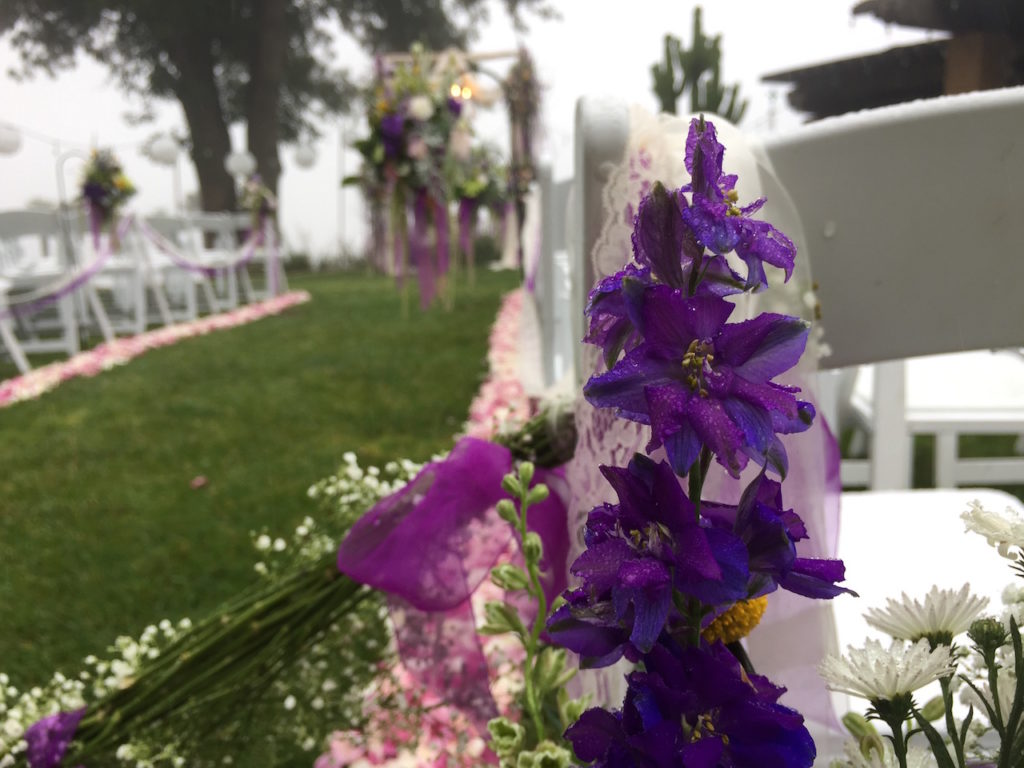 Who said 'it never rains in California'. Liar! Today it rained. In Florida, we're used to waking up to a dreary morning, then it pours and the sun comes out. Or it pours in the afternoon,… rain rain rain.
Not only are they not used to rain here, the venue was a victim of the drought to boot. The area that was set for the dance floor and reception area was green grass only a few months previously. But today,… not so much.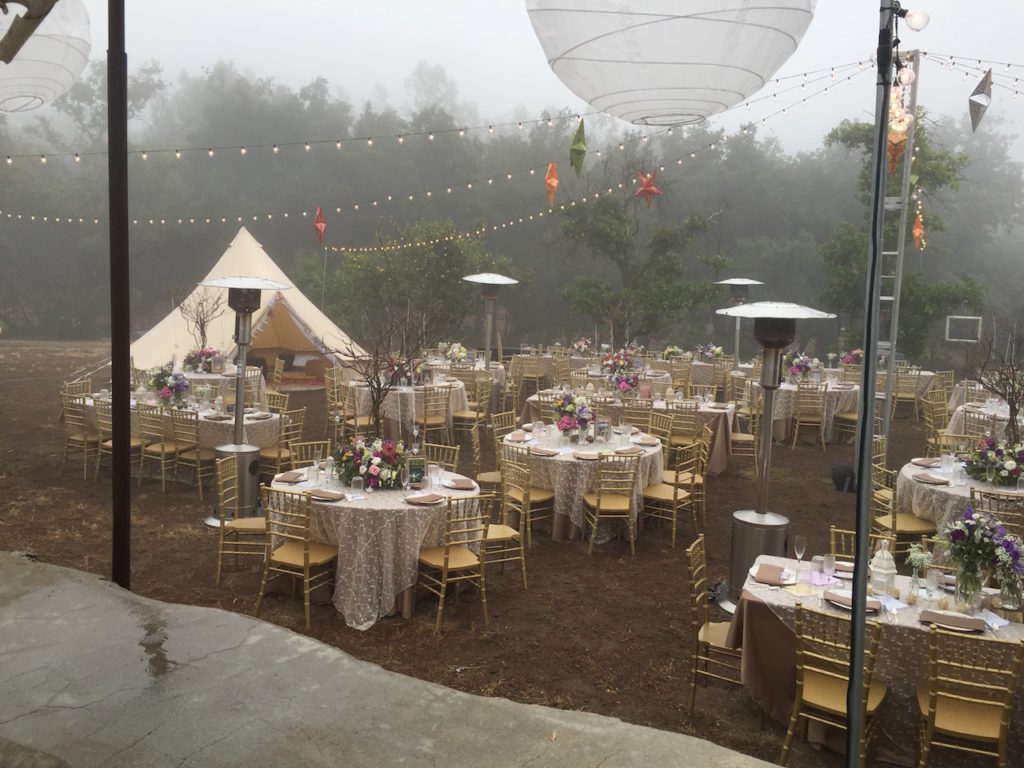 What amazed me was first, the way the rain just soaked in – no mud! I also was amazed at the number to attendees in high heels – very expensive heels. I had opted for a more, shall we say, 'pasture-friendly' shoe selection. 😉 This guest had me beat – loved this outfit !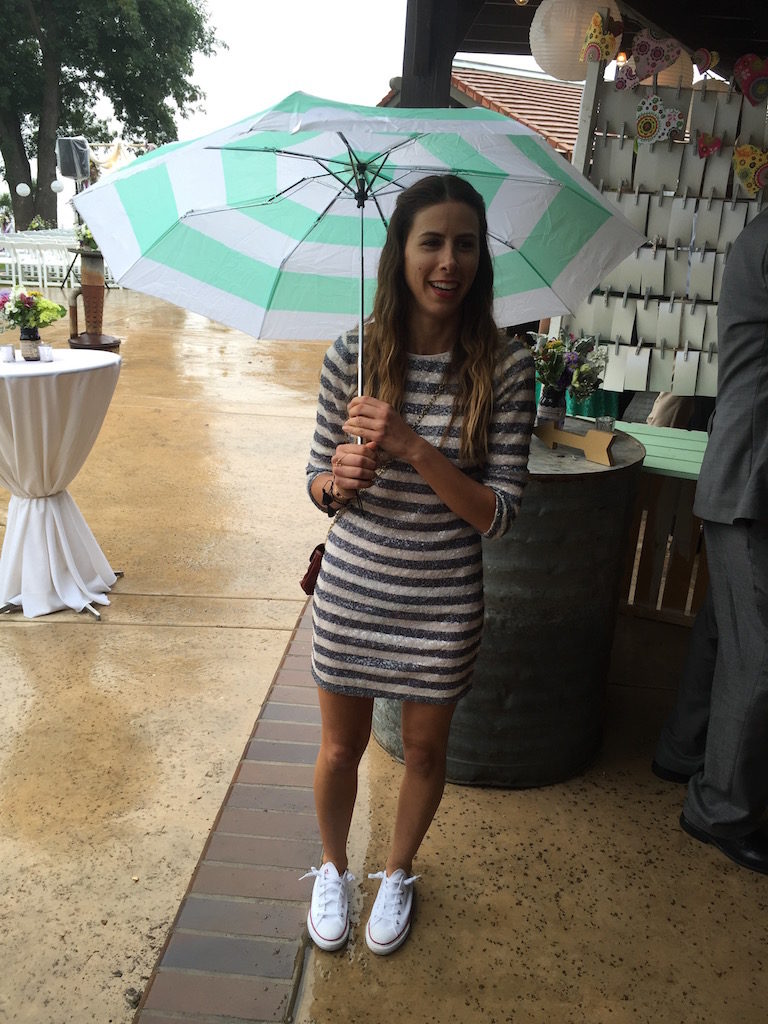 We all huddled with umbrellas, set out by the staff, near the bar…good choice. And waited for the weather to clear.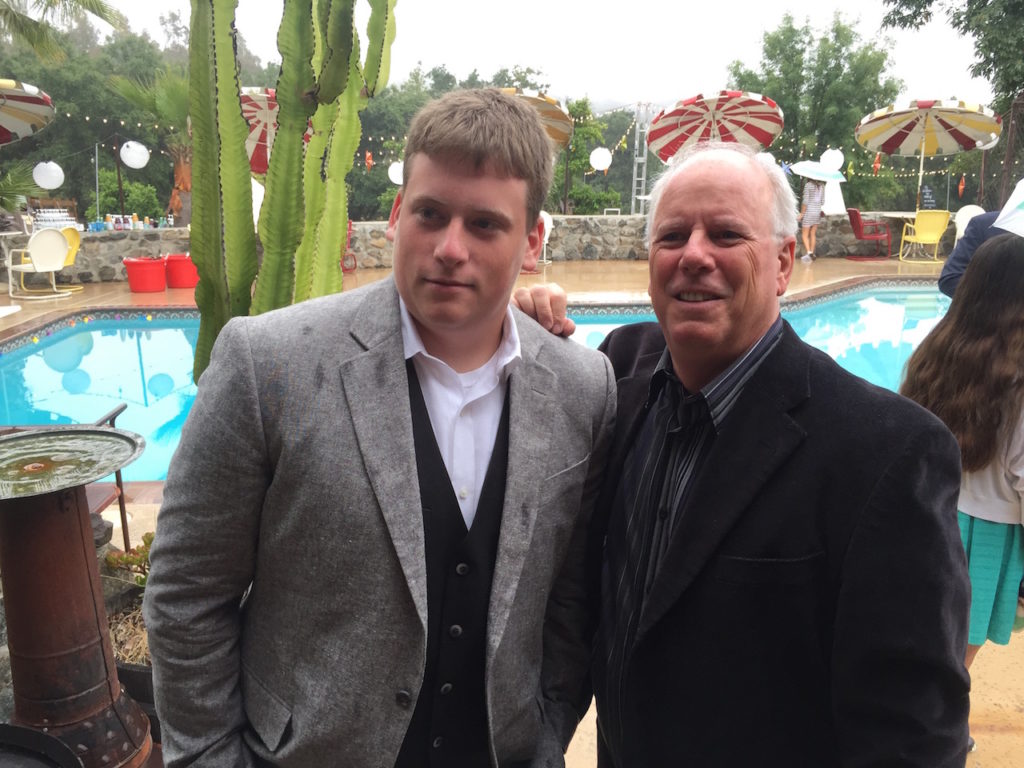 Another thing I wasn't completely prepared for was the cold. I mean, a shower in FL means the water's nearly warm enough to get out some soap! This was cold. I was glad I brought my sweater. There was a basket of shawls and throws for the ladies to borrow – nice touch.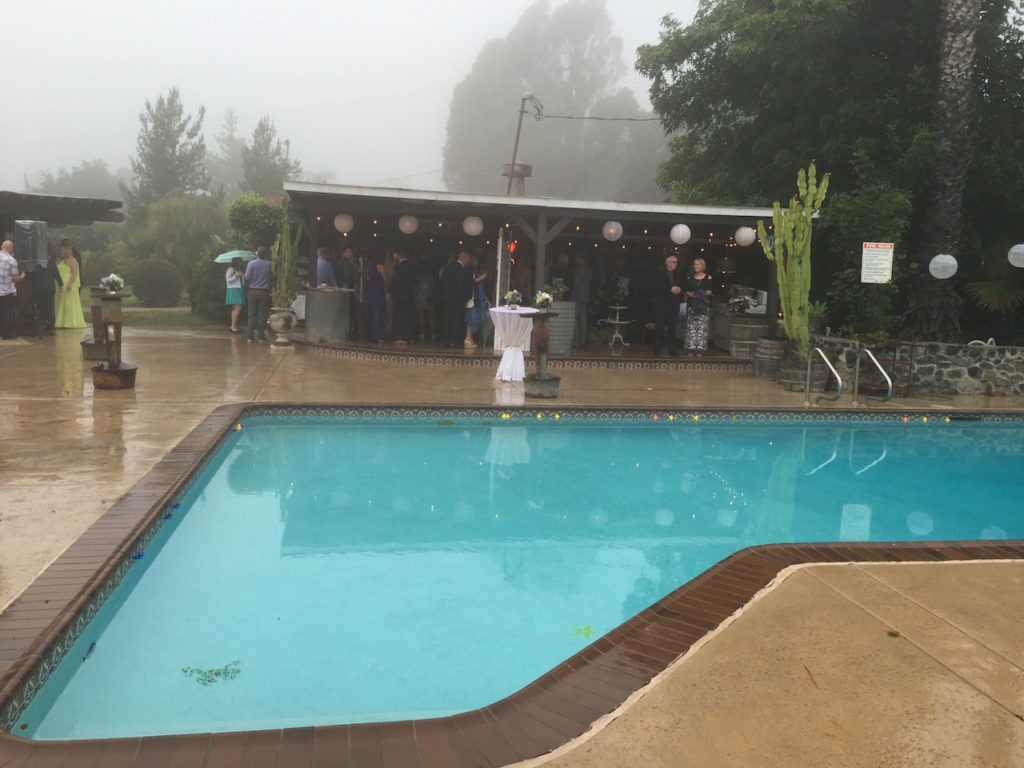 The only bad thing about the bar area was that its rustic nature that looked very bo-ho chic, meant it was really rustic. That included the occassional pin holes for the rain to drip in – we didn't care !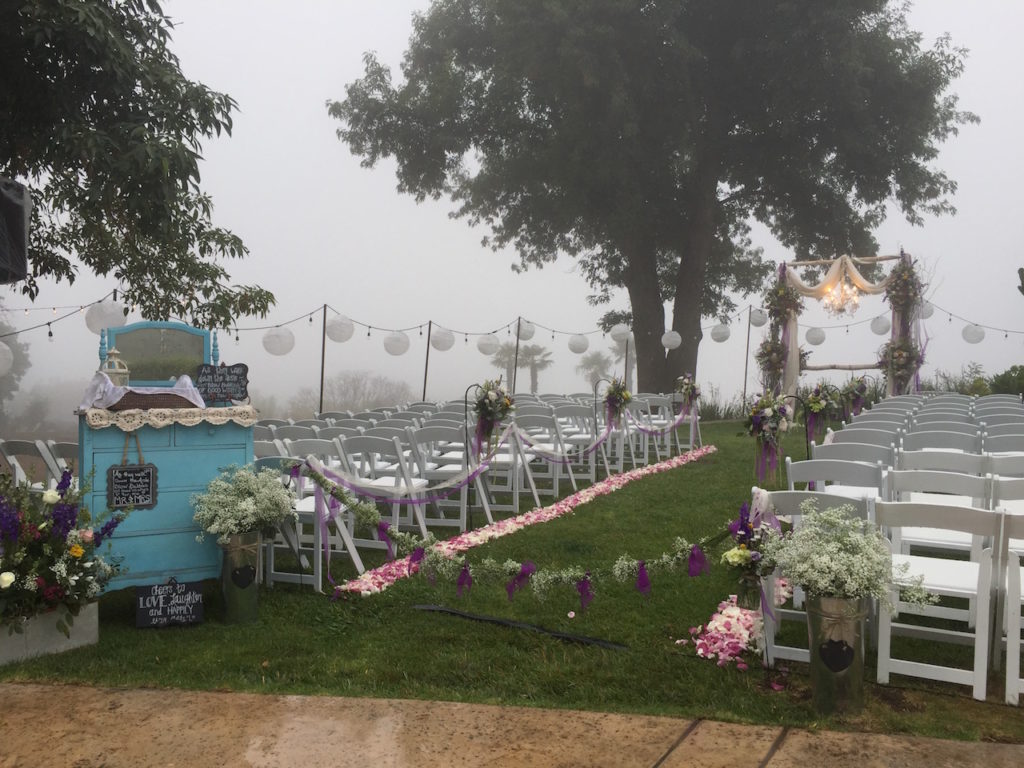 The misty rain certainly made it so the flowers were in perfect shape. I snapped some pics (loving the waterproof case-but hating not being able to see the shot) I never did find out if this was real or fake grass?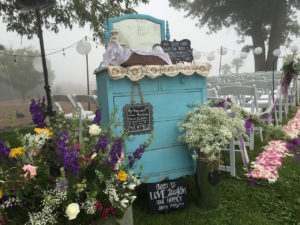 What a great idea for an old dresser.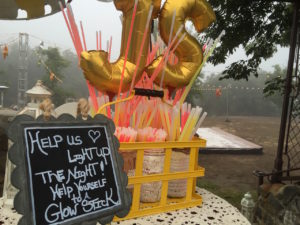 These light sticks proved to be a lot of fun later on !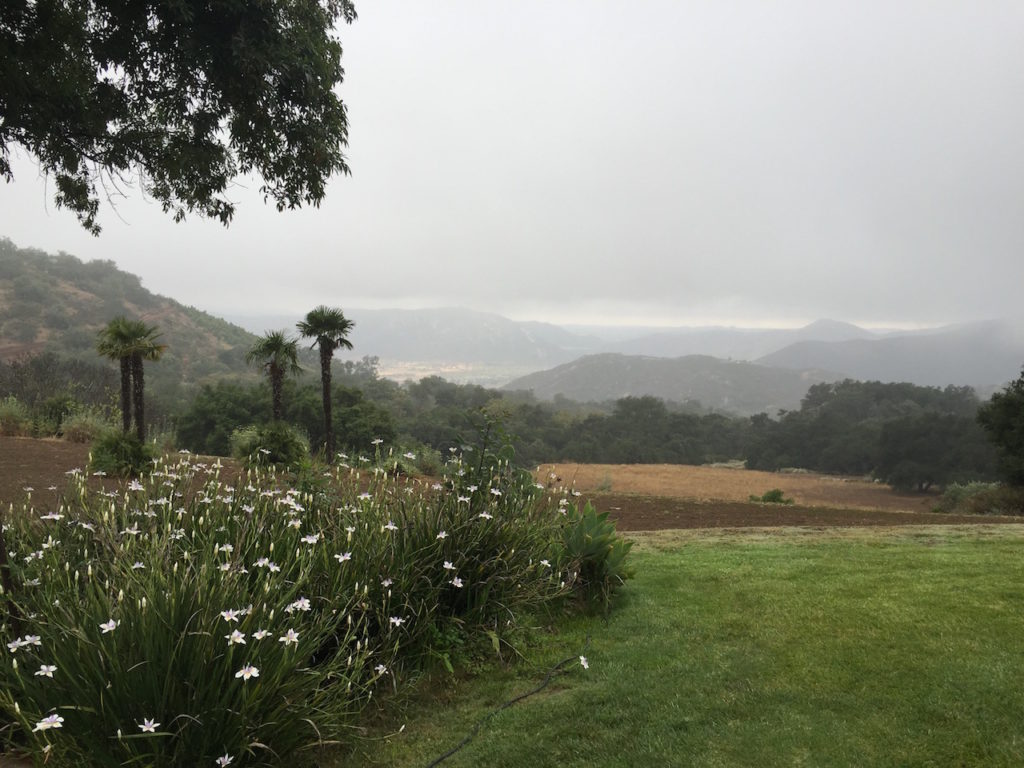 We all took our seats and were politely asked to keep our phones and cameras still as there would be lots of professional pics to choose from later. This space in time was reserved for Jessica and Sean.
This video was put together by the staff at Rosanna-Hanson Photography with the help of Teonna Erp of Teonna's Floral Design Studio.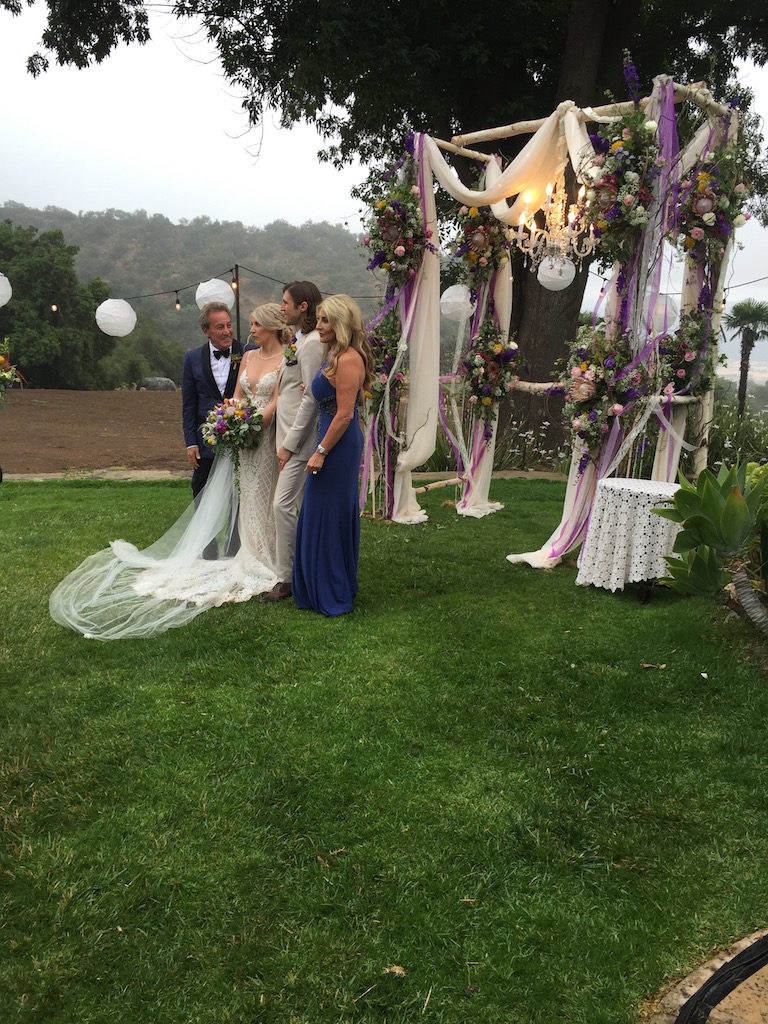 Now, as the sun set, we all enjoyed a wonderful meal. And the speeches began – all of which were quite moving. There's a lot of love for these two.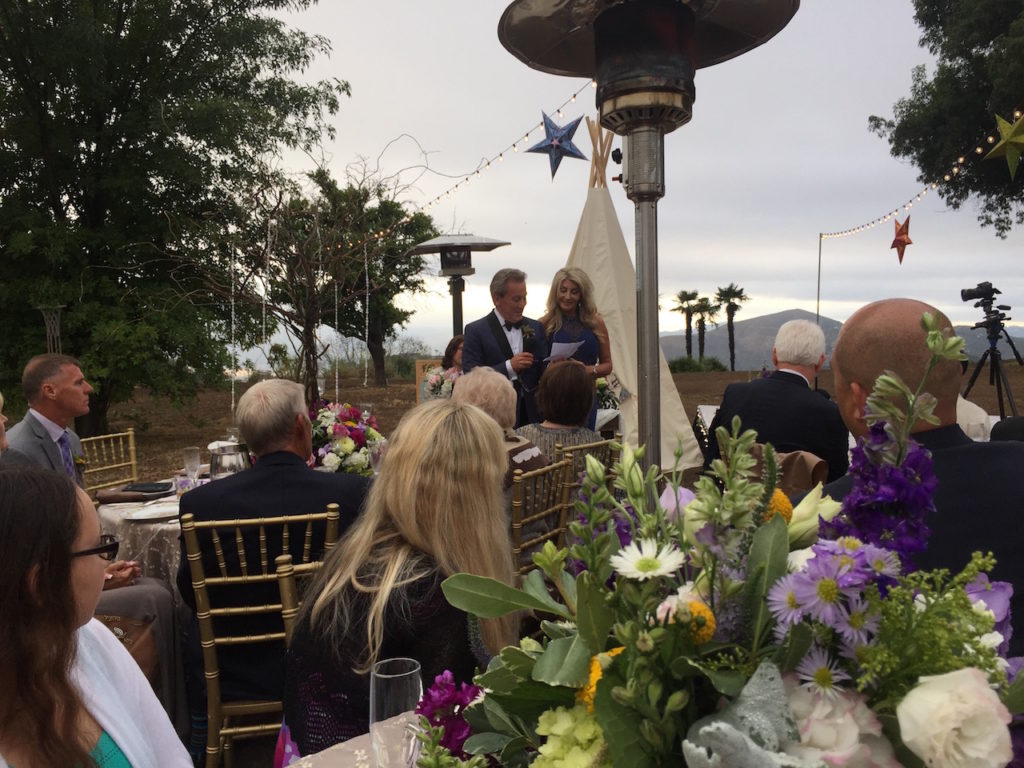 The entire evening continued with so much love and happiness…..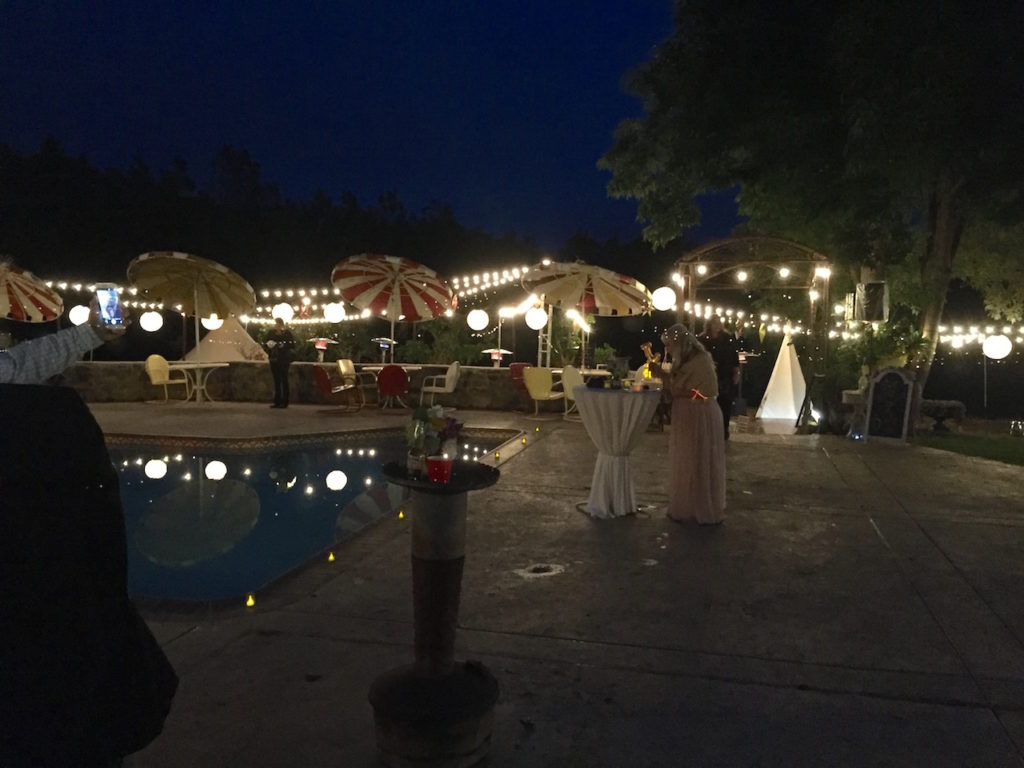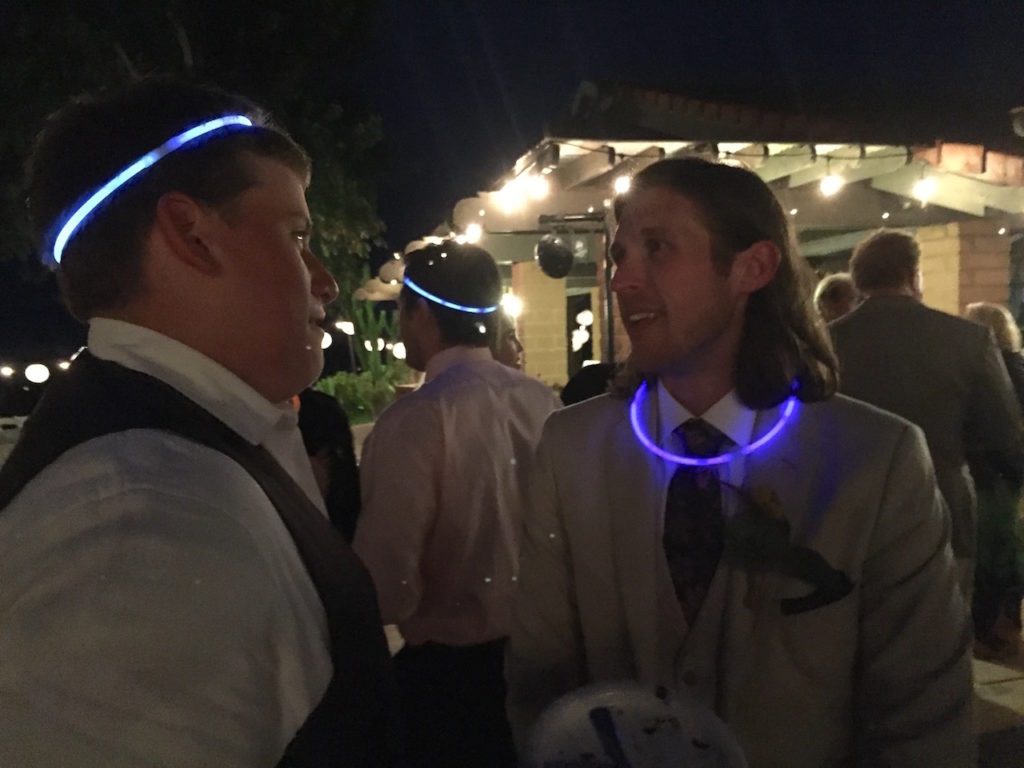 Sean, the renissance man – engineer, yoga instructor, LIB Festival goer,…and off roader? Who knew.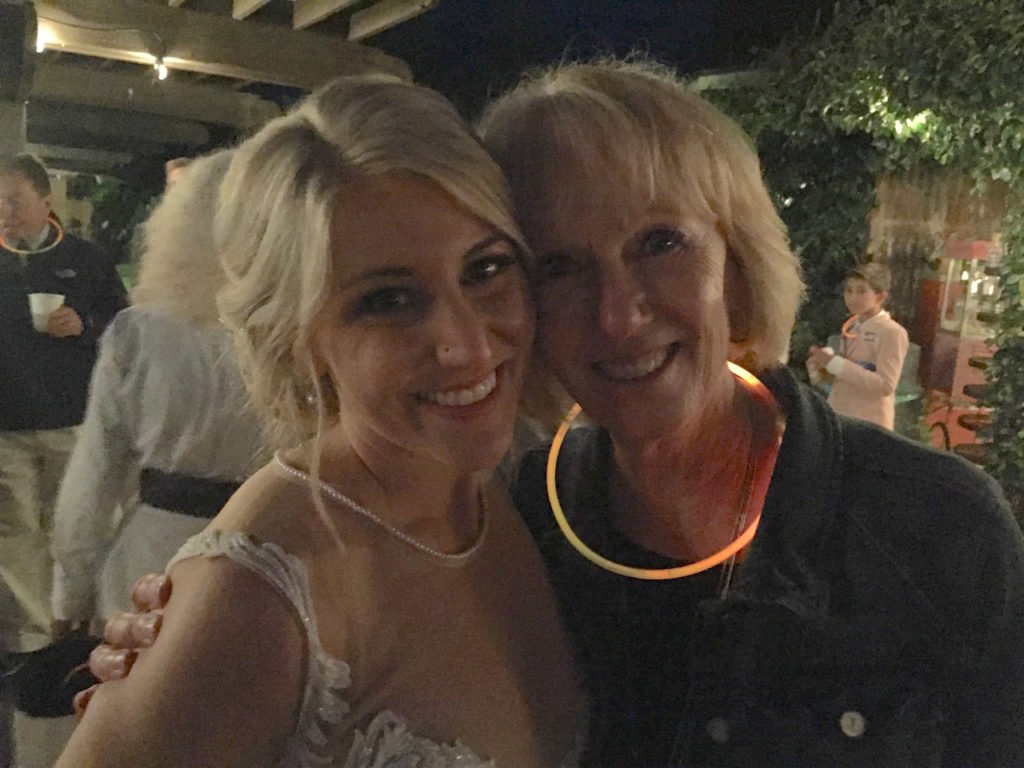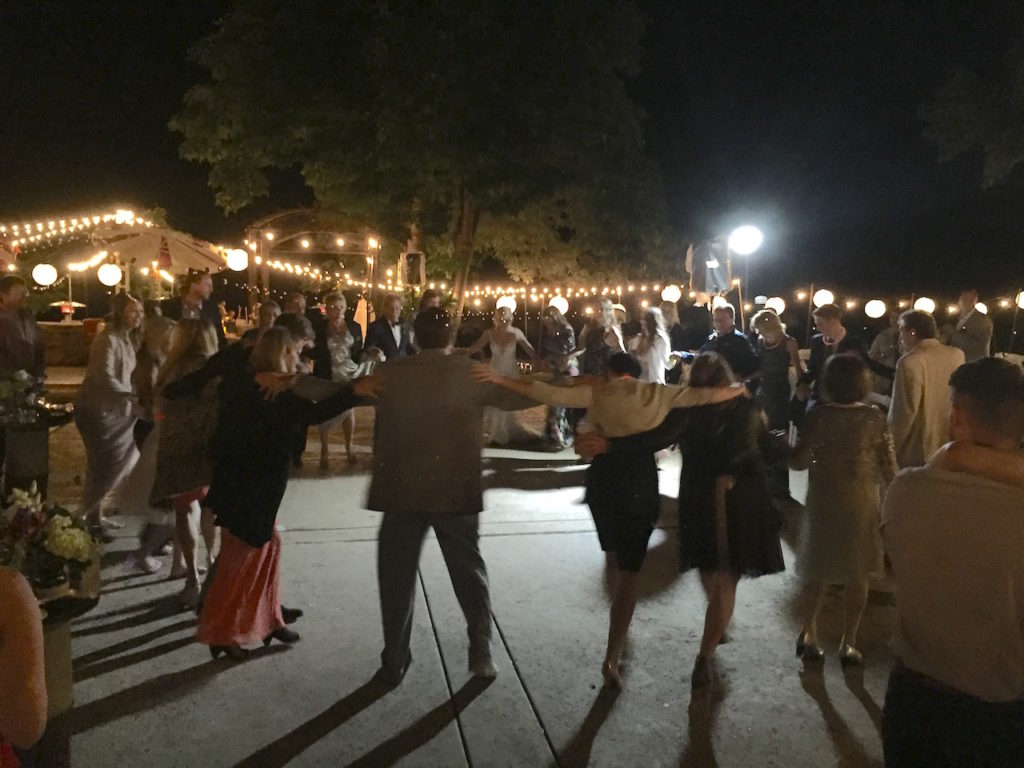 No Greek wedding or even half Greek wedding is complete without a little Tsamiko !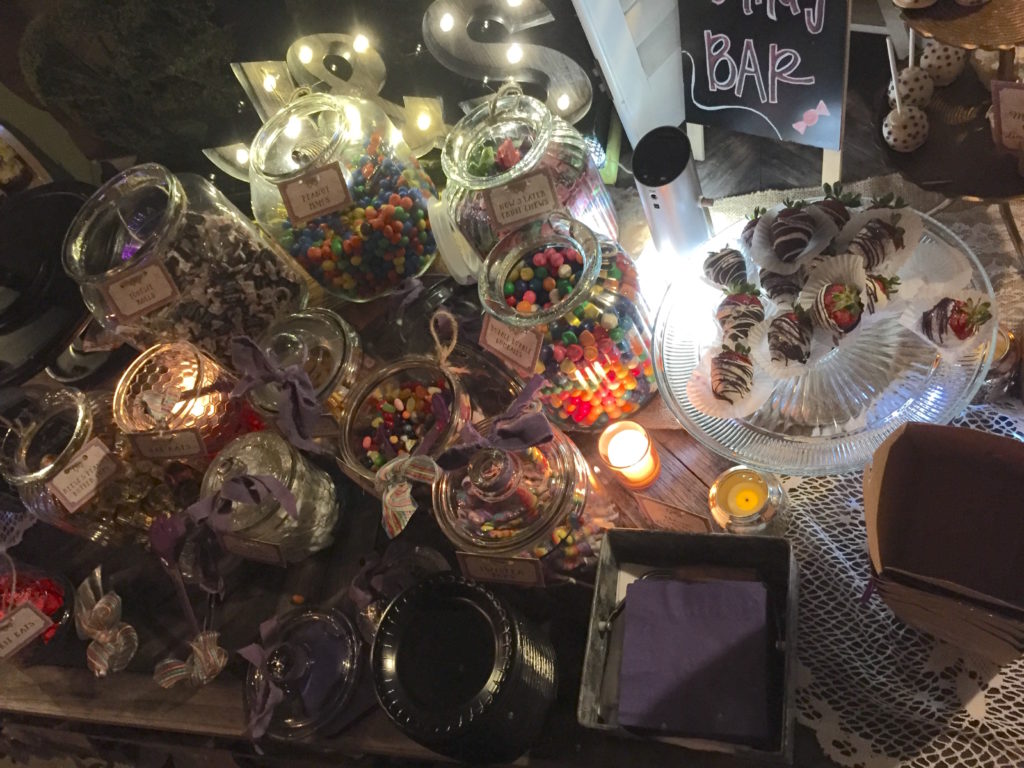 Who's idea was the Candy Bar – Brilliant!! Yes, Will had cake AND cake pops, AND we took back a little carry out container of goodies. You wouldn't believe it, but it traveled with us all over California! It was the fall-back dessert option over and over.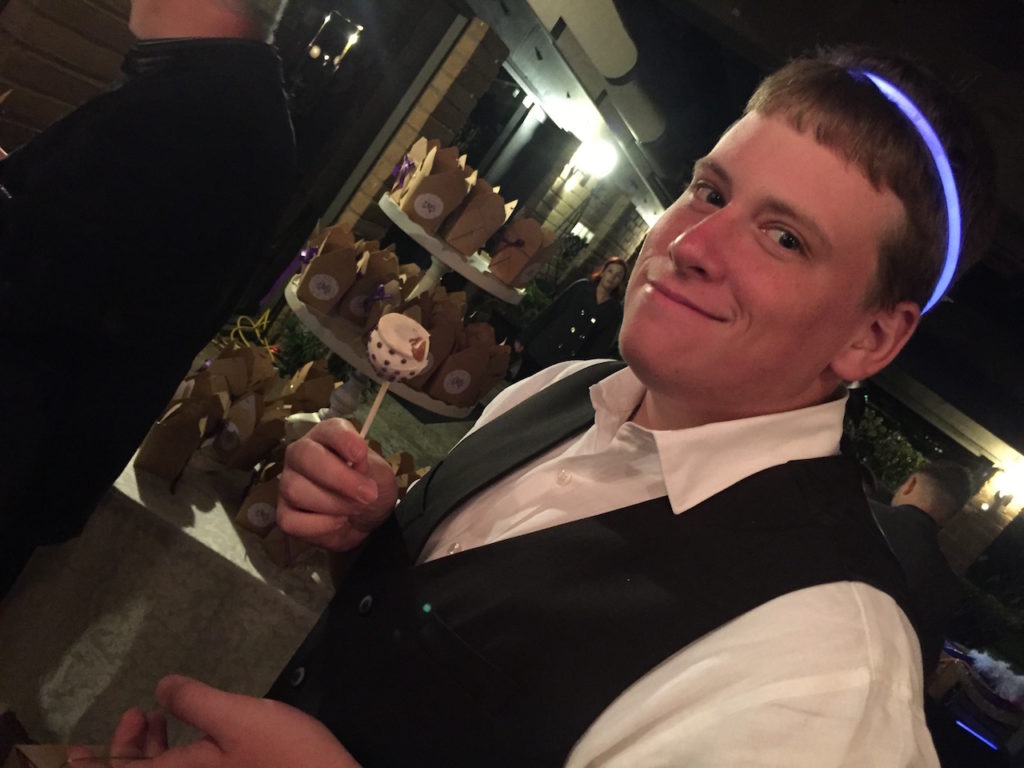 Last of all the Bar area, now empty …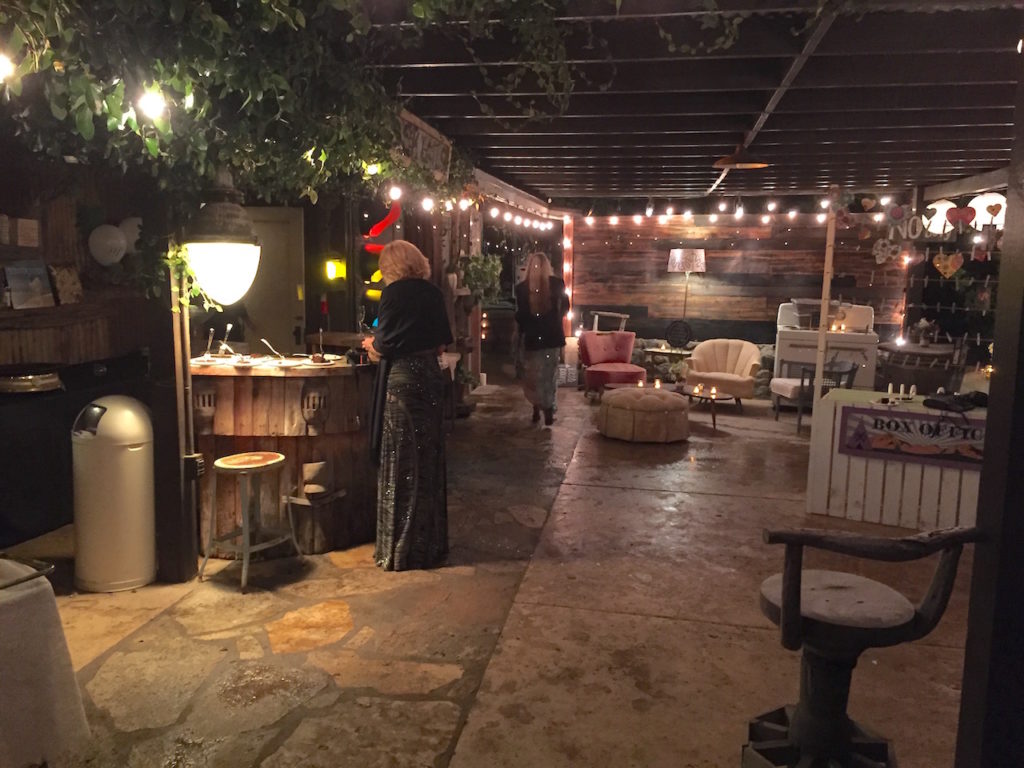 And before we knew it, the fun was over…. well, not quite 🙂
Tomorrow – Oceanside and the Amtrak ride from hell.