Tony Bennet might really have left his heart in San Fransisco, he wasn't the first. He'll, by no means be the last. Mine went home – begrudgingly.
We left Yosemite and headed west for our estimated 3.5 hour drive. Our original plans had us with the idea of driving up through Napa and down into San Fran, but a visit with a wedding guest advised us not to. Napa is, in his mind, a trip all on it's own. The traffic is bad and very touristy. Get to San Fran asap. OK.
Driving out, we stopped in a small town called Oakdale. Really not my favorite spot. We followed the map out though some more pretty small roads that led us to the main interstate I-5. We could see the mountains off in the distance as the coast drew near.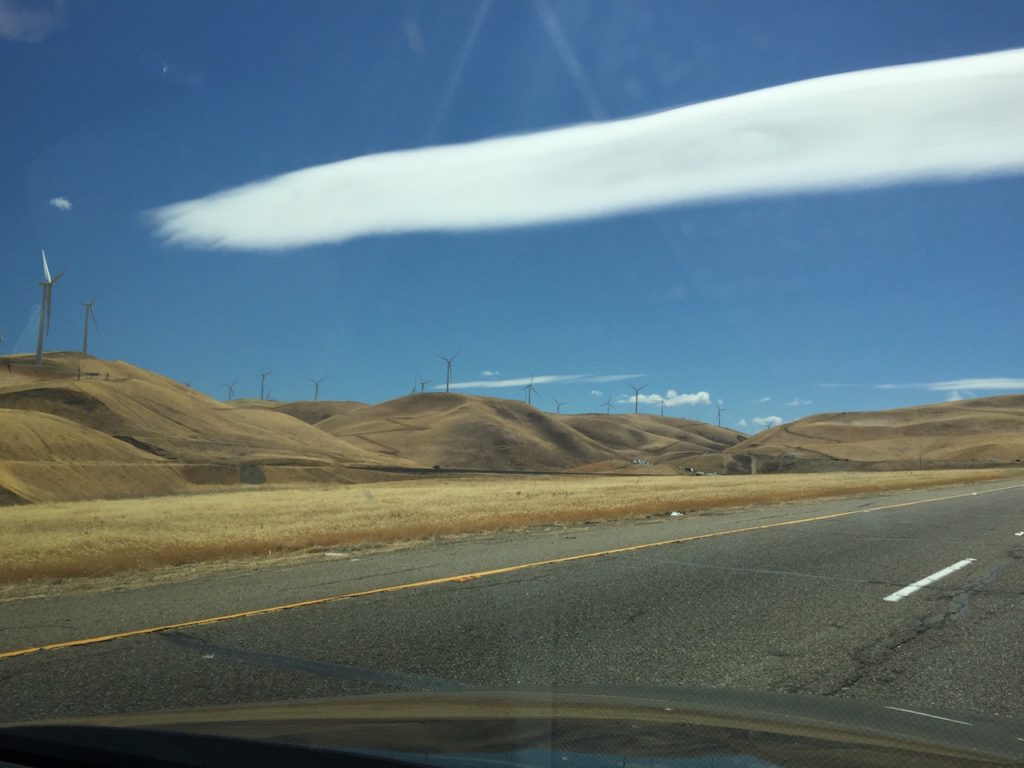 Going up through the pass, we were met with more rolling golden hills topped with windmills. I know you've seen them on tv – but they're HUGE!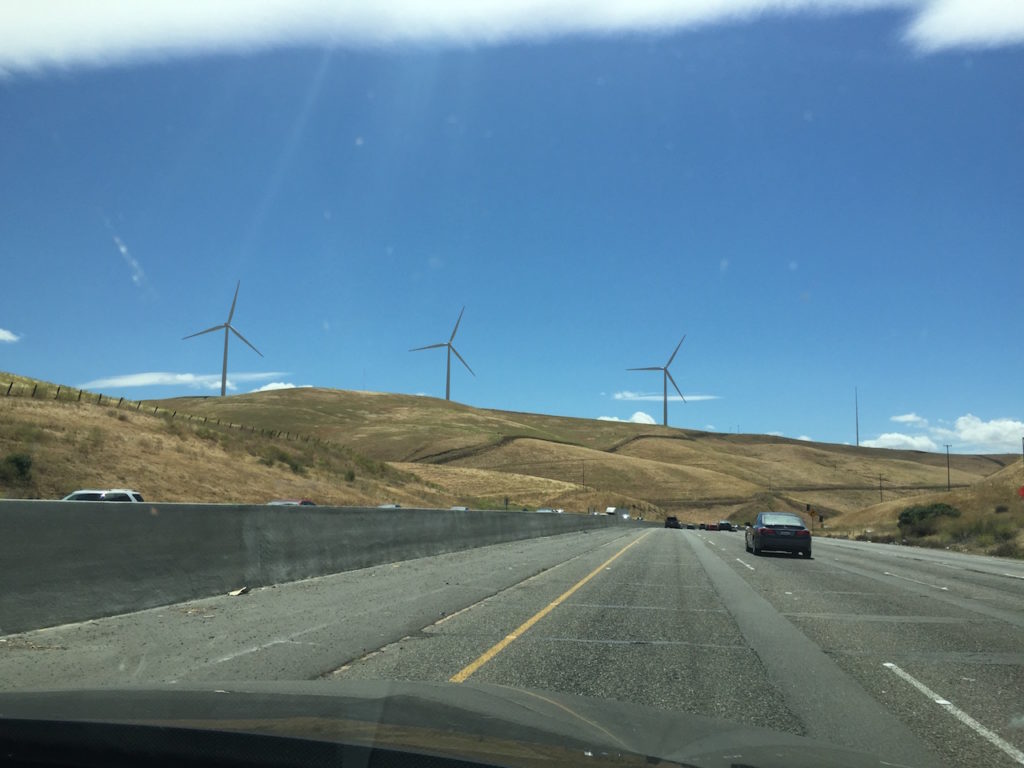 The drive wasn't really very bad, although as the afternoon wore on, the traffic headed out of the bay was pretty brutal.
We took the route through the middle of the bay, straight into downtown. The meant crossing the Oakland Bay Bridge.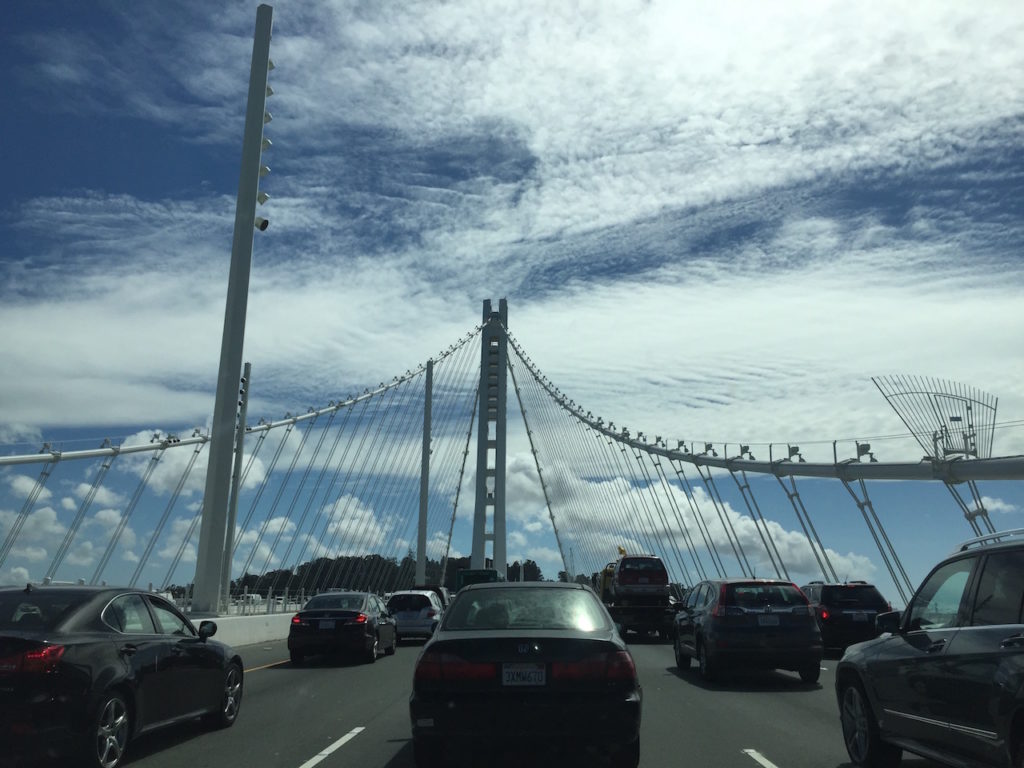 Yes, they spent a ton of money on it, but it's really impressive to see.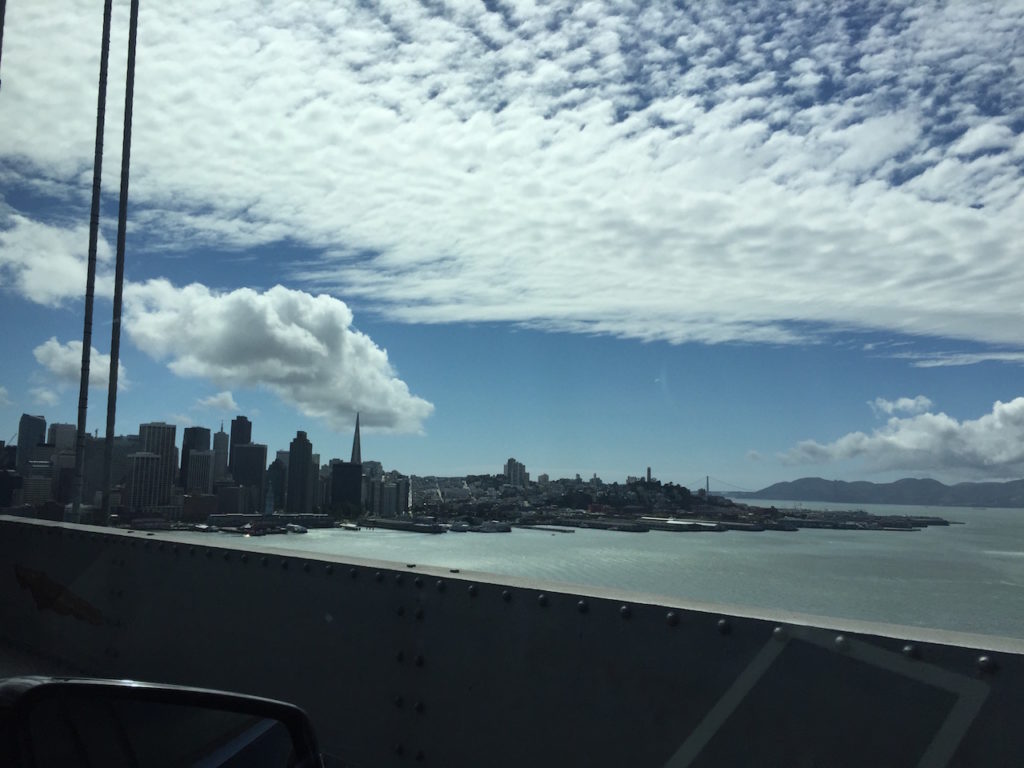 We followed our Google Maps – since there's no shortage of wifi here – right to the hotel door.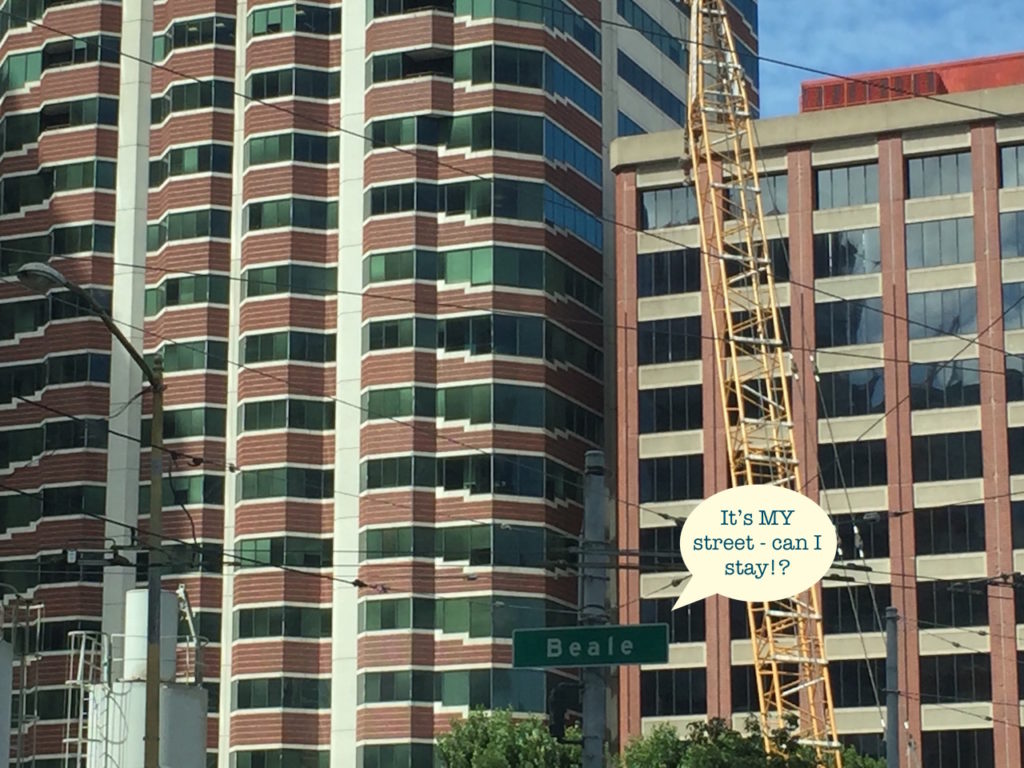 We rounded a corner and I almost missed this shot – Beale St ?! Actually, my husband's family has a connection with this city's past. Great-grandpa ran a livery service to the Bay and was in town for the big earthquake. The story is, he lost the load of furniture he was to deliver for a hotel in the fire, and didn't stick around long. Or did he ? Things that make you go 'hmmm?'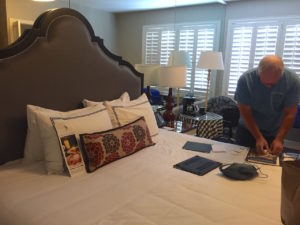 This leg of the journey had us in, yet another, Best Western. The Tuscan Inn on Northpoint was perfect!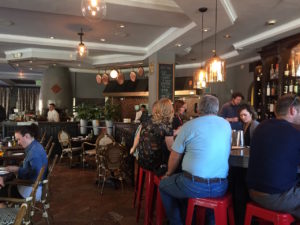 We got settled in and went down to check out the bar for a drink. Will was relaxing in his own room and joined us after a while.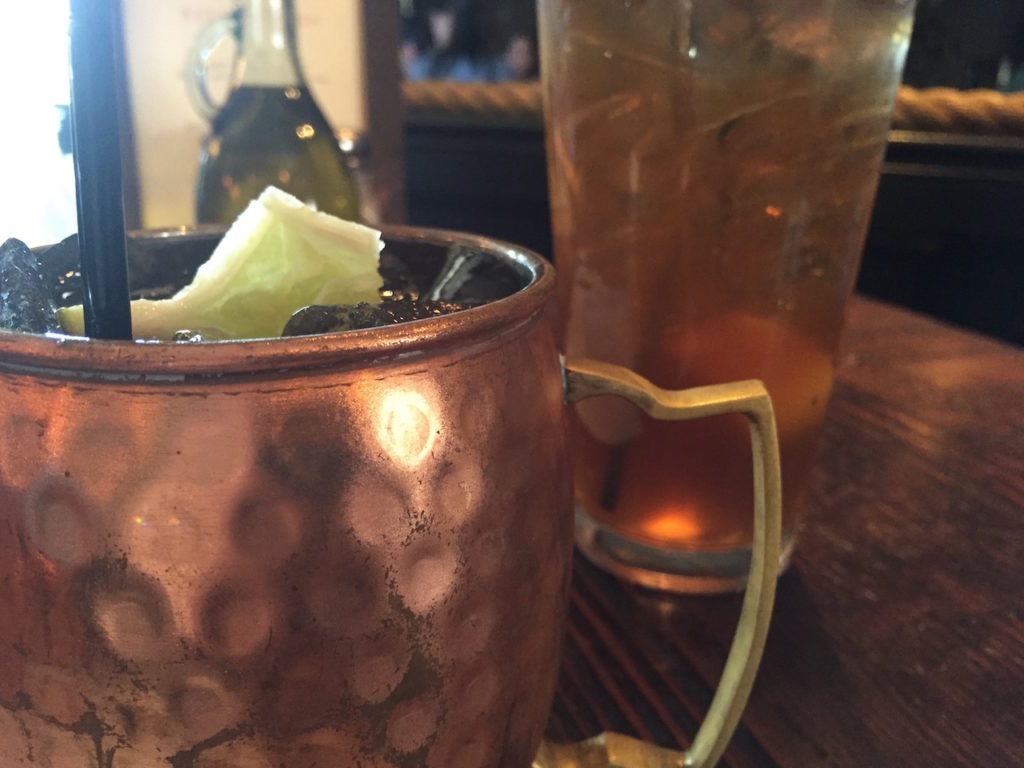 I'd heard the rumors about the 'coldest winter I ever had was a summer in San Fransisco', and I could see that has holding true. Not this trip. The late afternoon sun was blazing and the breeze was cool – beautiful – gotta go for a walk. We walked down to the waterfront area along Embarcadero searching for interesting things – found 'em!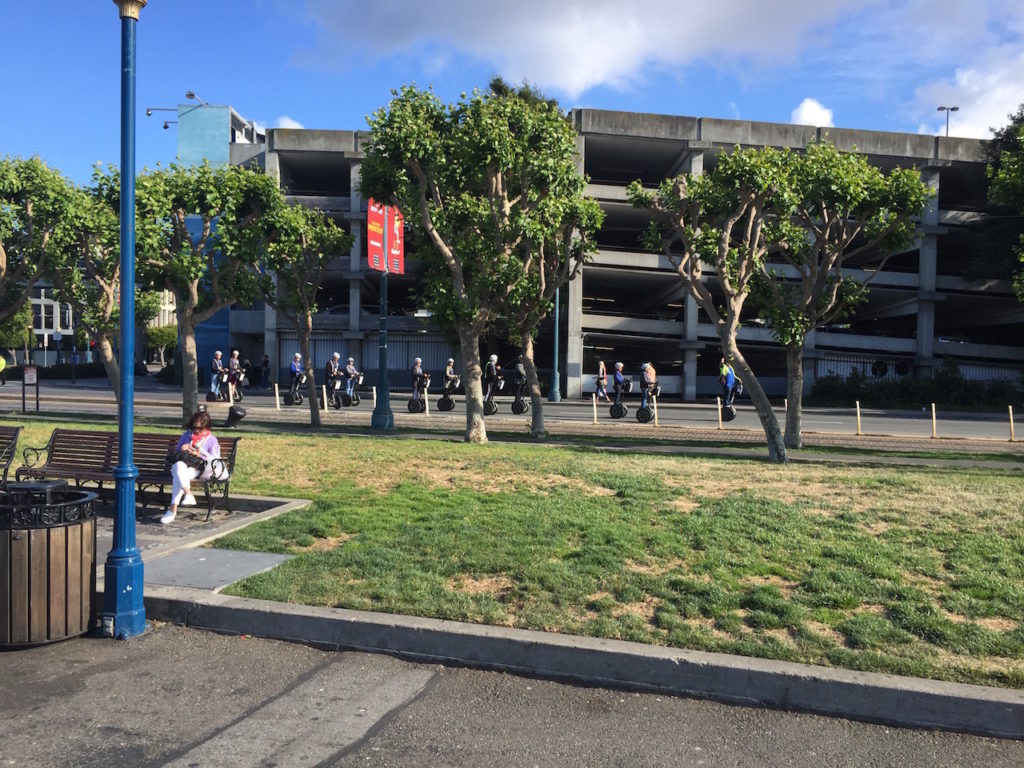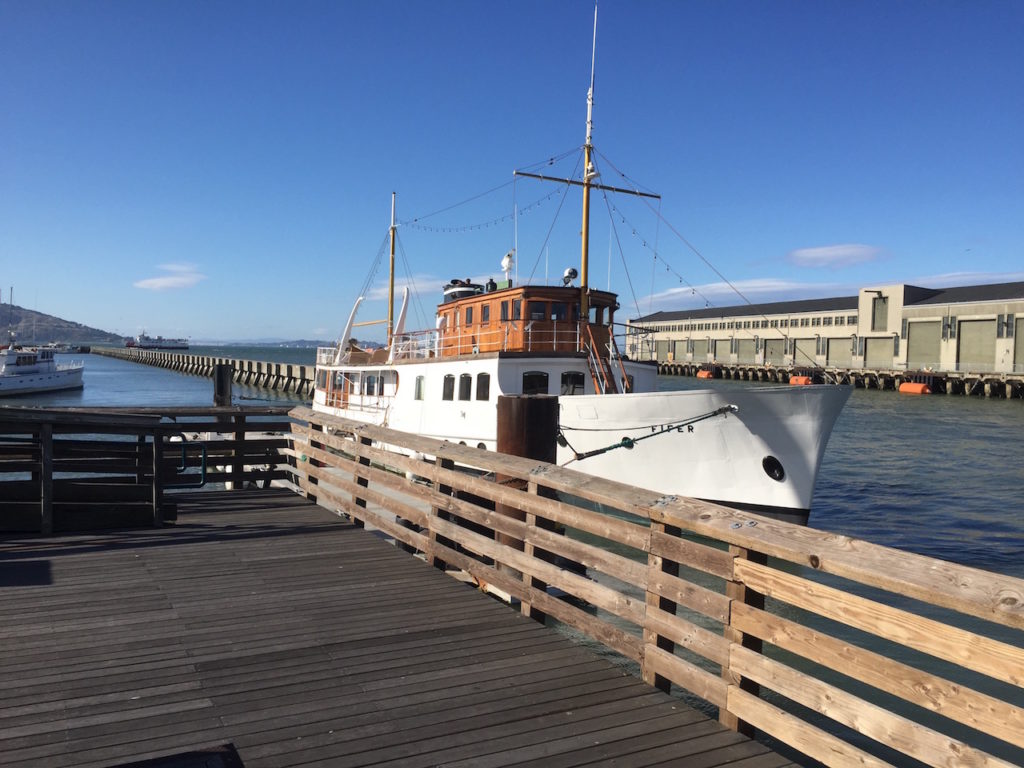 I would absolutely rent this for any event ! No, I could totally do the live-aboard thing on this one.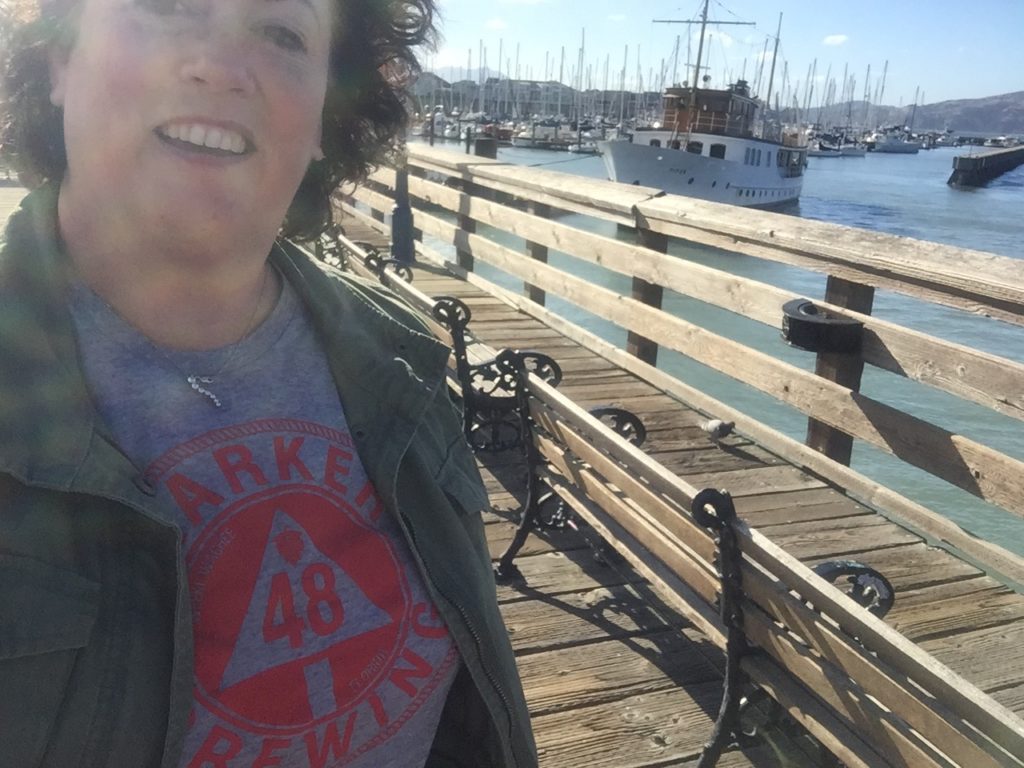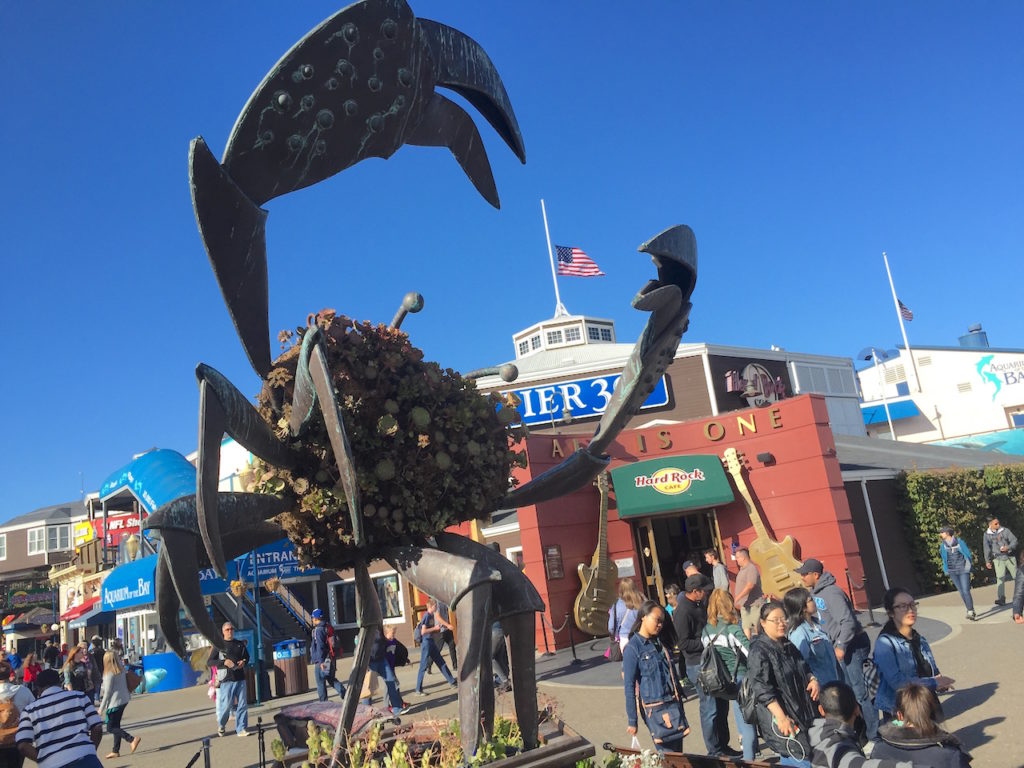 Pier 39 is just too touristy – we stayed out and looked for some yummy snacks.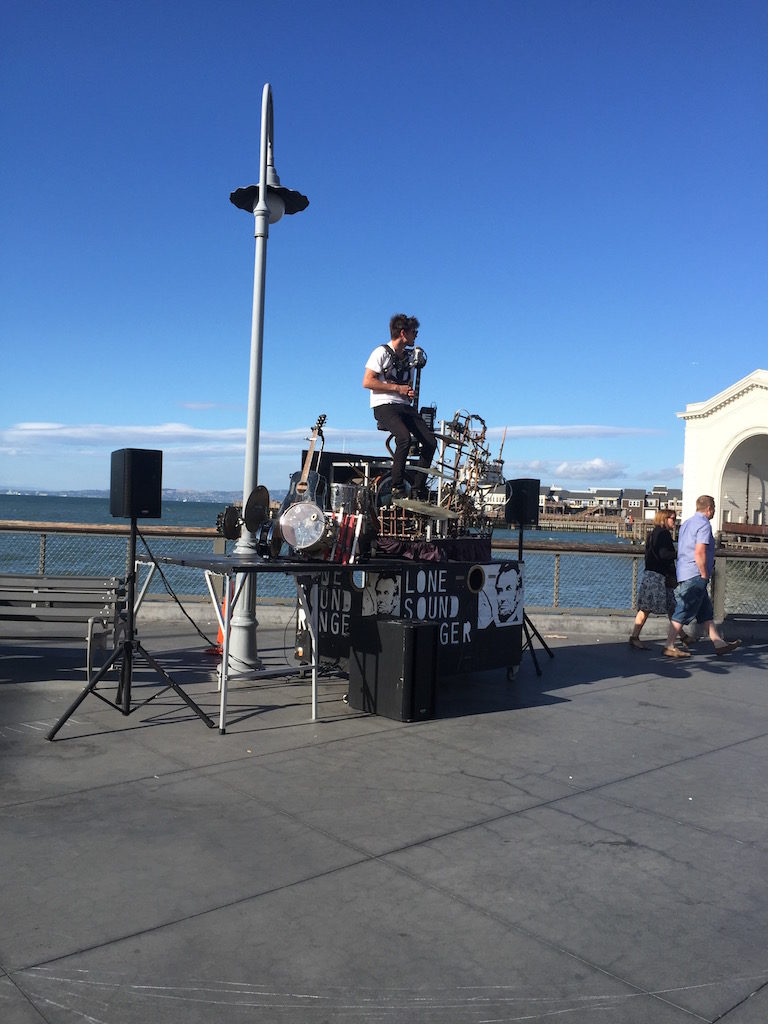 The wharf is pretty much overrun with tourist places – ok, I'm a tourist.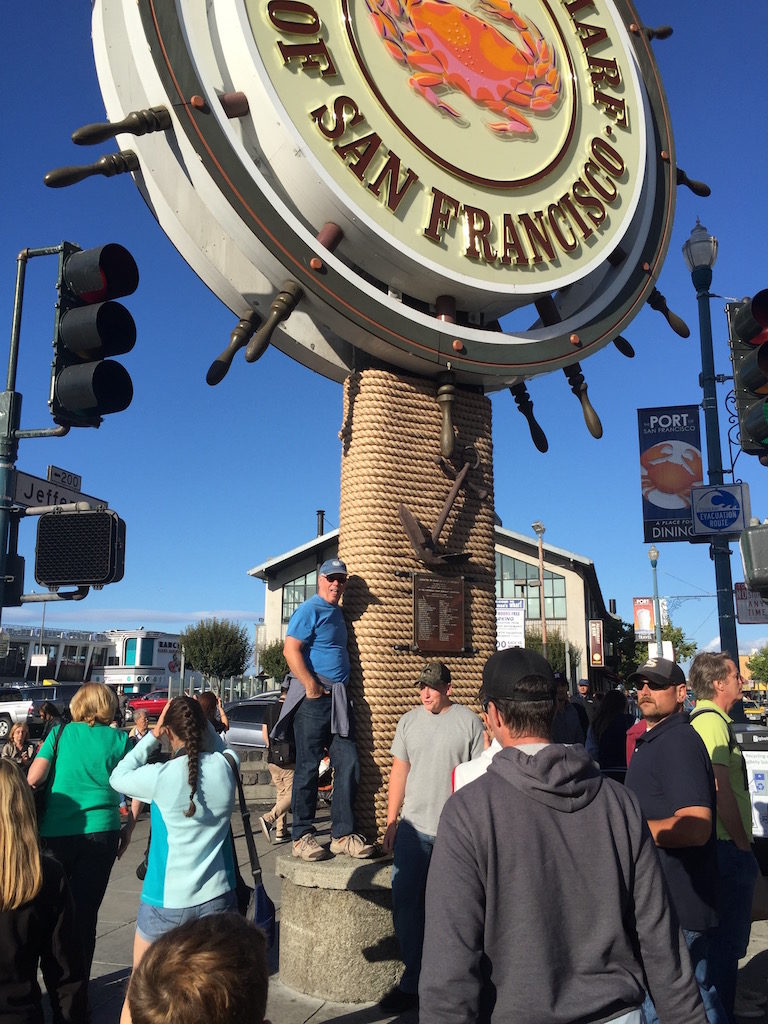 The famous Fishermans Wharf – Jonny Tourguide at your service.
We walked forever and then stumbled on Ghiradelli Square. Of course we needed a sundae!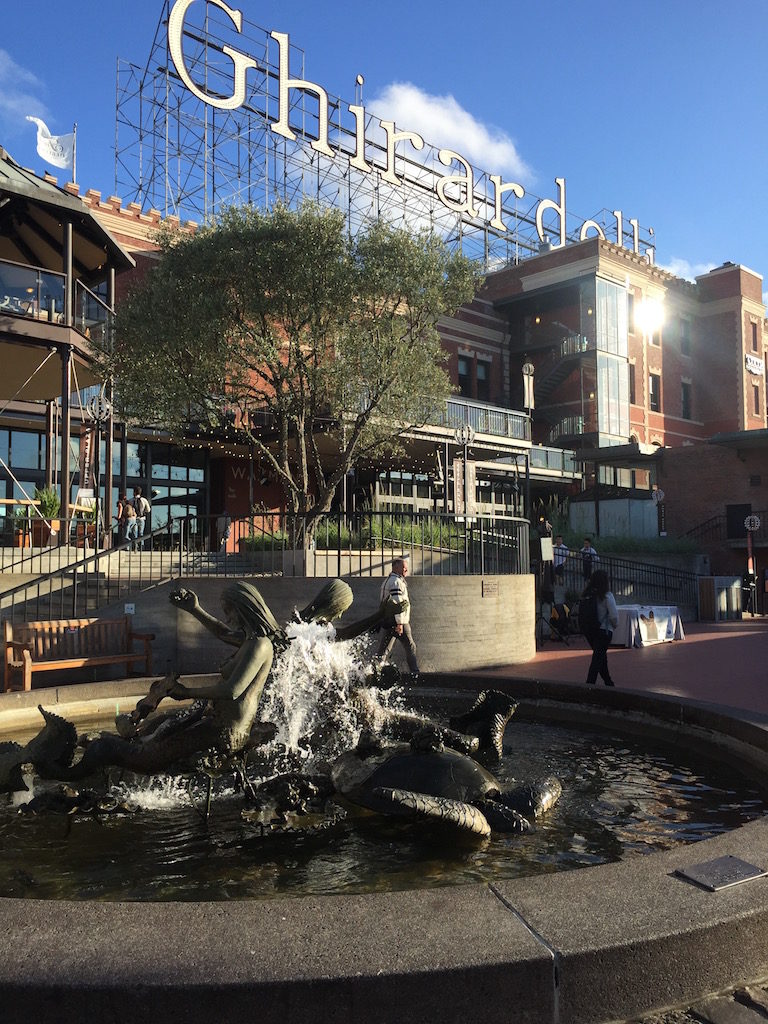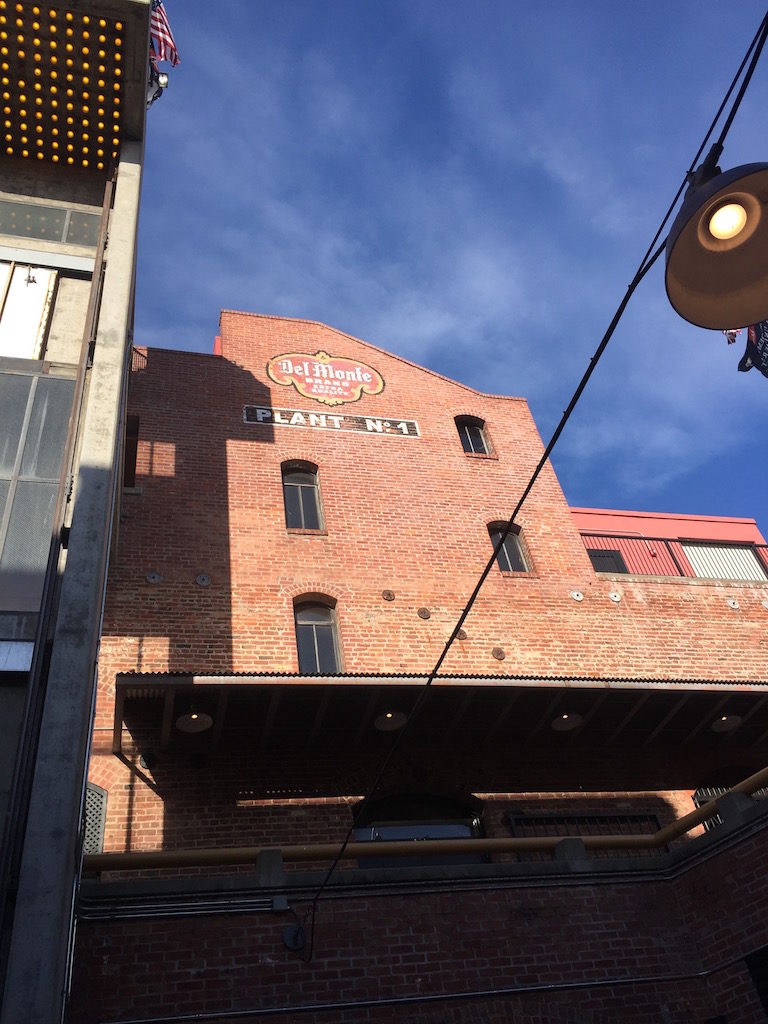 It was cool that the huge packing plant was segmented into restaurants and bars with an open courtyard. I liked that. Across the way was a park where you could pick up a street car – the line was crazy! Our hotel had told us the best way to pick one up in the morning around the corner from the hotel.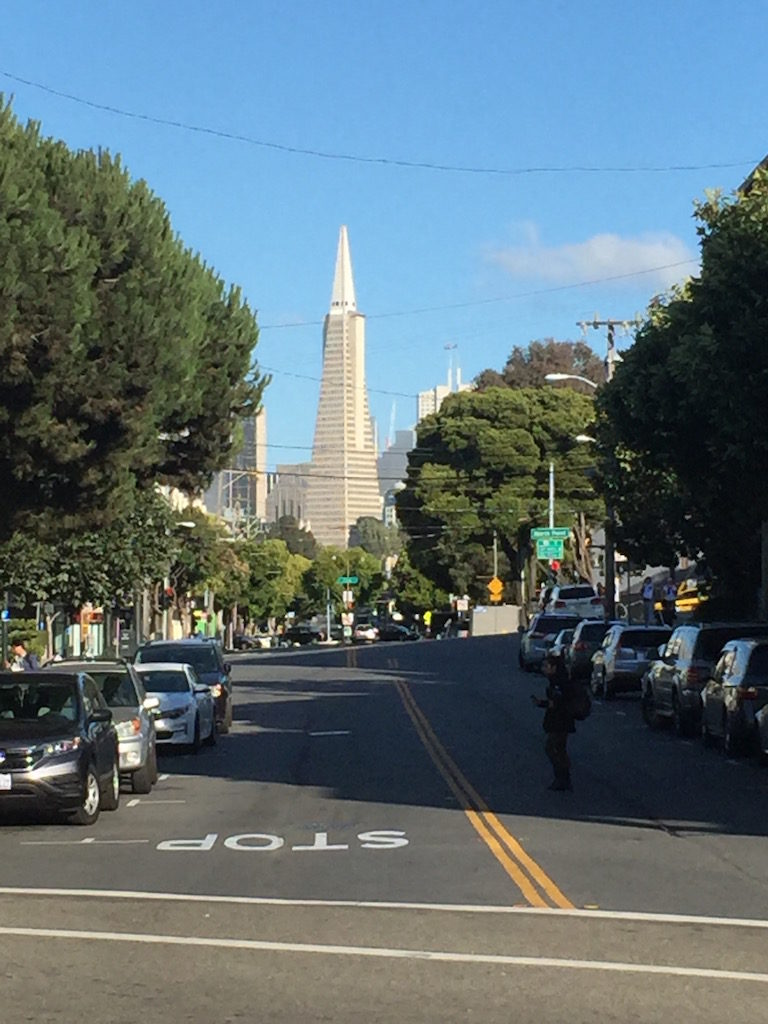 I had to take at least one artsy shot. The old packing plant was held together by these giant bolts.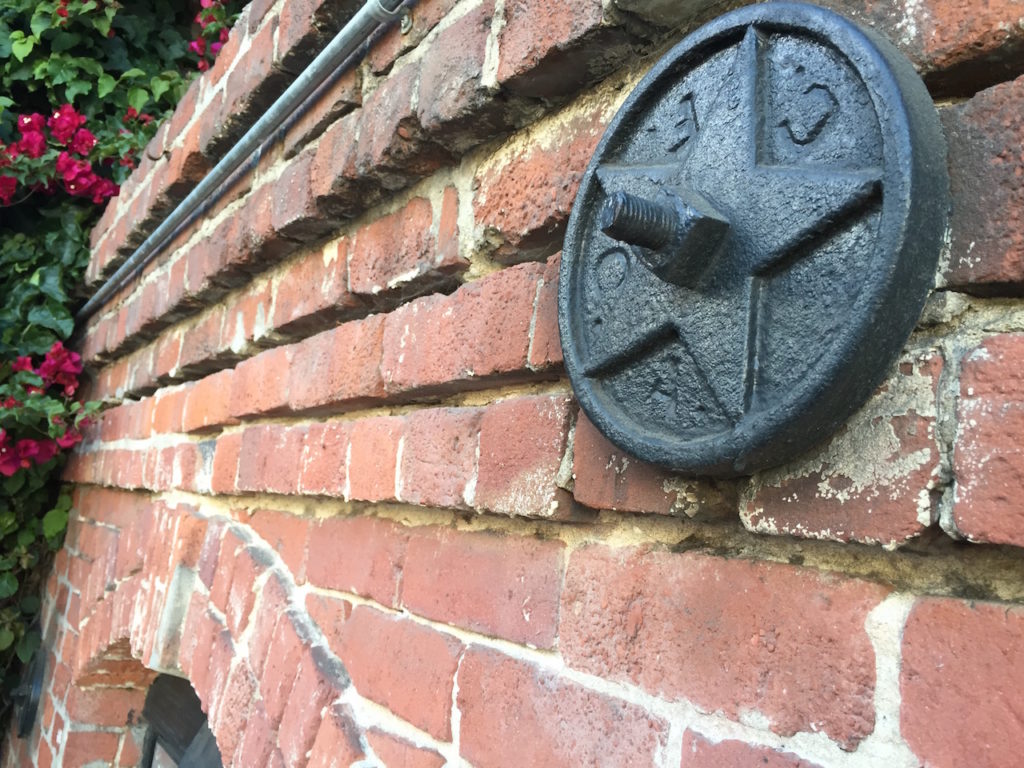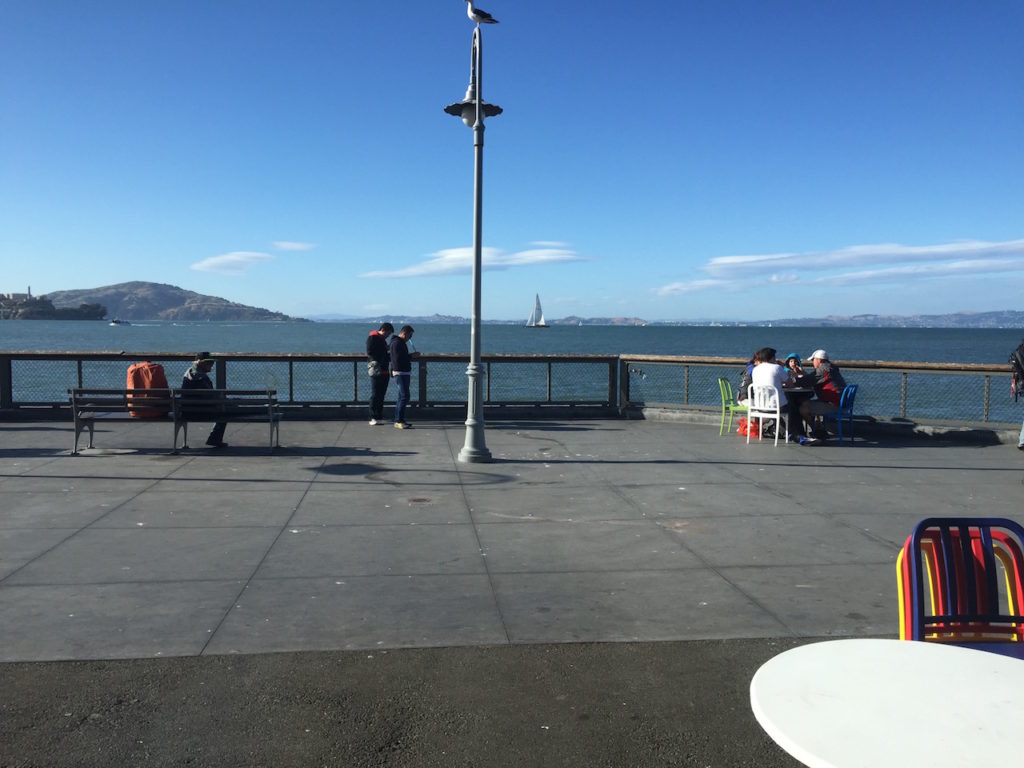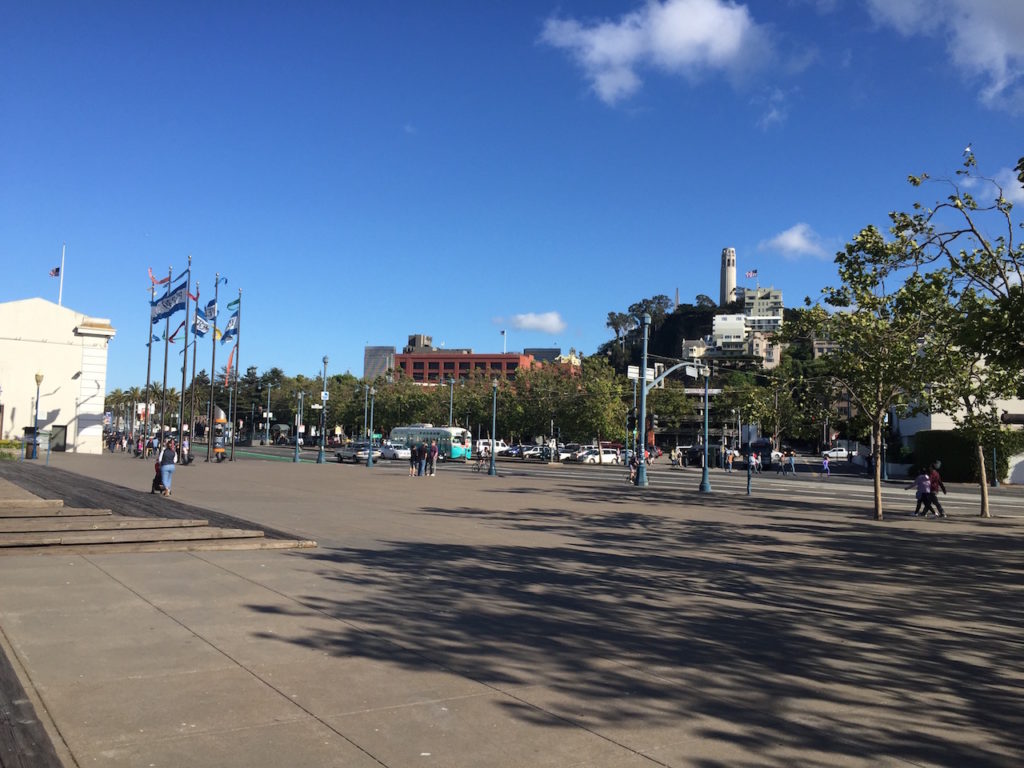 We were tired after a long day and as those shadows grew longer, decided to head back. We had big plans to get cleaned up for dinner…
…and promptly fell asleep!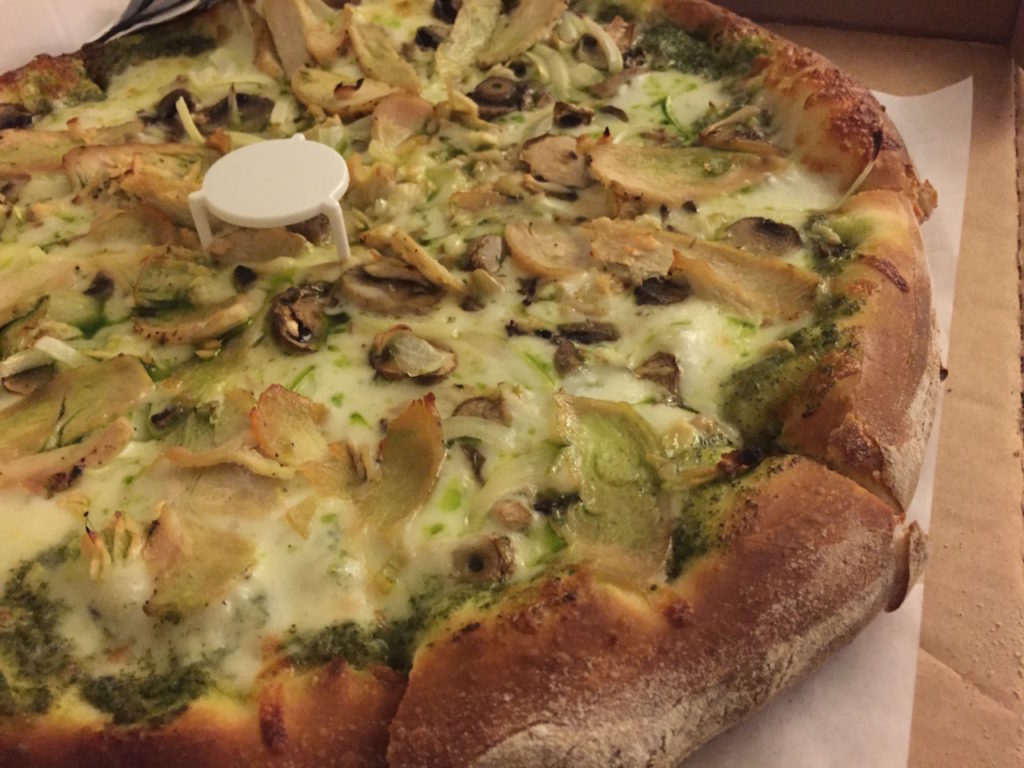 That meant room service – and this North Beach Pizza pie was unbelievable!! Will had some chicken thing that was so enormous he texted me a pic of it. Happy, still tired and full – we all fell out and were ready for a bigger day tomorrow.